Your garage is often the last place you think about when it comes to heating in winter. Well, that is until you need to go out there to do some chore that the wife is nagging you about! And then you realize that your garage is cold – why didn't you think about this problem before winter came around? 
But it's ok, no-one ever does. Lucky for you I have the answer. The best way to heat your garage in winter is with a……you guessed it..a garage heater! 
The best garage heaters are smaller than ever, and installation isn't always the hassle that it once was. They're safe and affordable to run and can help to make that workshop space usable all year round.
Disclosure: It is important you understand that we may receive commissions when you click our links and make purchases. However, this does not impact our reviews and comparisons. All opinions are our own we pride ourselves on keeping our articles fair and balanced. For more info see our disclosure statement.
Garage Heater Comparison Table
Use this table to quickly compare our top picks. Click the + icon to see more info on each model.
Keep scrolling down the page for in depth info on each model chosen.
Use our handy electric heater running cost calculator. Click here.
Rugged, heavy-duty industrial type heater ideal for garages, workshops, basements or outside buildings.
Our best value choice is the Fahrenheat FUH54. While it's among the more expensive of the models, we think that this industrial-type heater is best for chilly garages and offers a long-term solution. 
The louvers at the front of the unit allow you to direct the heat to the desired area and, because it's attached to the ceiling, it poses no hazards to the kids or pets.
The Best Garage Heater Reviews
Fahrenheat FUH54 240-Volt Heater
Perfect for: Permanent fixing, great for garages, basements, out-houses, and workshops
The Fahrenheat brand is definitely more than just a great pun. If you're looking for some serious heating on an industrial scale, the FUH54 could be the model for you. Because it's fixed to the ceiling and hard-wired into the power supply, this unit is recommended for factories, stores, garages, basements, warehouses – basically any large, chilly areas that require rapid and reliable heating. The unit requires a 220V power source and isn't recommended for general use around the home. This is a dedicated garage heater unit which requires a 30Amp fuse.
The FUH54 is a high-powered unit that requires hard-wiring into the power-supply. While this is a possible DIY job, it's recommended that you have it professionally installed. So, while the other heaters in this article are plug-in and go, the FUH54 requires a competent installation expert. 
The fan operates relatively quietly, and the louvered fins at the front of the heater allow you to direct the heat to the areas of your garage where you need it the most. If you're looking for a more permanent solution, this could be the heater for you. 
There's an easy-to-operate thermostat control rotary knob on the front of the unit – while it's not temperature-controlled, you'll discover the correct setting to maintain a constant, comfortable heat quickly enough. The thermostat ensures that the unit is used only when heat is required, meaning that you can just install the heater and forget about it. 
The casing is protected with a strong, rust-resistant epoxy coating, so this unit is designed to last for years with no signs of corrosion.
The Fahrenheat FUH54 is available from Amazon.
King KBP2006-3MP 5700-Watt Heater
Perfect for: Ceiling- or wall-mounted unit providing a long-term solution to chilly garages and out-houses
The King KBP2006-3MP garage heater is an excellent heater for garages and workshops. Once installed, you can forget about it – the thermostat will regulate the temperature, so there's no need to switch the unit on or off manually. King is a USA-based manufacturer who has been making heating solutions for 60-years.
The KBP2006-3MP is a 1 or 3 phase heater, which means that you can easily control the temperature output, using the temperature-accurate rotary knob on the front of the unit. The built-in thermostat regulates the heat, so the heater could be left on all-year-round; only kicking in when heat is required.But this unit is not just for eradicating the chill during cold snaps. The heater element can be switched off, and the fan can help to cool your garage down during the summer, making this one of the most versatile heaters featured in this article.
The Pic-A-Watt heating element is a blade unit that allows you to select a lower the wattage consumption for a gentler, more energy-efficient heat.
The heater includes a patented Smart Limit Protection feature that cuts the power if there's a surge on the electrical grid or if there's any disruption to the electricity supply.
The body features a flow-through design which draws air in through the louvered slits at the back of the unit and pushes it through the front grille, distributing the heat with the help of the built-in fan.
The King KBP2006-3MP is available from Amazon.
Dr. Infrared Heater DR-988 Garage Heater
Perfect for: Heating a room of up to 600sq ft, dedicated garage heater
Dr. Infrared is a well-known brand in home-heating and regularly appears in the top rankings of heater reviews. The DR-988 will comfortably heat an area of up to 600sq ft, with a thermostatic control that will maintain a heat of between 45ºF and 95ºF. The unit requires a 220V power source and isn't recommended for general use around the home. This is a dedicated garage heater unit which requires a 30Amp fuse.
The heat distribution of the Patton PUH680 is determined by the front-facing rotator switch – the fan kicks in when the machine detects the appropriate ambient temperature has dropped. Although there's no precise temperature gauge, you'll quickly discover how to achieve your desired temperature. 
The DR-988 uses an infrared element to build heat and a fan to distribute it. It's got to be said that the fan certainly isn't the quietest, so if you're sensitive to a rather persistent, low-level drone, this might not be the heater for you. The unit is not recommended for general domestic use and has a 6-30R plug, which includes a rounded earth-pin for extra safety, 'requiring a specialized power socket.
 The Blazing Home says that "Infrared heaters are especially effective for garages because they heat larger areas very efficiently." 
The unit heats the space rapidly, and the portable design means that you can place it anywhere in your garage that needs a quick blast of heat (power cable allowing).The sturdy, metal body is robust, and its mesh-fronted safety grille is stylish while protecting stray fingers from making direct contact with the heating element.
The  Dr. Infrared Heater DR-988 is available from Amazon.
Perfect for: Emergency heating and rooms up to 380sq ft
Lots of us are keen to live off-the-grid these days, so if you're looking for a solution that doesn't tie you to expensive electric, this kerosene alternative could be the choice for you. 
The large capacity fuel tank holds 1.2 gallons /4.5 liters of kerosene which should keep the unit running for up to 14-hours, making this an excellent overnight solution to chilly garages. If you know that there's going to be a night frost, set this running before you go to bed and the garage (and your car) will be warm, welcoming, and ready to start in the morning. 
The automatic safety shut-off feature ensures that the unit won't overheat, and the tip-over switch will cut the flame if it topples. 
The auto-ignitor creates a quick electric charge – the same way that your gas hob lights the gas flame – so there should never be any need for potentially hazardous manual lighting with matches or a lighter. This portable heater is also great if there's a power-cut and you lose electrical power – it's suitable for use around the house as well as in the garage. 
The flame can be varied to reduce or increase the heat with a simple control button at the front of the unit. The flame ignites from a wick which needs to remain dry at all times to aid ignition – we found that it can smell pretty bad if it gets wet and the unit can be reluctant to start-up.
The Sengoku HeatMate is available from Amazon.
Mr Heater F260550 Big Maxx Gas Heater
Perfect for: Heating large open spaces that other heaters struggle with.
If you are looking for the big daddy of garage and workshop heaters then the Mr Heater Big Maxx is it. 
Pumping out an amazing 50,000 BTUs per hour, this gas workshop heater is sure to keep even the largest garages warm in the coldest of winters.
One of the best things about the My Heater model and gas heating in general is that it can take the chill of the air almost instantly, no need to wait for the elements to heat up!
Being a gas heater, it does require a connection to your natural gas or propane system, electricity and will also need to be vented externally. This obviously should be completed by a qualified installer. However, it does come with a propane conversion kit so you are ready to connect to whichever type of gas you prefer.
This is one big heater and it will require some serious strength  to get it mounted safely, but your installer should be able to handle that for you. The effort is worth it, because the Big Maxx pumps out some serious heat.
The Sengoku HeatMate is available from Amazon.
Garage Heater Buying Guide
Heating your garage sounds easy right? Well….. it can be. But it can also be challenging to do it efficiently and cost effectively.
A garage can be a challenging area to heat – they are notoriously bad at retaining heat due to the fact that most of the time they are not built with thermal insulation properties in mind.
But choosing the right heater can at least mean that you haven't wasted your money. 
These are the things you need to consider when choosing a heater for your workshop or garage.
Portable or Fixed
Do you want a portable heater that you can move around the house or are you looking for a solution that you can install and forget about?
If yo need a heater than can be packed away out of sight, or moved to a different area when not being used in the garage then you need to make sure that the heater you choose is portable. 
But then you also have to consider that getting the heater out of storage, setting it up and getting it going will all take time.
If you need a heater that you can just flick on as you walk into your workshop then a permanently installed model might be what you are after.
Fixed heaters are usually more efficient than their portable counterparts, but they often require professional installation which means more of an up front cost.
Fuel Type
There are a few different choices of fuel types to consider for your workshop heater.
Each one has its pros and cons, and each is suited to a particular type of use.
Electricity
Most of these heaters in our list are electrically powered. Some come with a standard electrical plug, others require a specialized safety plug or hard-wiring into the electrical circuit.
Electricity isnt the cheapest way to heat an area, so care needs to be taken not to leave the heater going all day and night – or you might just receive a bill that knocks your socks off!
Natural Gas / Propane
Gas can be a more cost effective method of heating a larger area like a garage due to the fact that it heats up quickly and can soon have a large space at a much more comfortable temperature.
Most gas heaters will require a permanent connection to your gas connection or tank so will require a qualified professional to carry out the installation.
It's also worth mentioning here that even though a heater may be gas powered, it still often requires an electricity connection to facilitate fans and ignition devices.
Kerosene
Kerosene space heaters are an interesting choice when it comes to heaters. People traditionally think of kerosene as being a fuel type for an old lamp – but it actually works well as a fuel for heaters too.
Kerosene is quite cheap to buy, and heaters that use it are efficient.
However, it also can put out a strong odour that may be unpleasant to some people.It's also important to remember that kerosene is flammable and can be dangerous if the heater tips over or accidents occur when refuelling.
Heater Type
The type of heater you choose can be a big factor in how well it heats your space.
Radiant and Infrared Heaters
Infrared and radiant heaters work by directing the heat (radiating) from the source usually in a single direction.
While they will heat up a room, it can take some time and you need to be quite close to the heater to feel the warmth directly.
Because these heaters have no fan, they are almost silent.
Fan-forced Workshop Heaters
These are one of the most common style of heaters. They work by forcing the heated air out of the device via a fan – this means that the heat spreads out quickly around the room and the it's a much more noticeable effect.
Heat Output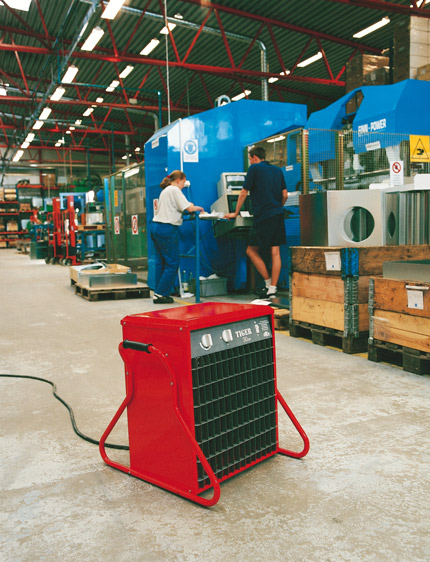 Heat output is measured in two different ways, depending on the type of heater you choose:
Watts – usually used for electric heaters
BTU – used for gas and kerosene models
The most powerful units are the ones with the higher wattage or BTU.
But beware! Although a high watt unit is capable of faster heating, it draws more power from the grid, causing much higher electricity bills.
It's often the fan that requires more power than the element. If a heater is capable of raising the temperature rapidly, the fan will only kick back in when the temperature has dropped. Finding the correct, comfortable heat in the room takes a little trial-and-error, but once you know how to control your heater, you can set your thermostat only to operate the fan when needed.
Safety Features
Safety should be one of your first considerations, luckily most heaters come with a good variety of safety features.
The most important safety features you should look for are:
Cool-Touch
This is as it sounds, it means that the heater stays reletively cool while operating so if the external casing touched inadvertently by you, your pets or little fingers then it wont cause injury.
Tip over Switch
This feature will be found on most portable heaters. When the heater detects that it has been tipped over, it shuts off automatically.
Overheat Protection
However well your garage heater is designed, faults do happen. Unfortunately these faults can sometime mean that the heater may become so hot that it catches on fire.
Overheat protection means that if the heater goes over a safe temperature, it will shut down automatically long before it gets hot enough to self combust.
Make sure you are aware of what safety features the model you are interested has, remember – safety first!
Additional Features
As with any modern appliance – there are many additional features that the manufacturer can choose to include with the heater. Some are a great feature, others are little more than a gimmick and just something else to go wrong!
Thermostat Control
Some heaters have little more than On/Off or High/Low controls. That's great if you just need a heater to switch on and heat an area up. 
But if you want to maintain a particular temperature consitently and efficiently then you really need a model with thermostatic control. 
What this does is allows you to choose a temperature you want the room to be at, and the heater will stay on until that temperature is reached. It will then maintain the desired temperature by only activating when required – leading to greater efficiency and comfort.
Heat Direction Control
Especially important for fixed heaters, the ability to control the direction of the heat out of your unit can make all the difference.
Adjustable louvres will allows you to control where the heat is direction out of the device, ensuring it heats up the desired area effectively.
Power Cord Length
My pet hate is having to get an extension power cord out every time I want to use a particular appliance.
If you are needing to sit your heater more than a meter or so away from a power outlet then you will want to find out exactly how long the power cord that comes with your chosen model is.
Pricing last updated on 2020-10-30 at 14:42 / affiliate links - Details