Those that live in humid climates know the importance of a great dehumidifier. Typically, running a dehumidifier all day long is necessary to keep your home comfortable. And, since you ideally spend eight hours a day sleeping, dehumidifying while you sleep is even more critical.
While dehumidifiers remove excess moisture (humidity) from the air and reduce impacts of allergens, mold growth, and asthma flare-ups, if they are too loud, they could keep you awake at night.
If you're looking for a quiet dehumidifier to use while you sleep or watch TV, you've come to the right place. This thorough guide reviews the top five best quiet dehumidifiers on the market.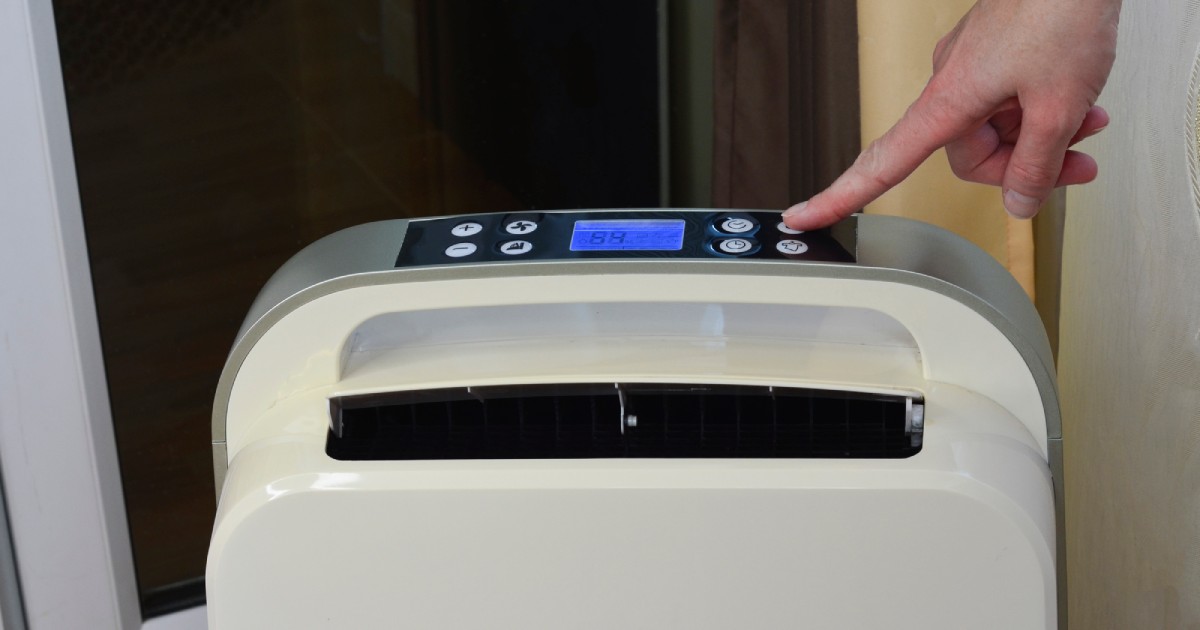 Disclosure: We may receive commissions when you click our links and make purchases. This does not impact our reviews and comparisons. All opinions are our own. We pride ourselves on keeping our articles fair and balanced. For more info see our disclosure statement.
Quietest Dehumidifier Quick Comparison Table
Use the chart below to compare the top options of quiet dehumidifiers quickly.
If you want in-depth details on the features of each dehumidifier, scroll past the chart to read the individual reviews.
Product
Details
Where to Buy

Noise level on quietest setting: ≤45dB
Coverage/capacity: 500 sq ft, 30 pints per day
Tank size: 1500 mL
Dimensions: 11.2 x 6.6 x 19.6 inches
Continuous drain option: Yes

Check Price Now

Noise level on quietest setting:
Coverage/capacity: 3,000 sq ft, 35 pints per day
Tank size: 14.4 pints
Dimensions: 14.8 x 11.4 x 24 inches
Continuous drain option: Yes

Check Price Now

Noise level on quietest setting: 35 dB
Coverage/capacity: 300 sq ft, 1 pint per day
Tank size: 2 pints
Dimensions: 5.7 x 5.7 x 8.9 inches
Continuous drain option: No

Check Price Now

Noise level on quietest setting: 47 dB
Coverage/capacity: 1,000 sq ft, 50 pints per day
Tank size: 17.3 pints
Dimensions: 11.4 x 14.8 x 24 inches
Continuous drain option: Yes

Check Price Now

Noise level on quietest setting: 52 dB
Coverage/capacity: 4,000 sq ft, 70 pints per day
Tank size: 14 pints
Dimensions: 15.7 x 12.4 x 25.4 inches
Continuous drain option: Yes

Check Price Now
What We Look For in a Quiet Dehumidifier
We thoroughly test, research, and review every dehumidifier before recommending them to you. We evaluate several features, benefits, and other essential factors. Here are our top considerations for the best quiet dehumidifiers.
Noise level (db)
Using a dehumidifier helps keep your home comfortable, especially if you live in a very humid climate. But did you know that keeping the humidity level between 40% to 60% can also mean better sleep? Unfortunately, if your dehumidifier is too loud, it can keep you awake or disrupt your REM sleep.
Note: The perfect balance is a dehumidifier that reduces moisture to comfortable levels and creates minimal noise.
While we focus on how dehumidifier noise can affect your sleep, that's not the only consideration. Ever try to hold a conversation next to loud noises? How about while you watch TV, play a video game, meditate, or read a book? A noisy dehumidifier can hinder or ruin your activities in all these examples.
Capacity and Purpose
Another important aspect we consider for dehumidifiers is their capacity and purpose. Capacity is how much moisture the dehumidifier can hold. Dehumidifiers with a smaller capacity tank mean you will have to empty it more frequently, especially if your home is extremely humid.
For convenience, many dehumidifiers have a continuous drain option. This feature allows you to connect a hose or tube and divert the water it collects directly down the drain! With this setup, you sidestep the chore of emptying the tank.
Coverage Area
The dehumidifier's coverage area is also essential. Dehumidifiers that only cover 50 to 100 square feet won't be that useful in a bedroom or shared living area. As such, this is something we keep in mind.
Smaller dehumidifiers are obviously designed for small spaces. However, some people falsely think that small dehumidifiers can work in a large room and just take longer. But they're wrong. Small dehumidifiers don't process enough air to significantly impact a large room's humidity levels. Trust us; we've tested this.
Certifications
Energy efficiency is becoming more of a concern for people nationwide. And since all dehumidifiers run on electricity, you should, as much as possible, look for an energy-efficient one to keep operating costs down.
Luckily, there are ENERGY STAR certified dehumidifiers out in the market today. With this certification, a dehumidifier can operate nearly 15% less energy compared to non-certified counterparts.
Note: Most dehumidifiers use compressors with low energy usage while removing large amounts of moisture from the air. However, they are a few "bad seeds" energy suckers that we will never recommend to you.
Quietest Dehumidifier Reviews
Without hearing each dehumidifier in person, it can be challenging to tell which ones make the least amount of sound. That is why we did hours of research and testing to find the best dehumidifiers that are quiet as a whisper.
That way, you don't have to play the game of Russian roulette of buying a dehumidifier without hearing it first!
The Airplus 30 Pint Dehumidifier is an ultra-quiet unit perfect for any area in your home. It quickly dehumidifies rooms up to 500 square feet in size, larger than most bedrooms and living areas. Plus, you can expect fewer emptying trips as its storage tank is decently sized. It even has a 52-inch continuous drainage hose, so you no longer need to worry about making sure the tank is empty!
Despite its capacity and tank size, one would think that this dehumidifier is humungous, but that's not the case. It's just 20-inches tall, 12-inches wide, and 7-inches deep, which allows it to fit easily in tight rooms.
Its setup and button controls are intuitive and easy; you won't need to flip through a manual to set it up.
But best of all, this Airplus dehumidifier is whisper quiet. The loudest it gets is 45 dB, softer than a running fan.
---
The TOSOT 35 Pint 3,000 Square Feet Dehumidifier is a superb moisture catcher with many intuitive features. First off, it has a built-in hygrometer that shows you your home's real-time humidity level.
In addition, it has overflow protection to prevent water spills, automatic humidity control, and a power outage restart feature.
If you live in an extremely humid area and your air conditioner can't keep up with the humidity levels, this TOSOT dehumidifier is your solution.
It dehumidifies up 3,000 square feet of space, larger than the average home. And when you connect a garden hose to its drain line, you will never have to empty its bucket again.
Plus, it is just 51 dB at its loudest. That's just slightly louder than light rainfall. With these low noise levels, you can use this dehumidifier comfortably in any room in your house with minimal disturbances.
---
The REEMKIZZ 35 oz Dehumidifier is an efficient and small dehumidifier perfect for a closet, bedroom, and bathroom. It has an auto-shutoff feature that stops it from overflowing the tank. Plus, it has an easy-to-see red LED light that indicates when the water tank is full.
If you want to add ambiance while winding down, you can take advantage of REEMKIZZ dehumidifier's 7-color nightlight feature. At its loudest, it operates at just 35 dB, making it one of the quietest dehumidifiers on the market.
One slight downside is its tank size. It only holds 35 ounces of water, which means you will have to empty it frequently. Although, it can only remove about 16 ounces of moisture from the air each day. So, you'll likely need to dump the water about every other day.
---
The GE Portable Dehumidifier with Pump is a fantastic dehumidifier for your home or business. GE designed this unit for extremely wet spaces. It can remove up to 50 pints of water from the air per day. That's a lot of water, equivalent to about 7.5 gallons.
It works great in large areas, like for dehumidifying your basement. But, you don't have to keep it there since it is relatively portable. Sure, this GE Dehumidifier weighs around 44-pounds, but it has a convenient built-in handle that makes it a breeze to carry.
It has a built-in pump with a drain hose to automatically dump the water it collects. This is extremely beneficial since you can set it up to drain to any location up to 16-feet away.
Since it has a pump, you might be wondering if it is loud. Surprisingly, it is very quiet. Even with the pump running, the loudest it gets is 47 dB– about as loud as light rain.
---
If you're looking for a dehumidifier that will control the humidity of your entire house (and more), this Honeywell dehumidifier is the best unit for you. Honeywell is a trusted brand, and they provide an outstanding warranty and access to Honeywell Home Comfort customer service for any support you might need.
This dehumidifier is Wi-Fi enabled, and you can control it with voice commands through Amazon Alexa. It has a detachable water tank, or you can connect a drain line for carefree and automatic drainage. This Honeywell unit has a filter cleaning alert to help you keep it running optimally.
With its large 70-pint removal capacity, you might suspect the Honeywell TP70AWKN to be loud. But at 52 dB, it is as silent as a running refrigerator.
---
Specification Comparison Table
Quiet Dehumidifier Buying Guide
Much like humid air is filled with moisture, the market is saturated with thousands (or more) models of dehumidifiers. Since there are so many out there, it is very challenging to find a good one, let alone a good and quiet dehumidifier.
We put together a comprehensive buying guide that focuses on what matters most when you're shopping for the quietest dehumidifier of your dreams.
Noise
Of course, if a dehumidifier is too loud, it will affect your normal daily tasks. For example, if you are sleeping, reading a book, having a conversation, watching a movie, or listening to music, these activities can all be disrupted by a loud dehumidifier.
Usually, 50 decibels or lower are acceptable, but some people prefer even quieter.
Besides the intensity of the sound, you should consider the type of sound the dehumidifier makes too. A well-running and high-quality dehumidifier will create a constant purr that doesn't vary much in pitch or tone.
This type of low hum is not bothersome to most people. In fact, it is relaxing to many and helps with their sleep!
On the other hand, dehumidifiers that sound like trash disposals or locomotive trains (lots of sudden and sharp sound variations) will be distracting and an annoyance.
Coverage
You will need to purchase a dehumidifier that has the correct coverage area. For example, if you plan to use it in your 12×12 foot bedroom, you will need a dehumidifier with at least 144 square feet coverage area. If you get one that has a large capacity, that is fine. But you will be paying extra, so keep that in mind.
Note: Purchasing a dehumidifier with a 3,000 square foot coverage area for your 144 square feet area bedroom doesn't make much sense. However, a dehumidifier that covers 300 square feet or even 500 square feet for the same room wouldn't be scoffed at.
Tank Size
The size of the dehumidifiers tank is something you should keep in mind. If the tank is tiny, you will have to empty it frequently. With a large tank, you will have fewer trips to the sink to unload, but it could get heavy if it is too big.
Drainage Type
Along with an integral tank, some dehumidifiers come with a continuous drain hose. Instead of emptying the tank, all you have to do is connect the drain line to a drain in your home. This convenience is a deal-breaker for many homeowners.
Cost
The price of a dehumidifier can greatly influence your decision on which model to purchase. If your desired model is outside your budget, you can wait until it goes on sale. Or you can find a similar one that will work in your home.
If you need to choose a lower-cost model, consider which features are most important to you. Then find the unit that fits your "must-haves" the best while staying within your budget.
A Quiet Conclusion
Dehumidifiers are perfect devices for increasing your home's comfort and indoor air quality. They prevent mold and mildew growth and reduce asthma flare-ups. And with a quiet dehumidifier, you can enjoy all these benefits without a nuisance.
If you're still up in the air on which dehumidifier to buy, consider where you will use it, how large of a space you need to dehumidify, and other features/configurations that appeal to you.