Overseeding is a great way to green up your lawn during the winter or revitalize it after drought or disease. But not all grass seeds are made equal when it comes to overseeding.
If you're considering overseeding your grass you first need to determine which type of grass seed is best suited to your yard and your goals. You also need to consider the type of lawn you already have in place as well as the timing of your seeding project.
All of these things will determine which is the best grass seed for overseeding your yard. Confused? Don't worry, we'll walk you through all the considerations for finding the right grass seed, as well as the steps to overseeding, below.
Disclosure: We may receive commissions when you click our links and make purchases. This does not impact our reviews and comparisons. All opinions are our own. We pride ourselves on keeping our articles fair and balanced. For more info see our disclosure statement.
What Is Overseeding?
Overseeding is simply the practice of spreading grass seed over an existing lawn.
Professional landscapers often overseed warm-season lawns in the fall to keep them looking green throughout the colder months. In fact, the practice of overseeding comes from the golf world.
In order to keep their valuable fairways resilient to foot traffic and looking their best during the winter, many courses overseed their short-growing warm season grass with rougher cool season varieties that will die out in the spring.
Overseeding can also be used to repair damaged or patchy lawns, help increase the density of lawns that have experienced die-back, and to support the health of certain types of turf.
The Best Grass Seed Types for Overseeding
The best grass seed for overseeding your lawn depends entirely on the type of lawn you currently have, your goal for reseeding, and the micro- and macroclimate of your yard. Even with all these considerations, there are really only four good options for overseeding: Perennial ryegrass, Kentucky bluegrass, tall fescue, and bermudagrass.
| Type | Where to Use | When to Sow | What to Know |
| --- | --- | --- | --- |
| Perennial Ryegrass | Over warm season lawns | Fall | For traditional overseeding to keep your lawn green in the winter, perennial ryegrass is the easiest to deal with without threatening the health of your lawn. |
| Kentucky Bluegrass | Over cool season lawns | Fall, winter, or late summer | If your cool season lawn isn't as luxurious as you'd like, seeding some Kentucky Blue will add glorious color and lushness. |
| Tall Fescue | Over cool season lawns | Fall, winter, or late summer | Fescue is a hearty choice for struggling lawns. Tall fescue is best for sunny areas but some varieties are shade tolerant. |
| Bermuda | Over warm season lawns | Spring | If your warm season grass needs revitalization, Bermuda grass is the best option. |
Perennial Ryegrass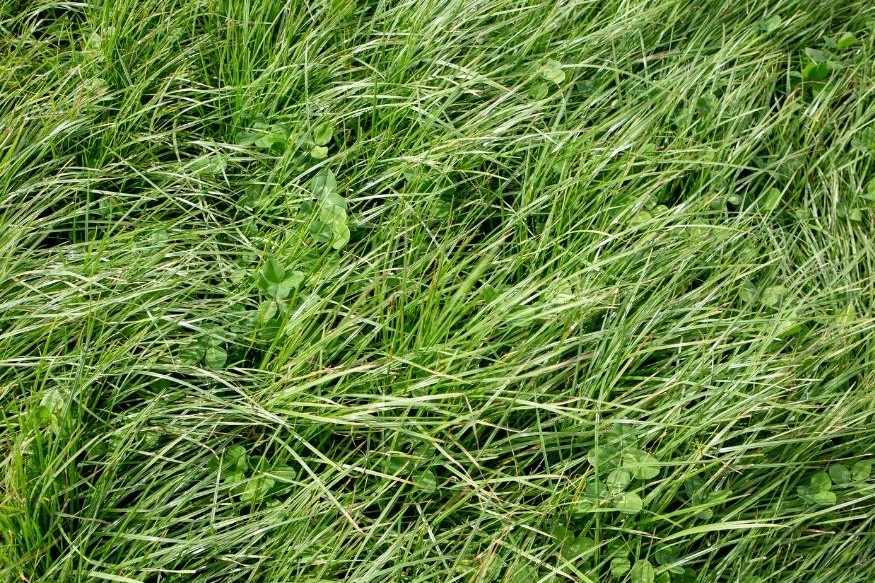 The idea behind traditional overseeding is to put down a layer of cool season grass over a warm season lawn so you can have green grass all year.
This means when spring arrives, the cool season grass will begin to die off, allowing the warm season grass to take over without too much of a negative impact on the overall health of the lawn or soil.
However, many professionals do not recommend overseeding warm season lawn with cool season grass because growing grass all year long can:
Weaken the soil
Deprive your permanent turf of nutrients
Cause crowding issues
On the other hand, seeding with cool season grass in the winter can help protect your turf from damage caused by heavy foot traffic. And for those with the resources and time to provide extra care, it is possible to green up your lawn in winter without risking your summer grass.
If you do choose to overseed your warm season turf for winter color or durability, your best option is perennial ryegrass.
Perennial ryegrass has a deep green color and creates a lush lawn that is cold tolerant and fast growing. It germinates in just 3 to 5 days for quick results.
And, most importantly, many varieties die out quickly in the spring and can be killed off completely using a low lawn mower setting and verticutting. These characteristics allow the permanent turf grass to grow back thicker and healthier for lush, green lawn through the summer and fall.
When and Where to Sow
For a green lawn in winter, sow perennial ryegrass in the fall as the existing warm season grass begins to die back.
Note: Ryegrass grows best when the soil experiences consistent temperatures between 50 and 65 degrees. You should spread the seed early enough in the fall to allow the turf to establish before temperatures begin to fall.
Ryegrass is best seeded over Bermuda grass lawns. Seeding over zoysia is possible, but it is more difficult to prepare zoysia lawns, so the seed gets good contact with the soil. Spreading over St. Augustine is not recommended, as preparing this lawn for good soil contact is likely to scalp and kill the existing grass.
This kind of "green winter" overseeding is only recommended for warm climates that experience temperature dips in the winter that cause dormancy in warm season grass but do not get cold enough to freeze.
Perennial ryegrass is preferred for its deep color and lush growing habits. But it is expensive, and some varieties can grow late into the spring, even in hot climates. Annual ryegrass is much cheaper and will work just as well for warm season lawn overseeding, but it doesn't have the lush feel or deep color of perennial varieties.
Kentucky Bluegrass
If your main reason for wanting to overseed is simply that your current lawn looks a little lackluster or isn't as dense as you would like, then Kentucky Bluegrass is the way to go.
This cool season grass is prized for its deep color, lush growth habits, and cold tolerance. It is also incredibly tolerant to foot traffic and recovers from damage rapidly. It prefers areas of full sun and will spread rapidly to fill in gaps and areas of thinning grass.
On the downside, this grass is not shade tolerant, and will die back in areas of even partial shade. It is also known to create an excessively thick thatch, which happens very quickly. It also requires a lot of water and food.
As long as you live in an area with enough water and have the means to provide extra nutrients (we suggest a subscription lawn care program), then Kentucky bluegrass makes a great option for overseeding lackluster or thinning cool season turf. Its ability to spread rapidly and grow very densely means it can replace your old lawn without you having to remove it first.
When and Where to Sow
This cool season grass is best sowed in late summer or early fall, just after the weather begins to turn. This will give it plenty of time to establish before the weather gets too cold and allow it all of spring to deepen its roots in preparation for the dry summer months.
If you missed the fall window, you can also spread seeds in the late winter in anticipation of the coming spring. The thawing and freezing cycle of the ground will actually help work the seeds into the soil.
Once the ground thaws for good, they will begin growing and should have enough time to establish before the summer heat hits.
You can use Kentucky Blue to overseed any type of cool season lawn. It works best in northern climates as well as in transition zones.
Tall Fescue Grass
Fescues are prized for their ability to survive in all sorts of hostile conditions. Tall fescue, especially, is drought, heat, and shade tolerant and disease resistant. This is why we recommend this grass type for overseeding lawns that are struggling to overcome certain environmental factors.
On the downside, it is not as lush as Kentucky Bluegrass and is prone to brown patch disease when exposed to high heat and humidity.
But if you're in the process of rehabbing your lawn after dealing with disease or are experiencing drought conditions, or just have a shady yard, fescue is the best way to go.
When and Where to Sow
Like Kentucky Blue, this cool season grass is best sowed in late summer or early fall. It can also be put down in late winter to grow the following spring. Since this variety is a little more heat resistant, you can even get away with sowing in spring, though your results may not be as spectacular.
Seed fescue over cool-season lawns in northern and transition regions.
Tall fescue tends to grow in thick bunches, which makes it especially useful in spotty lawns that need to be filled in. It is shade tolerant but prefers sun. If you have a lot of shade, opt for red fescue instead. This variety has a lot of the same benefits as tall fescue but prefers to grow in shady environments.
Bermuda Grass
Generally, it is not recommended to overseed warm season grass because the growth habits of this kind of turf make the soil inaccessible to the new seed. The one exception to this rule is Bermuda grass.
As we mentioned above, Bermuda grass can be overseeded with ryegrass in the fall to add some green during the winter. It can also be overseeded with Bermuda grass seed during the warmer months to create a lusher lawn or fill in gaps and crowd out weeds.
As you can imagine, adding Bermuda grass to your existing Bermuda turf won't change the look of your lawn all that much, but it can have some great benefits to the turf's health.
Warm season grasses are meant to grow in a thick cover to help protect their root systems from the sun. Overseeding helps fill in gaps and create denser turf for a healthier lawn. This also improves the grass' salt, drought, and insect tolerance. Thicker grass will also help crowd out weeds and reduce the need for herbicides.
While your lawn won't take on any new characteristics, it will look denser, lusher, and healthier.
When and Where to Sow
Sow this warm season grass in spring when temperatures reach an average of 60 degrees. If you sowed ryegrass over the winter, be sure to set your mower low and go over the existing grass first to allow plenty of sunlight to reach the seeds.
As we mentioned above, Bermuda grass is best seeded over existing Bermuda grass in southern regions. It does not do well when seeded over other warm season varieties. If you live in a transition zone, you may get some benefit from overseeding your cool season lawn with Bermuda to add more color during those hot summer months.
Bermuda grass does best with direct sunlight and in areas with good drainage.
The Best Grass Seed Brands for Overseeding
Now that you've decided which grass seed type is best for your needs, it's time to pick up a product to get the job done. To help make the search a little easier, here are a few of our favorite products for each grass seed type we recommend.
Perennial Ryegrass
Scotts Perennial Ryegrass blend is perfect for those sunny and lightly shaded lawns that need a little greening up in the summer. This blend germinates and grows quickly for faster results and is especially tolerant of foot traffic and compact soil.
---
For a more natural approach with no coatings or fillers, GreenView's Perennial Ryegrass Formula is a great choice. Not only is this seed free of additives but it is specially formulated for overseeding warm season grass and is the preferred brand for golf courses and athletic fields.
Kentucky Bluegrass
Scotts Turf Builder Grass Seed Kentucky Bluegrass Mix
If wear and tear have turned your lawn into a spotty, unattractive mess, then overseeding with Scotts Turf Builder Kentucky Bluegrass Mix can help. This seed is coated for faster, more sustained growth, and specially bred to repair damage quicker.
---
GreenView's Kentucky Bluegrass formula is specially made for new lawns as well as overseeding and patching existing turf. This natural, uncoated formula is exceptionally hardy and gives you more seed coverage per bag than competitors.
Tall Fescue
Scotts Turf Builder Grass Seed Tall Fescue Mix
Scott's Tall Fescue Mix is a great choice for areas that experience hot dry summers as well as cooler winters. This coated seed mix germinates in under two weeks and is impressively heat and drought-tolerant and disease resistant. These seeds will thrive in full sun to part shade.
---
This specialty sun and shade tall fescue formula from GreenView was selectively bred to be just as hardy in shady yards as it is in sunny areas. The mix contains only tall fescue seed for greater coverage. This choice is especially handy for overseeding and brown spot repair.
Bermuda Grass
Pennington's Bermuda Grass Mix is designed for faster results, with germination occurring in as little as ten days. The fertilizer coat means less work is needed to prepare your existing lawn and less watering once the seed is down. This mix is perfect for sunny areas that see a lot of traffic.
---
Scotts Turf Builder Grass Seed for Bermudagrass
This Bermuda grass seed from Scotts is perfect for repairing worn-out lawns and replacing those that haven't been able to survive the heat. These seeds are exceptionally heat and drought-tolerant and grow aggressively to create a thick, hardy lawn that looks amazing.
---
How to Overseed
Once you've picked the right grass seed to overseed with, the real work can begin. Now you must prep your lawn, spread your seed, and diligently care for it until it establishes.
For an in-depth guide to this process and more information on the benefits of overseeding, check out this article.
Preparing Your Lawn
The most important part of spreading lawn seed is assuring good soil contact. Most grass seed requires constant moisture and constant sunlight. This means you need to get your grass seed to the soil so it can benefit from the moist dirt while still allowing it to get plenty of light to facilitate germination.
Accomplishing both of these is especially tricky during overseeding because the existing grass blocks access to the soil while blocking out the sun. Because of this, you'll need to put the most work in during the prep phase of the process.
Step 1: Mow Your Lawn
Mowing your lawn ensures that your new seed gets plenty of light. Set your mower as low as you can to help remove the shade canopy covering the soil.
For warm season Bermuda grass, this shouldn't cause any issues, as it prefers to be kept short. Cool season grasses may suffer more during this step, especially if the temperature is still high during the day.
Fescues and other hardy varieties should recover by the time you get to the germination stage, but Kentucky Bluegrass and other more sensitive turf types can suffer. For these, it is best to wait to seed until later in the fall or after they've gone dormant in the winter months.
Step 2: Clean Up All Clippings
Normally, we'd recommend leaving your grass clippings to add additional nutrients to the soil. But in this case, bagging the clippings is incredibly important. It will help uncover the soil between the blades so your new seeds can get good contact with the ground.
Step 3: Loosen the Turf and Remove Thatch
Another important step to ensure good soil contact is removing thatch and loosening the soil.
Thatch is the intermingled mat of dead grass and living rhizomes and roots that help form turf. This layer is beneficial to the grass (as long as it is kept in check) but makes getting seeds to the soil nearly impossible.
You can break up thatch and remove it using a metal garden rake with sharp tines or with an electric dethatcher. Once you have the thatch broken up, bag and remove any dead debris.
Now that you have access to the ground, use your metal garden rake to loosen the compacted soil. Not only will this make it easier for your new seed to set roots, but it will also create more soil surface area to help increase your germination rate.
Step 4: Add a Light Soil Layer
Next, sprinkle a light layer of enriched soil over your grass. Not only with this increase seed-to-soil contact, but it will help feed your lawn to assure both new and existing shoots get everything they need.
Spreading and Caring for Your Seed
Now that your existing lawn is prepped and ready to accept new grass seed, it's time to sow, fertilize, and water.
Step 5: Spread the Seed
Use a hand or rolling spreader to disperse your seed over your existing lawn.
When overseeding, you can typically get away with putting down about half as much seed as what is recommended for normal bare-soil seeding. It is best to calculate this based on the package directions, but in general, your seeding rates for each type will be as follows:
Perennial Ryegrass (over warm season grass) – 10 pounds seed per 1000 square feet
Kentucky Bluegrass (over cool season grass) – 3 pounds seed per 1000 square feet
Tall Fescue (over cool season grass) – 3 to 4 pounds per 1000 square feet
Bermuda Grass (over warm season grass) – 1 to 2 pounds per 1000 square feet
Be sure to pick your seed and set your timing based on our recommendations above. While most any cool-season grass can be used to overseed, some are much better suited for the process than others. Seeding over warm season turf or with warm season grass is much more difficult and is recommended only for certain types of turf.
Step 6: Fertilize
Look for a grass fertilizer that contains nitrogen, phosphorus, and potassium to facilitate quick germination and rapid growth. You can use a liquid or granular form, just be sure to minimize foot traffic over the area and be careful not to wash your seed away by getting too heavy with the water.
Step 7: Water
In order to germinate properly, grass seed must be kept moist until the root develops. For some varieties, germination can take weeks. This is why watering your new seed is one of the most important steps.
Luckily, because of the existing grass, watering overseeded lawns is actually easier than watering seed on a freshly prepared plot of dirt. The old grass will help retain the water for longer and prevent the seed from being washed away, though you should still be careful not to overdo it.
Water at least twice a day for the first two weeks, then slowly taper down your watering as the seeds germinate to encourage deeper root penetration.
Keep off the lawn and avoid mowing until three weeks after the seed has germinated. At that point, consider putting together a comprehensive lawn maintenance plan to keep your revamped lawn looking great for years to come.
The Right Seed Makes All the Difference
Whether you're overseeding to revitalize a neglected lawn or to add a little greenery to those colder months, selecting the right seed to use is the most important step.
For overseeding warm season grass for a little winter color, we recommend perennial ryegrass. And for a bit of revitalization in the summer, Bermuda is the best choice. If you are overseeding a cool season lawn, Kentucky Bluegrass will add a ton of color and wear resistance, while tall fescue will help it look great in even the harshest conditions.
Once you've chosen the right grass, you'll have to get to work in order to get your lawn prepped, your seed down, and to care for the new shoots. But, compared to resodding or reseeding an entire yard, overseeding is a much less intensive and less expensive way to revamp your turf.
Still have questions about overseeding or which seed is best for your project? Comment below and we'll help you find all the answers you need.