Some articles will lead you to believe that you need to spend lots of money and follow a super complicated plan to achieve a great-looking lawn. While those plans undoubtedly work, most people don't need something so in depth.
With a little planning, and some local knowledge you can have a great-looking lawn with a minimal amount of planning and effort.
In this guide, we will give you a lawn maintenance schedule with only 10 (mostly) simple steps.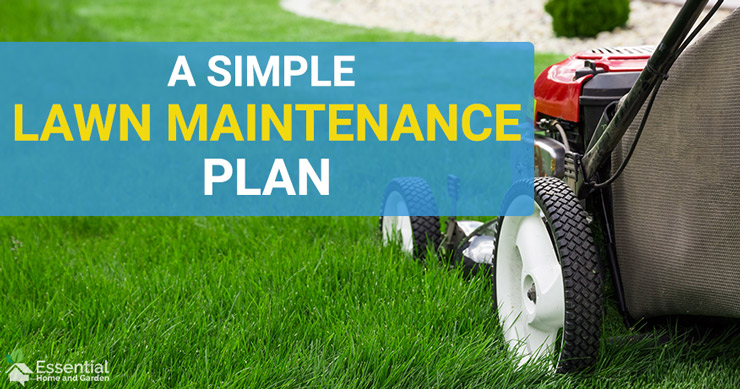 Disclosure: It is important you understand that we may receive commissions when you click our links and make purchases. However, this does not impact our reviews and comparisons. All opinions are our own we pride ourselves on keeping our articles fair and balanced. For more info see our disclosure statement.
Month By Month Lawn Care Calendar
I have put together this simple visual seasonal lawn care calendar for you to use as you like.
As you can see, having a great looking lawn doesn't need to be complicated.
Keep reading past the calendar for more in depth details on each step.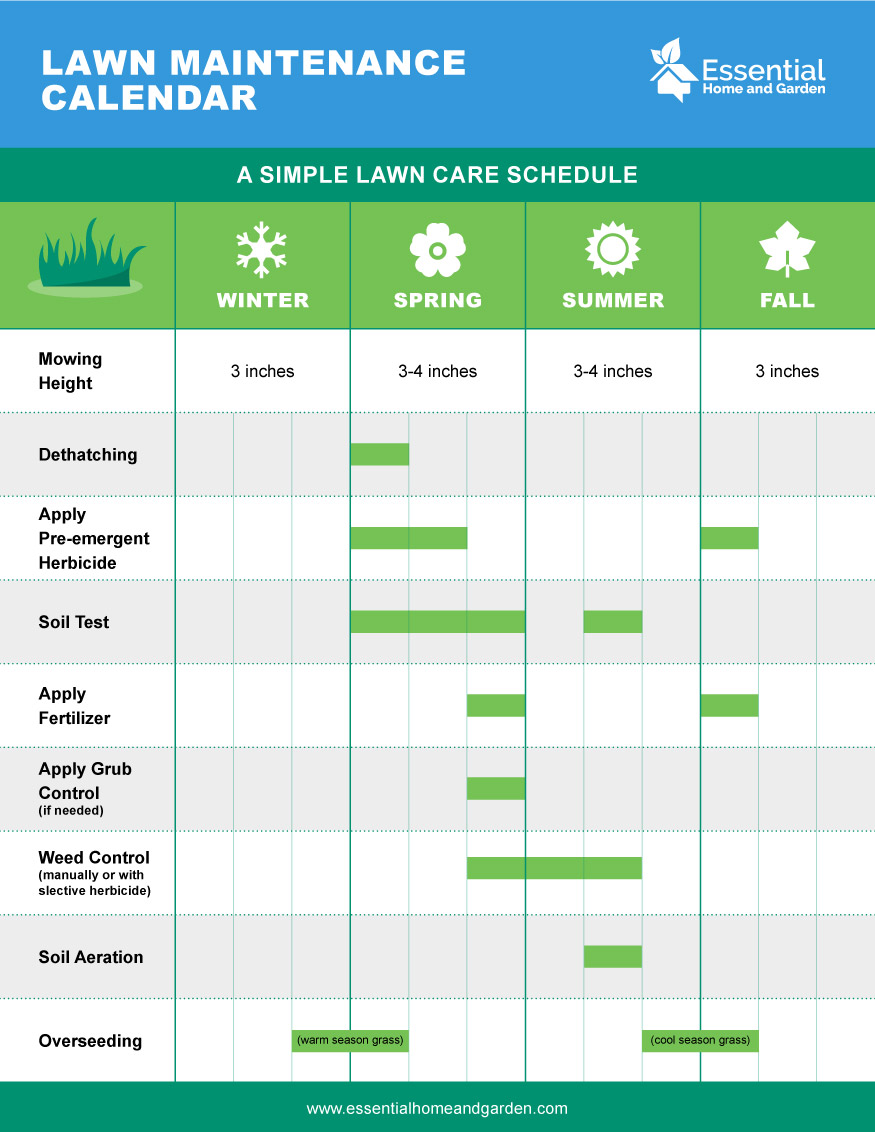 A Simple Lawn Maintenance Schedule
We aren't always looking for complicated encyclopedia-type guides, occasionally we just want simple lawn care tips and tricks to keep our yard looking as good as possible all year round.
We have taken advice from the experts and whittled it down to a simple lawn care plan that is easy to follow and doesn't cost the world.
It should be noted that this plan is written around a northern cool season lawn. Although it can be applied to any zone, you may have to adjust the timings a little.
In order to keep this guide as simple as possible, we have not gone into detail on what each step is and how to complete it. Where it will help, I will provide a link to a helpful resource in case you need to research each step further.
Apart from the mowing height, we do not mention mowing in this guide. You should mow your lawns as per best practices – the main rule is don't mow too short!
Starting from scratch? Read this handy guide on sod by The Green Pinky
Spring Schedule
Spring Mowing Height: 3-4 inches
1. Dethatching
Clean up sticks or clutter on your lawn. Dethatch to open it up and get the air circulating around the base of the grass.
You will need
A dethatcher – These come in a few different types:
This video demonstrates dethatching with a gas model.
2. Apply a Spring Pre-emergent
Pre-emergents are a spray-on chemical that you apply to your lawn. They prevent weed seeds from growing roots and shoots. This application targets summer annuals.
When exactly to apply the pre-emergent herbicide depends on your zone and what weeds you typically have in your lawn. But it needs to be applied before the weed seeds have germinated. Generally, this is early spring.
You will need
Either A Pre-emergent liquid herbicide
OR A granular pre-emergent herbicide
3. Test Your Soil
You need to test the soil in your lawn to see what nutrients your lawn required and thus choose a fertilizer to apply.
Make sure you choose a good soil test kit that tests for N, P, K as well as pH levels.
You will need
4. Apply Fertilizer and Grub Control
If you used the soil test kit listed above then you will likely have an idea of the fertilizer you need. But I would highly recommend talking to your local garden center and ask them to help you choose a fertilizer that is right for your grass type and soil test results.
In early to mid-May, apply this fertilizer to your lawn.
If you have had grub problems in the past, then this is also the time to apply a grub preventer.
Read this article for more info on how to deal with grubs.
You will need
A suitable Fertilizer
A grub preventer
Summer Schedule
Summer Mowing Height: 3-4 inches
5. Keep On Top of Problematic Weeds
From late May through till early July, you need to keep on top of any problematic weeds that have not been kept away by the pre-emergent herbicide.
You can do this by manually removing weeds or by using selective herbicides (otherwise known as weed and feeds). If you are going to use herbicides, make sure you wait at least 3 weeks between applications.
Read our guide on ways to remove weeds here.
You may need
A suitable selective herbicide
6. Mid Summer Fertilizer Application (optional)
Some experts will tell you to apply a mid-summer fertilizer.
You can choose whether you want to do this, but you may find that the lawn just grows too fast if you do and needs mowing too regularly!
It's also ideal to use a good brush cutter and keep on top of the edges to maintain a tidy look.
You may need
7. Late Summer Aeration
Towards the end of summer you will want to aerate your lawn to relieve soil compaction.
There are many ways to do this, but the quickest and most cost-effective way to do this is to rent a core aerator machine.
We have a guide on relieving soil compaction here.
You will need
8. Overseeding (optional)
Overseeding is where you plant seed where you already have grass, without tearing up the old stuff. It is a way to fill in bare spots and improve the density of your lawn. This is done after the aeration.
If your lawn isn't looking great then you probably want to do this part.
Check out our guide on How to overseed a lawn.
After applying the seed make sure you water it 2-3 times a day for at least 3 weeks. You can then go back to watering 1 – 2 times a week.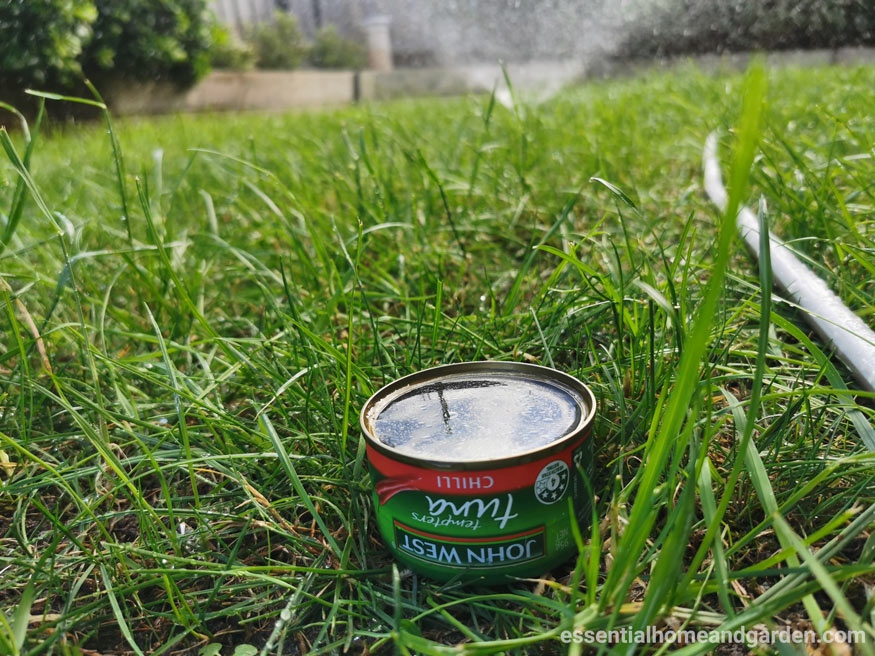 Use the tuna can rule to make sure you are watering correctly
You will need
Fall & Winter Schedule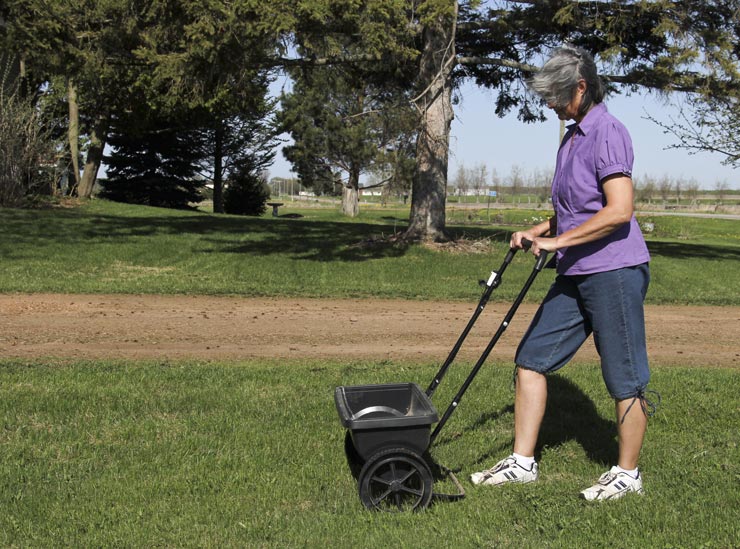 Fall/Winter Mowing Height: 3 inches
9. Apply Fall Pre-emergent
If you overseeded, then you need to wait at least 50 days before doing this step.
Before the temperature starts to drop consistently below 70 degrees you should apply a pre-emergent herbicide to stop the winter annual weeds coming through.
You will need
Either A Pre-emergent liquid herbicide
OR A granular pre-emergent herbicide
10. Apply Fall Fertilizer
Now is the time to get your lawn ready to survive the winter months. Applying a 'winterizer' fertilizer is an important part of your annual lawn care plan.
Apply your lawn fertilizer in late September or early October.
You can learn more about winterizer fertilizers in our article here.
You will need
A fertilizer

Once again, speak to your garden center about which is right for your lawn.
Do It Yourself Lawn Care Step-By-Step Guide
Don't make lawncare confusing and difficult. Whenever you are conducting a monthly lawn maintenance, always remember these 6 steps.
1. Mow grass' top section
During winter and fall, you will need to adjust the mowing height to 3 inches. For spring and summer, you can increase it to 4 inches.
2. Dethatch your lawn
Dethatching opens up your lawn and allows air to circulate in and around the grass. Only conduct detaching every spring.
3. Remove weeds
Remove weeds manually or apply a weed control during the last week of spring. You can also get rid of weeds during the first two weeks of summer.
4. Conduct a Soil Test
Using a soil test kit helps you determine the right fertilizer for your lawn. You can find soil test kits at your local gardening stores. Conduct a soil test during spring and summer only.
5. Apply grass seeds (overseeding)
For warm season grass, conduct overseeding during the last week of winter and first few days in spring. If your lawn has cool season grass, apply grass seeds during early fall.
6. Add fertilizer and grub control
Based on the soil test results, apply fertilizer if needed. Using grub control or preventer may also be necessary, especially if you had this problem before.
Get Started!
There is no better time to start this plan than now. It does not have to be started in spring – jump in at any time and get your lawn on the way to looking great!
Before you know it your lawn will be the envy of the street!
And finally, if you want a great Youtube channel to follow on lawncare then I recommend DIY Dad – a lot of the info for this article came from this guy. Check it out here.
Sources
https://grasspad.com/mowing-height-for-your-lawn/
https://www.reddit.com/r/lawncare/comments/bj3uvo/basic_10_step_process_to_a_nice_lawn/