Electric wall mounted heaters aren't just safer than portable types, they are also 100% energy efficient, unlike propane and natural gas units.
But finding the right electric heater for your specific needs can be a challenge.
That's why we've done the leg work for you by picking and reviewing the top 6 best electric wall heaters on the market. In this article, we'll also walk you through everything you need to know about how these units work and what you should consider before selecting one.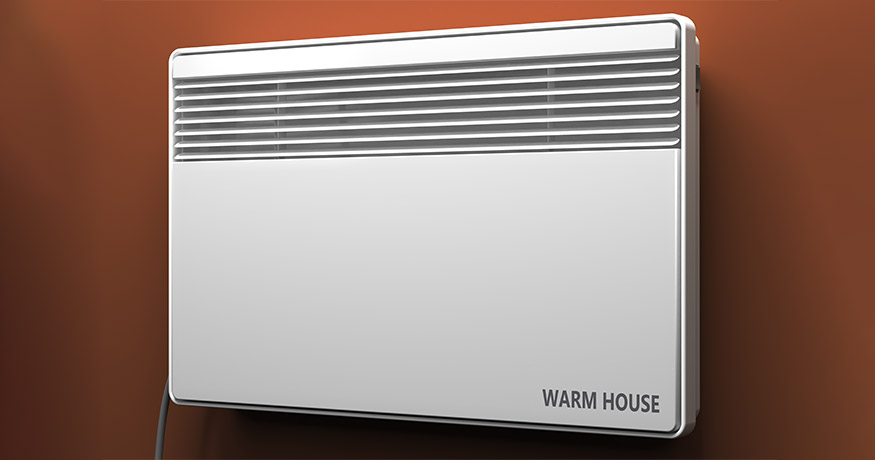 Disclosure: We may receive commissions when you click our links and make purchases. This does not impact our reviews and comparisons. All opinions are our own. We pride ourselves on keeping our articles fair and balanced. For more info see our disclosure statement.
The Best Electric Wall Heaters Comparison Table
Image
Product
Details
Price

Comfort Glow Electric Infrared Heater

Model: QWH2100
Room Size: 1,000 sq. ft.
Watts: 1,500
Type: Radiant, wall-mounted
Features: Timer, thermostat, remote control

Check Price Now

Best Choice

Cadet Register Series Electric Wall Heater

Model: RM162
Room Size: 250 sq. ft.
Watts: 700 - 1,600
Type: Fan forced, wall-insert
Features: Auto-shutoff, adjustable wattage output

Check Price Now

MagikFlame Athena Electric Fireplace

Model: Athena
Room Size: 1,000 sq. ft.
Watts: 1,500
Type: Radiant, wall-set
Features: Holographic flames, iPhone app, thermostat

Check Price Now

Heat Storm Infrared Heater

Model: HS-1500-PHX-WIFI
Room Size: 750 sq. ft.
Watts: 1,500
Type: Radiant, wall-mounted
Features: Wifi enabled, phone app

Check Price Now

Com-Pak Plus Series Electric Fan Wall Mounted Heater

Model: CSC101TW-202TA
Room Size: 500 to 1,500 sq. ft.
Watts: 1,000 to 2,000
Type: Fan forced, wall-insert
Features: Thermostat, auto shutoff

Check Price Now

Air Choice Heater Panel

Model: PH08 AR
Room Size: 250 sq. ft.
Watts: 400
Type: Convection, wall-mounted
Features: On/off switch, low profile

Check Price Now
#Affiliate
Electric Wall Heater Reviews
There are a lot of things to consider when shopping for your new wall heater.
Beyond heater type, you also want to analyze the size and wattage of the unit, the mounting style, wall heater features, and warranty options. This will make sure you get the best electric wall heater for your needs.
Given all these considerations and the number of models available, we thought we would save you some time by selecting and reviewing the top electric wall heaters on the market.
Read the following detailed wall heater reviews to learn more about each space heater in our list.
This Comfort Glow infrared wall heater is compact enough to fit on the most crowded of walls but powerful enough to heat up rooms as large as 10 by 10 feet.
The unit utilizes two super-efficient quartz heating elements that pump out warming electromagnetic waves. In addition, this model contains an ultra-quiet, high-output fan to help spread heat through the room more quickly.
All of these powerful heating components are housed inside a sleek and slim cabinet that remains cool to the touch. This cabinet is also moisture-resistant, making this product safe for use in bathrooms.
The programmable thermostat comes built in with an easy-read display. Timing, eco, and set temp functions are accessible through the thermostat face or can be programmed via the included remote control.
This wall heater can be installed quickly and easily and plugs right into the wall with the included six-foot cord.
While not the most inconspicuous heater on the list, this unit certainly gets the job done and does so at a price that is hard to beat.
---
If your idea of the perfect wall heater is one that is neither seen nor heard, then you may want to take a closer look at this Cadet Register Series electric wall heater.
The compact unit body is installed in the wall and covered with a discrete, register-style grill. Air is sucked into the unit via a fan and then pushed through a system of heated fins and back out into the room.
The ultra-quiet fan heater operation combined with the fact that this unit sits within the wall means you can hardly hear it while it's running.
Another great feature of this forced fan style wall heater is that it comes with a multi-watt option. By switching the wiring input, you can choose between 700, 900, or 1,600 watts. The lower wattages are perfect for rooms under 250 square feet while the higher option is great for those just over that mark.
One downside of this wall heater is that you must buy the thermostat and register cover separately. However, this does give you the option to find exactly what you need in these customizable parts.
In terms of discrete yet powerful and quiet electric wall heaters, this product is at the top of our list and we consider it to be the best electric wall heater available right now.
---
If discrete isn't really your thing, then we have the perfect option for you in this gorgeous electric fireplace-style heater by MagikFlame.
The Athena model comes with the standard MagikFlame holographic fireplace built into a beautiful white wood mantle.
The heater beneath the fireplace utilizes radiant heat to warm the room while realistic looking flames provide an ambiance that no other heater on this list can touch.
A digital screen built into the side of the insert allows for easy control of everything from flame type to temperature to timers. Or, if you prefer not to get up from the couch, you can use the downloadable iPhone app.
In addition to the great heating power of this unit, it also has a long list of fun bonus features. There are 26 different flame settings all with their own realistic crackling sound effects. It can even play nature sounds to help soothe and relax you after a long day.
In other words, this unit is much more than just a heater!
The Athena wall heater is made to be placed in front of any bare wall. If you already have an old wood or gas fireplace that you are hoping to upgrade to electric, MagikFlame also sells a fireplace insert with the same efficient radiant heater, holographic flames, and fun extras.
Learn more: Our guide to converting a wood fireplace to an electric fireplace
---
Small wall heater units are great for tight spaces but often don't perform well enough to heat the entire room. This Heat Storm infrared heater is one excellent exception to that rule.
By utilizing patented dual wall technology to surround and insulate the infrared coils within the unit, this heater is able to turn more of the electricity it uses into room warming power.
And, because this is a simple radiant heater, it is extremely quiet.
But by far, the best feature of this heater has to be its wifi connectability. Not only does this allow you to run the unit from a downloadable phone app, but you can also connect it to your home assistant.
It doesn't get any easier than telling Alexa to crank up the heater in the bathroom or bedroom before you even get out of bed in the morning.
In addition to being high-tech, this electric wall heater is also extremely safe. The heater grill is made of material that remains cool to the touch even after the unit has been on for hours.
While this heater is optimal for rooms slightly smaller than other units on this list, the combination of a compact design, wifi connectability, and safety features is hard to beat.
---
Cadet makes a lot of great electric wall heaters, which is why we have included two of them on this best-of list. All their products are made right here in the USA and come with full warranties for peace of mind.
The Com-Pak Plus fan heater is no exception.
Like the Register Series, this electric wall heater is made to be installed between the studs of an interior wall and covered with a discrete register-style vent. This unit is slimmer than the other option we've featured here which makes it easier to place in crowded rooms.
This model line comes with five different BTU ratings from a low 3,400 for small offices and bathrooms to a high 6,800 for larger living rooms and master bedrooms.
One of the things we like most about this unit is its simplicity.
To set the temperature, simply turn the knob on the front of the register to the desired heat level. The Com-Pak works quickly to heat the room and will automatically turn off once the set temperature is reached.
If you prefer to set schedules or be more hands on with your heater, you can always purchase a compatible wall thermostat from Cadet and sync it to the unit.
In terms of sheer simplicity, this heater delivers in both its sleek and discrete design and its easy operation.
---
Sometimes heating the whole room isn't as important as heating the area where you spend the most time. This is especially true in offices, living rooms, and reading nooks.
For this kind of heating, using a low-powered convection wall heater is the most efficient and cost-effective option. The Heater Panel by Air Choice is one of the best examples of this type of unit you are likely to find.
The super-thin profile and easy-mount installation mean you can place this heating panel just about anywhere. Stick it on the wall above your desk, next to your favorite reading chair, or even next to the bed.
The wide face of the unit heats up quickly and sets the air around it cycling gently so that cooler air near the floor is consistently lifted and warmed. This means no sounds and no agitating air movement to dry out your skin.
Best of all, this panel heater can be painted to match any wall in your home. That combined with the super-quiet operation means you may just forget it is there at all.
Unfortunately, this panel cannot be used in bathrooms or other high-moisture areas. And the power settings are limited to a rudimentary on/off switch.
But for use as a simple area wall heater that doesn't cost a lot upfront or to operate, you won't find a better option than this product.
---
Types of Electric Wall Heaters
While electric wall heaters come in a variety of shapes, sizes, and styles, there are only four categories of heat conduction methods these products fall into.
All of these methods come with their own pros and cons. Understanding how each heat conduction method works and what it can offer will help you decide which electric wall heater is best for your needs.
Fan Forced Heaters
Electric heaters that blow hot air out of the unit are called fan forced heaters.
These units work by utilizing a fan or blower to move air over a heating element. The warmed air is then pushed out into the room.
Fan forced heaters tend to be more affordable than other types. They also work to heat rooms more quickly than heaters that rely on convection alone. And, depending on the amperage and size, they can be very effective for heating large areas.
On the downside, these units tend to suck the moisture out of the air because they create fast moving hot air currents. If you are using a very powerful fan forced system, you may want to invest in a humidifier to balance this over-drying process.
Radiant Heaters
Radiant heat is another very common form of heat conduction found in electric wall heaters.
Unlike fan forced units that heat the air in the room, these wall heaters work by emitting electromagnetic infrared waves that heat only the objects they pass through. As these objects become hotter, they pass additional heating energy to other objects around them.
It may sound a little strange, but this type of heating method is completely safe and as old as time itself. The way the sun heats you as you walk outside is by this very same process.
Not only is infrared radiant heat safe, but it is incredibly efficient and very quiet. These units can heat a room almost instantly and do so in near silence.
Some infrared wall heaters utilize a fan or blower to create air movement that further increases their heating power.
Radiant electric wall heaters do tend to cost a bit more than your typical heater and may not be the right solution for large areas since the heating effects are focused on the objects closest to the unit.
Micathermic Heaters
Micathermic wall heaters combine the best aspects of fan forced and radiant heaters.
Like fan forced wall heaters, micathermic heaters utilize a heating element to generate powerful warmth. But instead of using a fan to move air over the element, these units rely on Mica sheets surrounding the element that emit electromagnetic waves as they heat up.
The combination of these two heating methods combined with the convection style air movement that occurs once the room begins to warm up make this type of wall heater one of the most efficient out there.
Of course, being the most efficient doesn't typically come cheap. Micathermic heaters tend to be pricier inch for inch than other types of electric heaters.
Convection Heaters
Convection heaters rely on the natural movement of hot and cold air to effectively heat up a space.
Air passing through a convection heater warms up and becomes lighter than the cool air in the room. As this air rises, it forces cooler air down toward the heater allowing it to be warmed as well.
Many fan forced wall heaters utilize convection principles and can be categorized as belonging to either type. But strictly convection-style heaters do exist. These simple units use only a heating element and the natural movement of circulating air to warm the room.
These blower-less heaters take much longer to heat a room than other types of heating units but use only a fraction of the energy. They also tend to be the least expensive heater type available.
Electric Wall Heater Buying Guide
Understanding the different heating methods available in electric wall heaters is a good start. But if you truly want to find the best product to meet your needs and heat your room, you need to know a little more about these units.
Here are a few more things to consider before you purchase your electric wall heater.
Size of the Room to Be Heated
As you can probably guess based on the heating method descriptions above, some heaters are far more efficient at heating large spaces than others.
Fan heaters can perform well in a large space because they are able to heat and move air rapidly. Depending on their size, radiant heaters can also work well in larger rooms.
Convection heaters without blowers or fans, on the other hand, are much more suitable for warming small spaces like the area around your desk.
But what really determines how well a heater will work in a large space is how powerful it is.
The higher the wattage, the better your electric wall heater will be at heating a big room. We'll look at power and wattage more in depth in a moment.
Noise Level of The Wall Heater
The noise levels produced by a heater is one thing many homeowners don't think about until it's too late.
Fan forced electric wall heaters tend to put out a lot of white noise while they run.
If you plan to use your heater in a bedroom, this could be a good thing and actually help you sleep more soundly. But if you want to use it in the family room where you watch TV, having a noisy unit could be a nuisance.
Some fan and blower type heaters are marketed as putting out lower noise levels than traditional units. This would be worth looking into if a quiet heater is a priority.
Other options to consider are radiant, micathermic, or simple convection units that don't utilize fans or blowers.
In general, these types are very quiet and are perfect for offices, kitchens, and living rooms. If you need silence while you sleep, these can be good choices for the bedroom. Just be aware that some models may beep or make other sounds when powering up or shutting down.
Watts, Power Usage, and Heat Output (BTU)
As we discussed above, high wattage units are necessary for heating a large space. Trying to accomplish the same with a smaller unit will require much longer run times and eat up more power over the course of the day.
Another more precise way to determine if a unit is able to provide sufficient heat output is to look at the BTU output.
BTUs, or British thermal units, are a way of measuring heat output in heating units. The higher the BTU output, the more effective the unit will be at heating a large space.
Note: For the average room (about 10ft by 10ft), you'll want a heater with a BTU rating of at least 5,200.
Do keep in mind that the higher the output, the more power the unit will use. But, so long as the wattage use and BTU rating of the unit are matched to the size of the space being heated, the power used will be far less than that used by your central heating system.
Thermostat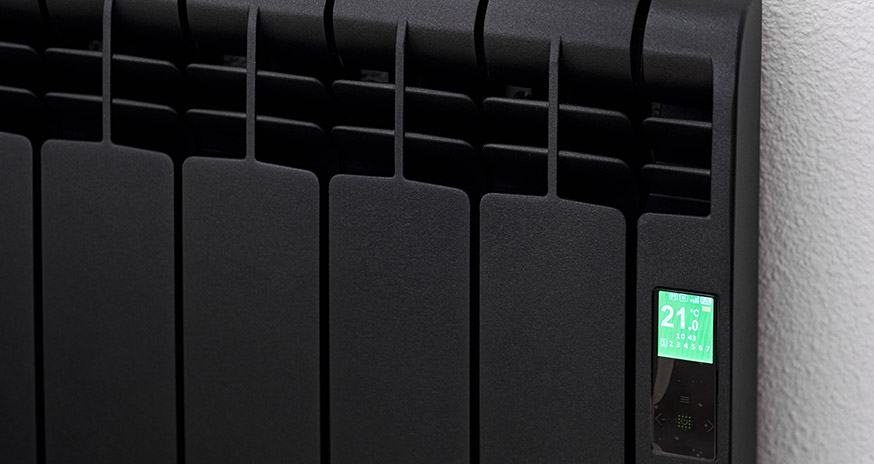 Some electric wall units come with a programmable thermostat. These units can be set to a certain temperature and will turn off and on as needed to keep the room at that temperature.
These types of heaters are great for high-use rooms that need to be kept warm throughout the day.
Some units have more advanced thermostats that can be programmed to different temperatures based on the time of day, similar to an advanced central heating system. These are optimal for rooms that do not need to be heated overnight or while you are at work.
Heating Timer
An alternative to a programmable thermostat is a timer function. Units with a timer can be set to run for a certain amount of time before they automatically shut off.
Heaters with a timer function are perfect for the bedroom. You can set to warm the room as you are getting ready for bed. However, it won't keep running throughout the night. Rooms that you only use for a certain period may also be more appropriate for timed units. This way the heater isn't sucking power while the room is empty.
Many newer wall heater models come with phone apps or remotes that allow you to set heating preferences based on temperature programs, set on/off schedules, and timers.
Warranty
Many electric wall heaters come with warranties to protect against manufacturer flaws.
The more expensive the heater the longer the warranty should last.
Many companies offer additional or extended warranties for an extra cost. These may be worth looking into, especially for wall-insert units that require professional installation by an electrician and more commitment.
Note: Be wary of any heating product that does not come with a warranty.
How to Install an Electric Wall Heater
In terms of installation, there are two main types of electric wall heaters.
The first is the simple wall mounted electric heater style.
These heaters are installed directly on the wall using screws and anchors. Some space heaters require more tools than others, but almost all can be installed by the homeowner.
Typically, these types of units plug into an outlet. But a few do require direct wiring into the electrical system. In this case, getting help from a professional would be advised.
The second style is a wall-insert type heater.
These heating units are placed inside the wall between the stud boards. The opening is then covered with a vent grill similar to those used in a central heating system.
Because these units require cutting into the wall and direct wiring, it is recommended that a professional perform the installation.
Electric fireplace units also fit into the wall-insert style category. However, these units are much larger than a traditional insert heater. They can be placed in the wall, in a converted fireplace opening, or, if they include a mantle, work as a standalone unit that is anchored to the wall for safety.
Where Should I Install My Wall Heater?
Before we get into where you SHOULD place your wall heater within your desired room, let's first take a look at areas where you SHOULD NOT install a wall heater.
Do not place a wall heater in areas that are blocked by furniture, such as behind a couch.
Do not place a wall heater behind doors.
While the exteriors of the electric wall heater should not get overly hot, it is best to install them away from drapes and other flammable objects.
Some heaters are not fit for high humidity environments. Assure your model is safe for use in the bathroom before placing one in this room.
If you have small children, you'll likely want to avoid installing heaters within their reach.
Aside from the above exceptions, you have a lot of options of where to install your new wall heater.
A wall mounted electric heater can be placed on any wall but typically need to be raised a minimum distance from the floor. Wall-insert heaters should be placed only in interior walls to avoid disrupting the insulative properties of exterior walls.
Simple convection and blower convection heaters work more effectively when there is a large difference in air temperature around them. Placing these units by windows or doorways will allow the intake of colder air which will increase air circulation and speed up the heating process.
Radiant heaters provide the most heat to objects near them. Depending on how powerful your heater is, this may mean you want to install them right in front of your sitting area or at a bit of a distance from it.
When installing a radiant heater, you also need to consider how the electromagnetic waves will move through the room. Placing them at the short end of a long room will decrease their effectiveness. Instead, you should place the wall heater near the center of the long wall to provide better heating for the entire area.
Wall Heater Safety
Wall heaters are an efficient and easy way to heat your home. But wall heater safety should be seriously thought about for anyone considering installing one (or those who already own one).
Keep the following points in mind before installing your wall-mounted electric heater:
If you aren't sure, use an electrician – if you aren't sure about anything to do with the installation of your heater, consult a professional – it's not worth the risk.
Check the visible wiring regularly – check the cord and plug regularly for any signs or heat damage or wear and tear.
Don't overload your circuit – Make sure that you don't have too many high-powered appliances running at once on the same circuit as your wall heater. This could cause an overload and result in an electrical fire hazard. Use our heater amp calculator to help you with this.
Keep combustible materials away – Keep all flammable material, such as curtains or furniture, away from your wall heater to prevent accidental fires due to contact with hot surfaces or sparks from faulty wiring.
Supervise children – Kids should never be allowed near a working wall heater without adult supervision due to potential burns from touching hot surfaces. Additionally, teach children not to move or tamper with the unit in any way.
Electric Wall Heater FAQs
Now that you are familiar with the best electric wall heater models on the market, you might have a few questions before you finalize your purchase.
Read on to get the answers to the most common questions concerning installing and using an electric wall heater.
How Much Does It Cost to Run an Electric Heater?
Unlike propane and natural gas heaters, electric heaters are 100% energy efficient. This means that all of the energy (electricity) that moves into the unit is used for creating and moving heat.
This is one reason electric heaters are considered a cost-effective solution.
You can get a rough idea of what it will cost to run your heater by converting the wattage of your unit into kilowatt hours and then multiplying this by the cost of a kilowatt hour in your area:
Wattage / 1000 x local price per kilowatt hour (kwh) = cost per hour of use
You should be able to find out the cost of a kilowatt hour where you live by referencing your utility bill or calling your energy company.
The world average for the cost of a kwh is about 10 cents. This number tends to be higher in more densely populated areas.
Using this number, we can see that the cost of running a 1,500 watt heater for one hour is about 15 cents:
1500 watts / 1000 x 0.10 = $0.15
If you're not a math person or want to get a more complete idea of what your energy bill will look like, try our electric heater cost calculator.
Keep in mind that, while more powerful heaters will cost more per hour to use, they are able to heat the room more quickly. This means that they are likely to be used for shorter periods.
A lower watt heater, on the other hand, will be cheaper per hour to run but will need to run longer to heat the same sized room.
It is also worth keeping in mind that the point of a single-room heater is to reduce your central heating costs. So, while your electric heater may cost some to run, that total will likely still be less than what it will help you save on your central heating costs.
Are Electric Wall Heaters Safe?
There are a lot of advantages to electric wall heaters, but one of the most important is how safe they are.
Combustible heaters burn fuel to create heat. This process also releases gaseous byproducts that can be harmful if inhaled in large quantities. For this reason, these units always require adequate airflow to prevent issues.
Electric heaters do not burn fuel and do not put off any byproducts. They can be safely used in small, tightly-sealed rooms without issue.
Because electric heaters do not rely on flames for heat, they are also less of a fire hazard than combustible heaters.
Still, all heaters contain hot elements that could potentially cause a fire if they come into contact with flammable objects. This is one reason space and portable heaters cause so many residential fires each year.
But unlike portable heaters that can be easily tipped over, wall heaters are secured in place. They are much less likely to come into accidental contact with something flammable.
Additionally, the surface of wall mounted heaters tends to stay relatively cool compared to the surface of the average space heater.
So long as some precautions are taken to keep flammable objects like curtains, fabrics, and furniture from contacting the heating elements of a wall heater, these units are very safe.
How Long Do Electric Wall Heaters Last?
How long your heater will last depends largely on its quality. But in general, electric wall heaters should last about 10 years.
You can expect cheaper units to need to be replaced more frequently. While high-quality, larger heaters should last well beyond a decade.
Proper care and cleaning of your wall heater will help it to reach its full longevity potential.
Pulling the cover and vacuuming the inside of your heater should be done at least twice a year. If you have pets, you may want to do this more often to keep hair from collecting inside the unit.
Cleaning the grill of your wall heater with hot soapy water a few times a year will assure proper airflow. Just make sure the grill is completely dry before replacing it.
As we mentioned above, purchasing an additional warranty on your heater is a good idea to protect against premature malfunction.
The Wrap Up
Adding an electric wall heater to your home is a great way to keep your favorite room cozy and warm in a safe and cost-effective way.
Whether you choose to go with a traditional fan forced unit like the Register Series Wall electric wall heater or a super-powered radiant heater like the Heat Storm Infrared (or maybe you're going all-out on looks with the Athena fireplace) odds are good you won't regret your purchase.
Once you get your new heater, be sure to reference our above buyer's guide and Q&A section to assure you install your unit in the best location while keeping your family safe.
Of course, if you don't find the answers to your questions above, feel free to ask our experts via the comments function below.