Space heaters are a great way to bring a little extra warmth to cold rooms. But if that room happens to be the bedroom, TV room, or office, a noisy space heater may not be worth the heat it kicks out. That annoying hum can make sleeping, watching your favorite show, or getting work done a challenge.
For these rooms, it's best to opt for the quietest space heater you can find. To help with that search, we've rounded up the best of the best in this category. Below, you'll find 6 space heaters that put out an impressive amount of heat while producing almost no noise.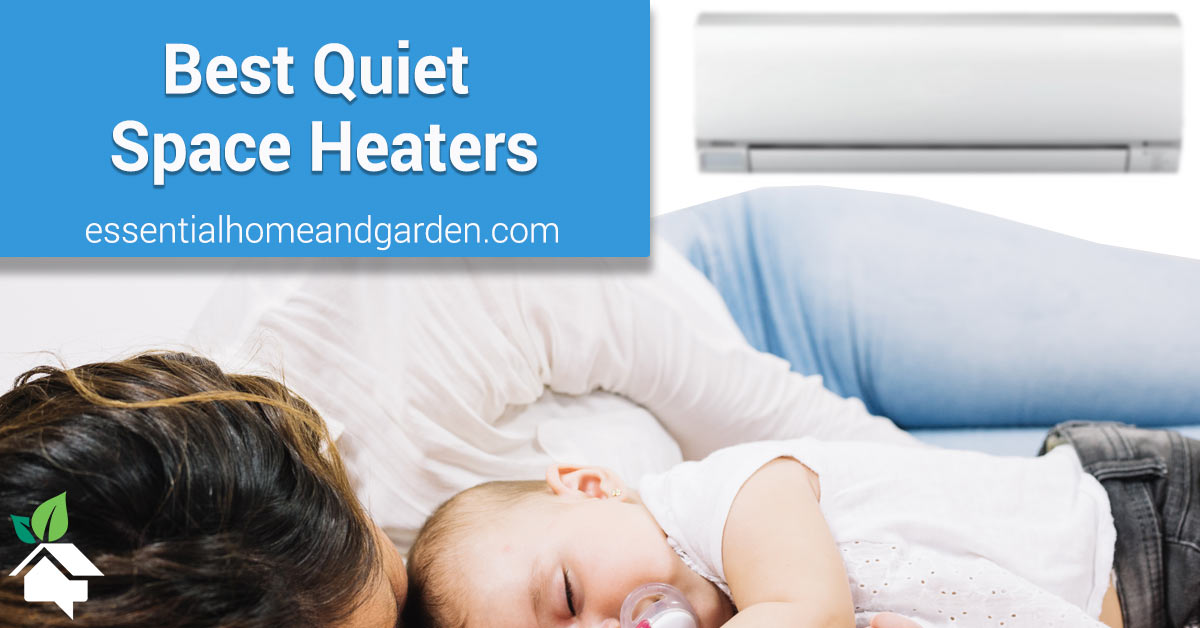 Disclosure: It is important you understand that we may receive commissions when you click our links and make purchases. However, this does not impact our reviews and comparisons. All opinions are our own we pride ourselves on keeping our articles fair and balanced. For more info see our disclosure statement.
Quiet Space Heaters Comparison Table
Use this table to quickly compare the best quiet space heaters. Keep scrolling down the page for more info on our review criteria and in-depth reviews on each item.
Product
Details
Where to Buy

Heater Type: Ceramic
Power Rating: 1200W
Advertised Heating Capacity: 215 sq ft
How Quiet?: 48dB on high
Portable?: Yes
Heat Control System: High/low with precise smartphone control option

Check Price Now

Heater Type: Oil-filled radiator
Power Rating: 1500W
Advertised Heating Capacity: Medium - large rooms
How Quiet?: Silent
Portable?: Yes
Heat Control System: Min/Max dial thermostat


Check Price Now

Heater Type: Mica-thermic heat
Power Rating: 1500W
Advertised Heating Capacity: None advertised
How Quiet?: Silent
Portable?: Yes
Heat Control System: Thermostat with a slider scale from Min to Max


Check Price Now

Heater Type: Infrared-Quartz
Power Rating: 1500W
Advertised Heating Capacity: Up to 1000 Sq Ft
How Quiet?:Fan sound (39 dB)
Portable?: Yes
Heat Control System: Thermostatic range of between 50 to 86 degrees


Check Price Now

Heater Type: Mica-thermic heat
Power Rating: 1500W
Advertised Heating Capacity: Medium - large rooms
How Quiet?: Silent
Portable?: Yes
Heat Control System: Min/Max dial thermostat


Check Price Now

Heater Type: Convection
Power Rating: 1500W
Advertised Heating Capacity: Not advertised
How Quiet?: Silent
Portable?: Yes
Heat Control System: No thermostat on basic model (option add on)


Check Price Now
Our Top Quiet Space Heater: Boldr Fara
Meet your new desktop buddy. This tiny heater from Boldr packs a mean heat punch. It sits at just 8 inches tall, yet has enough power to heat rooms up to 215 square feet.
The ceramic panels inside the unit heat up instantly while the quiet internal fan spreads that heat without emitting more than a whisper. Fara is pretty nice to look at as well, with a rose gold face and a choice of a blue, emerald, or white finish for the body. Never has a silent space heater looked this cool.
What We Look For in a Quiet Space Heater
When looking for the best quiet space heaters to feature on this list, we considered a number of aspects. Most importantly, we looked at the heating method utilized by the unit, which tells us a lot about the noise output levels. These noise levels were then compared to the heat output to ensure a quiet unit that would also effectively heat the space.
We also rated our choices based on efficiency, safety features, and extra perks. With all these in mind, we were able to narrow our search to the top 6 quietest, most effective space heaters on the market.
Heating Method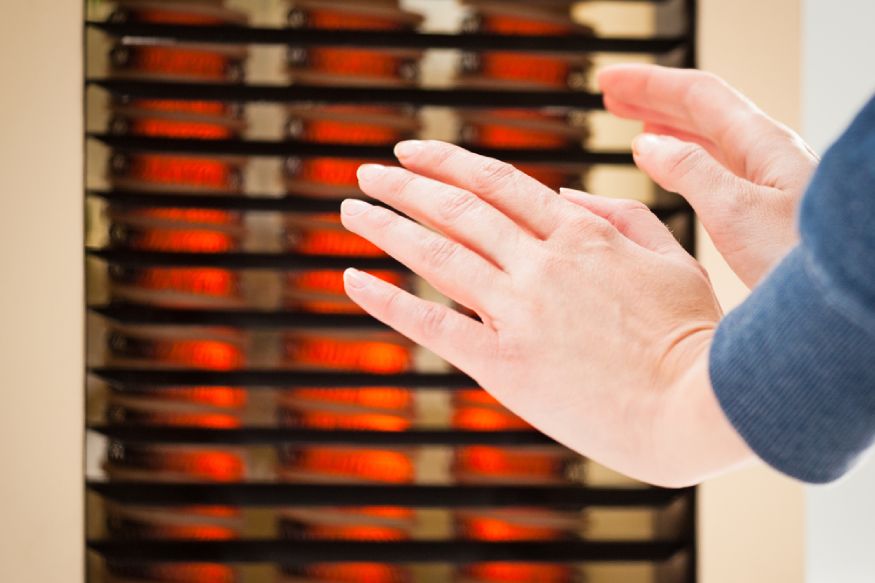 There are 6 different heating methods space heaters can utilize. Each comes with its own pros and cons. And each determines a lot about how much noise the unit puts out.
Ceramic Space Heaters
Ceramic heaters use electricity to heat ceramic plates. This heating method is energy efficient and works fast.
These types of heaters come in two varieties. The first does not utilize a fan, making it longer to disperse heat throughout the room. The upside is that it is nearly silent.
The second type has a fan to blow air over the heated plates, moving the hot air quickly into the room. Unfortunately, the fan feature means that the heater can be noisy.
Related Article: Ceramic heaters vs Fan Heaters
Coil/Fan Space Heaters
These electric heaters work similarly to ceramic heaters with a fan. Here, electricity heats a metal coil. A fan in the back of the unit pushes air over the hot coil to move the warmth through the room.
While these can be effective, affordable, lightweight heaters for small spaces, they tend to be loud.
Infrared Space Heater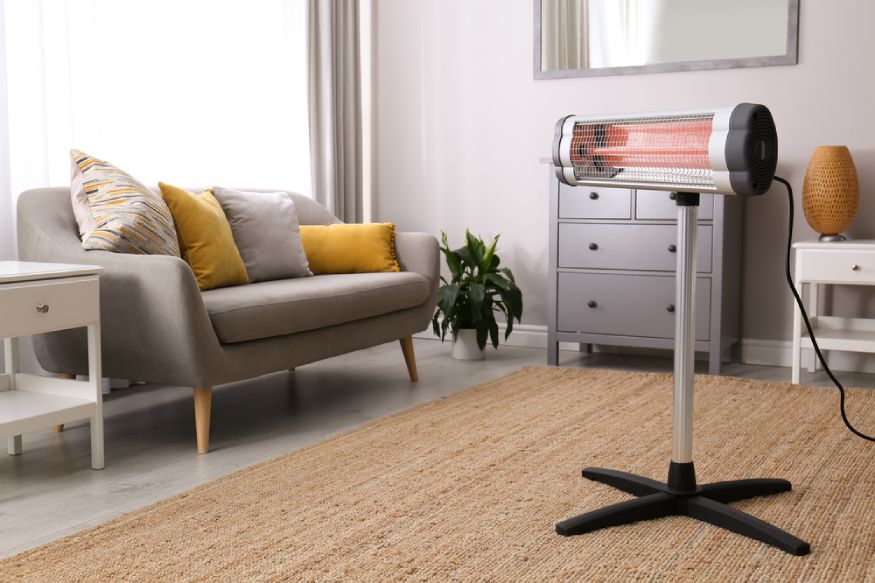 These electric heaters use infrared radiation to heat objects rather than the air. This makes them more efficient than other types.
While some models do include a fan that can be noisy, most rely on the direct heating power of the infrared. These types are nearly silent and a great choice for heating large living rooms and bedrooms.
Oil Radiator-Style Space Heaters
These electric space heaters, which resemble old radiators, use electricity to heat oil inside. The oil moves through the connected columns, heating the surface of the unit. The wide surface area works via convection to transfer the heat into the room.
These heaters can be heavy and difficult to control the heat output on, but they are also very efficient and nearly silent.
Panel Space Heaters
These newer space heaters use electrical currents to heat a mica-thermic panel. Convection moves that heat off the surface and into the room.
Panel heaters aren't as efficient as others but do have the advantage of being mountable. Plus, they do not utilize any fans and operate in near silence. However, they do not put off a ton of heat and are best used as a supplemental heater in smaller spaces.
Propane Space Heaters
Since they don't require electricity to run, propane heaters are highly portable and very affordable to operate. But not all models can be safely used indoors and even those that can, often require ventilation via a cracked window.
In terms of noise, even fanless propane heaters put off some sound as gas moves through the lines. Due to safety considerations and their noisiness, they do not make great options for quiet indoor spaces.
Heat Output
Electric heaters convert about 98% of the electricity used to heat. This means you can quickly estimate a unit's heating output by converting the wattage of the unit into BTU.
1 watt = 3.412 BTU
BTU tells you how much heat a unit is capable of producing. More heat is good for larger spaces while less heat is more suitable for smaller spaces. Most space heaters come with a room coverage rating that gives you a good idea of how much heat the unit produces.
Note: Matching the room size rating and BTU output to the room you want to use the unit in is more important than trying to find the unit with the highest heat output.
We rated a variety of units with different heat outputs to give you options for different-sized rooms. Units that had a high heat output relative to size scored higher since they tend to be more efficient.
Efficiency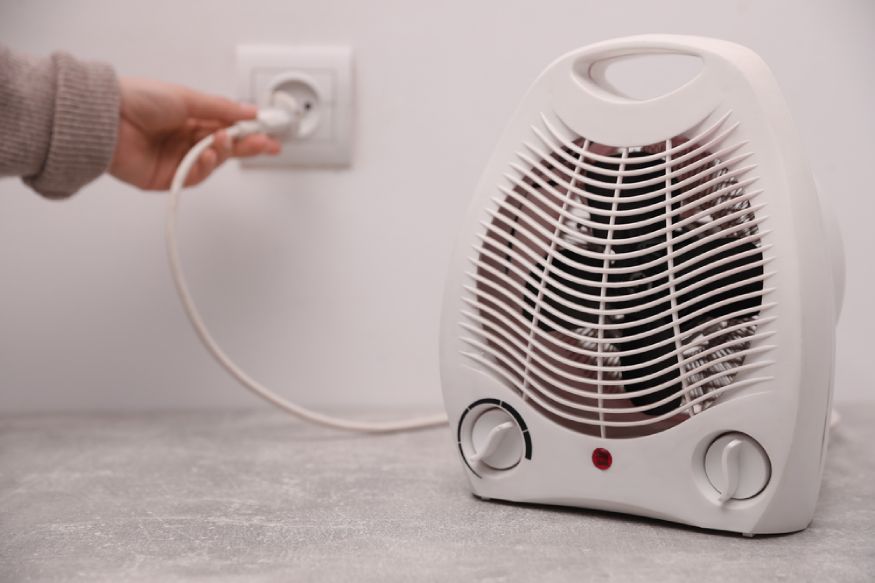 Heaters that put out a high amount of heat relative to the amount of electricity used also scored higher. Additionally, we looked for units with energy-saving features like programmable thermostats, smartphone control, timers, and sleep mode.
Safety Features
Heaters are the leading cause of home fires in America. And space heaters are some of the worst offenders. Built-in safety features help reduce the odds of fire.
When looking at quiet heaters, we paid special attention to safety features such as:
Tip sensors
Overheat protection
Internal thermostats
Grill covers
Fire retardant materials
Extra Perks
Newer space heaters come with a variety of different features that make them highly useful. Some bonus features that we looked for included:
Phone app control
Multiple modes
Programmable thermostat
Remote control
Quietest Space Heater Reviews
If you get cold hands while working on your computer or need a pint-sized nightstand heater in the bedroom, look no further than Fara.
This adorably tiny ceramic space heater may be small enough to place on your desk, but it's powerful enough to heat the whole office. At 1,200 watts, it is capable of putting out over 4,000 BTU. That's enough to heat rooms up to 215 square feet.
And it does it all while only emitting a maximum of 48dB of clean, quiet white noise. (If you require an office heater that is truly silent, you can't go wrong with the Boldr Kelvin infrared panel heater. It's not portable but it is highly effective and surprisingly energy efficient.)
But the quietness and size of this heater aren't the only things that make it a good addition to your desktop or nightstand. This thing is also pretty dang nice to look at.
The modern design and sleek curves pair perfectly with the rose-gold face and ultra-mod finish. You can choose from ocean blue, emerald green, and white for the body color to match your decor.
The one-touch low/high switch on the back makes for easy control. But if you'd like to join this stylish heater in the future, we suggest opting for the smart package.
With this add-on, you get the Boldr wireless thermostat and access to the smartphone app to control your heater from anywhere. The app unlocks a slew of features from precision temperature control, to scheduling, to real-time energy use tracking.
For stylish, silent warmth in small spaces, there is no better choice than the small-but-mighty Fara.
Pros
Compact, stylish design
Multiple safety features and flame-retardant material
Highly portable and lightweight
Optional smartphone control with added functionality
Multiple color options
Cons
Basic high/low functionality out of the box
Works best on elevated surfaces
No timer or thermostat without the smartphone app
---
The DeLonghi Full Room Radiant Heater will heat a medium-sized to large room, providing constant heat. If you want instant heat, an oil-filled radiator isn't the right option for you. If you want to create consistent warmth in a cold room in the house, then it's a great option.
The thermal slot design ensures that the unit maintains a low surface temperature whilst kicking out plenty of heat for the room. Requiring no installation, this radiator will spring to life as soon as you plug it in to the electricity supply at the wall.
Made from rust-resistant metal and permanently sealed oil-filled chambers that never need topping up, this is a radiator that will last for years. The power cord wraps around the front plate, so it's easy to store when not in use.
The only sound emitted from the unit is a gentle clicking sound when the thermostat kicks in. This is pretty common for all electric heaters and is unlikely to be enough to disturb a quiet room. I imagine only the very lightest of sleepers are going to be affected.
It does feature a timer that runs up to 24 hours but no advanced scheduling features. It's not great for energy efficiency to heat a room for hours if it's not in use. However, once the radiator has heated up, it retains its heat energy for longer than an electric coil which doesn't maintain heat well.
The 3 heat settings allow you to control energy consumption. At the low setting it uses 500W, the medium uses 1000W, and the highest uses 1500W.
Pros
Eco setting and timer
Three power settings
Surface doesn't get overly hot
Low maintenance and 3 year warranty
Multiple safety features
Cons
Limited advanced functionality
Clicks on and off frequently at startup
Noticeable odor during initial uses
---
The HMP1500 works by Mica-Thermal technology. Mica creates electromagnetic waves that negate the need for a fan to distribute the heat into the room, so this unit makes literally no sound at all.
It's a portable unit that has wheels for easy transportation but can also be attached to the wall for a more permanent heating solution.
This unit is recommended as a supplementary heater, so will be perfect for the room in the house that always seems colder than the rest of the house (let's not think about ghosts!). With a sliding scale temperature control, this unit can operate at either 1500W or 750W.
This is a well-built unit that offers great spot heating – so if you need to heat just one room of the house without switching on the full heating system, this is a perfect option. In a 200 sq ft bedroom, this heater can successfully maintain a temperature of 80 degrees on the Low setting when it's 20 degrees outside.
Panel heaters are great because they take up minimal space. They're thin and can easily sit in the corner of the room, or you can place them nearby if you want some direct heat. It has a built-in carrying handle and sits on castors, making this a super-portable unit.
Pros
Can be mounted or used on the floor
Sliding scale temperature control
Great for rooms up to 200 square feet
Silent
Cons
Takes a while to heat up
Odor on first use
Uses a lot of electricity
---
This heater might not be absolutely silent because it contains a fan to distribute the heat. However, fan-assisted heaters distribute warm air around the room much more quickly than electric-coil convectors, which rely on the natural motion of heat energy to distribute warmth throughout the room.
Fan-assisted heaters can make the air feel a little dry. If you're particularly sensitive to dryness, there's a Dr Infrared model available on Amazon with a built-in humidifier which gently mists steam into the air to counteract the effect of the fan.
One of the best features of this particular heater is the remote control that allows you to change the temperature from the comfort of your arm-chair. You can accurately increase or decrease the temperature by degree. Some of the other models we reviewed have dials going from Min to Max, without any indication of actual temperature achieved, so this is a great feature.
This is a sturdy, little unit. It's quite distinctly box-shaped, and at 24 pounds it's not going to easily fall over. However, it has tip-over protection nonetheless, shutting off the power in case of a fall. This is an essential safety feature, but toppling is pretty unlikely with a sturdy unit such as this.
Like most infrared heaters, this one works by the heating objects in the vicinity, rather than the air. Swapping out your traditional space heater with this one could save you up to 50% on your electricity bills thanks to this more efficient heating method.
Pros
Dial-in thermostat
Remote control
Sturdy build
Tip-over safety feature
Energy efficient
Cons
Puts off some noise
Area immediately in front of unit gets very hot
Takes a long time to heat large spaces
---
This lightweight micathermic heater by Turbro is ideal if you need a space heater without a fan for completely silent operation.
It's quite small, so can hide away in a corner when not being used, but powerful enough to keep a decent sized room nice and warm on even the coldest days. It features totally silent operation, so if the HR1500 is used in a room where people sleep, it won't disturb the occupants at all.
The micathermic panels are manufactured from mineral mica, which results in a long lifespan – this is backed by Bionaire with a 1 year warranty. And it comes with many safety features such as overheat protection and anti-tip sensors so you can feel safe using it as often as needed.
Unlike your typical space heater, this unit warms on all sides. For best results, place it in the center of the room. Here, it will heat your seating area while also heating the air on the other side for a fully heated room in half the time.
And finally, this heater gets up to temperature FAST – so once you switch it on, it won't take long to feel the effects and get the room feeling toasty.
Pros
Small, low profile size
Heats from both sides
Dial thermostat
Heats spaces quickly
Cons
Metal cage can pop and creak during heating
Uses a lot of energy
Easy to knock over
---
If you're looking for an out of the way solution to a cold-room, a baseboard heater is certainly a good choice. CCC Comfort has come to the party with a great baseboard heater that requires no installation!
That's right, it sits against the baseboard, but plugs into a standard power outlet – so it can be moved from room to room. This is a great feature that most baseboard heaters do not have. There is no installation cost for this unit!
There are no moving parts, making this a truly quiet space heater. These baseboard heaters are cheap to buy so using multiple units around the house won't set you back and arm and a leg.
This model comes with a dual wattage system, which can be used to select between 750w and 1,500w. On top of that it has a min/max dial thermostat so it's easy to get the room to stay at your desired temperature.
While there is no advertised ideal room size for the CCC Comfortzone baseboard heater, this model is ideal for medium sized rooms – although at this price multiple units could be used in a larger room to great effect.
Pros
Benefits of a baseboard heater without complex installation
High temperature shut-off feature
Works with a variety of baseboard styles
Cons
Requires separate thermostat for operation
Not overly energy efficient
Takes time to heat a room
---
Specification Comparison Table
| Model | Heater Type | Power Rating | Advertised Heating Capacity | How Quiet? | Portable? | Heat Control System |
| --- | --- | --- | --- | --- | --- | --- |
| Boldr Fara Compact Heater | Ceramic | 1200W | 215 sq ft | 48dB | Yes | High/low with precise smartphone control option |
| DeLonghi TRD40615T Full Room Radiant Heater | Mica-thermic | 1500W | None advertised | Silent | Yes | Thermostat with a slider scale from min to max |
| Dr Infrared Portable Space Heater | Infrared-Quartz | 1500W | Up to 1000 Sq Ft | 39 dB | Yes | Thermostatic range of between 50 to 86 degrees |
| DeLonghi TRD40615T Oil Filled Radiator | Oil-filled radiator | 1500W | Medium – large rooms | Silent | Yes | Min/Max dial thermostat |
| Turbro Silent Micathermic Heater | Mica-thermic heat | 1500W | Medium – large rooms | Silent | Yes | Min/max dial thermostat |
| CCC Comfort Zone Baseboard Convection Heater | Convection | 1500W | Not advertised | Silent | Yes | Thermostat purchased separate |
Quiet Warmth for Home and Office
When it comes to warming up a cold room, a space heater can be a godsend. But only if the unit is effective enough to heat the entire space, efficient enough to leave running, and quiet enough not to disturb.
For offices and small bedrooms in need of a little warmth, there is no better option than the pint-sized Boldr Fara. This sleek little heater is stylish and small enough to sit on your desk or nightstand. And powerful enough to warm rooms up to 215 square feet, all with just a whisper of white noise.
For larger spaces, the DeLonghi Full Room Radiant Heater is an excellent choice. This highly energy-efficient heater is powerful enough to warm large rooms but quiet enough for movie marathons and light sleepers. The intelligently designed thermal slot design kicks tons of heat into the room for lasting warmth while requiring almost no maintenance.