Struggling to find cookware that doesn't damage your glass-top stove?
In this article we share the best brands and types of cookware to keep your glass top stove chip and crack-free!
With over seven years of experience in reviewing different types of cookware, I have assisted countless readers in choosing the right cookware for their particular type of glass stove top. We have personally tested these brands and types in real world scenarios.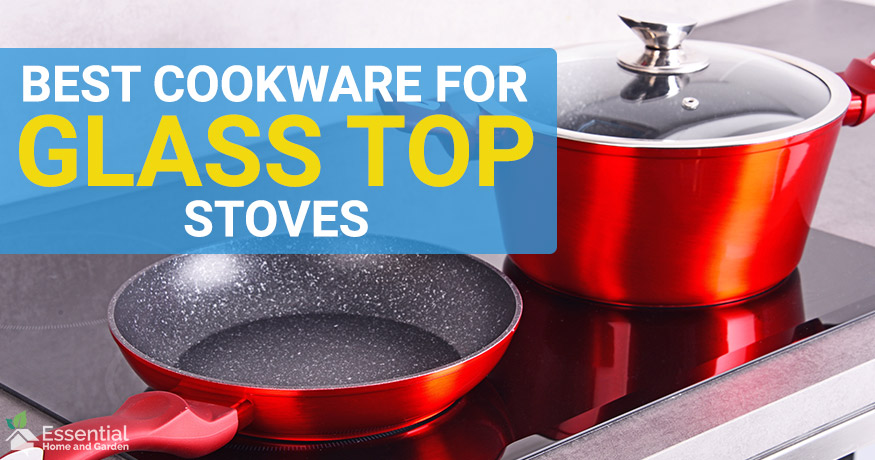 Best Cookware Set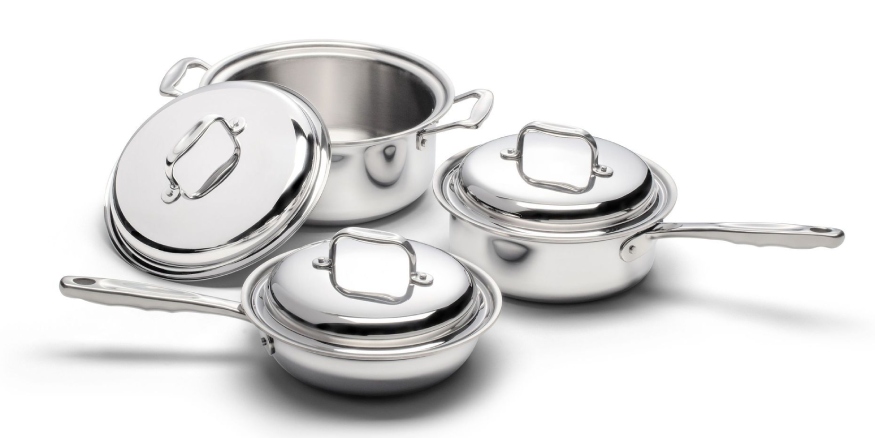 Best Value Cookware Glass Top Stoves
360 Cookware Set
These talented pots and pans can cook your meal in half the time with ZERO added oils. They are highly functional for oil-free and traditional cooking, free from toxic chemicals, and glass-top friendly.
360 Cookware is impressively thick thanks to three bonded layers that interact for supreme heat conductivity, heat retention, and user-friendliness. All those layers do add a bit of weight, but the smooth finish and rounded bottoms make them perfect for use on glass top ranges.
Paired with the functional 360 lids, you can use these pots and pans to steam-cook anything from rice to veggies to meat for a perfectly tender, oil-free meal. Plus, these 360 Cookware pots and pans are elegantly designed with beautiful curves and are available in many sizes and types.
Not only does this set include 11 remarkable pieces of high-end cookware, each piece is made up of American-made stainless steel that will last a lifetime and beyond.
Of course, that's not the only reason to love the Made In Sous Chef set. Many home chefs complement the pots and pans in this set for their ability to evenly heat their contents, even on lower heat settings. This is likely a direct result of the aluminum core found in each of these pieces. This dual metal construction ensures that every piece in this set is durable and warp-free, even after being used in a 600° F broiler or oven.
Finally, after all of your at-home cooking is complete, the pieces in the Made In set make clean up easy. Every piece is dishwasher safe, allowing them to routinely be returned to their like-new appearance and functionality without the need for excessive hand scrubbing.
Why Your Cookware Choice Matters
Before going too much further, let's address one of the elephants in the room (or in the kitchen, as the case may be). Why exactly do you need to obtain new, specialized cookware for use on your glass stove top?
While many folks may feel that their time-tested cookware set is good enough for the job, there are a few pitfalls that novice glass stove top users may not know about that will lead to damaging either the stove or their cookware:
First and foremost, new glass stove top users should know that their entire cooking surface is rather fragile, at least compared to metal coil cook tops. While you surely know that your glass cooking surface has been infused with several durable add-ins such as ceramic, you must also know that any part of your cook top will now crack or shatter if it is impacted by a sharp or heavy object.
Accordingly, it is crucial that you obtain new cookware that neither features sharp edges nor a large overall weight. Even careful chefs drop their pans from time to time, so it would be unfortunate for you to lose a grip on your pan and cause it to destroy your entire cooking surface in turn. Specialized glass top cookware greatly decreases the chance of this unfortunate occurrence by providing a low overall per-piece weight as well as smooth corners and sides.
Though safety is always paramount when working in the kitchen, most home chefs also look for efficiency when they pick out new cookware. Installing a glass top stove makes this imperative even more apparent because only certain metal types and form factors can fully take advantage of a glass stove top's heating capabilities.
Purchasing specialized cookware with a broad, heavy base, for example, ensures that your pot doesn't slide about the glassy surface while still taking in as much heat from the element as possible.
Our Top 6 Picks – Cookware For Glass Top Stoves
One of the biggest reasons people search out new cookware is to get away from the dangerous coatings often found on cheap non-stick sets. If you're looking for some new pots and pans to maximize your health, why stop at avoiding toxins? With the impressive cookware from 360, you not only get chemical-free cooking but have the option to go oil-free as well.
How does oil-free cooking work on a stainless steel pan? The trick is in the thick construction of these pots and pans and the intelligently designed lids that come with them.
The cookware itself is made of three thick layers of highly functional metal. High carbon steel in the outer layer is induction stovetop compatible and smooth enough for safe use on glass tops. The middle layer is made of highly conductive aluminum, while the cooking surface is made of safe dry-sanded, nonstick surgical grade stainless steel.
These pans include specialty 360 lids, creating an airtight seal to trap moisture and circulate steam. This process also allows for cooking on lower heat, which prevents food from sticking to the bottom of the pan even without adding oil.
Not sure you're ready for oil-free cooking? No problem. You can use these functional pans for traditional cooking. Just make sure to keep the burner turned down because they really do hold heat like no other.
These pots and pans are a bit heavier than traditional stainless steel pots thanks to that thick layering. This means you have to be a little more careful about not dropping them on your glass top. But the impressively smooth bottom finish and elegantly curved sides also mean these pots won't scratch your glass top even if you slide them around.
360 Cookware is available in multiple set options from the simple 4-piece essentials set to the premiere 21-piece set.
---
As with any stove, there are a lot of aspects to consider when buying a new pan set for your glass cooktop. You want something that cooks well, is easy to clean, and, if at all possible, is chemical-free. For a glass cooktop, specifically, you also need something that is lightweight, heats evenly, and won't scratch your cook surface.
This brilliant cookware set from Caraway meets all of these requirements and more.
The combination of non-stick ceramic and lightweight aluminum makes these pots and pans easy to handle and easier to clean. And, because they utilize a naturally slick ceramic coating, you don't have to worry about any nasty, non-stick chemicals. These pans are Teflon-free, made without heavy metals, and free of PFAs.
All that functionality comes in a package that is easier to handle than your typical cookware set, but also impressively durable, thanks to the functional aluminum core. And the lids, which are made of ceramic and aluminum, not glass, are lighter and lower profile for easy storage.
Speaking of storage, this exceptional four-pan set comes with a magnetic pan rack and ingenious over-door cloth lid holder to help keep your cupboards organized. No more scattered pans and missing lids!
The Caraway set includes a fry pan, saucepan, saute pan, and a dutch oven – each with its own lid. You can choose from five color options, including sage, perracotta, gray, navy, and cream.
---
The Sous Chef Set from Made In comes in a close second for the best overall glass top stove cookware due to its unique mix of several different metals throughout its pieces' construction. While the majority of this set's pieces are made up primarily of a durable 5-ply stainless steel, several of the frying pans feature an innovative blue carbon steel coating that allows them to resist almost all scratches while preserving a reliable PFOA-free non-stick surface.
Also included in this is an 8 QT stock pot. This stock pot, in addition to all of this set's pans and lids, can easily be cleaned in a dishwasher as well without risking damage to their non-stick interior surfaces or their sleek polished exterior surfaces.
Made In, the manufacturer of this set, also takes particular pride in their recycling methods associated with the creation of these high-quality pots and pans. All unused metal leftover during the cutting and riveting processes is recycled, often for use in car tailpipes. If that doesn't sell you on the Executive Chef set, then this manufacturer's 45-day risk-free trial will certainly give you a chance to acquaint yourself with your new favorite glass top stove cookware.
The Sous Chef Set is available direct from Made In Cookware.
---
For those with a little more experience around glass-top stoves, we cannot recommend Legend Cookware's copper core 14-piece cook set enough.
These pots and pans are a little heavier than other sets on our list, but not so heavy they're hard to work with. And, in this case, that weight is more than worth it for the unparalleled heating performance it provides.
The key lies in the full copper core. This highly effective layer moves heat faster than other types of metal, allowing for the kind of responsiveness and heat conduction necessary for cooking on a flat top range.
Surrounding that highly sensitive copper core are layers of aluminum that help bind and protect while adding to the balanced heat distribution. These layers are further protected by stainless steel for added durability and induction stove compatibility.
This 14-piece set has every sized pot and pan you could ever need. Each comes with a fitted lid, beautifully crafted gold or matte black handles, and the precision to detail few competitors can match. That craftsmanship produces cookware that is absolutely gorgeous while ensuring no sharp edges or casting imperfections that might scratch your cook surface.
---
If you've ever shopped for cookware in the past, then you know the All-Clad brand name. In many ways, All-Clad have become the Lincoln or the Cadillac of cookware due to their commitment to providing professional-grade components to committed at-home chefs. The All-Clad 401716 set preserves that traditional and provides new glass top stove owners a fresh opportunity to deck their kitchen in the absolute best in cookware.
Across this set's 14-piece collection, you'll find a variety of frying pans, saucepans, and more, each of which are made from Type 304 stainless steel. All of these pieces derive their enhanced durability from All-Clad's patented "sandwich" approach to cookware manufacturing, with all of the pieces in the set containing a high-gauge aluminum core. This aluminum core allows each piece in this set to evenly distribute their heat and provide reliable cooking results in turn.
Also, every piece in the All-Clad 401716 set is made in the USA from Pennsylvanian steel and carries a lifetime warranty. But between its dishwasher safe construction and its ability to withstand 600° F heat in an oven, you'll surely never need another cookware set in your entire life.
---
Best Starter Set
Cuisinart MCP-12N 12 Piece Cookware Set
Key Features
Triple-ply stainless steel construction with light aluminum core in all pieces
Oven safe at up to 550° F
12-piece set includes brushed exterior that does not stain or discolor
All pieces are dishwasher safe
All pieces include a drip-free rim for simplified content transfers
The Cuisinart MCP-12N set has also garnered some attention lately among recent glass top stove converts, particularly because this set provides an industry-standard quality assortment of stainless steel pots and pans for a fairly affordable price tag. Each of the pieces in this set even makes use of triple-ply construction and a pure aluminum core, thus ensuring their ability to retain and distribute heat like more expensive models in its class.
Though they are made from many of the same materials as other up-market cookware sets, the Cuisinart MCP-12N set is only certified for in-oven use up to 550° F. But, the Cuisinart MCP-12N set more than makes up for this slight shortcoming by equipping each pan with a drip-free edge that makes food transfers a mess-free breeze.
Also, each pot and pan in the Cuisinart MCP-12N set is equipped with a proprietary handle construction technology known as "CoolGrip." Through a unique riveting system, this "CoolGrip" ensures that you'll always have a secure hand on your cookware while you work at the glass top stove.
Cuisinart MCP-12N is available from Amazon.
---
Best Aluminum Set
Rachael Ray Cucina 12 Piece Set
Key Features
Anodized aluminum construction complemented by PFOA-free non-stick coating
Oven safe at up to 400° F
12-piece set comes with nylon turner and slotted spoon
All pieces are dishwasher safe
All glass lids are reinforced to provide shatter resistance
Those with a penchant for at-home cooking surely know the name "Rachel Ray" from her numerous programs on the Food Network. Like many other television chefs before her, she also has a line of cookware that just happens to be useful on glass top stoves. In fact, the Rachael Ray 87641 set is one of the only collections on the consumer market today that makes use of anodized aluminum, a resilient material that is ultra-lightweight and easy to clean (either by hand or in a dishwasher).
Most cookware that can be safely used on a glass top stove is rather "boring," at least in so far as they all feature a shiny silver exterior these days. The Rachael Ray 87641 set breaks from that monotony by providing options that come in a variety of earthy hues. Each pan in this set also features a silicone handle that is dual-riveted to the main basin in order to provide extra support and stability for the user.
The Rachael Ray 87641 set's one considerable heel is that it can only withstand up to 400° F in a hot oven. But for folks who don't place their pots in the oven on a regular basis, this set provides a great amount of performance with an overall modest price tag.
Rachael Ray 87641 is available from Amazon.
---
A Buying Guide for Glass Top Stove Cookware
If you're new to cooking on a glass stove top, you probably won't mind a few tips on purchasing the best cookware for the job. Specifically, you'll need to look for the following features and specifications in all of your prospective glass top stove cookware sets to ensure that they will remain durable and functional over their respective lifespans.
Meanwhile, there are a few features and specifications that you should avoid if you plan to use your new cookware on your glass top stove. This especially applies to a pot or pan's material composition, which can dramatically impact its efficiency when interacting with an induction-style heating element.
What to Look for in Your Glass Top Stove Cookware
Construction Material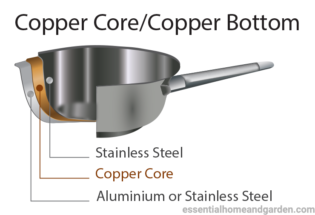 GE, one of the leading manufacturers of glass top stoves, heavily emphasizes the need to only use cookware made from certain materials on their appliances. In particular, they highly recommend the use of stainless steel cookware with a "sandwich" construction as it combines both the strength of regular stainless steel with the heat distribution capabilities of copper or aluminum.
As a secondary option, GE recommends the use of heavy-weight aluminum pans, particularly due to their ability to heat up rapidly. For much the same reason, GE further recommends copper-bottomed pans for those looking to maximize their glass top stove's potential. Porcelain and enamel pans can be used efficiently, but risk damaging the stove top if they are allowed to overheat and melt at all.
Anodized aluminum cookware is another good (and safe) choice, as it is quite lightweight and won't easily damage your stove top.
Shape
In terms of shape, you should always pick out cookware for your glass top stove that features a smooth, flat bottom. This shape, in particular, allows the stove's built-in heating mechanism to more efficiently transfer heat into the pot or pan and prevents hot/cold spots from appearing within the pot or pan's contents. Also, an optimal cookware piece's lid should always fit snuggle such that it prevents trapped heat from easily escaping.
Contact Area
Cookware used on glass top stoves relies heavily on the structure of their contact area. In particular, this facet of the piece's construction directly impacts the how able the stove is to cover the pot or pan's entire lower surface in reliable heat. Ideally, your cookware piece should match the exact size of your stove's heating elements, though one inch larger or smaller tends to work well, too.
Weight
Weight is also another major factor to consider when comparing prospective glass top stove cookware sets. This is simply because your stove's glass surface is fragile, despite any reinforcements woven into its chemical composition. As such, you should only regularly place lightweight cookware on your stove's surface or else you run the risk of chipping or cracking the glass over time.
Typically, your stove's owner's manual will include a certified weight limit for its cook top. You should always adhere to this limitation as failing to do so will potentially damage your unit's functionality, not to mention void its warranty. Using only lightweight cookware, such as those made from aluminum or stainless steel, will likely keep you well under this limit, though.
Induction Compatibility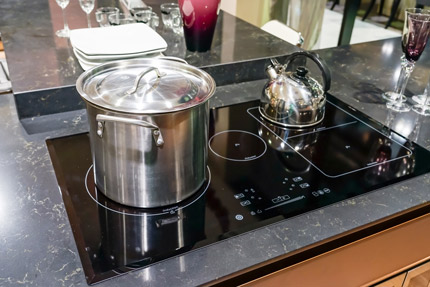 Many cookware sets designed for use with a glass top stove will signal this intended use by listing themselves as "induction compatible."
Generally speaking, this means that each piece in that set is shaped and made from materials amicable to use on the kind of induction-style heating element used on most glass top stoves.
More information on the specific qualities of an "induction compatible" pot or pan can be found above in this guide's FAQ section.
Reliable Warranty and Customer Service
You will likely be using your new cookware set on a regular basis, often in situations where they are certain to withstand a great deal of wear and tear. As such, finding a set with a reliable warranty can really make the difference if your chosen set's durability or performance does not live up to expectations. The same goes for finding a set made by a manufacturer with a proven customer service record.
Though most cookware listings won't list the precise nature of their warranties or their customer service team's performance, you can usually find in-depth information on the very same topic in that set's buyer reviews.
What to Avoid in Your Glass Top Stove Cookware
While shopping for your next set of glass top stove cookware, you'll want to avoid specific types of construction material if you want to cook efficiently and safely without damaging your stove's surface.
In particular, you should generally avoid glass or ceramic cookware sets because they tend to leave marks behind on the glass and may melt onto the glass if left unattended.
Also, all extra heavy cookware pieces should be avoided, including stoneware. Due to the method of heat transfer used in most glass top stoves, stoneware will simply fail to draw in enough heat to properly cook your food.
Glass top stove owners may also use their cast iron pans at their own risk because cast iron's rough exterior has a tendency to scratch a glass stove's surface if it is improperly placed or moved.
If you do have scratches in your cooktop, then we have a handy guide on how to remove them: How to remove scratches from a glass stovetop.
Tips for Maintaining a Glass Top Stove
If you've chosen to install a glass top stove in your kitchen, then there are a few tips you should consider before flipping it on for the first time. These tips primarily focus on preserving the cook top's surface through proper maintenance, especially when it comes to post-cooking cleanups:
Always Ensure that All Cookware is Properly Compatible – Ideally, you should only use pots and pans that were designed for use on this type of stove. In particular, you should always check to ensure that your chosen cookware's contact surface is free of damage, as these spurs can cause scratches on the glass's surface.

Always Clean the Cooktop after Each Use – After completing your meal preparations, you should always clean your new stove's glass surface. After allowing it to adequately cool down, apply a small amount of vinegar and baking soda mixture to the cook top. Then, wipe down the full surface from top to bottom and side to side. Never use harsh or caustic cleaning chemicals as these may contribute to a breakdown in the glass' outer seal.

Never Put Excessive Weight on the Stove – While traditional stoves can hold a great deal of weight, glass stove tops are fragile by nature. As such, you should never pile an excessive amount of weight onto them. This includes individual pans, such as cast iron or stoneware, which may crack or chip the surface after even a slight jolt or drop.
Frequently Asked Questions
What's the best material for glass top stove cookware?
When it comes to purchasing and using cookware on your new glass top stove, the "best" material is a matter of personal preference. Generally, experienced home chefs will recommend any stainless steel sets (especially those with aluminium cores) due to their durability, resilience, and ability to efficiently transfer heat from glass top heating elements.
On the other hand, home chefs who don't often place their pans in the oven will also recommend aluminium-based cookware sets. Pieces in these sets are often the absolute lightest, thus decreasing the chance of damaging your stove top after an accidental impact. Aluminium-based sets are also more affordable in general, making them ideal for the occasional home chef.
How much does glass top stove cookware cost?
Like many types of kitchen equipment, glass top stove cookware comes in a broad price range that can accommodate almost any home chef's budget. At the base level, budget-friendly brands like Cuisinart offer fully-fledged cookware sets that max out under $200. Even though these pieces cost less per diem, they manage to provide an impressive lifespan that rivals more expensive sets.
On the high end of the spectrum, though, All-Clad charges a pretty penny for their certified glass top stove set. Currently, their premier stainless steel and aluminium set runs can be quite expensive on leading online retailers, thus requiring a hefty investment from committed home chefs. That being said, you will likely never need to replace the pots and pans in that set, making their heightened cost more justifiable.
Which pans and pots are essential for a well-stocked kitchen?
Your precise pot and pan needs will vary based upon the types of foods you expect to cook on a regular basis. That being said, almost all home chefs will need at least:
1 trusty sautéing pan
1 reliable high-walled frying pan
1 large stock pot (preferable 8 quarts in volume or larger).
Each of these pots and pans should come with tight-fitting lids, as well, to ensure that they can be used for a wider variety of recipes.
Can glass top stove cookware be cleaned in a dishwasher?
Cookware compatible with a glass stove top is not automatically dishwasher safe by definition.
That being said, the majority of modern glass stove top-compatible cookware sets can be safely cleaned in a dishwasher without risking damage to the piece's non-stock coating.
However, folks who still wish to maintain control over their cookware's exposure may opt to always hand wash their pieces instead.
How do I clean glass top stove cookware?
Generally speaking, all types of cookware (for glass top stoves and otherwise) should always be cleaned according to the manufacturer's instructions.
This includes when it comes to inserting pot, pan, or lid into a dishwasher. In most cases, regular liquid dish soap is able to remove any type of stain or cooked-on food, especially after allowing each piece to soak for 20 or more minutes.
Also, when cleaning cookware that features a brushed metal or Teflon-type non-stick coating, you should avoid using caustic cleaners. These may cause the surface to become damaged, leading to a decrease in the piece's usefulness over time. Abrasive cleaning tools, such as steel wool, should also be avoided as they, too, can denature a piece's non-stick capabilities.
What does "induction compatible" mean?
Induction compatibility is a unique specification that applies to glass top stoves and the types of cookware that may be successfully used upon them. That is because these stoves almost always use an induction heat transfer method that incorporates a series of purpose-built magnets. Accordingly, a "induction compatible" piece of cookware will be magnetic enough to efficiently receive this heat and transfer it to their contents.
Also, induction compatibility may broadly refer to a piece of cookware that is appropriately sized to fit a common glass top stove. A fully compatible pot or pan that meets this specification will always include a broad, flat bottom that smoothly curves into the piece's side walls. Those looking to test their existing cookware for this compatibility can do so by placing their pots and pans over their glass top stove and checking if they remain magnetically attracted to the surface.
Can I cook with cast iron on a glass stove top?
The jury is out on whether or not cast iron pans should be used on glass stove tops. This is primarily because their increased weight and rough exterior pose an increased risk for damaging the stove top's surface. That being said, cast iron pans are among the very best cookware when it comes to transferring and retaining heat, regardless of a stove's heat transfer method.
Those who wish to use their cast iron pans on their glass top stove should only do so with considerable caution. For example, cast iron pan users should never slide their piece over the stove's surface, choosing instead to gently lift and place the pan down as needed. Also, be sure to wash the cast iron pan's exterior (especially the bottom) before you start cooking to prevent any residue from transferring to the stove's glass surface.
Conclusion
As you can clearly see now, there's a lot to know when it comes to glass top stoves and the best cookware to use on them. Using our list of 2019's best glass top stove cookware sets, you'll surely be able to find an option that meets both your needs and your budget.
However, if you're still undecided, let me reiterate the overall quality of the All-Clad 401716 set. Though it costs a fair bit more than its competitors, your investment immediately pays off when you have access to professional-grade cookware made from a patented combination of stainless steel and aluminum. Also, this set contains 14 pieces, so you'll easily be able to stock your new kitchen with its high-quality contents.
However, if you're looking for a glass top stove cookware set that's more reasonably priced, you should absolutely pick up The Executive Chef Set from Made In. This set uses an ultra-durable 5-ply stainless steel construction on all of its pieces, including those with an innovative blue carbon steel exterior coating. This set can also be tried out through the manufacturer's 45-day risk-free offer, allowing you to personally evaluate the pieces before ever paying full price for them.