Our Rating:
Key Features:
Quick heating
Maximum heat retention
Works with induction stoves
5-ply stainless steel with copper core
Get 10% Off with our exclusive discount code at checkout: TH1TZSQMEZV8
---
Gorgeous, Well-Crafted Cookware at a Price You Won't Believe
Copper core cookware stands in a class all its own. With the unparalleled quick heating and heat retention only copper can offer and the durability and versatility of stainless steel, copper core delivers it all. But choices in this arena have always been limited and painfully expensive.
Enter Legend Cookware. This company single-handedly elevates copper core and offers it at a price far more affordable than anything on the market.
Their 14-piece 5-ply stainless steel copper core pans are the only cook set you're ever going to need. With 3 frying pans, 1 saute pan, and 4 pots, you'll always be able to find the perfect piece of cookware for every meal. And with premium construction, a beautiful finish, and the promise of a lifetime warranty, you'll love cooking with these almost as much as you'll love looking at them.
Review Criteria Ratings
Pros
Incredibly well priced
Impressive heat conductivity
Absolutely gorgeous
Durable and easy to care for
Comfortable, well-constructed handles
Cons
Requires a lot of space to store
Handles, especially on the lids, get very hot
As heavy as you'd expect from copper core
Should You Buy It?
If you've dreamed of copper core, this cookware set is here to make your kitchen aspirations a reality. A full copper core encased in aluminum and finished with durable, all-cooktop-friendly stainless will give you everything you need to prepare the perfect meals.
And all for a price less than half that of the top competitor's.
Get 10% Off with our exclusive discount code at checkout: TH1TZSQMEZV8
Our Legend Cookware Copper Core Video Review
Watch the video above to see Sara's in depth video review of Legend Cookware. Keep scrolling down to read the text version of the review.
Legend Stainless Cookware Overview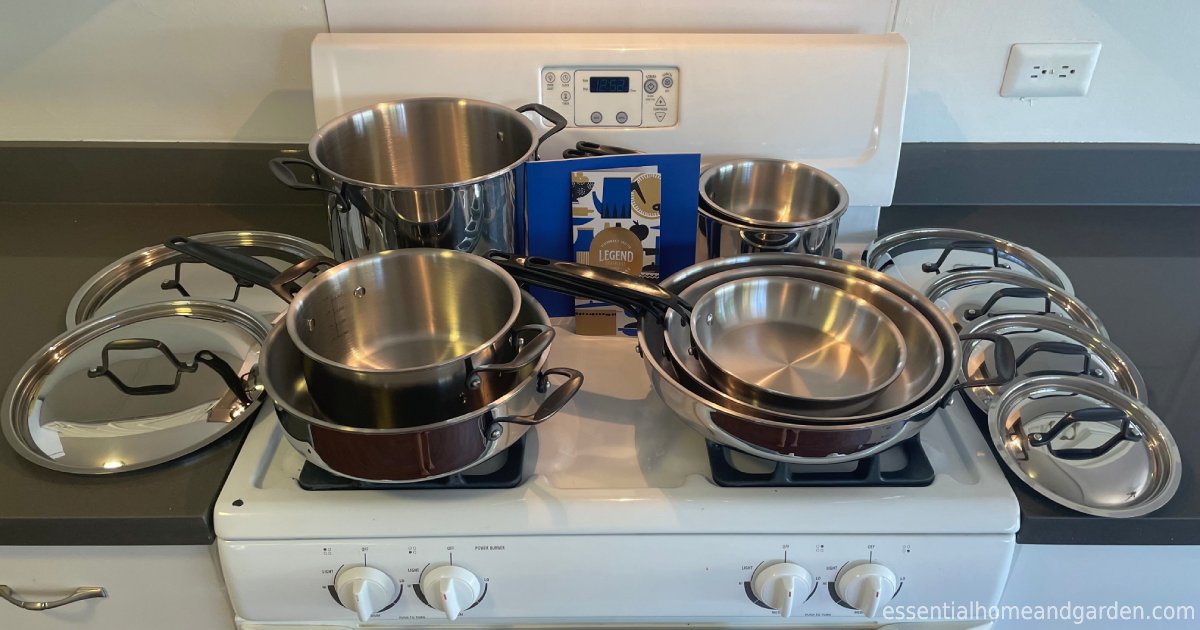 Legend Cookware is fairly new to the scene. Yet they've already launched some impressive products including a line of non-stick cookware, cast iron, and multi-ply stainless. Their copper core 5-ply stainless cookware set came out in early 2021 and has already made quite the splash.
This 14-piece set features a highly heat conductive copper core that allows for super-quick heating, and maximum heat retention. The next layer consists of aluminum, which helps distribute heat evenly for balanced cooking.
The cooking surface features 304 stainless steel for safe, easy cooking with fewer worries. The bottom layer features 430 stainless for use on any range type. This highly magnetic stainless steel will even work with induction cooktops.
The 14-piece set includes:
8-quart stockpot
10-inch frying pan
12-inch frying pan
8-inch frying pan
1-quart saucepan
2-quart saucepan
3-quart casserole pan
3-quart sauté pan
6 snug-fit flat profile lids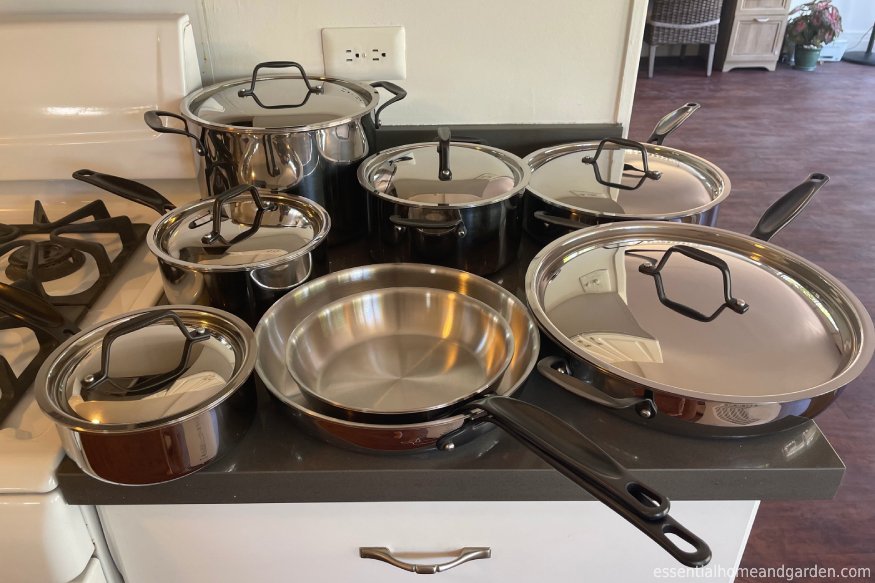 Each pot and pan features a comfortable, well-crafted cast stainless steel handle with durable rivets. These handles are a big improvement over competitors' and make manipulating these hefty copper pans a breeze. These handles are available in gold, stainless, and matte black.
The durable nature of this cookware means every piece is any-rack dishwasher safe and easy to care for.
Finding a copper core cook set is difficult. Legend and All-Clad are the only companies to offer true copper cores. Compared to this better-known competitor, Legend pans are meant to be easier to work with and cost less than half as much.
I had a chance to put Legend Cookware's copper core cook set to the test in my own home. Keep reading to see my full Legend Stainless Steel 5-Ply Copper Core review and to see how these beautiful pans performed in a real-life kitchen.
Update: We also recently reviewed the Legend 5 Ply Stainless Steel Cookware – Read our review here.
How Legend Stainless Cookware Performs
I had the opportunity to test out all 8 pots and pans in the Legend Cookware 14-piece set. I used them on my gas stove to cook a variety of meals. I also spent a fair amount of time just admiring them—they really are so beautiful!
Here is how these pretty pans performed.
First Impressions
My first impression, as you can probably guess, was that these pans are absolutely gorgeous. The attention to detail is amazing. Each pan has a beautiful brand engraving on the bottom, a brilliantly buffed satin inside finish and shiny exterior, and seriously sturdy handles with oversized rivets.
Many of the pots have engraved measurement markers along the sides that are easy to read.
The cookware itself is heavy, as quality multi-ply pots and pans should be. But this is less noticeable with the Legend cookware set because of the well-crafted handles. The rounded edges and concave faces of these handles make them feel soft in your hand, but they are strong enough to allow you to easily manipulate the pans.
My second impression was that this set is simply huge! If you are looking to replace your entire cook set, this will more than do the trick. You will always be able to find the perfect sized pot or pan for your needs with this collection.
Every piece has a lid to fit it. These six lids have a flat profile and are lightweight without feeling chintzy.
Cooking Performance
Once I was done ogling these gorgeous pans, I finally put them to use. I cooked a number of meals on my gas stove to test their heat conductivity, heat distribution, and responsiveness.
In terms of how quickly they heated up, there was no doubt about that brilliant copper core. These pans reached cooking temperature almost as soon as the flame hit the bottom of them. And they were able to retain that heat easily.
That heat retention did mean I needed to be proactive about turning the heat down before it was needed. While there was a bit of lag time with decreasing temperatures, this cookware was still impressively responsive.
Most notably, there were no hotspots on the pans. Heat moved through them easily and balanced out quickly. This wasn't just true across the base, by up through the sides as well.
This unique aspect of full copper cores is a very fun thing to experience. And it makes for much quicker meal prep.
After cooking with these for multiple days on my gas range, I would definitely say they deserve a spot on our best cookware for gas stoves list. They are also rated for electric and induction cooking, but I didn't have the chance to try them out on these ranges.
The only downside I found with these pots is that the handles, which are supposed to be heat resistant, do get fairly hot after a while. The lid handles, especially, left me screaming more than a few times before I finally learned my lesson and brought out the pot holders.
Clean Up
As stainless steel pans, this cookware set will require some work during clean-up. If you are careful about preheating and adding oil, this process is fairly easy and will only require some warm soapy water (or plopping them in the dishwasher if you've got the space).
But if you burn food, then you will have to work a little harder to get them clean. I did just this the first time I cooked rice in the saucepan after forgetting to dial the burner down right away.
Surprisingly, all it took to get the pot looking as good as new was a little soaking and some baking soda. The satin finish on the inside of the pans stands up to scratches incredibly well.
Even after multiple uses, I didn't notice any patina forming on the outside or insides of the pan, either.
Overall, my impression of cleaning up these pans is that, yes, you will have to do more scrubbing with these than with a non-stick pan, but you can easily get them looking as good as new no matter what you do to them.
Alternatives to Legend Stainless
If you're in the market for a quality copper core pan, there is no reason to look any further than Legend Cookware. But, if your cooking habits are better suited for a different material, then you have some options.
If you hate cleaning up but don't want to entertain chemical non-stick options, then Caraway Cookware is here for you. These ceramic pots and pans with a heat conductive aluminum core are easy to cook with and even easier to keep clean. Plus they come in a variety of fun colors to match your kitchen.
| Features | Legend | Caraway |
| --- | --- | --- |
| Material | 5-ply stainless with copper core | Ceramic with aluminum core |
| Pieces in Set | 14 | 7 |
| Price | $$$$ | $$ |
Things to Consider Before Buying New Cookware
There are a lot of things to consider when buying new cookware. How many pieces do you need? How important is storability? What does your budget look like?
But one of the most important things to decide first is what is the best cookware material for your needs.
Stainless, aluminum, and cast iron all have their benefits and pitfalls, as does copper core. Understanding what makes copper core worth the extra cost and where it comes up a little short are important before you invest in a new cookware set like Legend.
Advantages of Copper Core Cookware
Copper cookware has always been celebrated for its ability to conduct heat impressively well. This is the same reason we use this material for the wiring in our homes. Copper pans use that conductive ability to bring the heat from your range through the pan to cook your food with ultimate efficiency.
But copper is also incredibly hard to keep clean and prone to damage. That's why most chefs prefer copper cookware that is clad in stainless steel. Here, you get all the cooking advantages of copper with the durability of stainless.
Copper core pans are insanely good at conducting heat, retaining heat, and responding to changes in stove top temperatures. Put simply, they make cooking easier and more efficient.
Copper core pots that feature magnetic stainless on the bottom are compatible with all cooktops, including induction cookers.
Disadvantages of Copper Core Cookware
But all this awesome cooking ability does come with a few costs.
For one, these pans tend to be heavy. That's because they require a minimum of five layers: the copper core, aluminum layers to help bind the copper, and the stainless layers to protect both. That's a lot of metal and you can feel it when you lift these kinds of pans.
Copper core pans are also typically not nonstick, which means they require as much cleaning as other high-quality multi-ply stainless cookware.
And, because copper isn't cheap, copper core pans tend to be on the top of the price spectrum compared to other types. These Legend Cookware copper cores are a rare exception to that rule, however. They are impressively affordable and cost far less than competitors' sets.
Conclusion
Copper core cookware is what most serious chefs—and fanatic home cooks—dream of owning. With this new affordable yet well-crafted cookware set from Legend Cookware, you can finally make that dream a reality.
This 14-piece set costs less than some 8-piece stainless steel sets we've looked at. But these pots cook like premier copper pans and clean up easier than most stainless options. Plus, they are absolutely gorgeous and sure to make all of your friends and family jealous.
Learn more about Legend Cookware or buy your new 14-piece stainless steel 5-ply copper core cookware set, here.
Get 10% Off with our exclusive discount code at checkout: TH1TZSQMEZV8