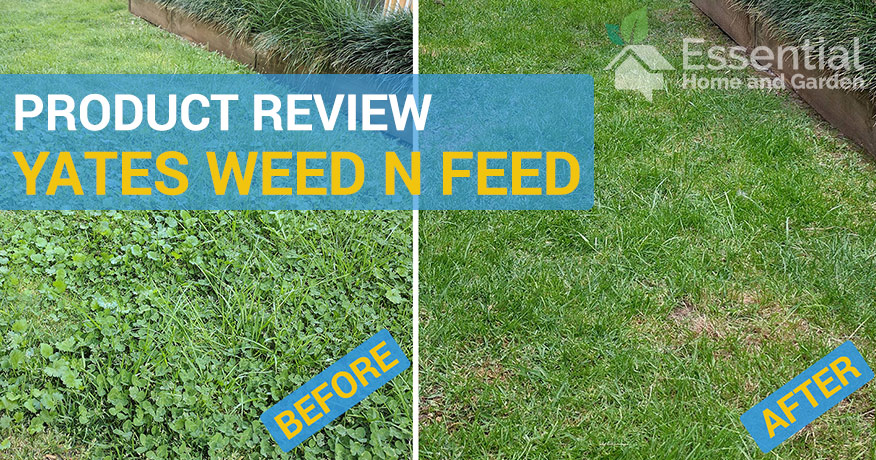 Springtime in Melbourne, Australia…and everything in the garden is growing like crazy. The grass is growing like mad, and unfortunately so are the weeds in the lawn. Now I admit that it is my own fault. I have neglected the lawn for far to long now and this spring the weeds have gotten out of control.
So I thought it was time to deal with the weeds…their time had come.
I went down to Bunnings (the biggest hardware/garden supplier in Australia) and picked up a bottle of Yates Weed and Feed Hose On.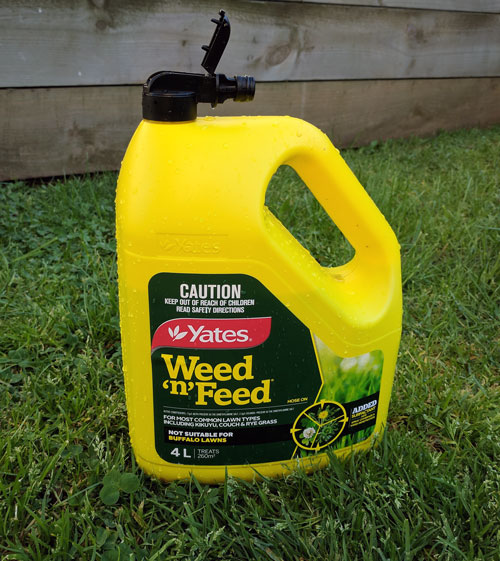 So I'll stop talking your ears off and get into it now – here is our Yates Weed and Feed Hose on review.
Yates Weed and Feed Hose On Review
First, let's take a look at the before images of my lawn. Now, these images will look quite small on this site, but you can enlarge them by clicking on them. There are also before and after photos at the end of this article.
I am hoping that you can see that the lawn is filled with different sorts of weeds, from dandelion to clover.
It's worth mentioning that my lawn is by no means immaculate. It has patches missing and holes dug in it, thanks partly to our two young children but mostly to the dog!
Do not use this product if you have buffalo grass – it will kill it. You will need to purchase a special selective herbicide designed for buffalo grass.
Hose On vs Granular Weed and Feed
I chose the hose on version of the Yates Weed and Feed because I currently don't have a proper fertilizer spreader.
The 4L bottle I got covers 260 square meters according to the label. I'm not sure how big our lawn is exactly but was easily enough and I had about a 3rd of a bottle remaining at the end of the application.
One thing worth mentioning here though is that you have far less control where your weed and feed actually lands due to the spray being affected by the wind. So if you are especially worried about getting this herbicide on your other plants, then you may be better off going the granular formula.
Ease of Application
The Yates Weed and Feed hose on is also much easier to apply for me, all you need to do is plug your hose onto the connector, flip up the cap and turn on the hose. When comparing this method to the granular weed and feed, it seemed like common sense to choose the hose on method.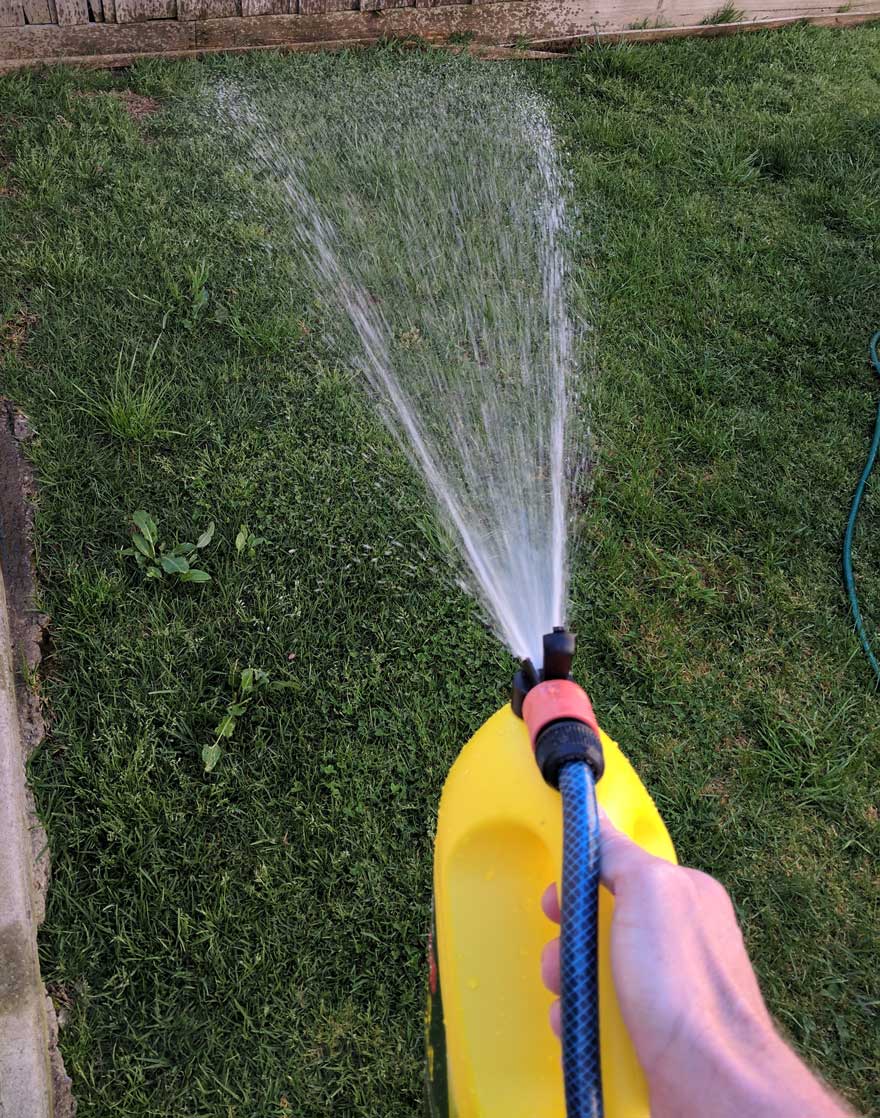 The instructions on the bottle are very clear and I followed them precisely.
A summarized version of the Yates weed and feed hose on instructions are:
Shake well
Lift plastic cover on applicator and plug-in hose
Turn on tap (medium to high pressure)
Walk at a steady pace and sweep the spray over the lawn overlapping sprayed areas slightly
It is especially important to remember that this is a herbicide and it will kill plants other than grass – so be especially careful where you spray especially if there is any wind. In fact, avoid spraying on windy days at all.
The back of the bottle also instructs not to apply if rain is expected within 24 hours, and not to mow for 7 days before or after application. If your lawns grow as fast as mine, you will have a jungle in your backyard by the time the 14 day no mow period is up!
Yates Weed And Feed Hose On Results
After I applied the weed and feed, I followed the instructions and let the lawn go for 7 days.
In this time I noticed that some of the broad leaf weeds were visibly dying off although the clover seemed to still be going strong. So initially I was a little disappointed with the results. But don't stop reading here!
I then mowed the lawns as I usually do and left it.
It was only when I went out to take my "after" photos (about 7 days after mowing) that I took a close look at it again… almost all the weeds were gone!

Now when I say almost… I mean pretty much everything. I did notice some small clumps of clover struggling under the level of the grass – but they didn't look well and I can tell they won't last long at all.
Check out the before and after photos below for the results.
Overall I am very pleased with the outcome and would recommend it to anyone who finds their lawns being overrun by weeds.
Weed Before and After Photos