In any home or living space, you will likely have windows in different areas of each room. But which kind will work better for the living room, and which will be best for a bedroom? And what kind of material will last the longest and give you what you need?
If you have been searching for blinds that will suit your windows or situation, but don't know what types of blinds are out there, then this guide will help you make a decision by going over the various types and going into detail about what they are best used for.
Whether you are trying to find blinds that darken the space for better sleep, or you want a light option that will allow natural light into the space when needed, you can find the answers you're looking for in this article.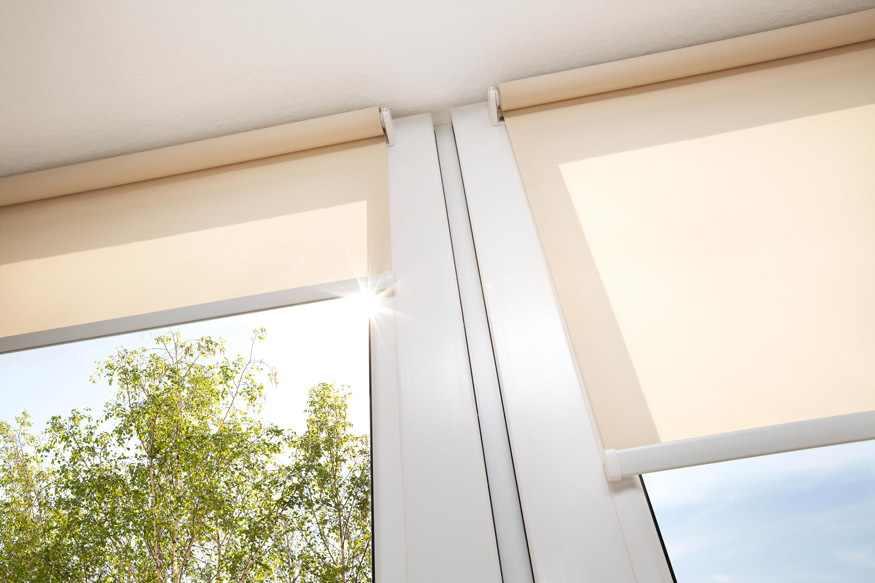 Disclosure: We may receive commissions when you click our links and make purchases. This does not impact our reviews and comparisons. All opinions are our own. We pride ourselves on keeping our articles fair and balanced. For more info see our disclosure statement.
Blinds Vs Shades
There are many different kinds of window coverings that can be used in your home, but most companies often use the words shades and blinds interchangeably. This is not completely correct and can be quite confusing when you are shopping on your own.
So, what is the difference between blinds and shades?
Well, according to the Dictionary:
Blinds are a hard window covering that is made with horizontal slats that can be open or closed shut.
Shades, however, are coverings that are made up of one or more pieces of fabric.
Although both of these products work the same way to achieve the goal of keeping the sun out of the room, these two options differ in price, operation, style, and many other features that set these choices apart.
| | |
| --- | --- |
| Privacy/Light Control | In the case of privacy and light control, this is a draw. This is because the hard slats of blinds can be raised or lowered and also tilted open or closed for maximum privacy, shades have different fabric types that allow for different kinds of light control. Blackout fabrics provide full coverage, light filtering lets you let in a soft glow, etc. In the end, this mostly comes down to preference. |
| Cleaning | Cleaning blinds is a tougher challenge because the slats can collect dust and dirt on each level. Shades are not slatted, so they actually tend to come clean much easier since they have no flat surfaces that collect dust. That said, fabrics do worse when it comes to moisture and stains. |
| Durability | Because shades are made from lighter fabric, they are easier to rip or tear. So, blinds' hard materials will last longer and are better to use in high traffic areas than shades. |
| Insulation | Both shades and blinds offer some heat control since they keep the sun from entering the space, but blinds can provide better insulation during both the winter and the summer with the ability to keep heat in during the winter and keep it out during the summer. |
| Child Safety | Children can be harmed if they get ahold of a blind's cord, which is typically a blind's main feature. So, cordless shades that roll up and pull down offer more safety for children since they have no cord. That said cordless lifts can be found in blinds as well, you just have to look for it. |
| Cost of Purchase | Depending on the type of shades you get, they can either be very cheap or very expensive. However, most basic blinds will have a cheaper price, so they are often more inexpensive for what you're getting. |
| Installation Cost | Because the installation for shades varies by the model and type, the installation cost could be much higher than blinds. Blinds all have the same installation process, which keeps the cost lower. |
This table shows the winners of each of these categories and, for the purpose of this article, we will go into detail about both blinds and shades so you get the most information for all types of window coverings.
Important Features of Blinds and Shades To Consider
Before you go ahead and buy a set of blinds or shades for your home or apartment, you want to think about what kind you want and what you want them to do. It is important to consider what you want out of your blinds, whether you want them to darken the room at night for better sleep, or be shut closed enough to provide complete privacy.
So, here are a few important things that you should think about before making your blinds or shades purchase.
Light Blocking Properties
When thinking about the amount of light that you want to enter a room, you will want to ensure that the blinds that you got will match what you want. If you're looking for more privacy and better light-blocking, then going with blinds that completely shut and have wider slats will work better.
However, you could also opt for blackout shades that are made with thicker fabrics that will provide full coverage over the window for better light blocking. Especially if you want to get blackout shades for deep sleep so you're not woken up by light entering through the window, this option will work well for your bedroom.
Thermal Insulation
Keeping the heat in during the winter months and keeping it out during the summertime is an issue that many homeowners face. So, when you are thinking about getting blinds for your home, you want to consider the thermal insulation of the model you choose.
Although shades are great for the summer since they keep heat out by blocking the entire window, it doesn't necessarily mean that it's better.
Blinds are more versatile and can be tilted down toward the room to allow more light in when the weather is cooler, or tilted away from the house to block the sun and keep the house from getting too hot during the summer.
That said, shades can also provide insulation during the winter by creating a thicker barrier at your window that keeps the heat inside. Since blinds tend to be thinner slats with gaps in between, they aren't ideal for this purpose.
Privacy Properties
When thinking about installing blinds, you also want to take into account whether you want others to be able to see into the house in each room. Bedrooms and bathrooms may require more privacy, but living rooms and kitchens may be all right for seeing out and in so you're able to watch the house when you're outside.
The amount of privacy that you need can determine which type of blinds you get because there are some that are solid fabric, like shades, that will not allow any visuals through when shut. If you want to be able to keep an eye on your kids while they play outside, this may not work for you.
However, if you want more privacy, then getting an option that allows you to see out but doesn't allow people to see into your home would be a good choice for you.
Sound Proofing
If you live in an area where there is a lot of noise outside your home, then sound proofing will likely be an important factor when choosing your types of blinds.
All blinds will help somewhat with reducing sound levels in your house, but some are better than others.
The best type of blinds for soundproofing are honeycomb blinds – the honeycomb shape helps trap noise and reduces the amount that is transferred into the room.
Another alternative is soundproof curtains.
Cordless Operation
Although you may hear the word "blinds" and think of a traditional model with a stick on one side for angling the slats and a cord for lifting and lowering the blinds, this is not the only option. There are blinds that come with a cordless operation that doesn't require you to pull a cord to lift or adjust the slats.
With these blinds, you simply have to physically pull down the blind and allow it to stay down by locking it in place. Then, to lift it up, you pull down again to unlock it then allow it to float to the top, guiding it and adjusting it to ensure that it's level.
This technique is simple, but a bit difficult to explain, so here is a short video that will show you exactly how easy it is to lift, pull down, and adjust these cordless blinds:
Manual or Automatic
There are many traditional manual options that allow you to adjust the blinds with a cord that you pull down to lift the slats, and release to have them lowered back down. But there are now blinds that come with automatic systems as well.
If you want to be able to close all the blinds in a room at the same time without getting up, you can use the remote to lower the slats without having to do so manually.
This is a great feature for modern homes that are going for a contemporary style but can work for any window where you want this convenience.
What are the Most Popular Window Blinds in 2022?
With many different styles and options available now, there are some trends that are becoming more and more popular. Here are some of the biggest trends that you will see for the rest of 2022.
Cordless Blinds
With the issues of child safety being a large issue for many families, options that don't have cords for operation are a big hit. According to NPR.org, over 1 in every 8 children who are injured by a blind are entangled by the cord.
This number is increased when the children are younger in age, and many parents want a cordless option that will help keep their young children safe even when they're not watching them.
Options that can be pulled down by hand and locked in place are popular because of the safety they provide, and it looks like this trend will stick around.
Automatic Blinds
As technology moves forward and home appliances and products become more advanced, blinds are also being brought into the 21 century with automatic blinds. These blinds feature a remote that allows you to raise or lower the blinds from across the room and are very convenient.
With the introduction of AI controlled products being introduced into the market, there are also smart options that offer automation, or even voice control so all you have to do to adjust your blinds is use your voice to tell the smart control what to do.
These are likely to become more popular throughout the year, and possibly for years to come.
Roman Shades
As the trends of window treatments change, there is always a hot new option that makes it to the top of the list. This year, that trend is the Roman Shade.
This option is a lightweight and fabric shade that covers the window and rolls up to let light in. These fabric options use light fabrics to allow for some light in for a natural glow to the home from natural light.
These shades can come in different designs and patterns that allow you to customize them to fit the look and style of your home and each room of the house. With this customization, many homeowners will love this trend.
The Different Types of Blinds
Vertical Blinds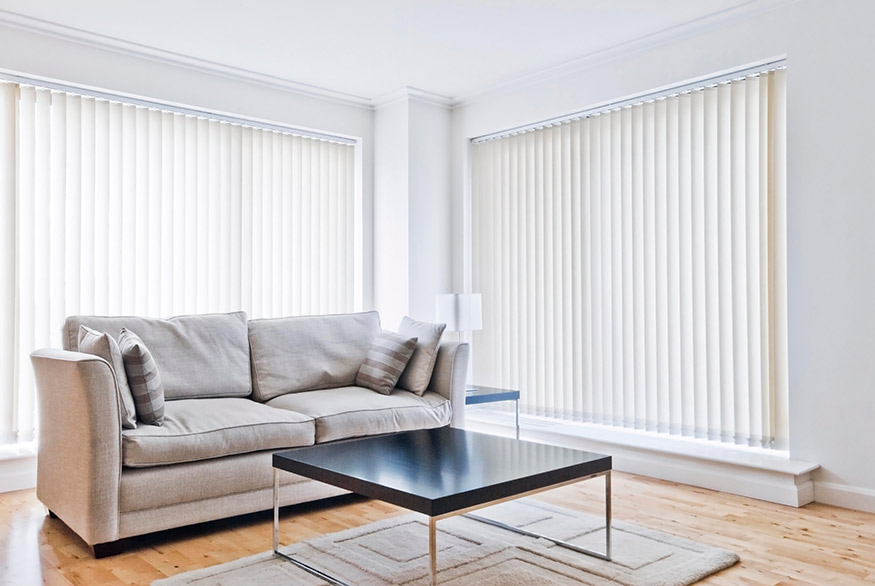 This vertical option is designed for use on large glass doors, like patio or backyard doors, that need coverage from the floor to just a few inches from the ceiling. These blinds are long enough to cover the entire door, therefore blocking all light shining in, and are also great for large windows as well.
These options are typically made from vinyl, but can also come in fabric as well. These blinds are individually hung from a clamp at the top section of the blinds and each panel turns to the left or right when the pole on the side is twisted in that direction.
These resemble the horizontal blinds for smaller windows but don't raise or lower. If you want them out of the way to get to the door, they simply slide to the left. These blinds are fairly easy to install and are not a high-price option, which is great for people on a tight budget.
Where to buy: If you are after a great range of blinds that won't break the bank, we recommend checking out Affordable Blinds.
Venetian Blinds
This style of blind refers to models that have horizontal slats that are typically made of metal, wood, or plastic. They are suspended between cords or pieces of fabric that hold each slat the same distance apart and allow you to tilt them up to 180 degrees.
Venetian blinds are often the most common option in a lot of homes and they can be used in any room of the house. They are sometimes also the most frustrating to adjust because you have to pull the string to the left to unlock the slats before lowering or raising them.
If you have trouble with these, you can watch this short video on how to raise and lower them properly:
Where to buy: If you are after a great range of blinds that won't break the bank, we recommend checking out Affordable Blinds.
Mini or Micro Venetian Blinds
There are two types of Venetian blinds, which are mini or micro blinds. Mini blinds are built the same way but have only an inch or so for the slats. Micro blinds are even smaller and come with only ½-inch slats.
These options work best for small windows in the bathroom or other rooms that require a smaller scale option.
Panel Blinds
This type of blind is built from thin fabric in wide sections that hang vertically. Unlike vertical blinds, these blinds typically only have four wider sections instead of many thin slats.
These are also used for large glass doors and are most commonly placed on sliding backdoors. These panels don't tilt or rotate but slide together to allow light into the room.
When you want them closed, you just slide them back and they will lay one against the other – similar to dominoes – and cover the entire glass door. These come with a number of benefits including
Soft fabrics are used
Easy to clean
Often cheaper than other options
Economical (no plastic used)
Slide open and closed
Where to buy: If you are after a great range of blinds that won't break the bank, we recommend checking out Affordable Blinds.
Pleated Shades
These shades are made from very thin pleated fabric. Cheap models also come in paper form that fold together and flatten to hide from view.
These are inexpensive and easy to install because they can be simply attached to the top of the window frame with adhesive or with a common blind mount. These pleated shades allow no light in when lowered because there are no slats with open spaces in between.
These can be used for rooms where you want extreme privacy, like bathroom windows that are close to a toilet or tub, and offer no way to look into the room.
Where to buy: If you are after a great range of blinds that won't break the bank, we recommend checking out Affordable Blinds.
Cellular Shades
Cellular shades can look an awful lot like pleated shades, but these options have a honeycomb shape that holds on to trapped air and helps insulate the window. They are usually made with a similar soft and thin fabric to that of the pleated shades.
These are an eco-friendly option that will help you save money on heating and cooling and are relatively cheap due to the thin fabric. The installation is quick and simple and can be done on any window in the house.
Because they help insulate the room better, they are popular in bedrooms and living spaces where people spend the majority of their time so those rooms are kept warmer during the cold months.
Basement windows are also popular for these shades because of the insulation that keeps the room warmer. If you have a basement and want to know other ways to keep warm, read this article to get more tips.
Where to buy: If you are after a great range of blinds that won't break the bank, we recommend checking out Affordable Blinds.
Roman Shades
A Roman shade is one that blocks out the sun using fabric that lays flat when it is lowered, but stacks underneath itself as it's raised. This creates an even fold that resembles a pleat, but the underneath folds can be seen.
These shades are some of the most popular choices today because of the ability to have a custom design or pattern on the fabric color of your choice.
Some of the most interesting are:
Fleur de lei
Floral
Striped
Paisley
Solid colors
Where to buy: If you are after a great range of blinds that won't break the bank, we recommend checking out Affordable Blinds.
Roller Blinds/ Shades
These blinds or shades are a convenient option for those who don't like the mechanism for the Venetian blinds. Instead of rotating slats, this option has fabric that rolls up and pulls down to cover the window.
These blinds are attached to the window frame by a pole that the fabric is wrapped around. There is a string on the bottom of the blind, which usually has a small loop or bead at the end, that allows you to pull the blinds down to cover the window.
A locking mechanism will keep the blinds from rolling up until you pull down the string to release them.
These are fairly cheap options that offer an easy installation. They are also made from many different fabrics that allow you to pick energy-efficient, waterproof, or a standard option of your choice.
Solar Shades
One sub-type of roller shade is the solar shade. This option is a type of roller shade that is designed with specially-chosen fabric that is meant to reduce glare from the sun, decrease heat gain, and give you more privacy with the ability to still see outside.
These fabrics are transparent but don't allow those who are outside to have a clear view of the interior of your home. This is perfect for private rooms with a view that you want to enjoy at any time.
These shades come in different colors, even black, and will still allow for a clear view through them. This is convenient for mountain homes where you might have nearby hikers often, but still want to see the landscape around you.
These shades can be much higher in price than others because of the convenience and quality of the fabric. They may cost around twice as much as other roller shades and aren't the best option for those on a budget.
Where to buy: If you are after a great range of blinds that won't break the bank, we recommend checking out Affordable Blinds.
Tie Up Shades
This kind of shade is designed to be tied up with ribbons or strings from two sections in the middle portion of the shade. Tying up the ribbon sections keep the fabric from falling to its full length and still cover the top section of the window for privacy.
These are usually made from light and delicate fabrics that offer some privacy, but don't black out the sun completely when they are at full length.
Because of the ties, the bottom of the fabric takes on a scalloped look that many people enjoy and it adds a small design element to the window, instead of having an option that is simply straight across.
These covers are easy to install and can be larger than the width of the window itself, using a curtain rod or metal attachment to hold it up.
Outdoor Blinds/ Shades
Blinds
The use of outdoor blinds can be a great way to keep a patio area or covered barbeque space from getting wet from the rain. These blinds are made from heavier and more durable materials, like woodgrain or reed, and can handle different weather conditions.
Unlike fabric options that are designed only for indoor use, you can hang these outdoor blinds in areas that will see the sun for many hours a day, and keep them up during rainy spring months without damage.
These are also made to have slats that are closer together and close almost completely over each other, for use in outdoor areas when the sun is hot, so you have more shade in sitting areas.
Shades
Outdoor shades are not like typical indoor shades that are made from fabric. Instead, solar shades are often used outside because the material is more durable and weatherproof.
These are also a better option because they allow you to see what is going on around you without blocking the view while protecting you from the hot sun rays.
Shutters
Another way to keep the sun from filtering into your house is to put up shutters on your windows. These solid, often vinyl or wood, shutters can be great as a durable alternative to fabrics or slats.
Shutters are usually made from wood and fit into the window frame's interior and have slats that are connected and controlled by a vertical wooden piece. To close or open the slats, you simply use the vertical piece to move all the slats up or down at the same time.
This option is often a much more expensive choice than many others because of the solid wood construction and the need for installation to be a perfect fit for the window frame.
Ready-Made Vs Made-To-Measure Blinds
There are two main types of blinds that are available on the market. These are separated into two categories: ready-made and made-to-measure.
Ready-Made Blinds
The ready-made blinds are designed and manufactured in preset sizes that can be cut down to fit any window size in our house. These are commonly found in stores and come in size ranges that you pick from, instead of fitted options.
Pros
They are typically much cheaper since they're not customized
Many different styles available
You don't need to pay for professional installation
Cons
You have to do the work yourself
Won't be professionally fitted
Made-To-Measure Blinds
Made-to-measure blinds are made to fit a certain size and shape of a measured window and will not fit any other window. These are usually ordered from a home improvement or décor store that will make your blinds to your measurements. This allows you to customize them and get exactly what you want.
Pros
They come perfectly fitted to your windows
No need for any adjustments
Typically will be installed professionally
Offers more customization for fabrics and designs
Cons
Can have a higher price point
The Wrap Up
Although blinds might seem like a small part of your home, they can offer great energy-efficiency and privacy than you thought. With many styles and options, you can pick the one that you would like to use and see in your home, and get the best choice for your windows.
If you have any questions about the different types of blinds, or what would be best in your situation, please comment below!