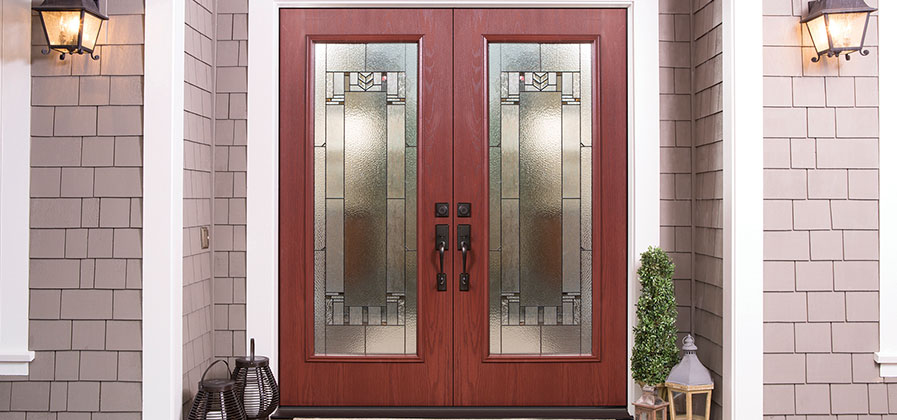 A lot of newer homes are falling into the category of "spec homes". Standardized layouts without a lot of personalization or customization to make it your own. This is especially true for the front doors and entryways. How many standard 6-panel front doors can you count in your neighborhood? Your entrance is the focal point of the front of the house and makes a big statement when it comes to your curb appeal.
Luckily, there is an inexpensive project you can tackle that will completely transform the look of your entryway, making it stand out against the rest and turning your ordinary entryway into something extraordinary. In less than an hour, you can add a beautiful piece of decorative glass into your door. Doing so will add a ton of value:
Increased curb appeal.
Loads of natural sunlight into your home without losing privacy.
New and unique look for your entryway.
Much less expensive than replacing the entire door.
Increase overall home value.
How To Add A Glass Door Insert
Adding glass to your door is easier than you think. We're going to highlight the main process so you can check this off your to-do list this weekend in less than an hour. Let's get started.
1 – Find the Perfect Glass
Before you can add glass, you need to figure out what size glass you want in your door. The popular option is to go with a "Full View" which is the glass that covers almost the full length of the door. But glass also comes in half views, top views, and a bunch of variations in-between.
To measure, you'll want to find the "cut-out" dimensions. Typically, your "cut-out" dimensions will be from the outside edge of the existing panels on your door. So, you've obviously seen a 6-panel door before, so this example will work well. Measure from top to bottom of the outside edge of the panels, and then do the same from left to right.
For most 6-panel doors, your measurements for a full-view insert will end up being 23" x 65" or possibly 21" x 65". If you're not sure on the exact dimensions or what size glass you want, you can use this handy door glass measurement guide to learn about all the options.
Now that you have your "cut-out" dimensions, add 1-inch to each measurement to take into account the frame that will be on the glass. So, using our example, 23" x 65" turns into 24" x 66". This gives you the glass insert kit size that you need to go purchase. Go find the decorative door glass design that you really like. There are so many design options to choose from, you'll be able to find the perfect style to match your home.
2 – Install the New Glass Insert
Once you have your new glass in hand, it's time to install it in your door. Use your "cut-out" dimensions from Step 1 (before you added the 1" to each measurement) to mark your cuts on your door. You can use painter's tape to lay the path for your cut.
It's recommended to use a jig saw for this. It's also recommended to not cut all the way through the door in 1 cut. It's better to cut one side of the door, then flip to the other side and finish the cut from the other side. It's also really helpful to watch someone else do all of this first.
As the video shows, once you make the cut, you can easily slide the new glass insert into place and screw it together using the provided frame screws. Make sure the screws are installed from the interior side of the door.
After the new glass and frame are screwed into place, pop in the screw hole covers to polish up the look and clean off your glass using window cleaner. Now is also the time to install your peephole camera.
All of a sudden, it looks like you have a brand-new door! The difference is incredible and you'll love how much natural sunlight you'll be bringing into your home.