It seems that the temperature is getting hotter every year, and keeping cool is getting harder and harder.
Yep fans are great, but that buzzing/whirring sound that they make? Not so great.
Choosing a quiet fan is hard to do sometimes, as you can't always turn them on at the store before you spend your hard-earned cash – and when you can, it's too noisy to hear them anyway!
So we have done the hard work for you and put together the ultimate list of the best quiet fans – and the best bit? We list just how noisy (or quiet) these fans actually are.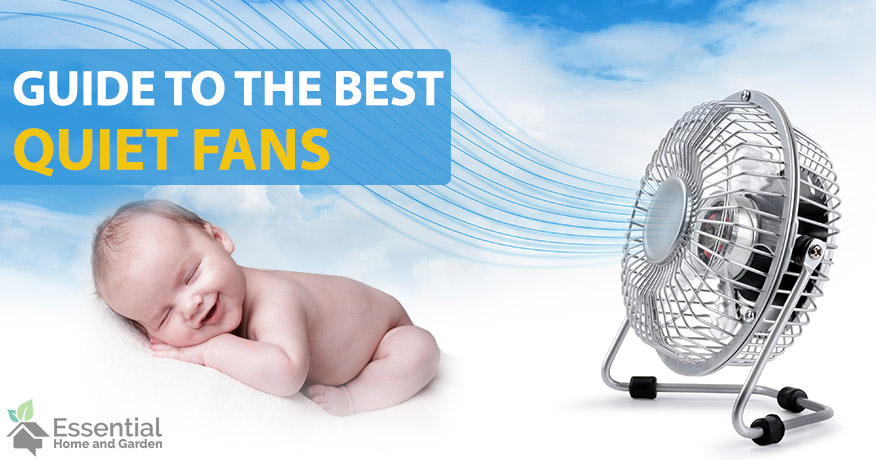 Disclosure: It is important you understand that we may receive commissions when you click our links and make purchases. However, this does not impact our reviews and comparisons. All opinions are our own we pride ourselves on keeping our articles fair and balanced. For more info see our disclosure statement.
Our Favorite Quiet Fan
The pureFlow QT7 is a marvelous piece of equipment. It may look a little odd, but its functionality as a desktop fan is second to none. Don't let the CFM rating of 198 deceive you, this fan uses bladeless fan technology and a 90-degree tilt/oscillation feature to move air around the room in a big way.
12 speed settings give you full control over how loud and how much air this fan moves around the room. We found it much easier to set QT7 to a comfortable level than those with fewer speed settings.
Greentech has really put in the hard yards when designing this fan and this is why it is our top choice for the best fan.
Learn more: How to fix a noisy ceiling fan.
Which Is The Quietest Fan For Sleeping? Quick Comparison
Use this table to quickly compare the best quiet fans. Keep scrolling down the page for more info on our review criteria and in-depth reviews on each fan.
Product
Details
Where to Buy
PureFlow QT7 Bladeless Fan



**Great Choice**

Fan Type: Table Fan
Max Noise Level: 43 dB
Minimum Noise Level: 13 dB
Max Airflow: 198 CFM
Check Price Now
Evachill Personal Fan



**Great Value**

Fan Type: Table Fan
Max Noise Level: 50 dB
Minimum Noise Level: 30 dB
Max Airflow: 49.1 CFM
Check Price Now
Vornado 630 9″ Air Circulator/Table Fan

Fan Type: Table Fan
Max Noise Level: 52 bdB
Minimum Noise Level: 43 dB
Max Airflow: 331 CFM
Check Price Now
Rowenta VU2531 12" Table Fan


Fan Type: Table Fan
Max Noise Level: 55 bdB
Minimum Noise Level: 38 dB
Max Airflow: 1695 CFM
Check Price Now
Lasko 42-Inch Wind Curve Tower Fan


Fan Type: Table Fan
Max Noise Level: 51 dB
Minimum Noise Level: 46 dB
Max Airflow: 634 CFM
Check Price Now
Dreo DR-HTF001 42-inch Tower Fan


Fan Type: Tower Fan
Max Noise Level: 48 dB
Minimum Noise Level: 34dB
Max Airflow: Not advertised
Check Price Now
PELONIS PFS40D6ABB



Fan Type: Pedestal Fan
Max Noise Level: 52 dB
Minimum Noise Level: 38dB
Max Airflow: Not advertised
Check Price Now
Honeywell HY260W Quiet Set Tower Fan



Fan Type: Pedestal Fan
Max Noise Level: 
Minimum Noise Level: 39 dB
Max Airflow: 110 CFM
Check Price Now
Best Quiet Fan Reviews
Perfect for: Anyone looking for a safe, ultra-quiet fan to circulate air.
I remember when I saw my first bladeless fan… sure, it looks fancy – but it didn't really do all that much. Well, I am glad to tell you that is certainly not the case with the pureFlow QT7 bladeless fan.
Not only is it the quietest fan on our list that still moves a decent amount of air, it is also packed full of features. All at a reasonable price.
12-speed settings mean that it is easy to find a comfortable setting, from a light breeze to a strong gale and everything in between – this fan does it all!
We discovered this fan is especially good at circulating the air in a room when in oscillation mode, without having air blowing directly on us – freshening up the room amazingly.
The footprint of this fan is tiny, it sits happily on a desk, shelf, or even on the floor. And because the QT7 is bladeless, there is no need to worry about little fingers being injured.
As far as fans go, this one is also amazingly energy efficient. It will barely cost you anything to run it – even at full speed, and the remote control is always handy for quick speed setting adjustments.
---
evaChill Personal Air Cooler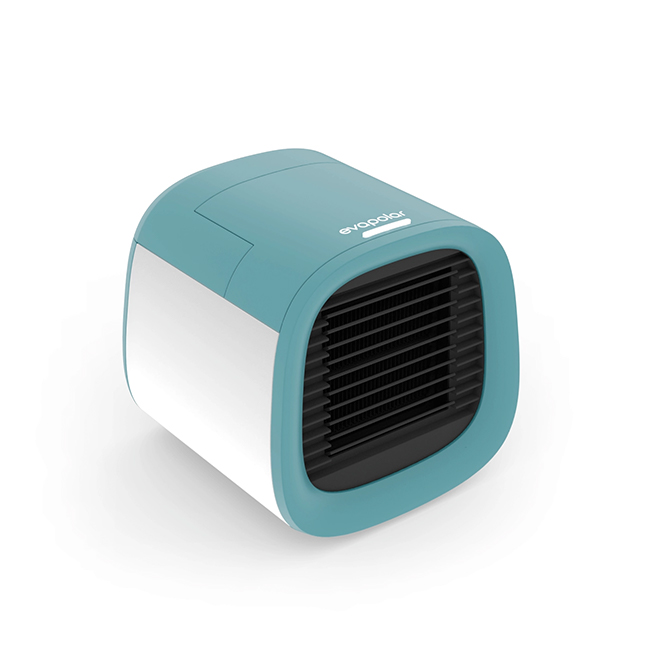 Key Specifications
Fan Type: Table Fan
Noise Level on Highest Setting: 50 dB
Noise Level on Lowest Setting: 30 dB
Max Airflow: 49.1 CFM
Key Features
Actually cools down the air
Super quiet cooling
Ultra efficient
USB powered
Perfect for: An area that needs actual cooling, not just air movement.
The Evapolar Evachill is a new addition to our list and when you give it a go it's easy to see why. It has a built-in evaporative cooling system that actually cools down the air that it blows out.
It puts out 49.1 CFM, which may seem low, but when you consider that this fan actually brings the temperature of a room down – we think it is quite sufficient.
The Evachill has a nice small footprint which allows it to sit comfortably on almost any surface and not take up a heap of room.
Whether you are looking for a fan for the office, baby's room, for travel or almost any reason – the Evachill is one of the best.
---
Perfect for: Anyone looking for a safe, ultra-quiet fan to circulate air.
Perfect For: small – mid-sized rooms.
Who would have thought that fan technology could get any better – after all, it just spins a blade and moves air right? Well apparently it can – Vornado 630 Air Circulator uses a combination of specially designed grill, blades, air duct, and an air inlet accelerator to move A LOT of air.
This fan is designed for small – medium rooms and is perfect for a baby's bedroom or an office. Place it on the floor, on a table or even on a shelf and it will move the air around nicely, while remaining relatively quiet.
A 5-year warranty comes with this fan, so you can be sure that the manufacturer has confidence this model is built to last, despite its quite low price point!
---
Rowenta VU2531 Turbo Silence Oscillating 12-Inch Table Fan
Key Specifications
Fan Type: Table Fan
Noise Level on Highest Setting: 55 dB
Noise Level on Lowest Setting: 38 dB
Max Airflow: 1695 CFM
Key Features
4 way speed controller
5 bladed fan for super quiet cooling
Moves a huge 1,695 cubic feet of air per minute
Perfect for: Those with limited floor space, but still want good air movement
When you haven't got room for a pedestal or tower fan, then you can probably find a spot on a flat surface for a table fan.
The Rowenta VU2531 rates at the top of our list for the best quiet fans with good reason. At a maximum noise level of 55 dB (about the background noise of a quiet suburb), the Rowenta VU2531 is a nice and quiet fan that even the fussiest of sleepers won't have a problem with.
The 12-inch size means it moves a decent amount of air, while still keeping a fairly small footprint. It fits neatly on a coffee table, tallboy or bookcase.
Having the fourth speed setting gives you fine control of the fan speed, getting a comfortable amount of air movement is easy with the Rowenta VU2531 table fan. This model moves so much air you could even consider using it as a carpet fan.
---
Perfect for: Anyone looking for a safe, ultra-quiet fan to circulate air.
Perfect for: A home lounge room or office space
While the Lasko 2554 tower fan may not be the quietest fan on our list, it does fairly well for the amount of air it moves (634 CFM) – which is a lot for a tower fan!
Its size and power make it suitable for a much larger space than most of the others on our best quiet fans list so if you are trying to cool a big room – give this a try.
The quiet setting is especially helpful for bedrooms and nighttime use. It lowers the speed of the blades, but still moves enough air to keep the room feeling fresh and breezy.
Whether you prefer a modern look or are a fan of the older styles of decorating, the Lasko 2554 tower fan has been designed with style in mind and it will not look out of place in your home.
From what we have read from long-timer users of the Lasko 2554, this fan will go for years without giving you any problems. It is well built and manufactured from quality parts and materials.
---
Perfect for: Homeowners who prefer a wider oscillation, wireless control, and a faster way to distribute air throughout the room.
If you really prefer a tower fan but can't justify the noise level output of Wind Curve Tower Fan from Lasko, Dreo's DR-HTF001 42-inch Tower Fan is an excellent alternative because it only puts 48db on max. And, if you put it on low, you will get an almost whisper-like noise output of 34db – a whisper is just 30db!
But that ultra-silent operation is just the icing on the cake because this Dreo Tower Fan model has a lot to offer.
Let's talk about its Auto Mode first.
Most standard tower fans require you to get up from the couch to adjust the fan speed. But not Dreo. It has a convenient Auto Mode that does all the hard work for you. It can either increase or decrease the wind's velocity and keep the room at optimum temp level – no effort is required on your part! Or, you can use the included remote to control the tower fan from the desk.
The second worthwhile feature of Dreo is the 12-hour time function (adjustable in one-hour increments), which is also practical and convenient to have when you only want to use the tower fan during the hottest hours of the day, like in the afternoon.
But wait, there's more!
Making Dreo even more worthy of your hard-earned money is the Sleep Mode. For the first 20 minutes, you'll have a steady fan flow set at the highest setting. Once you hit the 40-minute mark or as you draw nearer to REM sleep, this Dreo tower fan will decrease the wind output and provide you with a soothing white noise and a relaxing breeze. Plus, the LED light emitting from the front panel will automatically turn off after 20 seconds!
---
PELONIS PFS40D6ABB 16-inch Standing Fan
Key Specifications
Fan Type: Standing/Pedestal Fan
Noise Level on Highest Setting: 52 dB
Noise Level on Lowest Setting: 38 dB
Max Airflow: not advertised
Key Features
DC motor and 16-inch five-blade
Wireless control via remote
12-speed setting and 12-hour timer function
Perfect for: Individuals who prefer a standing fan with modern features
You don't have to deal with clunky front buttons to adjust the fan speed or manually pressing the oscillating switch. You can turn on the fan, change the speed, and even set it to oscillate from your desk or sofa – yes, this standing fan has a remote control!
If you misplaced the included remote control, you can always use the touch-enabled control panel for backup.
How about the noise level? The PELONIS standing fan is just 4db higher than the minimum 34db noise output of the Dreo. The difference is barely noticeable even when you sleep. But when set to high, you may find yourself increasing the volume of the TV.
And of course, the PELONIS doesn't have the sleek and smaller footprint of either a tower fan or a desk fan. In fact, it may stick out like a sore thumb in the living room area, but what you will get is a silent fan with up to 12-speed settings to cool you and the space faster.
---
Honeywell HY260W Quiet Set Whole Room Tower Fan
Key Specifications
Fan Type: Tower fan
Noise Level on Highest Setting: Not known
Noise Level on Lowest Setting: 39 dB
Max Airflow: 110 CFM
Key Features
Sleek design with a sturdy base
5-speed settings controllable via remote
Lightweight and has storage for remote
Perfect for: Individuals who want a no-fuss, no assembly tower fan
The Honeywell HY260W Quiet Set Whole Room Tower Fan works right out of the box. No blades to install. It doesn't even require you to bust the screwdriver to put all the pieces together. Once it arrives on your doorstep, all you have to do is take out of the box and plug it in.
And unlike other quiet tower fans we've included in our review, this Honeywell fan kept its features basic, to say the least. There's no Auto Mode, wider oscillating range, and so on. All you get is a 5-speed setting, standard oscillation, and remote control, which some may find all they need in a tower fan.
However, lowering the speed settings can also be cumbersome. If you want to decrease the speed, let's say from three to one, you'll have to cycle through four and five first. It's not a deal-breaker, but it can be annoying. Plus, due to its less desirable CFM rating, this Honeywell is best for small to medium rooms.
Regardless of the lackluster features, this Honeywell Tower Fan model manages to keep the noise level output to 39db on low. Its lightweight design also makes it crazy easy to move from one room to another.
---
The Best Quiet Fan – What We Look For
When testing for our list of the quietest fans we look for the following qualities.
Noise Level
Pretty obvious that this would be one of the main criteria hey? The noise level of a fan is actually quite hard to quantify, yes you can take a dB reading, but because fans are generally fairly quiet anyway it really depends on the environment you are in.
We research how each fan performs in a number of environments and make a judgment from there.
Noise Level (Quietest)
This is the amount of noise that the fan makes when on its lowest setting (moving the least amount of air). The additional notations to the left of the graph show roughly what an equivalent noise level is to give you an idea as to how loud it is.
Noise Level (Loudest)
This is the amount of noise that each fan will make when it is on its highest setting (moving the most amount of air).
Foot Print
It is actually quite easy for manufacturers to make a quiet fan, just make it huge with big blades. But that is not always practical, so the space that the fan takes up in a room is taken into account.
Speed Settings
Have you ever had one of those fans where it has 3 speed settings? 'Fast', 'too fast' and 'is that a hurricane?'
Yeah, I have too, and I hate them, the speed settings that they have preset never seem to be right for me. So it stands to reason that fans with more speed settings offer a greater level of control and thus, a greater level of comfort.
Extra Features
We also look at any additional features that the fan might have and how well they work. Common features include shut off timers and remote controls.
Max CFM
CFM is short for cubic feet per minute and is a measurement of the amount of air that the fan moves. For the purpose of this graph, we have shown the CFM measurement when taken at the fan's maximum speed.
Frequently Asked Questions
What dB is quiet for a fan?
Well, the answer to that depends on your environment and noise preferences. To give you an idea how loud dB readings are – check out the chart below.
You can see that rustling leaves are about 20dB, while moderate rainfall comes in at 50dB. At the extreme end, a jet fighter is 130 dB!
If it were me, I would be looking for a fan that can keep below 45 dB – I find this sound level is not too intrusive and sleep is still possible.
Should I Sacrifice Power For Low Noise?
It depends on your situation. If a low noise level is very important to you, then you might want to sacrifice a bit of air movement and choose a fan with a quiet speed setting.
If cooling the room is more important, then you will likely be happy with a fan that is a bit louder that moves more CFM.
Make The Right Decision
While we have done our best to pick out the best quiet fans, it is important to remember that these reviews are our point of view.
We encourage you to look around, check out other reviews and most importantly – go and take a look at the fans yourself before making your decision.
There are many other very good fans available but we couldn't list them all. Do you have a fan in mind that we didn't list here? Let us know in the comments!