I've got a secret….even the best bladeless fans aren't magic, in-fact they actually do have blades (although they are well hidden!)
That said, there are many advantages of having a 'Bladeless' Fan over a conventional one; Less energy usage, low noise, safety, ease of maintenance and aesthetic beauty to name a few.
These Fans have slowly crept in to the market, emerging around 2009 as the showcase product of pioneering tech company; Dyson.
Due to the initial high prices the product generated only limited success, the good news is today the market place has expanded and many competitors have driven the quality up, and thankfully, the cost down – making 'Bladeless' Fans affordable for even the tightest of budgets.
Looking to step into the future with your very own Bladeless Fan?
The following guide will help you choose a fan that suits your needs and budget.
The Top 4 Best Bladeless Fans
Below is our round-up of the Best Bladeless Fans. Each have been chosen based on their Quality and Affordability, to create a range; that is suitable for most budgets and tastes.
Title
Dyson AM07 Air Multiplier
Editors Choice
pureFlow QT7 Bladeless Fan
Lasko Air Logic Tower Fan
Pros
High quality product, Excellent performance
Lower Cost, Tiny footprint
Lower Cost, Compact, Excellent Circulation
Lower Cost, Powerful for Price
Cons
Less Powerful than Larger Fans
Bladeless Fans Reviews
Dyson AM07 Air Multiplier Review
Price: Check Price on Amazon
The Daddy of bladeless fans, and the flagship product of the Company that pioneered the invention and development of the bladeless fan.
This Large Fan combines the trademark Dyson aesthetic with solid performance and a track record – of reliability, function, and long term use.
The Dyson Air Multiplier AM07 Tower Fans' features include:
10 speed levels
Remote Control
Sleep Timer
As the Largest Fan in the Dyson Bladeless range, the Dyson Air Multiplier AM07 Tower Fan uses it's wide surface area to channel air from it's surroundings into a consistent and powerful stream, to create the perfect environment in almost any room.
Despite being the most expensive in our range, it provides the most stylish design and will appeal to anyone looking for that special design accessory. It's not often a fan can add to the look of a room.
Air Choice 43″ Tower Fan Review
Price: Check local price on Amazon
Coming onto the market at a competitive price, the Air Choice 43″ Tower Fan punches above it's weight, providing powerful and efficient airflow in a stylish package.
The Air Choice Bladeless Fans' features include:
70 degree air supply angle
3 fan speeds
3 wind modes
Tower fans are a great choice for anyone who wants the flexibility of a portable fan but hates clutter. The Air Choice tower fan has a tiny footprint and sits comfortably in a corner out of the way. It is also super quiet, so not only does it stay out of sight – but also out of mind!
pureFlow QT7 Bladeless Fan Review
Price: Check local price on Amazon
The PureFlow QT7 represents the best value fan in our list – it is priced very competitively, it moves heaps of air and it is also super quiet.
The PureFloq QT7's features include:
Powerful airflow – 198 CFM
Ultra quiet when running
12 speed settings
90 degree horizontal and vertical oscillation
This fan is ideal for almost any location. Because of it's small footprint, it is just at home on a desk as it is on the floor in a living area.
If you don't have the budget for the Dyson AM07, then give the Pureflow QT7 a try – you won't regret it.
We also have written a full review on the QT7 bladeless fan that can be viewed on our best quiet fan guide.
Lasko AC600 Tower Fan Review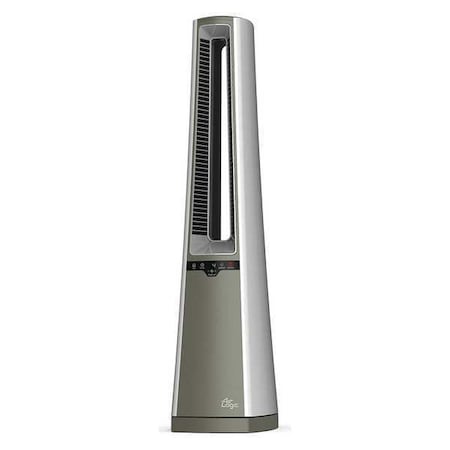 Price: Check Price on Zoro
The Air Logic Tower Fans' features include:
Exclusive Cool Channels and Patented Blower
Remote Control
Using a multitude of Patented Technology, the Air Logic Tower Fan provides airflow and cooling along a large span, and would be prefect for anyone with a reasonably big space to cool.
Admittedly , this Fans' most attractive feature is its' price – when placed in comparison with higher end models. However, the Air Logic Tower Fan manages to stand out, by providing great performance and function, despite the relatively low cost. Therefore it will suit those wishing to cool large spaces on a lower budget.
Helpful Info on Bladeless Fans
How they Work
Each brand of bladeless fan works in a slightly different way, but for the purpose of this article I'll provide you with a Laymans description how these devices work.
Most systems use a, small fan positioned horizontally at the base of the model, this draws air from the surrounding atmosphere up, and around the main body, before being forced out through a tiny gap around the perimeter of the fan, and finally over the curved surface.
This process essentially draws in the surrounding still air, and then multiplies its speed – creating a smooth, consistent flow.
If you are after a more detailed description, there is a great article here.
Bladeless Fans Vs Traditional Fans
Fans have been around since humans could 'wave'! However it wasn't till the late 18th century that the mechanical bladed fan was introduced. And only in 2009 that the Bladeless Fans hit the market!
Below are a list of the various advantages and disadvantages of each.
Pros
Generally low cost
Readily available
Large variety of models
Cons
Choppy air
Blades get dusty and grimy over time
Blades can be dangerous
Pros
Clean, Consistent Air Flow
Aesthetic Design
Blade free and safe for kids
Pricing last updated on 2019-09-19 at 11:04 / affiliate links - Details