If you are any sort of a gardener then you have no doubt used a set of pruning shears at some point. Choosing a good model is vital; it can make your gardening work much easier, keep your plants happier and probably the most important point – reduce the risk of injury. The difference between the best pruning shears and the not-so-good ones is vast, do not underestimate how much time you can save by buying the right pair.
Choosing garden shears that fit your hands, have nice sharp blades and are manufactured of high-quality materials should be high on your checklist of selection criteria. And keep in mind that simply choosing the cheapest pair on the shelf (or the most expensive for that matter) is usually not the best option.
When it comes to choosing the best garden pruners I admit that it isn't easy, there are so many different models available and almost as many different brands. So why not let us do the hard work for you and take advantage of extensive knowledge.
Here are our recommendations.
Disclosure: It is important you understand that we may receive commissions when you click our links and make purchases. However, this does not impact our reviews and comparisons. All opinions are our own we pride ourselves on keeping our articles fair and balanced. For more info see our disclosure statement.
The Best Pruning Shears
Our Top Picks
These are the pruning shears that we use ourselves, we can personally vouch for the quality of these products and have given them a high rating.
The Felco F-2 is our favorite set of pruners. The blades are high quality hardened steel and the handles are a light weight (but strong) aluminium.
The F-2 is made in Switzerland and is made of the highest quality materials. The blade stays sharp for much longer than some other brands, and all the parts are designed to last a life time.
Felco is one of the most well known brands for a reason and they certainly produce some high quality cutters.
Fiskars have been around for a long time in the gardening market, and they once again have produced another set of top quality shears.
These pruners come with a lifetime warranty, and are made of fully hardened steel. They are really easy to hold and don't require a lot of strength to use.
And the best bit? They are VERY affordable – check them out!
Best Ratchet Pruners
Ratchet pruners are great for those with hand strength problems, and the Gardenite model is the best you will get.
If you are after a set of ratchet hand pruners then you can't go past this set from Gardenite.
Anyone who has arthritis or strength problems in the hands will know that ratchet shears can be your savior when it comes to pruning time. They amplify your strength and don't leave you aching for days afterwards.
The manufacturing quality is great, and the blade is super sharp and stays that way.
Another Option: Cordless Grass Shears
Also Worth a Look
While these shears aren't what we would consider as the best available, these models are still great pruning shears and should certainly be considered when purchasing your next set.
On Sale - Save $5.34
Felco F-6 Classic Pruner
Felco have produced another great bypass pruner with the F-6 that is designed specifically for smaller hands. These garden clippers are perfect for small pruning jobs and are made of light-weight yet strong material.
Once again, this model is Swiss made and the blade is manufactured from high quality hardened steel.
Just because the F-6 is small, it doesn't mean that it isn't powerful! You will be surprised just what these pruners are able to cut through with ease. You really cannot go wrong with Felco.
Basilica Botanica Pruning Shears
The Basilica Botanica pruning shears have some of the strongest blades we have seen, they are manufactured from high carbon stainless steel and it really does take a lot to damage them.
They have a high quality wire round spring that is very responsive and does not get caught in any debris.
The price is also great, being a bit cheaper than some other alternative brands and they even offer a lifetime guarantee!
While these pruning sheers look great with their chrome look finish, our only complaint is that the handles need a non-slip covering. Apart from that, these pruning shears are almost perfect.
No products found.
On Sale - Save $3.69
Felco F-8 Classic Hand Pruner
The Felco F-8 Anvil pruner is very similar to the F-2, but includes some additional ergonomic features. I actually still prefer the F-2 but this one certainly still deserves to be in this list.
Easily adjustable, with a non-slip handle and made in Switzerland from light weight materials – the F-8 is sure to fit comfortably in almost any hand.
It also has a sap groove that prevents the blade from getting gummed up. Once again, Felco is a top of the line manufacturer that is hard to beat when it comes to pruning shears.
Jaw Premium Bypass Pruning Shears
Featuring high carbon steel blades, the Jaw Premium Bypass Pruning Shears also come with a lifetime warranty. These are a heavy duty hand pruner which will cut through almost anything you can throw at it. These pruning shears are light weight and easy to handle, but are very durable and will stand up to the toughest conditions.
Because the steel blades are of such high quality, re-sharpening them is a breeze and the one set of blades should last you a life time.
The locking mechanism is also one of the best we have seen, it is conveniently located and it is very easy to lock the blades into place so that it can't accidentally actuate when not wanted.
On Sale - Save $13.07
Bahco Ergo Bypass Pruner PX-M2s
Bahco is a name that is well known amongst avid gardeners, they have been around for many years and know what they are doing when it comes to designing good quality shears. The PX-M2 is designed for medium sized hands and both
left and right handed models are available
.
They have a high carbon steel blade and are easily sharpened when needed.
The PX-M2 also features an angled head which apparently reduces wrist and arm strain, this makes them ideal for those with arthritis or other muscular conditions.
Types of Pruners
There are three main types of pruning shears, each type is designed for a slightly different use. The best models are generally of the bypass type, but not always.
Bypass Pruners
Bypass pruners act like a pair of scissors:
The two blades pass each other with the material to be cut in between them
This causes the branch to be cut cleanly and neatly as long as the blades are sharp.
At lease one of the blades in bypass pruners is usually curved.
The blades for bypass pruners are only sharpened on one side and generally need to be quite sharp to be effective.
Bypass pruners are the most versatile type and generally what we want when looking for a set of pruning shears.
Anvil Pruners
Anvil pruners are a little different to bypass pruners:
A single sharp blade lowers down and pushes against a flat surface (the anvil) – which causes the material to be cut
The benefit of anvil pruners is that they work well even when slightly blunt.
Both sides of the blade on anvil pruners are sharp.
Anvil pruners are particularly useful for cutting thick branches.
Ratchet Pruners
There is also a third type of pruning shear called ratchet pruners. These have a special mechanism that allows them to cut through tough branches even when the user has poor hand strength.
These work by:
Squeezing the handle inwards and the cutting blade moves down then latches in place
The user then releases the handle and squeezes it again causing the blades to move together and giving the user a mechanical advantage.
Ratchet pruners require multiple actions to perform a single cut and are mainly used by those with arthritis or other muscular/strength problems.
What We Look For
We do of course know that everyone's hands are different, not everyone has strong hands and hand size can vary dramatically. This is why we advise you to go out and find our recommended pruning shears on the shelf of your favorite gardening shop and pick them up, see how they feel. This is the only way you will truly be able to tell if the set you want is actually right for your hands.
However, we will do our best to cover what type of user each model is good for to make your choice just that little bit easier.
Top Blade Quality
One of the most important criteria we look at is the blade quality. Almost all pruning shears come with sharp blades, but the difference between a good brand and a poor set is how long they stay sharp for.
Sure, your cheaper pairs may work well the first time you use them and cut clean and straight, but when you store them away and get them back out to use a few weeks again later are they still sharp? Do they have rust on the blade? Are the cutting edges nicked and damaged?
It is also important to look at how easy it is to sharpen the blades when they need it.
Good pruning shears have blades made of hard, good quality steel. We look for blades that are made from high tempered steel or carbon steel – even better is high tempered carbon steel!
Some models of garden shears advertise that they have a titanium or chrome plating over the blades which helps stop them rusting. This is true, but it also means that as soon as you sharpen the blades you are removing the protective layer and those parts of the blade will then rust. For this reason we put little worth on this feature.
Center Screw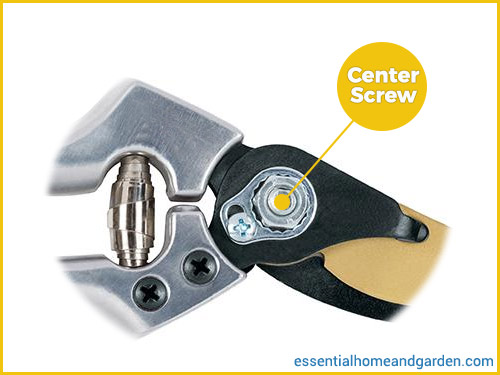 The center screw is the bolt that goes through the garden clippers that the two blades pivot on. It may seem like a trivial part, but it is one of the most important part of the tool. The center screw is responsible for controlling the distance between the blades and needs to be tight enough that it holds the two blades firmly together, but not so tight that it hinders the closing action of the pruning shears.
If the screw is too loose, then any branches you cut may get stuck between the blades and it will result in a messy cut which is bad for the plants health. If the screw is too tight then the cutting action will require more strength than it should resulting in muscle fatigue.
Top models come correctly adjusted out of the box and there should not be any fine tuning required, they should also be easy to adjust down the track when wear and tear makes it necessary.
Ergonomic Design – Easy On Your Hand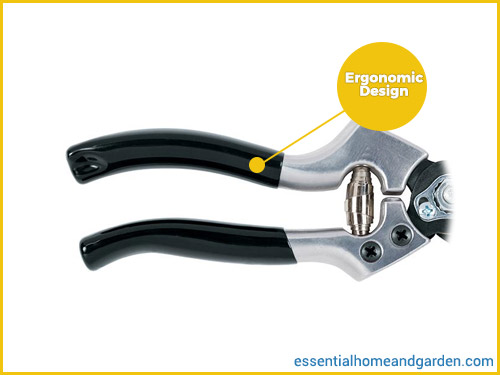 Since shears rely on the strength of one hand it is important that they are suited to the size and strength of the user's hand, however, there are shears which suits multiple sizes of hands and these ones are generally the more favoured models.
A good set of pruning shears should be easy to hold and close with one hand without requiring too much strength to do so – obviously, this will vary depending on what is being cut.
The main points we look at for ergonomic design in the best pruning shears are:
Types of handles and grip
Opening width of handles
Strength required to close the blades
Overall size and weight
Are Replacement Parts Available?
If you decide to spend your money on top of the line pruning shears then you are not going to want to throw them out as soon as something breaks or wears out. And trust me, something will break eventually. Shears do hard work and even the highest quality set will eventually break under the pressure of what it is expected to do.
So this is why one of the criteria we look at for the best pruners is if spare parts are readily available.
Locking Mechanism
The locking mechanism is a device that locks the pruning shears closed when not in use, this not only protects the blades from being damaged while not in use, it is also an important safety feature which keeps the sharp blades safely closed.
The locking mechanism should be easy top open and close, but the shears should not accidentally get locked closed when in use because the mechanism has been bumped or has 'fallen' closed.
Pruning shears locking mechanism should also not get in the way of normal use and should not get twigs or branches caught in it.
Spring Strength – Strength required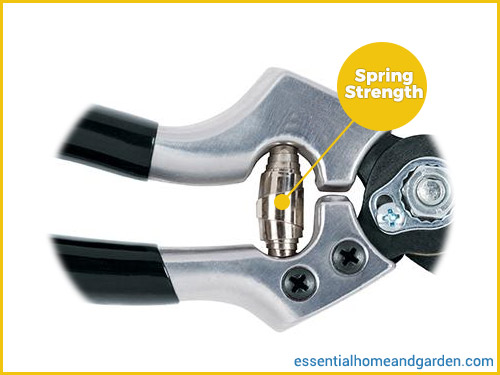 The spring is used to hold the pruners apart, removing the need to manually pull them back open after performing a cut. It is important that the spring is fixed firmly in place and not able to be accidentally knocked out when in use.
There are two main types of spring, coiled metal springs and wire springs. Generally, both types of springs are good – but the quality of each spring can change from model to model.
You want the spring to be strong, but not so strong that excessive effort is required to close the blades.
Easy to Clean
When working on some plants, you will notice that the blades on your pruning shears get quite dirty and gummed up with sap. Sap can be very corrosive and if left on your good Secateurs it will quickly eat away the cutting edge and also cause your tool to rust.
So it is important that your shears are able to be easily cleaned. For some models they will require disassembly to be cleaned properly, other models can be cleaned while still assembled.