Plates, bowls, pots, and pans – we use them every day in the kitchen and trust that they'll meet our needs. To be specific, we trust that the tools we use to cook and serve food each day will keep that food pure and potable.
You might take this for granted, and if so, that's okay. Most folks don't question whether their cookware is non-toxic. But given that more and more discount brands are flooding the cookware market today, maybe we all should be a bit more thoughtful with what cookware brands we buy from.
Suffice to say, most major cookware brands today are considered safe. But still, some brands go the extra mile to ensure that their cookware is safe for year after year of use.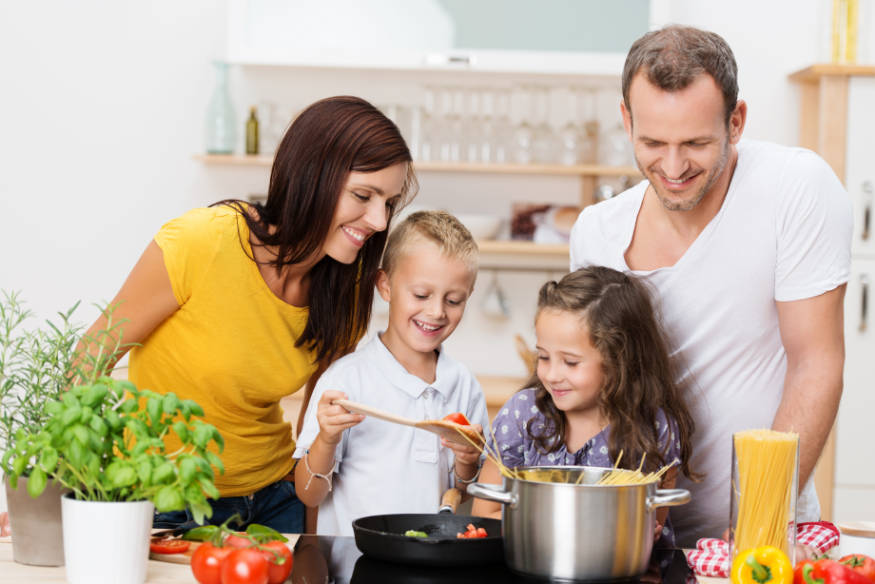 In this guide, you'll learn about some of the best non-toxic cookware brands on today's market. Better yet, you'll learn some history about cookware safety as well as learn what to look for in a quality cookware brand.
With all of that knowledge, you can be sure that your chosen cookware won't give you any nasty health surprises after many years of use.t
Disclosure: It is important you understand that we may receive commissions when you click our links and make purchases. However, this does not impact our reviews and comparisons. All opinions are our own we pride ourselves on keeping our articles fair and balanced. For more info see our disclosure statement.
Non-Toxic Cookware Comparison Table
Product
Details
Where to Buy
Material Composition: Heavy gauge aluminum with ceramic coating
Best Known For: Saucepans and skillets
Non-Stick: Yes, ceramic
Color Options: Yes
Price: $$$$
Check Product Price
Material Composition: Carbon steel, stainless steel, silicone 
Best Known For: Stock pot and silicone lid
Non-Stick: Yes, natural seasoning
Color Options: No
Price: $$$
Check Product Price
Material Composition: Stainless steel, ceramic
Best Known For: Thermolon with diamonds (their non-stick coating)
Non-Stick: Yes, proprietary ceramic coating
Color Options: Yes
Price: $$$
Check Amazon Price
Material Composition: Anodized aluminum, silicon
Best Known For: Affordability 
Non-Stick: Yes, silicon coating
Color Options: Yes, limited
Price: $
Check Amazon Price
Material Composition: Cast iron
Best Known For: Multi-purpose skillets
Non-Stick: Yes, natural seasoning
Color Options: No
Price: $$
Check Amazon Price
Is All Cookware Actually Safe?
This is the question more and more home cooks are asking themselves today.
After modern testing revealed that Teflon, the old gold standard for non-stick coatings, was potentially harmful, more consumers refused to buy from brands that couldn't ensure their product's safety.
Even so, many consumers today don't know if their current cookware is non-toxic. Often, it can be difficult to figure this out on your own if your cookware's manufacturer doesn't list what it is made out of in detail.
As such, it is critically important to research your next cookware set's composition before buying it. As you'll find out below, there are many surprisingly common materials used in cookware today that could put your long-term health at risk through continued exposure.
What to Look for and What to Avoid with Cookware
What to Look For:
American made
Made from natural materials
First, let's consider a few materials you'll want to look for while searching for your next non-toxic and long-lasting set of cookware. As will all household goods, your be
st bet will often lie with American-made products. While some great brands are produced overseas today, American-made cookware can often be trusted to have passed rigorous safety tests.
As for composition, stainless steel remains a reliable option for most kinds of at-home cooking. Modern stainless steel cookware is usually imbued with different properties that make it even more non-stick and easier to clean. Stainless steel sets also range in price, making it easier to stick to a buying budget.
So far, ceramic coatings also appear safe for long-term use. However, not many studies have been done to evaluate its safety in all conditions. Early indicators show that it is safe, though, so you can trust it in your kitchen at this point.
Also, don't be afraid to cook with what your grandparents used (as long as it doesn't contain Teflon). As such, cast iron is always a great option that can be used for almost all types of home cooking. Also, glass and Corningware cookware remain fully safe to use, even after many decades of use.
What to Avoid
Copper coatings
Teflon
Non-natural coatings
Meanwhile, there are several cookware materials that you should definitely steer clear of. For example, if you can afford to avoid Teflon coatings, do so. While Teflon remains very common, its known health risks hardly make it worth the investment.
Copper coatings are also worth avoiding, generally. While the material itself is not known to be hazardous, regular exposure to acidic foods can cause the copper in these pieces to oxidize. This, in turn, may cause some metals, such as nickel, to leach out.
Aluminum pans have also been the subject of debate lately among cookware experts. Some tests indicated that exposure to these pans had links to negative health outcomes. However, these tests remain contested, so some caution might be prudent until better findings can be returned.
While it goes without saying, always be sure to do extra research into where your cookware is being made. While foreign-made cookware is not inherently bad or dangerous, a foreign-made label might be a signal that you should do some extra research into that brand's use of certain metals and coatings.
Known Health Impacts of Unsafe Materials
As you might expect, some testing has occurred surrounding materials and coatings used in cookware. These tests have returned results that indicate some materials and coatings may be more toxic than they first appeared.
For example, ample evidence now shows that Teflon (polytetrafluoroethylene or PTFE) can cause toxic fumes when heated above 572° F. This can make Teflon coatings toxic to those who work in kitchens on a regular basis. Teflon is also known to contain perfluorooctanoic acid (PFOA), which has been linked to several forms of cancer through regular exposure.
Some tests have also indicated of minor link between aluminum cookware and Alzheimer's disease. However, expert groups like the Alzheimer's Association have actively indicated that this link is not confirmed. Also, the testing that established this link remains controversial.
If you want to learn more, read our article on the Safest Types Of Cookware.
The Best Non Toxic Cookware Brands
In the hunt for high-quality, non-toxic cookware, the search can feel endless.
Fortunately, there are a few major brands today that have built all of their products will full safety in mind.
These are just a few of these popular brands that you should consider when moving on from your older cookware set.
Caraway Cookware has been gaining more and more popularity lately, and it's clear to see why. While they weren't the first brand to use a ceramic non-stick coating, they've certainly perfected it. Not only is this coating non-toxic by nature, but Caraway's unique formulation makes it so you need less oil or butter when cooking with their pots or pans.
Not only that, but Caraway cookware is also built from heavy gauge aluminum. While this does make them slightly heavier, you can also count on these pans remaining durable through decades of use.
As an added bonus, Caraway's main kitchen sets come in several pastel colors to match your kitchen's décor. One handle on many of their pans also doubles as a spoon rest, making them all the more convenient to use.
Caraway Cookware is available from Caraway online store.
There's no question that many stainless steel pans look the same on the shelf. But once they're put on the stove, you'll see that cookware made by the likes of Made In stand out from the pack. Their clad construction method ensures that every piece transfers heat evenly and efficiently.
Due to the fact that their main sets are pure stainless steel, there's no need to worry about toxic elements in Made In cookware. Also, while this brand does offer an optional non-stick coating, this coating was made in-house and lacks any PFOAs whatsoever.
Made In has also pioneered a new way to make their cookware sets easy to use. Specifically, their pans can be used with their universal silicone lids. These lids are easy to clean, easy to store, and fit snuggly even after years of use.
Made In Cookware is available from Made In Cookware online store.
Best Ceramic Coated Cookware
GreenPan is the kind of brand that has taken the trend of healthy living seriously. Their unique Thermalon non-stick coating is entirely non-toxic, for example.
Not only that, it is imbued with diamonds to ensure that it never ships away and gets into your food.
The construction of GreenPan's cookware also speaks to their efforts to maintain a healthy planet. That's why their pans are made from upcycled stainless steel and aluminum. These same pans are also constructed such that they can take full advantage of induction heat sources.
GreenPan cookware is also surprisingly comfortable to use for extended periods of time. This is primarily because each grip and handle is ergonomically designed. They're also secured with reinforced riveting, thus ensuring the whole unit holds together through many years of use.
Greenpan Cookware is available from Amazon.
Replacing your kitchen cookware can be an expensive endeavor. Fortunetly, GreenLife has committed its brand to making safe cooking affordable. Their pan's non-stick coating has even been tested and contains no PFOA, PFAS, lead, or cadmium at all.
Meanwhile, GreenLife has ensured that their cookware can withstand the wear and tear of daily use. Each piece's aluminum body, for example, has gone through several treatments to ensure that they remain structurally sound at high temperatures. Each pan handle is also coated in a greppable plastic as well, thus ensuring that heat never reaches your cooking hand.
GreenLife also has a major advantage when it comes to sales. Because this brand is available from most major online retailers, you can get their cookware at a reasonable price without needing to search around.
Greenlife Cookware is available from Amazon.
Best Long Lasting Cookware
Nothing beats a trusty cast iron man, and in that domain, Lodge is considered the champion. Their solid cast iron pans and Dutch ovens have been imbued with modern innovations. As a result, their natural seasoning is both non-stick by nature, entirely non-toxic, and easier to clean than cast iron pieces of the past.
While other non-toxic cookware brands require you to drop hundreds of dollars on a full set of pots and pans, Lodge has made it a point to emphasize the multi-functionality of their cookware. In fact, just one or two of their cast iron pans is enough to accomplish most regular kitchen cooking tasks.
You might expect these pieces, which can be passed from generation to generation, to be extra expensive. But in truth, each piece is fully affordable. They even make specialty pans, allowing your cookware to be imprinted with one of their unique images of wildlife.
Lodge Cookware is available from Amazon.
A Brief of History of Cookware Materials
Early Civilization
Though it goes without saying, cookware is nearly as old as human civilization itself. In fact, artifact records indicate that some of the oldest kinds of cookware were made from pottery and were used by Stone Age hunter-gatherer groups.
Though these kinds of clay pots were the standard for many centuries, some civilizations found alternative means of heating and cooking their foods. Some Native American groups, for example, created a means of heating a woven basket using wood coals. Other older civilization groups used a similar method as well, but instead used hot stones or "pot-boilers" as a heating source.
Over time, more civilizations began to adopt metalworking practices that allowed for the creation of bronze and iron cookware. However, the adoption of this kind of semi-modern cookware was slow at first due to the much higher cost of production compared to existing ceramic pots.
The Middle Ages
By the Medieval period, most kitchens had at least one (if not more) metal pots that was used on a regular basis. These pots, such as the iconic cauldron, were usually made of a heavier metal so that they retained heat more effectively.
By the 17th century, cooks were able to branch out and expand their cookware collection substantially. During this period, it became common to own several metal cookware pieces, as well as specialized cookware such as a kettle or a trivet. This era also saw the popularization of brass and copper cookware for the first time.
Throughout this time, cast iron cookware also maintained a fairly solid level of popularity. In fact, their origins date back earlier than 600 AD in Asia. These kinds of cookware remain favored with some home cooks because of their multi-functional uses, their broad heat retention, and their natural non-stick seasoning.
The Modern Era – Metals
As the modern era approached, however, innovation in the cookware industry began to really ramp up. For example, one major trend emphasized lighter weight cookware that still had productive conductivity. This lead to aluminum pans becoming commonplace.
Aluminum on its own was not ideal for cooking, though, due to its reactivity. As a result, it was often alloyed with non-reactive metals or anodized to prevent corrosion. Aluminum can even be cast in a manner similar to iron to adopt some of its heat retention properties.
Though it had been in use for several centuries up to that point, copper cookware also received a boost at this time. This was partially due to new innovations that prevented these pans from corroding and warping under high heated. One prime example was the introduction of nickel-plating, which made copper cookware popular up until the 1980s.
However, the introduction and popularization of stainless steel cookware was a true game-changer. These kinds of cookware are moderately lightweight, provide great heat retention (when clad), and do not corrode due to their composition. As a result, most modern cookware includes at least some amount of stainless steel.
The Modern Era – Coatings
Innovations in coatings also represent an important part of cookware's history. In almost all cases, these innovations came as a result of innovators looking for the best means of preventing food from sticking to a pot or pan's surface.
For centuries, the best and most reliable method for achieving this goal was through proper seasoning. A seasoning in cookware terms refers to the application of a smooth, hydrophobic coating to an untreated metal cookware's surface. This kind of coating allows the cookware to be naturally non-stick, often through the accumulation of seasoning over time.
Seasoning of this kind was most often used (and continues to be used) on cast iron cookware. That is because this kind of cookware is untreated by nature and will rapidly rust if allowed to oxidize under heat. Though a seasoning can be formed through cooking fatty foods in cast iron, many cooks also season their cast iron by regularly applying certain oils while the piece heats.
This could be a labor-intensive process, however. That's why modern innovations also allowed cookware to become non-stick without needing to season at all.
This is where one of the most common non-stick coatings, Teflon, enters the picture. This chemical coating (known chemically as polytetrafluoroethylene or PTFE) was actually first used widely by the US military during World War II. After the war, however, its creator, DuPont, sought out methods for marketing it to the public.
By the 1950s, several companies had begun applying Teflon coatings to cookware. These pots, pans, and baking sheets were an almost instant success and went on to become the gold standard for many decades thereafter.
Over time, however, new revelations began to show that Teflon could be harmful to a cook's health when heated at high temperatures. Worse yet, cheaply made Teflon coatings could chip off and mix into foods in some instances. As such, some cooks began to move back towards other types of cookware, including the previously popular ceramics.
The Current Cookware Market
Today, stainless steel cookware remains the standard upon which most brands rely. Also, some types of Teflon coating also remain common, given that it still performs well and has become very cheap to produce.
Recently, copper-coated pots and pans have gained popularity (mainly through brands advertised on TV and multi-level marketing companies). These pans boast some worthwhile non-stick properties, though they have a tendency to tarnish. The safety of these copper coatings is not well understood yet, either.
Also, several brands have recently embraced a reliable non-stick coating method that does not rely on Teflon at all. Though it goes by many trade names, this kind of ceramic coating has been found to be fairly reliable and safe for long-term use.
Conclusion
So, now you know all about some of today's most popular non-toxic cookware brands. Not only that, but you know what to look for and what to avoid when it comes time to pick out your next cookware set. Though the history of cookware is long, it can be expected to carry on in the future and produce even safer goods for home cooks like you.
After learning this all, though, you may be left asking, "which non-toxic cookware brand is safest?" In truth, all of the brands in the guide can be trusted with your home's safety when it comes to cooking. All of these brands have earned customer's trust by using only non-toxic coatings and solid construction.
Each brand offers different set options, too. As such, you can likely shop with any of these brands and find an option that fits your budget.
As a final word we highly recommend you check out Caraway Cookware – it's our top pick at the moment.
Pricing last updated on 2021-01-07 at 00:42 / affiliate links - Details