Is your bathroom colder than the rest of your house? Perhaps the tiled floor sends shivers through you if you need the loo in the middle of the night?
Sounds familiar?
You need a bathroom heater.
There's nothing worse than shivering while waiting for the water to warm up – you'll forever rush your ablutions if the bathroom remains frosty and unwelcoming. So, we have put together a list of the best bathroom heater solutions, including portable bathroom heaters, wall mounted bathroom heaters, and bathroom ceiling heaters.
If you're wondering how you can turn your hyperthermic hovel into a heated haven, read on.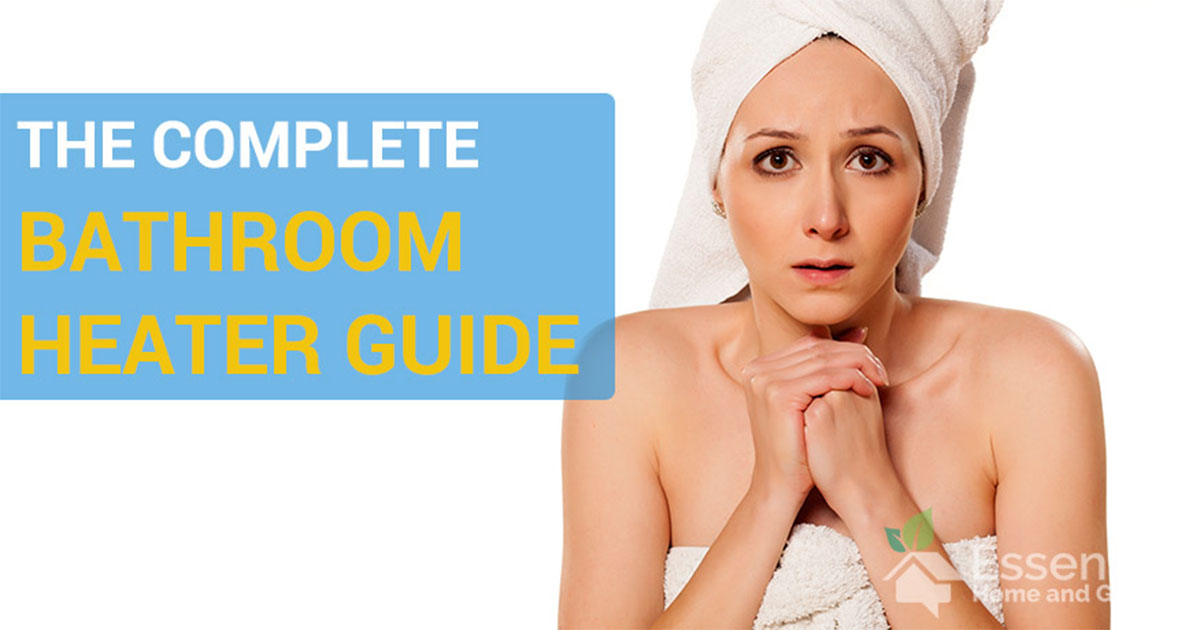 Disclosure: It is important you understand that we may receive commissions when you click our links and make purchases. However, this does not impact our reviews and comparisons. All opinions are our own we pride ourselves on keeping our articles fair and balanced. For more info see our disclosure statement.
Best Bathroom Heater Comparison Table
Use this table to quickly compare the best bathroom heaters. Keep scrolling down the page for more info on our review criteria and in-depth reviews on each item.
Product
Details
Where to Buy

Heater Type: Ceramic
Power Rating: 1500W
Requires Professional Installation?: No
Heat Control System: Always On or timer controlled

Check Price Now
Heater Type:

Fan assisted


Power Rating:

1500W


Requires Professional Installation?: Yes
Heat Control System:

Thermostatic Control

Check Price Now
Heater Type:

Ultra-quiet fan


Power Rating:

1000W


Requires Professional Installation?: Yes
Heat Control System:

Built-in thermostat

Check Price Now
Heater Type:

Radiant, Fan assisted


Power Rating:

1250W


Requires Professional Installation?: Yes
Heat Control System:

Always On or optional wall-mounted thermostat

Check Price Now
Heater Type:

Fan


Power Rating:

1400W


Requires Professional Installation?: Yes
Heat Control System:

Always On

Check Price Now
Also Consider: Will a towel warmer heat a bathroom?
Our Top Pick
Taking everything into account, we think that there are two winners here. Is that a cop-out?
Because of the need for a professional installation for some of these units, we've decided to break this down into best "installed" heater and best portable unit.
Obviously, the best portable bathroom heater is the Lasko CD08200 Bathroom Electric Compact Heater. We thought that this heater provided great versatility for heating a smaller bathroom, but with the added convenience of being able to move the heater around the house whenever needed.
The Best Bathroom Heaters
Perfect for: Simple, portable, and occasional heating around the home.
The Lasko CD08200 has a simple control interface that allows you to choose either high heat, low heat, or 1-hour timer on high heat. This makes turning on the heater simple and hassle-free with no need for complicated settings.
Because of its design, the heater is cool to the touch even when heating, so there is no risk of burns to children or pets.
Despite its small size, this heater will warm up even a larger sized bathroom in no time at all. And because of its compact size and its portable design, it can be easily tucked away in a cupboard or corner to keep the bathroom neat and tidy.
The Lasko CD08200 Bathroom Heater is available on Amazon.
---
Perfect for: Heating a bathroom quickly and safely
The Stiebel Eltron CK15E wall mounted heater is fan assisted, runs on a 120 Volt electricity circuit, and requires professional installation. This 1500W heater will heat an average-sized bathroom quickly and quietly, but there's also a 2000W version for larger bathrooms.
The fan directs the heat down towards the floor which is perfect for floor-tiled bathrooms as it will bring warmth underfoot. The CK15E is ideal for bathrooms but also recommended for kitchens and hallways.
The installation could be done reasonably simply by a confident DIYer, but for added safety, it would be recommended to hire a registered, qualified electrician to ensure that the installation is safe in wet environments. The unit, when correctly installed, comes with a 3-year limited warranty.
The compact design fits directly onto the wall and could make an attractive addition to your bathroom furniture. The painted steel and plastic housing provide a stylish aesthetic.
The built-in thermostat offers good control over the heat output, controlled via a dial on the side of the unit. You can't choose specific temperatures, but it doesn't take long to get the heating level right for your bathroom.
The unit dimensions are 18" x 13" x 4.5" (Height x Width x Depth)
The Stiebel Eltron CK15E is available from Amazon.
---
Com-Pak Plus Series Electric Fan Wall Mounted Heater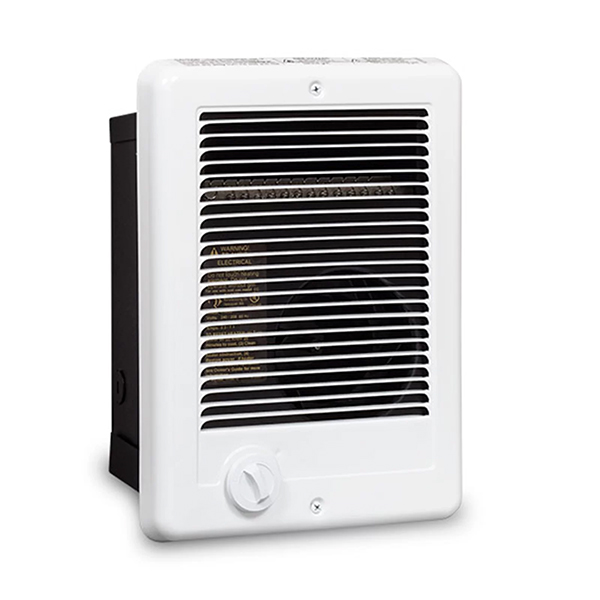 Key Features
Instant warmth from powerful heating element and fan
Quiet running
Temperature cut off safety features
3412 BTU
Perfect for: Permanent bathroom heating. Good energy-saving, ultra-quiet, wall mounted bathroom heater.
The Cadet Com-Pak Plus Series Wall Mount model is a high-quality heater with a built-in thermostat. The ultra-quiet fan provides near silent heating in seconds, and the rounded edges of the wall unit are safe for use around children and pets – no danger of scratches from sharp, hard edges.
This bathroom electric heater is hard-wired to the electrical circuit of your home – after installation, the manufacturer recommends you clean the dust from the inside of the unit every 6 months.
The thermostatic controller will produce a comfortable heat in the bathroom. The heating range is between 40ºF and 85ºF, so there's plenty of scope to get the temperature exactly to your preference.
The Automatic safety cut-off prevents overheating of the element and the fan, keeping your family safe if someone inadvertently covers the heater with a towel.
The heating element is made from high-quality nickel-chrome; facilitating instant heat, distributed perfectly by the ultra-quiet fan.
Covered by a 2 year limited warranty, Cadet shows that it has built this heater to last the distance.
This wall mounted bathroom heater should be installed by a qualified, professional electrician. The white metal grill at the front of the heater can be aimed either downwards or upwards. If you have stone floor tiles that are often cold, pointing the heat downwards will gently warm the tiles underfoot.
More Info: View Installation Manual
---
Perfect for: Permanent bathroom heating. Good energy-saving heater. Recommended as a supplementary heater, rather than the primary source of heat.
The Broan 157 ceiling heater for bathrooms has a 1250W element that radiates heat from behind a metal-sheath. The low-profile housing will subtly fit into your existing bathroom furniture. The housing includes an aluminum grill, with a satinized finish.
When affixed, the entire unit protrudes just 2 3/4 inches from the ceiling, leaving plenty of headspace.
A minimum 15 amp circuit is required for this unit, and it's recommended that hard-wired heaters are installed by qualified, professional electricians.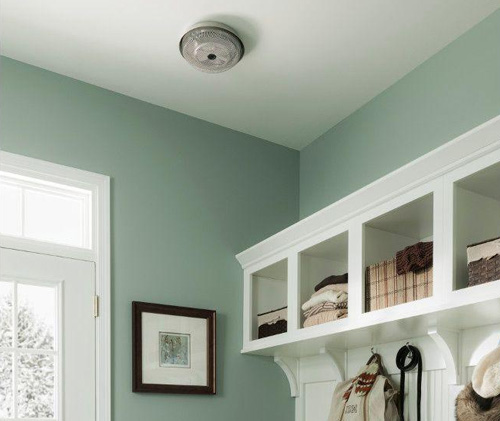 The basic unit is a simple ON / OFF unit which provides instant heat but does need to be switched off manually. An optional wall-mounted thermostatic control unit is available.
The motor powering the fan is permanently lubricated, meaning that maintenance is minimal. The automatic overheat protection function stops the room from becoming too hot and prevents overheating of the unit and damage to the ceiling.
The enclosed and sheathed solid wire heating element powers up immediately, providing a fast solution to a chilly bathroom.
The unit comes with a 1-year warranty.
The Broan 157 Ceiling Heater is available from Amazon.
More Info: View Broan Model 157 Installation Manual
---
Perfect for: Permanent ceiling heater for bathrooms. Features a light. Quiet unit.
The Panasonic FV-11VH2 is a super-quiet unit that you may very well forget is switched on. The large fan blades rotate at a low rpm, producing less sound than a smaller fan which needs to rotate more rapidly to distribute the heat.
This model has the added bonus of being both a heater and an exhaust fan.
This North American built unit should be professionally installed, no more than 8ft away from the floor.
The integrated light has a nightlight feature which is useful if you need to use the bathroom in the middle of the night.
The tubular heat element is made of stainless-steel sheathing, featuring a Nichrome wire, coupled with magnesium oxide for maximum heat transfer.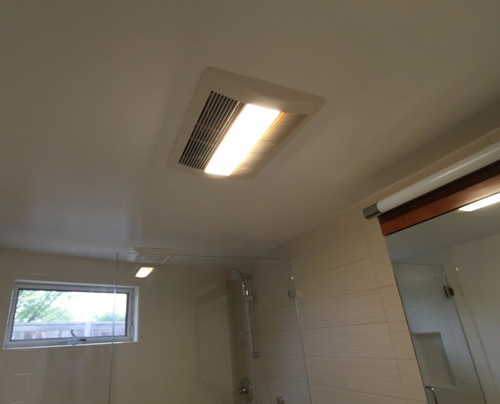 The unit features two 18W fluorescent tubes, which provide the equivalent of 100W of light, in comparison with traditional globe bulbs. The 4W nightlight offers a comfortable light during the night-time.
The fan's condenser motor is totally enclosed, providing a guaranteed long life – it should run for 30,000 hours continuously. The high-quality Panasonic parts will last for many years – the larger fan blade is designed to run more slowly and quietly than a smaller fan, creating less friction within the fan motor. This should ensure that the unit will have some longevity in the home.
The Panasonic FV-11VH2 is available from Amazon.
More Info: View FV-11VH2 Installation Manual
---
What We Look For In a Bathroom Heater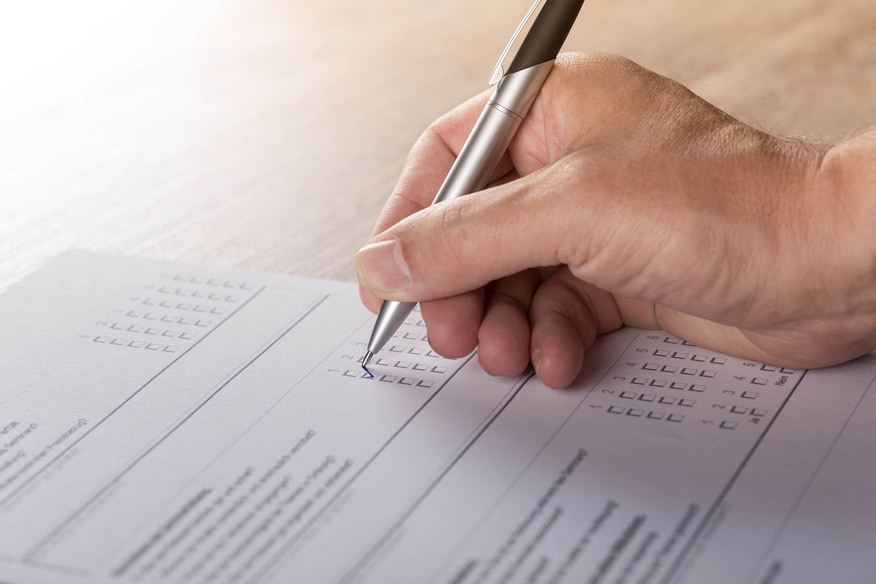 Safety First
Electricity and water aren't the best bedfellows, so if you want to prevent some serious electrocution and fire hazards, it's imperative that you get the right type of heater.
Bathroom heaters are either hardwired into your electrical circuit or come with a dedicated safety plug that is suitable for use in environments where water and moisture are likely. An ALCI Safe Plug is the general standard in North America.
Cost Of Heating
It is important that the cost of running bathroom heaters is kept as low as possible. To calculate how much your desired heater will cost to run, use this handy calculator.
Heating Speed
Infrared heaters provide heat via light radiation. Bathroom heat-lamps heat up the space quickly and efficiently but do cast an orange glow in the room, which may not be to everyone's taste.
Installation Requirements
Bathroom ceiling heaters are a permanent solution to a cold bathroom – they do require professional installation, however, as they are hard-wired into your home's electrical circuit and controlled by a wall switch.
Hard-wired heating is safer (as long as it's correctly installed) and more energy-efficient.
Portable bathroom heaters are a good option for those who require temporary heat in the bathroom – to prepare the room for a bath, for example. They do need to have an ALCI Safe Plug or equivalent.
Related Articles
Looking for more info? Try these articles: