Pellet stoves are efficient, environmentally friendly, cheap to run and safe. However this cost effective heating source is often overlooked by consumers when shopping for a new heater. Why is that? We put it down to the simple fact that most people do not know what a pellet stove is, how a pellet stove works or what is the best pellet stove.
So in this article we are endeavoring to change this, we want to educate you on pellet stoves, and tell you why they should be your top choice when looking for a new heater for your home.
Article Contents
The Best Pellet Stoves
Following is our list of recommended Pellet Stoves to make choosing the right one for you just a little easier.
We do highly recommend that you do your own research and check out the stoves in person before committing to purchasing, these views are our own and may differ from yours.
Please note that this list is covering only free standing pellet stoves. We will endeavor to add more info about pellet stoves inserts in the near future.
View our comparison table below, or keep scrolling past for an in depth overview of each product.
Product
Castle 12327 Serenity Wood Pellet Stove
Editors Choice
Pleasant Hearth Pellet Stove
Best Value
Comfortbilt HP22 Pellet Stove
Max BTU Input/Ouput Per Hour
Fuel Type
Wood Pellets, or 50/50 Mix of Wood Pellets and Shelled Corn
Product
Castle 12327 Serenity Wood Pellet Stove
Preview
Max BTU Input/Ouput Per Hour
Editors Choice
Product
Pleasant Hearth Pellet Stove
Preview
Max BTU Input/Ouput Per Hour
Preview
Max BTU Input/Ouput Per Hour
Max BTU Input/Ouput Per Hour
Fuel Type
Wood Pellets, or 50/50 Mix of Wood Pellets and Shelled Corn
Best Value
Product
Comfortbilt HP22 Pellet Stove
Preview
Max BTU Input/Ouput Per Hour
Castle 12327 Serenity Pellet Stove
There is no need to buy the biggest, most powerful heater out there if you are only looking to heat a smaller area such as a cabin or shed. And if this is the situation you find ytourself in, then the Castle 12327 Serenity Pellet Stove could be just what you are after. It has a heating capacity of up to 1,500 square feet, but still retains a smaller footprint so it won't take up too much space in smaller areas.
The Castle 12327 features a smart controller that is very easy to program and operate, while still offering advanced 24 hour scheduling for each day of the week.
Some pellet stoves take a good 15-20 minutes to get the heat pumping, the Castle 12327 takes only about 10 minutes to start pumping out its full heat which is great for those extra cold days when you forgot to program it to switch on automatically!
The last think I want to mention here, it probably one of the most important things – the after sales services from Castle Stoves is really top notch (and I am very fussy when it comes to customer support). The team are super knowledgeable and can help out with anything from the simple questions, to more advanced trouble shooting.
Thermal Efficiency:
At least 69.8%
Heating Capacity:
Up to 1,500 square feet
BTU/Hour Input:
31,960 max
BTU/Hour Output:
22,226 max
Max Auto Burn Time:
24 hours
Fuel Type:
Wood pellets only
Price:
Check price on Amazon
Castle 12327 Serenity Wood Pellet Stove
Reinvent the way you heat your home with Castle's Serenity wood pellet stove and new Smart Controller
The Smart Controller allows you to choose manual, thermostat, and weekly operational modes to heat your home on your schedule, Along with calendar and time based heating options, you can also set a local thermostat or manually set it on one of five burn levels
As with any Castle Pellet Stove, you'll experience affordability, style, and practicality. Its space-saving shape and attractive design will make it a welcomed addition to any room, and with the new Smart Controller, heating your home efficiently on your terms has never been easier
The Serenity Stove is designed to be easy to clean - there are no tubes, corrugations, or hidden chambers
Operating Wattage 77 Watts (W), Voltage 120 Volts (V), Greater than 69.8% thermal efficiency, 1500 square feet heating capacity
Pleasant Hearth Pellet Stove
Made in the USA, the Pleasant Hearth Pellet Stove is one high quality unit. Pleasant Hearth is so confident in its build quality that they give a 5 year warranty on this stove!
Offering a heating capacity of up to 2,200 square feet means this heater is perfect for most standard sized houses or large sheds and the simple to use controls make it perfect for anyone that finds programming schedules difficult. I would especially recommend the Pleasant Hearth Pellet Stove for anyone who finds modern technology difficult to operate.
Featuring a 120 lb hopper means this heater can operate for up to 70 hours (yes that's right, 70) of continuous burn time without needing to be refueled. Despite this huge hopper size, the cabinet size is quite compact and won't take up huge amounts of room.
Thermal Efficiency:
At least 85%
Heating Capacity:
Up to 2,200 square feet
BTU/Hour Input:
50,000 max
BTU/Hour Output:
42,500 max
Max Auto Burn Time:
70 hours
Fuel Type:
Wood pellets only
Price:
Check price on Amazon
On Sale Now
Pleasant Hearth 50,000 BTU Pellet Stove
Heating for up to 2200 square feet. Stoves operate best when fueled with premium pellet fuel
50000 BTU, 120-pound hopper, burn time: 24-70 hours
Epa certified with an 85-percent efficiency rating
Auto Light Ignition, 5 Heat Settings, 'exclusive' Comfort Control System; option to Run Continuously on MIN or MAX
Includes an outside air kit and convection blower, little assembly required
Comfortbilt HP22 Pellet Stove
Featuring one of the largest viewing windows we have seen in pellet stoves, the Comfortbilt HP22 really brings some great atmosphere to any room. It looks like a good old fashioned wood heater, but has all the benefits and efficiency that you expect from a pellet stove.
I do admit that when I first found out this heater was made in China I was dubious about the quality, but one look at an actual unit and I changed my mind. You would be hard pressed to separate the quality of the Comfortbilt stove from any other stove made in the USA and it works just as well.
This pellet stove is ideal for larger homes as it offers a 3,000 square foot heating capacity, and it does this at a lovely efficiency rating of 86%!
One other thing that we noticed (or rather…didn't notice), was the fan sound….it is very quiet and is perfect for anyone who finds loud fans to be annoying.
The only thing that I didnt like was the relatively small (for the heating capacity) 55lb hopper, but this can be extended relatively easily and cheaply by purchasing a hopper extension.

Thermal Efficiency:
At least 86%
Heating Capacity:
Up to 3,000 square feet
BTU/Hour Input:
50,000 max
BTU/Hour Output:
43,000 max
Max Auto Burn Time:
24 hours
Fuel Type:
Wood pellets only
Price:
Check price on Amazon
Comfortbilt HP22 50,000 BTU Pellet Stove
50,000 btu - Heats up to 2,000 sq. feet!
Large viewing area - Bay Design - Charcoal Gray!
Powerful Blower, 86% Burn efficiency, EPA Certified, 110 Volt
55 lbs. Hopper Capacity,Auto Ignition, Ash Pan, Programmable Thermostat
1 Year Parts Warranty-Technical assistance available after purchase
Harman P43 Pellet Stove
Harman is one of the best known brands of pellet stoves and this is with good reason, their products are made with the highest quality materials and behind the class exterior is industry leading technology. The Harman P43 Pellet Stove is no exception here and before you make a decision on what to buy, make sure you check one out.
With a heating capacity of 2,400 square feet, it is ideal for a small – medium sized home. It's thermal efficiency is a very respectable 78% and this even more impressive when you consider the built in PelletPro technology. What the PelletPro technology does is allows the stove to burn any grade/quality of pellet fuel and still achieve maximum efficiency. You can learn more about the PelletPro system here.
The P43 also features a technology called ESP (exhaust sensing probe) which actually works better than a thermostat and maintains the room within 1 degree of the set temperature.
The exterior of the unit is that of a traditional wood heater, which can be customized with different trims and inlays. And if you are wanting your P43 to look even more like a wood heater, then you can use the optional log set which gives the appearance of burning logs.
Thermal Efficiency:
At least 78%
Heating Capacity:
Up to 2,400 square feet
BTU/Hour Input:
42,500 max
BTU/Hour Output:
33,150 max
Max Auto Burn Time:
25 hours
Fuel Type:
Wood pellets, or 50/50 mix of wood pellets and shelled corn
Price:
Find a Harman Dealer
Harman P43 Pellet Stove
High efficiency with accordion heat exchanger
Room temperature regulated to within one degree
Cleaner glass thanks to exclusive air wash system
Less loading with 50 lb. hopper capacity
Less maintenance with large ash pan
Elegant flame-reactive mirrored glass
Installation made easy with direct vent
Nextstep Pellet Stove
The Nexstep pellet stove is the cheapest stove on our list and is certainly deserving of your consideration. It advertises a absolutely huge efficiency of 90% which, if true, is the most efficient stove we have yet come across.
The Nexstep pellet heater is well built, and made of high quality materials. It also has a bit of a different look to most other pellet stoves, going for the tall and skinny look rather than the short and wide of other models. So if you are after something a bit different then this heater is certainly with a look.
With a heating capacity of up to 1,290 square feet, this unit really is designed for smaller areas. Garages, sheds or even sun rooms would all be ideal locations for the Nexstep heater.
No-one like sot spend too much time cleaning and maintaining their heater, so we were pleasantly surprised by how easy this unit is to clean.
Thermal Efficiency:
90%
Heating Capacity:
Up to 1,290 square feet
BTU/Hour Input:
40,944 max
BTU/Hour Output:
36,849 max
Max Auto Burn Time:
35 hours
Fuel Type:
Wood pellets only
Price:
Check price on Amazon
Nextstep Freestanding Wood Pellet Stove
MULTIDIRECTIONAL AIR FLOW-Warm air exits from the sides and front of the stove. This multidirectional air flow give more even warmth to the room
FLAME-REACTIVE MIRRORED GLASS - Enjoy the elegant mirrored glass all year long when the fire is not burning. As flames appear, the mirror vanishes to show the fire
HUGE HOPPER-The huge, illuminated hopper provides an easy view of the pellet level, and holds 18lbs of fuel for less loading and more enjoying the warmth of your home
HIDDEN HANDLE-The door handle is discretely hidden on the side of the stove, for a sleek look
EASY OPERATIONS -LCD Screen Button Contol is Easy-to-use, the control panel provides operation and give access to optional menus such as Cleaning,Feeding,Lighting,Stabilization and fuel gauges which give you complete control of your stove.
What Is A Pellet Stove And How Does It Work?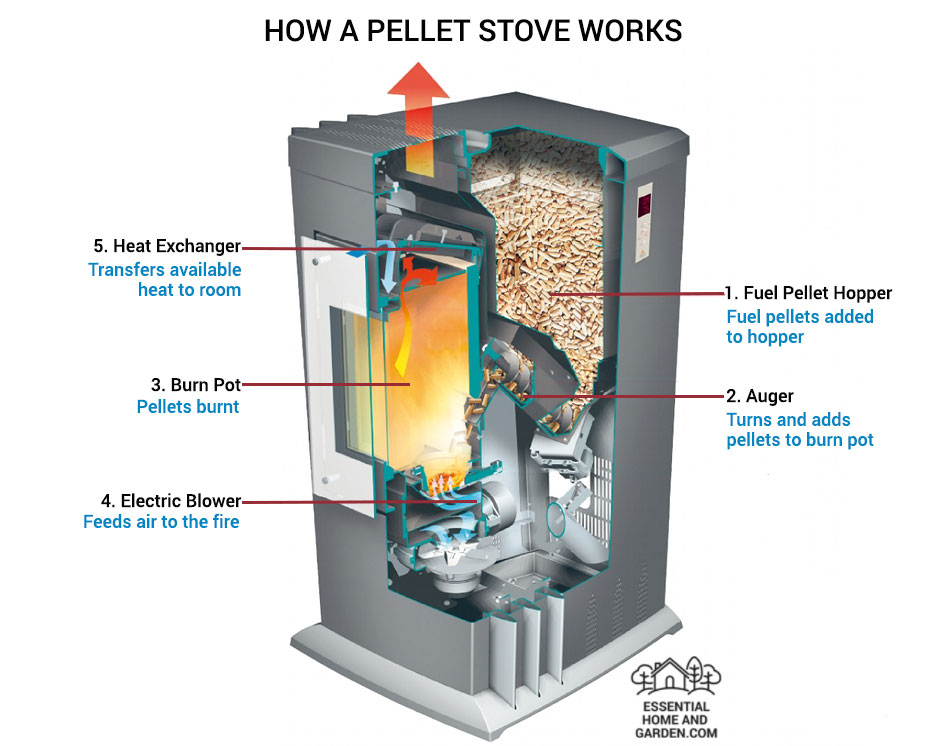 Pellet stoves work very differently to other heaters that are commonly used to warm up our homes. Below is a summary of how a pellet stove works, just past the text is an image that shows the main components of a pellet heater.
Pellets of compressed biomass material (usually made of wood or corn) are loaded into the hopper. The amount of pellets that a hopper can hold varies, but it is generally from 40 lbs (18 kg's) up to over 100 lbs (45 kg's).
An auger, which is driven by an electric motor, turns and carries pellets from the hopper to the burn pot. Sensors within the stove tell the system when to turn the augur to add more fuel depending on the heat setting.
The pellets are added to the burn pot. The fire is kept very small, but very hot. This way the pellet stove burns at maximum efficiency with very little waste.
An electric blower adds air to the fire to help the pellets burn as efficiently and as hot as possible. Used air is then vented, the type of venting depends on the model of pellet stove.
Above the heating compartment is a heat exchanger, this is usually a series of pipes that catch almost all the heat from within the stove. Depending on the model, a fan may be used to disperse the heat.
Benefits of a Pellet Stove
Apart from the obvious benefits of keeping you warm, there are many other reasons that pellet stoves should be high on your list of possible heating options. We have listed just a few of the very best reasons below to really get you thinking!
Control Your Heating Costs

We all hate getting the heating bill at the end of winter, not knowing what it will be or how much to budget for can be stressful. Not to mention that energy prices for gas, electricity and oil goes up and down constantly – which makes it even harder to manage the heating budget.
One of the benefits of pellet stoves is that because you control when you buy the fuel, you can control your heating costs for the entire heating season. You can shop around for the best fuel pellet deals before it starts to get cold, and order a bulk amount that will get you through the colder months. This way, you pay for your heating costs up front and there won't be any nasty surprises in the mail when the weather starts to warm up.
Fuel pellets are also much more economical than most other methods of heating, so you can keep your heating costs down and take total control of your heating costs.
Better For The Environment
Pellet heaters use fuel that are often created from waste materials, off cuts and sawdust – so you are utilizing recycled products that would have otherwise gone to waste. Pellet stoves also burn much more efficiently and produce much less wood smoke than any other solid fuel burning heater, thus they put out far less harmful emissions into the environment.
Automated Heating
Pellet stoves are basically a set and forget heater for the day. All you need to do is fill the hopper with fuel pellets, set the desired heat setting and that's it. Your Pellet heater then automatically loads more pellets into the burn pot at the pre-set rate, keeping your home comfortably warm for the entire day.
Radiant Convection Heat
Everyone loves a good wood fire right? There is nothing like sitting near the fireplace and soaking up the warmth, the only problem is constantly having to fill it with wood fuel! Well with a pellet stove, you can have the same warming, radiant convection heat, without the need to be constantly loading it up with wood.
Easy To Maintain
Maintaining a pellet heater is quick and easy. Go straight to our pellet heater maintenance section to learn more.
Safe to Use
When compared to a wood stove, pellet stoves are certainly the safer alternative. The following safety features are in most pellet stoves:
Automatic shutdown – monitors burn rate and temperature for unusual conditions and shuts the stove down if necessary
Pressure switch – automatically shuts the feed motor off if the front door or the ash door is open. Also detects when the venting system is not working correctly.
Exhaust sensing probe – shuts down when abnormally high temperatures are detected
Important Installation Note
It should be noted here that you have your pellet stove installed by a professional installer to ensure you and your family are as safe as possible.
Pellet Stove Buying Guide
So you have made the decision to invest in a pellet heater, now you just need to decide which pellet heater is best for you. Not all pellet stoves are created equal –  each stove brand and type is designed for it different situations, so it is important that you carefully consider your options and make a decision that is right for your home.
The following sections are areas we recommend you pay special attention to when choosing a pellet stove to suit your requirements.
Heating Output and Efficiency
When shopping for a pellet stove, one of the first numbers you will have thrown at you be every salesman is the term BTU rating.
But what does that even mean?
What is a BTU Rating
BTU stands for British Thermal Units and it is used to measure heat output. 1 BTU is the amount of heat required to increase the temperature of one pound of water by one degree Fahrenheit.
Now I know this sounds complicated, but you don;t really need to get into the nitty gritty of how the BTU measurement works. What you do need to know is this:
The specifications or salesperson may quote one, or both of the possible BTU measurements:
Firstly, you need to understand that most premium wood fuel pellets contain about 8,500 BTU per pound.
The BTU input is the maximum amount of fuel that can be fed into the pellet stove per hour.
The BTU output is how much heat the stove can actually deliver to the home, the rest is lost to inefficiencies in burning, heat transfer, up the chimney/venting etc.
Heating Efficiency
So now that we understand what a BTU rating is, we can then understand the next number that is often quoted to us – the pellet stoves efficiency.
Efficiency% = (input BTU/output BTU) * 100
This gives us our efficiency as a percentage. This number tells us how much of the heat that is generated in the pellet heater is actually usable in the home.
The higher the efficiency, the more cost effective your heater will be to run.
Pellet Type
While pellets are reasonably easy to find, it is important that you know which pellet types are best for your heater. You can learn more about fuel pellets and the different types available here.
Maintenance Required
While pellet stoves are considered to be reasonably low maintenance, they do require you a few periodic maintenance tasks to be carried out . You will need to shut your stove down regularly (weekly is preferable) and clean out all the soot from the burn pot, this won't take you long as there won't be a lot of soot to clean because they burn so cleanly; but just a little bit of built up soot in your pellet stove can lead to quite a large drop in efficiency.
Each model of pellet stove will have its own maintenance guidelines in the manual, so be sure to check these out before deciding if a particular heater is right for you.
Jump to our section on pellet stove maintenance by clicking here.
Style and Placement of Stove
There are two basic types of pellet stoves:
Free standing pellet stove
Pellet insert
If you have an existing fireplace, then you can most likely use a pellet insert that fits into the existing fireplace and chimney. The U.S Department of Energy (DOE) strongly recommends that before you fit a pellet insert, you should have a professional installer carry out an inspection on your fireplace and chimney to check for suitability and safety requirements.
Choosing where to locate your pellet stove is vert important. Before deciding on which stove you are going to buy, get a hold of the manual and make sure that you can meet the space requirements.
The manual usually lists the minimum space allowed between the stove and certain combustible materials.
Electricity Requirements
Pellet stoves do require a constant electricity source to operate, so be sure to consider where your nearest power outlet is in relation to where the stove is likely to be fitted.
Hot Tip!
If you lose power to the pellet stove, then it will stop operating – which obviously results in losing all your heating. To get around this, it is possible to use a
computer uninterruptible power supply
to provide backup power the stove for up to 1 hour to get you through those black outs!
Ask a Professional
One of the biggest traps consumers fall into when buying a pellet heater, is not getting a a professional to take a look at the area to be heated before making a decision. A consumer may under or over shoot the heating needs and buy a stove that is too small or too large for their needs. Home size, layout (open vs many rooms), and home insulation all play an important part of choosing the right pellet stove.
Pellet Fuel Guide
When it comes to choosing a pellet brand and type to choose, it is certainly not a case of apples for apples. It is important that you weigh up each brand of pellet fuel and carefully consider your options.
Fuel Pellet Grades
Pellet fuel generally comes in two grades:
Premium grade pellets
Standard grade pellets
Premium pellets contain a lower percentage of inorganic ash content (<1%), this results in less soot being produced by the burning of fuel, which in turn leads to less maintenance.
Standard grade fuel pellets burn slightly less efficiently due to the higher ash content (generally between 1-5%).
Premium Pellets Are Best!
We highly recommend spending the bit extra and getting premium grade wood pellets. They will burn more efficiently and result in less soot build up in your stove.
What Are Fuel Pellets Made From?
Beyond the grades of fuel pellets, the next consideration should be what the pellets are made from. The main materials that pellets are made from are:
Most modern pellet stoves will burn both hardwood and softwood pellets with very similar efficiency. It should be noted though that while softwood pellets are usually more expensive, you do get a higher heat from them. More heat = less pellets required to heat your home and less ash and soot build up in your pellet stove.
Fuel pellets made from corn are far less common, can can be a viable alternative to pellets made from wood and have the added benefit of being a renewable resource. Corn pellets produce about the same amount of heat as wood pellets, but they have a higher ash content which means more maintenance. Corn pellets are generally cheaper than wood pellets, but it does depends on where you live.
Burning corn pellets is usually best done in a pellet stove designed for that purpose, however you can usually use corn pellets mixed in with standard wood pellets without any problem in a standard pellet stove.


Storing Fuel Pellets
It is also worth mentioning that you may need considerable storage space to keep your fuel pellets.
Fuel pellets generally come in 40-50lb bags, so keep in mind that you will need somewhere dry to store pellet bags, especially if you live in a remote area. On a cold winter you may go through as much as two pellet bags per day!
Making Your Own Fuel Pellets
Making your own is possible but can lead to problems if the pellets are not made correctly. The home made pellets may crumble and get stuck in the chute, causing efficiency problems or possibly causing the heater to stop working all together. In our opinion, making your own fuel pellets is generally not worth it and going for the store bought option is a much better choice.
Pellet Stove Maintenance
As with any device that involves heat and electricity, it is important to keep your pellet stove properly maintained. This not only ensures that your pellet heater runs as efficiently as possible, following the maintenance guidelines for your stove means your heater will be as safe as any heater can be.
Maintenance tasks required vary for each model, but we have written up a summary of general maintenance tasks that are required with most pellet stoves below.
Daily maintenance tasks:
Pellet hopper: Check it is clear of any accumulated saw dust and top up it up to ensure you don't run out of fuel just when you need it the most.
Burn Pot: Check the burn pot daily to ensure the air inlets look clear and open.
Weekly maintenance tasks:
Ash pan: empty all the ash that the ash pan has caught. This usually has to to done 1-2 times a week although some newer designs can go as long as a month without requiring emptying.
Periodic maintenance tasks:
Burn pot: Clean the burn pot as you notice soot build up.
Ash trap: Ash traps help to stop flying ash exiting the stove via the vent, these require cleaning to ensure your pellet stove can burn efficiently.
Glass: Clean the glass to prevent a build up of soot, the longer you leave it between cleans the harder it will be to remove the soot.
Heat exchanger: This needs to be cleaned, some models include a device to let you clean this yourself, other models may require a professional.
Annual tasks:
As with any heating appliance, we recommend getting your pellet stove checked by a professional every 12 months to ensure it is operating safely and within efficiency parameters
More Info On Pellet Stoves
For more info on pellet stoves, I suggest checking out the following resources:
Pellet Fuels Institute – A non-profit organization that serves the pellet industry. Has a wealth of info available on its website.
US Department of Energy – has a great page full of info on pellet stoves.
Last update on 2017-12-16 at 09:13 / Affiliate links / Details