Pellet stoves are efficient, environmentally friendly, cheap to run and safe. However this cost effective heating source is often overlooked by consumers when shopping for a new heater. Why is that? We put it down to the simple fact that most people do not know what a pellet stove is, how a pellet stove works or what is the best pellet stove.
So in this article we are endeavoring to change this, we want to educate you on the best pellet stoves, and tell you why they should be your top choice when looking for a new heater for your home.
Disclosure: We may receive commissions when you click our links and make purchases. This does not impact our reviews and comparisons. All opinions are our own. We pride ourselves on keeping our articles fair and balanced. For more info see our disclosure statement.
Pellet Stove Quick Comparison Table
Below you can find reviews of our recommendation for the Best Pellet Stove to make choosing the right one for you just a little easier.
We do highly recommend that you do your own research and check out the stoves in person before committing to purchasing, these views are our own and may differ from yours.
Please note that this list is covering only free-standing pellet stoves. We will endeavour to add more info about pellet stoves inserts in the near future.
Product
Details
Where to Buy
Max BTU Input/Ouput Per Hour: 50,000 / 43,000
Thermal Efficiency: 86%
Heating Capacity: 3,000 Sq Ft
Max Burn Time: 24 Hours
Fuel Type: Wood Pellets


Check Price Now
Max BTU Input/Ouput Per Hour: 50,000 / 42,500
Thermal Efficiency: 85%
Heating Capacity: 2,200 Sq Ft
Max Burn Time: 70 Hours
Fuel Type: Wood Pellets
Check Price Now
Max BTU Input/Ouput Per Hour: 31,960 / 22,226
Thermal Efficiency: 69.8%
Heating Capacity: 1,500 Sq Ft
Max Burn Time: 24 Hours
Fuel Type: Wood Pellets
Check Price Now
Max BTU Input/Ouput Per Hour: 40,600 / 50,000
Thermal Efficiency: 87.5%
Heating Capacity: 2,500 Sq Ft
Max Burn Time: 96 Hours
Fuel Type: Wood Pellets
Check Price Now
Max BTU Input/Ouput Per Hour: 48,000
Thermal Efficiency: not advertised
Heating Capacity: 2,200 Sq Ft
Max Burn Time: 25 Hours
Fuel Type: Wood Pellets
Check Price Now
The Best Pellet Stove Reviews
Featuring one of the largest viewing windows we have seen in pellet stoves, the Comfortbilt HP22 really brings some great atmosphere to any room. It looks like a good old fashioned wood heater, but has all the benefits and efficiency that you expect from a pellet stove.
I do admit that when I first found out this heater was made in China I was dubious about the quality, but one look at an actual unit and I changed my mind. You would be hard pressed to separate the quality of the Comfortbilt stove from any other stove made in the USA and it works just as well.
This pellet stove is ideal for larger homes as it offers a 3,000 square foot heating capacity, and it does this at a lovely efficiency rating of 86%!
One other thing that we noticed (or rather… didn't notice), was the fan sound… it is very quiet and is perfect for anyone who finds loud fans to be annoying.
The only thing that I didn't like was the relatively small (for the heating capacity) 55lb hopper, but this can be extended relatively easily and cheaply by purchasing a hopper extension.
We consider this model to be the best pellet stove on this list and that's why it is the editor's choice.
The HP22 is also available on Amazon here.
---
There is no need to buy the biggest, most powerful heater out there if you are only looking to heat a smaller area such as a cabin or shed. And if this is the situation you find yourself in, then the Castle 12327 Serenity Pellet Stove could be just what you are after.
It has a heating capacity of up to 1,500 square feet, but still retains a smaller footprint so it won't take up too much space in smaller areas.The Castle 12327 features a smart controller that is very easy to program and operate, while still offering advanced 24 hour scheduling for each day of the week.
Some pellet stoves take a good 15-20 minutes to get the heat pumping, the Castle 12327 takes only about 10 minutes to start pumping out its full heat which is great for those extra cold days when you forgot to program it to switch on automatically!
The last thing I want to mention here, is probably one of the most important things – the after sales services from Castle Stoves is really top notch (and I am very fussy when it comes to customer support). The team are super knowledgeable and can help out with anything from the simple questions, to more advanced trouble shooting.
---
Made in the USA, the Pleasant Hearth Pellet Stove is one high quality unit. Pleasant Hearth is so confident in its build quality that they give a 5 year warranty on this stove!
Offering a heating capacity of up to 2,200 square feet means this heater is perfect for most standard sized houses or large sheds and the simple to use controls make it perfect for anyone that finds programming schedules difficult. I would especially recommend the Pleasant Hearth Pellet Stove for anyone who finds modern technology difficult to operate.
Featuring a 120 lb hopper means this heater can operate for up to 70 hours (yes that's right, 70) of continuous burn time without needing to be refueled. Despite this huge hopper size, the cabinet size is quite compact and won't take up huge amounts of room.
---
4. US Stove 5660 Bay Front Pellet Stove
Key Specifications
Thermal Efficiency: not advertised
Heating Capacity: Up to 2,200 square feet
BTU/Hour Input: 48,000 max
BTU/Hour Output: not advertised
Max Auto Burn Time: 24 hours
Compatible Pellets: Wood pellets only
If you are after a pellet stove that looks more like a traditional wood heater then the US Stove 5660 may be just what you are after. Featuring a bay front, and Faux logs – it really does look like just a standard wood stove.
The digital LED control panel makes it easy to use and 6 heat settings mean its a simple matter to set the right heat to keep your house at a comfortable temperature.
And if you hate cleaning the glass in your stove (I know I do), then the air washed glass technology will be a welcomed feature.
Just make sure you are burning good quality pellets in this unit as it does clump up easily with low quality fuel.
---
If efficiency is high on your list of pre-requisites for a pellet stove, then the Pelpro PP130 should be one of the top models on your list to check out.
Boasting an EPA certified efficiency of 87.5%, this stove is one of the most efficient pellet stove models currently available.
Not only is it efficient though, but the heating capacity of up to 2,500 sq. ft. makes it perfect for medium/large houses. An easy to use dial control is on the side of the unit which makes it super simple to set the level of heat you require.
And you won't need to be topping the hopper up every day, because this baby has a 130 lb hopper… yes, 130 lbs! This gives you an auto burn time of up to 4 days, which we absolutely love.
This is one model you definitely want to seriously consider and its available on both Wayfair and Amazon.
---
Detailed Pellet Heaters Top Models Comparison
This table is designed to make it easy to compare each model stat by stat.
| | | | | | |
| --- | --- | --- | --- | --- | --- |
| Model | Max BTU Input | Max BTU Output | Thermal Efficiency | Heating Capacity | Max Auto Burn Time |
| Castle 12327 Serenity | 31,960 | 22,226 | 69.80% | 1,500 sq. ft. | 24 hours |
| Comfortbilt HP22 Pellet Stove | 50,000 | 43,000 | 86% | 3,000 sq. ft. | 24 hours |
| Pelpro PP130 | 50,000 | 40,600 | 87.50% | 2,500 sq. ft. | 96 hours |
| Pleasant Hearth Pellet Stove | 50,000 | 42,500 | 85% | 2,200 sq. ft. | 70 hours |
| US Stove 5660 | 48,000 | Unknown | Unknown | 2,200 sq.ft. | 24 hours |
Why A Pellet Stove Might Be The Right Choice
Apart from the obvious benefits of keeping you warm, there are many other reasons that pellet stoves should be high on your list of possible heating options.
We have listed just a few of the very best reasons below to really get you thinking!
Energy Efficient – Better BTU Output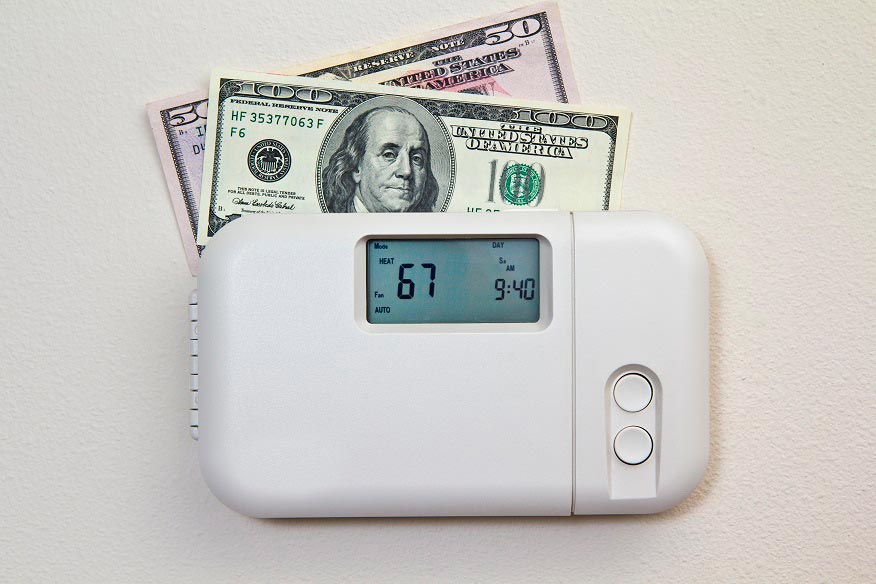 We all hate getting the heating bill at the end of winter, not knowing what it will be or how much to budget for can be stressful. Not to mention that energy prices for gas, electricity and oil goes up and down constantly – which makes it even harder to manage the heating budget.
Pay Up Front For Heating Costs
One of the benefits of pellet stoves is that because you control when you buy the fuel, you can control your heating costs for the entire heating season. You can shop around for the best wood fuel pellet deals before it starts to get cold, and order a bulk amount that will get you through the colder months.
This way, you pay for your heating costs up front and there won't be any nasty surprises in the mail when the weather starts to warm up.
Lower Heating Cost
Fuel pellets are also much more cost efficient than many other popular methods of heating, so you can keep your heating costs down and take total control of your heating costs.
Fuel pellet pricing varies depending on your location and numerous other factors. But the average fuel price of 1 ton of wood pellet fuel in the USA is about $250.
As a rough guide, a typical home will burn about six to seven tons of pellets in a season. So this gives you a heating cost of about $1,500 – $1,750 a year. This will of course depend on your location, and how warm you like to keep your house.
Lower Installation Cost
Including the stove, installation labor, and parts, an average sized pellet stove will set you back about $3,200 installed (more if you want a premium brand).
A wood stove installed will cost you around the $3,500 mark.
Heating Fuel Cost Comparison
See the image below to get a visual comparison of how cost varies among different heating fuels – as measured by BTU.
Better For The Environment
Pellet heating uses fuel that is often created from waste materials, off cuts and sawdust – so you are utilizing recycled products that would have otherwise gone to waste.
Pellet stoves also burn much more efficiently and produce much less wood smoke than any other solid fuel burning heater, thus they put out far less harmful emissions into the environment.
Automated and Simple Heating
Pellet stoves are basically a set and forget heater for the day.
All you need to do is fill the hopper with wood pellets, set the desired heat setting and that's it.
Your Pellet heater then automatically ignites, and loads more pellets into the burn pot at the pre-set rate, keeping your home comfortably warm for the entire day.
Radiant Convection Heat
Everyone loves a good wood fire right?
There is nothing like sitting near the fireplace and soaking up the warmth, the only problem is constantly having to fill it with wood fuel!
Well with a wood pellet stove, you can have the same warming, radiant convection heat, without the need to be constantly loading it up with wood.
Easy To Maintain
Pellet heaters do require regular maintenance, but as does any heater type.
The basic maintenance tasks are quite easy to perform yourself, but as with any device that involves burning a fuel source in your home – it should be serviced by a professional regularly.
We will go into this in a bit more detail later on in the article.
Are Pellet Stoves Safe?
When compared to a wood stove, pellet stoves are certainly the safer alternative. The following safety features are in most pellet stoves:
Automatic shutdown – monitors burn rate and temperature for unusual conditions and shuts the stove down if necessary
Pressure switch – automatically shuts the feed motor off if the front door or the ash door is open. Also detects when the venting system is not working correctly.
Exhaust sensing probe – shuts down when abnormally high temperatures are detected
It should be noted here that your pellet stove should be installed by a professional installer to ensure all safety guidelines are followed.
Comparison With Other Heating Types
We have more articles in this series which compares pellet stoves with other popular heating types:
Pellet Stove Buying Guide
So you have made the decision to invest in pellet heating, now you just need to decide which is the best pellet stove for you.
Not all pellet stoves are created equal – each stove brand and type is designed for it different situations, so it is important that you carefully consider your options and make a decision that is right for your home.
The following sections are areas we recommend you pay special attention to when choosing a pellet stove to suit your requirements.
Heating Efficiency
When shopping for a pellet stove, one of the first numbers you will have thrown at you be every salesman is the term BTU rating.
But what does that even mean?
What is a BTU Rating
BTU stands for British Thermal Units and it is used to measure heat output.
One BTU = the amount of heat required to increase the temperature of one pound of water by one degree Fahrenheit.
Now I know this sounds complicated, but you don't really need to get into the nitty gritty of how the BTU measurement works.
What you do need to know is this:
The specifications or salesperson may quote one, or both of the possible BTU measurements:
Firstly, you need to understand that most premium wood fuel pellets contain about 8,500 BTU per pound.The BTU input is the maximum amount of fuel that can be fed into the pellet stove per hour.
The BTU output is how much heat the stove can actually deliver to the home, the rest is lost to inefficiencies in burning, heat transfer, up the chimney/venting etc.
Learn more about BTU and what it is here.
Thermal Efficiency Rating
So now that we understand what a BTU rating is, we can then understand the next number that is often quoted to us – the pellet stoves heating efficiency.
Efficiency% = (input BTU/output BTU) * 100
This gives us our efficiency as a percentage. This number tells us how much of the heat that is generated in the pellet stove is actually usable in the home.
The higher the efficiency, the more cost effective your heater will be to run.
Capacity
Ensuring you choose a model with the right heating capacity is very important.
Pellet stoves burn most efficiently when turned from the mid-max setting which is why you should always pick a model that is right for your space and is not too large or too small.
Most brands of stove advertise a heating capacity in square feet, so work out the size of the area you need to heat before committing to a purchase.
Pellet Types
While pellets are reasonably easy to find, it is important that you know which pellet types are compatible with your heater, and which will burn efficiently.
Maintenance Required
As with any device that involves heat and electricity, it is important to keep your pellet stove properly maintained. This not only ensures that your pellet heater runs as efficiently as possible, following the maintenance guidelines for your stove means your heater will be as safe as any heater can be.
Maintenance tasks required vary for each model of stove, but we have written up a summary of general maintenance tasks that are required with most pellet stoves below.
Daily maintenance tasks:
Pellet hopper: Check it is clear of any accumulated saw dust and top up it up to ensure you don't run out of fuel just when you need it the most.
Burn Pot: Check the burn pot in your stove daily to ensure the air inlets look clear and open.
Weekly maintenance tasks:
Ash pan: empty all the ash that the ash pan has caught. This usually has to to done 1-2 times a week although some newer designs can go as long as a month without requiring emptying.
Periodic maintenance tasks:
Burn pot: Clean the burn pot in your stove as you notice soot build up.
Ash trap: Ash traps help to stop flying ash exiting the stove via the vent, these require cleaning to ensure your pellet stove can burn efficiently.
Glass: Clean the glass to prevent a build up of soot, the longer you leave it between cleans the harder it will be to remove the soot.
Heat exchanger: This needs to be cleaned, some models include a device to let you clean this yourself, other models may require a professional.
Annual tasks:
As with any heating appliance, we recommend getting your pellet stove checked by a professional every 12 months to ensure it is operating safely and within efficiency parameters
Style And Placement Of Wood Pellet Stove
There are two basic types of pellet stoves:
Free standing pellet stove
Pellet stove insert
If you have an existing fireplace, then you can most likely use a pellet insert that fits into the existing fireplace and chimney. The U.S Department of Energy (DOE) strongly recommends that before you fit a pellet insert, you should have a professional installer carry out an inspection on your fireplace and chimney to check for suitability and safety requirements.
Choosing where to locate your pellet stove is very important. Before deciding on which stove you are going to buy, get a hold of the manual and make sure that you can meet the space requirements.
The manual will usually list the minimum space allowed between the stove and certain combustible materials.
Venting Requirements
Just like wood burning models, pellet stoves need to be vented to allow the expulsion of gases and smoke due to the burning of the pellet fuel.
Because a pellet stove uses a fan to get rid of the smoke and gas, they can often be vented vertically through the ceiling OR horizontally through a wall.
It does depend on the model of the stove though, so make sure you look into what type of venting you need and make sure the stove you choose is compatible with your requirements.
Hopper Size/Burn Time
One of the best things about pellet stoves is the fact that you can load up the hopper and it will automatically feed in fuel for hours and hours.
But how long exactly your heater can go for without a refill depends on the hopper size.
Generally, the larger the hopper size the longer your stove will be able to go without needing to be refilled. Some models even have an optional hopper extension which allows for huge amounts of wood pellets to be loaded in.
Glass Viewing Panel
Everyone loves seeing a fire burning – which is why most models of pellet stove have a glass viewing panel.
Make sure that your viewing panel suits the aesthetics you are looking for.
You also need to consider the glass will need to be cleaned, so taking note of any features such as air wash technology is important too.
Electricity Requirements
Pellet stoves do require a constant electricity source to operate, so be sure to consider where your nearest power outlet is in relation to where the stove is likely to be fitted.
There are options to backup the power of your pellet stove. See our pellet stove battery backup guide for more info.
Ask A Professional
One of the biggest traps consumers fall into when buying a pellet heater, is not getting a a professional to take a look at the area to be heated before making a decision. You can research info on the best pellet stove, but in the end you should consult a professional to make sure you have made the right choice.
A consumer may under or over shoot the heating needs and buy a stove that is too small or too large for their needs. Home size, layout (open vs many rooms), and home insulation all play an important part of choosing the right pellet stove.
How Does a Pellet Stove Work?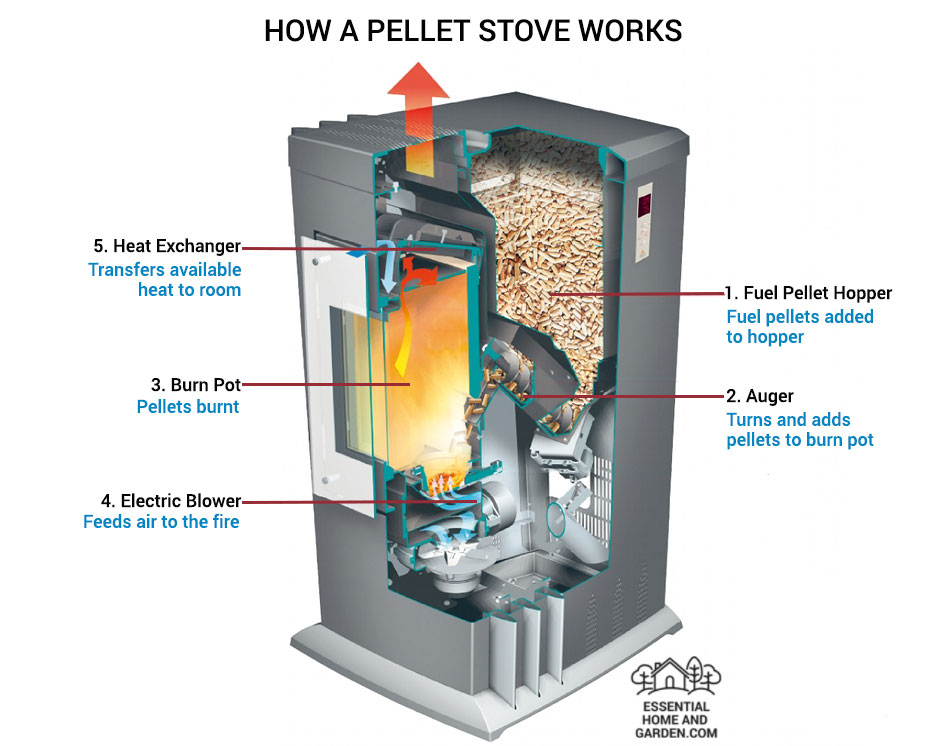 Pellet stoves work very differently to other heaters that are commonly used to warm up our homes. Below is a summary of how the best pellet stoves work.
Pellets of compressed biomass material (usually made of wood or corn) are loaded into the hopper. The amount of pellets that a hopper can hold varies, but it is generally from 40 lbs (18 kg's) up to over 100 lbs (45 kg's).
An auger, which is driven by an electric motor, turns and carries pellets from the hopper to the burn pot. Sensors within the stove tell the system when to turn the augur to add more fuel depending on the heat setting.
The pellets are added to the burn pot. The fire is kept very small, but very hot. This way the pellet stove burns at maximum efficiency with very little waste.
An electric blower adds air to the fire to help the pellets burn as efficiently and as hot as possible. Used air is then vented, the type of venting depends on the model of pellet stove.
Above the heating compartment is a heat exchanger, this is usually a series of pipes that catch almost all the heat from within the stove. Depending on the model, a fan may be used to disperse the heat.
Wood Pellet Fuel Guide
When it comes to choosing a pellet brand and type to choose, it is certainly not a case of apples for apples. It is important that you weigh up each brand of pellet fuel and carefully consider your options.
Wood Pellet Fuel Grades
Pellet fuel generally comes in two grades:
Premium grade pellets
Standard grade pellets
Premium pellets contain a lower percentage of inorganic ash content (<1%), this results in less soot being produced by the burning of fuel, which in turn leads to less maintenance.
Standard grade fuel pellets burn slightly less efficiently due to the higher ash content (generally between 1-5%).
Premium Pellets Are Best! We highly recommend spending the bit extra and getting premium grade wood pellets. They will burn more efficiently and result in less soot build up in your stove.
What Are Fuel Pellets Made From?
Beyond the grades of fuel pellets, the next consideration should be what the pellets are made from. The main materials that pellets are made from are:
Hardwood
Softwood
Corn (yes, not technically wood but worth mentioning)
Most modern pellet stoves will burn both hardwood and softwood pellets with very similar efficiency. It should be noted though that while softwood pellets are usually more expensive, you do get a higher heat from them.
More heat = less pellets required to heat your home and less ash and soot build up in your pellet stove.
Pellet fuels made from corn are far less common, can can be a viable alternative to pellets made from wood and have the added benefit of being a renewable resource. Corn pellets produce about the same amount of heat as wood pellets, but they have a higher ash content which means more maintenance.
Corn pellets are generally cheaper than wood pellets, but it does depends on where you live.
Burning corn pellets is usually best done in a pellet stove designed for that purpose, however you can usually use corn pellets mixed in with standard wood pellets without any problem in a standard pellet stove.
Storing Wood Pellets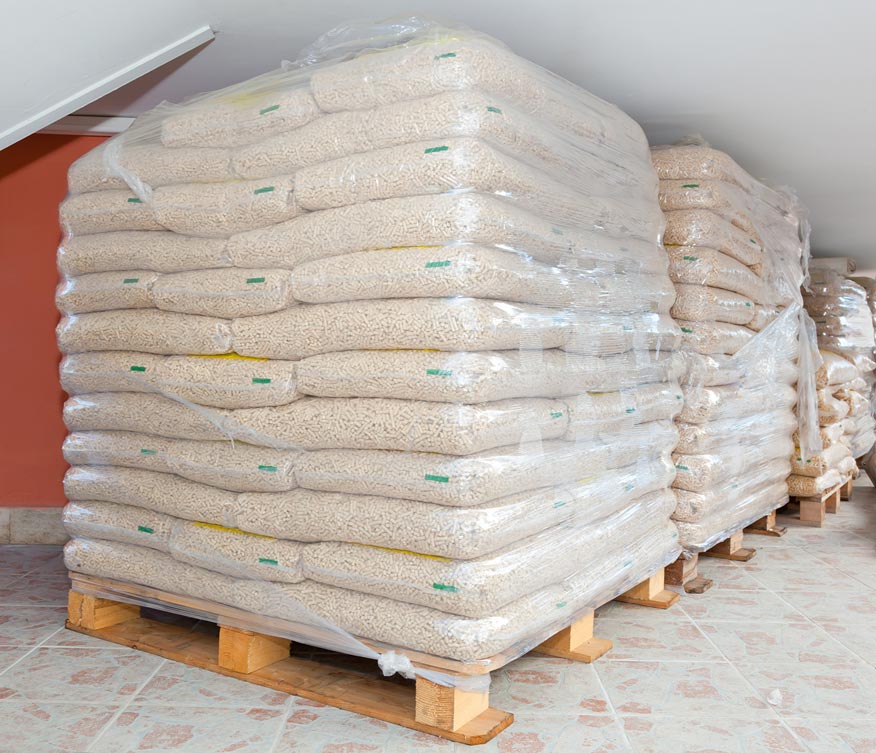 It is also worth mentioning that you may need considerable storage space to keep your fuel pellets.
Pellet fuel generally comes in 40-50lb bags, so keep in mind that you will need somewhere dry to store pellet bags, especially if you live in a remote area.
On a cold winter you may go through as much as two pellet bags per day!
Making Your Own Fuel Pellets
Making your own is possible but can lead to problems if the pellets are not made correctly.
The homemade pellets may crumble and get stuck in the chute, causing efficiency problems or possibly causing the heater to stop working altogether.
In our opinion, making your own fuel pellets is generally not worth it and going for the store bought option is a much better choice.
Wood Pellet Stove FAQ
Are pellet stoves efficient?
Yes! Because they used a manufactured, controlled fuel source, they are designed to burn it as efficiently as possible. Pellet stoves are one of the most efficient forms of space heating available
What are pellet stove clinkers?
When wood pellets are manufactured they have an element of impurities (dirt) in them that is not burned during the combustion process. A "clinker" is a combined mass of these impurities and they look like a clump of ash.
Use low ash pellets to reduce the possibility of clinkers forming. Also ensure your pellet stove is clean.
Do pellet stoves need power to run?
Yes, without power they will not function correctly and may even allow smoke to escape into the area being heated.
It is possible to use different methods to provide backup power for your pellet stove. We have a complete article written about it here.
Further Resources
For more info to assist with choosing the best pellet stove? I suggest checking out the following resources: