Is your Ryobi 40v battery not charging? I have some good news for you; it is possible to fix most Ryobi 40V battery problems yourself.
Replacement batteries are certainly not cheap, and most of us will want to avoid the need to buy a new battery if at all possible.
Let's take a look at the most common Ryobi 40V battery problems and how to fix them.
Use the following table to quickly diagnose and jump to the relevant section or keep reading.
Ask Our Ryobi Battery Expert!
Don't want to scroll through the article? Ask our specially trained Ryobi Battery expert in the chat below!
Faulty Ryobi Battery Charger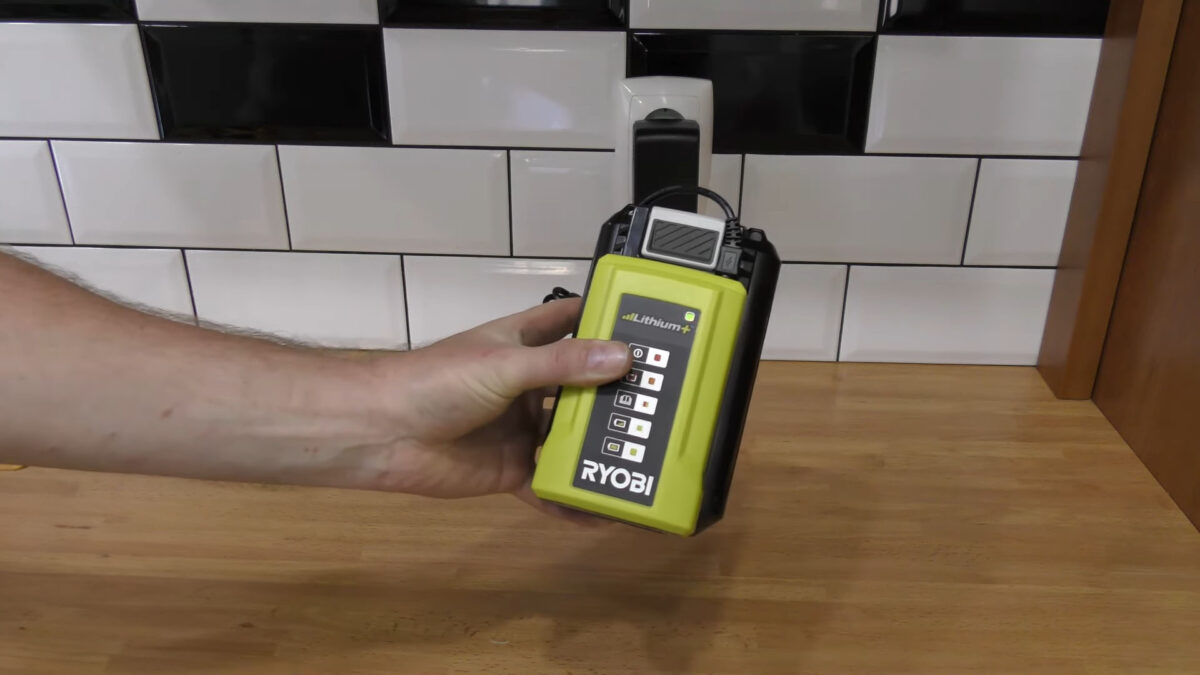 If your Ryobi 40V battery isn't charging, check if the charger is faulty should be the first thing you do.
But, testing if the charger is faulty isn't as easy as you might like it to be. This is because we can't use a multimeter to test the voltage output of the charger.
Ryobi battery chargers have sensors to detect a connected battery. If the charger doesn't sense a battery, the charger won't give the correct voltage.
This may cause you to incorrectly identify the battery charger as being the problem.
Power-Cycle Your Charger
Electronics can sometimes act strangely, and Ryobi chargers are no exception.
If your Ryobi 40V battery isn't charging, first try unplugging the charger, wait for about a minute, then plug it back in.
If this does not solve the problem, move on to the next steps.
How To Check If Your Battery Charger is Faulty
There are two ways that you can check if your battery charger is faulty or not.
You will need a second battery or charger to test the two methods below.
Many people do not have a second battery or charger on hand, so here are some ideas on how to get access to one:
Go to your local Ryobi dealer and ask if you can test your battery on their display charger or similar
Ask in your local Facebook groups if anyone has a charger or battery you can try.
Ask your friends or neighbors if they have a compatible charger or battery pack.
Use Another Battery
Take another healthy 40V Ryobi battery and try charging it. If you have the same problem, the charger is likely faulty.
If the second battery charges fine, your charger is fine, and the battery itself is the problem.
Try Another Charger
You can also use another Ryobi battery charger to check if yours is faulty. This is likely the only way to get a definite answer without a second battery.
Plug your battery into the second charger. If the battery fails to charge or the charger shows an error, then your battery is faulty.
If the battery charges up correctly, then your battery charger is the problem.
Genuine
New Slim Line design provides quick charge technology in a portable form factor
Compatible with all Ryobi 40v batteries with battery protection technology for safe charging
Status Indicator Monitors Battery During Charging
Dual Charger
OP401 2-Port replacement ryobi 40V lithium battery charger
Fully compatible with All Ryobi 40-Volt lithium-ion battery models
The charger 2Ports are able to charge 2 Ryobi 40V batteries at the same time,
Diagnosticer with LED indicator continuously communicates battery charge statu
CE, FCC, RoHS certified
Popular
Includes the Ryobi 40 Volt 4.0 battery and the slim charger
Both the Battery and charger is compatible with all other pre existing Ryobi 40V equipment
On-board LED battery life indicator
Lithium-ion cells deliver fade-free performance
High capacity OP40404 4.0 Ah battery for extended run time
#Ad
---
Ryobi Charger Flashing Red and Green – Battery in Sleep Mode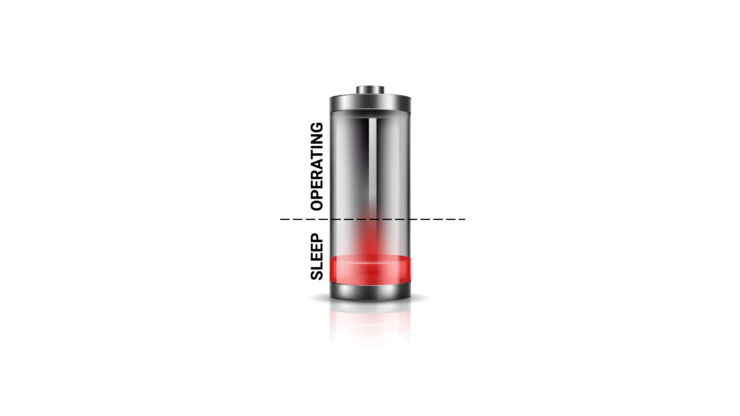 The most common cause for your Ryobi Charger flashing red and green lights is that the battery has been over-discharged.
This is commonly known as the battery is in "sleep mode"
Batteries often enter sleep mode when they've been used until completely dead and then stored without charging for a long period of time. The charge on the battery becomes so low that the charger cannot detect whether the battery is healthy or not.
The charger will stop charging and enter error mode to avoid damage to the charger from a faulty battery.
The problem with most Ryobi 40V chargers is that they don't incorporate a "boost" feature that would allow a battery that has entered sleep mode to be woken up again.
Here are the best methods for fixing your Ryobi 40v battery that has entered sleep mode.
Micro Charges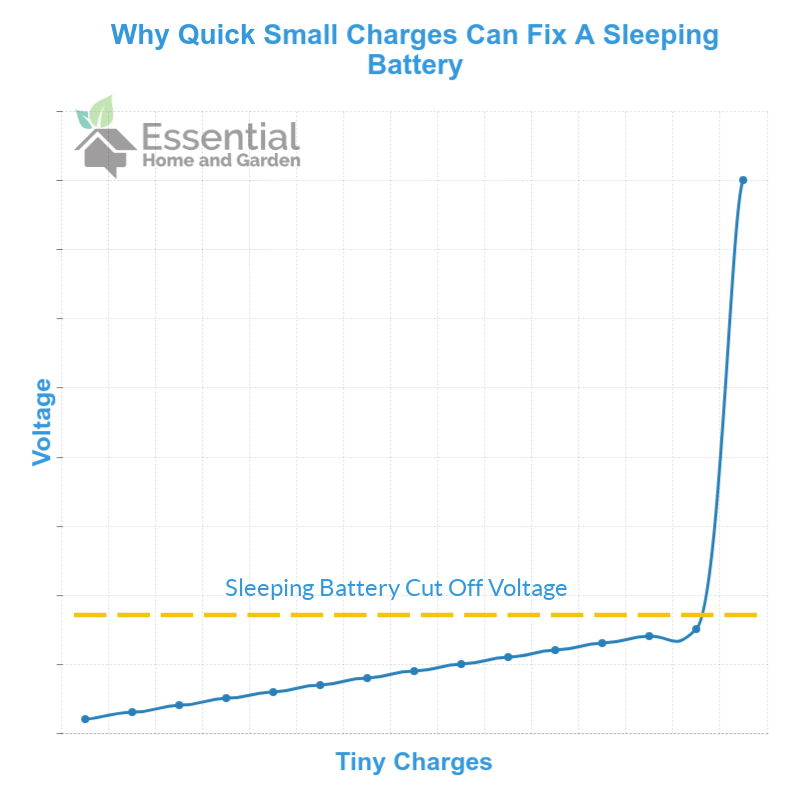 This method is the easiest, safest and simplest method to try to revive your Ryobi battery that won't charge.
Patience is required here – so read these instructions carefully and find somewhere comfortable to sit!
Connect your charger to the power outlet
Place the battery in the charger until the green indicator goes solid
Just before the red/green lights start flashing, remove the battery from the charger
Re-insert the battery into the charger again and repeat steps 2-3
Do this until the green light flashes constantly (might take up to 30 minutes)
Why does this work? Each time you put the battery in the charger, the charger gives a small charge before sensing the battery is asleep.
So repeating this process over and over results in the battery slowly being charged in very small increments each time.
Eventually, this results in enough charge for the battery charger to resume normal charging operation.
It may sound crazy, but the graph above shows why it works. Also, take a look at the many pages of comments below this article to see just how often it actually works!
Also Read: Ryobi Pressure Washer Troubleshooting
---
Jump Starting With a Second Ryobi Battery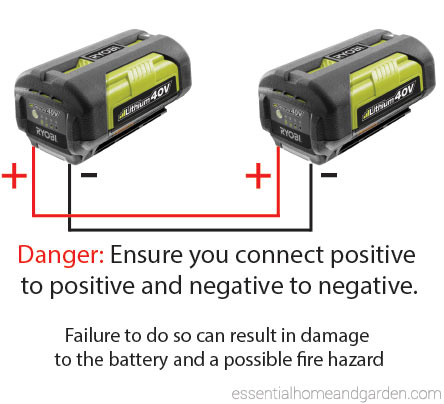 For this method, you will need:
Some wire – standard speaker wire or similar will do the job
The method is as follows:
Connect the positive (+) terminals from the healthy battery to the sleeping battery's positive (+) terminal.
Do the same with the negative (-) terminals.
Leave the batteries connected for up to 20 minutes
Disconnect and test the sleeping battery on the charger again
This method may be enough to kick your sleeping battery back into life.
Danger! As with any DIY fix with cordless tool batteries, these methods have some dangers.
Battery university recommends not boosting batteries that have been in sleep mode for a week or longer.
The video below shows in more detail how to do this.
---
Use a DC Power Supply To Jump Start Your 40V Battery
This method is essentially the same as using a second battery, but instead we use a DC power supply set at the same output voltage (40v)
You will need:
A DC power supply capable of outputting 40 volts DC
Some wire – standard speaker wire or similar will do the job
The method is as follows:
Connect the positive (+) terminals from DC power supply output to the sleeping battery's positive (+) terminal.
Do the same with the negative (-) terminals.
Leave the battery connected to the power supply for up to 20 minutes
Disconnect and test the sleeping battery on the charger again
---
Reset the Battery
This method means you'll open the battery to reach the internal reset parts and see the printed circuit board (PCB)
Danger: Lithium batteries can be dangerous when dismantling them. There is a danger of fire or injury – do not attempt this procedure if you are not qualified to do so.
You will need:
A torx security screwdriver kit with a T10 size or a Phillips head screwdriver (depending on what screws are used in your battery)
A short piece of insulated wire with stripped ends
1. Remove the screws holding on the plastic cover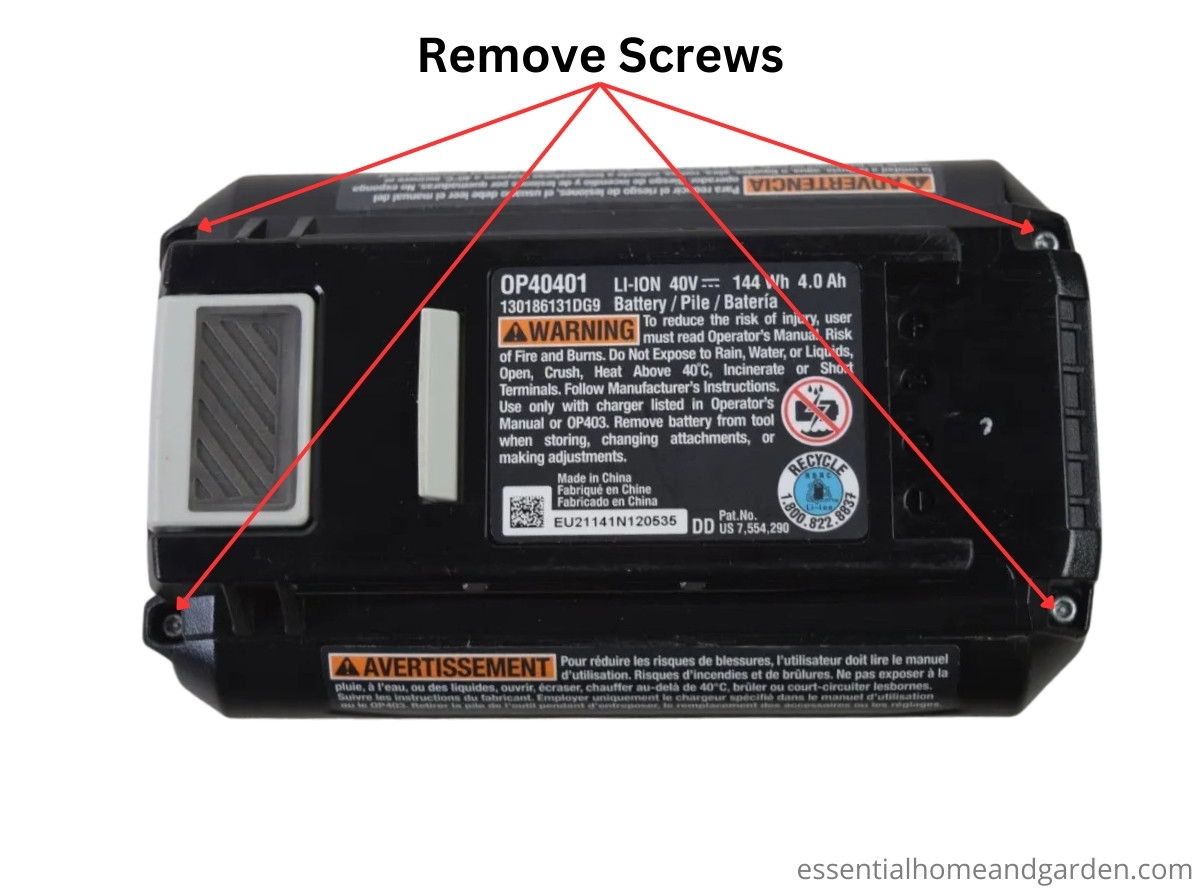 Depending on the model of your battery, these screws may be a torx security screw or a standard Phillips head.
There will likely be four screws to remove, and some or all of them may be covered by a plastic plug or cover to access them.
---
2. Remove the cover
Once the screws are removed, you should be able to love the cover off.
You may need to cut the Ryobi sticker that goes over the seam between the cover and the base of the battery.
This should give you access to the battery PCB.
At this point you need to be very careful not to short-circuit any connections. Doing so could lead to a fire or electrical shock.
---
3. Locate The Reset Pins
The Ryobi 40v battery reset pins location depends on the model number.
You are looking for "pads" or pins labeled 'RST', 'RES' or 'RESET'
Your model of battery may be listed below, if not it is likely to look very similar – so follow the same instructions,
---
---
4. Short out the reset pins
Take your wire with stripped ends and very carefully connect the two reset pins.
Connect the reset pins for 2-3 seconds. You should notice that the lights on the battery pack light up. Now, remove the wire.
Be VERY careful not to short out any other pins or circuitry.
---
5. Test your battery
You can now reassemble your Ryobi battery (leave the screws out for now) and test if it charges correctly.
If it does, put the screws back in and celebrate!
There is also a good video on this process below.
---
Battery Inserted Incorrectly
It may seem obvious, but it is essential to ensure your battery is correctly inserted into the charger.
Most Ryobi 40v batteries have a gray button (or buttons) that should be pressed down when inserting the battery into the charger.
Push the gray buttons and slide the battery onto the charger – you should hear an audible click.
---
Corroded or Dirty Battery Terminals
If the metal contacts on the battery or charger become dirty or corroded, then it can cause the Ryobi charger to assume that the battery is faulty incorrectly.
If your terminals are corroded: then the corrosion can be removed with a piece of sandpaper or some rubbing alcohol and a Q tip.
Dirt on the terminals can be removed with a wire brush or an alcohol-soaked wipe or q tip.
Sometimes, getting to the actual terminals can be difficult because they are recessed. If this is the case you will need to try different tools or items to reach them for cleaning purposes.
---
Ryobi Battery Charging: Issues with Hot or Cold Temperatures
We like modern Li-Ion batteries, but they have issues old batteries didn't face.
One of these is the narrower range of temperatures that they will operate and charge in: Li-Ion batteries will generally charge between 32°F to 113°F (0°C to 45°C).
So, the first thing to check if you are having problems with your Ryobi batteries is if they are indeed too hot or too cold.
If it is exceptionally cold where you usually store/charge your batteries, bring them inside and let them warm up to room temperature and then try charging them again.
If it is a hot day, or you have been using your batteries already and they are quite hot, try throwing them in the fridge, or taking them to a cooler area for a short amount of time before trying to charge them again.
Related Article: Ryobi 18v string Trimmer Troubleshooting
---
Is The Battery Too Old?
Unfortunately, it could simply be that your Ryobi tool's 40-volt lithium-ion battery is simply getting old.
Typically, a Ryobi battery or any 40-volt lithium-ion battery maintains its performance for two to three years, or approximately 300 to 500 charge cycles.
One charge cycle describes the timeline between completely charging the battery, utilizing it until it's fully discharged, and then charging it up once more.
Once your Ryobi 40-volt battery reaches its third or fourth year, you may begin noticing performance issues.
This could mean the battery's inability to retain enough charge or, in more serious cases, it might fail to recharge entirely. Should you encounter this situation, replacing the old battery pack with a new one is recommended.
You can purchase a new battery here.
Genuine
Works with all RYOBI 40-Volt lithium-ion tools and chargers
40-Volt 5.0 Ah high capacity battery for extended run time
Fade-free lithium-ion power
Onboard battery life indicator
Model OP4050A
High Capacity
Works with all RYOBI 40-Volt lithium-ion tools and chargers
40-Volt 6.0 Ah high capacity battery for extended run time
Fade-free lithium-ion power
Onboard battery life indicator
Model OP4060A
Cheaper Option
Real Capacity: 6.0Ah/ 6000mAh
Replacement for for man Ryobi 40 Volt Battery models
Works with all for RYOBI 40-Volt lithium-ion tools
Easy to Install & Fast Charge & Long-lasting
30 days money back guarantee and 1 year warranty
#Ad
---
What Do The Lights on My Charger Mean?
The lights on your Ryobi charger help you determine the problem with your 40v battery.
The following table is a generic guide as to what the red, green and orange lights mean on your charger:
| | | | | |
| --- | --- | --- | --- | --- |
| Battery Pack Condition | Red LED Status | Green LED Status | Orange LED Status | Action/Description |
| Power On | ON | OFF | OFF | Plugged into AC power supply without battery pack |
| Testing (Hot battery pack) | OFF | OFF | ON | When the battery pack reaches cooler temperature, the charger begins charge mode. |
| Testing (Cold battery pack) | OFF | OFF | ON | The charger conditions battery until normal voltage is reached, then begins charge mode. |
| Testing (Deeply discharged) | OFF | OFF | ON | The battery pack or charger is defective. |
| Defective | Flashing | Flashing | OFF | When the battery pack reaches a cooler temperature, the charger begins charge mode. |
Where Can I Buy Ryobi Replacement Parts?
If you need your replacement Ryobi 40V battery parts in a hurry, then you will want to head straight down to the closest supplier and buy it locally.
If you aren't in too much of a rush and want to save some cash, consider purchasing from a reputable online store such as Amazon.
Frequently Asked Questions
Can a Ryobi cordless tool battery be repaired?
Yes, you can repair a Ryobi cordless battery. But, it might take too much time and effort.
Opening up the batteries can be difficult; depending on what part is faulty, it may be quite expensive to fix.
Remember that batteries can be dangerous, so it's best to get a qualified technician to check the battery for you.
Is it OK to leave a Ryobi Lithium-Ion Battery On The Charger?
No, you should charge the battery after use until it is full, then remove it from the charger and store it in an area that doesn't get too hot or cold.
The ideal battery storage temperature is around 59℉, but standard room temperature is usually fine.