Is your backyard looking more like a mud pit or dirt patch than a serene outdoor space? As a dog owner, you know that a little dirt is par for the course, but when it starts to get out of hand, it's time to take action. After all, you don't want to be giving your furry friend a bath every time they step outside.
But don't worry, we've got you covered. In this article, we'll share some of the cheapest and quickest ways to cover up that muddy mess and restore your backyard to its former glory. And if you're willing to splurge a bit, we've got some not-so-cheap solutions that are still worth considering.
So, let's dive in to 8 cheap ways to cover dirt in backyards with dogs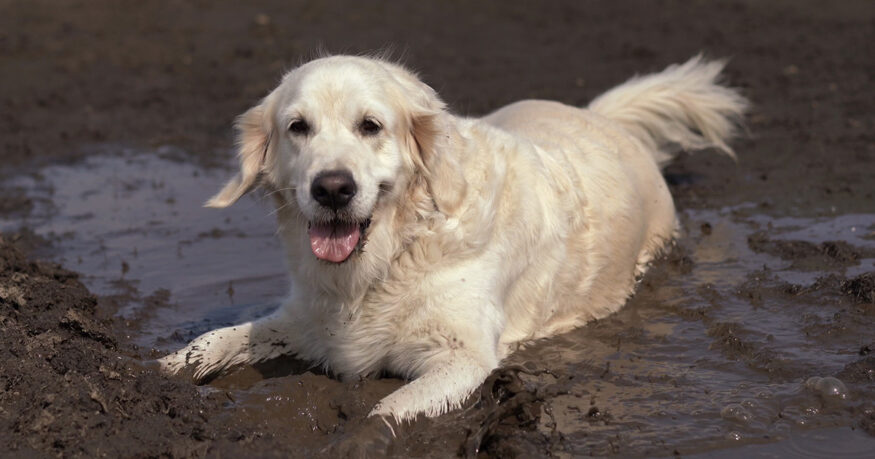 Disclosure: As an Amazon Associate I earn from qualifying purchases. However, this does not impact our reviews and comparisons. All opinions are our own we pride ourselves on keeping our articles fair and balanced. For more info see our disclosure statement.
Cheap Ways To Cover Dirt In Your Backyard With Dogs
Changing the ground cover is the most obvious solution to solving the mud created when dogs run the same paths through the yard. Choosing the right ground cover often means finding one that is within the owner's budget which is also safe for the dog.
If owners are unsure where to start when choosing a ground cover, it is best to consult a vet, breeder, or even a more experienced dog owner who has faced the same problems.
The choices are almost endless but owners must find one that suits their dog's comfort and safety as well as creates the look they want for their yard.
We've listed below the best ways to cover dirt and mud dog to fix this problem, keep reading for more in-depth details:
The cheap ways:
The Not-So-Cheap Ways:
Lay concrete
Lay Kennel Decking – Available here
Get a landscaper in to solve your lawn or drainage issue
The Cheapest Ways To Cover Mud and Dirt In a Backyard For Dogs
1. Use Mulch To Cover Dirt and Mud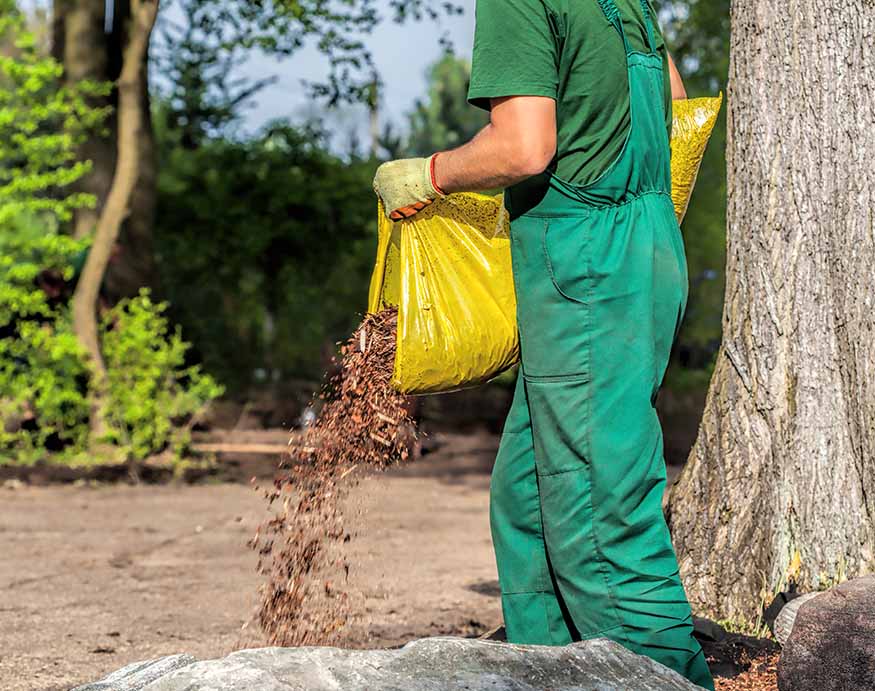 Mulch is an affordable and easy way to cover bare ground in your backyard. It helps control odors and prevents mud formation, while also providing a refreshing air freshener when you choose a scent you enjoy. Cedar mulch is a natural weed deterrent and cedar shavings can control mud and keep your yard smelling fresh.
However, pet owners should be aware that some dogs may try to chew on the mulch, which could cause splinters or other problems. To prevent this, it's important to monitor your pets while they're outside.
But mulch isn't just beneficial for pet owners – it's also a great solution for preventing muddy paw tracks and providing a pleasant outdoor experience for your furry friends. Pine flakes are a particularly soft and dog-friendly option that can be placed on the muddiest parts of your lawn during the winter. As the flakes decompose towards the end of the season, they also provide a natural fertilizer for your lawn.
When shopping for pine flakes, be sure to get the type called 'flakes' or 'wood chips' and avoid 'shavings.' With the right mulch and careful monitoring of your pets, you can enjoy a well-manicured backyard without breaking the bank.
2. Straw/Hay or Mulched Leaves on Bare Spots
A quick and inexpensive temporary fix for a muddy yard is to put straw, hay or mulched leaves down. If grass seed is planted first, the straw covering can give it time to sprout and take root. The straw covering will allow your dogs to play outside without tracking in mud and dirt.
However, straw holds moisture and while this is great for sprouting grass seed, it can take a wet lawn even longer to dry out. The straw will also not hold up long against a dog who travels the same paths daily.
Even though it is a softer option, straw could be dangerous because it can harbor harmful bacteria and fungus if it is the only ground covering for a long period of time.
Also, if the grass is not planted under the straw, it will have to be replaced quite frequently to keep the mud at bay.
Cheap!
Ideal for outdoor pet bedding, including dogs and cats, which can help keep them clean and reduce the amount of dirt and mud they bring inside.
Suitable for small animal bedding, such as rabbits or guinea pigs, which can create muddy areas in their enclosures.
Great for garden mulch, which can cover up dirt and muddy spots and also help to reduce the growth of weeds.
Adds additional bio mass to the soil, which can improve the health of the lawn and reduce soil erosion.
3. Cover The Mud or Dirt With Burlap
Another cheap and effective way to cover muddy or dirt areas in your backyard is by using burlap. Burlap is a woven fabric made from jute fibers that is commonly used for gardening and landscaping. It is a durable and biodegradable material that is perfect for covering up areas of your backyard that have been damaged by your dogs.
To use burlap, simply lay it over the muddy or dirt area and secure it with landscape staples or garden pegs. This will help to prevent your dogs from digging or tracking mud onto the rest of your backyard. Additionally, burlap allows water and air to pass through, which means that you won't have to worry about water pooling or creating additional mud.
Burlap is a great option for those looking for a temporary solution to their backyard mud and dirt problems. It is an affordable and eco-friendly material that can easily be removed once the damaged area has healed or a more permanent solution has been implemented.
4. Lay Down Landscape Barrier
Another cheap and easy way to cover muddy or dirt areas in your backyard is by using a landscape barrier. These barriers are typically made of a durable, high-quality fabric that is designed to prevent erosion and keep mud from getting onto your lawn or garden.
To use a landscape barrier, first, clear the area of any debris or large rocks. Then, lay the barrier down over the area, making sure to overlap the edges by several inches. Finally, secure the barrier in place with landscape staples, which can be found at any home improvement store.
One of the main advantages of using a landscape barrier is that it is an effective long-term solution. Unlike some other options, a landscape barrier does not need to be replaced frequently (unless your dog damages it), making it a cost-effective choice in the long run.
10 oz Burlap Fabric is great for covering muddy or dirty spots in the lawn.
Made of 100% natural jute and is eco-friendly and biodegradable.
Burlapper Garden Fabric is cut to size at a U.S. based, 100-year-old family-operated mill ensuring accurate sizing and straight cuts.
Burlapper Garden Fabric is perfect for home and garden projects where function is more important than beauty.
5. Put Up a Temporary Fence
Putting up a temporary fence around the damaged area in your backyard is an effective way to keep your dogs away from the dirt and mud, allowing the area to heal and recover. This option is relatively cheap and easy to implement, and it can provide a quick fix while you work on a more permanent solution.
To set up a temporary fence, you can use materials like chicken wire, plastic mesh, or even wooden stakes and netting. It's important to choose a sturdy material that your dogs won't be able to easily break through or knock over. You can also add a gate or a removable section to the fence to make it easier to access the area when necessary.
While a temporary fence may not be the most visually appealing option, it can be a practical and effective solution to prevent further damage to your backyard and allow the damaged area to recover.
6. Try Rubber Mats
If you have a muddy or bare spot that needs to be made safe as fast as possible, then rubber mats can be a temporary fix for muddy yard areas. These are easily cleaned and disinfected as well.
These mats are also great for placing on concrete to help reduce paw damage.
Best Choice
These anti-slip mats are perfect for pet owners who want to keep their backyard safe and clean.
The exceptional durability and reversible feature of our mats means they can withstand pet traffic and outdoor weather conditions, making them a great long-term investment.
With holes throughout the surface, these mats are perfect for outdoor pet areas as they allow liquids to easily pass through, preventing muddy and slippery surfaces.
Easy to clean using a hose or pressure washer, making maintenance quick and hassle-free for pet owners.
Ideal for use as a pet play area, pathway or entryway to prevent pets from tracking mud or debris into the house.
Raised bar design also provides extra gripping action, ensuring pets have good traction and reducing the risk of injuries from slipping.


Note: It should be noted that this is a temporary fix only and a more permanent method should be put in place in the long run.
7. Artificial Turf
Depending on the size of the area to be covered, and of course, the budget available, then artificial grass designed specifically for dog parks is a good option. The grass is designed to let urine pass through so that it does not puddle.
It is very similar to natural grass and is soft and comfortable for your dog to run and play as well as take a nap on.
However, this may not be in the budget for most owners, so be sure to properly measure and calculate the amount of artificial turf that would be needed.
Best Choice
Thick and realistic artificial grass rug with a grass height of about 1.37" in length and 70 oz total weight per square yard.
High-density artificial grass with a 4-tone color, soft and lush, and the thatch looks and feels like real natural grass.
Provides year-round green and turf enjoyment, perfect for all indoor and outdoor projects.
Made of high-quality synthetic material, super durable with a rubber backing and drainage hole that dries quickly.
Saves money and is pet and kid-friendly, with no mowing or watering needed.
Perfect for outdoor decor in gardens, lawns, patios, landscapes, backyards, decks, balconies, porches, and other outdoor areas.
Easy to install, withstands all weather conditions, and can be cut to desired size or shape without fraying
8. Improve Your Lawns Health
Improving the overall health of your lawn is probably the best thing you can do to prevent it from turning into a patch of dirt or a muddy mess.
By following a simple lawn care plan, you can grow a healthy lawn that can withstand heavy foot traffic and energetic pets.
[cboxarea id="cbox-bI4AuthWxEfpuLp6″]
However, the easiest way to achieve this is to have a professional formulate a proper plan for you.
That's where Sunday Lawn Care comes in – they take care of everything and send you precisely what you need based on your unique lawn conditions. With Sunday Lawn Care, achieving a healthy and durable lawn is no longer a hassle.
Save Time!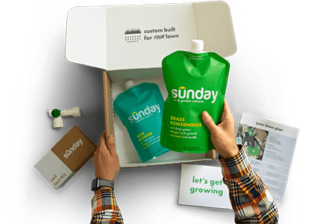 Personalized lawn care: Sunday Lawn Care provides custom lawn plans based on soil analysis, climate data, and lawn needs.
Convenient and pet-friendly: Sunday delivers lawn care products directly to your door, and their products are made with better ingredients that are safe for people, pets, and the planet.
Science-backed formulas: Their products use transparent, bio-based formulas with effective ingredients like seaweed, molasses, and iron.
Expert support: Sunday Lawn Care provides one-on-one support from a real person and offers a satisfaction guarantee.
#Affiliate
Not-So-Cheap Ways Cover Mud and Dirt In a Backyard For Pets
Concrete as an Easy Fix
Concrete poured in the dog run or over the paths in the yard may seem like a quick fix. However, concrete can be expensive depending on the area the owner intends to cover. The shock of the initial expense can be lessened by knowing that concrete will last for many years and generally will not have to be replaced like other ground coverings.
It can also be uncomfortable for dogs as it will retain cold in the winter and heat in the summer which can result in damage to the dog's paws. Paw damage and infection can also occur if the dog constantly runs on concrete and not any other surface.
On the plus side, it is fairly easy to clean by scooping up feces and washing the area down with a hose and can also be disinfected if your dog is sick.
Owners who do decide on concrete will want to consider a raised area for a softer surface or bedding for their dog to rest on.
Related Article: Check out our post on the best grass for dogs.
Kennel Decking
Kennel decking is an option as well. This material is available in interlocking sections and can be fitted to any size dog run.
The decking is designed to sit above the ground so that it drains easily and can be cleaned without a lot of hassle.
Most kennel decking brands are chew proof, weatherproof, and resist bacteria which prolongs the life of the flooring in the dog run even if your four-legged family member is an aggressive chewer or you live in an area with extreme temperature fluctuations.
High Quality
Resists Mold, Mildew, and Bacteria
Elevated and Dry
Fade Resistant
Easily Expandable
Hire a Landscaper
A professional landscaper can help solve this problem of your yard being a muddy mess or a dirt patch and provide you with a beautiful and functional outdoor space that can withstand your dog's activities.
A professional landscaper can evaluate your backyard and recommend the best type of grass, plants, and ground cover to suit your needs. They can also install hardscaping features, such as walkways and patios, to create designated areas for your dog to play and reduce the risk of damage to your lawn. Additionally, a landscaper can design and install a proper drainage system to redirect excess water and prevent mud formation.
By working with a landscaper, you can create a backyard that not only looks great but is also practical for your dog's needs. You can enjoy a beautiful outdoor space without the worry of your dog causing damage or turning it into a mud pit.