Dog owners know their beloved dogs need outdoor exercise and fresh air. Beyond daily walks or weekly visits to the dog park, this exercise usually comes in the form of running and playing in a yard or dog run.
Dogs of any size can eventually wear a path in a grassy yard or dog run that can turn into a muddy mess during a rainy period. The mud is then transferred into the house on the dog's paws and fur creating a muddy mess not only outside but inside as well.
Most of us do not have the time or energy for giving our pets a bath every time they get dirty playing outside. A better solution to muddy paws and fur could be finding a way to eliminate the mud in the dog's play area altogether.
Disclosure: As an Amazon Associate I earn from qualifying purchases. However, this does not impact our reviews and comparisons. All opinions are our own we pride ourselves on keeping our articles fair and balanced. For more info see our disclosure statement.
Muddy Dog Yard Solutions
Changing the ground cover is the most obvious solution to solving the mud created when dogs run the same paths through the yard. Choosing the right ground cover often means finding one that is within the owner's budget which is also safe for the dog.
If owners are unsure where to start when choosing a ground cover, it is best to consult a vet, breeder, or even a more experienced dog owner who has faced the same problems.
The choices are almost endless but owners must find one that suits their dog's comfort and safety as well as creates the look they want for their yard.
We've listed below the best muddy dog yard solutions to fix this problem, keep reading for more in depth details:
The Quick (Temporary) Fix
If you have a muddy spot that needs to be made safe as fast as possible, then rubber mats can be a temporary fix for muddy yard areas. These are easily cleaned and disinfected as well.
These mats are also great for placing on concrete to help reduce paw damage.
Our Recommended Rubber Mat For Pet Use
RUBBER-CAL "PAW GRIP"
Excellent durability
Holes throughout the surface provide drainage
Commercial mat that is easily cleaned using common commercial equipment or industrial dishwashers
Perfect for a rubber entry mat or rubber kitchen mat
Raised bar design offers extra gripping action for anti-slip
Note: It should be noted that this is a temporary fix only and a more permanent method should be put in place in the long run.
Pine Flakes/Wood Chips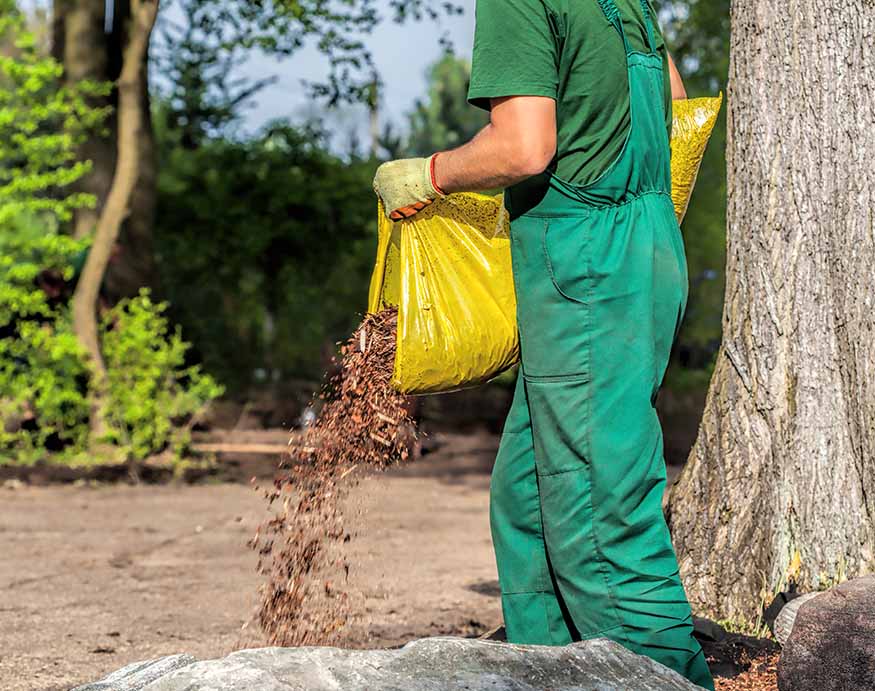 Pine flakes or Wood Chips to fix a muddy yard are a new addition to our list, but I can't believe it took me this long to add it! It is such a great solution.
You can place a thick layer of pine flakes on the muddiest parts of your lawn in the winter when your lawn is at its muddiest. Towards the end of winter, the pine flakes will decompose and actually provide a fertilizer for your lawn.
Pine flakes are quite soft when in a good thick layer, and they are also reasonably kind to your dog's feet.
And the best bit? Your dog won't get filthy dirty when playing outside!
If you are shopping for pine flakes, make sure you get the type called 'flakes' or 'wood chips' and not 'shavings'.
Concrete as an Easy Fix
Concrete poured in the dog run or over the paths in the yard may seem like a quick fix. However, concrete can be expensive depending on the area the owner intends to cover. The shock of the initial expense can be lessened by knowing that concrete will last for many years and generally will not have to be replaced like other ground coverings.
It can also be uncomfortable for dogs as it will retain cold in the winter and heat in the summer which can result in damage to the dog's paws. Paw damage and infection can also occur if the dog constantly runs on concrete and not any other surface.
On the plus side, it is fairly easy to clean by scooping up feces and washing the area down with a hose and can also be disinfected if your dog is sick.
Owners who do decide on concrete will want to consider a raised area for a softer surface or bedding for their dog to rest on.
Artificial Turf
If there is a fairly large budget for the dog run or yard, then artificial grass designed specifically for dog parks is a good option. The grass is designed to let urine pass through so that it does not puddle.
It is very similar to natural grass and is soft and comfortable for your dog to run and play as well as take a nap on.
However, this is not in the budget for most owners. Natural grass is also an option and can be put down as sod or grown from seed. However, if you have a persistent digger, the grass will not survive.
Grass is best used for large areas where the dogs have a larger area to roam and more choices of places to urinate. Natural grass will not survive large amounts of urine over a long period of time.
Related Article: Check out our post on the best grass for dogs.
Kennel Decking
Kennel decking is an option as well. This material is available in interlocking sections and can be fitted to any size dog run.
The decking is designed to sit above the ground so that it drains easily and can be cleaned without a lot of hassle.
Most kennel decking brands are chew proof, weatherproof, and resist bacteria which prolongs the life of the flooring in the dog run even if your four-legged family member is an aggressive chewer or you live in an area with extreme temperature fluctuations.
Sand, Pea Gravel, River Rocks and Mulch
There are options that may seem attractive at first but have the potential to be hazardous to the dog and should be considered carefully. These options include sand, pea gravel, river rocks, or mulch which will initially be a solution for a muddy walkway that can be unhealthy for the dog.
Sand will become dusty in a dry climate and rocks can cause injury to the sensitive pads on the dog's feet.
Small rocks could be viewed by an aggressive chewer as a new form of toy and if swallowed can cause an obstruction.
Straw or Hay
A quick and inexpensive temporary fix for a muddy yard is to put straw or hay down. If grass seed is planted first, the straw covering can give it time to sprout and take root. The straw covering will allow your dogs to play outside without tracking in mud and dirt.
However, straw holds moisture and while this is great for sprouting grass seed, it can take a wet lawn even longer to dry out. The straw will also not hold up long against a dog who travels the same paths daily.
Even though it is a softer option, straw could be dangerous because it can harbor harmful bacteria and fungus if it is the only ground covering for a long period of time.
Also, if the grass is not planted under the straw, it will have to be replaced quite frequently to keep the mud at bay.
Improve Your Lawns Health
Probably the best thing you can do to keep your lawn from turning into a muddy mess is to improve its overall health.
The easiest way to do this is to have someone formulate a proper plan for you.
My recommendation is to use Sunday Lawn Care – they take care of everything and send you exactly what you need based on your unique lawn conditions.
But if you want to do it yourself we have you covered too! Enter your details in the form below and I'll send you access to our simple lawn maintenance plan – it really isn't that hard!
It covers things like:
Fertilizing your lawn at the right time
When to water your lawn and how much
What weed control to use
Aerating your lawn
+ more
Our Recommended Lawn Care
SUNDAY LAWN CARE
A customized lawn care subscription designed for your exact lawn
Uses organic ingredients
Includes soil test kit
We have tested it, and it works GREAT!
Get 20$ Off with coupon code EHG20
Final Considerations
When considering how to fix a muddy backyard dog trail or a solution for a muddy walkway area, owners should consider several factors.
First, the budget will play a role in the ground covering choice and, of course, the dog's safety will be a big factor as well.
Most owners opt for a combination of ground cover for different areas of the yard. How to cover up mud in the backyard depends largely on the size of the area. Concrete can be one option as can natural or artificial grass.
Areas under trees can be covered in mulch as they will probably not grow grass very well.
Organic mulch is a preferred option since it does not have to be replaced as often as straw.
Owners should also consider how much time their pet spends in the yard. They will need a place to find relief from heat or cold like dog houses that will not damage their paws over a period of time.