Did you know that the average time a burglar spends in a home is between 8 – 12 minutes? When a burglar is looking for valuables in your home they don't want to hang around and wait for the alarm to be raised. They will look for the easy wins and take the quickest items to find and the easiest things to carry.
So the best way to ensure your valuables stay in your possession is to hide them in secret locations that are not usually searched.
In this article, we have listed the best secret hiding spots for valuables in your home. And the best part? Most of these ideas are super easy to implement!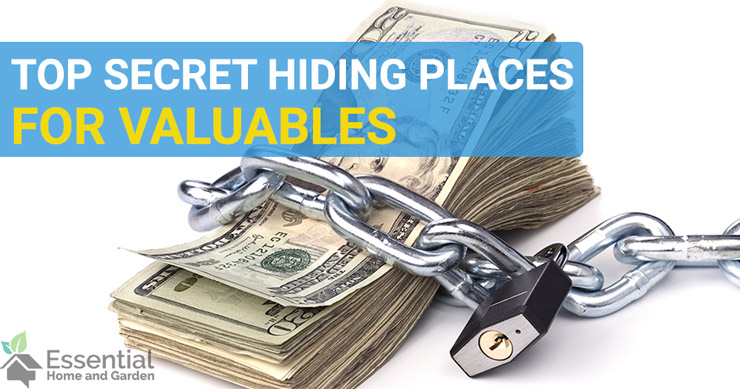 Disclosure: It is important you understand that we may receive commissions when you click our links and make purchases. However, this does not impact our reviews and comparisons. All opinions are our own we pride ourselves on keeping our articles fair and balanced. For more info see our disclosure statement.
The Best Places To Hide Valuables
Create Fake Firewood
If you have a fireplace that is rarely used, and is just there for looks then it's likely that you also have 'decorative' firewood next to it.
And if you are looking for somewhere to hide your valuables, this might be the perfect spot!
Brooklyn Limestone has a full guide here, but a quick summary is that you cut into a real piece of wood and hollow out the center. You then make a basic drawer and glue it back together!
While I love this idea, you will need to be careful that it doesn't get mistaken for real wood and get burnt in the fireplace!
Use a Toilet Paper Roll in a Mason Jar
The image you see above is obviously meant to be a gift, but it works just as well as a secret hiding spot for any small valuable or cash!
Simply take a mason jar that comfortably fits a toilet paper roll in it, fill around the toiler paper roll with anything you like – it could be candy, dog biscuits, or anything really! Then simply place the items you are hiding in the toilet paper roll and close the lid.
Place it with the rest of your stored food items and no one will be the wiser!
In The Pockets Of Your Winter Jackets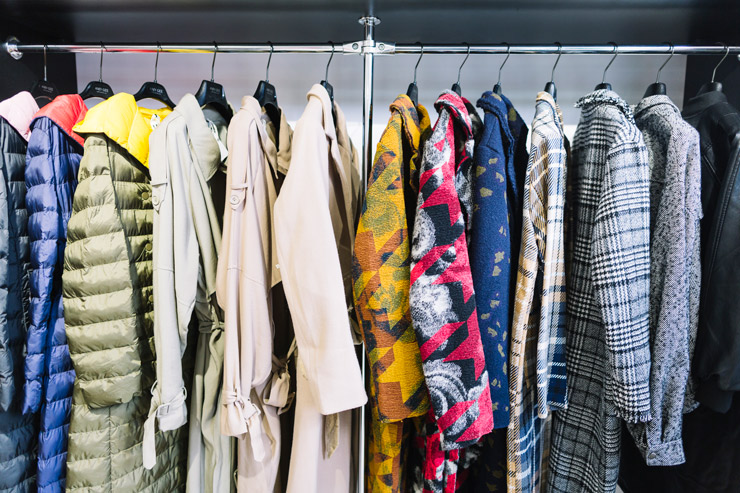 Instead of just letting your heavy winter jackets just hang there in summer, you could hide items in the pockets!
No one is going to bother searching through the pockets of the clothes in your closet.
Just remember to move the items to a different spot before you actually need to use your jacket, or you might find yourself inadvertently taking the valuables with you!
A Fake Cat Litter Box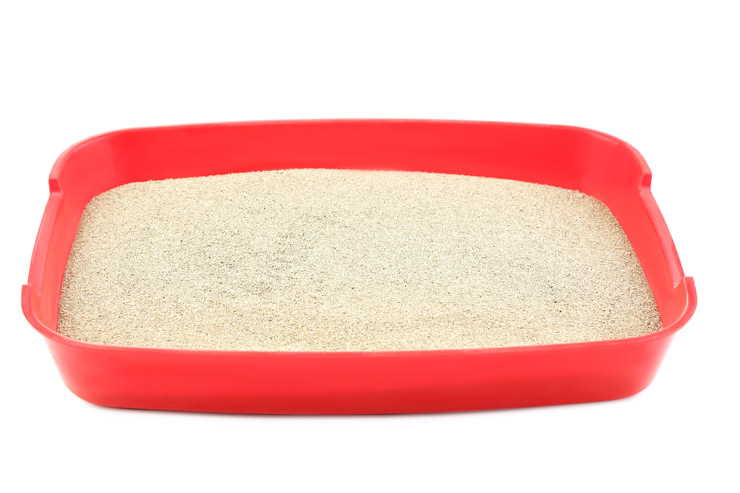 Before you jump in and tell me that's disgusting – please be assured I am talking about a FAKE litter box here. In other words, one that has never been used and will never be used.
This of course will NOT work if you have a cat… for obvious reasons.
But think about it. Who is going to dig through a cat litter to see if anything is hidden in there?
Simply put your items in a Ziploc bag and place it under the (clean) cat litter.
So obvious hey?
Inside A Fake Barbasol Can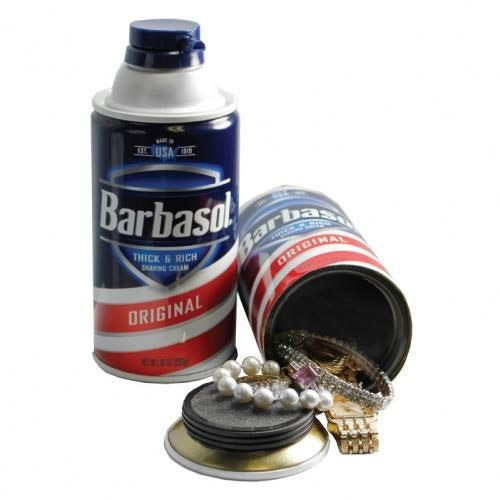 I love this idea – it makes me feel like I am a master spy I need to hide that USB drive that has all the Russian secrets on it.
What this is is a real Barbasol can that has been emptied (obviously) and been modified to that the base screws off. Giving you a decent amount of room to hide valuables or cash.
It looks 100% like a real can and will fool most people.
You can get them on Amazon here.
In A Book Safe
This method goes back to the… well, I don't know but it has been done for a LONG time.
A book with a secret compartment (otherwise known as a book safe) is a cost effective and easy way to hide a range of items you don't want to be found.
The video above from Von Malegowski shows how you can make one yourself, or there are also pre-made versions available on Wayfair.
Make A Wall Outlet Safe
This one requires actually modifying your house (only a little) so might not be for everyone. But it is a GREAT idea.
Basically, the idea is that you place an extra long electrical gang box behind a new wall plate.
The plate can be any type really:
Power outlet
TV outlet
Data point
Even a blank plate
Just don't try to power your vacuum cleaner if it is a power outlet!
You do need to screw the front plate on and off whenever you want to remove or add something, but sometimes easy access is not that important.
Use 'Cold' Storage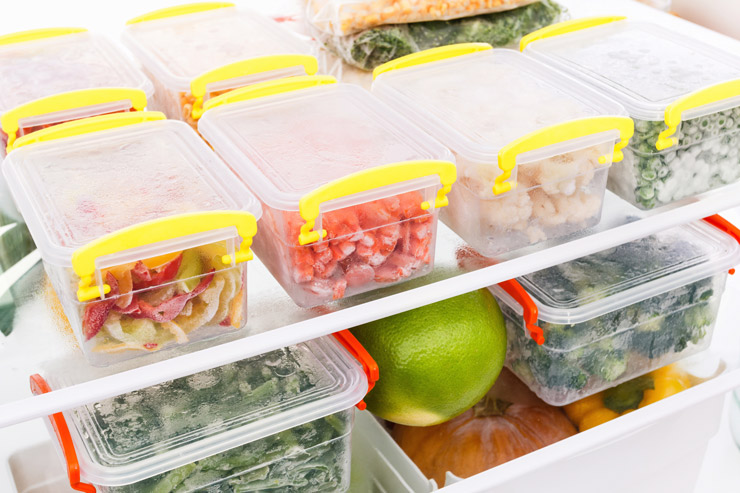 If you are looking for a place to hide some spare cash where no would-be burglars will find it, then try putting some in a Tupperware container and keeping it in the freezer.
For best concealment, choose a container that is either fully opaque or at least frosted so that the cash is not immediately visible to anyone who happens to open the freezer door.
Behind Or Under A Drawer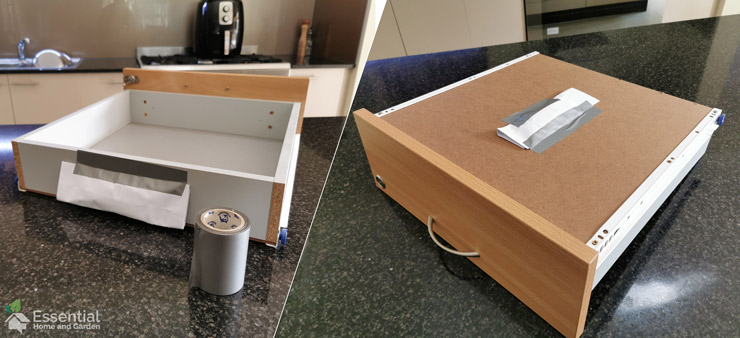 While drawers are one of the first places people will look if they want to find hidden valuables, behind or under the drawers is not a commonly searched location.
Put your cash in an envelope and tape it to the back or the underside of a drawer!
In The Air Return Vent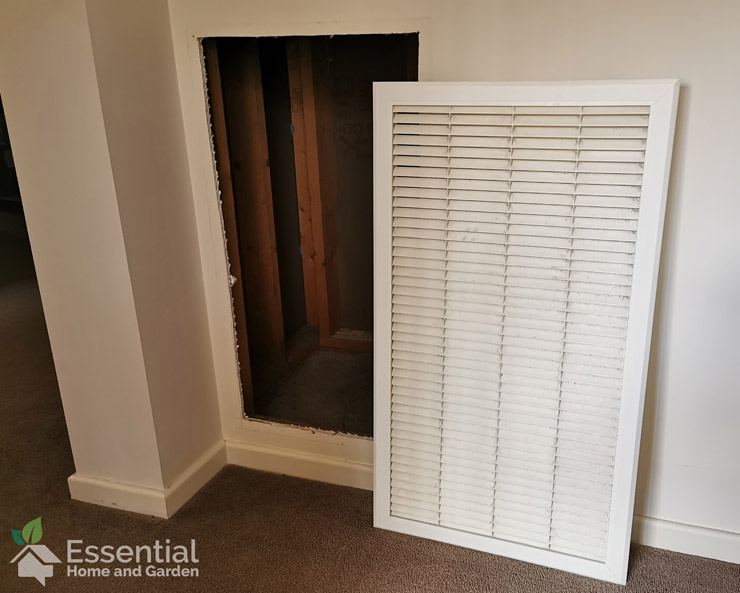 If you have a ducted heating system in your house then you probably have an air return vent.
These vents allow air to be drawn from within the house up into the heating system so it can be re-circulated.
These vent covers are quite easy to remove and often just pull out or you may need to undo a few screws.
Any valuables with a bit of weight can be kept in here, or if you are hiding documents or cash, then make sure they are secured in an envelope and weighed down with something.
Faux Book Box
We mentioned the book safe earlier, well, this is a similar idea but gives you a lot more room to hide larger items.
Basically, it's a box that has real book spines glued to it. It sits on your book shelf and looks just like any other selection of books – except this one hides your secrets!
The one in the image above can be custom made through Amazon to your specifications.
Create a Fake Potted Plant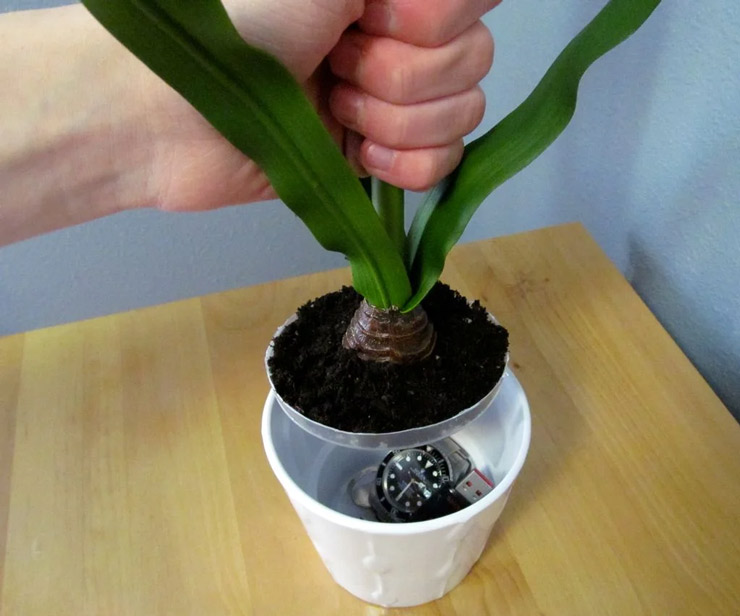 Most people have a few potted plants around the house, why not take that idea and turn one into a fake potted plant with a hidden compartment for valuables?
This guide on Instructables goes through the quite simple process and we think it's a great idea!
Add a False Bottom To a Drawer
This is yet another age old technique, but still one that is effective today.
Adding a false bottom to a drawer is a great way to hide many different items in your house.
The process is fairly simple as long as you have some basic woodworking tools. The video above is a great guide.
Read more: Keep burglars out with a door reinforcement kit.
Paint a Mayonnaise Jar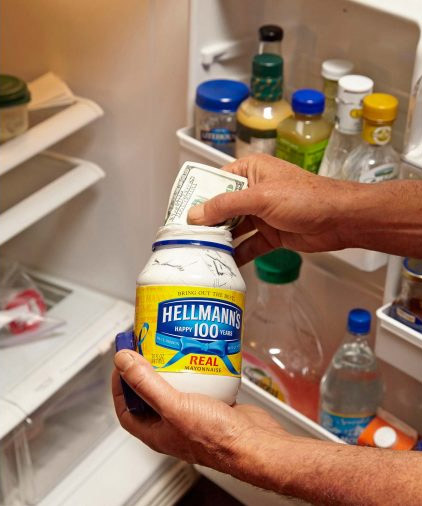 Grab an old Mayonnaise jar, wash it out and paint the inside of it an ivory color. This way it looks like it is still full, and blocks out what is actually inside the jar…
It's super easy and is a great place to hide your cash where most burglars won't look!
Modify Drapes And Add a Hidden Pocket
If the items you are trying to hide are quite small then this trick might be just what you are looking for.
If you have blackout drapes in your home, then carefully split the seams on the bottom corner and stitch in a pocket and some velcro to keep it closed.