In the United States, a home burglary occurs every 15 seconds. According to the FBI Uniform Crime Reporting Program, 95% of these involve forced entry.
Another way to look at this? Ninety-five percent of home burglaries could be prevented if homeowners took the time to reinforce vulnerable entry points.
Regardless of where you live or what other security measures you have in place, installing the best door reinforcement kit is a simple but necessary step to safeguarding your family and belongings. But can it really deter break-ins?
That's where we come in.
We have reviewed the top eight best door reinforcement kits and door jamb security measures to help you find a product that will work for your needs. We've also included our handy buying guide and information on how each element of a door reinforcement kit works so you can go into the shopping process with all the knowledge you'll need to make the right decision for your home.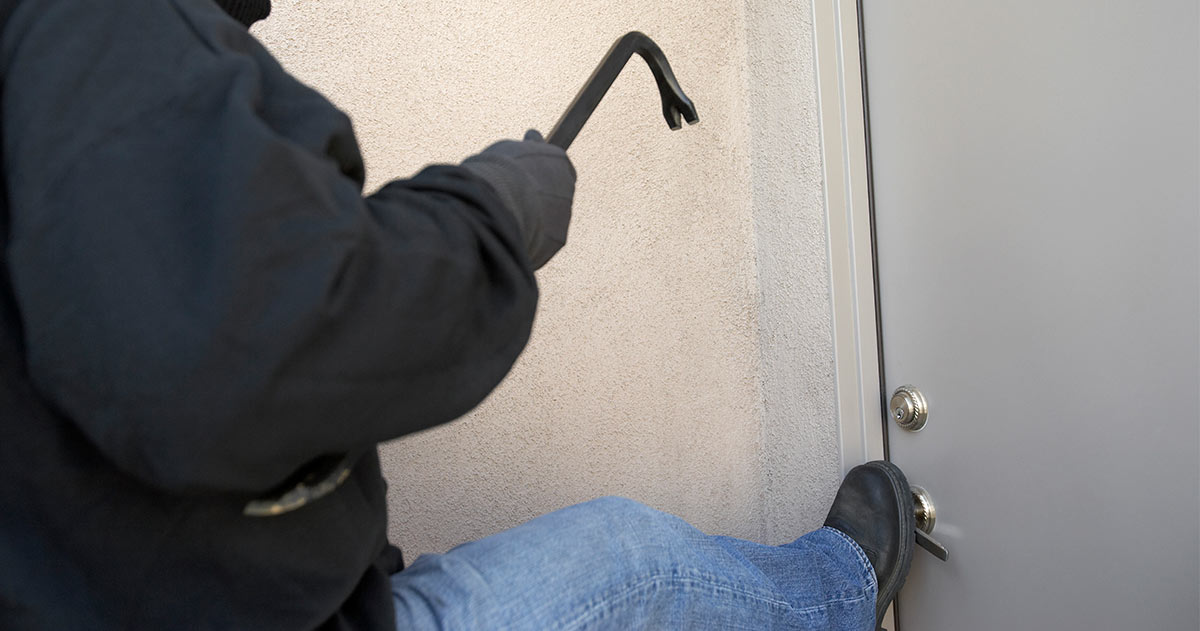 Disclosure:It is important you understand that we may receive commissions when you click our links and make purchases. However, this does not impact our reviews and comparisons. All opinions are our own we pride ourselves on keeping our articles fair and balanced. For more info see our disclosure statement.
Entry Door Reinforcement Kit Comparison Table
Product
Details
Where to Buy

Armor Concepts MAX Plus Combo Set


**Editor's Choice**

Includes: jamb shield, 2 door shields, 2 hinge shields, pry shield
Material: galvanized steel
Price:

$$$$




Check Price Now
Includes: jamb shield, 2 low-clearance door shields, pry shield
Material: galvanized steel
Price:

$$$$

Check Price Now
Includes: double jamb shield, door shield, hinge reinforcement screws
Material: steel
Price:

$$$$

Check Price Now
Includes: jamb shield
Material:

galvanized steel


Price:

$$$

Check Price Now
Includes: six-piece doubled jamb set, two door shields
Material:

 steel


Price:

$$

Check Price Now

Defender Security U 10893 Mega-Jamb Reinforcing Kit


Includes: L-shaped jamb shield, full-width door shield
Material:

 steel


Price:

$$$

Check Price Now

Defender Security Satin Nickel U 10827 Door Reinforcement Lock


Includes: reinforced door lock
Material:

aluminum


Price:

$

Check Price Now
Includes: jamb shield, 4 hinge shields, 2 night locks, 2 door shields
Material:

galvanized steel


Price:

$$$$

Check Price Now
Top Pick – The Best Door Reinforcement
The Best Door Reinforcement
Armor Concepts MAX Plus Combo Set
This six-piece set is strong enough to stand up to a police battering ram and comes with an unmatched money-back-plus-$500 guarantee.
With six galvanized steel pieces to cover every vulnerable area around your door, the Armor Concepts MAX Plus Combo Set will help you sleep easy.
The best door reinforcement kit must be strong enough to stand up to extreme force, cover all weak points on the frame, and be simple to install. This Armor entry door reinforcement kit checks every single one of these boxes.
Each piece of this kit is made of extra-strong, galvanized steel and held in place with self-tapping, 3 ½ inch screws. It will work on brand new doors and frames. If your door is already damaged from a previous break-in, this kit can fortify it.
Door Security Kit Reviews
There is a huge difference in quality between the best door reinforcement kits on the market and the worst. Here are eight you can count on to keep your residence safe from break-ins and intruders.
The Armor Concepts Combo Set is the gold standard in door reinforcement kits.
Each piece is constructed of ultra-strong galvanized steel that won't bend or snap but is still easy to install. All you will need is a drill and about 30 minutes of free time.
The kit includes six pieces total. The jamb shield features punch-out holes to fit locks spaced 4.5 inches to 21.5 inches apart. The two mini door shields fit over existing lock hardware to prevent splintering of the door itself. And two hinge shields install easily over the door hinges to prevent them from pulling out of the jamb.
The last piece of this kit is a pry shield that sits on the door jamb's exterior to prevent burglars from using a pry bar to force the door open. This piece features tamper-proof screws so would-be intruders cannot remove it.
This kit contains everything necessary to secure your door against forced intrusion. And it all comes with the Armor Concepts lifetime money-back guarantee plus an extra $500 check if anyone manages to kick in the door after proper installation.
This kit is available in white, aged bronze, and satin nickel.
---
For the 10% or so of doors that are too tight in the jamb to accommodate the extra space needed for the original kit, you can opt for the Armor Concepts PRO MINI PLUS combo set.
Like the original, the kit consists of strong galvanized pieces that won't break or bend. And each piece is still installed using long screws that will penetrate down to the stud.
Where this kit differs is in the setup of the door shields. Instead of wrapping over the door, the 2-piece door shields connect through the door. It means they do not require any extra space between the door and the jamb.
This kit also lacks the hinge protectors since these would require a little extra wiggle room between the door and the jamb. But you still get the jamb protector, pry bar, and specialized door shields.
Because it is not a comprehensive kit, this model does not come with a lifetime guarantee. But it is still the best product you'll find to fit and protect a low clearance door.
This kit is also available in white, aged bronze, and satin nickel.
---
If you are looking for something that can stand up to extreme force but is a little more subtle in looks and installation, the Strikemaster II Pro reinforcement kit is a good choice.
This kit comes with two jamb guards that install one on top of the other for added strength and stability. The lower guard features a secure strike plate for smooth closure, while the upper has an adjustable tab to ensure both pieces fit securely.
In addition to the jamb guards, this kit also comes with extra-long, case hardened screws for reinforcing hinge plates and inner and outer door shields to fortify the deadbolt area. Each piece is made with white powder-coated steel that you can paint to match your existing jamb.
---
Another of our favorites from Armor Concepts is their a la cart Jamb Shield.
It is the same jamb featured in their pro kits. It is made of galvanized steel and pre-cut with punchouts to fit any lock system with locks spaced 4.5 to 21.5 inches apart. It is simple to install and comes with 3 ½ inch screws that secure into the stud.
This kit is a perfect choice for repairing already damaged jambs. The long screws and solid design assure the door will hold up even in a second forced entry attempt.
This product is available in white, aged bronze, and satin nickel.
---
Old or previously damaged doors have weakened spots. The Prime-Line U 11026 jamb repair kit is perfect for those situations.
The doubled jamb shields from this kit are separated into three shorter sections that overlap. In terms of adding to the strength of the overall system, this feature falls short. But it does make installation easier and is great for doors that need extra reinforcement in focused areas.
The kit also includes two door shields that fit around existing locks to keep the door from splintering.
All pieces are made of steel with a white paintable finish. While not as strong as other kits here, this one does come in at a budget-friendly price.
---
Another fairly straightforward product in the world of door reinforcement is the Defender Security U 10893 Mega-Jamb kit.
This kit includes just two pieces.
The first is a thick, steel jamb shield with a unique L-shape. How does this work? You will need to install it under the trim that surrounds the door. While this does take a little more work, it is worth the extra effort. That L-shape adds extra strength and an additional bracing point in case of attempted forced entry.
The second piece is a U-shaped door reinforcement piece that you will install around the deadbolt. Unlike other door shields that only hug the area between the lock plate on each side, this one extends across the lock for added protection against splintering.
We like this kit because it has a lot of little features that add to the overall strength. But where this kit falls short is in the hardware department. No screws are included with the product, so it is up to the customer to find sturdy screws long enough to tap into the wall stud.
This model comes in a paintable white finish.
---
If your door lacks a deadbolt or if the hardware you currently have is compromised, then all the jamb reinforcement in the world won't stop someone from getting through. For these cases, a specialized reinforced lock, like the Defender Security U 10827 Door Reinforcement Lock, may be your best option.
This lock is super simple to install, requiring just four screws and a pencil, and even easier to operate.
The flat plate is screwed into the jamb with the included 3-inch screws. Once the door is closed, all you have to do is flip the lock piece into place against the door to engage. Once in the lock position, this product can withstand up to 800-pounds of pressure.
There are a few downsides to this lock. You can't easily install it with an existing full-length steel jamb shield. Additionally, you can only set it from the inside, which means it won't work while you're not home unless you exit through another door.
But, in terms of ease-of-install and use, this reinforced lock is a great choice and one that's easy on the wallet.
---
None of the above door reinforcement kits will work on double door entries. For this unique setup, you need a specialized door kit. And you won't find any better option than the Armor Concepts Double Door reinforcement kit.
This kit comes with a long list of parts to secure the many weak points of a double door entry.
The jamb shield fits on the horizontal jamb above the doors, securing the area around the second door lock bolt. The two door shields strengthen the area around the knob and receptacle on each door, and the four hinge shields reinforce the two lower hinges on each door.
Additionally, this kit comes with two night locks. These specialized shields are installed on the floor in front of your door and include a removable slide-out piece that braces the door and prevents it from opening.
Like all other Armor Concepts products, this kit comes with all the necessary hardware and will stand up to forced intrusion thanks to the lifetime guarantee.
All the hardware in this kit is available in white, aged bronze, and satin nickel. Because the night locks are more visible, you can purchase them differently from the other parts.
---
How to Make a Door More Secure Against Forced Entry
Many of the kits above come with various parts, with each playing a specific role in securing your door against forced entry. Here are all the parts of a wholly reinforced door and how each works to keep you safe.
Jamb Shield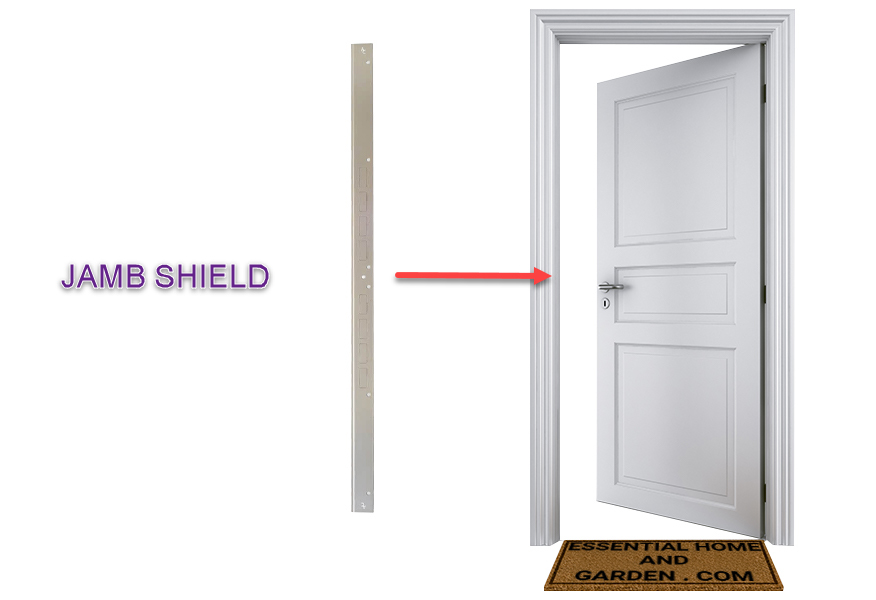 Door jamb reinforcement shields help reinforce the jamb's area that your knob and lock bolts fit into when the door is closed and locked. This area is the weakest point of any locked door, so you should secure it above any other.
Long jamb shields offer multiple anchoring points to ensure durability against extreme force. You can use these shields to secure new doors or repair damaged jambs.
Jamb shields will work with any standard door. They come with different pre-punched holes to accommodate locks of varying distances. Specialty horizontal jamb shields are required to secure double doors.
Strike Plate Shields
Strike plate shields are similar to jamb shields in function but only offer coverage for the area immediately around where the lock receptacles. They are sturdier than traditional strike plates but not as effective as jamb shields in preventing forced entry.
Because they require less hardware and take up less space, they are easier to install than long jamb shields.
Strike plate shields will work on any standard door. You can get specialized shields with different hole lengths or without a striker plate for securing double door entries.
Hinge Shields
Hinge shields are long, flat pieces of steel that fit over your hinges. They are anchored through the original hinge holes as well as at each end. Like all other jamb-installed shields, you will need to use extra-long screws that tap into the wall stud.
These shields protect your hinges from pulling out of the wall in case an intruder tries to kick in the opposite side of the door. They are also effective in stopping a battering ram from collapsing the entire door when used with a jamb shield.
Typically, kits only include two hinge shields (or four for double door kits). Only the two lower hinges need reinforcements because intruders usually kick the lower half of the door.
Door Shields
Door shields reinforce the area around the door hardware on the door itself.
When you reinforce the jamb, the door's weakest point becomes the area around the knob and deadbolt. With enough force, the hardware can pull free from the door, or the door can splinter around these points. A door shield prevents both of these from occurring.
These shields are typically U-shaped and hug the area between the hardware and the jamb-facing side of the door, with a hole for the bolt to move through. Those made specifically for low-clearance doors consist of two parts that are secured together with screws that go straight through the door.
Screws
Screws are the unsung hero of any quality door reinforcement kit. Without long, strong screws to secure the shields and keep them in place, even the most robust shields will tear out of the wall with enough force.
Screws should be at least three inches long to ensure they tap into the wall stud. Screws that are self-tapping and tamper-resistant are the best for this application.
Pry Shields
A pry shield offers an extra level of protection against forced entry. While most door reinforcement pieces are focused on preventing access via inward pressure, such as from a shoulder blow or a kick, pry shields are there to help prevent the door from being pried open.
These shields are installed outside the door over the area where the lock bolts fit into the jamb. Covering the gap between the door and jamb prevents crowbars, credit cards, and any other type of tool from prying the locks open.
Pry shields work with most standard single-door entries. Because the screws are often exposed on these types of shields, look for brands that feature tamper-proof screws.
Door Reinforcement Locks
Reinforcement locks are specialized locking devices that fit inside the door to prevent it from being forced open. Unlike traditional locks that work inside the door, these function more as braces exterior. They are attached to the jamb and fold over the door's surface or connect to it when it's closed to prevent it from being opened inward.
These kits are simple to install because they require few parts and little hardware. However, because they must be set from inside the house, they will not prevent entry while you are away from home unless you use another door to exit.
Reinforcement locks, like this one from Defender Security, work on most standard single-door entries.
Night Locks
Night locks are specially designed to be used while you are home. They typically consist of two pieces.
The first piece attaches to the floor on the inside of the door. The second piece connects to the first and puts pressure on the bottom of the door, preventing it from opening inward. This piece is removable or retractable to allow the door to open when needed.
These locks are necessary to secure double entry doors, but it also works for single doors.
If you want your shed to be burglar-proof, you can learn more about our 13 shed security tips.
Door Hardening Kit Buying Guide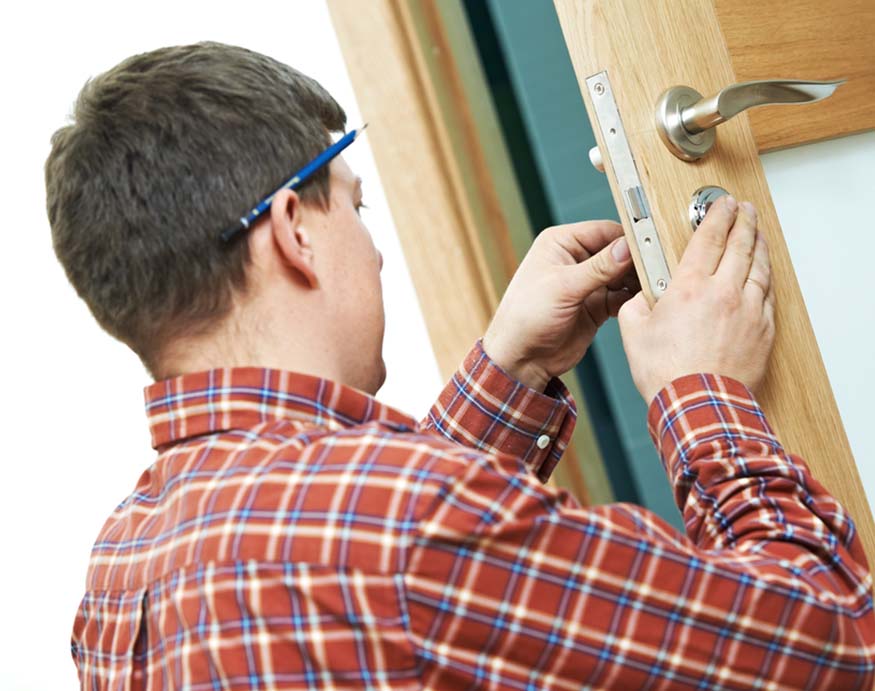 Knowing how each possible piece of an entry door reinforcement kit works is the first step to understanding how to choose the right product for your needs. But there are other features beyond the parts included that you will need to consider.
Effectiveness
This is, by far, the most critical aspect of any door reinforcement kit. If the tools don't prevent forced entry, what was the point of buying the kit?
Highly effective door security kits are made of multi-ply steel or, even better, galvanized steel. The shields should not easily bend or snap. They should also come with solid and thick screws long enough to penetrate through to the wall stud.
If a kit does not include screws, you can always buy your own to use with it. But if a kit includes flimsy or short screws, this is a good sign that the kit's overall quality is lacking. In this case, you are likely better off choosing another option.
Another gauge of effectiveness is the company's specifications and the testing and certifications the product has received. Quality products go through strength tests to determine how much force they can withstand. You should see some listings of these specifications and certifications on the product page.
You can also conduct precautionary measures like hiding valuables in top-secret locations.
Color
While the color of a product has little to do with its effectiveness, it is essential for aesthetic reasons.
Many kits are available in multiple color options to match traditional jamb colors and door hardware. But there are some that come in paintable finishes.
Be wary of raw steel finishes that can't be easily painted and that will stick out like a sore thumb against traditional jamb finishes.
Warranty
Most door reinforcement kits come with some type of money-back guarantee as well as a manufacturer's warranty.
The best products on the market come with a "kick-in" guarantee. It means that the company will automatically replace your kit if it is damaged after the door is successfully forced open. Some companies, like Armor Concepts, offer a monetary pay-out on top of their money-back guarantee if your door is successfully kicked open.
At the very least, the product should come with a warranty against manufacturer defects.
The Wrap Up
There is a wide variety of door security products out there. But when it comes to the all-around best door reinforcement kit, the Armor Concepts Combo Set easily outshines the others.
This comprehensive door reinforcement kit addresses all the weak points of the door and jamb to assure no one can get through. And it comes with a pry-protector for added peace of mind. All pieces are made with ultra-strong galvanized steel and are easy to install with the included extra-long, self-tapping screws.
If you have a low clearance door, the Armor Concepts PRO MINI PLUS offers most of the same great features and a similar security level as the Combo Set, but with special considerations for tight spaces.