Cleaning floors is never fun, and if you have to resort to strong chemicals then it can also be bad for your health. This is where steam mops come in – these ingenious devices means that you can clean your floors with nothing more than water (well, extremely hot water).
Steam mops are extremely effective at cleaning the following types of floors:
Tiles
Linoleum
Some floating floorboards (check with your manufacturer/installer)
Anyway, you probably already know all this stuff and just want to know which is the best steam mop right?
Ok… onto the useful info!
The Best Steam Mops Compared
We have put together this comparison table for you to quickly compare each model and make the choice that fits your requirements.
If you are after in-depth reviews and info on these steam mops then keep scrolling down.
Product
Shark Genius Steam Pocket Mop
Editors Choice
Bissell Power Fresh Steam Mop
Best Value
Hoover Enhanced Disinfecting Steam Mop
Bissell Symphony Pet Steam Mop and Vacuum Cleaner
Our Favorite Steam Mop Reviews
Bissell PowerFresh Steam Mop 1940
It is not a fluke that we have ended up with a number of Bissell products in this roundup. Over a 130 years of experience in manufacturing cleaning tools means that Bissell really know how to design a great steam mop. And this is just one of the reasons that the Bissell PowerFresh 1940 is our favorite mop.
Key Specifications
30-second heat up time
23′ cord length
3 steam settings
Built-in flip down scrubber
2 year warranty
This mop heats up quickly (30 seconds) when compared to other steam mops, and it pushes out a good amount of steam that really cuts through even built up grime and dirt.
The built-in flip down scrubber is great for the really stubborn sticky/dried spots as well as for cleaning dirty grout.
The water chamber can be a bit difficult to remove and we could see this leading to possible accidental breakage by less patient individuals. But the capacity of the tank is great and does cover a surprisingly large area.
We also love how easy it was to assemble and how lightweight it feels while still somehow also feeling sturdy and heavy duty. It really feels like this mop will last for many years.
The included pads were easy to wash and came out looking brand new, even after mopping some pretty disgusting floors!
Bissell PowerFresh 1940 Review
Light, durable and powerful
If you want a mop that heats up quickly, cleans alot and cleans well – then this one should be on the top of your list
Shark Genius Steam Pocket Mop S5003D
Shark Genius mops are well known when it comes to steam mops, and the S5003D doesn't dissapoint. Powerful cleaning power, a modern look, a huge 5 year warranty and great features are why this mop has made our best of list.
Key Specifications
Dual sided mop pads (double the mopping from one pad)
3 setting steam control
Steam blaster for stuck on stains
Touch free technology (no need to touch dirty mop pads)
22′ cord length
5 year warranty
Once again, you will not be disappointed by the cleaning power of this mop. It uses what Shark call "grip pads" to pick up the dirt and grime and they really work. And the best thing about these pads? They are double sides, so when one side is dirty you simply flip it over and continue mopping on the opposite side.
It also has a "steam blast" feature; this is designed to spray stubborn sticky spots with an extra blast of steam to loosen it up. You can then mop over it as normal and the spot will lift much easier.
One thing we did notice with this mop is that it does seem to run out of water quicker than other models, so if you have a large area to clean it may get frustrating.
5 year warranty….what else is there to say really?
Shark Genius Steam Pocket Mop S5003D Review
Easy to handle with great cleaning power
A 5 year warranty, excellent features and touch free technology are all reasons to seriously consider this mop
Light 'N' Easy Steam Mop S7338
At first glance the Light 'N' Easy steam mop is an odd looking device, and you might be forgiven for thinking that it must be a clumsy machine to use…. but you would be mistaken. This steam mop's design is actually quite ingenious and it deserves it spot in our best steam mops list.
Key Specifications
Intelligent steam control – automatically adjusts steam
Square shape to easily get into corners and along edges
Rotatable base
20′ cord
1 year warranty
One of the biggest pains of mopping floors is the ability to get into the corners, along edges and under pieces of furniture. The Light 'N' Easy S7338 makes all these tasks much easier with its clever design. Its square shape with rotating base allows you to mop along edges and into corners with ease, and way the handle is mounted onto this base makes it easy to get under items of furniture without needing to move them.
This model of mop has a feature called an "intelligent automatic steam control" which adjusts the amount of steam released according to how quickly you are moving the mop. This is an interesting feature that certainly makes your water go further, but it can also be a source of confusion for new owners; mainly when they turn the mop on and no steam comes out! This is because the mop will not allow steam to be released until it starts moving.
Our two main complaint with this mop are:
the handle feels a little flimsy, and while it did not actually break, it did feel like it might break for users who are not careful
the power cord sort of just drags along behind with nothing to hold it up out of the way – which was more of an annoyance than a serious problem
Light 'N' Easy Steam Mop Review
A clever design that gets around some common problems of other steam mops
A 5 year warranty, excellent features and touch free technology are all reasons to seriously consider this mop
Bissell Symphony Pet Steam Mop and Vacuum Cleaner
Have you ever been vacuuming the floor before mopping it and thought "there has to be a quicker way"? Well there is, you just probably havent heard of it. Let's change that….I'd like to introduce you to the Bissell Symphony Steam Mop and Vacuum Cleaner. That's right – this little beauty both vacuums and mops.
Key Specifications
Built-in vacuum and steam mop functionality
Two steam settings plus a vacuum setting
Hands-free tank emptying
30-second warm-up time
25′ cord length
Your first question might be "if it has a vacuum in it too, how heavy is it?" Well yes, it is heavier than your standard steam mop, but not my as much as you might expect. The Bissell Symphony pet vacuum/mop weighs in at 10.6 lbs, which is 3-5 lbs heavier than other popular models. So keep this in mind before purchasing one of these.
And the fact that you do not have to run around with the vacuum cleaner to pick up the loose dust, pet hair and other loose muck on the ground is a huge plus. It's a huge time saver and a great feature. But (yes there is always a but), this unit will not replace your proper vacuum cleaner. You will still need to do a proper vacuum every few times to pick up muck stuck in the grout/gaps in the floorboards.
Something small I noticed that really made a difference was the fact that the vac stands upright by itself – without needing to lean it up against anything like most other mops.
The steam function is not automatic and is activated by a trigger which the user activates, although I actually liked this feature so I wouldnt nessesarily call it a negative.
Of course you will pay a bit more for this device, since it does the job of two machines – but I fell it's worth the money.
One thing to consider though is that because the Bissell Symphony Pet Mop/Vacuum does contain more moving parts – there is theoretically a higher chance of this mop failing before others might. But I must stress this is just a theory, we had no problems at all.
Bissell Symphony Pet Steam Mop and Steam Vacuum Cleaner Review
A great mop that saves some serious time
A steam mop with an existing vacuum cleaner is a winning combination.
Hoover Enhanced Disinfecting Steam Mop WH20200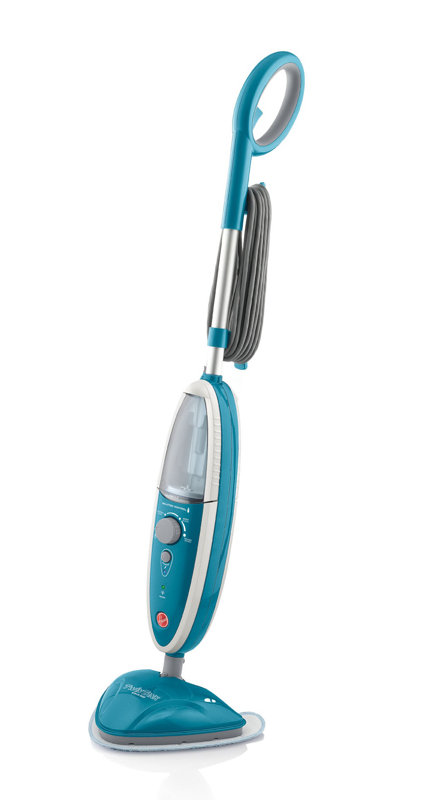 Hoover is a name that is renowned in the cleaning industry, the company started with the upright vacuum cleaner and now have created a steam mop that is truly worthy of the name. The Hoover WH20200 TwinTank steam mop is an innovative design and is the only model in our list that allows you to use a disinfectant solution for your cleaning.
Key Specifications
Twin tank system allows you to use water steam only, or Hoover's multi-purpose disinfectant solution
Triangular mop head for easily accessing corners and along base boards
30′ power cord
Most models of steam mops actually specify that you should not use any additives when cleaning. That is not the case with this model from Hoover, and this is because of the unique twin tank system that they have designed. One tank holds plain water, the other tank can hold a disinfectant solution. This solution not only helps the steam kill as many germs as possible (99.99% so Hoover says), but also assists with lifting stubborn stains and sticky spots.
It comes with a carpet glider attachment that clips to the bottom of your steam mop and allows you to "freshen up" your rugs and carpet. Although don't confuse this with steam cleaning your carpets because it doesn't do that. What it does do is assist to remove any odors along with helping the pile to stay upright.
I can't count how many times my appliances power cords are just a touch too short, but not with this mop – an extra long 30′ power cord is also a nice touch that is actually very convenient.
This mop is actually quite heavy though (weighs in at 10.6 lbs), so if you are looking for mop that is light weight – I would avoid this model.
Our only other complaint about this mop is that it is not the sturdiest piece of technology. While it is heavy, it does not actually feel like it could take a lot of punishment. If you are a rough user and like to bang your steam mop around a bit – I would go for one of our other suggestions.
Hoover Enhanced Disinfecting Steam Mop WH20200 Review
A steam mop with a bit of extra cleaning power
The unique twin tank design lets you use a powerful cleaning solution at the same time as your steam which gives that little bit more that is always handy
What We Look For In a Steam Mop
So what do we look for when choosing the best steam mops? Well there is quite a checklist, but these are some of the main points:
Cleaning power – how well does it clean?
Capacity – how much water can it hold and how much can it clean between refills?
Build Quality/Durability – will it break easily?
Warranty – how long does the manufacturer back their product to last?
Other features – what additional features does it have and how well do they work?
Weight – how heavy is it, and is any additional weight justified?
Cord length – a longer cord is usually better
Pricing last updated on 2018-11-18 at 06:44 / affiliate links - Details
Related posts