Our Rating:
Key Features:
Self Empyting, self washing and self drying
Sonic mopping – scrubs at 2500/minute
4300 Pa suction power
150 Minutes run time
---
Full-Service Robotic Vacuum and Mopper for Truly Hands-Free Cleaning
The newest robot vacuum from Yeedi, the Yeedi Cube, is designed with busy homeowners in mind. Not only does this smart vacuum empty its own dustbin but it also cleans its own mop. Plus it comes with the same user-friendly app and useful cleaning features that we've come to expect from Yeedi.
If you have tile or hardwood, this hands-off vacuum is a game changer in the bid to keep your home clean. But all these extra self-clean functions do mean this vacuum system is quite a bit larger than your typical robo vac set. 
For those with the space to spare, though, it is worth the buy. (And the price tag is quite a bit lower than you might expect.)
I put the Yeedi Cube to the test in my own home, and I can tell you that this is one review vacuum I absolutely plan to hold on to. That's not to say it's perfect, though. You can find out what stands out about this full-service vacuum and where it can still improve, in my full Yeedi Cube review, below.
Review Criteria Ratings
Pros
4300 Pa suction

Vibrating mop head with 1,000mL tank

Self-emptying dust bin

Self-cleaning and drying mop pad

Long battery life
Cons
Spot cleaning has technical issues

Undersized dustbin

Draws extra power
Should You Buy It?
The Yeedi Cube is meant to take the human out of the floor-cleaning equation. While this robot doesn't refill its own water tank, it does do just about everything else, including emptying its own dustbin, cleaning and drying its own mop pad, and performing cleaning tasks on a schedule.
And it does it all with the same excellent cleaning power Yeedi has always provided.
Yeedi Cube Quick Look
Please find, below, a brief table outlining the key specifications of the Yeedi Cube. The information presented is based on empirical data obtained through our rigorous testing conducted in real-life situations.
| | |
| --- | --- |
| Suction Power | 4300 Pa |
| Speeds | Quiet, normal, max, and carpet-boost max+ |
| Dustbin Volume | 400 mL |
| Battery Size | 20 V |
| Battery Life | 2.5 hours (on normal speed) |
| Smart Home Connectivity | Alexa, Google Home |
| Noise Level (high/low) | 60.8 to 72 dB |
| Navigation Type | VSLAM |
| Mapping | Single map with backup option |
| Cleaning Options | Vacuum, Mop |
| Size | 13.25" across, 3.75" high |
Overview of the Yeedi Cube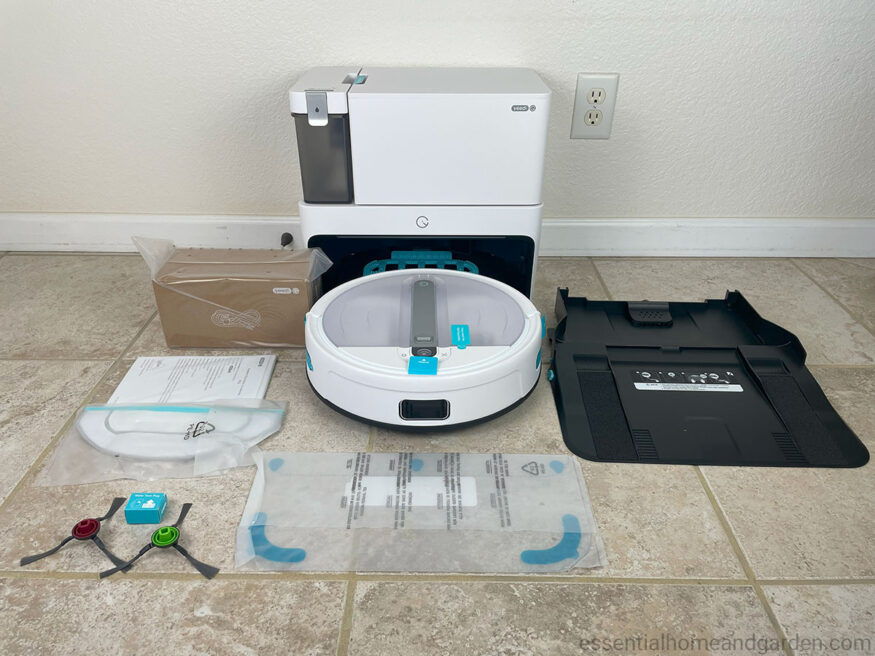 The Yeedi Cube is the latest robot vacuum model from Yeedi, adding to an already long list of capable cleaning bots.
Yeedi, a company that specializes in robotic vacuum cleaners, got its start in 2020. Despite only being operational for three years, this company has already put out 7 impressive robo vacs and vac stations.
I have reviewed many of these products, including the Yeedi Vac 2 Pro, Yeedi Vac Station, and Yeedi Vac.
Compared to previous models, this Yeedi has:
greater suction
more impressive mopping functionality
a much larger water reservoir
an extra edge brush.
And, of course, this model also features the new and super impressive Cube Station.
This self-cleaning station functions as a self-emptying hub for the dustbin that holds up to 60 days' worth of debris. It also, uniquely, scrubs and cleans the mop head during and after mopping sessions. Once the robot is done cleaning and the mop has been scrubbed, the Cube dries it using circulating hot air.
Previous Yeedi mop-capable models feature smart carpet detection that automatically keeps the robot from going on carpets while in mop mode. This model improves on this with the optional "mop lift" function. When this is engaged, the robot will automatically lift the mop head and continue vacuuming when it encounters rugs or carpet.
While the incredible suction power of the Yeedi Cube makes it a great option for carpeted households, the advanced mopping functionality means this robot is especially useful for cleaning hard flooring.
I had the chance to put the Yeedi Cube's mopping and vacuuming skills to the test in my own home.
Keep reading to find out what I loved about this new robot and where it still has room for improvement in my full Yeedi Cube review, below.
How The Yeedi Cube Robot Vacuum Performs
Yeedi sent me a Cube to try in my own home. As with the numerous other robot vacuums and home products I have reviewed in the past, I put this one through many tests. I also used it as any homeowner would for a few weeks to get a sense of what it can do.
Below, I'll tell you how the Yeedi cube performed in terms of cleaning power, battery life, and navigation. I'll also take a closer look at the smartphone app and the many features of this advanced cleaning robot.
Cleaning Performance
The Yeedi Cube can be set to both vacuum and vacuum-plus-mopping mode. I tested both of these modes extensively.
Vacuum Mode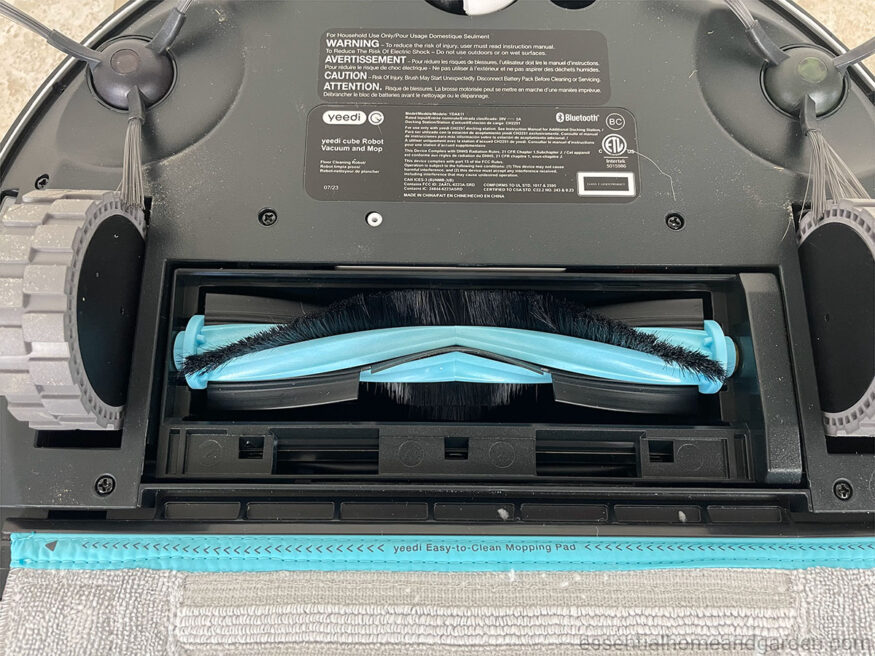 As you know, if you've read any of my previous robot vacuum reviews, I have always loved how well these Yeedi robots clean. Even the older models, which have a lower suction rating than the Cube, have outperformed many other brands when it comes to pulling pet hair and debris from carpet.
The Yeedi Cube, with its 4300 Pa, did an even better job of keeping my carpets and rugs clean.
I could hear the carpet boost turn on every time this robot encountered anything that wasn't hard flooring. Even when it went over my thin, flatweave rug! This led to visibly cleaner carpets and rugs.
To test how deeply the Yeedi Cube vacuum cleaned, I did my standard Shark test. First, I cleaned an area of carpet with the Yeedi Cube, then cleaned it again with my reliable Shark plug-in push vacuum.
Incredibly, the Yeedi was able to pick up most of the dog hair and small debris in the carpet, as well as a good amount of fine dust. The Shark did pull out a lot more embedded dust, but there was not much hair or large debris left behind for it to grab.
My only complaint about the vacuum function is the undersized dustbin. At 400 mL it's much smaller than previous models. And there is no option for frequent dustbin emptying in the app.
To avoid clogs and reduced power, I suggest running the vacuum frequently enough to avoid excess pet hair buildup.
Mop Mode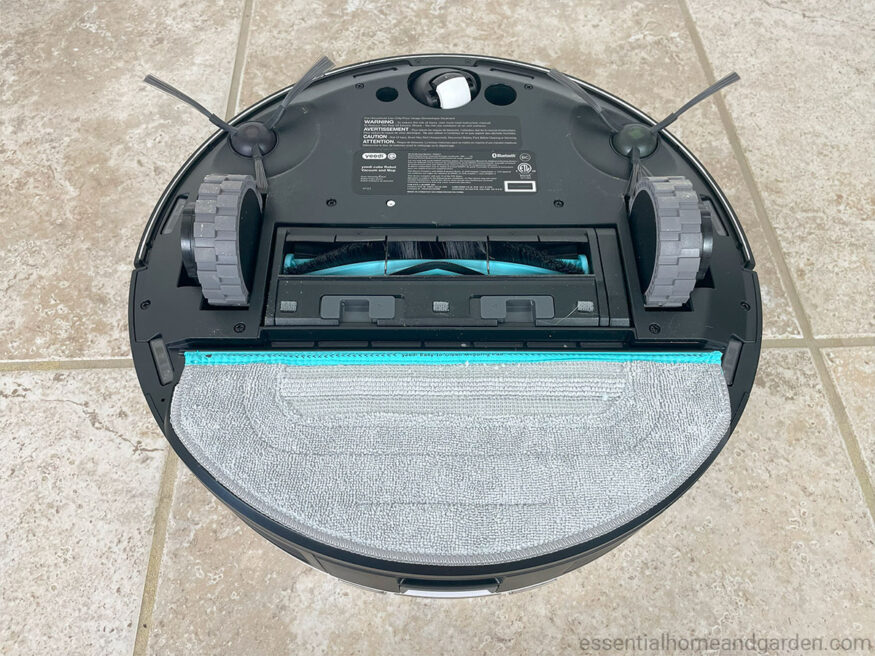 While the incredible suction on this model makes it great for carpets, all the functions available in the Cube Station tell me this robot was really built to mop. And I certainly saw that for myself when I put it to the test on my hardwood and tile.
Unlike most robo vac mop pads that just drag along the ground, this mop head vibrates to help dislodge dirt and grime. This made a huge difference in how clean my floors looked after the Yeedi was done with them.
Thanks to the automatic cleaner on the Cube Station, I knew I wasn't just seeing things, either.
Throughout the cleaning process, the Yeedi returns to the station to automatically scrub and rinse the mopping pad. You can set this feature to occur every 10, 15, or 20 minutes. When cleaning is complete, the pad gets scrubbed for a final time before being dried.
The water from this process is sucked into the reservoir on the cube, which gives you a good visual of how dirty your floors were. And how well they were cleaned!
When I first looked at the Cube, I assumed this reservoir was for clean water and that the robot refilled itself. For the record, this is not the case. However, the water tank on the robot is massive—1,000mL! So refilling it does not have to be done that often, which is nice.
Battery Life
One thing Yeedi has always done well is produce a long-run battery. And, despite the many extra power-drawing features on this robot, this remains true with the Yeedi Cube.
In low suction mode with mopping, the vacuum lasts nearly three hours. Even in normal mode, it can go as long as the advertised 150 minutes.
I did notice that when the vacuum is in vacuum boost more than not, the battery tends to drain much faster. So if you're using it on a floor that is predominantly carpet, expect a runtime closer to 90 minutes.
According to the manual, it takes about 6.5 hours for the Yeedi Cube to charge fully.
One more thing worth noting is that the Cube Station uses a lot more energy than your typical vacuum dock. That's because, in addition to scrubbing the mopping pad and emptying the dustbin, it also spends 3 to 5 hours drying the mop head after each use.
Navigation
Like other Yeedi models, this one uses VSLAM navigation rather than the more advanced LiDAR navigation.
I've tried both types of vacuums and there are certainly some advantages to LiDAR bots. For starters, they tend to map much faster initially and are capable of creating much more complex-looking maps.
But VSLAM robots tend to be more affordable. And they usually have a lower clearance due to no LiDAR module on the top of the unit, which is nice for cleaning under low furniture.
One thing that I noticed a big improvement on in the Cube since previous Yeedi models is the obstacle avoidance system.
I did my standard toy avoidance test to see how well the Yeedi Cube could move around small, medium, and larger dog and kid toys left on the floor. I found that anything tall enough to be perceived by the front camera (about 1 inch off the ground), was largely avoided without much bumping.
As with most vacuums, objects hit with the side were easily pushed around. But even here, this Yeedi seemed to be more sensitive to bumping and often reversed away from the object if it gave enough pushback.
As a mother of a busy five-year-old, two dogs, and a cat, it's important to me that my robo vac be able to navigate around debris easily, so this is a big plus in my book.
Overall, this Yeedi seemed to have no problem fully mapping rooms and covering all ground without getting stuck during normal cleaning. It has yet to get tangled in any chords or suck anything up it shouldn't—all good signs!
Smartphone App
I have always been a big fan of the Yeedi phone app. Compared to many other companies, they have a knack for creating a simple layout that doesn't involve a lot of sub-pages. It's fairly intuitive and easy to navigate.
Another thing I've noticed with Yeedi is that there are occasionally little glitches in their software. And I noticed one right away with the Yeedi Cube.
The model has a spot-clean function, just as most of the other models do. But, unfortunately, it is not usable from the app.
You can select spot clean mode in the app, but there is no option to set the target or spot boundaries. Once you press play, the robot just starts cleaning the whole floor as it does in normal cleaning mode.
You can get around this by using the manual spot clean button on the robot itself. When you press this, the robot will tell you to place it in the spot you want cleaned. Then you press the button again to activate cleaning, at which point it will clean a 1.5-meter square before returning to the base.
But with Yeedi's history of providing quick fixes to these sorts of issues, I'm sure this issue will be resolved soon. And since the app is clean and easy to use otherwise, I can't dock Yeedi too many points because of this glitch.
One other thing to be aware of about this Yeedi is that it does not support multiple maps like some previous models. It will allow you to record and utilize one new map without immediately deleting your previous map. But once you save this new map to customize it, the old one is deleted.
Update from Yeedi: The manufacturer has informed us that multiple maps are coming mid September 2023.
This restriction doesn't bug me too much, though, considering the size of the Cube Station. It's not like you would want to move this dock around to different levels of your house very often!
Yeedi Cube Alternatives
If you're after a hands-off robot vacuum with everything you need to keep your hard flooring sparkling and your area rugs looking great, the Yeedi Cube is an excellent choice. But if you're after something geared more toward carpeted floors or need something that requires even less maintenance, there are other options.
The Roidmi Eve Plus offers auto dustbin emptying and does an excellent job cleaning carpets. The advanced dock doesn't have any fancy mop pad cleaning functions, but this robot does do a pretty great job mopping hard flooring. Best of all, it costs less than the Yeedi Cube.
If you're looking for something even more automated than the Yeedi Cube, you might want to check out the Roborock S7 MaxV Ultra. Like the Yeedi, this robot cleans and empties itself. But it goes one step further by also refilling its own water tank. It also has an impressively high 5100 Pa suction for unparalleled cleaning power.
| | | | |
| --- | --- | --- | --- |
| | Yeedi Cube | Roidmi Eve Plus | Roborock S7 MaxV Ultra |
| Functions | Vacuum, mop, auto empty, auto mop pad cleaner | Vacuum, mop, auto empty | Vacuum, mop, auto empty, auto mop pad cleaner, auto refill |
| Suction | 4,300 Pa | 2,700 Pa | 5,100 Pa |
| Navigation | VSLAM | LiDAR | LiDAR |
| Price | $$$ | $$ | $$$$$ |
Things to Consider Before Buying a Robot Vacuum
Robot vacuums are a great way to automate your floor cleaning chores. And advanced robots like the Yeedi Cube that clean themselves, take even more of this task off your plate.
But it's worth keeping in mind that these super-automated robot vacs aren't for everyone. Not only are they much more bulky than traditional robo vacs, but they also come with a higher price tag.
Whether you're looking at a high-tech, self-cleaning robot or just a simple dock-and-charge option, here are some things worth considering:
Suction rating
Cleaning functionality
Run time
Dust bin size
Mop tank size
Mopping action
Navigation style
Mapping capability
Cleaning modes
The Final Word on The Yeedi Cube
In today's busy world, house cleaning chores often fall to the bottom of the priority list. Automated floor cleaning robots help take this task off your plate so you can get more done.
The Yeedi Cube is an especially great option for busy homeowners. Not only does it vacuum and mop your floor without you having to lift a finger, but it also cleans itself!
The automatic mop cleaner and auto-empty dust bin keep this smart robot cleaning without your input for weeks at a time. And the high suction power, smart cleaning functions, and intelligent design will keep your floors cleaner than the competition can.
To learn more about the Yeedi Cube or to purchase one for yourself, click here.
Yeedi Cube Review: Is This the Future of Home Cleaning? - Essential Home and Garden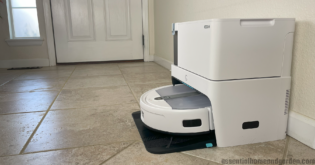 Discover the Future of Home Cleaning with our Yeedi Cube Review! Dive into the hands-free cleaning experience offered by the Yeedi Cube robotic vacuum and mopper.
Product Brand: Yeedi
Pros
4300 Pa suction
Vibrating mop head with 1,000mL tank
Self-emptying dust bin
Self-cleaning and drying mop pad
Long battery life
Cons
Spot cleaning has technical issues
Undersized dustbin
Draws extra power