Looking to bring that nice, comfy feeling of summertime to your outdoor lounge area?
Whether you have an upcoming party or a simple afternoon get-together, outdoor wicker furniture sets can transform an average looking backyard to a more inviting area.
Here is an easy guide to the basics of this exotic option. Take a peak below to see some of the top options available on the market today!
Our Top Pick
Sunnydaze Decor knows how to make top quality furniture, and for this price, this set is an absolute steal.
Its sturdy, rust-resistant, lightweight aluminum frame with bamboo leaf rattan can hold up to 900 pounds (300 lbs per section). A testament to how well made this lightweight material is.
You'll be amazed at how easy this sofa is to move around, and its ability to fit into your outdoor lounge area. You may even find yourself fitting the lounge area around the sofa itself!
Our Top Wicker Furniture Reviews
Sunnydaze Mollendo Wicker Rattan 4-Piece Sofa Sectional Furniture Set
Key Specifications
Comfortable seating for 3 adults
Lightweight aluminum frame to make it easy to move around
Comes with a matching coffee table
No assembly required!
This is one of Sunnydaze Decor's most popular items, and rightfully so, as it is our top pick out of all of these fabulous options we have listed below.
Its simple design, choice of material. and high-quality material, proves you don't need something big and bright to bring your patio to life.
Cheap and low-quality wicker furniture can quickly deteriorate when exposed to outdoor elements. With the Sunnydaze's Mollendo Wicker Rattan Sofa Set, you can have peace of mind. The company is no stranger to outdoor living. They sell all kinds of decor and furniture to meet varying customer needs and applications. Thus, you can expect this sofa to be able to withstand the wind, rain, snow, and much more. It is an outdoor set for a reason, and is made to stay in good condition even if you leave it out in one of those unexpected summer storms.
Its exact dimensions are 28 x 116 x 35 inches, and can fit snugly onto most porches and patios.
The coffee table can be placed anywhere as well. It has a spacious tabletop for cups, plates, and outdoor decor pieces.
It is shaped in a crescent formation, so it can take up a little less space lengthwise, and makes for a bit better face to face conversation. It's these kinds of small details that separate this sofa from the others on our list, and one that your guests will notice when they come over to enjoy your quality hangout spot on a cozy summer evening.
Sunnydaze also offers a 1-year manufacturer warranty, so even on the off chance something happens to this set, you will be covered.
Alcott Hill Cassville Patio Furniture 12 Piece Sectional Seating Group
Key Specifications
Seats up to 8 people
Rust/Water resistant frame
Removable cushion covers
Comes with 2 coffee tables and 2 ottomans
Brought to you by Alcott Hill, a brand that is no stranger to making beautiful pieces of furniture made of high quality material. This outdoor wicker set is no exception. It is durable, sophisticated, and perfect for friendly outdoor get-togethers on a warm fall afternoon.
This set is a bit larger than other pieces on our list. It consists of 2 sofas (with 3 sections), 2 chairs, 2 coffee tables, and 2 ottomans. While it may be a tight fit on a smaller patio, it is perfect for poolside, or even right on the grass in your backyard.
The glass on the coffee tables is made of tempered glass, making it more durable than ordinary glass. Not to mention, if you spill a drink on it, a simple spray with some windex and it will look as good as new. Four small suction cups keeps it in place. This feature also makes it convenient to lift the glass while cleaning.
The cushion covers are removable and waterproof, however it's recommended that you do not leave them out in any crazy storms. A little water won't hurt the cushions, but it's a better idea to take them inside, and let the wicker take on the heavier stuff.
Sol 72 Outdoor 6 Piece Sofa Seating Group
Key Specifications
Can comfortably sit up to 7 people
Includes a larger coffee table with extra space for drinks, decorations, etc.
Includes a wicker storage basket to put pillows, extra cushions, or blankets
Cushions are hand-washable
This furniture set comes from Sol 72 Outdoor. Just like other brands included in our list, Sol 72 Outdoor also makes high-quality outdoor decor and furniture. This set in particular is perfect for medium to large backyards. It has 7 seating capacity and add-ons including a wicker storage basket and coffee table. You can make it is a prime lounge spot for some afternoon sun, or late night drinks.
A sofa, loveseat, and chair make up the seating for this one, and can comfortably fit at least 7 people (3 on the sofa, 2 on the loveseat, 1 on the chair). It's not quite as large as the previous set we talked about, but it is great for those small gatherings between friends. Perhaps those weekly book club meetings you've been neglecting can find a comfortable new location as well!
This set also comes with a table and storage basket to round out the set. The table's dimensions are 16.5" x 47.5" x 24", so a bit long, but it fits perfectly in front of the sofa. It is a wonderful place for board games with the family, or a nice spread of grilled meats off of the barbecue.
The storage basket is perfect for the colder months of early spring or autumn, and will keep things like blankets and extra pillows safe from the elements. Plus, I don't know if the manufacturer would recommend it, but wicker is a strong material and that basket could make for an extra seat if needed!
Also unlike a lot of other cushions on these outdoor sets, these ones have washable covers. Although it is important to note that these are not machine washable! Wash them by hand and let them dry in the sun, and you will have your furniture looking as pristine as the day you shipped it over.
Andover Mills Pendergast 3 Piece Rattan Seating Group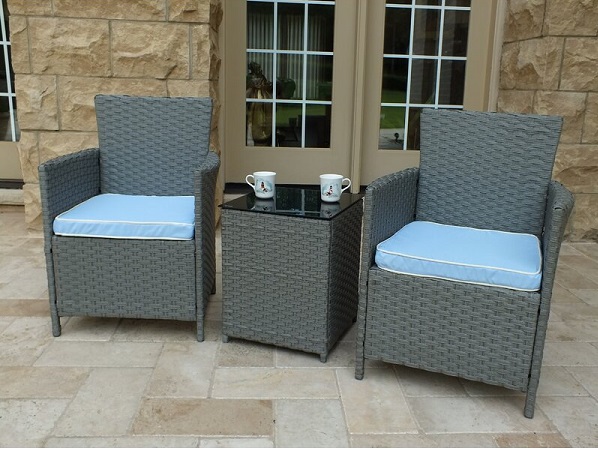 Key Specifications
Very lightweight, can be moved easily
Sleek and good looking black tempered glass
Can be used even on smaller patios and decks
Sturdy and weather-resistant steel frame
Andover Mills is a top furniture brand known for their versatility and affordability. They have experience doing both indoor and outdoor furniture, and this one is a simple yet effective wicker set that is great for intimate talks, or just an evening coffee with an old friend.
This set consists of 2 chairs and a small table, with a cushion included for each chair. The table's measurements are relatively small, looking like 20" x 16" x 16" but leaves plenty of space for a couple tea cups and the morning paper.
It's simple, and through that it has a sense of intimacy that you won't see as much of in the larger furniture sets. This set really invites one-on-one conversation, and while you may not see it in the numbers and specifications, you can just see yourself having a deep conversation with a long lost friend in one of those chairs.
Out of all of our top 5 outdoor wicker furniture choices so far, we would say this one is the most versatile for sure. The other sets tend to take up a lot of space, but this one can be put on even the smallest of porches and patios. However, it can work just fine poolside as well, simply put an umbrella behind it and it will become a nice cozy place to cool off on a hot summer day.
Not to mention, the black tempered glass on the table looks flat out beautiful. It matches the set so well, and is basically spill proof. All you need to do is give it a wipe with a paper towel, and a quick clean with some windex will make it as smooth and clean as ever.
The only qualm with the tempered glass is that, because it is black, it will absorb heat pretty well. So this set is best suited under a bit of shade, which is why if you have a smaller patio or deck, this would be a perfect way to bring it to life with some beautiful furniture.
Brayden Studio Huang 5 Piece Rattan Sectional Seating Group
Key Specifications
Moveable design allows it change to different shapes for seating or lying
You can choose from 5 different cushion colors
Large ottoman with plenty of space to kick your feet up
UV resistant frame, durable against bright sunlight
Wrapping up our top 5, Brayden Studio gives us a couch, ottoman, and table combo. Brayden Studio offers great prices for all kinds of home furniture and decor, and this wicker set is one of their best.
The adjustability of this set is really what sets it apart from the others. Just taking a look at all the different ways you can set up this one will leave your head spinning with all the creative possibilities you have available.
You can split the couch in half and put the table in the middle, split off the two corner pieces and make 3 chairs, go nuts!
Another thing that makes this set unique is that the ottomon is nearly as big as the table. The ottomon's dimensions are 12" x 29" x 29" which leaves plenty of space for multiple people to kick their feet up and relax.
This comfortable and affordable combo is perfect for catching some toasty summer rays, or laying out on a chilly autumn evening. It's versatility and ability to withstand many different weather conditions makes it a gorgeous addition to any outdoor lounge area. For those that are creative and love to change up their furniture, this product is a great choice for you.
While the previous set we described with the 2 chairs and a table was versatile because of its size, this set is versatile due to its maneuverability. Being able to take sections apart and reposition them is something not much other wicker furniture sets can boast about!
What Really Is Wicker Furniture?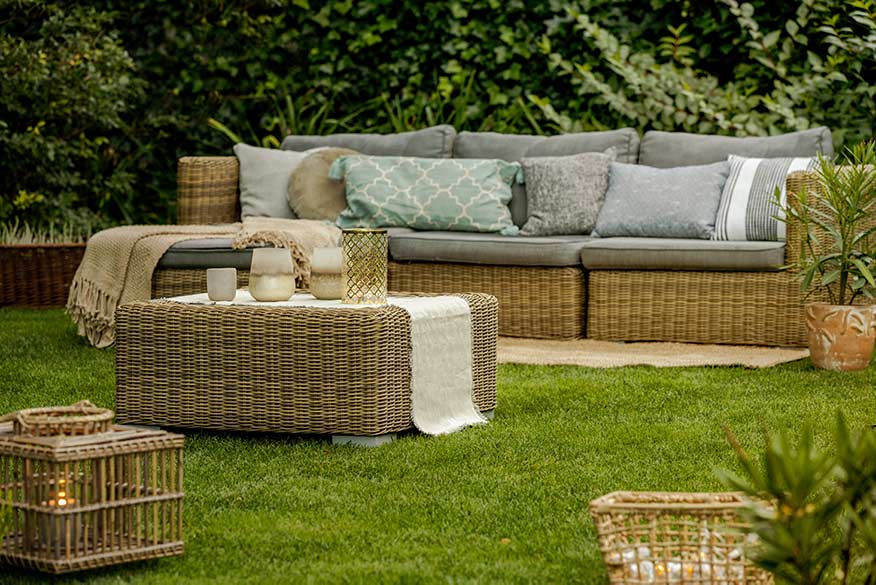 Wicker is actually not a material; it's a type of weave. This weaving technique has been around since ancient Egypt, and has persisted as a method of making durable furniture to this day.
For the most part, rattan is the material used to create wicker furniture. A big advantage of rattan as a material is that it is very flexible. This lets manufacturers make it into shapes which are not possible with materials that are much more rigid, as the vast majority.
Cheap brands use leftover strands to weave their sets, and this is often why the wicker starts to unravel. Quality sets use minimal strands to keep their entire piece together as one. End strands are also wrapped around the frame several times and stapled to the frame to prevent them from unraveling.
Spotting cheaply made wicker furniture can be tough, because if they're both new, it is really difficult to tell the difference between the cheap stuff versus the well made. You may think you're getting a good deal, but knowing which materials to look out for and looking to see how the weaving is put together can really net you the best deals you can find.
While rattan does come in what seems like an endless array of shapes there are usually only a handful of colors. Yet all of these colors are actually neutral so it means that they can be used to match any color scheme you have with guaranteed success. White, grey, brown, and black rattan garden furniture are the most common and easy to find.
Wicker furniture is also one of the easiest to add your own personal flair to. The color of the rattan is neutral, so you are free to put nearly any color cushions on it. Most people go with bright colors to go along with the outdoorsy aesthetic that wicker sets bring, however what looks like a rather dull colored piece of furniture can easily turn vibrant with some creative input.
Wicker Furniture Buyers Guide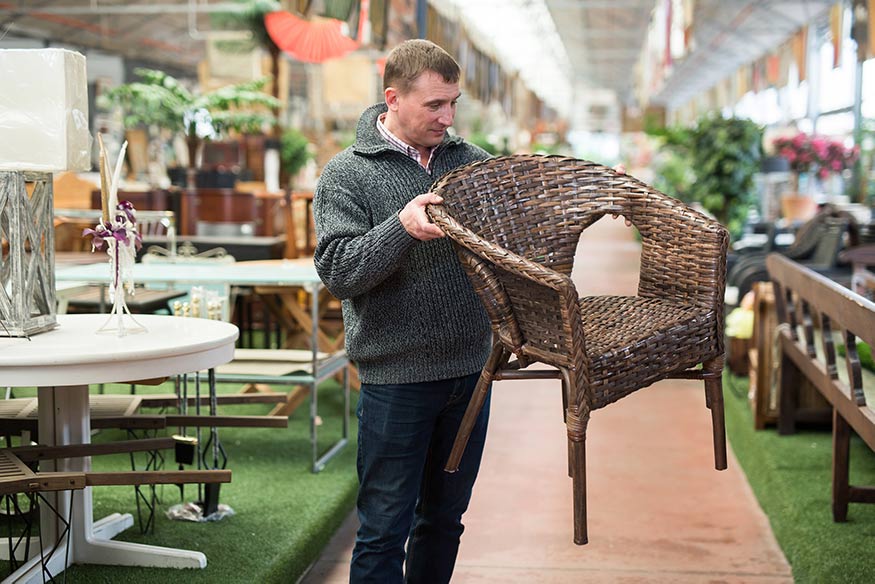 Any time that you're in the market for a new piece of wicker furniture to liven up your outdoor arrangements, there's a checklist of aspects and features that you should keep in mind. In an effort to make it easier for you, we'll give you a rundown of some of the most important.
The aspects of wicker furniture that are most important to understand include:
Materials
Support System
Location & Specs
Environmental Factors
Comfort Levels
Shopping Online
Materials
Materials are an important part of choosing patio furniture, because as we said before, cheap materials will unravel and will not be able to maintain that same kind of beauty you paid for.
Different materials vary in weight and strength, so you may want to consider where and how you will be placing your furniture before deciding on a material.
Typically plant materials such as rattan or cane are used as the material for wicker furniture, but there are some that use alternative methods. Resin wicker is typically made with thin strands of PVC, nylon, polyethylene, or high-density polyethylene.
While resin wicker furniture offers better protection from the elements it loses a bit of its natural look that buyers tend to love. If you plan on using your wicker furniture a lot it may be a smart idea to look into nylon wicker furniture as it typically lasts longer and is a bit more durable.
On the other hand if you are looking to simply use your wicker sets as a display, the rattan look should be exactly what you're looking for. Of course, you can still use the rattan furniture just fine, but after a while you may see some wear and tear if you use it year round.
Support System
The weave may look nice but what's underneath? If you're sitting on the weave, it is going to stress out the wicker strands especially where they're attached to the frame. Then, if you're unfortunate enough to not pay attention to the weight limits, snap! They'll break off and your beautiful patio set will unravel completely.
Good brands use thicker gauges of aluminum and netted support beneath the seating (not visible from the top). This helps distribute the weight across the entire chair and not just on the wicker.
If you look back to our top pick, you'll see it uses an aluminum frame, and the great thing about aluminum is that it's both strong and lightweight.
Other frames will be iron or steel, and while they are a good bit heavier, they are also strong and will keep the structural integrity of the piece of furniture intact. Not to mention, these metals are very good at keeping their strength through tough weather, and what good is outdoor furniture if it can't hold up to some rain and wind?
Wicker furniture has this sort of magical way of seeming light and flimsy, but is actually very structurally sound. Much of that structural integrity comes from the support system, and if you are going to check for anything, absolutely check what kind of frame is underneath that wicker chair or couch.
Location and Specs – How Much Space Do You Have?
A classic mistake for furniture buyers in all kinds of ways. Some people will just get a little too excited and spring on that nice furniture set that will "probably fit" on their deck, when it is actually spilling into the yard.
You need to get the dimensions of the space you're planning to furnish down. Are you outfitting a hardwood deck, garden, patio, or poolside? Each of these areas has its own different specifications to consider when thinking about what wicker furniture to buy.
Remember that set with the table with the pretty black tempered glass we mentioned earlier? That table might not be the best decision if it is going poolside out in the sun all day. If you put a cold drink on that the ice in it will melt by the time you're halfway finished.
Also there is a reason sellers have the length, height, and width of every piece of furniture they sell. You typically do not have to worry about fitting outdoor furniture through a door, but making sure it is not spilling off of your patio is something you absolutely should take into account.
Take a moment to think three-dimensionally too. You may have to use a little imagination to picture what it would be like to be seated in a particular spot. Sure, the furniture itself might fit snugly on your deck, but will you be bumping into someone every time you stand up? You should try your best to make sure that family barbecues do not turn into a game of Twister.
Environmental Factors – What is the Weather Like Where You Live?
This is a critical factor that many people forget about until it's too late. Wicker furniture is designed so it can withstand weather, but there are plenty of places in the world where the weather can get a bit extreme.
This harkens back a bit to what we said about paying attention to what material your wicker furniture is made of. If you are on a bit of a budget you may want to keep the cheaper brands out of the elements and perhaps keep them under a roof on a porch.
Most wicker furniture is not made to withstand heavy downpours, and strong wind will sometimes blow the lightweight pieces away. Many beach houses will have wicker furniture, but these same beach towns are prone to strong storms and even hurricanes. It is a great idea to have a spot inside to bring your furniture in to keep it safe from any damage from any wild weather.
On the other side of this, the lucky few that may live in sunny California, may not see the kind of extreme weather others do. However, excessive sun can also damage the material used in wicker furniture as well.
A few of the top 5 picks above mention UV resistance, and this is just as important as water resistance in many cases. The sun will wear on the material of the furniture, drying it out, and eventually may cause it to become much more sensitive to any water that does come into contact with it.
Not to mention, the better weather your location has, the more likely you're going to want to use your wicker furniture. Human usage will certainly accelerate the wear and tear, and before you know it you may be sitting on the ground when you expect to be sitting on your seat cushion!
Comfort Levels
Comfort choices were a bit limited in the past, and are much more taken for granted these days. Before, there were wooden or metal seats that you could cover with cushions that tied around the frame. Then there were those heavy plastic straps that made a squeaky sound whenever you scooted across them.
Now, there are plenty of excellent choices from which to choose. There are lightweight synthetic weaves used to create fabric slings and webbings that stretch and conform to your body. There are als quick-drying foam cushions that pull water from damp clothes and allow you to sink into more relaxing positions.
Every single one of our top choices listed above come with cushions, and ways to affix them to the chair, sofa, or loveseat for the best possible sitting possibilities.
One of the best ways to test wicker furniture is not to look into all the numbers, frames, and materials used to make it, but to simply just take a seat.
If you can sink into the cushions, and just get the feeling of relaxation your first time sitting in it, just imagine how it'll feel when you finally get your groove into it. Which is why an important question to ask when shopping around for wicker furniture is always, what do the seat cushions feel like?
Shopping Online – Is it Better or Worse?
The potential benefits of shopping on the internet for wicker furniture are enormous. In the past, you would have to wait for a local rattan garden furniture sale which might not have what you're looking for, or even happen at all.
By using the internet you can find deals any day of the week, and even year-round, which was unheard of even a few years ago. If you were thinking of looking for discounts in an actual store, you will also find a much wider range of options than you will locally by keeping your search online. Sellers and manufacturers from around the world are moving online, and with that much more competition, comes that much better deals.
Online purchases often have a warranty tied to them as well, so if something ends up being wrong, you can almost always get it fixed or send it back without worrying about losing money.
The downside of shopping online, of course, is time. You will not be able to take that wicker furniture you purchase home with you the day of, and for some people time constraints may be an issue.
Plus, there are plenty of workers inside an actual store that can answer any questions you have. If you are a first-time buyer and haven't done much research (even though by reading this far in the article, we think you're doing pretty well in the research department) it might be a good idea to go in person to ask questions.
The Wrap Up
So here we are, and I think we all know who the winner of our top 5 best outdoor wicker furniture choices is. It is our top pick, the Sunnydaze Mollendo Wicker Rattan 4-Piece Sofa Set.
I couldn't tell you what's more to be said about this set, it's still eye-catching with such a simple design, durable, intimate, and best of all available. However it is not without its competition, some of these sets certainly gave it a run for its money.
The Alcott Hill Cassville Patio Furniture 12 Piece Sectional Set is the best for larger group gatherings, and the Andover Mills Pendergast 3 Piece Rattan Seating Group is just perfect for a smaller intimate setting.
Nevertheless, we believe any and all of these wicker furniture sets are great choices for your outdoor lounge area. And we hope they encourage you to fire up the grill, and become the new hangout spot where you can create all kinds of fond memories!