The last thing you would expect after pulling laundry from the dryer is for those clothes to be dirtier than when you put them in. But if you're using a traditional commercial laundry detergent, there's a good chance your clean clothes are actually harboring toxic chemicals with known negative health effects.
Natural and non-toxic detergents are a safer alternative to most common commercial products, but they aren't always effective at removing dirt and stains.
If you're desperately looking for something that will truly get your laundry clean without leaving behind nasty chemicals, then this list is for you.
We've tried, tested, and reviewed the best non-toxic laundry detergents on the market. From specialty subscription brands that are worth the extra effort to well-known eco-favorites, you can count on each of these to clean your clothes safely and effectively.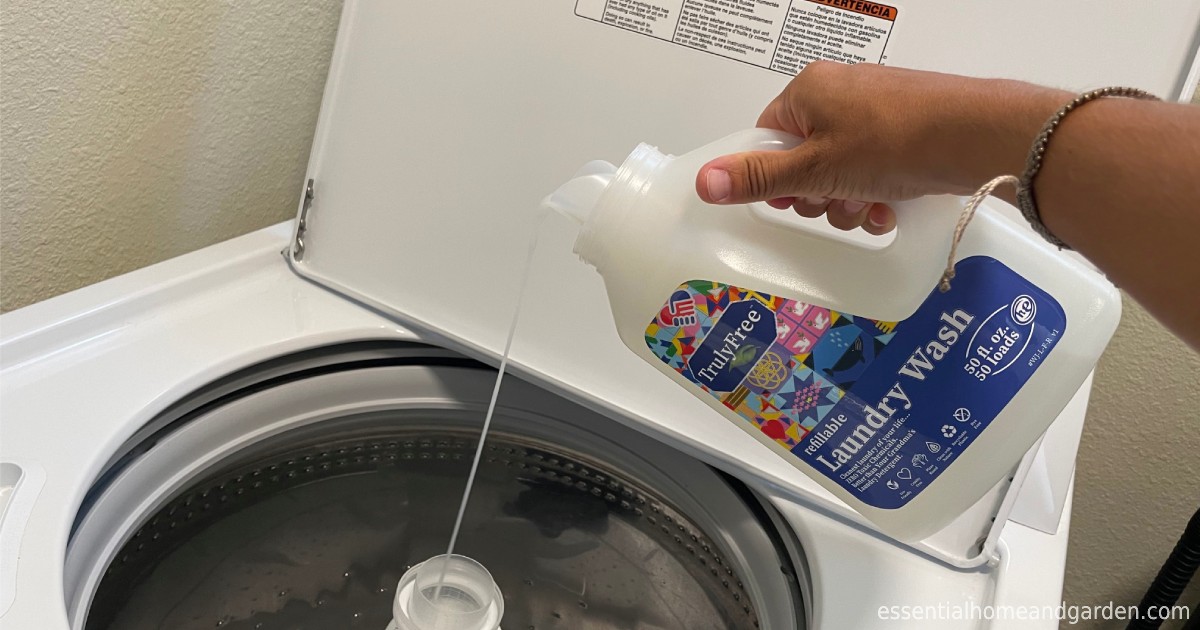 Disclosure: We may receive commissions when you click our links and make purchases. This does not impact our reviews and comparisons. All opinions are our own. We pride ourselves on keeping our articles fair and balanced. For more info see our disclosure statement.
Natural Laundry Detergent Quick Comparison
Product
Details
Where to Buy

Form: Powder concentrate
Scents: Unscented or scented
Active ingredients: Minerals and salts
Natural content: All-natural

Check Price Now

Form: Liquid
Scents: Multiple scents
Active ingredients: Lipids, glucosides, and enzymes
Natural content: All-natural

Check Price Now

Form: Powder
Scents: Unscented or scented
Active ingredients: Minerals, glucosides, and enzymes
Natural content: All-natural

Check Price Now

Form: Pods or powder
Scents: Unscented or scented
Active ingredients: Minerals, salts, and enzymes
Natural content: 92% natural

Check Price Now

Form: Liquid concentrate
Scents: Unscented or scented
Active ingredients: Glucosides, fatty acids, and enzymes
Natural content: 97% natural

Check Price Now

Form: Powder
Scents: Unscented
Active ingredients: Minerals and natural surfactants
Natural content: All-natural

Check Price Now

Form: Powder
Scents: Unscented or scented
Active ingredients: Minerals
Natural content: All-natural

Check Price Now

Form: Sheet
Scents: Unscented or scented
Active ingredients: Naturally derived surfactants
Natural content: All-natural

Check Price Now

Form: Ultra-concentrated liquid
Scents: Unscented or scented
Active ingredients: Alcohol ethoxylate, glucosides, and enzymes
Natural content: 99.4% natural

Check Price Now
Our Top Pick: Truly Free Home Laundry Detergent
Best Non-toxic Laundry Detergent
Truly Free Home Laundry Detergent
Safe and effective non-toxic products
Less plastic waste
Cruelty-free
Made in the USA
Truly Free, an up-and-coming home product subscription service, carries some of the best all-natural laundry products we've tried. Their detergent is made entirely of natural minerals and essential oils. And they have some optional extras like OxyBoost packs and natural stain sticks that can tackle even the dirtiest of loads.
The best part? These highly effective natural products come in small packs with reusable containers to help reduce waste.
What We Look For in Non-Toxic Laundry Detergents
Finding effective natural detergent can be a challenge, but so can simply finding a product that is as clean as the label says.
For our list, we started by checking the ingredient labels to assure none of the ingredients used are known to cause health or skin issues. Then, we dug a little deeper to assure that what is in the bottle or box works to effectively remove dirt, grime, and germs, so your laundry will come out as clean as possible.
No Harmful Products
It's amazing what they'll let detergent manufacturers put into their products. This is true even of some well-known "pure" and "hypo-allergenic" brands.
The first thing we looked at before considering products for this list was the ingredients used. If any of the following were used to create the detergent, we immediately moved on to the next option.
Why? Keep reading to find out.
Phosphates – Phosphates increase the cleaning power of detergents. But they also poison waterways, kill marine animals, and come with a long list of terrifying health effects. They've been proven to increase the risk of cardiovascular disease and osteoporosis, and even contribute to all-cause mortality in healthy individuals.
Sodium Lauryl (Laureth) Sulfate (SLS/SLES) – Originally created to be a floor degreaser, these surfactants are in most commercial detergents, soaps, and even shampoos as a foaming agent. These chemicals have long been known to irritate the skin and eyes. They can also irritate the respiratory system and have mutagenic effects on cells in the body.
Formaldehyde – This chemical has been known to cause cancer and health problems for decades, yet it is still used as a preservative and antibacterial in many laundry products. Skin contact can cause tissue death and allergic reaction, while breathing in the fumes increases your risk of cancer, according to the CDC.
Dioxane (Diethylene Dioxide/Diethylene Ether) – This well-known carcinogen is actually banned from use in personal care products in the EU, but is still found in laundry detergent in those countries, as well as the US. Dioxane isn't intentionally added to products, rather, it forms during chemical reactions used to create other common ingredients. The FDA recommends this dangerous irritant be filtered out of the final product but there are no laws requiring it.
Ammonium Sulfate – This inorganic salt is highly restricted because of the environmental impact it can have if leached into the waterways. Yet it is commonly used in many detergents that go down the drain. On the health side of things, it is considered toxic and is especially irritating to the skin and eyes.
Brighteners (Optical/UV) – While the immediate effects of these chemicals are milder, they're some of the more terrifying ingredients to have in laundry detergent because they're made to coat your clothing and never come off. Brighteners help hide stains by bonding with the fabric and reflecting light. They are known eye, skin, and respiratory irritants, and are very toxic to marine and aquatic animals.
Fragrances – Artificial fragrances in laundry products are one of the most common causes of skin reactions, especially in children. Worst still, the ingredient "fragrance" is often used as a way to hide toxic additives common to detergents. Many of these disguised ingredients are known carcinogens and endocrine disruptors.
Dichlorobenzene – This solvent is common in detergents, laundry sheets, and fabric softeners. Alone, it has been shown to cause respiratory effects and even heart attacks when inhaled in large quantities. But the bigger problem with this benzene chemical is that it can form dangerous DDT compounds when mixed with chlorine—another common chemical in detergents and present in most tap water. This human carcinogen is known to affect the liver and nervous system and can cause reproductive harm, according to the CDC.
Effective, Safe, Natural Ingredients
Finding a product free from toxic chemicals is just step one to securing a safe, effective laundry detergent.
Step two is finding one that has the right natural ingredients to actually clean your clothes.
Minerals – Naturally occurring salt minerals or sodas are used in non-toxic laundry detergents for everything from softening hard water to repelling stains. The manufacture of some of these salts is associated with certain adverse health effects, but the final products are generally considered safe.
Enzymes – Enzymes naturally break down organic substances. Some are best at denaturing oil, while others target proteins or starches. Detergents with added enzymes tend to do a better job removing stains without extra help.
Essential Oils – Essential oils are common in scented natural detergents as a means to add fragrance using a safe, natural compound. As long as the user isn't allergic to the plants these oils come from, they are very unlikely to cause skin reactions. Some oils, like lemon, can also be added to aid in cleaning as they are very effective degreasers.
Natural Surfactants – Natural surfactants are made from animal or plant fat and have been used to make soap since the beginning of soap. Unlike synthetic surfactants, which are made from petroleum, these are safe for humans and generally have a low environmental impact. Naturally derived surfactants are created from these more natural, eco-friendly sources, but can be changed in ways that make them harmful, especially to the environment.
The Best Non-Toxic Laundry Detergents
Truly Free laundry detergent is a powerful product made with a short list of natural mineral ingredients. The scented variety contains just seven naturally occurring compounds plus some wonderful smelling essential oils. The sodiums and salts used in the mix help remove stains, brighten fabrics, and protect them from getting resoiled in the wash.
Like other Truly Free products, this laundry detergent is available through the company's subscription home care service. With this subscription, you'll also get access to all their other great laundry cleaning products, including stain care sprays and sticks, oxy boost options, and laundry sheets.
We love Truly Free for their simple-to-use, all-natural, and highly effective products (just read our hands-on review). But we also love how this company uses reusable containers and limited packaging to help reduce resource waste.
Pros
Cleans very well
Scented option has a pleasant, lasting scent
Short list of ingredients
Cons
Requires reusable plastic bottle
Pricey when ordered alone
---
Mrs. Meyers products are well known for two very good reasons. The first is that they smell amazing. Whether you're talking about their hand soap or their laundry detergent, the essential oil blends used in these products are stronger than your average all-natural product.
The scents in the laundry detergent are powerful enough that you can smell them on your clothes for weeks after. This is great if you love their many fragrances. But not so good if you have really sensitive skin.
The second reason people love Mrs. Meyers is that their cleaning products are highly effective. And this is true of their laundry detergent as well. Their liquid detergents are made of natural glucosides, lipids, and enzymes.
In addition to these all-natural detergents, you can also find Mrs. Meyers fabric softener, dryer sheets, and stain remover.
Pros
Smells great
No mixing
Powerful cleaning and stain removal
Cons
May be too much for sensitive skin
Longer ingredients list
No reusable bottles
---
Molly Suds is a popular natural brand that has quite an online following. Their huge product line contains detergents for every need, from their original mineral-based formulas to their 2-in-1 oxygen booster, to their baby-specific enzyme formula.
They also have a number of scents to choose from. Though, compared to others on this list, these scents do not have quite the same staying power.
What we do love about Molly Suds is their short list of natural ingredients. Their original formula contains just 4 easily recognizable minerals and salts. Their more complex formulas have longer ingredient lists but only contain mineral and plant-derived ingredients and effective enzyme cleaners.
Pros
Different formulas for different needs
Highly effective
Concentrated for less waste
Cons
Scents don't last after wash
Not as effective with cold water
Can leave a build-up in the washer
---
Another online retailer for natural home products that we love is Grab Green. Their laundry detergents have a slightly longer list of ingredients, but each item is presented in a transparent way so you know what you're getting.
In addition to multiple scent options, from unscented to vetiver and lavender vanilla, you can also choose from normal or delicate formulas.
Like other natural products on this list, these detergents are made up primarily of minerals and salts. But they also include multiple enzyme blends to help break down stains and grime. The lipase enzymes target oils, the protease enzymes target proteins, and the alpha-amylase enzymes target starches.
For a super-charged, 92% natural laundry detergent that can take on stains like no other, Grab Green is the way to go. You can find Grab Green products on their website or on Amazon.
Pros
Cleans extremely well
Easy to use
Different options for different needs
Cons
Not all products are 100% natural
Does not dissolve well in cold water
Not the best at eliminating odors
---
Dirty Labs is unique in the natural laundry market in that their products come in hyper-concentrated liquid form. Each formula contains less water and more fatty acids and glucosides. These surfactants and oils help create a soap with powerful cleaning capabilities.
In addition to these standard soap ingredients, their products also contain a long list of enzymes. These enzymes are particularly powerful at breaking down stains but are selected to be gentle on fabrics and dyes.
In addition to creating highly effective 97% USDA-certified biobased laundry soaps, the company is also committed to reducing waste. Each of their ultra-concentrated laundry products comes in a recycled aluminum bottle that can be recycled again after use.
You can find Dirty Labs products and get them at a discount with their subscription option on their website. Or you can shop for these sustainable, vegan laundry soaps on Amazon.
Pros
Optimized for cold water
Dermatologist tested and approved
Highly effective for stained clothing
Cons
Longer ingredients list
Not everyone likes the scent
Very thick
---
When it comes to being simply effective, Charlie's Soap is one of the best choices you'll find. Their laundry detergent has only four straightforward ingredients, combining minerals with natural surfactants for a better clean than many limited ingredient competitors.
This product is certified Safer Choice by the EPA, and is better for human and planet health than others on the market. It is also a great choice for highly sensitive individuals and children.
One of the most surprising things you'll find with Charlie's is that it makes your clothes feel cleaner. Despite that intense clean, it is safe for even the most delicate fabrics, including silk.
On the downside, this detergent is a little pricey per container, though you can easily get 300 loads out of a single bag. You may also find that you need to run an additional rinse cycle in order to avoid mineral build-up.
Pros
Safe for hand washing clothes
Leaves clothes smelling fresh
More loads per pack
Cons
Often requires an extra rinse
Some mineral build-up in the machine
Pricey
---
If you struggle with hard water mineral deposits on your clothing or are sick of paying extra for hard water softening detergent when you already have soft water, then Rockin' Green may be a good choice for you.
This all-natural detergent company has two lines of laundry detergents: Classic Rock and Hard Rock. The former is made without water softening minerals for a better clean in soft water without unnecessary ingredients. And the latter is made with those extra mineral dissolvers for a better clean in hard water.
No matter which line you choose from, you can be sure you're getting only the best of the natural world. All of Rockin' Greens' products feature a short ingredient list made up of simple minerals and lipids. Though, the scented products do contain nondescript natural fragrances.
One thing to know about this detergent before you purchase it is that it was made to wash out of your clothes completely. This is great if you have sensitive skin, but not so good if you want your clothing to smell like the detergent you choose. Rockin' Green is so rinseable that even the scent was made to go down the drain.
Pros
Enzyme-free formulas for delicate laundry
Short ingredient lists
Rinses clean
Cons
Nondescript natural fragrances
Doesn't dissolve well in cold water
Pricey
---
Laundry detergent sheets have recently rolled onto the scene and are becoming quite popular. These dehydrated detergent sheets require no plastic packaging and are much more environmentally friendly than many other brands. Unfortunately, not all sheet-style detergents work as well as advertised.
The original Sheets, however, are a clear exception.
These soapy sheets clean impressively well using a short list of naturally derived surfactants. While these ingredients are not as clean as simple natural surfactants, they are a better alternative to other options and much better than chemical surfactants.
We've had trouble getting other sheet brands to fully dissolve in the wash, which means dirty clothing and wasted resources. But that has never been a problem with Sheets. If you're after the easiest, least wasteful way to do laundry, this is it.
Pros
No plastic packaging
Short ingredient list
Dissolves and cleans better than competitors
Cons
Contains naturally derived surfactants
Have to cut for smaller loads
Pricey
---
If you're looking to cut down on packaging and chemicals, Puracy laundry detergent is a great choice. Once you have the easy-pump bottle from this company, you can switch to purchasing the highly concentrated 192-load refill pouch. This pouch is nearly plastic free and recyclable.
Inside that concentrate, you'll find some familiar ingredients. Glucosides and enzymes make up the bulk of the active compounds, as well as alcohol ethoxylate. This naturally derived cleanser has been found to be safe at low concentrations, though there is some concern with a build-up of it in the environment and subsequent damage to aqueous wildlife.
In terms of cleaning, Puracy seems to do a good job with a variety of laundry types. It is hypoallergenic and safe for sensitive individuals, making it a good choice for children and cloth diapers. However, it does struggle with set-in stains, so be sure to pretreat with Puracy's stain spray or something similar.
Puracy's laundry detergent is available in unscented and scented varieties. Though, it is worth noting that the fragrance ingredients are listed only as "natural fragrance" on the bottle, leaving some room for hidden, and potentially chemical, ingredients.
Pros
Low-plastic refills available
Great for sensitive skin and hypoallergenic
Highly concentrated for more loads
Cons
Fragrance ingredients are not listed
Not as effective on set-in stains
Long ingredients list
---
Non-Toxic Detergent Buying Guide
Finding a truly all-natural, non-toxic laundry detergent can be difficult. Finding one that also works, as we've said, is even harder. Here are a few things to keep in mind as you shop that will help make both things a little easier.
Form
It's easy to think that powdered detergent is just liquid detergent minus the water. But, when it comes to natural soaps, these two forms are usually made of very different ingredients. And those differences mean they clean in different ways.
Powder
Powdered detergent is available in loose form or in pre-packed powder pods.
In either case, these all-natural powdered detergents are generally made of minerals, including salts and sodas, and simple plant-based surfactants. The salts and sodas interact with water to help soften it and with the surfaces of the clothing to increase the effectiveness of the surfactants, which do the actual cleaning.
Some products will also contain dried enzymes that help break down the organic material that forms most stains.
Note: In order to be effective, the minerals need to dissolve in the water of the wash. Using cold water can decrease how well they dissolve and leave you with a powdery residue on your clothing. Overloading the wash can have a similar effect.
It is easier to find clean, non-toxic powdered detergent with short ingredient lists than to find the same in a liquid form. However, these products do take a little more care to use.
One reason we chose Truly Free as our top choice is because it contains many of the same ingredients as your typical powdered detergent, but is made to be pre-dissolved in water and used as a liquid detergent. This not only makes it easier to use but makes it more effective in a variety of situations.
Liquid
Liquid detergents usually come in bottles, but can also be found in concentrated liquid pods.
Most natural liquid detergents are made of glucosides and surfactants. These surfactants can be natural, such as plant-based lipids or fatty acids, or naturally derived, such as alcohol ethoxylate. Both are effective cleaners, but natural forms are safer for humans and the environment.
Info: Glucosides are added to the formulas to help keep the lipids from separating from the water. This is important to help keep the suspension mixed in the bottle and for improving the effectiveness of the detergent in the machine.
Keeping lipids well mixed with water often requires a number of different glucosides and similar ingredients. This is why many all-natural liquid detergents have long ingredient lists compared to their powdered counterparts. It is also why it is tougher to find liquid detergents that are 100% natural.
Concentration
When shopping for liquid detergents, look for a concentrated formula when possible. There are many benefits to concentrated and ultra-concentrated products, especially to consumers who are environmentally conscious.
For one, concentrated solutions require less packaging and produce less waste because you get more loads per bottle. This same idea also translates to savings for you. While it is true you will pay more upfront for the product, you usually get more loads per dollar, thus saving you money in the long run.
Ultra-concentrated products, like Dirty Labs detergent, contain more detergent than water which means you need even less per load. For these and other concentrated products, it is important to follow the instructions and only add the recommended amount to each load.
Misleading Marketing
As more people learn about the negative health and environmental effects of chemical detergents, more companies are changing to be greener. Unfortunately, many brands are only making these changes to their marketing while keeping their formulas more or less the same.
If you grab any popular commercial detergent brands' "pure and clean" formula from the shelf, you're still likely to find a few of the ingredients from our list of harmful products above on the back label. Some manufacturers try to hide these ingredients by giving them deceptive names or burying them in the fragrance category.
Looking for a statement that describes how much of the product is from natural sources is one way to determine how clean it truly is. But even "natural" products can contain questionable ingredients like naturally derived SLS.
A better approach is to go with a tried and true natural brand, such as those topping our list above.
Non-Toxic Laundry Detergent FAQ
Which laundry detergent is least toxic?
The fact of the matter is, if you were to ingest any laundry detergent on this list or otherwise, you'd suffer some degree of toxicity. But that doesn't mean that there aren't options that are better for washing your clothes than others.
Super-clean, hypoallergenic formulas, like Charlie's Soap, are made entirely of natural sodas and simple lipid surfactants. You still can't eat these detergents, but you can feel confident that they are very safe to put on your clothing and to contact your skin when diluted.
All the options on the list above are less toxic than the leading commercial brands. And all are a great choice for those looking for a non-toxic laundry detergent alternative.
What is the most toxic laundry detergent?
Determining the most toxic laundry detergent is a challenge—there are just simply too many companies vying for that honor.
We can tell you that plenty of industry-leading brands use every single one of the ingredients on our harmful products list above. And that EWG gave 133 detergents an F rating this year for how toxic they are to humans and the environment.
Long answer short, it is much easier to find a toxic laundry product than a safe one.
How do you get toxins out of your clothes?
If you've been using a toxic laundry detergent for a while, you may be wondering how best to get those toxic chemicals out of your clothes.
Switching to a non-toxic, natural detergent is a start. But, since many chemical ingredients in detergents are made to cling to fabrics and resist washing, this may not be enough to immediately remove these toxins.
To help hasten the process:
Start by hanging your clothes outside on a sunny day. The wind and fresh air will help off-gas the VOCs that are released by many toxic chemicals. And the UV from the sun will help break down chemicals meant to cling to fabrics.
Next, put your clothes in the washer and fill the drum to soak them.
Add a small box of baking soda to the water, agitate, and let soak overnight. Baking soda is great at breaking down chemicals and releasing them from fabrics. It also makes a killer homemade laundry soap base, as do these other laundry detergent alternatives.
Once the clothing has soaked, wash it as normal with your safe, non-toxic laundry detergent.
Safer Laundry Is One Capful Away
Finding safe yet effective laundry detergent is not nearly as difficult as it used to be thanks to a number of environmentally conscious and health-minded companies that have broken through the market.
Unfortunately, mixed in with these great products are plenty that are natural but don't work and even more that claim to be safe but are anything but.
If you want non-toxic, eco-friendly, and effective, we recommend Truly Free laundry detergent. Their powdered refills combine the simple formula of a natural powdered detergent with the ease of use and effectiveness of a liquid detergent. And they do it all using only a handful of clean, natural ingredients.
For those having a hard time giving up the powerful scents of traditional detergent, Mrs. Meyers is a great natural alternative. Or, if you have sensitive skin and require a truly clean and clear product, Charlie's Soap is an awesomely effective, hypoallergenic solution.
Still have questions about the ingredients in toxic and non-toxic laundry detergents or on how to find the best natural option for your needs? Comment below and we'll help you find the answer.