Whether you live in the humid South or the dry high desert of the Rocky Mountains, there is one place in your house that will always be prone to moisture problems: the bathroom.
Whether it's long showers, hot baths, or even a running toilet, bathrooms tend to stay a lot more humid than most rooms in the house. When condensation collects on slick surfaces, mildew thrives. When it collects on porous surfaces like walls, mold takes over.
Neither one of these are companions you want to be sharing your house with.
One easy way to deal with excess humidity in bathrooms is to get a dehumidifier. But not just any will work for this small space. You need one that's powerful enough to deal with high moisture loads but small enough to not take up valuable space.
Lucky for you, we have six of the best dehumidifiers for in the bathroom, each of which fits both of those parameters. With this list, you'll be able to spend less time shopping around and more time enjoying a relaxing bubble bath in a mold and mildew-free bathroom.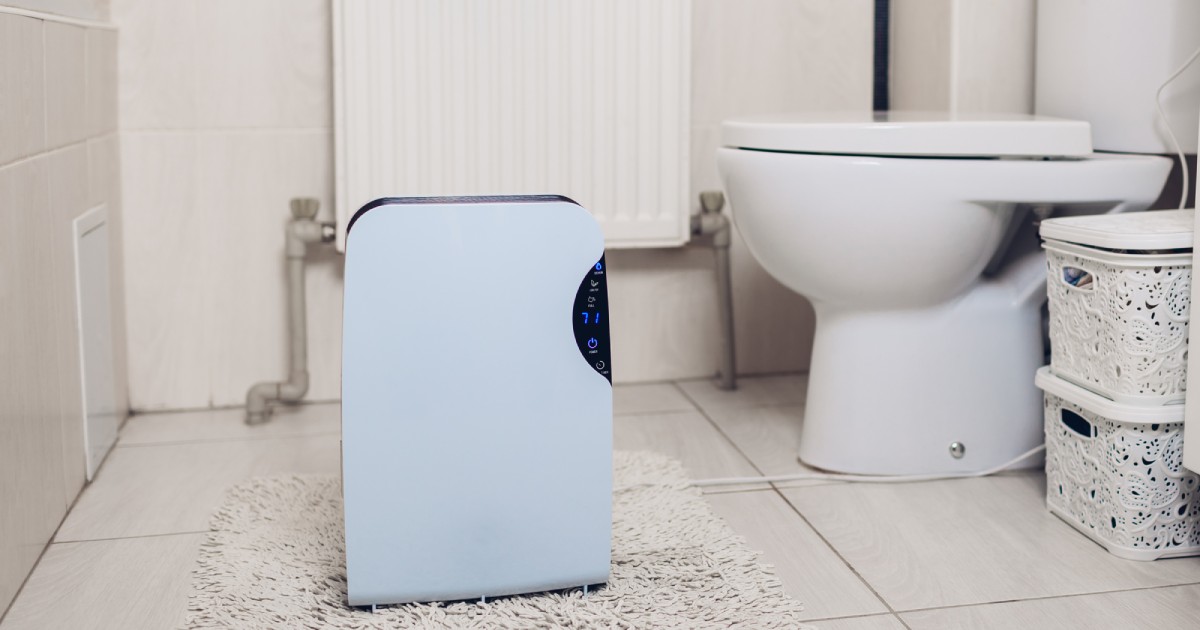 Disclosure: We may receive commissions when you click our links and make purchases. This does not impact our reviews and comparisons. All opinions are our own. We pride ourselves on keeping our articles fair and balanced. For more info see our disclosure statement.
Dehumidifiers For Bathrooms Quick Comparison
Product
Details
Where to Buy

Afloia T8 Plus Dehumidifier

Size: 9.1" x 6" x 15.8"
Coverage: 215 sq ft
Moisture removal per day: 1.6 pints
Tank size: 2L

Check Price Now

Size: 6.5" x 5.3" x 8.5"
Coverage: 150 sq ft
Moisture removal per day: 0.56 pints
Tank size: 500ml

Check Price Now

Size: 7" x 4.9" x 11"
Coverage: 150 sq ft
Moisture removal per day: 1 pint
Tank size: 480ml

Check Price Now

Size: 7.2'' x 9.6'' x 14"
Coverage: 150 sq ft
Moisture removal per day: 1.25 pints
Tank size: 2L

Check Price Now

Size: 9.1'' x 5.4'' x 12"
Coverage: 160 sq ft
Moisture removal per day: 1.25 pints
Tank size: 470ml

Check Price Now

Size: 17'' x 9.4'' x 7.5''
Coverage: 300 sq ft
Moisture removal per day: 4.38 pints
Tank size: 3L

Check Price Now
Our Top Pick: Afloia T8 Plus Dehumidifier
For the average-sized bathroom experiencing high amounts of humidity each day, the Afloia T8 Plus is all you'll need. This dehumidifier is intelligently designed to maximize power while minimizing how much space it takes up.
The slim design and small footprint make it easy to place on the counter or the back of the toilet. And the wide air intake placed at the front of the unit means it still performs flawlessly even when placed against the wall. With a 1.6 pint capacity and 2-liter tank, this little unit is all you need to battle humidity in the bathroom.
What We Look For in a Dehumidifier
Buying a new dehumidifier can be tricky. Shopping for one powerful enough for a room that experiences near 95% humidity at times but has no extra space to spare, can be downright difficult.
When we put together our list of the best dehumidifiers for bathrooms, we made sure to look for units that were small enough for use in tight spaces but with a capacity large enough to battle high humidity.
We also awarded extra points to energy-efficient units and kept an eye out for extra features that would make the unit highly valuable for a bathroom setting.
Size
If you read our article on finding the right size dehumidifier for your needs, then you already know that dehumidifiers can be measured in a number of different ways.
A dehumidifier for the bathroom should be small enough to fit on the counter or floor without taking up too much space. Units with intelligently designed air intakes that allow for placement against the wall are especially valuable.
Capacity
The capacity of a dehumidifier refers to how much moisture the unit can pull from the air in a 24-hour period.
Info: The higher the capacity rating, the better suited the unit is for use in large spaces or for battling high humidity.
Bathroom dehumidifiers don't have a lot of space to cover, but they do have to deal with high humidity, which means they need to have a higher capacity rating than a small dehumidifier for the closet, bedroom, or office.
If you want to know more about how dehumidifiers work to get that moisture out of the air, click here.
Energy Efficiency
Unlike your typical room dehumidifier or whole-house dehumidifier, a bathroom dehumidifier likely won't need to be left on 24/7. This means that energy efficiency isn't the most important feature. But, in a world that only seems to be getting more expensive by the day, being able to save some green is always a plus.
In addition to buying an energy-efficient model, how you use your dehumidifier and where you place it can also play into how much it costs to run. If you want to learn more, check out this article.
Other Features
In addition to the above qualities, we rated units higher if they had other features that would make them good for bathroom use, including:
Timer function: Since most bathroom dehumidifiers are only used after a bath or shower, being able to set a timer so they shut off after a set period is very valuable.
Target humidity level: Units with a target humidity level function guarantee you won't over-dry your bathroom since they'll shut off once they reach the target level.
Drain hose: Attaching a drain hose will allow your small unit to run continuously. And, since a bathroom has plenty of drains, why not take advantage of this feature?
Low noise output: The last thing you want in a small space is a machine making a ton of noise.
Product Reviews
The Afloia T8 Plus dehumidifier is the perfect size for the average bathroom.
At just 16 inches tall and 6 inches wide, it can easily be placed on the counter or even on the back of the toilet. And because of the smartly designed intake vents that cover the entire front panel, you don't have to worry about placing it against the wall.
With a 1.6 pint capacity and a coverage rating of 215 square feet, it is powerful enough to return humidity levels to normal impressively quickly following a hot shower. In fact, this unit likes it hot, performing its best in rooms around 86 degrees.
Despite that power, the Afloia is surprisingly quiet, putting off just 30db when running.
We do wish this little unit had more to offer in terms of functionality, but the control panel is pretty sparse with just a single power button. But for a small unit with a lot of power, you can't ask for much more.
The Afloia is available in white, black, and cyan and comes with a lifetime warranty.
Pros
Optimized for running in hot environments
Slim design
Easy access water tank
Handle for portability
Lifetime warranty
Cons
Minimal functionality
No drain option
---
For small bathrooms with limited space, the hOmeLabs Small Space Dehumidifier is a perfect choice.
This tiny dehumidifier sits at just 8.5 inches high. The small base can easily fit on your bathroom counter or the back of your toilet without taking up valuable space. A single air intake on top of the unit means you can place this dehumidifier against the wall without compromising airflow.
The low noise thermoelectric Peltier module is powerful enough to remove high humidity from small spaces while using very little energy. The functionality is limited to an on/off switch, but the unit will automatically turn off when the 16oz capacity reservoir is full.
The full indicator light will illuminate when the reservoir needs to be emptied so you can avoid unnecessary downtime.
This little dehumidifier may be pint-sized compared to some of our favorite hOmeLabs models, including the 50 Pint and 35 Pint Dehumidifiers, but it works impressively well for small bathrooms and closets. Like these other products, the Small Space Dehumidifier comes with a 1-year warranty.
Most importantly, this unit is impressively well priced for what you get.
Pros
Extra-compact for small spaces
Indicator light illuminates when full
Auto shut-off
1-year warranty
Affordable
Cons
Does not work as quickly as larger units
Reservoir fills up quickly
No continuous drain option
---
If you're looking for a compact dehumidifier with a little more functionality, the Vremi 1 Pint is a great option.
This slim, sleek dehumidifier has a high 1-pint capacity rating and is optimal for use in rooms up to 150 square feet that see a lot of humidity and higher temperatures. All this combines to make it the perfect choice for use in small to medium-sized bathrooms.
One thing this unit has that some of the smaller options don't is a target humidity level function.
When a target humidity level is programmed, the unit will automatically turn off once that level is reached and turn back on if levels rise again. This is a great feature for dry climates where the bathroom humidity could be decreased to uncomfortable levels with a continuous-run unit.
The Vremi also features a reservoir window to let you see how full the tank is and an auto-stop function that shuts the unit off when the tank is full. The tank is a little smaller than most units of this size and rating, but you can't beat the low noise output, low energy use, and added features.
Pros
Target level function prevents overdrying
Easy release water tank
Slim profile
Works on ground or counter
Cons
Water tank is small
Backset intakes require more airflow
Internal hygrometer can be inaccurate
---
The Ivation Thermo-Electric Dehumidifier is a great choice for small to medium-sized bathrooms that struggle with excess humidity. This unit is an especially good choice for bathrooms that don't have an exhaust fan.
The powerful motor pulls moisture through the unit to quickly reduce humidity levels, collecting up to 1.25 pints of moisture per day. The large 2L water tank holds more water than most units this size which allows for a longer continuous run time.
A simple on/off switch is all the functionality you get with this well-sized unit. But it does have a full indicator light and will automatically shut off when the reservoir needs to be emptied. This is an especially easy task with this dehumidifier thanks to the front-set reservoir.
Quiet operation, a small footprint, and powerful dehumidifying in moist spaces make this unit a great choice for bathroom use.
Pros
Front intake vents make for easy placement
Works best in high humidity conditions
Easy to empty
Cons
A little pricey
Not the sleekest design
---
Looking for a small dehumidifier that can handle a variety of jobs? The Pure Enrichment Dry Deluxe has you covered.
This highly functional, highly portable unit is perfect for use in the bathroom, closet, or office. And can easily be moved between rooms as need dictates. That's thanks to the compact design and built-in carrying handle.
Another thing that makes the Pure Enrichment so versatile is all the extra features. It has two fan speeds, including an ultra-quiet mode and a timer function. There is even a drain port allowing you to run the unit continuously. This drain is a great option for high-use areas since the water tank is undersized compared to similar models.
The 1.25-pint capacity means this unit can clear a lot of moisture in a short amount of time. But the dual fan speeds make it just as useful in rooms that need consistent low moisture removal.
We love this dehumidifier for its clean design and thoughtful features. That sleek look does come with one drawback, however. The intake vents are located on the back, which means you cannot place this unit against the wall. But it's still sized for easy placement even in smaller rooms.
The Pure Enrichment Dry Deluxe comes with a 5-year warranty.
Pros
Quiet operation
5-year warranty
Carry handle
Clean design
Cons
Small water tank
Rear air intake requires thoughtful placement
---
If you have a large bathroom or an open master bath floorplan, then your typical small dehumidifier is not going to be enough to get the job done. For these situations, you'll need the Ivation 4.38 Pint Dehumidifier.
This large-capacity dehumidifier was made with small spaces in mind. It is highly compact thanks to the ingenious cubic design, but powerful enough to remove up to 4.38 pints of moisture from the air each day.
To maximize this power, the unit also features a huge 3-liter water tank. But for continuous use, you'll want to use the included drain hose. This allows the unit to run uninterrupted as long as needed.
When paired with the smart target humidity level function, you'll be able to set and forget for maximum moisture removal with minimal intervention.
In addition to the target humidity mode, the Ivation also features two fan speeds and a full reservoir indicator light with auto shut-off.
This unit is bigger than the others on this list and will take up some space on the floor, but for a dependable, hassle-free dehumidifier that's powerful enough for large bathrooms, you won't find any better.
Pros
Large capacity for larger rooms
Plenty of useful features
Large air intakes
Wheels for easy portability
Cons
Too big for the counter
No timer function
---
Specification Comparison Table
The Best of the Best for the Bathroom
Bathrooms may be smaller than most rooms in the house, but the amount of heat and humidity they can experience means they need a more powerful dehumidifier than the typical space. But this dehumidifier also needs to be compact enough to not take up to much room.
The Afloia T8 Plus Dehumidifier puts out the most power in the smallest package. It can easily capture 1.6 pints of moisture each day but hardly takes up more space than most units with half that capacity. It doesn't have a lot of frills or extra features, but for straightforward use in the bathroom, it is a great option.
If you need something a little more compact for your small bathroom, the hOmeLabs Small Space Dehumidifier is about as tiny as it gets. This 8.5-inch tall humidifier is powerful enough to clear the air after a steamy shower but small enough to hide behind your soap dispenser.
Whatever your bathroom needs, one of the six dehumidifiers outlined above is sure to get the job done.