A moisture-filled basement is no way to live – it's as simple as that. But depending on your home's structure and your geographic region, relieving your home of trapped humidity may be easier said than done. Some folks believe that a standard air conditioning unit or a built-in HVAC system can alleviate these problems on their own. But neither solutions provide the flexibility and situational productivity of a stand-alone dehumidifier unit.
This is doubly the case for homeowners with an overly-humid basement, as it turns out. In these locations, mold and mildew can thrive if the ambient humidity is allowed to regularly permeate enclosed spaces. When placed effectively, a basement dehumidifier can help suck up this excess ambient moisture in a matter of a few hours and actively prevent humidity from becoming a problem for your basement ever again.
As you might expect, though, not all dehumidifiers units are built alike. Let's get into guts of the article – this is what you need to know to choose a dehumidifier for your basement.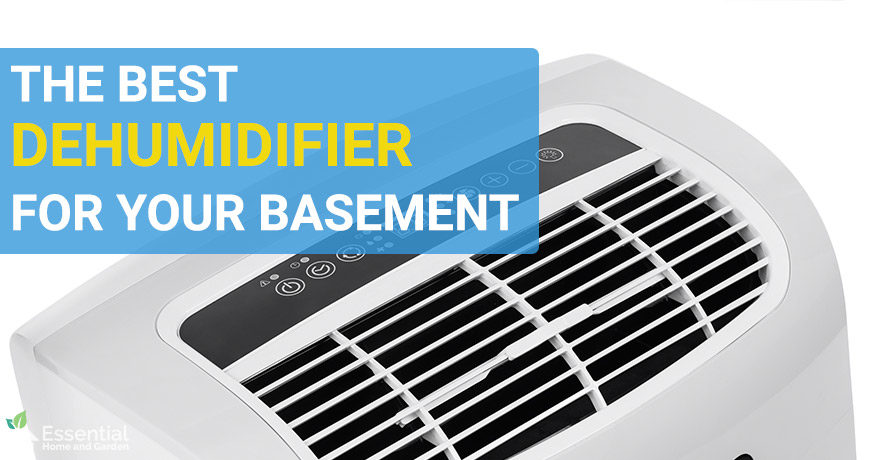 Disclosure: It is important you understand that we may receive commissions when you click our links and make purchases. However, this does not impact our reviews and comparisons. All opinions are our own we pride ourselves on keeping our articles fair and balanced. For more info see our disclosure statement.
Our Top Pick For Removing Basement Humidity
The hOmeLabs 4500 provides the most bang for your buck, including a 1.8 gallon reservoir, an easy-access side filter, touch-panel controls, and an auto-defrost mechanism. Even with a 50 pint daily capacity, this model can aerate even the dampest basement with precision.
With 4,500 sq. ft. of effective coverage, this model is able to draw out up to 50 pints of water from your basement's air each day, allowing it to comfortably remain at the 35% relative humidity threshold. You'll hardly even need to mess with this unit once it is running, either, thanks to its use of an easy-access side filter panel and its hefty 1.8 gallon reservoir.
Dehumidifiers Comparison Table
Quickly compare important stats with this handy comparison table.
Product
Details
Where to Buy

Moisture Removal Per Day: 50 pints
Tank Capacity: 1.8 gallons
Noise Level: 49 dB
Coverage: 4,500 sq. Ft.
Wattage: 720 watts
Drain Hose Compatibility: Yes

Check Price Now

Moisture Removal Per Day: 35 pints (50 pints 2012 standard)
Tank Capacity: 1.6 gallons
Noise Level: 55 dB
Coverage: 3,500 sq. Ft.
Wattage: Unknown
Drain Hose Compatibility: Yes

Check Price Now

Moisture Removal Per Day: 70 pints
Tank Capacity: 1.58 gallons
Noise Level: 50 dB
Coverage: 4,500 sq. Ft.
Wattage: 515 watts
Drain Hose Compatibility: Yes

Check Price Now

Moisture Removal Per Day: 70 pints
Tank Capacity: 1.6 gallons
Noise Level: 49 dB
Coverage: 4,500 sq. Ft.
Wattage: 690 watts
Drain Hose Compatibility: Yes

Check Price Now

Moisture Removal Per Day: 50 pints
Tank Capacity: 2.1 gallons
Noise Level: 49 dB
Coverage: 2,000 sq. Ft.
Wattage: 545 watts
Drain Hose Compatibility: Yes

Check Price Now

Moisture Removal Per Day: 70 pints
Tank Capacity: 1.8 gallons
Noise Level: 56 dB
Coverage: 4,500 sq. Ft.
Wattage: 720 watts
Drain Hose Compatibility: Yes

Check Price Now

Moisture Removal Per Day: 70 pints
Tank Capacity: 1.75 gallons
Noise Level: 51 dB
Coverage: 4,000 sq. Ft.
Wattage: 759 watts
Drain Hose Compatibility: Yes

Check Price Now
Best Dehumidifier For A Basement Reviews
---
As noted above, the hOmeLabs 4500 has earned top billing in this collection of reviews. This may leave some folks scratching their head, wondering how a dehumidifier from a fairly unknown brand has come out on top. But once you see this model in action, you won't question its ability to efficiently collect 50 pints of moisture each day in its spacious 1.8 gallon reservoir.
Let's get one thing out of the way – the hOmeLabs 4500's Turbo Mode made a major impact during this model's review process. When engaged, this feature allows the hOmeLabs 4500 to maximize its moisture removal and odor reduction capabilities by speeding up its intake and dispersion processes. As a result, this model has no trouble converting a 4,500 sq. ft., 85% RH basement into a 35% RH basement in just a few days' time.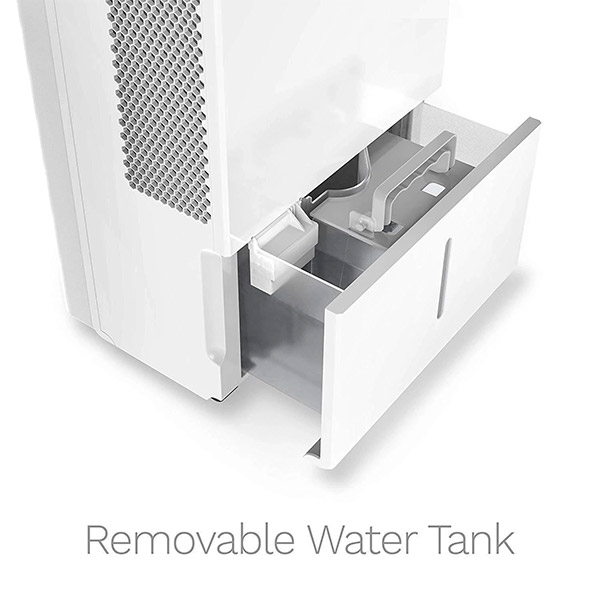 To access this phenomenal Turbo Mode, you'll have the pleasure of using this model's user-friendly touch-panel controls. While you're at it, you'll be able to easily access the hOmeLabs 4500's removable filter through its side-mounted access hatch. Simply put, you're going to have to work hard to find another affordably-priced dehumidifier that can work as efficiently as the hOmeLabs 4500.
The hOmeLabs 4500 Dehumidifier is available directly from the manufacturer.
---
Vremi has come to the party with this mid-large-sized dehumidifier. Rated for rooms of up to 3,000 ft, this model should be powerful enough for even the largest of basements.
This model is rated to remove 35 points of moisture a day, which seems smaller than some of the other models on this list – but that is only because they are still advertising at 2012 standards. Using the 2012 standards, the Vremi will remove 50 pints per day.
Dehumidifiers are quite simple at their core, and Vremi has done its best to keep its products simple and easy to use. This is done by an easy-to-understand control panel that has only the info and controls you need – no fancy names or words for basic features.
Depending on your use levels, the filter on this model only needs to be washed monthly, and it is super easy to remove and re-fit when doing so.
If you do need more than 35 pints of water removed a day, then Vremi also offers a 50-pint model.
Probably the only downside we found for this unit is that it is quite loud – but most of the time that shouldn't matter for a basement environment.
---
Third on our list, we have the Danby DDR070BDWDB. This dehumidifier fits comfortably within the industry standard in many important regards. For example, this model is able to remove up to 70 pints of moisture per day over 4,500 sq. ft. of coverage (including in basements). The Danby DDR070BDWDB is also Energy Star rated, likely as a direct result of its 1.85 L/kWh energy factor.
However, the Danby DDR070BDWDB can claim to be unique, especially in a few domains that current dehumidifier shoppers are very interested in. This is certainly the case when it comes to this model's inclusion of an auto-defrost mechanism as well as direct drain compatibility. But most importantly, this model uses an environmentally-friendly R410A refrigerant in its internal condensation process, allowing it to be safely recycled when its active lifespan is expended.
Also, you'll only need to think about or interact with the Danby DDR070BDWDB on your own terms. That's because this model makes use of an user-friendly LED display and manages to operate at a decently soft 50 dB, even while using either of its two powerful fans.
The Danby DDR070BDWDB 70-Pint Dehumidifier is available from Amazon.
---
MIDEA MAD50C1ZWS
Key Specifications
Adjustable humidity from 35% to 85%
1.6 gallon reservoir
.75" female garden hose compatible
Reusable filter
Filter cleaning alert system
Energy Star rated
Auto-restart
When you first glance at the MIDEA MAD50C1ZWS, you might immediately wonder how it manages to dehumidify anything through its reinforced, slot-less faceplate. But after checking out this unit's vented sides, you'll quickly see how the MIDEA MAD50C1ZWS is able to extract up to 70 pints of water from a 4,500 sq. ft. basement while remaining whisper-quiet at 49 dB.
Many of the MIDEA MAD50C1ZWS' features work hand in hand with one another, which adds to its overall operational efficiency. For example, this model's 1.6 gallon reservoir is respectable in its own right. But when hooking it up to a .75" female garden hose, you'll find that this very same reservoir is able to continuously drain, allowing for longer dehumidification sessions with fewer interruptions.
Also, those looking to save money on the long-term upkeep of their dehumidifier will be pleased to see that the MIDEA MAD50C1ZWS makes use of a reusable filter. The MIDEA MAD50C1ZWS makes it easy to know when to remove and wash this filter as well using its innovative filter cleaning alert system.
The MIDEA MAD50C1ZWS is available from Amazon.
---
FRIGIDAIRE has long been a well-known name in the air conditioning industry, so it's only appropriate that one of their prime offerings in the dehumidification market – the FRIGIDAIRE 50 Pint Dehumidifier – lives up to their lofty performance standards. Not only that, but this particular model makes use of the latest and greatest dehumidification technologies developed in-house.
From the moment you plug in the FRIGIDAIRE unit, for example, you'll be setting the unit's temperature controls and humidity range using the "Ready-Select" control panel. Then, once your FRIGIDAIRE 70 is up and running according to your schedule, you'll find that it leaves your home's air fresher and most moisture-free than ever before due to its excellent implementation of the proprietary "Effortless" clean filter system.
This unit is also able to self-regulate with precision, ensuring that it can reliably complete its job 24 hours a day. This is fully apparent in this model's implementation of both full tank alerts and a full tank auto-shut-off switch. When either of those components engage, you'll know it's time to quickly pull out this model's hassle-free pull-out bucket reservoir.
---
As a matter of fact, the Ivation 70 is one of the only models in its entire class to come with a 16 watt condensate pump built directly into its architecture. As a result, this model alone is capable of transporting its collected condensation up to 16.4 feet vertically without requiring the purchase of an auxiliary pump unit.
This unique feature is further complemented by the Ivation 70's implementation of an auto-defrost mechanism. Better yet, this model includes a programmable humidistat that is accessible through the unit's LCD interface.
The Ivation 70 Pint Energy Star Dehumidifier is available from Amazon.
---
Honeywell is another brand that has made a name for itself in the home appliance market, especially when it comes to home filtration. The Honeywell TP70WKN stands up on its own two legs, though, both literally and figuratively. In fact, moving it from place to place isn't a chore at all due to the ergonomic hand grips located on this unit's exterior case.
Under the hood, the Honeywell TP70WKN still includes a variety of features that are definitely worth talking about. For example, the anti-spill guards built into this model's reservoir tank make it easy to empty, even after it has been filled up with 70 or more pints over a 24 hour period. Should you decide to run this unit for that long, you'll be pleased to see that it actually saves you electricity due to this model's unique timer system.
The Honeywell TP70WKN's digital humidistat control system is a treat to use as well. From there, you'll easily be able to adjust this model's low temperature settings as well as put it into sleep mode (which, itself, decreases this unit's electricity to a bare minimum).
The Honeywell TP70WKN is available from Amazon.
---
Basement Dehumidifier Buying Guide
Purchasing the appropriate dehumidifier is easier said than done for many, though. Dehumidifiers today come in a variety of different sizes, each of which come with differentiated capacities to draw in ambient air vapors and capture the same in an appropriately-sized tank. That aside, the proper dehumidifier unit for your basement may well depend on outstanding factors, such as the size and temperature of the intended use room.
In order to take these factors fully into account, this concise buyer's guide will provide you with industry-specific details about the kinds of features that typically show up in contemporary basement dehumidifier listings.
Each of these critical criteria may impact your final dehumidifier selection, so be sure to read through this entire buyer's guide before finalizing your online purchase.
Important Features
First up, let's crack into the kinds of features you should look for in a high-quality basement dehumidifier. While all of these features need not show up in every model on your list, your final selection should include at least a few if you're planning to rely on that dehumidifier unit for an extended period of time. Many of the following features directly affect their unit's performance as well, making it all the more imperative that they appear in your next dehumidifier.
Hose Drain Outlet
If you're intending to use your dehumidifier continuously (either year-round or seasonally), then you might consider looking for a model with a hose drain outlet. Though a minor component, this type of outlet allows you to forgo the need to constantly empty your unit's condensation tank by installing a continuously-active hose drain.
When installed properly, this type of hose drain allows for gravity to do the heavy lifting when it comes to clearing your dehumidifier of its collected moisture. Whether with a common garden hose or a piece of devoted tubing, these hose drains can be set up to empty into a nearby floor-level sewer drain, thus eliminating the need to empty the unit's tank often during high use scenarios.
Auto-Humidistat
Smart devices are all the rage these days, so it is only appropriate that you purchase a dehumidifier that is "smart" enough to know when it needs to turn on and off. That's precisely what you'll get in a unit with an auto-humidistat, which is a programable component that can communicate your desired level of humidity directly to the unit's operating computer.
When you activate auto-humidistat functionality, you'll set a high maximum and minimum level of moisture that is accessible within the use space. Then, your dehumidifier uses its onboard sensors to continuously analyze the air quality content in its area. Once it senses humidity over the top threshold, the unit will turn itself on and remain active until the ambient humidity in the area drops below a bottom threshold.
Learn more: Dehumidifier vs Humidifier – What is The Difference?
Condensate Pump
Basements with crawl spaces and other unusual areas where humidity congregates will likely need to make use of a condensate pump system. In essence, these pumps allow for water collected by a dehumidifier unit to be driven upward against gravity and into an off-site collection or disposal point (such as a floor-level sewer drain).
If you find yourself in a situation where this kind of auxiliary set up is necessary to properly aerate your basement, you may need to do extra research to find a condensate pump that is compatible with your current dehumidifier. That being said, some premium-grade dehumidifiers come with a condensate pump built in, allowing for more flexible usage over the lifespan of the unit.
Auto Defrost
Many dehumidifier units make use of a cold condensation unit in order to convert ambient humidity back into common water. As a result, these units can run internally cold and are susceptible to freezing up under the right environmental conditions. In these situations, an auto defrost feature can really help preserve your unit's ability to operate reliably.
Much like in a freezer, an excessive amount of internal moisture can cause ice crystals to seed in unusual places, leading to a noticeable drop in efficiency. Dehumidifiers with a built-in auto defrost module prevent these ice crystals from propagating in the first place, thus making the unit safe to use in spaces with a sub-65° F average temperature.
Low Temperature Setting
As a supplement to the aforementioned auto defrost module, a dehumidifier with a wide range of low temperature settings can really come in handy if you intend to use your new unit in a frigid environment. In fact, these settings can typically allow a dehumidifier to safely operate in rooms that are colder than 41° F – below freezing, in other words.
The majority of dehumidifier users may not find these settings productive because they use their unit during the warmer, more environmentally humid months of the year. However, folks working in regions such as the Pacific Northwest, where the winter months come with an extra serving of humidity, will really relish the ability to relinquish humidity from their basement as the weather outside cools down.
Timer
The unfortunate truth is that many dehumidifiers produce a noticeable amount of noise while in operation. This can make it more challenging to use your unit, especially if needs to be placed in a part of your basement adjacent to a family member's personal room or office. In these cases, a built-in dehumidifier timer can really come in handy.
Through programmable settings or an analog dial, these timers allow users to decide precisely when their unit will operate. This, in turn, may allow particular homeowners to set their dehumidifier in motion only when they are not present to hear it. These timers can also be useful for collecting ambient humidity only when a direct source of moisture (such as wet laundry) is present.
Learn more: How to use a dehumidifier properly
Factors to Consider before Purchasing a Basement Dehumidifier
There are numerous factors that you'll need to take into consideration before purchasing a particular basement dehumidifier model.
Room Size and Average Humidity
Naturally, dehumidifiers are designed such that only a single unit is needed to eliminate moisture in a single room in your basement. However, your chosen model cannot accomplish this core task if it is underpowered or simply too low capacity to meet the demands of the room it is placed in. As such, it is always important to take into account your target room size before settling on a particular dehumidifier model.
In order to quantify a unit's capability in this domain, you'll first need to calculate your room's size in square feet. This can be accomplished by multiplying its width by its length (including any unusual side rooms or outcroppings).
Then, you'll need to compare this sum to the average amount of moisture experienced in that particular room.
For example, a moderately damp area of less than 2,000 sq. ft. in size may only need a 25 pint dehumidifier. Conversely, a 3,500 sq. ft. space with regular floor sweat may need to opt for a model with twice the dehumidifying capacity at 50 pints.
Noise Level
Due to their operational requirements, dehumidifier units can land on the noisy side of the home appliance spectrum. As a result, you should take time to consider where you intend to place your new unit and whether or not that location will be affected by the dehumidifier's output noise. If so, then your best bet would be to find a model that has been routinely described as quiet by its current users (as indicated in the product's online reviews).
However, if you are unconcerned about noise emitting from your dehumidifier, then you can place this consideration to the side. Just keep in mind that a noisy dehumidifier can be a real bother if you end up needing to use your unit in a location other than your basement.
Room Temperature
Room temperature can come into play immediately when it comes to dehumidifier operation. Specifically, some units are only designed to operate efficiently within the average range of indoor temperatures. In almost all industry-standard models, this temperature range starts as low as 41° F and can top out as high as 95° F.
That being said, a room temperature within this range can still create problems for your dehumidifier (especially if you intend to use it continuously). Due to their cold internal compression units, dehumidifiers can begin to form internal ice at temperatures as low as 55° F. If you intend to use your dehumidifier in a room at or around that temperature, then you'll need to opt for a unit with low temperature settings that include an auto-defrost mechanism.
How a Dehumidifier Works
Modern dehumidifier units collect ambient moisture from the space around them using either a refrigerant or desiccant method. Each of these methods comes with varying extraction efficiency rates, not to mention a noticeably different internal operating temperature.
As such, you should pay attention to the types offered at your preferred retailer to ensure that you are obtaining all the necessary features needed to efficiently dehumidify your basement.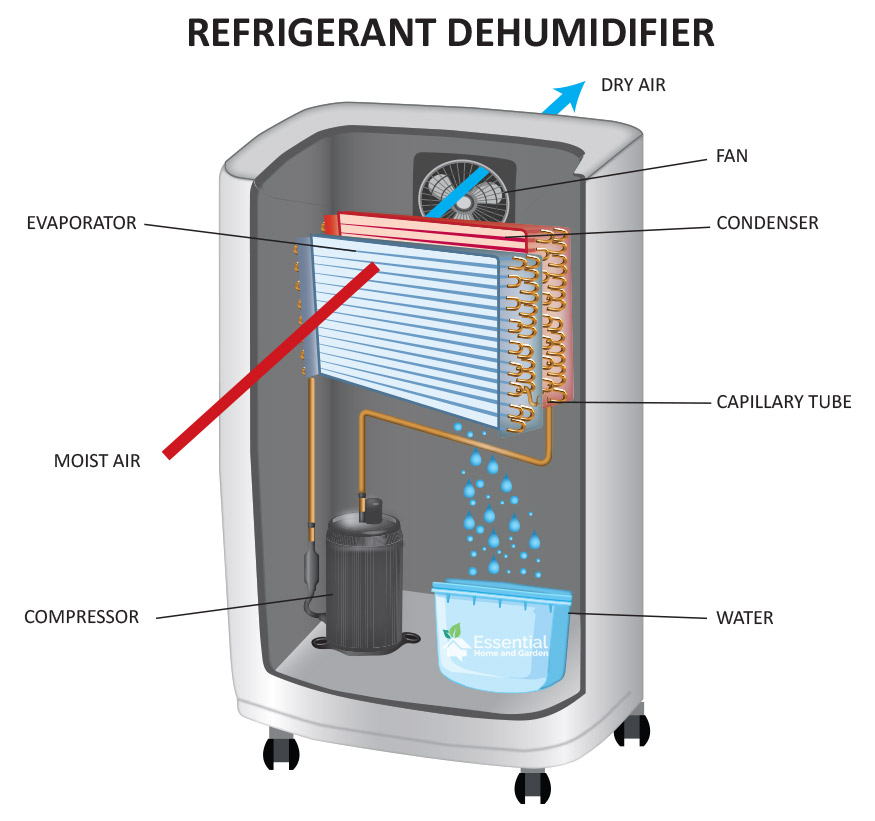 Refrigerant dehumidifiers are the most common overall and carry an average extraction efficiency rating. These units collect water by drawing humid air over a cold internal coil, causing the water to condense out and drop into the collection tank.
Desiccant dehumidifiers, on the other hand, make use of an internal rotor covered in absorbent material (often made of silica gel) in order to directly capture ambient water vapor.
These units have the added advantage of outputting dry air, thus encouraging drying in and around the moisture-afflicted space.
Learn More: Read our in depth guide on how dehumidifiers work.
How Often Will You Need to Empty the Tank?
For the most part, dehumidifiers operate independently without routine user interaction…with one key exception. Most dehumidifiers make use of an internal collection tank that must be occasionally emptied, which can become a chore of its own in basements with a steady volume of moisture. If you foresee this task becoming a problem for you, then it would be in your best interest to identify a dehumidifier model with as large a collection tank as possible.
Also, many dehumidifier listings include a specification describing the unit's capacity.
While this appears to reference the amount of water that the unit can hold (and thus, how often it will need to be emptied), capacity in dehumidifiers actually refers to how much ambient moisture the unit can draw out of the air in a 24 hour period. All the same, this metric is still very important for gauging how capable a given unit be when it comes to keeping up with your basement's dehumidifying needs.
What Size Dehumidifier Do You Need for Your Basement?
"Size", when describing a dehumidifier, can describe both a unit's physical dimensions as well as its capacity to extract a certain volume of humidity from the air in a 24 hour period.
When talking about moisture removal capability, precise dehumidifier size will depend primarily on the physical dimensions of your basement as well as the amount of moisture regularly trapped within that space.
For more information on how to properly size your dehumidifier, check out our helpful guide here.
Oversized Dehumidifiers Are Ok!
regardless of the dehumidification needs of your basement, remember that you are always safe to use a "larger" model than your circumstances call for.
In fact, larger and stronger dehumidifiers are often more able to tackle small jobs in a tighter time frame, often without the need to empty their larger containment tanks as often.
Use the chart below to quickly get a quick idea as to what size dehumidifier you need.
| | | | | |
| --- | --- | --- | --- | --- |
| Conditions | 300 sq ft | 500 sq ft | 800 sq ft | 1200 sq ft |
| Under 60% humidity | 20 pint | 25 pint | 35 pint | 50 pint |
| 60% – 70% humidity | 20 pint | 30 pint | 40 pint | 50 pint |
| 70% – 80% humidity | 30 pint | 35 pint | 45 pint | 55 pint |
| Over 80% humidity | 35 pint | 40 pint | 50 pint | 60 pint |
Do You Need a Basement Dehumidifier?
If you've found this guide, then chances are that you are looking at purchasing a dehumidifier for use in your home's basement. Such a course of action, even as a preventative measure, can be beneficial to the well-being of your home's residents. This is because excessive in-home moisture can allow mold and mildew to propagate (not to mention the risk for slippery floors where humidity is allowed to settle).
Despite these dangers, not every humid basement calls for a dehumidifier outright.
For example, a dehumidifier unit is best suited to homeowners who experience routine or ongoing moisture in one or more sections of their basement. This can range from slightly mugginess in the air to floor sweat to residual water left over from a major influx of water in the basement (such as after a flood).
If you are performing an in-home moisture test, you should be shooting for an RH (relative humidity) rating of 30% or lower in order to avoid the worst risks posed by basement moisture. Any amount over 50% is bound to cause problems though and should be addressed with a dehumidifier immediately. Any humidity response plan should additionally feature an attempt to resolve the source of the moisture (if possible).
If you really don't want to spend the money on a humidifier right now, then there are ways you can get rid of humidity in your basement without one.
FAQ – Frequently Asked Questions about Basement Dehumidifiers
How do I clean my Dehumidifier?
Cleaning your dehumidifier need not be an onerous task, so long as you follow proper procedures and initiate a full unit cleaning on a regular basis. This is especially important because dehumidifiers are prone to encourage undesirable bacterial growth if they are not regularly sanitized.
To do this, first unplug your dehumidifier unit. Next, whip down your unit's exterior with a damp cloth, making sure to apply slight pressure as you pass over any vents. With the exterior properly cleaned, you'll next need to remove (and empty, if necessary) the reservoir tank. This tank should be cleaned both inside and out with a mild liquid soap.
While you have the soap solution available, remove and wash any air or water filters included in your unit. Once these components have all been rinsed and dried, they may be returned to the unit for regular use.
How Much Electricity Does a Dehumidifier Use?
Precise electrical demands will differ from one dehumidifier model to another. However, most dehumidifiers (like air conditioners) tend to require a greater level of energy consumption when they are working harder.
As such, dehumidifiers (regardless of size) will consume more electricity if they are left on for a majority of the day or are persistently combating an ongoing influx of in-home moisture.
What Level Should I Set My Dehumidifier To?
Your dehumidifier settings come down to personal preference, especially when it comes to measuring your basement's environment against the relative humidity standard (30%). In most cases, a dehumidifier's default settings are fully capable of handling most jobs with relative ease and efficiency.
However, if you are looking to save electricity or combat a larger influx of basement humidity, you may choose to lower or raise your unit's settings accordingly
Where in My Basement Should I Place my Dehumidifier?
Dehumidifier placement is an important but often overlooked factor that can directly impact a unit's ability to operate efficiently. As a rule of thumb, all dehumidifiers (regardless of size) should be placed six inches or further from a wall in order to promote intra-unit airflow.
Also, your unit's active face should be positioned towards the source of the humidity or, if the direct source is unclear, towards the broadest portion of the room.
How Long Should a Dehumidifier Run Per Day?
Most homeowners who are looking to combat moisture in their basement run their dehumidifiers for around 12 hours a day.
In many cases, though, modern dehumidifiers are designed to startup automatically when they detect an abundance of moisture, making the act of continuous usage unnecessary.
The Final Word
At the end of the day, you probably didn't expect there to be this much information to consider before purchasing the best dehumidifier for your basement. But indeed, each of the factors explained in this guide may impact your dehumidifier's ability to properly aerate your basement, making it essential that you take every feature and specification into account before finagling your purchase.
From here on out, you'll poses the knowledge necessary to differentiate a high quality dehumidifier from a cheap knockoff. So, using what you've learned, you should return to our reviews of this year's top basement dehumidifiers and select the model that not only meets your dehumidifying needs but also fits your in-home maintenance budget.