Our Rating:
Key Features:
Continuous drainage
ENERGY STAR certified
5-year compressor warranty
Removes 52 pints
---
An energy Star certified Dehumidifier and can Run non-stop
If you need a dehumidifier for your home to make it more comfortable, you need to read this review of the Vellgoo DryTank Dehumidifier.
This large capacity dehumidifier works well in small and large areas. In our test, it reduced the humidity of a large garage by 14% overnight. And with its continuous drainage hose, you will never have to worry about emptying its tank.
This ENERGY STAR certified sleek dehumidifier has a large coverage area of 4,500 square feet with plenty of features to help you maximize your home's comfort. Although it has a few minor downsides, it can quickly and quietly reduce your home's humidity without much setup.
Review Criteria Ratings
| | |
| --- | --- |
| Moisture Removal | 5/5 |
| Noise Level | 4.5/5 |
| Energy Efficiency | 5/5 |
| Ease of Use | 4/5 |
| Extra Features | 3/5 |
Pros
Continuous operation with gravity drainage
Includes tube with hose fitting for easy drainage expansion
ENERGY STAR certified
1-year product warranty, 5-year compressor warranty
Fast dehumidification
Cons
Short power cord
Hose fitting is not barded
Settings are complex at first
Gravity drain is at top of tank
Garden hose connector packed in tank
Should You Buy It?
You should buy the Vellgoo DryTank if you prefer to have a dehumidifier that can efficiently and quickly remove excess moisture in large areas of your home, but will not drastically spike your energy consumption.
Disclosure: It is important you understand that we may receive commissions when you click our links and make purchases. However, this does not impact our reviews and comparisons. All opinions are our own we pride ourselves on keeping our articles fair and balanced. For more info see our disclosure statement.
Vellgoo DryTank Dehumidifier Product Overview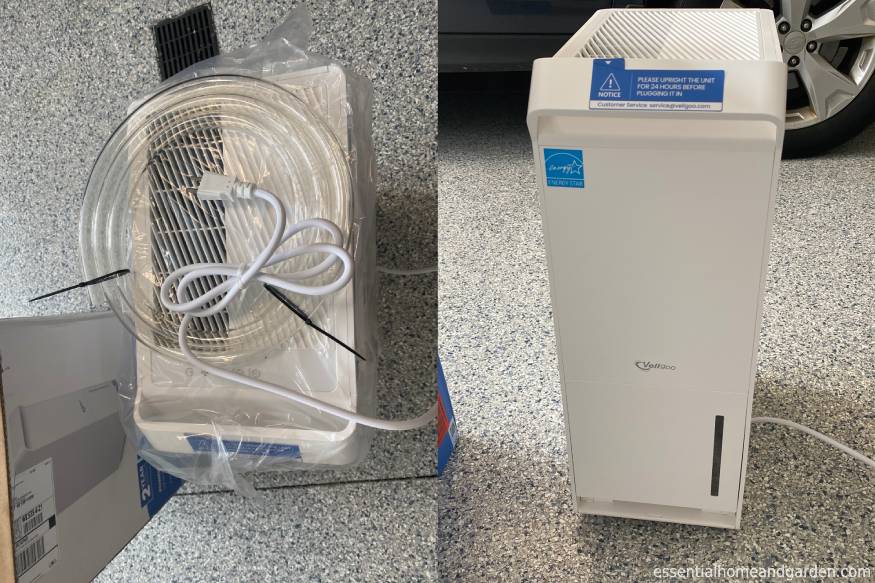 We had the opportunity to test out a few Vellgoo products recently, including the DryTank Dehumidifier and the Mini Dehumidifier.
This 52-pint unit is a sleek beast but has a small enough footprint where it's not overly intrusive. It has a 1.4 gallon (5.5 liters) tank and a compressor with enough power to remove up to 52 pints of water per day. It has an ample coverage area of 4,500 square feet and is decently quiet.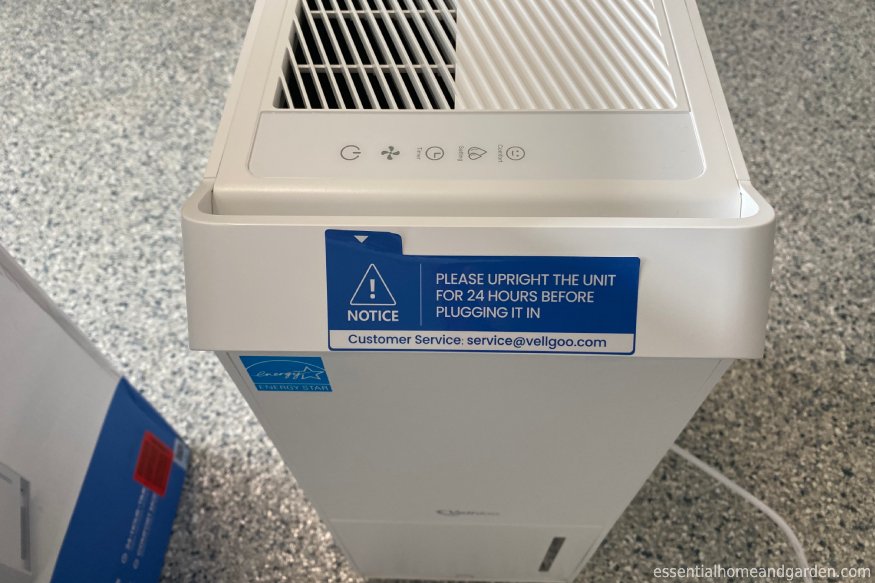 This Vellgoo unit also has a continuous drainage port built-in, and it includes a 6.56-foot plastic push-on drain hose and a push-on drain hose to ⅝" adapter for a garden hose.
If the drainage connection itself were threaded or barbed and located at the bottom of the tank, I feel this would be a better design.
Regardless, the continuous drainage feature works fine and allows you to feed the water directly into a drain, sink, sump pit, or outdoors. And like most dehumidifiers of this caliber, you can adjust the run time, humidity setpoint, and more directly on the control panel.
The Vellgoo dehumidifier comes with a 1-year warranty, which you can extend to 2-years. It also has a generous 5-year warranty on the compressor.
Overall, I am impressed by the performance of the Vellgoo DryTank Dehumidifier. It is easy to use, quick to empty, and reduces the humidity fast. But is it the right dehumidifier for your home?
Continue reading to see our full and honest Vellgo DryTank Dehumidifier review and assessment.
Learn More: How a Dehumidifier Works
How The Vellgoo Dehumidifier Performs
I had the opportunity to use this Vellgoo Dehumidifier and test it out in my own home.
In the review below, you'll see how its moisture removal, noise level, energy efficiency, ease of use, and extra features stack up.
Moisture Removal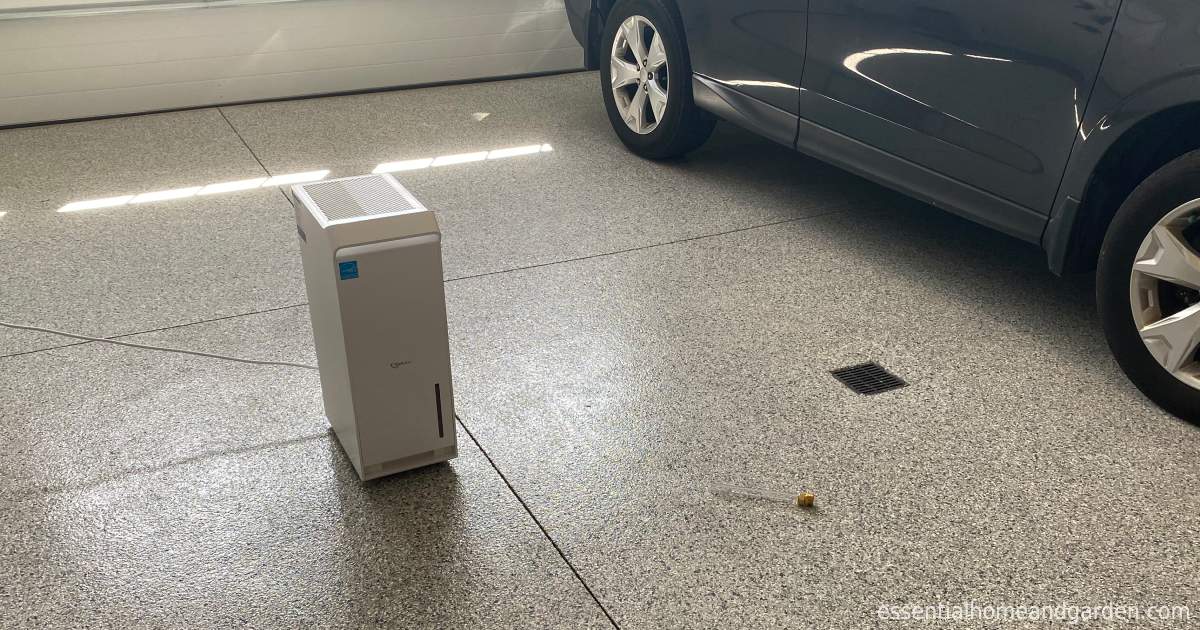 This Vellgoo Dehumidifier has impressive moisture removal.
I have a 3-car garage of about 1,000 square feet, and it can get pretty humid. It doesn't have any ventilation, so the moisture tends to stick around when we pull in our wet cars after it rains.
So, I set up the Vellgoo DryTank Dehumidifier there to remove the excess moisture. When I turned it on in the late afternoon, the moisture level was 63% (which isn't too bad since it hadn't rained for a while). I left it running on continuous mode overnight.
After running for about two hours, it reduced the humidity to 53%, which is pretty fantastic given the large area.
By morning, the 1.6-gallon tank was completely full, and my garage's humidity had fallen to 46% (just above 45%, where I set it).
Noise Level
The Vellgoo Dehumidifier is designed to remove moisture in large areas (up to 4,500 square feet). And to achieve that much capacity, it needs to have a large enough fan to move that much air.
With that said, I would have expected this unit to be louder; even on the max setting, it is not too bad. It gets up to just 45 dB, which is just as quiet as a library. I do a lot of projects in my garage, and I didn't really notice the noise unless I was listening for it.
However, up close you can definitely hear it. So, for smaller spaces and family rooms, it might be too loud. Ideally, you would use this dehumidifier in basements, crawlspaces, garages, or other unfinished areas in your house.
Energy Efficiency
The Vellgoo DryTank Dehumidifier is an Energy Star certified product and holds the "Energy Star Most Efficient" certification for 2022. This means it is energy efficient and won't significantly raise your monthly power bill – less than $16/month if you run it 24/7.
If you consider how little power it uses, you can just leave it on all the time. You can stick it in your basement and hook up the drain line straight to your sump pit like I plan to. After that, you'll only need to check and clean the filter once every other month or so.
But to further reduce the energy consumption of this dehumidifier, you can use the timer mode or manual mode with a target humidity level.
Ease of Use
The Vellgoo DryTank Dehumidifier is simple enough to use once you get the hang of it. I wouldn't call it intuitive, but adjusting things will be second nature once you change the settings a few times.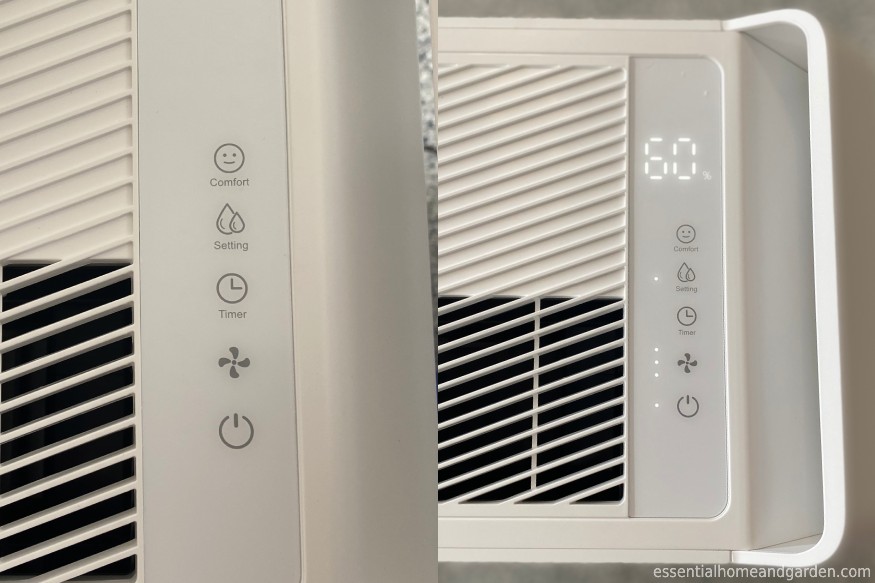 It has three operation modes:
Continuous dehumidification: The unit will always run and dehumidify. The comfort, setting, and timer lights are off in this mode.
Custom dehumidification: In this mode, you can manually change the setpoint from 40% to 80% RH. The setting light stays on for this mode.
Comfort mode: This mode sets the dehumidifier to 45% to 55%, the optimal humidity range for human comfort. The comfort light stays on for this mode.
By default, it is in continuous mode. To change it to custom mode:
Hit the "Setting" button
Press it again for your desired humidity level.
If you want to set the dehumidifier to "Comfort" just tap the "Comfort" button once to go into comfort mode.
To return to the continuous operation mode, just disable the comfort or custom mode by pressing their respective buttons.
You can also adjust the fan speed and timer with the top panel's touch buttons. And if you forget how to work it, just refer to the instruction sticker on the side: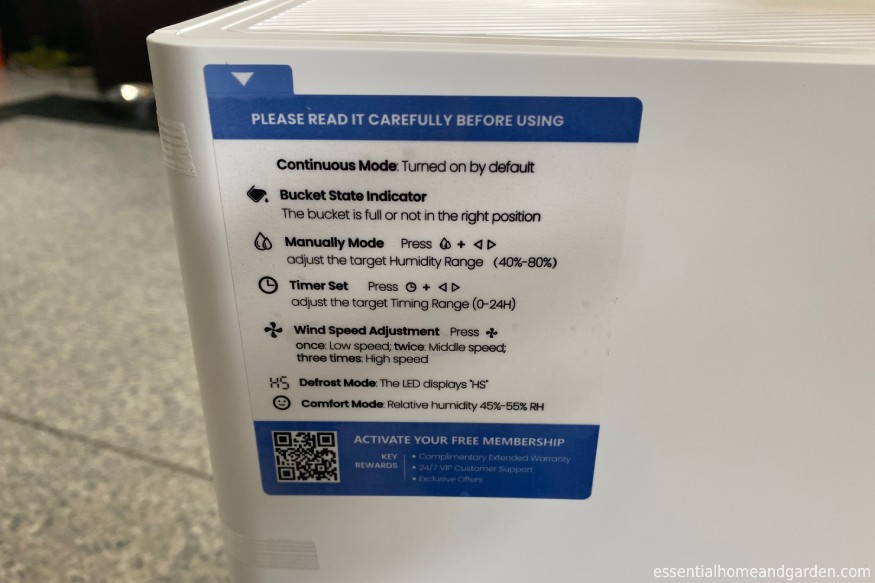 Extra Features
Besides all the standard features you'd expect from a large dehumidifier, the Vellgo DryTank unit has some additional features:
Continuous Drainage
The continuous drainage option works great on the Vellgoo DryTank Dehumidifier.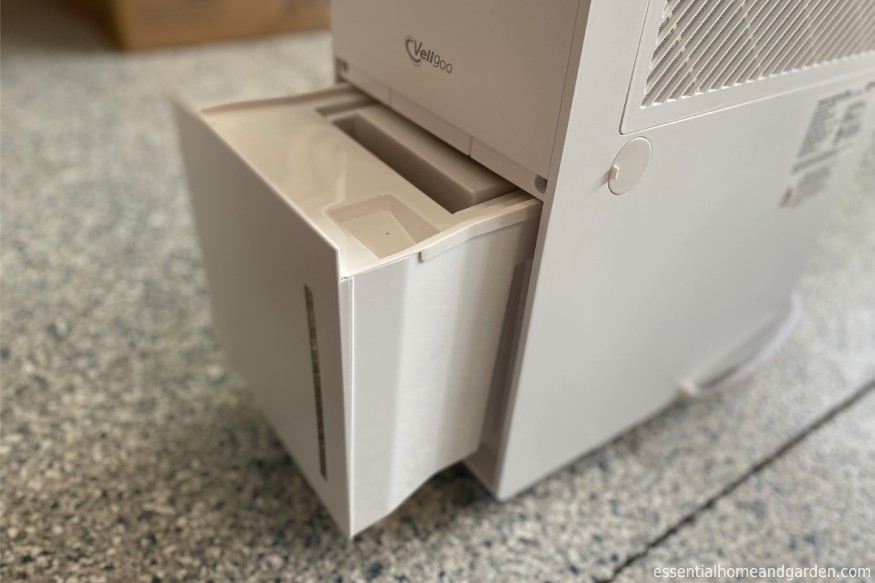 Let me explain – the drainage port is at the top of the tank, meaning it diverts the water away from the tank and out the drain line. This means the tank never collects water during normal operation (when you connect the drain line). This helps prevents a mold or mildew problem if you forget to clean it every now and then.
If it drained from the bottom instead, the tank would never have standing water.
Also, the connection to the continuous drain hose is just a tapered fitting for push-on tubing. The included tubes do fit snuggly. But over a period of a couple of years, they might stretch, lose the seal, and leak water on your floor. Only time will tell how well the tube will hold up. It may last indefinitely without leaking.
However, it would be more secure if the drainage port were a barbed fitting or a 5/8″ hose fitting. These both would provide a better seal and lower the chance of leaking water.
Splash guard
If you don't use the continuous drain hose, you will have to empty the reservoir tank every so often. The tank includes a splash guard lid that prevents water from splashing out as you carry it to your sink. I've spilled buckets of water before so I appreciate this feature.
Hose fitting
Vellgoo includes a short push-on tube with a 5/8″ hose fitting on the other side.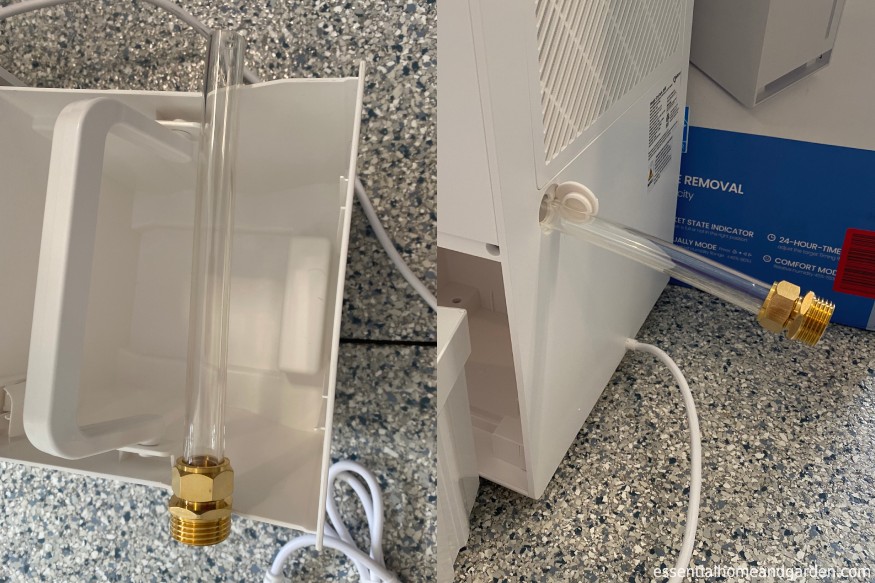 With this adapter, you can connect your own garden hose for extra length to reach a floor drain, sump pit, sink, or outdoors.
Alternatives to The Vellgoo Dehumidifier
The Vellgoo DryTank is a perfect choice for homeowners that want a powerful dehumidifier with an ample coverage area for their entire home. It's a perfect fit for basements, garages, crawl spaces, and unfinished living spaces.
However, if you need to dehumidify your living room, bedroom, laundry room, bathroom, etc., you may want something smaller or quieter. In that case, we have a few alternatives for you.
Vellgoo's mini dehumidifier is a good alternative for smaller areas, such as bathrooms, laundry rooms, kitchens, and more. It's a much smaller form factor, has a continuous drain line, and a convenient remote control.
If you want great coverage but with a water pump for continuous drainage, without having the tank full of water 24/7, consider the hOmeLabs 50-pint with pump dehumidifier. It can remove up to 50 pints of moisture daily and has a threaded drain line connection.
Conclusion
If you live in a humid region, you need a good dehumidifier for your home. Otherwise, excessive indoor moisture could lead to water damage, mold/mildew problems, and potential health issues for you and your family.
Plus, if your home develops a leaky pipe or you accidentally overfill your bathtub, a large dehumidifier like the Vellgoo DryTank can help you quickly remove the moisture.
This large capacity unit removes water from your home at an impressive rate, and its continuous drainage features keep maintenance at a minimum. Plus, with its ENERGY STAR certification, you can keep your energy bills low while maintaining a dry home.
To learn even more about the Vellgoo DryTank dehumidifier or purchase one for your home, click here.