Cordless, battery-powered leaf blowers make cleaning up all the fallen foliage in your yard a breeze. A quality cordless blower is easier to use than a gas-powered unit and is certainly less work than raking.
But with so many choices and brands available, it can be hard to discern quality from something you'll be disappointed in later.
To help make the shopping process easier, we've put together a list of the eight top cordless leaf blowers on the market. We'll tell you which works best in which situation and walk you through our handy buyers' guide, so you'll have all the information you need to pick the right product for you.
Let's take a look at the best models available right now.
Disclosure: We may receive commissions when you click our links and make purchases. This does not impact our reviews and comparisons. All opinions are our own. We pride ourselves on keeping our articles fair and balanced. For more info see our disclosure statement.
Best Cordless Leaf Blowers – Quick Comparison
Product
Details
Where to Buy
Milwaukee Electric Tools 2724-21HD M18 Fuel Blower





**Top Pick**

Air Power: 450 CFM/120 MPH
Run Time: up to 30 minutes
Weight: 11 lbs
Modes: high/low with variable trigger

Check Price Now
Makita XBU02PT1 18V X2 (36V) Blower Kit


Air Power: 473 CFM/120 MPH
Run Time: 15 to 40 minutes
Weight: 9 lbs
Modes: 6 speeds

Check Price Now
DEWALT 20V MAX XR Leaf Blower


Air Power: 450 CFM/125 MPH
Run Time: up to 30 minutes
Weight: 7.1 pounds
Modes: variable speed trigger

Check Price Now
Greenworks 40V Electric Leaf Blower


Air Power: 430 CFM/115 MPH
Run Time: up to 30 minutes
Weight: 6 pounds
Modes: variable speed trigger

Check Price Now
EGO Power+ LB5302 3-Speed Turbo 56-Volt 530 CFM Cordless Leaf Blower


Air Power: 530 CFM/110 MPH
Run Time: up to 75 minutes
Weight: 7.4 pounds 
Modes: 3 speeds

Check Price Now
Kimo Battery Powered Leaf Blower


Air Power: 200 CFM/150 MPH
Run Time: up to 30 minutes
Weight: 2.8 pounds
Modes: variable speed trigger

Check Price Now
Ryobi P2108A ONE+ 100 mph 280 CFM 18-Volt Lithium-Ion Cordless Jet Fan Blower


Air Power: 280 CFM/100 MPH
Run Time: up to 45 minutes
Weight: 7.6 pounds
Modes: variable speed trigger

Check Price Now
WORX WG584 40V Power Share Turbine Battery Leaf Blower


Air Power: 430 CFM/90 MPH
Run Time: 10 to 60 minutes
Weight: 7.3 pounds
Modes: 3 speeds

Check Price Now
The Best Cordless Leaf Blower
The Best Cordless Leaf Blower
Milwaukee Electric Tools 2724-21HD M18 Fuel Blower
The ultra-powerful Milwaukee Electric Fuel Blower blows the competition away – pun intended.
It will throttle up to full power in less than one second, clearing leaves from a distance of 15 feet. And, with an extended run time of 30 minutes, your backyard or lawn, no matter how big it is, will be free from dried leaves before you even know it.
The Best Battery Powered Leaf Blower Reviews
The key to a great cordless leaf blower is the perfect balance of power and weight. It should have a high enough power output to tackle even the toughest jobs but be lightweight enough so you can maneuver and carry the blower until the leaves are all cleared out.
The Milwaukee Electric Fuel Blower accomplishes both of these.
The PowerState brushless motor puts out 450 CFM at 120 MPH, enough power to move debris at a distance of 15 feet when you use it in the highest setting. And at only 7 pounds, with the battery attached, it is easy and comfortable to maneuver for as long as the job takes.
A high/low-speed knob and variable trigger switch make shifting from heavy-duty work to delicate garden bed cleaning a snap. And with a generous 30 minute run-time on lower speeds, this blower will help you get your yard chores done quickly and efficiently.
The kit linked to it comes with 1 battery and a rapid charger, so just charge it up when you get it and start blowing those leaves!
---
If you are looking for the best heavy-duty blower with the power and durability to take care of the most challenging jobs for years to come, look no further than the Makita X2 Blower.
This double-battery powered, cordless blower makes quick work of wet, layered leaves, heavy snow, and debris-strewn yards. It has a powerful 5.68 blowing index and an impressive run time of up to 40 minutes (28 minutes at mid-speed). And with the included extra battery set, you can easily tackle huge projects with this kit.
The Makita is the heaviest choice on our list at 9 pounds (with batteries in). But with the ergonomic grip, easy-set six-speed dial, and balanced build, this blower is easy enough for most homeowners to operate comfortably.
It should be noted that this model puts out a significant noise level of 61 dB, so make sure you have ear protection.
The kit linked to comes with four 5.0 Ah lithium Ion batteries and a double charger. So you will be ready to get up and blowing right out of the box.
---
With a blowing index value just below the Makita, this Dewalt 20V Max leaf blower provides similar power for air movement in a package that weighs 2 pounds less, which as far as a cordless leaf blower goes – is quite good.
We love the durable design of this blower. Along with a reinforced frame and ergonomic, wide-grip handle, it also features a built-in stand to keep your blower from getting damaged when you rest it on the ground.
But what really makes this powerful unit stand out is the well-designed axial fan. This oversized fan keeps the unit cool even as it operates on the highest setting and provides exceptional noise dampening. This blower puts out a maximum decibel level of 66.
While it is powerful enough to rival the best of those on our list, the sound it puts out is even quieter than the lighter-duty models.
---
If you are after an easy-to-use, lightweight leaf blower for general yard maintenance, you can't go wrong with the simple yet effective design of the Greenworks 40V.
This slim, 6-pound blower puts out an impressive amount of air speed and power for its size. It is well-suited to leaves, grass cuttings, and other lighter weight debris from sidewalks and lawns.
The maneuverable, long blower pipe also allows for effortless clearing around flowers and shrubs. And with a fully responsive variable speed trigger with cruise control, you won't have to worry about accidentally blowing away mulch or damaging plants.
Want to know more about this equipment? Check out our full Greenworks Electric Blower review. It really is one of the best available.
---
EGO is quickly gaining a name for itself in the electric yard tool market. Their ultra-powerful arc-lithium batteries are one of the best available and the marketing says that they run longer and produce more power than anyone else's. If you have the budget, their 3-Speed Turbo leaf blower is worth the investment.
This impressive blower has an untouched 5.83 blowing index rating. It is powerful enough (blows enough air fast enough) to move small river rocks off the sidewalk and will have no trouble clearing leaves and debris from your lawn. And with up to 75 minutes of run-time per battery, it doesn't matter how big your yard is; you'll be able to finish the job.
You can set the blower to two speed settings – high and low. It also has an additional turbo feature for superb power when the job calls for it.
The blower itself isn't overly expensive, but the EGO brand batteries come with a hefty price tag. We recommend saving yourself money by investing in multiple EGO tools and sharing the batteries between them.
---
If all you expect from your leaf blower is for it to be able to clear leaves from the lawn, sawdust from the workshop, and lightweight debris from the garage, then this Kimo leaf blower is one of the best and possibly all you need.
For these light tasks, the affordable, 2.8 pound Kimo cordless leaf blower is perfect. It is easy to maneuver and carry that you won't even feel like you're holding anything. And with a low price point, you won't feel guilty about hanging that rake up for good, either.
With a blowing index of only 3, you won't be tackling any heavy-duty jobs with this blower. But with an easy-squeeze variable trigger, 30-minute run time, and comfort-grip handle, you won't want to use any other tool for those light clearing tasks.
---
Another of the top options for those lighter tasks is the Ryobi ONE+ Cordless Jet Fan Blower.
Like the Kimo, it has a lower blowing index value (less air movement) that makes it a better choice for simple leaf blowing and clearing. But unlike the Kimo, it includes a more powerful battery that allows for up to 40 minutes of run time.
We also prefer the unique, ultra-sleek design of this handy blower. It is a bit heavier at 7.6 pounds (6.5 without the battery), but it is well balanced and feels only half that weight in your hand. Plus, the clear-tube design adds a fun aesthetic that most blowers lack.
The price of this product rivals the Kimo, but you must buy the battery separately. We recommend any of these great options.
---
The Worx Power Share leaf blower is the perfect compromise between the lightweight, low-power cordless leaf blowers we just featured and the high-power units at the beginning of the list.
It has a mid-level blowing index rating of 3.87 but puts out a powerful 430 CFM thanks to the specialized turbine engine. It won't clear debris as fast as other top models, but it will help you complete the job in fewer passes.
Another feature we love? The included 20-volt batteries last up to 60 minutes.
This blower features a 3-speed dial for easy operation, including a turbo setting for those heavier-duty applications.
---
How Do I choose a cordless blower?
Manufacturers of leaf blowers like to bamboozle us with different features and specifications, but what do you actually need to know?
This buyer's guide will give you the basic knowledge you need when buying a new (and sometimes expensive) cordless leaf blower.
The Blowers Size and Weight
Unlike backpack-style leaf blowers, which use an easy carry pack to keep all the blower's heavy machinery, you will carry all the weight of a cordless blower in your hand.
This aspect makes the total weight of a cordless blower especially important.
Obviously, the lighter the leaf blower, the easier it will be to use. But these super-lightweight cordless leaf blower models are also going to be less powerful than the heavier ones.
The trick is to find the perfect balance of weight and power based on your needs and abilities.
If you have a large yard with a lot of debris to clear, power and air movement will be more important. If this is the case for you, the Ego Power+ is a great choice.
But if you struggle to maneuver heavier equipment, the power a heavy cordless leaf blower provides won't be useful –you can't take advantage of something you can't use! The Kimo Leaf Blower is the lightest blower we reviewed and still packs enough power to get light to medium jobs done quickly.
Air Flow and Air Speed in Cordless Leaf Blowers
Determining a leaf blower's power can be a little tricky because each product's output power is measured in two separate ways.
The first measurement you are likely to come across is "CFM," or cubic feet per minute. It describes the volume of air that the product can push through the blower pipe every minute. The more air that moves through, the more powerful the force of the blower.
High CFM cordless leaf blowers can move heavier debris, such as wet leaves, acorns, mulch, heavy snow, and more. They can also move more debris at once. Low CFM blowers are best suited for moving dry leaves and light, unpacked snow.
The other measurement of power you will see is "MPH," or miles per hour. It is a measurement of the speed at which the air leaves the blower tube.
High MPH cordless leaf blowers can move debris away more quickly, which means less time working in the yard. Low MPH blowers move debris more slowly and not as far with each pass.
A cordless leaf blower's total power is a combination of these two factors and can be represented by a single number known as a blowing index. The higher the blowing index, the more powerful the machine.
To learn more about these power measures and to use our handy blowing index calculator, click here.
Yard Size
Another factor to consider before choosing your cordless leaf blower is how large your yard is and the jobs you plan to use the blower for.
Large yards will benefit from powerful, fast cordless leaf blowers that can get the job done quickly. On the other hand, small yards require less battery life and less power, which means you can get away with purchasing a less expensive blower.
Similarly, if you plan to use your blower exclusively for light tasks such as blowing dried leaves, clearing sawdust from your shop, and clearing off the sidewalk, a lighter, less powerful blower will work fine and save you money.
Heavy-duty jobs like clearing away layers of packed leaves and mulch, cleaning up seed pods, and clearing off snowy sidewalks, will require a powerful cordless machine that has higher MPH and CFM specifications. Something like the Makita X2 is a great option for these tougher tasks.
Leaf Blower Battery Life and Care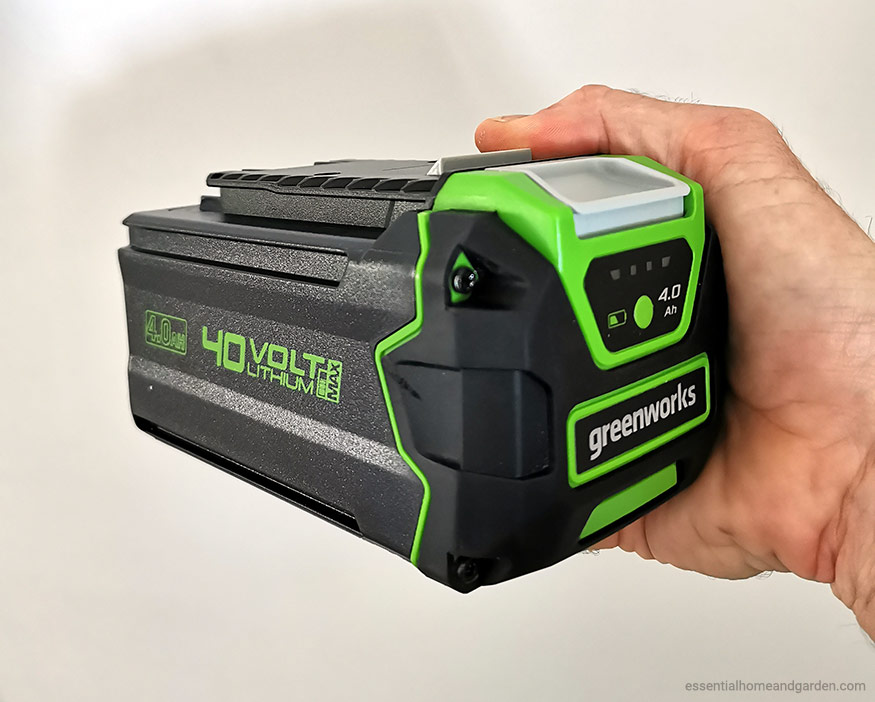 How you plan to use your blower and your yard's size also play an important role in determining how much battery life you need.
All cordless leaf blowers rely on rechargeable batteries. After all, it wouldn't be cordless if it needed a lead, would it!
These batteries vary in size, with the smallest usually rated at 2.5 amp hours and the largest at around eight amp-hours. Batteries larger than this tend to be too bulky and heavy for handheld devices.
In general, the higher the amp hours, the longer the battery will last on a full charge. However, some other factors can also determine the run time, such as the blower's efficiency. The EGO leaf blower, for instance, can run up to 75 minutes on a 2.5 amp battery.
Most cordless models advertise a run time of about 30 minutes. But keep in mind, this is based on running the blower at the lowest speed. Running a leaf blower continuously at the highest speed will drain the battery much faster.
If you have a large yard with a lot of debris, it is worth buying multiple batteries and chargers so you can quickly switch them out as they die. Another option is to opt for a gas-powered leaf blower.
Learn more: The ultimate power tool battery guide.
Other Features of The Top Models
Many leaf blowers come with additional features that may or may not be necessary to you based on how you plan to use your machine.
Models with different speed options allow you to set your speed using a separate dial from the trigger switch. Other models use a variable trigger that increases speed the harder you depress it. For these types, you'll want to make sure the product comes with a "cruise control" lock that allows you to hold at a certain speed without having to keep your fingers on the trigger.
Another aspect to consider is noise level.
Leaf blowers are loud—that just comes with the territory. But some models are built to be less noisy than others. If loud machinery absolutely annoys you, look for products marketed as being "quiet operators."
Any blower that puts out less than 66 decibels is considered a noise-reduced model.
The Wrap Up – Which Is The Best?
We featured many products on our list of the top cordless leaf blowers, some heavy-duty and powerful, and some lightweight and affordable. But the Milwaukee Electric Fuel Blower easily tops the list by combining the best of both worlds.
The Milwaukee is lightweight enough to operate comfortably even during extended jobs but powerful enough to use on wet foliage, piled debris, and snow. And the two-speed dial plus variable action trigger means you can customize this product's power output for whatever task is at hand.
If you are looking for an ultra-durable product for large-scale jobs, we recommend the Makita X2 Blower. Or, if you are after something more affordable for simple tasks, you can't go wrong with the Greenworks 40V.
Whatever jobs you have in mind for your new leaf blower, you are sure to find the right product listed in the reviews above.