As we've said before, Cordless Battery-Powered Tools are the way of the future. Not only does modern battery technology now rival traditional gas-powered motors, but they're superior in many other ways.
They're lighter than clunky gas models.
They're significantly less noisy.
They're far more convenient to move around than corded models that are constantly trying to trip you up as you drag extension cords around after you in the garden.
And they're definitely cleaner on the air you breathe.
In fact, an environmental study from the government of Australia found that an ordinary "2-stroke leaf blower used for one hour can produce as much hydrocarbons as 150 cars during the same time".
So if you are mindful about that sort of thing, you'll definitely want to upgrade your tools, beginning that beloved gardening staple, the weed eater.
Let's go through some top models together…
Disclosure:It is important you understand that we may receive commissions when you click our links and make purchases. However, this does not impact our reviews and comparisons. All opinions are our own we pride ourselves on keeping our articles fair and balanced. For more info see our disclosure statement.
Comparison Table
Product
Details
Where to Buy

**Best Power**

Runtime: 60 minutes per battery
Voltage: 36 volts (2 x 18v batteries)
Charge Time: 45 minutes per battery
Batteries Included: 4x 5.0aH Li-ion
Cutting Width: 15"
Weight: 20.9lbs
Check Price on Amazon
**Best Value**
Runtime: 60 minutes per battery
Voltage: 18 volts
Charge Time: 60 minutes
Batteries Included: 1 x 9.0 aH Li-ion
Cutting Width: 14"-16"
Weight: 9.9 lbs
Check Price
Runtime: 25-45 minutes per battery
Voltage: 20 volts
Charge Time: 240 minutes
Batteries Included: 1 x 5.0 aH Li-ion
Cutting Width: 13"
Weight: 7.3 lbs
Check Price on Amazon
Runtime: 40-45 minutes per battery
Voltage: 40 volts (2 x 20v batteries)
Charge Time: 60 minutes
Batteries Included: 2x 2.0aH Li-ion
Cutting Width: 13"
Weight: 8.6 lbs
Check Price On Amazon

Greenworks 40V

Runtime: 30 minutes per battery
Voltage: 40 volts
Charge Time: 60 to 120 minutes
Batteries Included: 2.0Ah battery
Cutting Width: 13"
Weight: 9.26 pounds
Check Price on Amazon
Runtime: 15 minutes per battery
Voltage: 20 volts
Charge Time: 180 + minutes per battery
Batteries Included: 2x1.5aH Li-ion
Cutting Width: 12"
Weight: 6.3 lbs
Check Price on Amazon
Runtime: 15-20 minutes per battery
Voltage: 20 volts
Charge Time: 180 + minutes per battery
Batteries Included: 1x2.0aH Li-ion
Cutting Width: 10"
Weight: 4.4 lbs
Check Price on Amazon
This weed eater is an absolute beast! It's the definitive heavy-duty trimmer. It runs longer, charges quicker, cuts broader and just generally works harder than any other model.
With double the battery power and capacity of almost every other model, it not only runs much longer than the others, but it has the voltage chops to tackle even commercial grade gardening and landscaping projects.
Moreover, with the shortest charge time, capable of charging two batteries simultaneously in less time than it takes to use up the other two, you can rotate your batteries every hour and use this trimmer all day if you need to.
The Best Cordless Weed Eater Reviews
The Weed Eater is known by many names. Weed Whacker. String Trimmer. Whipper Snipper. Line Trimmer. It can get confusing.
We all want to make conscientious decisions when purchasing, but between all the different names and models and brands and options, doing your own research can leave your head feeling every bit as messy as the lawn you're trying to organize and maintain.
That's why we've already done it all for you.
We've spent hours combing the internet and compiling a comparative chart for you of seven of the best battery powered weed eaters available right now at a whole range of different price points.
We've focused on general specs, battery specs and bonafide user reviews, weighing the claims of the company with overall user satisfaction and experience, to bring you the ultimate go-to list of cordless, battery powered string trimmers, so you can approach this like an expert.
Here is a more detailed look at the merits of each of the different models we chose, and some things to consider in finding the right one for you. For your convenience, we've broken them up into three subcategories: heavy use, medium use and light use.
Makita XRU15PT1 Cordless String Trimmer

Key Features:
Top of the range
Fastest charging
Maximum power
Multiple speed options
User favorite
Are you looking for the absolute best of the best?
Look no further.You want the Makita XRU15PT1 Cordless String Trimmer. It is without a doubt the best.
With the recent resurgence in people ditching the big cities for a chunk of their own land in the country somewhere, there's been a tremendous boom in people getting back to nature, growing their own food, getting chickens, etc.
Let's face it, being in touch with the world around us is way more important than Facebook and YouTube, and we all know it.
But to really get back to our roots, we need the right tools for the job. It's more important than ever. There's no point ditching the city apartment for a quarter-acre somewhere out of town if we're just going to let ourselves get overgrown by stifling weeds.
We leave the city for the open space. And that's exactly what a quality trimmer does, create space for us to breathe. If you want a big space, you need a trimmer that has the chops for the job.
Now, to be fair, it does weigh the most of all the models we looked at, but that's because it's the most heavy-duty, industry-capable and long-lasting, and it's still under ten pounds!
Plus, it's unbelievably easy to get a universal sling or strap that will hook onto and support any weed eater if you're planning on extensive use.
User reviews are overwhelmingly positive. In fact, the only real piece of criticism we could find was that the bump-head wore down too quickly for the users' liking.
However, they also conceded to bumping it repeatedly on concrete against the manufacturer's recommendation, and virtually every weed eater has user reviews claiming worn-out heads, so it's really a non-sequitur. And heads are easily replaceable.
So if you're after something with power, stamina and convenience, this is definitely the model for you.
Milwaukee M18 2725-21HD String Trimmer

Key Specifications
Greatest cutting width
Full hour of use on a single charge
Fast charger
5-year warranty
The Milwaukee 2725-21HD, is a pretty close second. It doesn't quite have the awesome power of the Makita, or charge quite so quickly, but it's still a top of the line piece of equipment in every other way.
The 60-minute charge time and 60-minute run time also mean that if you splurge and grab yourself a second battery, you can use them on rotation, switching them out every hour, like the Makita.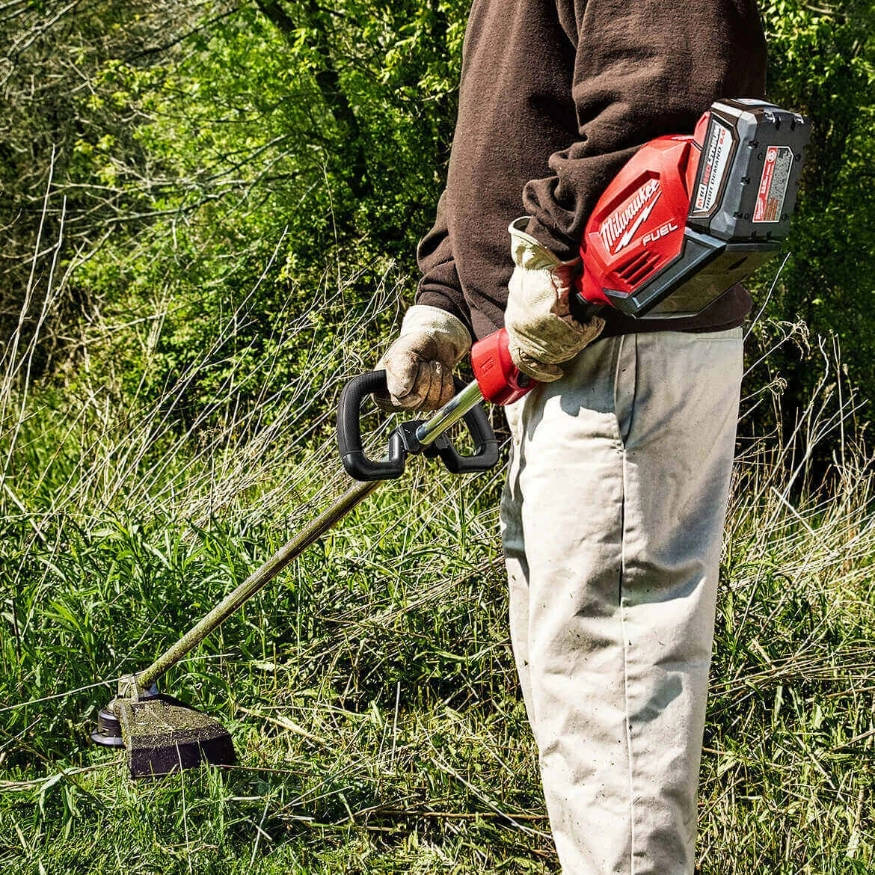 However, if you are willing to splurge that little bit extra for the second battery, you're really better off just getting the Makita, because the price of a second battery more than makes up the difference between our number 1 and 2 picks.
Our next two weed eaters are a step down in weight, power, battery capacity, and run time, yes, but for those small trades, they are about half the price of the first two.
If you have a medium-sized suburban home, and maintaining your lawn and garden is only of medium importance to you, you may not be looking for the absolute best of the best when it comes to maintenance tools.
You might just want a quality machine that you can rely upon for 30-45 minutes at a time every few weeks, that won't flatline on you within 6 months.
DeWALT DCST920B String Trimmer

Key Features:
Voted best brand for tools
Light but strong
13-inch cutting width
3-year warranty
The DeWALT DCST920B is pretty comparable product to the Worx. Zoro sells this model with a battery – so you won't have to chase up a suitable one like you do from other vendors.
If your main use is edging your lawn along the fences, garden beds, pavement and driveway, then this is a great choice. This'll cut through any lawn just fine.
The biggest advantage to the DeWALT is the weight. All of the other medium- to heavy-use trimmers are in the 8.5-to-10-pound range. The DeWALT weighs just over 7lbs. This makes it a lot more amenable to women and those of the middle ages and above.
Also, if you have other DeWALT tools, most run on the same 20V MAX battery , so you can interchange them as necessary.
Worx WG 184 Cordless String Trimmer

Key Features:
Best value
Fastest cutting speed
Double the power
Double the battery life
3-year warranty
The Worx WG184 is a fantastic medium-use product. Like the Makita, it runs on double battery, giving you double the voltage for extra cutting power, and is the only other weed eater with a 60-minute fast charger.
Due to the smaller capacity of both batteries compared to the top-of-the-line models, however, you only get 30-45 minutes of cutting time before you need to recharge, but that should be sufficient for the needs of the average suburban home.
Our last three trimmers are in the lighter-use category. They're all under 6.5lbs, smaller capacity, smaller cutting width, not really designed for heavy brush or all-day use, but they also all come in at under a hundred bucks.
If you've been wrestling with the idea of even getting a trimmer, because your needs are pretty minimal, one of these models will suit your needs without breaking the bank.
Greenworks 40V 13-Inch Cordless String Trimmer/Edger
Key Features:
4 position pivoting head
Edges and trims
Wide cutting width
User favorite
This Greenworks 40V Cordless String Trimmer is a little heavier than many on this list and has shorter battery life. But what it lacks in these categories, makes up for in functionality.
In addition to a wide 13-inch cut path, this trimmer can transform from weed whacker to lawn edger with the press of a button. The head rotates 90 degrees to rest on a wheel for easy, even edging with less strain on your hands.
The head is fully adjustable to four different positions, making it simple to get the right angle for whatever task you have in mind.
This maneuverability and a lower noise output make the Greenworks 13-inch weed whacker a user favorite for anyone with a small to medium yard who doesn't mind a little extra weight.
Black+Decker LSTE525 String Trimmer/Edger
Key Features:
Most versatile
Adjustable speed
Adjustable length
Batteries are interchangeable with 20V DeWALT batteries
The Black+Decker LSTE525 is almost directly comparable to the Worx WG163 in almost every way; price, voltage, cutting width, etc, except in two things: weight and capacity/runtime.
Like most Black+Decker tools, it's made to be sturdy/solid and long-lasting, coming in a full pound heavier than the Worx.
Capacity-wise, it comes with two 1.5aH batteries, meaning that you only get a maximum of about 30 minutes runtime between both batteries, and again, unless you get a fast charger, it will take 3+ hours to charge it up.
The Black+Decker LSTE525 String Trimmer/Edger is available from Amazon.
Earthwise LST02010 Cordless String Trimmer
Key Features:
Best Value
8800 RPM max speed
Most Lightweight
Adjustable Length
The Earthwise LST02010 is a pretty special little product. Coming in at 4.4 pounds with a 10" cutting diameter, it is so lightweight that your 80-year-old grandmother could use it. And if you're looking for the least expensive thing available, look no further, you've found it.
In fact, this piece of equipment is so affordable you can forget about Craigslist entirely. This tool is perfect for 15-20 minutes of use on lawn and light weeds, and it's nice and compact for easy storage.
So regardless of your price-range or lawn maintenance needs, there's clearly something quality available for you.
The Earthwise LST02010 Cordless String Trimmeris available from Amazon.
Weed Eater Buying Guide – What To Look For?
Now, if we've already sold you on one of those particular weed eaters and your search is done, excellent. You are welcome. Our whole purpose here is for you to be able to make the most informed choice possible. Thank you for coming.
For those of you that haven't quite made up their mind yet, we're going to go through the basics of everything else you might want to consider when buying a cordless weed eater, so that you can look at the specs yourself and understand what it all means.
Battery Type
There are 4 main types of batteries used in tools:
Lithium Ion (Li-Ion)– Lithium Ion batteries are the preferred/most common type of battery because of their superior energy storage capabilities. Your phone, laptop, and tools are probably all Li-Ion because you can store more power in a smaller space.
Nickel Metal Hydride (NiMH)– Nickel Metal Hydride batteries provide a greater immediate power due to less resistance, but tend not to last as long. They are ideal for flash photography, high-lumen flashlights, etc.
Nickel Cadmium (NiCd)– Nickel Cadmium batteries are less common in household tools than, say, smaller everyday batteries (AA, AAA, etc.) because of their inferior storage per size. However, they are about 3 times cheaper to produce than Li-ion and half the price of NiMH, live 2-3 times as many life-cycles and are less negatively affected by extreme temperatures. They need a deep discharge monthly.
Lead Acid– Lead Acid batteries tend to be used exclusively in vehicles, cars, tractors, ride-on mowers, four-wheelers, etc. They're more resistant to discharge, environmental factors and have higher CCA (cold-cranking amps).
Battery Voltage
You can imagine your electrical circuitry a lot like a water pipe. If your water pipe is two feet wide, you have a maximum capacity of about 23.5 gallons per foot of pipe. But you might only have 5 gallons per foot of water coming out of your "battery" storage facility and flowing through the pipe at any given time.
More gallons of water per foot would provide more power to the turbine/water wheel that's driving your engine/motor at the end. But how much water it is given all depends on how big the drain or "hole" connecting your battery and pipe are. A big "drain/hole" in your battery might let 20 gallons per foot through the pipe, smaller ones might only let 10 or 5 or even 2 gallons per foot. This is how voltage works. More voltage = more power.
Battery Capacity/Size
Battery size is measured in ampere hours (aH). To understand it, you need to understand what amperes are.
Let's go back to our water-pipe analogy.
The ampere is the speed of flow. So in our water pipe, that might be 1000 gallons per hour, regardless of the voltage (how full the pipe is). Let's say that that is 1 ampere.
We measure the capacity of our battery by how many hours of amperes can flow out of it until it is empty. In our analogy, a 10,000-gallon tank at a flow rate of 1000 gallons per hour would take 10 hours to empty completely.
We'd say the capacity/size of the battery was 10 ampere-hours.
Now, if you changed the flow rate (amperes) by tilting the pipe to a steeper angle so that 2000 gallons per hour (2 amps) travelled through it, your 10aH battery would drain in 5 hours.
Likewise, if you went even steeper to 5000 gallons per hour (5 amps), your 10aH battery would drain in 2 hours.
And if you somehow managed to get your flow up to 10,000 gallons per hour (10 amps), your 10aH battery would drain completely in a single hour.
You can find out more information here.
Battery Run Time and Charge Time
This one is really straight forward.
The run time is how long it will take your battery to drain completely using that piece of energy-sucking equipment.
The charge time is how long it will take your battery to be fully refilled after draining.
Weight
Every modern weed eater weighs under 10lbs, and the cheaper models weigh quite a bit less than that, so the weight isn't something you probably need to even think about unless you're going for something top-of-the-range.
A heavy-use trimmer will tire you out after extended use, but most of that weight can be easily negated with a strap, sling or harness.
Design
Traditionally, there are two main designs when it comes to weed eaters: straight shaft or curved shaft.
Straight-shaft trimmers are generally more sturdy, have better reach, more torque and can be used for more purposes.
Curved-shaft trimmers are generally are generally lighter, quieter, will vibrate and are more limited to edging.
It's worth noting, however, that curved-shaft trimmers have mostly become obsolete in favor of short, straight, extendable shafts as can be seen in the cheaper models above.
Warranty
A limited warranty is a safeguard from manufacturers for your product, and here's a secret…
Most people don't use them.
For a period of one to three years (depending on the particular brand/company) from the date of purchase, if the product breaks in some way that appears to be a manufacturing fault or defect and not abuse by the customer, the manufacturer will either repair, replace or refund the product free of charge.
Most of the brands above, have two- or three-year warranties on their tools and even one-year warranties on their batteries.
It's worth keeping track of your warranties and receipts on covered items like tools in case something malfunctions. A lot of people throw out warranties with the packaging when unboxing their products, but statistically, in the long-run you're bound to save a pretty penny.
The Wrap Up
All in all, there's a lot of things to consider when purchasing a tool, but hopefully, taking 5 or 10 minutes to read this article has really helped educate you on which tool is right for your needs.
Again, we recommend the Makita XR15PT1 Cordless String Trimmer as our top-of-the-line quality product that, if you're really serious, you'll definitely want to purchase.
But the great thing is, now that you know a thing or two about what you're looking for, you'll be able to make the best choice for you.
Pricing last updated on 2021-04-15 at 00:02 / affiliate links - Details