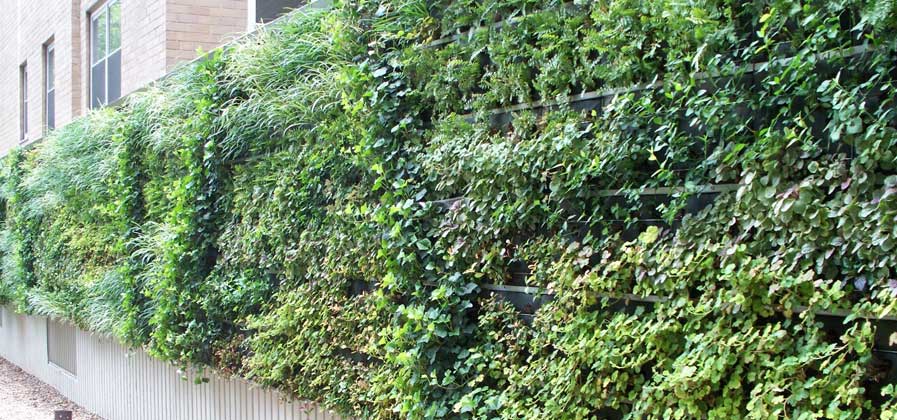 With space to create a garden in our homes or workplaces becoming harder and harder to find, it is no wonder that living wall gardens are becoming more and more popular. If designed correctly, they can require very little maintenance, and not only liven up a room or area, but they also filter the air and help provide a healthier environment.
Our Favorite Wall Garden Ideas
We have put together 7 different ideas in this article for you to take some inspiration from and help create your own living wall garden. Enjoy!
Bigger Is Not Always Better
As you can see from this living wall from Sortra, bigger is not necessarily better. Even smaller spaces can house a living wall that can look beautiful and provide a relaxing area for snacks and drinks, or just to kick back with a good book.
Ok, Big Can Be Good!
This huge living wall is designed to be a recreation of Van Gough's  A Wheatfield, with Cypresses and is situated outside the London National Gallery. We know it is not likely you can reproduce this garden as it has over 8,000 plants in it – but it might inspire you to try to recreate some of your other favorite artworks!
Edible Wall Garden
Living wall gardens are not just for looks, they can be also used to grow useful plants. This living wall is in the Atlanta Botanical Garden and is full of edible herbs – great idea hey! Why not plant a vertical herb garden on your patio so fresh ingredients are just a few steps away whenever you need them.
Not Always Complicated
Living Wall gardens don't need to be a lot of work, in fact they can be quite easy if you use something like this pocket garden! They are easily attached to almost any wall and can grow many different types of plants. They are even able to be used indoors.
Make Your Own Indoor Wall Garden
Are you a fan of indoor gardens? Well this minimalist design might be exactly what you are after. Succulents are great plants for indoors and they also require very little upkeep. You can find full instructions on how to make your own indoor wall garden just like this over at http://blog.minwax.com.
Want to grow your own indoor garden? Try an Aerogarden!
Liven Up a Smaller Space
This wall garden reminds me a bit of walking through a rain forest on a misty day. What a great way to liven up an office space!
Breathtaking Indoor Wall Gardens
This vertical garden in the Taipei National Theater is nothing short of breathtaking. It almost looks like it should be a huge painting, instead it is a living, breathing organism and it looks amazing! Although I do wonder who is going to mow the lawns 😉
Faux Is In 😉

So maybe low maintenance isn't good enough….maybe you want NO maintenance? Well why not consider a Faux living wall garden? These faux gardens can look great and maintain a natural feel in your home or office without the actual need to look after any plants. You can find directions on how to make this lovely piece here.