The main difference between Spectracide and Roundup lies in the range of their weed-killing capabilities. If your goal is to eradicate weeds entirely down to their roots, Roundup might be your preferred choice. Spectracide, on the other hand, tends to target only the areas it comes into direct contact with, which might necessitate additional applications. That being said, Spectracide could be considered a more eco-friendly and slightly safer alternative for humans compared to Roundup.
So when it comes to Spectracide vs Roundup, which weed killer do you choose? We have trialed two popular weed killers to establish which was the best – Roundup Weed and Grass Killer Concentrate Plus, and Spectracide Weed and Grass Killer Concentrate.
In the rest of the article, we will take a deep dive into the differences between the two products.
Product
Weed-Killing Capabilities
Weed-Killing Capabilities
Eradicates weeds down to roots
Targeted areas, may need multiple applications
Eco-Friendliness & Safety
Eco-Friendliness & Safety
Some health concerns, partially banned in certain areas
More eco-friendly, safer for humans
Active Ingredients & Toxicity
Active Ingredients & Toxicity
Glyphosate-based, higher toxicity warnings
Diquat-based, toxic to fish, less toxic overall
Ease of Application
Ease of Application
Manual dilution, additional spray tank
No manual dilution required
Long-Term Effectiveness
Long-Term Effectiveness
Effective, kills entire weed including roots
Not a permanent solution, may not kill roots
Spectracide vs Roundup – Head to Head
What Is Roundup?
Roundup is a well-known herbicide and pesticide brand under the Monsanto company, now owned by Bayer. 
This weed killer targets roots, leaves, and stems of unwanted plants, effectively killing them even if the entire area isn't covered.
Roundup is effective on various plants, like broad-leaved plants, pokeweed, pampas grass, dallisgrass, and other weedy grasses. It can also be used to clear weeds from vegetable garden beds before planting.
Just wait three days after application before planting your seedlings. Though Roundup has limited toxicity to fish and aquatic creatures, it's essential to limit runoff into water systems. On the other hand, Roundup could be harmful to humans and is partially or fully banned in more than 25 states due to health concerns.
Always wear proper PPE when using Roundup, including safety glasses, protective gloves, and possibly a respirator.
For this article, we have chosen to look at Roundup Weed and Grass Killer Concentrate plus.
Pros
Can kill roots, leaves, and stems
Limited toxicity to fish and aquatic systems
Very effective
No need to cover an entire plant
Easy to use
Cons
Some studies show it is carcinogenic
Not long-lasting
May kill your other plants
Roundup Weed & Grass Killer Concentrate Plus Active Ingredients
The Active Ingredients in Roundup Weed & Grass Killer Concentrate Plus are:
Glyphosate kills weeds (especially broadleaf), as well as combating grasses that try to compete with crops. It has been the subject of some warnings in the past which claimed it is "probably carcinogenic to humans", but further assessments have resulted in bans on its use being lifted in some areas.
Note: A US court recently found that there is a link between glyphosate and cancer and is thus dangerous. To learn more click here.
The chemical is absorbed principally through foliage, and in small quantities around the roots. Many crops and plants have been genetically developed to be tolerant of glyphosate, so, while there's no guarantee, it's usually safe to use around your plants, and it will target just the weeds.
Diquat gets into the soil and attacks the weed at the roots. It's not particularly effective in clay soil, where it requires a higher concentration.  Diquat can be fatal if swallowed, inhaled, or absorbed through the skin in significant quantities.
What is Spectracide?
Spectracide is a brand from Spectrum Brands Holdings Inc that specializes in creating pesticides and herbicides for both indoor and outdoor use.
Spectracide is a fast-acting weed killer that mainly targets weedy grasses. It should be applied directly to the plant leaves, but keep in mind that it doesn't usually target roots or broad-leaved plants.
As it is a broad-spectrum weed killer, it is effective on various weeds, including clover, dandelions, ivy, and most grasses.
Spectracide is an affordable option for gardeners, but large quantities might be required for bigger gardens. Always wear personal protective equipment (PPE) when handling Spectracide, as it can cause skin and eye irritation.
For this article we have chosen to look at Spectracide Weed & Grass Killer Concentrate.
Pros
Works quickly
Can kill various species of weeds and grass
Affordable
Less toxic to humans than some alternatives
Cons
Not the best option to kill weeds at the root
May need to apply it a few times
Need protective gear when using it
Can be toxic to fish and other aquatic animals
Spectracide Weed & Grass Killer Concentrate Active Ingredients
The Active Ingredients in Spectracide Weed & Grass Killer Concentrate are:
Fluazifop-p-butyl is a herbicide, used to kill grasses, without harming broad-leaved plants. The half-life in soils is one to two weeks. It can be highly toxic to fish and aquatic life.
Dicamba is often used in pastures and non-crop areas to control brush and bracken. It's toxic to conifer species but is less toxic to grasses. Dicamba works by boosting plant growth to the extent that it runs out of nutrients and dies. So, expect to see initial growth with Dicamba containing herbicides.
Ingredients, Safety and Human Toxicity
While both herbicides pose some risk to humans, their impacts differ. Spectracide is considered to have low to moderate toxicity, potentially causing harm to skin and eyes temporarily. Appropriate personal protective equipment (PPE) can help mitigate these risks.
Roundup, however, is potentially more dangerous. It has been classified as "probably carcinogenic" by the World Health Organization, with potential long-term effects on your skin, eyes, and lungs. Despite these risks, proper use of PPE can still help lessen your exposure to its harmful effects.
In terms of safety, Spectracide is generally a better option for humans as long as proper precautions are taken.
If you're concerned about your surrounding plants, pets, and children, then you may want to consider an alternative such as Sunday Lawn Care
Application – Ease Of Use
How To Use Roundup Weed & Grass Killer Concentrate Plus
The Roundup product needs to be manually diluted – the lid doubles as a measuring jug, so dilution to the correct concentration is pretty straightforward (6oz per gallon of water, or 3oz per gallon for easy-to-kill weeds).
Using a tank sprayer (purchased separately), you spray the weeds you want to kill until the leaves are thoroughly wet. If you accidentally spray a plant that you don't want to kill, you need to rinse it thoroughly with water or else the plant may sustain damage or die. It's safe for people and pets to enter areas treated with Roundup once the spray has dried.
Roundup is also rainproof within 30 minutes.
It's recommended to apply Roundup while weeds are actively growing and during warm, sunny weather. Weeds will begin to wilt within 12 hours and should be completely dead within one to two weeks.
Roundup Weed & Grass Killer Concentrate Plus can be used around fences, trees, flower beds, and driveways. It can also be used for veg patch preparation or lawn renovation.  Ornamental shrubs, bushes, and flowers can be planted one day after initial application.
Vegetables, herbs, fruits, and lawn grasses can be planted three days after application.
The below video is a good quick guide on how to use Roundup concentrate plus.
How To Use Spectracide Weed & Grass Killer Concentrate
This particular Spectracide product is super-easy to use. There are a couple of different types available. One includes a hand sprayer which you just squeeze and spray at the weeds the other involves simply attaching your water-hose attachment to the built-in diluter, turn on the faucet, and the product dilutes for you, using the hose-pipe to power the spray. This is perfect for applying to large areas.
Spray desired weeds until the leaves are wet, avoiding human and pet contact. Spray-drift can occur, so it's essential to clear the area first. Spectracide Weed & Grass Killerbecomes rainfast within 15 minutes.
For best results, you should apply this product during the spring or the fall, when daytime temperatures exceed 60ºF. You shouldn't mow the lawn for seven days before or after treatment.
If you're using this product to clear a weedy lawn, you should wait seven days before you rake the soil and replant your seeds, or lay turf.
Conclusion on Application
Both products are fairly straightforward to use, but Spectracide Weed & Grass Killer Concentrate is the simplest because there's no manual dilution required.
However, for smaller areas, Roundup Weed & Grass Killer Concentrate Plus is probably easier to apply but requires manual dilution and an additional spray tank.
Customer Support
Roundup Support and Help
The Roundup website has a help center, which includes a contact form, a Twitter account, and a mailing address should you require any support. There used to be a live chat service as well but as a check in August 2023 showed that this has been removed.
It is also worth noting that there does not appear to be any phone helpline available.
Spectracide Support and Help
The Spectracide website has quite an in-depth solution center, with categories for a wide range of application areas, such as lawns, patios, walkways, and driveways. When you click on your intended application area, the site recommends specific items from its range suitable for that type of space.
Additionally, there's a wealth of information in a Tips & Info section, as well a Contact Us page that includes a customer service freephone number, and an opportunity to leave comments.
Performance – Which Kills Weeds Best?
Roundup Weed & Grass Killer Concentrate Plus
There's evidence of greater customer satisfaction for the Roundup product. The consensus is that it works effectively while protecting surrounding vegetation if applied carefully. The fact that it kills the entire weed including the roots is a big positive.
However, it doesn't appear to offer a long-term solution, as the weeds have a tendency to return.
Most customers considered Roundup to offer good value for money, and over 90% were satisfied with the overall performance.
Spectracide Weed & Grass Killer Concentrate
While there's plenty of evidence to suggest that Spectracide products are effective at killing weeds, this is not necessarily a permanent solution.
Spectracide Weed & Grass Killer Concentrate does kill weeds, but most of the time will not kill the roots as well. While the application is straightforward, it's more challenging to avoid spraying surrounding vegetation
Standout Features
When choosing between Spectracide and Roundup, it's crucial to consider their distinct features to decide which herbicide suits your needs better.
Aquatic Safety: If you're worried about runoff and aquatic life, Roundup might be a safer choice as it doesn't target algae or other aquatic plants and has limited toxicity for fish.
Fast Action: Need to kill weeds quickly? Spectracide works much faster than Roundup, showing results in just 3-5 hours, making it a great option for rapid weed control.
Soil Persistence: Spectracide has a longer half-life in soil, approximately 32 days. This feature may be ideal if you want to prevent weeds from growing back in the treated area.
Broad-leaved Plant Control: If removing broad-leaved plants like shrubs or trees is your goal, Roundup is the more effective choice. Spectracide's active ingredients don't harm these plant types, making Roundup the better option for this task.
Customer Support: Roundup provides various ways for you to contact their customer service, including phone, email, and Twitter. On the other hand, Spectracide only offers a contact form. If you require customer assistance, Roundup might be the better choice.
Taking these features into account will help you determine which herbicide, Spectracide or Roundup, best fits your requirements and ensures a successful weed management process.
Spectracide and Roundup Alternative
If you have decided that neither Roundup or Spectracide are for you, then there is a great alternative called Sunday Lawn Care.
It's not your standard 'go and buy it off a shelf' product, it is a subscription-based service that is tailored for your lawn. If there are weeds in your lawn, then the Sunday will formulate a special weed killer formula to target the weeds that are plaguing you. We have actually tried Sunday Lawn Care ourselves, and you can read the article about it here.
Free Lawn Analysis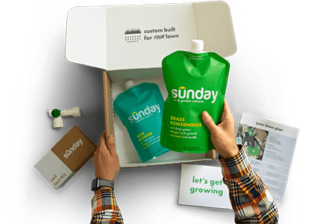 Want a weed killer designed for your lawn?
Sunday smart lawn plans (including weed killer) are designed to work perfectly with your local soil and climate conditions, without any of the toxic stuff.
Use the code EHG20 for an instant $20 discount!
Personalized lawn care: Custom lawn plans based on soil analysis, climate data, and your specific lawn needs.
Convenience with a conscience: Products that are not only easy to use but also safe for you, your pets, and the planet.
Science-backed formulas: Bio-based formulas contain effective, natural ingredients like seaweed, molasses, and iron.
Expert support: Get one-on-one guidance from a real person and rest easy with Sunday's satisfaction guarantee.
#Affiliate
Frequently Asked Questions
Does Spectracide Contain Glyphosate?

No, Spectracide does not contain glyphosate. Instead, its primary active ingredient is diquat dibromide, along with smaller amounts of fluazifop-p-butyl, dicamba, and dimethylamine salt. So, if you're searching for a glyphosate-free herbicide, Spectracide might be a suitable choice.
Is Spectracide Harmful to People?

Spectracide products have a low to moderate level of toxicity, which means they can be harmful to humans. Due to this, you should exercise caution when using them, as they can irritate your skin and eyes. Always wear protective gloves and glasses when handling Spectracide.
Should You Avoid Roundup?

In 2015, the World Health Organization determined that Roundup might cause cancer due to its main ingredient, glyphosate, potentially damaging DNA and triggering tumor growth. However, scientific studies do not always agree, with some suggesting that there is a low risk and high exposure to glyphosate would be required for it to cause cancer.
Spectracide Vs Roundup: Reaching a Decision
When choosing between Spectracide and Roundup, the final decision ultimately depends on your specific needs and circumstances. Let's break down which herbicide to use in different situations:
Choose Spectracide for:
Killing weedy grasses
Smaller gardens
Areas without risk of runoff into water sources
Health and safety concerns
If these conditions fit your garden situation, consider using the Spectracide Weed and Grass Killer.
Opt for Roundup when:
Eliminating broad-leaved plants or weedy grasses
Requiring quick and complete plant termination
Covering large areas
Willing to wear full-body personal protective equipment, including a respirator
In this case, the Roundup Concentrate Plus Weed and Grass Killer might be the better choice for you.
In summary, each herbicide serves a different purpose, and your garden's requirements are key to making the right decision. So, assess your garden needs and choose the most suitable option for you. If you have additional questions or concerns, don't hesitate to ask others in the community who share your interests. Happy gardening!