There is nothing quite like the radiant heat of a wood or pellet stove, the immediate feeling of warmth you get when sitting close to the heater is one of the most comforting things I have experienced. But when it comes to making the choice between a pellet stove or a wood stove – which one is better?
Both types of heaters can look very similar, and both provide that lovely radiant heat – but that is really where the similarities end. When it comes to pellet stoves vs wood stoves – each are very different in how they operate.
Let's take a closer look at each of these heater types.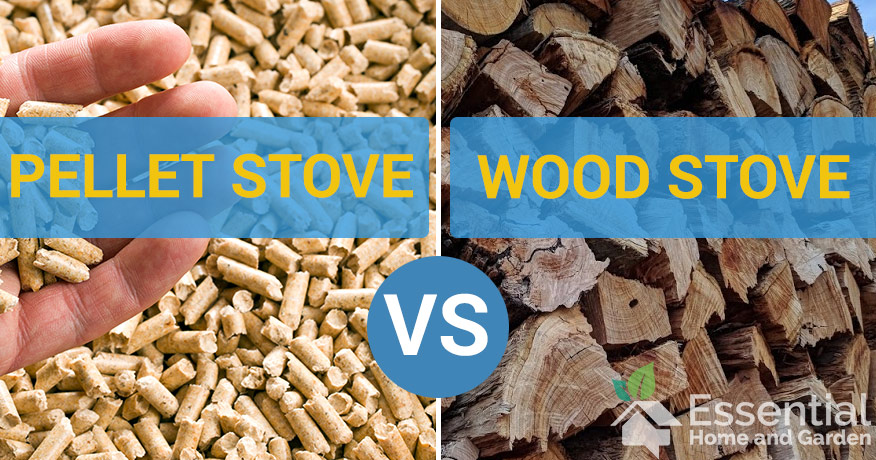 Disclosure: We may receive commissions when you click our links and make purchases. This does not impact our reviews and comparisons. All opinions are our own. We pride ourselves on keeping our articles fair and balanced. For more info see our disclosure statement.
Pellet Stove Vs Wood Stoves
Stove Style And Application
Both wood heaters and pellet heaters look very similar and they can perform a similar role.
Pellet stoves come in both an insert and freestanding style and are suitable for heating a home, shed or other similar areas. Gone are the days when pellet stoves looked like ugly, industrial heaters. Most newer pellet stoves now look very modern and can fit in with any decor.
Wood stoves also come in both the insert and freestanding style and will also suitable for heating homes, sheds etc. Wood heaters are designed in many different styles and there is always something that will suit the look of your home.
Note: It is worth keeping in mind that both wood and pellet stoves are space heaters (they are designed to heat the space they are located in). So while the heat will radiate out into other areas of your home, they will not perform as well as a ducted system or similar when it comes to sharing the heat around.
---
Heating Performance
Providing a definitive answer on which type of heater has better heating performance is hard because of course, it depends on the size and quality of the wood/pellet stove being installed. However, I will do my best to use some averages to provide some useful information.
Important Note
The first thing to note is that when choosing a wood stove, it is very important you choose the right size. I know it's tempting to go out and get the biggest wood heater available but this is actually a very bad move to make.
Choosing a wood stove that is too big will result in the heater being turned down very low most of the time, which in turn leads to the wood fuel being burned inefficiently and costing more in the long run.
So which is more efficient?
The variables involved in a wood stove mean that giving an exact efficiency number is guesswork at best. The actual heat output is unpredictable and depends on the type of wood fuel used, the amount of air allowed into the fireplace itself as well as numerous other factors.
Pellet stoves, on the other hand, have a very controlled burn environment in their burn pot and this allows the efficiency to be measured quite accurately.
As a general statement, it can be fairly confidently said that pellet stoves have a higher efficiency and as such, their heating performance is superior to wood stoves.
Related article: Can you put a pellet stove in your basement?
---
Installation Costs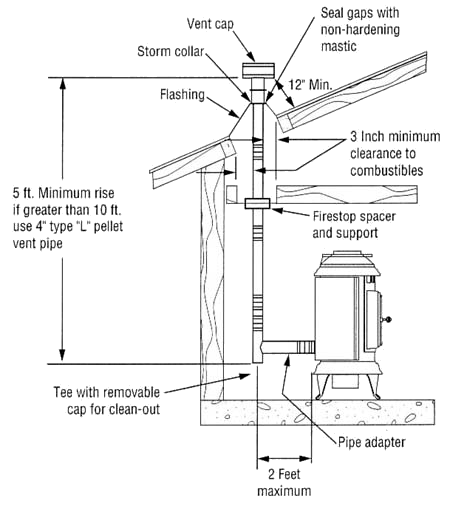 When it comes to actually buying the pellet stove or wood heater, the costs are very similar when you compare the advertised heat outputs and efficiency of each model.
Please note that all prices given are based on averages and prices in your area may vary significantly. Always do your own research with local suppliers before committing to installing a stove.
Estimated Costs:
Free Standing Pellet Stove
| | |
| --- | --- |
| Stove Cost | $2,000 |
| Professional Installation (Labor) | $500 |
| Venting Costs (parts) | $700 (depends on type and length of vent) |
| Total Costs | $3,200 |
Free Standing Wood Stove
| | |
| --- | --- |
| Stove Cost | $1,000 (price can vary anywhere from $300 – $3,000) |
| Professional Installation (Labor) | $1,000 |
| Chimney Costs (parts) | $1,000 (depends on type and length of vent) |
| Hearth Pad | $500 |
| Total Costs | $3,500 |
Pellet Stove Insert
| | |
| --- | --- |
| Stove Cost | $2,000 |
| Electrical Contractor Costs | $200 |
| Total Costs | $2,200 |
*Additional costs may be required to make chimney safe and fit stove correctly
Wood Stove Insert
| | |
| --- | --- |
| Stove Cost | $1,000 (once again, prices vary a lot $800 – $2,500) |
| Total Costs | $1,000 |
*Additional costs may be required to make chimney safe and fit stove correctly
So what's the TLDR (too long didn't read) of all that? Basically, you can sum up the installation costs like this:
Pellet stoves cost a bit more to buy, but are generally cheaper and easier to install. Overall, the installation costs are very similar.
Inserts are the cheapest type to buy and the cheapest type to install – as long as your existing chimney is suitable for the heater.
So which is the winner?
I would say the winner is the pellet stove by a small margin.
Why? Because the installation is generally much simpler – which means there is less to go wrong (with the installation) and less major works to do in your home.
---
Heating Fuel Costs
So when it comes to wood stoves vs pellet stoves – which one is cheaper to run? Well if you are just judging purely by the direct cost of the fuel then there is a clear winner as per the graphic below:
Now keep in mind that this graphic uses average efficiency values and assumes that the cost of a cord of wood is $220 and the cost per tonne of fuel pellets is $245.
But what is BTU? Well, it is a measurement of heat and you can learn more about it by visiting this page.
So as you can see there is a fairly clear winner here, even if it is only by a small margin.
---
Maintenance
Whichever type of heating appliance you choose, maintaining it is vital. Not only for to keep it running at its peak efficiency, but to ensure it heats your home safely.
The image below gives a brief overview of the maintenance tasks required to keep each type of heating stove running efficiently and safely.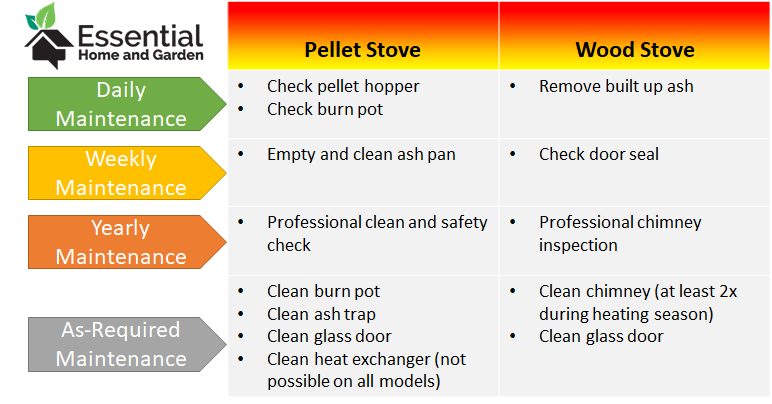 As shown, the number of maintenance tasks is slightly higher for the pellet stove. However, these tasks are all fairly minor.
The wood stove has fewer maintenance tasks, but I would argue that its yearly chimney inspection and 2-3 times yearly chimney clean means that a wood stove actually requires slightly more maintenance than a pellet stove.
---
Other Considerations
A couple of final points that need addressing when it comes comparing pellet stoves and wood stoves:
Pellet Stoves Require Electricity
Pellet stoves actually do require a constant electrical power source to run. So if you are in an area where power frequently goes out, or you don't have access to the power grid, then a pellet stove may not be suitable for you.
In saying that though, if short power dropouts are your only problem then you can use an uninterruptable power supply as a backup power source. It depends on the size of the UPS you choose, but a good one will keep your pellet heater going for about an hour without the main electricity. Our recommended UPS is the CyberPower PR1500LCDRTXL2U.
There are other options for battery backup for pellet stoves – see our guide here.
Wood Stoves Are Worse For The Environment
Because pellet stoves use a controlled fuel source, it is possible for manufacturers to design pellet stoves that are ultra efficient and produce almost zero emissions.
This is not the case with wood stoves. While they are designed to be as efficient as possible, there are so many variables in the fuel used (type of wood, moisture content etc.) it is impossible for them to be as environmentally friendly as a pellet stove.
Although, it should be mentioned that ash from a wood stove does have multiple uses around the home.
Pellet Stoves are Safer
Because of the advanced safety features that a pellet stove offers, it is superior as far as safety is concerned :
Automatic shutdown – monitors burn rate and temperature for unusual conditions and shuts the stove down if necessary.
Pressure switch – automatically shuts the feed motor off if the front door or the ash door is open. Also detects when the venting system is not working correctly.
Exhaust sensing probe – shuts down when abnormally high temperatures are detected.
Bags of Pellets Can Be Difficult To Store and Move
One thing to consider is that wood pellets can take up quite a bit of space in storage.
They come in large, heavy bags, and need to be stored somewhere dry and out of the weather.
The weight of a bag of pellets might make it difficult for some people to deal with – and this should be taken into consideration.
---
Pellet Stove Vs Wood Stove – The Verdict
So here comes the point where I need to make a recommendation and no doubt, my recommendation will effect what some of you decide.
Personally, I prefer pellet stoves. I feel that you get all the benefits of a wood stove, and at the same time you can feel like you are doing something to reduce emissions that harm our environment.
But, it really depends on your unique situation. If you live in an area where firewood is readily available and you can get it cheaply or even gather it yourself – then you may prefer a wood stove. Maybe fuel pellets are not available in your area?
So I highly recommend weighing up the pros and cons of each type of stove for where you live and make a decision based on that. If you need further advice, feel free to leave a comment on this page or contact me and I will help if I can.
Related Articles