Our Rating:
Key Features:
Powerful Motor
Multiple Attachments and Functions
User-Friendly Controls
Reliable Safety Features
---
Powerful Large Capacity Food Processor That Can Do It All
The Magiccos 14 Cup Food Processor is a dozen highly useful tools in one powerful machine. Not only can this processor chop food in the blink of an eye, but it can dice, slice, grate, mash, whisk, and more. With multiple accessories and an intelligent design, this talented gadget is sure to become your new best friend in the kitchen.
For those looking for a one-trick-pony food processor like your mother had, this isn't it. But for those willing to sacrifice a decent amount of room in the cupboard for a highly functional machine that can help with all your meal prep, you'll love the Magiccos food processor.
Review Criteria Ratings
| | |
| --- | --- |
| Functionality | 5/5 |
| Power | 5/5 |
| Ease of Use | 4/5 |
| Cleanup | 4/5 |
Pros
Tons of functions
High capacity
Simplified control knob
Dual lock safety feature
1000 watt motor
Cons
Takes up a lot of space
Need extra storage for accessories
Some food waste during dicing and grating
Should You Buy It?
If you like to cook, then absolutely. This machine is for you, whether you prefer fresh fare, baking, or getting overly creative in the kitchen.
If you spend less time in the kitchen and only need a food processor to chop veggies, you can probably find a less expensive, less bulky option.
Disclosure: This product was sent to us by the manufacturer for free in order for us to provide an honest review. However, this does not affect how we rate and review the product and all opinions are our own. We may earn commissions from any purchases made through links clicked on our website.
MAGICCOS FP406 14 Cup Food Processor Overview
The Magiccos FP406 14 Cup Food Processor is the newest iteration of the company's multi-generation food processor line. This powerful machine features the same high-capacity bowl as previous options, but it now has a simplified control knob, sleeker look, and more functional accessories.
In addition to the base and 14-cup capacity bowl, this product comes with eight accessories, including:
Chopping blade
Kneading/mixing blade
Coarse/fine grating disc
Thin/thick slicing disc
Mashing disc
Dicer attachment
Whisk
Spatula
Whether you're working with vegetables, fruits, meat, eggs, or dough, this is the only tool you'll need to pull out of the cupboard.
However, the large capacity and powerful motor mean you'll need to reserve a fair amount of space in your cupboard to store this beast. And, unlike the Magiccos FP408, there is no way to store all the extra accessories inside the bowl or base.
Magiccos is based in South China and has been manufacturing small kitchen appliances for the US, European, and South American markets for over 30 years. Their main focus is on food processors and blending accessories. The FP406 is their fourth food processor and the latest to be released.
Compared to the industry-leading Cuisinart Custom 14 Cup Food Processor, this product has more accessories, a more powerful motor, and a sleeker look.
The Magiccos FP406 has all the qualities of a highly functional, incredibly useful kitchen tool. But does it live up to expectations?
I had a chance to test the Magiccos' many talents first hand. Keep reading to find out if it's worth the investment and to see our full Magiccos FP406 14 Cup Food Processor review.
How The FP406 Performs
I had to spend extra time with this product to test out its many features. That meant cooking up a variety of meals and even making some homemade hot sauce. Keep reading to find out where the Magiccos FP406 impressed and where it fell short.
Functionality
I couldn't believe the size of the box this processor came in—it was almost as tall as me!
Once you see how many parts this kit includes, you'll understand why the box has to be so big. All those parts equate to a ton of functionality. In addition to basic food processing and chopping, this product can:
Dice
Whisk
Chop
Knead
Mash
Fine grate
Coarse grate
Fine slice
Thick slice
I was able to test every accessory this processor comes with. And all worked incredibly well. And incredibly quickly!
I was able to reduce an entire onion to perfectly diced pieces in seconds with this machine. I grated an entire overgrown squash in a quarter of the time it took me to slice it up to prepare it for grating. All the blades and graters were fantastically sharp and worked better than expected.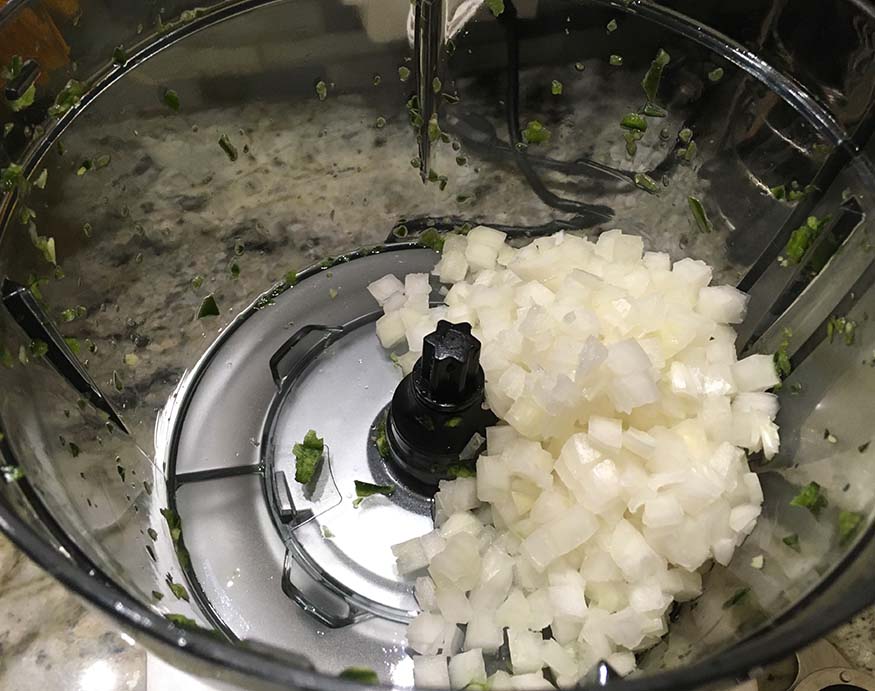 Additionally, this processor includes two safety features to ensure the blades do not turn unless the machine is ready. Both the lid and bowl must be snapped securely into place before the motor will turn on. This is a great feature for households with young chefs.
Another great safety feature is its sticky feet that help hold it in place. Furthermore, the processor is substantial but surprisingly light.
I only have two gripes about this product's functionality.
One, the dicer and graters always left a little bit of unprocessed vegetable debris behind. It wasn't a ton and not a big deal overall, but there was always a little bit of waste.
Two, the feed slot is a little small. I quartered my onion, and a couple of the pieces were still too wide to fit down the shoot. A slightly larger shoot or, even better, a second lid with an extra-wide shoot would have put this processor over the top.
Magiccos Food Processor Power and Capacity
There is no doubt about this processor's power. It's listed as having a 1,000-watt motor, which is more than most competitors. And it shows.
The blades make quick work of even hard veggies like carrots and raw potatoes. And they had no problem chopping up walnuts and almonds. I never once experienced a jam or a loss of power.
In terms of capacity, this thing is huge. The bowl can hold up to 14 cups of food. You can make an entire jug of salsa with this thing without having to separate the ingredients. This is a great feature for large families and those cooking in bulk.
But what I found equally impressive was how well this processor handled small loads.
The sharp, low-set blades were able to easily and uniformly process a small handful of cayenne peppers without issue. If you are cooking for one, this processor is still a great choice as it is equally capable of processing small volumes.
Ease of Use
With all the accessories and different functionality, it's easy to imagine the extra work involved in using this processor.
Loading the different attachments takes a bit of trial and error. The thin instruction manual that comes with the product doesn't do a great job of explaining how to install every piece. And most require a very specific orientation to snap into place.
But once you figure out how to properly install each accessory, this product is easy enough to use.
The control knob is about as simple as it gets, which I loved. It has two speeds and a pulse option, all located on one knob. This simple interface also gives the processor a very sleek and modern look.
Cleanup and Storage
I've never met a food processor that I'd deem "easy" to clean. And this one is no exception. It has a lot of parts and a lot of surface area, which means you do have to spend some time taking it apart and rinsing out each piece you use.
Being able to pop the bowl and the components in the dishwasher does simplify the process, though. And the included dicer plunger is very handy for cleaning that element.
All the components break down, so there is nowhere for food to get stuck. But do expect to have to power wash or use a brush to rid all the food leftovers before you toss the components in the dishwasher.
In terms of storability, this product definitely comes up a little short. The accessories do not pack down nicely for storage. You can fit a few in the bowl, but the rest are loose and must be stored carefully to avoid losing anything.
You'll have to dedicate some serious cupboard space to this product. But, considering everything it can do, you can probably get away with tossing out most of your other kitchen tools anyway!
Magiccos FP406 Alternatives
For cooking a variety of large meals, the Magiccos 14 Cup Food Processor really can't be beaten.
But if you are after a food processor better suited for smaller meal prep or solo meals, the Magiccos 8 Cup Food Processor is a great choice. This Magiccos product has the same great features as the FP406 but a smaller bowl and more speed settings.
If you're after a simple food processor that chops and pulverizes, the Cuisinart 14 Cup Food Processor is a great choice. This product doesn't do many tricks, but it will quickly and reliably reduce any veggie into uniformly chopped pieces in just a few seconds.
| | | | |
| --- | --- | --- | --- |
| Features | Magiccos 14 Cup | Magiccos 8 Cup | Cuisinart 14 Cup |
| Functionality | Chops, dices, grates, slices, mashes, whisks, and mixes | Chops, juices, slices, grates, and emulsifies | Chops, slices, and grates |
| Power | 1,000w | 750w | 720w |
| Price | $$$ | $$ | $$$$ |
Things to Consider Before Buying a Food Processor
Food processors can cut your meal prep time in half. Some come with additional features that also make them useful for baking, canning, and more. Before you choose your food processor, there are a few things worth considering that will help you narrow down your options.
Capacity – Large capacity processors are great for making a lot of food at once and for large families. Smaller processors are perfect for single adults and couples.
Power – A powerful processor is necessary for chopping hard, raw veggies and for mixing dense ingredients like dough. For more typical chopping and dicing, anything over 700 watts will do.
Storage – Processors take up a decent amount of room. If you have limited storage, look for smaller capacity units with built-in storage for accessory pieces.
Accessories – Some food processors only chop. Others come with a wide variety of accessories that can do the jobs of a dozen tools.
Is The FP406 Worth It?
The right food processor can make your life easier while saving you tons of time in the kitchen. The multi-talented Magiccos FP406 14 Cup Food Processor does these things and more.
With an exceptionally powerful motor, eight accessory parts, and over a dozen functions, this food processor won't just take the place of your current processor; it will put half the tools in your kitchen out of work.
To learn more about the Magiccos 14 Cup processor or to buy one for yourself, click here.