Lava rock vs fire glass is not just a battle of aesthetics. There are other factors that come into play when choosing between these two popular fire media for an outdoor firepit.
Both are good conductors of heat, but fire glass can generally produce and retain warmth more efficiently. However, lava rock prices are typically more budget-friendly. And, in terms of aesthetics, well, it really boils down to personal preference – do you prefer a more polished and vibrant media or a more rustic and neutral color palette?
Those are just a few aspects up for consideration when selecting the appropriate media. In this article, we will be comparing lava rock vs fire glass based on aesthetics, costs, and other factors, so you can finally choose the best fire media for your outdoor firepit.
Disclosure:It is important you understand that we may receive commissions when you click our links and make purchases. However, this does not impact our reviews and comparisons. All opinions are our own we pride ourselves on keeping our articles fair and balanced. For more info see our disclosure statement.
Lava rock vs fire glass Comparison Table
Ave. Cost
Hold heats for
Durability
Appearance
Fire Glass
$25-$35 per 10lb bag
1 hour to 1 hour and 30 minutes
Resistant to discoloration and decomposition.
Can last up to 20 years with proper maintenance
Smooth and often uniform shapes
Wide range of vibrant and translucent hues.
Lava Rock
$7-$25 per 10lb bag
45 minutes to 1 hour and 30 minutes
Resistant to decomposition.
Can last up to 4 years with proper maintenance
Jagged and irregular shapes.
Predominantly found in red, black, and brown colors.
What are Lava Rocks?
Lava Rocks are naturally occurring igneous rocks that are composed of a volcanic byproduct. Often found around the vicinity of volcanoes, they are formed when magma intensifies in heat and cools down through the release of gas. In turn, this causes a reaction on the surface through the formation of irregular rock shapes, called basalt – the main proponent of this type of media.
Because they are made with natural high temperatures, lava rocks are porous in nature. This makes them great conductors of heat, and a popular choice for fire pits as they can disperse heat just as adequately.
What is Fire Glass?
Unlike lava rocks, fire glass is man-made. They are created out of fire-rated glass that is tempered via insanely high temperatures. Due to this process, they are essentially resistant to melting, burning, and even discoloration, making them a widely popular choice for fire pit owners.
They come in a variety of colors and sizes ranging from polished squares to smooth ovals. All of which are highly reflective and can add a dazzling touch of vibrance to any fire pit. 
Read our in-depth guide: What is fire glass?
Heat Conductivity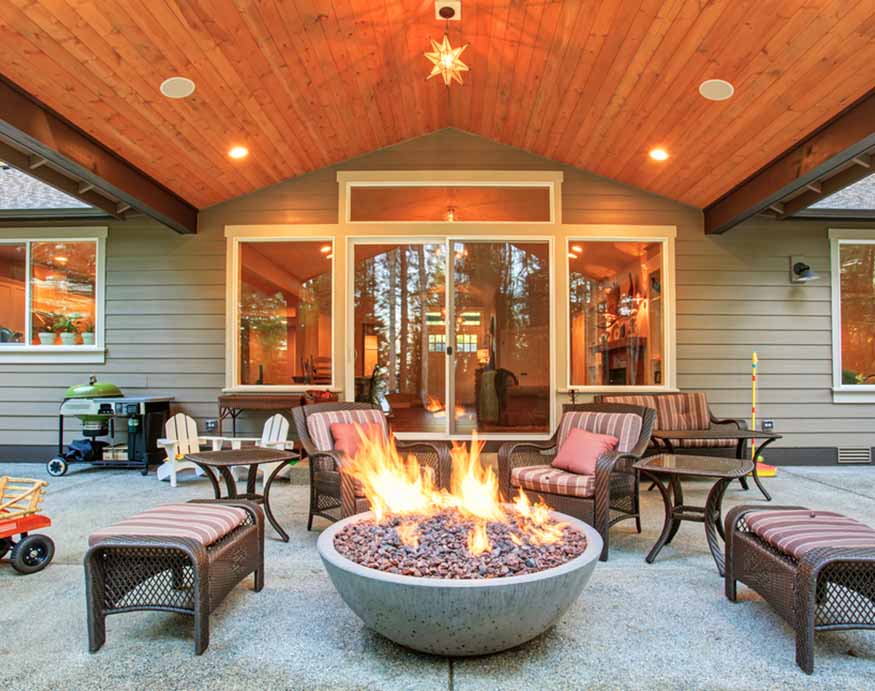 Generally, lava rocks are porous in nature. While this makes it great heat conductivity, it leaves much to be desired about even heat dispersion. You'll likely encounter uneven warmth distribution, and a short lifespan of heat retention once the flames are gone.
Lava rocks can provide 45 minutes to an hour of afterglow warmth after you turn off your gas tanks – depending on the intensity of the fire prior.
On the other hand, fire glass is known for even heat dispersion and conductivity – its reflective nature makes them ideal for spreading warmth evenly and efficiently. Therefore, you'll likely use less propane or natural gas to get to that ideal temperature. You can expect at least an hour of afterglow warmth for fire glass.
Our Winner: Draw
For those living in more humid or sunnier climates, lava rocks are great for cool evenings as they don't retain or disperse too much heat. However, for those who live in colder regions, I highly suggest fire glass as these will keep you warmer for longer periods of time without draining your gas too quickly.
Fire Glass vs Lava Rocks – Appearance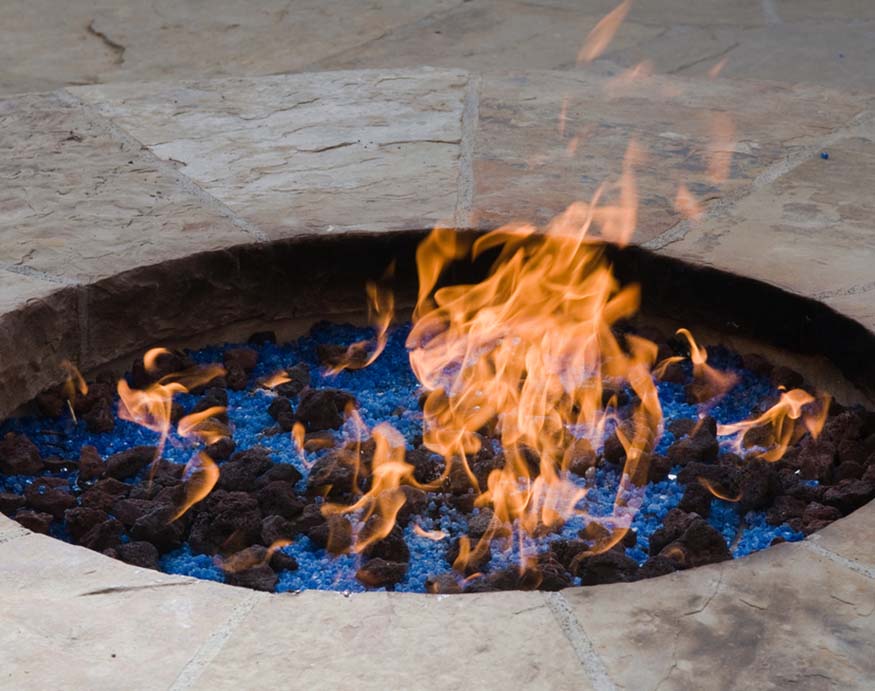 In terms of appearance, it really boils down to personal preference.
If you're looking for a more rustic and organic aesthetic, then lava rock is your media of choice. These naturally occurring stones usually come in a variety of sizes and in three main colors: red, brown, and black. Lava rock often come in jagged and irregular shapes, owing to the fact they're harvested raw or as is.
However, there are some vendors who sell lava rocks in more vibrant hues like green and blue, and some even come in polished oval shapes. But, before opting for these, make sure that you read the fine print as these hues are due to dye and can be potentially toxic once exposed to direct flame.
With fire glass, you get the opposite of lava rocks. Since they're man-made, fire glass comes in polished and smooth shapes and sometimes, uniform sizes. Likewise, fire glass also sports vibrant hues from green, yellow, and the more popular blue – which is the most prominent due to its high contrast with the orange-red tones of fire.
Our Winner: Fireglass
For most, fire glass is the way to go as these have more flexibility in terms of color, shape, and size range. And, not to mention that they also create a stunning display of flickering tones and light when set against an open flame.
Cost and Usage
On average, lava rocks provide the best bang-for-buck price range. A modest 10lb bag of lava rocks will only set you back about $7-$25. But, it is also pertinent to note that you'll have to fill your fire pit with a 2-4 inch layer to get decent coverage. Fortunately, this type of media is not akin to decomposing and can be used over a two to four year period before it needs to be changed.
Ranging on the more expensive side, fire glass will likely cost you about $25-$35 for a standard 10lb bag or $2-$3 per pound for more unique styles. However, while it may come with a heavier price tag, this tempered glass media is likely to withstand multiple uses over decades (if properly taken care of). Likewise, you'll only need a layer spanning an inch or two in-depth to get adequate coverage for most fire pits.
Our Winner: Fire glass
While lava rock might seem cheaper at first glance, the long-term use of fire glass will likely be more cost-effective in the future.
Durability
Generally, both media are durable. However, lava rocks tend to decay after prolonged use. Most vendors will likely instruct you to replace them within two years, but if properly maintained they can last upwards of four. In addition, they are very susceptible to moisture. Wet lava rocks are prone to exploding and popping. Once drenched, they need to be completely replaced.
On the other hand, fire glass can withstand years of use without sustaining any damage. They are resistant to melting, burning, and even discoloration. However, they are prone to accumulating soot.
It is pertinent that they are rinsed right after a film of soot appears because it may lead to dullness or ineffective in even heat dispensation.
Winner: Fire Glass
In terms of durability, fire glass wins. Just make sure to clean them periodically and ensure they are dry before usage, and you should have fire pit media that last you almost a lifetime.
Fire Glass or Lava Rocks?
When choosing the right type of media for your fire pit, you have to consider factors beyond aesthetics. You have to weigh the cost against their durability and lifespan as well as the type of climate you're in.
For example, while fire glass may be the more heat-efficient option, lava rocks can fare pretty well in more humid or hotter climates that only experience cool drafts every now and then.
But, if I had to choose one, I would definitely go with fire glass as they're durable, long-term, and produce beautiful flickering hues that make chilly evenings a joy to welcome.