Arguably one of the greatest challenges when first learning the basics of woodturning is getting some nicely sharpened tools. Most of us often overlook the importance of a sharp tool, and without the right guidance, the sharpening process can be frustrating. In this piece, however, we will present a straightforward way for you to get started.
Properly sharpened lathe tools often result in fewer broken pens, fewer operation cracks, and general pen perfection. In short – you will end up a much happier wood turner and that lathe you extensively researched and bought will be worth the time and money!
Whether you are pen turning or working on something else, the process of sharpening lathe tools is pretty much the same.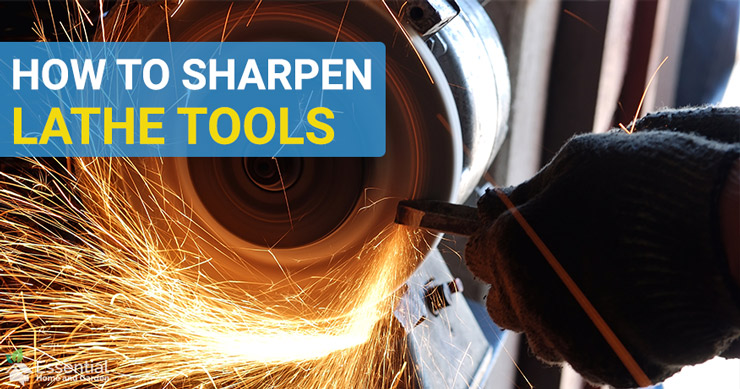 Disclosure: We may receive commissions when you click our links and make purchases. This does not impact our reviews and comparisons. All opinions are our own. We pride ourselves on keeping our articles fair and balanced. For more info see our disclosure statement.
What You Need
Before we can get into the sharpening process, however, it is important to identify the tools you will need to have a fruitful outcome. Here's what you will need to sharpen your lathe tools:
Grinder
The grinder is obviously the first tool you need to sharpen lathe tools. In this case, a 6-inch or 8-inch grinder is a great fit and will re-shape or sharpen your tools quickly and efficiently. You will then need to mount your grinder on a board, bench, or your preferred worktop.
When it comes to bench grinders, we recommend the DEWALT DW756.
This machine is a 6-inch heavyweight grinder that features a sturdy cast iron construction, in addition to a powerful motor that can reach speeds of 3,450 rpm. This bench grinder can be used for home use and industrial applications. Its clever design allows it to operate with minimal vibration and little noise for comfortable use.
Our Recommended Grinder
DEWALT Bench Grinder, 6-Inch (DW756)
Powerful 5/8 HP induction motor of the bench grinder is made for heavy-duty grinding operations
Industrial cast iron base and motor housing of the 6-inch bench grinder provide durability and prolong life
Table grinder motor runs at 3,450 rpm for high-speed material removal
Precision-machined aluminum tool rests allow the user to accurately position work
Rear exhaust ports in wheel guards for smoother operation
Eye protection
This helps prevent metal fillings from being blown into your eyes.
Rubber gloves
Rubber gloves are another important item for sharpening lathe tools because they help absorb vibration from the machine in addition to protecting your hands from grazes.
Wheel dresser
Most grinding wheels need occasional dressing and a multi-diamond T-bar works best with little effort.
Sharpening jigs
Jigs are crucial for beginner and expert grinders because they help provide consistent bevel angles for better sharpening results.
Other items
Lathe tools, dry cloth, bowl, and water.
How To Sharpen Lathe Tools With a Bench Grinder
Here's how to go about sharpening your lathe tools.
Start With the Basic Preparations
The first step towards having sharp lathe tools is ensuring that you have the right protective gear in place. Start by putting on eye protection like goggles because small metal fragments are often dispersed into the air during the sharpening process. Hand protection is also important so be sure to put on protective gloves.
You must also make sure that your bench grinder is entirely still (ideally secured to a bench) prior to commencing any sharpening operations. In this case, you will need to set up the tool support appropriately. If you're using the grinder on a workbench, ensure it is held firmly using clamps.
Some other safety precautions to take when using a grinder include:
Use breathing protection
Do not position the lathe tool right below the center of your wheel.
When using the sharpening platform, be sure to have it close enough so that the lathe tool doesn't get caught between the wheel and platform.
Dress the Grinding Wheel
When it comes to sharpening, the grinding wheel is the main tool, so it must be accorded proper attention. This basically implies prepping the grinding wheel for the work ahead.
Prepping is a crucial activity to perform because most grinding wheels develop a reasonable build-up of metal fragments which could affect its overall performance, i.e. its sharpening capability.
When using a bench grinder, it is advisable that you use a diamond sharpening tool to dress the wheel. With the diamond-sharpening tool, you should rub the wheel's outer edges to get rid of any debris as well as even it out.
Understand the Right Grinding Angles
Before you can even get down to actual sharpening, you need to understand that different lathe tools have different angles at which they cut. As a result, the sharpening angles will be different, especially on spindle gouges and bowl gouges, depending on the user's skill level and type of turning being done. An important aspect to bear in mind is that the shallower the sharpening angle, the more tool control (skill) required to guide the lathe tool without any catches. Therefore, it is okay to begin with a steeper angle (maybe 60 degrees as opposed to 55 on a bowl gouge) and gradually reduce the angle as your tool control gets better.
Lathe Tool Grinding Angles
Here is a brief breakdown of various tools and their right grinding angles:
Roughing gouge. This tool is often used for roughing spindle stock and not on bowls. It is best ground to 45 degrees but 35 degrees would work better on soft wood. And should you sharpen with a V-pocket, be cautious with the tip of your tool since it will be right above the centerline of the wheel.
Bowl gouge. There are numerous angle variations but the safest starting point is between 50 and 60 degrees. As your tool control improves, you can move to lower angles like 45 and 40 degrees.
Spindle gouge. Besides being used for turning coves and beads on the spindle stock, this tool also has numerous uses during hollowing small openings and bowl-turning. This tool can be ground according to the skill level between 45 degrees (much easier to control) and 35 degrees (requires finer tool control).
Parting tool (flat). Parting tools are often used for parting through the spindle stock among few other operations. 45 degrees is generally a good grinding angle. The edges must be maintained at 90 degrees so the tool should be held square to the wheel.
Diamond parting tool. This lathe tool is designed to make it relatively easier for your sawdust to clear as you cut your wood. A 45-degree angle is fine with this tool.
Ensure Proper Contact
Once you are familiar with the sharpening angles, you need to make the right contact to produce the desired sharpening angles. In this case, it is advisable that you place your lathe tool on its dedicated rest before making any advancements.
Perform this operation until your tool is in contact with the wheel. Make sure the blade isn't pressing against the grinding wheel – there should be very little contact with the grinding wheel. If your angle isn't right or you're pressing too hard upon the lathe tool, there is a chance that the blade will bounce or create excessive vibrations which could weaken your grip, after which you will lose tool control.
First Phase of Grinding
Now you're all set to start sharpening. Push the tool slightly against the wheel and be sure to limit contact of the tool for not more than 10 seconds. You should see a few sparks emerging during this phase if the angle, as well as level of contact, is right. Try moving the lathe tool gently from side-to-side while sharpening it. Check the pattern in which sparks burst, and if you're doing it right, they should be visible along the edge.
Second Phase of Grinding
This 10-second sharpening interval should be repeated for a few times. If the lathe tool appears sharp enough, dip it in a bowl of water for cooling. Grinding could cause the tool to become excessively hot due to the extreme friction. Once your tool is cool, repeat the process with the opposite side. You will need to ensure the tool surface is dry before placing it on the wheel. Be sure not to over-grind any side of the tool since this will increase the risk of making your tool weak and prone to cracking.
If you do not own an electric grinder, you could sharpen your lathe tools by hand. In this case, you will need a sanding stone of about 1000 grit. To sharpen, you need to hold the stone in one hand and place your lathe tool at a 45-degree angle. While applying a little pressure, scrape your tool back and forth on this sanding stone.
All in all, wood lathe tool sharpening would help you perform your woodworking activities more effectively. And when the sharpening is done at home, it could provide the advantage of cost-effectiveness.