YouTube and Pinterest are filled with examples of pretty, glowing lights draped on mantles, walls, and headboards. You can easily spend over $60 buying these from department stores or Etsy, but it is quite simple to make your own ping pong ball lights.
You probably already have all the tools you need for the project at home. Seriously, you can do this while you catch up on the latest episode of your favorite show.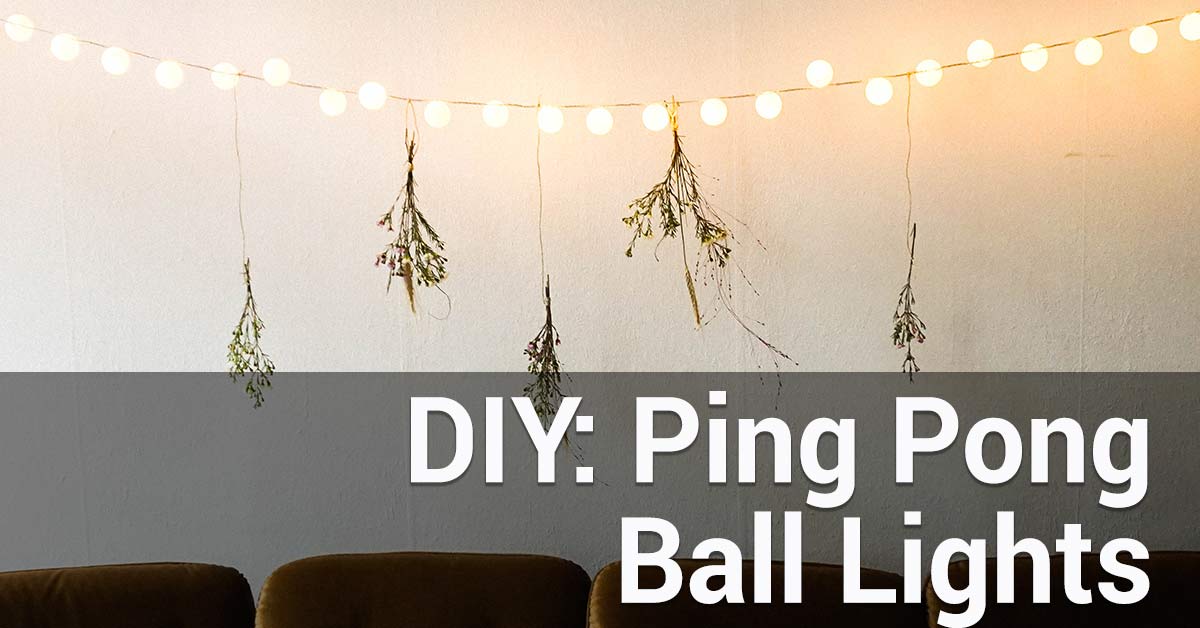 Disclosure: As an Amazon Associate I earn from qualifying purchases. However, this does not impact our reviews and comparisons. All opinions are our own we pride ourselves on keeping our articles fair and balanced. For more info see our disclosure statement.
DIY Ping Pong Ball Lights
Things To Keep In Mind
First things first, you need to decide what kind of LED lights you want (clear or multicolored) and how long you want the strand of lights to be.
A short strand will have 10-20 lights and is ideal if you want to drape it around a small mirror on your vanity. A long strand will have about 100 lights on it and is best if you want to twist it around your headboard or desk.
Clear lights will provide a soft warm glow to your décor while colored ones are more vibrant and fun and will provide a nice contrast to the item it highlights.
Next you will need to gather your ping pong balls – you need one ball for each light. If you do not have that many balls on hand, you can order them online or find them readily online or in sports stores.
Before you start stringing your balls and lights together, you need to check to make sure each light is working.
The last thing you want to see is a dead light in an otherwise unbroken strand of pretty glowing balls. You should also check each light to see if any of them are too hot. If you cannot touch the light comfortably, you should not put them inside plastic balls. Switch out dead or hot LEDs with ones that work properly before you proceed with the project – safety first!
The glue is only necessary if you are planning to hang your lights outside, but it is recommended for use indoors too. Particles of dust or dirt that become trapped in the balls will be easily discernible because the light will cloak it in shadows. If you seal the balls with glue or silicone before displaying them, you will save yourself a lot of trouble in the long run. Plus, your efforts will not deteriorate over time from repeatedly removing, cleaning, and replacing balls.
Finally, just a quick reminder before jumping into the "How To" part of this tutorial: knives are sharp and deadly.
Always be cautious when you use a precision knife because it can cause as much damage as a scalpel. Secure your balls in an empty egg carton before you cut into them so you don't risk slicing your fingers and always put the knife down if you are not using it. It's better to be safe than sorry!
How To Make Ping Pong Ball Lights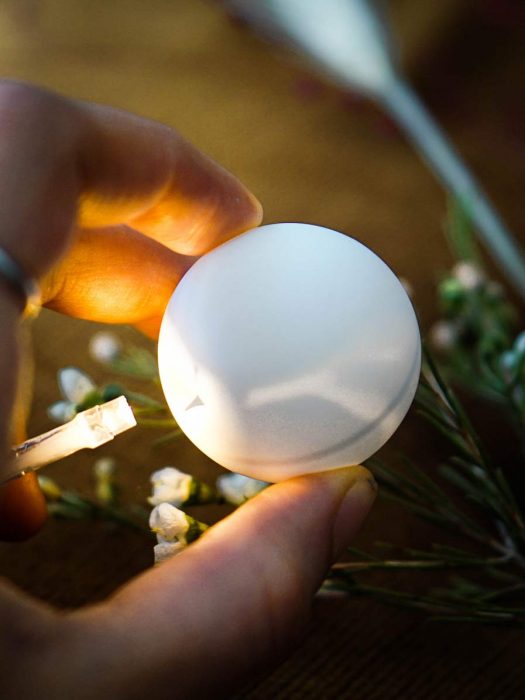 Stabilize your balls on something

stable,

not your hand.

Cut a tiny X-shaped slit into the ball, well away from the seam. (It should be big enough for the LED to go through but not so big that it can slide back out).

Secure each LED light inside the ball, making sure that it's not too loose.

Seal the slit and allow the balls to dry without touching each other.

Drape your lights and step back to admire your handiwork.
Wasn't that easy and simple?
Now you can say you have custom made lighting in your home!
This little DIY is incredibly versatile so go ahead and make more and put them all around your house. Have fun!
Author Bio
Callum Mundine is the co-owner (with his brother Simon) of LED World in Sydney, Australia. They are a lighting design firm who specialise lighting for art galleries. In his spare time, he enjoys creating fun DIY projects with his two children.