Our Rating:
Key Features:
Reliable Honda Engine
5 Years Warranty
Mulch, Bag, Discharge, and Leaf shred
Self Propelled
---
Self Propelled Mower for the Toughest Jobs
Today we will be looking at the Honda 4-in-1 Versamow Self Propelled Gas Lawnmower, a powerful gas-powered mower capable of handling the toughest jobs.
In this review, we will provide an overview of the mower, assess the pros and cons, look at some of the features and benefits, and also look at some alternative mowers on the market.
This review applies to the entire gas-powered 21" HRX217VKA Versamow line of products (models HRX2176VKA, HRX217K6VKA, and HRX217K5VKA).
As with any mowers produced by the Japanese juggernaut Honda, you can expect a bit more quality when you go to use it. The Honda HRX217VKA is a powerful mower that was designed to tackle some of the toughest lawnmowing jobs that a walk-behind mower can handle, and it does exactly that.
There is a lot to praise about the mower as we'll get into shortly, as it does a lot of things well. The main drawbacks of this product are the issues with the deck flange getting in the way of mowing closely to trees and other products, as well as the lack of an electric start. Neither of those is enough to be deal-breakers, read on to see our full review.
Review Criteria Ratings
| | |
| --- | --- |
| Performance Rating | 3.5/5 |
| Handling rating | 4/5 |
| Ease of use rating | 4.5/5 |
| Additional Features | 4.5/5 |
Pros
Powerful engine keeps it running in tough terrain
Easy to start for a gas-powered mower
Can mulch, bag, discharge, and shred
Competitively priced
A brand with a history of quality products
Cons
Variable speed control a bit touchy
No electric start
Cannot cut closer than 1" away from solid objects
Should You Buy It?
If you're looking for a quality mower that can take a beating and get the job done right, the 4-in-1 Versamow Self Propelled Gas Lawnmower may be right up your alley.
Powerful motor, user-friendly, and versatile — all aspects of a great buy.
Disclosure:It is important you understand that we may receive commissions when you click our links and make purchases. However, this does not impact our reviews and comparisons. All opinions are our own. We pride ourselves on keeping our articles fair and balanced. For more info see our disclosure statement.
Honda 4-in-1 Self Propelled Mower Overview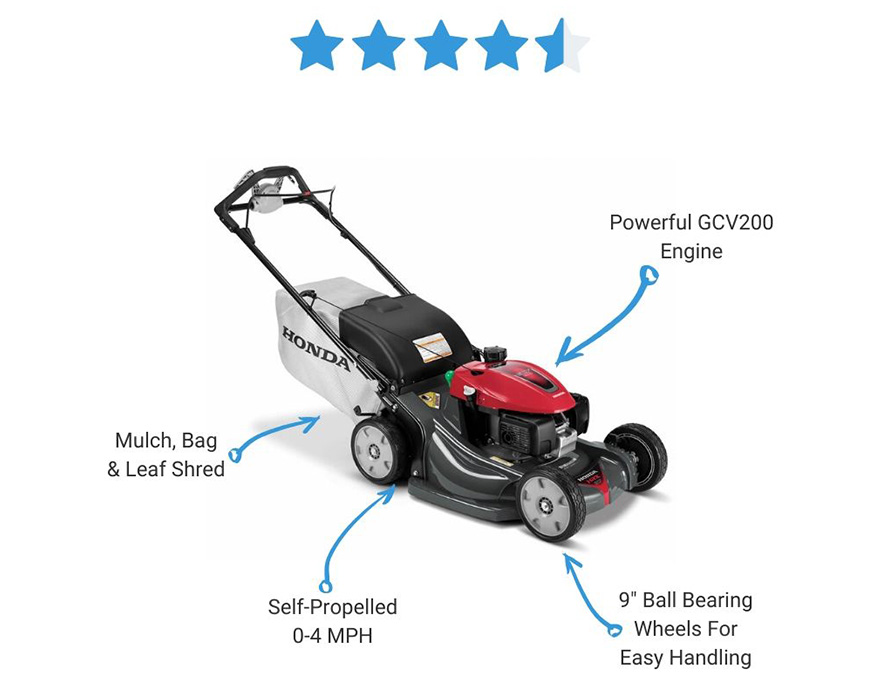 Without a doubt one of the biggest names in the market to this day, Honda is known for manufacturing high-quality products that get the job done. Whether it be their automobiles, motorcycles, aircraft, mountain bikes, or power equipment like the mower seen here, Honda is a world superpower in terms of ingenuity and manufacturing.
Priced at $619, the Honda HRX217VKA is well-priced for a high-quality Honda lawnmower. It's smack dab in the middle in the price point, with some options being priced lower and some higher.
Overall, this is a great mower that's perfect for the homeowner looking to step up into the next level of mower quality with their next purchase. With enough power to handle any terrain and a slew of user-friendly features, the Honda HRX would be a welcome addition to anyone wanting to spruce up their lawn.
Features and Benefits
Honda GCV200 Engine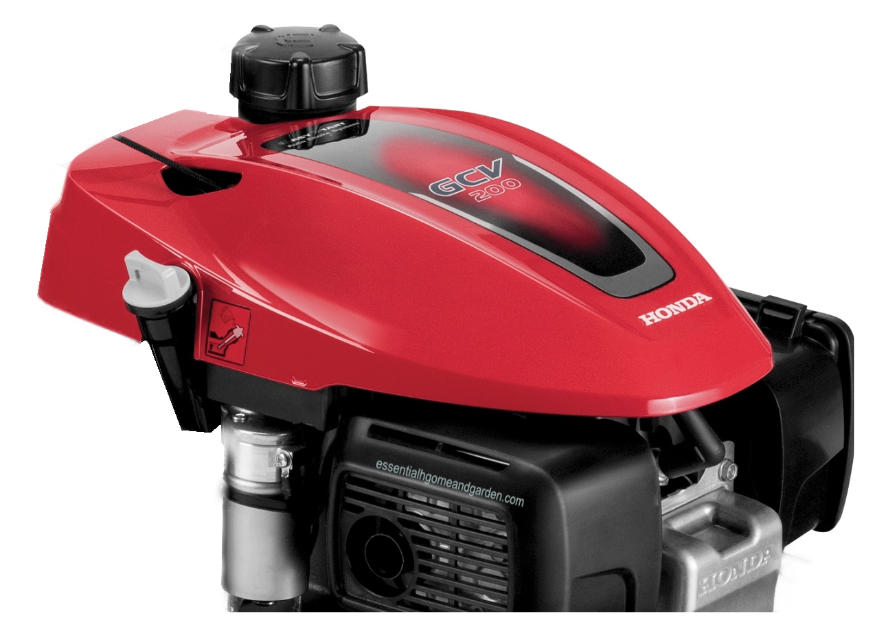 This engine is the real deal. It fires right up with the first pull of the cord without needing to be choked or anything. Once it's running, you'll be happy with the ease with which this engine can pull the 96-pound mower along.
The Honda GCV200 is the lifeblood of this mower. It is what allows the Honda HRX mower to power through some of the toughest jobs you throw at it.
Performance
With its powerful 200cc engine, the Honda HRX217VKA can cut through tall, thick grass without breaking a sweat. I've personally used mowers in the past that as soon as I would hit a patch of grass that was tall and thick, they would bog down and die instantly. The capability of the Honda HRX would've been great to have to knock those spots out without a problem!
The Honda HRX incorporates Honda's proprietary twin-blade MicroCut cutting system that offers golf-course-like results. Not only does this look great to the eye, but it is also better for your grass. Cleaner, crisper cuts allow the grass to grow back healthier, adding to the amazing look your lawn will have after using this mower.
Do you have a problem with leaves in your yard? Of course, who doesn't? This is exactly what Honda was looking to help with when they unveiled the 4-in-1 Versamow system that can capture all those leaves and then mulch, bag, discharge and shred them for you without any additional attachments or tools required.
The Honda HRX217VKA also offers adjustable deck height (with 7 different options) so that you can choose anywhere from 0.75" – 4.0" grass height with a quick adjustment.
HRX models all include a mowing deck made of a durable polymer material known as NeXite. This material was designed to resist dents, rust, and corrosion and is made of materials similar to car bumpers and football helmets, so you know it is durable from the start. If you've ever had an old mower sitting in the garage — I know I have – you've likely seen rust pop up all over the deck after a few years. With the NeXite decks on the Honda HRX series, you won't have that problem.
Handling
The Honda HRX mower comes with Honda's Select Drive control built-in, allowing you to adjust the speed of the mower with the simple twist of the knob. This system lets you vary the speed between 0 and 4 mph. Keep in mind, this mower doesn't have the hydrostatic transmission of the more expensive Honda models which gives them very precise speed controls. Instead, there are particular fixed speed settings, but for most people, this is all they need.
Large 9″ ball bearing wheels offer smoother driving and easier maneuvering. However, the wheelbase is 27″ axle to axle, which is a bit bigger than some of the other mowers on the market. For me, it's more difficult to maneuver around corners and shrubbery than my previous 24" mower but nothing too drastic.
One other issue with the handling of the Honda HRX217VKA is that its deck has a 1" flange on it. This means that you won't be able to get closer to solid objects (such as trees and other things) than 1" away. So you may have to break out the weed whacker to get closer to some of the things in your yard.
Usability
The Select Drive control system is user-friendly, with a twist knob that allows you to adjust the speed. This knob can be a bit touchy at times, so make sure you have a good hold on the mower before you speed it up — you don't want to crank it up and have it jerk you forward a bit harder than you expected.
Considering it has that powerful 200cc motor, the Honda HRX217VKA is surprisingly quiet. It's noticeably quieter than my old mower and runs a whole lot smoother as well.
For being a gas-powered mower, the Honda HRX is very easy to start! With some of these gas-powered motors on the market, you need to prime it, choke it, and give it a few pulls before there's even a chance it fires up. With the Honda, there's no choking required, it starts right up every time. That said, it is lacking an electric start, which would be a great addition and add a bit more to the overall usability.
Like a lot of other mowers on the market, the Honda HRX is self-propelled, so you don't need to push the nearly 100-pound piece of equipment around. Just let that 200cc motor do the heavy lifting for you.
Mulch, bag, discharge and leaf shred
Honda's 4-in-1 Versamow system comes to life in the Honda HRX line of products, and it makes bagging and mulching the grass you mow and leaves you pick up easier than ever.
With the simple placement of a lever (called the ClipDetector — bonus points for the name), you can choose how much of what you mow you want to be bagged and how much you want to be mulched, or even a combination of the two. There are nearly 10 options ranging from 100% mow to 100% mulch, so feel free to play with it to find out which setting you like best.
Since you can select how much you want to be mulched and how much you want to be bagged, you're able to eliminate the issues of clumping and poor yard performance by simply adjusting the ClipDetector.
When it's all said and done, the Versamow system allows you to choose between mulching, bagging, discharging from the rear, or leaf-shredding — all without needing any additional tools or attachments. All you need to do is adjust the lever to get the perfect yard every time.
Safety Cut Off
If you let go of the flywheel brake lever, there is an automatic kill switch that will quickly stop the engine to prevent the potential for injury or harm. This is a feature common to most self-propelled walk-behind mowers but it is always important to keep in mind when you're in the market.
The Honda HRX also allows for a manual fuel valve shut off which prevents fuel from getting to the motor and flooding the engine or leaking. This is great for storage, transport, or when you (or someone else) need to perform any maintenance on the mower.
Warranty Information
The Honda HRX217VKA comes with a 5-year residential warranty. This means that your mower is completely covered for any issues you have while using it for residential purposes.
Honda is so confident about their durable NeXite mowing deck that they offer a full lifetime warranty. Honda engineers have gone as far as to drive over the mowing decks with a Honda pilot to prove their strength and durability, so you shouldn't have any issues!
Honda HRX217VKA Alternatives
If you decide for whatever reason that you don't want to go with the Honda HRX217VKA, here are a few other options that are similar that you can check out.
Cheaper Option
Craftsman M275 21" 3-in-1 Self Propelled Mower
Another big name in power equipment, Craftsman has a cheaper option that may be viable to you.
The M275 has the same 21" mowing capability as the Honda model but is much less versatile and underpowered compared to the HRX.
If you don't need the additional power and versatility, this may be the next best thing. As a bonus, the Craftsman does have an electric start!
Great Option
Husqvarna L221A 21" 160cc Self Propelled Mower
The Husqvarna L221A is a top-notch product similar to the Honda in many ways.
It is on the higher end of this price point, and it doesn't offer the same 4-in-1 capabilities as the Honda HRX.
Although the motor is a bit smaller than the Honda, the L221A has all-wheel drive enabling it to power through much of the same terrain that the Honda HRX conquers.
Eco Friendly
Snapper XD 82V Cordless Lawnmower
If you're looking for a new lawnmower and are considering making the switch to a cordless option, check out the Snapper XD 82V Cordless mower.
Having the same 21" mowing capabilities as every other mower listed here, but the big difference is that it's powered by batteries. No gas needed.
This is quite a switch from gas-powered, and you'll sacrifice a bit of power for the convenience of being electric. It's a great option if you're on the fence and thinking of transitioning to the cordless world!
Things to Consider When Buying a Walk Behind Lawnmower
Gas-powered walk-behind lawnmowers are the perfect option for people that want to mow their yards either because they don't want to buy a riding mower, or one doesn't make sense for their yard. They are one of the most common pieces of equipment around, as everyone needs to mow their yards!
Although these are great tools for the job, don't buy a walk-behind mower if you have an acre of land or more. You'll be out there all day mowing your lawn, filling up the gas tank, and wearing yourself out. Ideal for residential use and small plots of land, these mowers will likely never go out of style.
The Wrap Up
The Honda HRX217VKA is a great option for anyone in the market for a new mower, especially if you've ever had trouble with other mowers handling your yard.
With its powerful engine and a slew of user-friendly features, the Honda HRX should be in the conversation to making the shortlist when you're narrowing it down to a few mowers.
With only a few glaring issues like the awkward deck flange and the lack of an electric start, there isn't too much to complain about with this mower. It's so easy to start that the lack of an electric start isn't a big deal and that NeXite mowing deck more than makes up for the inability to get up close to trees and other objects.