---
Maneuverable + Great Battery Life
Overall this mower is a good choice thanks to a powerful brushless motor, long run time, and the smart adjust that automatically responds to the density and length of grass.
It's highly maneuverable and designed to cover ground quickly.
The Greenworks 80V cordless mower stands out among standard mowers for several reasons, not least the brushless motor and long runtime.
This lawnmower is known for being quiet, easy to operate, with good runtime and reasonable battery power. It's designed to handle all lawn types and can cut through even very tall grass.
But, as a cordless battery-powered machine, can it stand up to corded and gas-powered alternatives?
Model numbers this review is based on: 2501202 / GLM801602
Pros
Brushless Motor is more durable and quieter than traditional electric motor
Batteries charge faster than they run out
No harmful emissions
Lightweight design
Smart cut technology responds to the demands of your lawn
Cons
Can be inconsistent in very tall grass
Some assembly required out of the box
Grass catch bag can leak some clippings
Should You Buy It?
If you are looking for a cordless mower that can match many gas models, then you should 100% consider the Greenworks 80V battery mower.
Disclosure: It is important you understand that we may receive commissions when you click our links and make purchases. However, this does not impact our reviews and comparisons. All opinions are our own. We pride ourselves on keeping our articles fair and balanced. For more info see our disclosure statement.
Greenworks 80V Battery Powered Mower Overview
We'll cover all these features in more detail later on, but to get started, the Greenworks 80V cordless mower comes with 2 batteries and a rapid charger which means you can get near-continuous runtime on larger properties. It's best for yards around 1 acre. But you can mow a larger area with either a larger battery or swapping them out.
It features a brushless motor as well. That cuts down on vibration and noise, while also making your lawnmower more durable.
But before we dive into too many details, let's talk about the company. Greenworks has two lines, the main DIY homeowner line under Greenworks, and Greenworks Commercial for professional operations. Their tools focus on eliminating gas exhaust and excess vibration without sacrificing power.
Founded in 2007 by parent company Globe Tools Group, they've produced a wide line of tools, most of which stand toe to toe with gas-powered competitors. If you're looking for an eco-conscious tool company, Greenworks should be on your list.
They offer both cordless and corded options, in a range of power. Most of their tools hold up well, but, like any company, there are some that really excel and some that fall a little short of the competition.
The Greenworks 80V cordless mower is a winner in our book, but we'll go over all the details so you can decide if it's the right tool for you.
Things to Consider Before Buying a Cordless Mower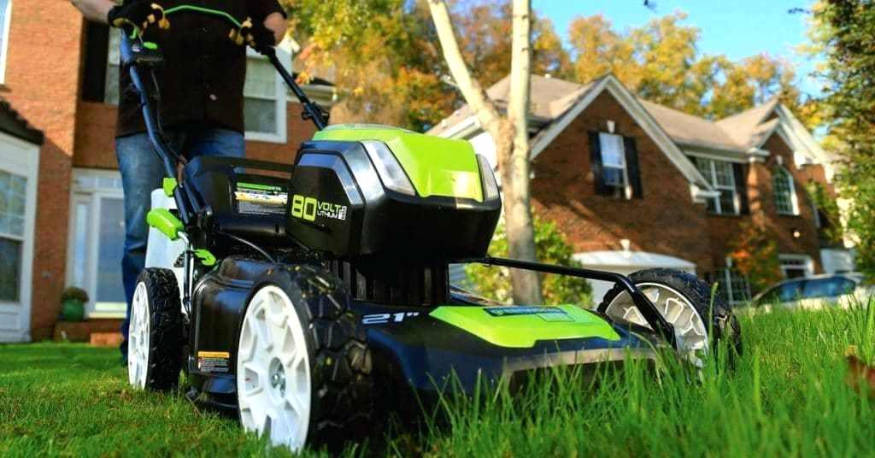 There are some definite pros and cons to cordless mowers, not just this model in particular, but all cordless mowers. Cordless mowers tend to be a good option for urban and suburban families that don't have large properties to mow and maintain.
Even larger property owners can use them, assuming you don't mind changing out your batteries or mowing in sections.
Here are some of the most important things to think about before you buy a cordless mower:
No Gas or Fumes
This can be one of the biggest advantages of a cordless electric mower. You won't smell like exhaust after mowing, it's healthier for you and your family, and you don't have to buy gas.
Minimal Servicing
In addition to needing less basic maintenance, your mower is also likely to need less servicing. While a lawnmower service is an infrequent issue.
Lighter
Electric mowers are also usually lighter than gas-powered alternatives. It's more than just the weight of the gas itself, the motors are also lighter, and it doesn't have an exhaust pipe adding weight either.
Other Considerations
Battery Size: This mower comes with an 80V battery, but it can be compatible with other more powerful batteries.
Deck Size: The deck size determines the cutting area of your mower. A great mower with a small deck size will likely still take longer to mow your lawn than a slightly less powerful mower with a larger deck.
More detail on deck size, and how to pick the right deck for your lawn, can be found here.
Features and Benefits
Continuous Run Time
One of the main features that stand out about this mower is the continuous run time. On one battery you'll usually get between 30-60 minutes. But, the rapid charge system will have a second battery fully charged and ready to go before you run out of juice.
That means that you get an essentially continuous run time, so long as you keep the batteries charged. It's not quite as convenient as the longer run time you'll get with a gas-powered mower, you'll still have to walk back to the charger to exchange the batteries.
But, compared with other cordless electric mowers, this is an unusual feature. Plus, the mower is often sold with two batteries so you're set up for continuous running from the start.
However, it is worth noting that you'll probably have to replace the batteries every couple of years. They can develop a memory and your runtime on a single battery will slowly decrease.
For the best results with this mower, you'll also need to build the habit of taking the battery out of the mower between uses. Try not to keep the batteries charged when you don't need them as well. Those two habits will extend battery life and lower your operating costs in the long run.
Even with a single battery, you should be able to mow roughly an acre of land before you need to charge. Performance does vary slightly depending on the length of grass and the temperature, but you'll rarely get less than 1 acre per charge.
Brushless Motor
A lot of reviews talk about how a tool's brushless motor makes the tool more energy-efficient and durable. That's true, and it's certainly true of the Greenworks 80V cordless mower. But, not many reviewers go over why a brushless motor provides those benefits, so a lot of consumers still don't know the difference.
An electric motor works using a magnetic field to turn the rotor. There are lots of variations on the same basic principles. Regardless of the design, the motor needs to create an outside and inside magnetic field with a small contact called a stator. The connection point is important since the inside and outside fields need to constantly push against one other to make the rotor turn.
A 'brush' motor uses a graphite brush against the stator to create that connection. The problem is that the graphite wears out over time and when the graphite is gone the motor stops working. It's also usually less efficient than brushless designs.
Brushless designs rely on permanent magnets and a specialized circuit to accomplish the same task. However, the whole system has to be controlled by a circuit board. They're similar to the circuit boards used in electric cars, like Tesla.
While this system is more efficient overall, the circuit board is still a point of failure. However, they generally still last longer than the graphite brush design.
Brushless motors also cause less vibration. That means you can mow for longer without the hand and shoulder fatigue you'd get from a more traditional mower.
Push Button Start
This mower does away with the traditional pull cord in favor of a quick push-button ignition. That makes this a more friendly mower for anyone in a hurry, or if you have back and shoulder issues.
The push-button is reliable, which is one of the biggest concerns with this design. It kicks on quickly, without the usual hiccups and hesitation you get with other forms of ignition.
It's also significantly easier to start teaching your kids to mow the lawn with this design. Since there are fewer steps to remember, and it's easier to start, you'll be able to get help with your summer chores that much sooner.
21 Inch Deck
The 21-inch deck on this mower is just on the large side of average. That means you'll be able to mow your lawn in fewer passes since each pass will cover a couple more inches of space.
Normally deck size is a compromise between speed, larger deck sizes offering a larger cutting space and making mowing a faster process, and maneuverability. Large decks can be difficult to turn, which creates shoulder strain and can make mowing more difficult, even if you get it done faster overall.
The Greenworks 80V cordless mower gets around some of the problems with a large deck by using smaller wheels up front, large wheels in back, and both sets larger than many mowers. That translates to more movement control and leverage in the back, and easier turns and fine-adjustment maneuverability.
The other big concern with a larger deck is storage. In this case, the deck itself won't change, and you'll always have that larger profile on the floor of your garage or shed. However, the folding handle makes storage on this mower a lot simpler. It will ultimately take up less space than similar and even smaller mowers that don't feature a collapsible handle.
Cutting Power
Cutting power is probably the most important feature in a good lawnmower. This is where cordless, and even corded, electric mowers often fall short. The good news is, the Greenworks 80V cordless mower does a good job in this category, once you're used to the smart cut technology that powers it.
This mower auto-detects the density of grass and adjusts it's cutting speed to match. Tallgrass and weeds will automatically ramp up the cutting power, making the mower a little louder and a lot faster. However, those faster speeds can be more inconsistent, and the last thing you need is tall grass sticking out from your freshly-mown lawn.
The best thing you can do when you hear (or feel) your mower ramping up speed is to slow down a little. You may even want to back up a half step to make sure you've got the whole area. Wait for the motor to start to slow, and then continue forward.
You're also better off using the side eject accessory instead of the grass bag when you have lots of tall or thick grass to cover. Once the grass bag is full, the motor tends to start running faster. It can make it difficult to tell when you need to spend an extra couple seconds on a stubborn patch of grass and when your motor is just responding to a full grass bag.
Greenworks 80V Cordless Mower Alternatives
Since we know that not every mower is a good fit for every person, we also wanted to include a couple of alternatives for you to consider.
Looking for more mowers? Check out our Best Battery Powered Lawn Mower post.
Snapper XD 82V Electric Cordless Lawnmower
This is a similar electric cordless lawnmower, and like the Greenworks 80V, it's designed to work well for suburban owners and anyone with an acre or so of land. This is a better option for users with back injuries or who don't want to provide all the horsepower themselves, however.
Since the Snapper XD 82V is self-propelled, it doesn't take as much work to move the mower across your lawn. Self-propulsion can make maneuvering the mower around tight curves more difficult, however.
This mower has a similar one button push ignition, but it doesn't seem to be quite as powerful. It might take a little longer to cut through long grass and weeds than the Greenworks 80V.
You can read our review of the Snapper 82V mower here.
KT Kobalt 80v Brushless Electric Lawnmower
Another good alternative, KT Kobalt 80v gives you a larger cut grass bag and similar rapid charge batteries. It also has a responsive cutting design, responding to challenges like wet grass and steep slopes with faster cutting.
Like the Greenworks model, however, that faster speed can lead to a more inconsistent result unless you slow down slightly.
It doesn't have the self-propelled feature of the Snapper and is rated for slightly smaller yards. The ideal property for this mower would have about 1/3 of an acre of mowable area.
Conclusion
Overall the Greenworld 80V Cordless Mower is a great option if you're looking to transition away from a gas-powered mower. It also offers more freedom than most corded mowers. One button ignition is a nice adaptation and certainly easier than gas pull cords.
Storage is simple with a folding handle and a relatively compact profile. At the same time, a larger than average steel deck adds durability and function to the overall design.
It might not be quite as powerful as a gas-powered mower, and it does have a shorter runtime than gas-powered alternatives, but this mower is still a solid option. If you're looking for an effective push mower, this mower should be on your list.