Is your dehumidifier leaking water onto the floor? Often, the problem is a misaligned or cracked water bucket, but there are other causes to consider.
A leaking dehumidifier risks damaging your floor and creates a breeding ground for mold and bacteria.
In this guide, we'll dive into the common reasons and provide straightforward solutions to get your dehumidifier back in perfect shape.
14 Reasons Why Your Dehumidifier Is Leaking Water & How to Fix it
Use this table for a summary of why your dehumidifier is leaking on the floor. Read on for more details on how to fix each cause.
| Reason for Dehumidifier Leak | Solution |
| --- | --- |
| 1. Misaligned Water Collection Bucket | Re-align the water bucket, ensuring it is level and in the correct position. Empty it frequently. |
| 2. Cracked Water Reservoir | Check for cracks in the water bucket. If found, contact the manufacturer for a replacement. |
| 3. Blocked Hose | Clean the hose from any blockages, especially if located outside. |
| 4. Bent Drain Pipe | Check if hose is kinked or twisted, which can cause water backup. Straighten or stabilize as needed. |
| Consider a larger diameter hose if water output overwhelms your current one. | Consider a larger diameter hose if your current one is overwhelmed by the water output. |
| 6. Loose Hose Fitting Cap | Check your dehumidifier for and tighten or replace any loose hose fitting caps. Hose connection may be loose. Check for missing rubber o-rings. |
| 7. Drain Hose Coiled Vertically | Ensure there's no vertical lift in your hose. Position the dehumidifier higher or consider using a drainage pump. |
| 8. Disconnected Drain Hose | Ensure the hose is securely connected to the unit and the draining area. |
| 9. Hose Is Too Long | Move the dehumidifier closer to the drainage area, or consider purchasing a dehumidifier with a built-in pump. |
| 10. Jammed Pump | Clean any debris causing a pump blockage. Ensure it's properly installed and connected. |
| 11. Frozen Coils | Avoid operating the dehumidifier below 65°F. Check internal parts (fan motor, humidistat, thermostats) for malfunctions causing freezing. |
| 12. Malfunctioning Overflow Switch | Ensure the float sensor / overflow switch is correctly positioned or installed. If broken, consider ordering a replacement or a new dehumidifier. |
| 13. Blocked Drainage | Ensure the end of the draining hose isn't submerged in standing water. If the drain is blocked, you might need a plumber. |
Also Read: Choosing the best dehumidifier for your bedroom.
1. Misaligned Water Collection Bucket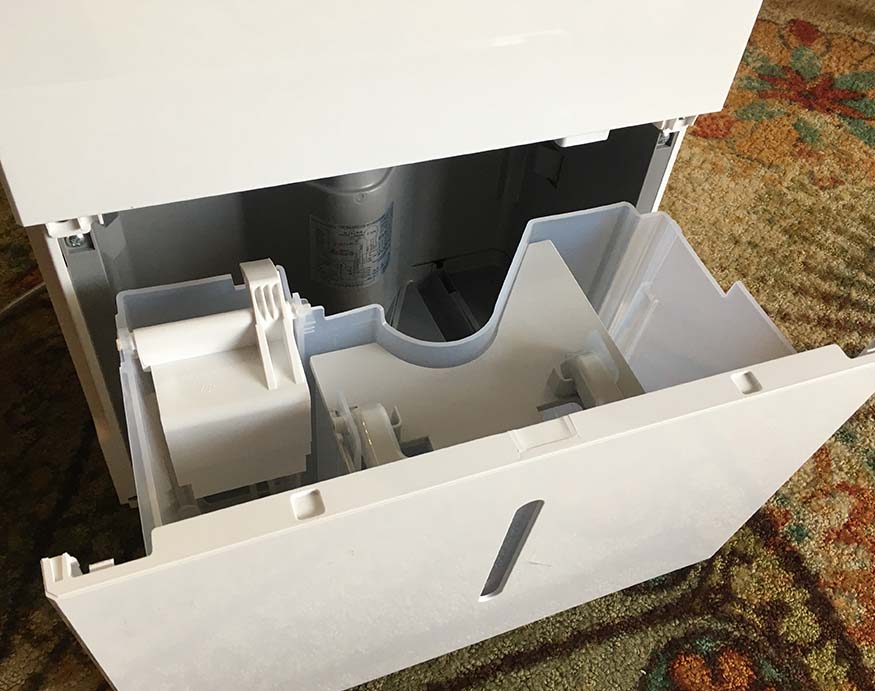 Portable dehumidifiers have a removable water collection bucket also called a condensate collection receptacle. This bucket is needed to catch water when a drainage hose is not used.
These collection buckets typically have a float sensor that turns the dehumidifier off when it is full.
If this bucket is inserted incorrectly or is knocked out of place, it can cause the unit to leak.
To fix a misaligned water collection bucket:
Unplug the appliance.
Open the reservoir compartment to reveal the water bucket.
Remove the water bucket and empty any water inside it.
Dry the inside of the dehumidifier.
Carefully replace the water bucket according to the directions that came with your unit.
Assure the bucket is level, locked in the correct position, and that the overflow switch (usually a floating device that sits in the bucket) is positioned correctly.
If this was causing the dehumidifier to leak, you should not see any more water pooling below the unit once you have turned it back on.
2. Cracked Water Reservoir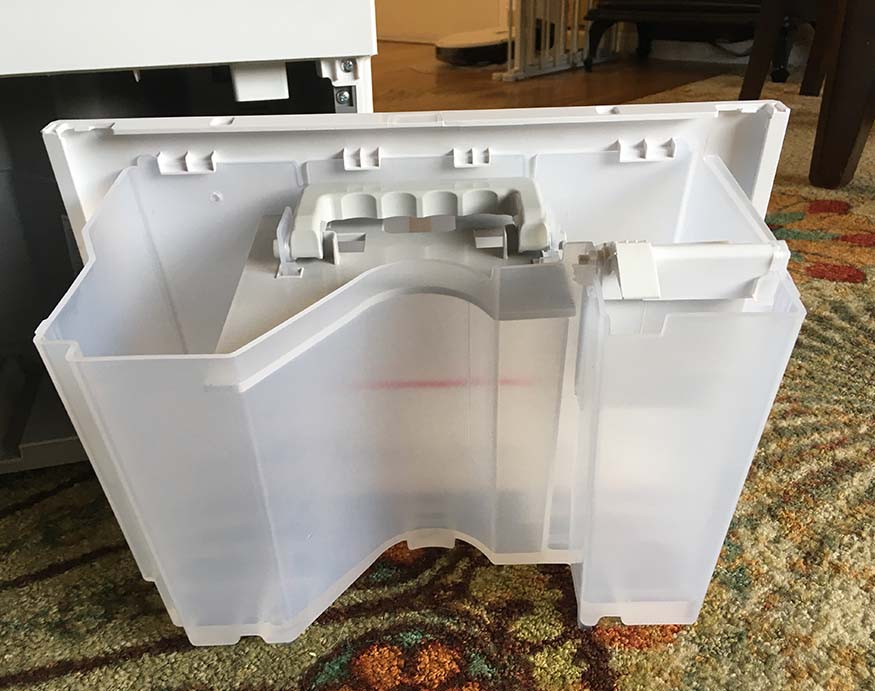 A cracked water collection bucket, especially in older units or those exposed to temperature changes, can cause leaks.
To check for leaks in your water reservoir:
Unplug the appliance.
Open the reservoir compartment to reveal the water bucket.
Pull the bucket out and inspect it for cracks and blemishes. Some cracks may be too small to see, so filling the bucket in the sink and watching for leaks can be helpful.
If you find a leak in your reservoir bucket, your best option is to contact the manufacturer and order a replacement.
You could use a hot glue gun or silicone sealant as a temporary fix, but this may only be a short-term solution.
3. Blocked Hose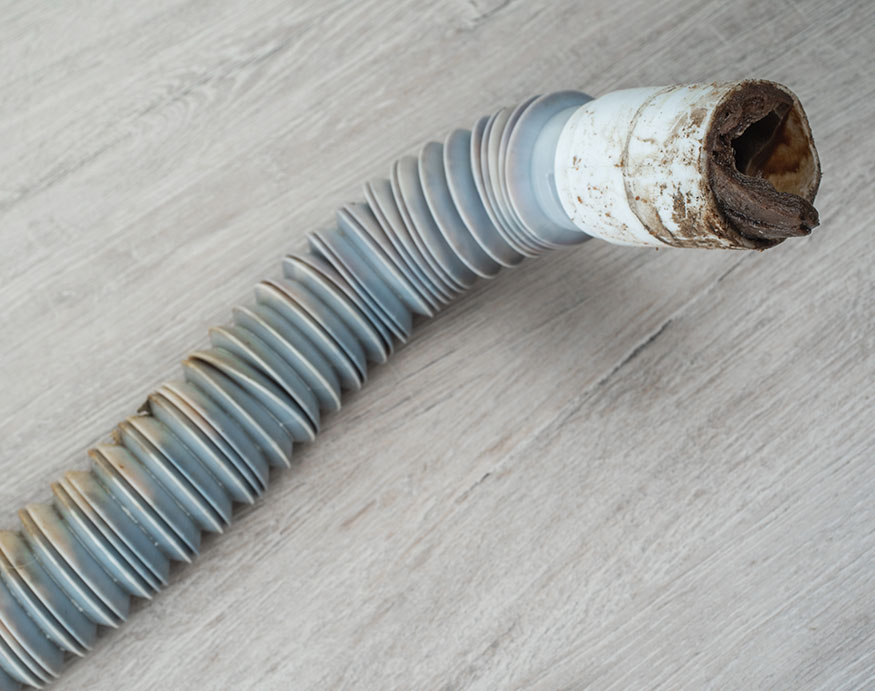 If your dehumidifier uses a drainage hose, then the source of your leak may be a blocked hose.
Debris can enter from the draining end, which is more likely to occur when you have it hooked up outside, where rodents and bugs have access to it.
To check your drainage hose for blockages:
Unplug the unit.
Remove the drainage hose from where it connects to the unit.
Take the hose outside and insert your garden hose into one end.
Turn the garden hose on full blast and let the water run through until it comes cleanly out the other end.
If the blockage doesn't dislodge, try soaking the hose in a sink filled with hot soapy water then trying again.
If water runs through the hose without issue and nothing comes out, then your leak is likely not due to a hose blockage.
If you need a new hose, check out Amazon.
Related Article: The best small dehumidifiers
4. Bent or Kinked Drain Hose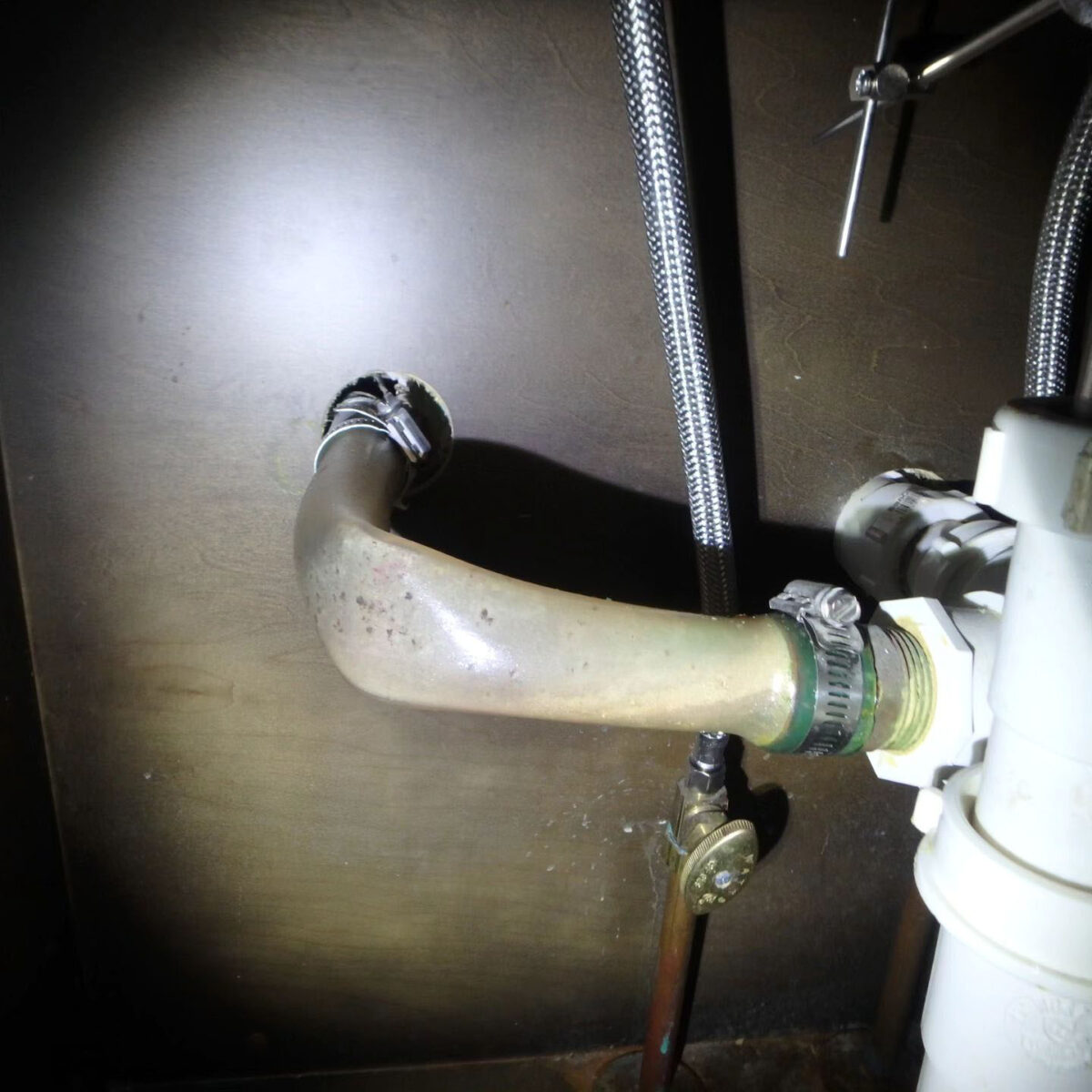 Kinked or bent hoses can lead to water backup and overflow. Ensure your drainage hose takes the shortest and most direct path to prevent this.
To check your drainpipe for kinks. Look for any sharp turns or areas where the hose kinks or twists around itself. If you notice any of these issues, remove your drain hose, reposition it to flat, and reconnect it.
You may need to use stabilizers or objects to hold the hose in place and widen any turns to prevent the kink from reoccurring.
5. Drain Hose Too Small
Sometimes, the problem has less to do with the hose being kinked and more to do with the fact that the drainage hose diameter is too small to handle the amount of water being discharged from your humidifier.
In very humid environments, it's possible for the appliance to produce water faster than the drain hose can accommodate, causing the water to overflow inside the dehumidifier. You can assume this is the problem if you see a continuous, powerful stream of water coming out of the drain hose and the appliance is still leaking.
Depending on your dehumidifier, this may or may not be an easy fix.
Most large dehumidifiers have a ¾" drainage hose connection. They can fit hoses as wide as garden hoses. However, many come with smaller hoses despite having a wide connection.
If your dehumidifier has a drain hose with a small diameter, try switching it out for a wider option and see if that relieves the issue. Amazon have a good selection of dehumidifier hoses.
Some portable dehumidifiers do not have a standard-sized fitting and are not designed to have the hose upgraded. In this case, I recommend upgrading your dehumidifier to one that suits your humidity levels and the size of your area.
This EnergyStar informational article provides a useful capacity chart to help you find the right product for your needs.
6. Loose Hose Fitting Cap
A dehumidifier can leak if hose connections aren't secure, even with an adequate hose.
If you notice a leak at the fitting cap where your hose connects to the dehumidifier, this is most likely your problem.
To fix a loose hose fitting cap:
Unplug the dehumidifier.
Remove the drainage hose.
Many units include a rubber o-ring that fits into the female end of the connection. If this is missing, purchase a replacement.
Reattach the hose and tighten it until it stops turning, being sure to keep the fitting from cross-threading.
If the fitting is still leaking, you may need to apply some teflon tape and re-tighten it.
If the fitting continues to leak, then it is likely you have a faulty fitting.
You will need to order a replacement hose from the manufacturer if this is the case. You may also be able to order a replacement part from Amazon.
7. Drain Hose Has Vertical Incline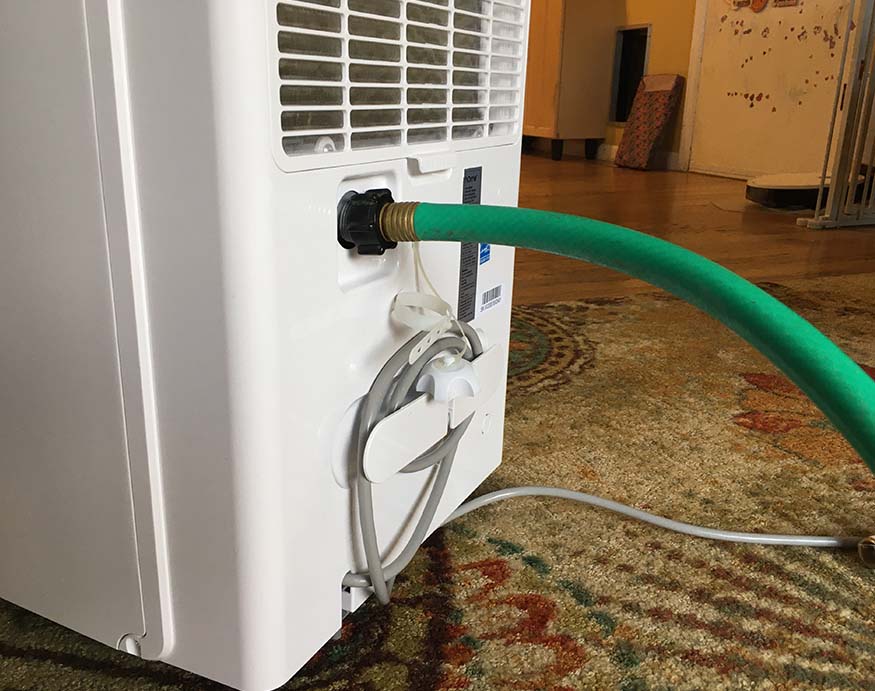 Personal and portable dehumidifiers use gravity for drainage. Any vertical lift or coiling in the hose can cause leaks.
If there is vertical coiling in your hose, you will need to secure the hose to the floor or at the endpoints to keep it flat and straight.
If there is a vertical incline in the hose run between the unit and the drainage point, you will need to remove it so gravity can do its work. The easiest way to do this is to raise your dehumidifier off the ground using a few stacked boards, cinderblocks, or a table. Alternatively, you could place the unit on a shelf or counter.
If you can't put the dehumidifier above the drain, install a condensate pump. Some units are built for this option, in which case the manufacturer should sell the right pump for your setup.
For dehumidifiers that do not have the ability to have a pump installed internally, you will need to add a general-use condensate pump to the drainage system.
The video below shows how to install an external condensate pump to your dehumidifier.
8. Disconnected Drain Hose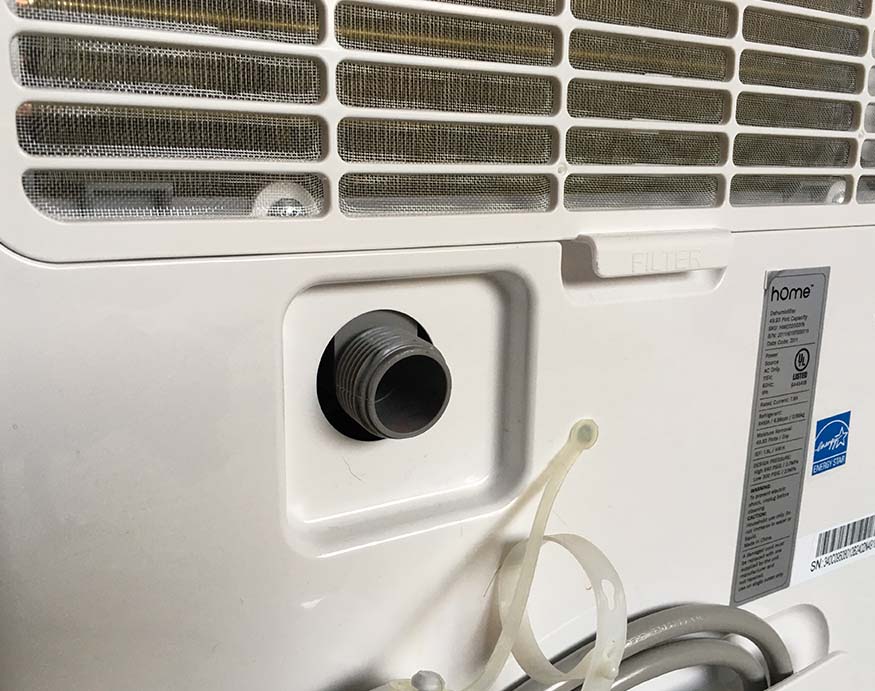 It may seem like an obvious issue, but one possible source of the leak is a disconnected drainage hose. For new units, this often occurs because the drainage hose was never hooked up in the first place.
But it is also possible for a functioning hose to become disconnected or loosened over time. This is especially likely if the hose is exposed to fluctuating temperatures or sunlight.
9. Drain Hose Is Too Long
If your dehumidifier drain hose is too long, then it can cause the unit to leak. This is a problem mainly for pumpless humidifiers.
Long hoses are often a problem for dehumidifiers used in basements because the drainage point is often far away from the unit.
If your leaking dehumidifier is caused by the length of the drain hose, then there are 3 options to solve the problem:
You can move the unit closer to the drainage area
Add a pump as described in the vertical coiling section above
Buy a new dehumidifier that has a built-in pump
10. Jammed Pump
You might have a jammed pump if your dehumidifier has a pump but is still leaking from an overflowing water reservoir or drainage hose.
These pumps most commonly fail because they get jammed with debris.
To fix a jammed dehumidifier pump
Unplug your appliance and pump.
Remove the pump.
Clean the pump as described in the manufacturer's directions.
Replace the pump and plug everything back in.
11. Frozen Dehumidifier Coils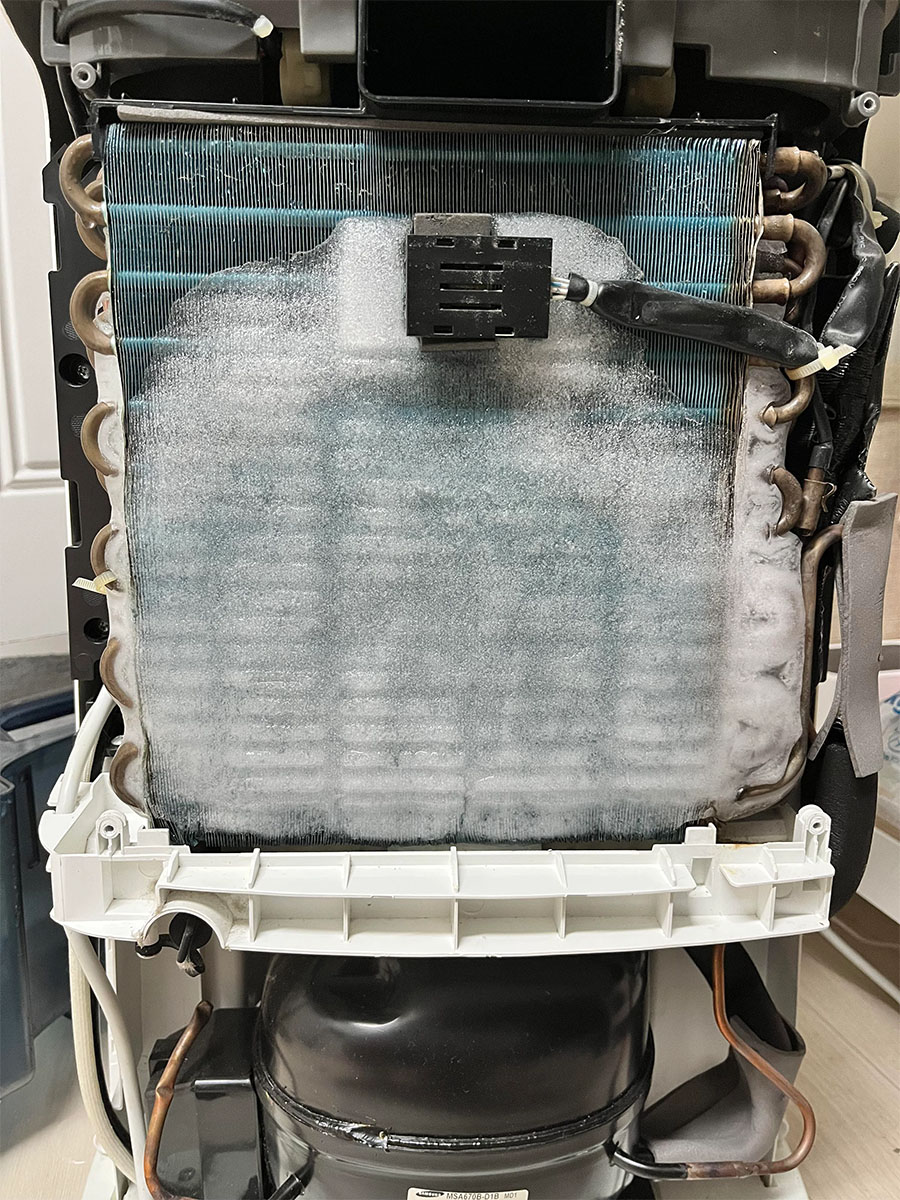 Frozen dehumidifier coils can happen for many reasons and can cause leaks.
The most common cause is that the unit is operating at low temperatures. Any ambient temperature below 65 degrees can cause dehumidifier coils to ice up. Many dehumidifiers have a built-in thermometer that shuts the unit down if the temperature drops too low. If your unit doesn't have this feature, you'll have no choice but to turn it off manually.
Problems with parts inside the dehumidifier can also cause the coils to freeze. If the fan motor or blower wheel goes out, there won't be enough airflow to keep the coils from getting too cold. You will know this is the problem if you can't hear the fan turning while the unit is working.
Excess moisture can also accumulate and cause an ice buildup on the coils, further complicating the issue.
A build-up of dust on your dehumidifier coils can also result in them freezing; use a suitable coil cleaner to keep them dust-free.
Other possible causes include a malfunctioning humidistat, thermostat, or bi-metal thermostat. Reference your owner's manual for information on these parts and how to test if they are functioning properly.
12. Malfunctioning Overflow Switch or Float Sensor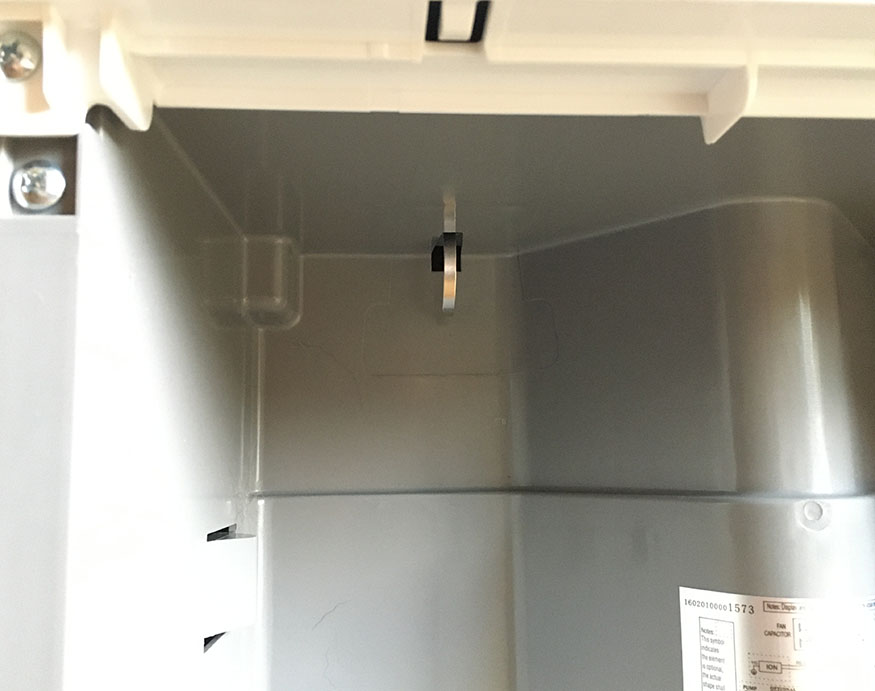 Modern dehumidifiers feature an auto-off function that will shut the unit down when the water collection bucket reaches capacity. If this feature is broken, your unit can overfill and overflow while in use.
The most common setup for dehumidifier overflow switches involves an attached float sensor that rises with the water in the collection bucket. Once the water reaches the maximum level, the rising float sensor activates and turns the unit off.
This switch can malfunction in many ways.
The problem often stems from the float switch not being correctly set after replacing the water bucket.
Reference your owner's manual to check the proper placement and positioning of the overflow switch.
It is also possible for this float sensor to become faulty or break. If this happens, you will need to order replacement parts from the manufacturer or buy a new dehumidifier.
13. Blocked Drainage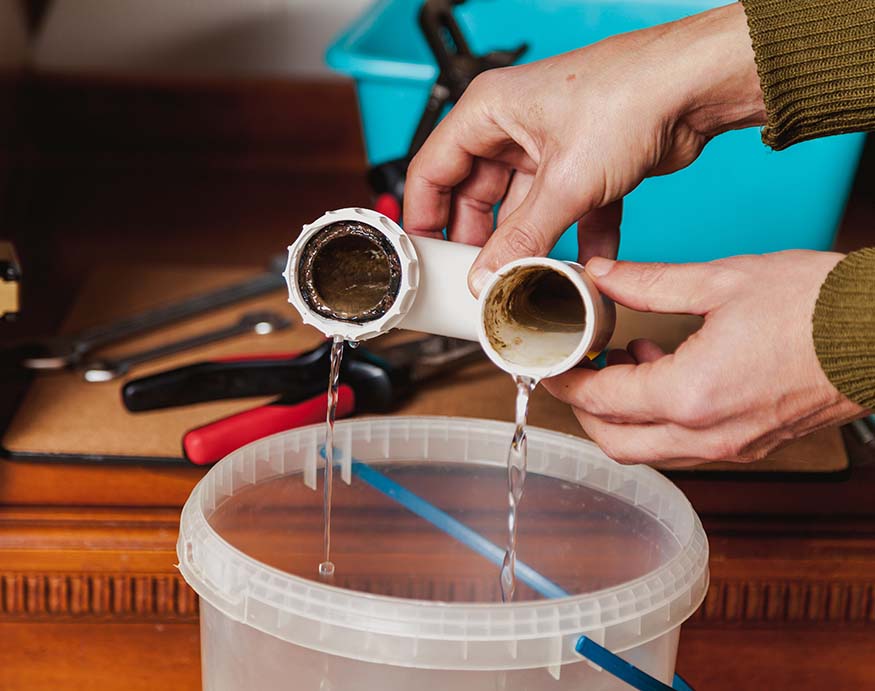 Blocked drainage hoses aren't the only drainage blockages that can cause leaks in your dehumidifier. If the drain that your hose runs to is blocked, then it can cause water to build up, which will, in turn, cause water to collect in your dehumidifier.
Dehumidifiers that use gravity need a certain pressure to push water out and into the drain. If the end of the hose is sitting in standing water, it will exert pressure on the system, preventing the water from moving out.
The solution to this is often as simple as raising the hose, so the end does not sit in standing water.b But if a blocked drain causes standing water, you will need to get a plumber out to clear the drain before fixing the leak in your dehumidifier.
14. Clean The Air Filter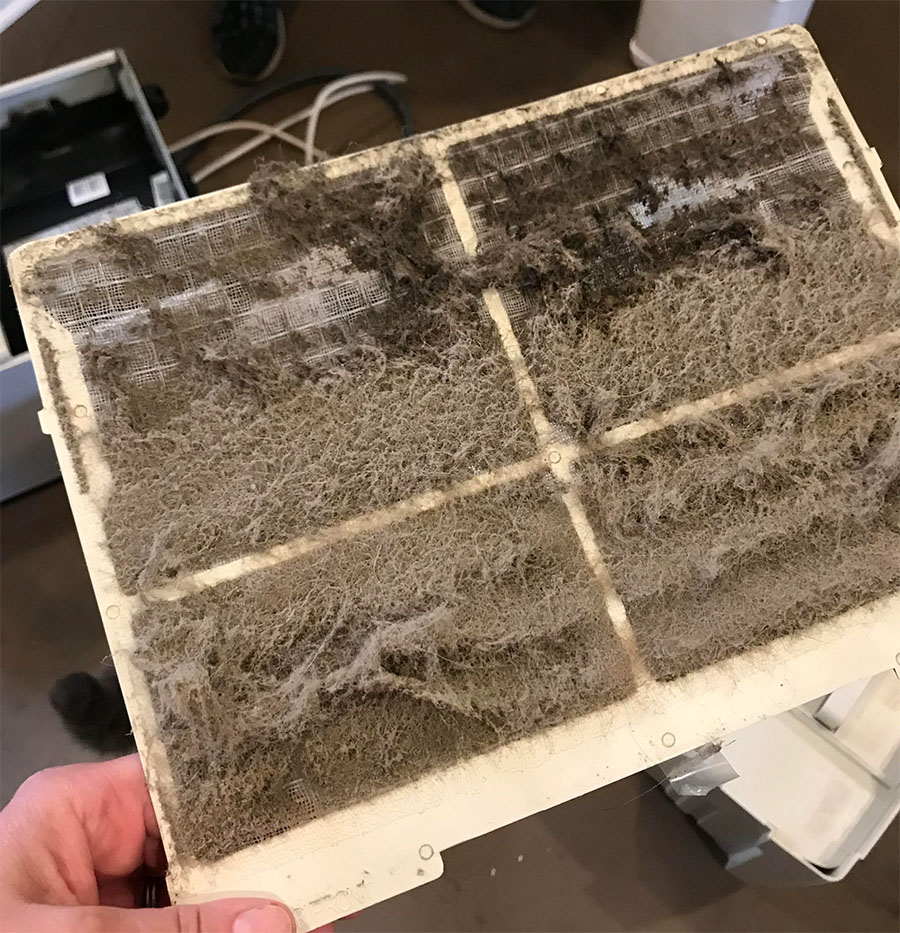 A clogged air filter is a common reason for a dehumidifier to leak water.
A dirty air filter restricts air flow in the dehumidifier. This restriction can make the coils freeze.
Regularly maintaining your dehumidifier by cleaning the air filter is important and can avoid many common problems occurring in the first place.
To clean your dehumidifier's air filter, remove it from the unit and rinse it out. LEt it dry completely before re-fitting it in the dehumidifier.
Where To Get Dehumidifier Parts
If you have traced your dehumidifier leaking water problem to a specific part, then it's time to replace it.
First, try sourcing parts from the manufacturer of your dehumidifier. They should be able to sell you the parts, or put you in touch with someone who can.
If this fails, then try googling the part you are after, along with the model of your dehumidifier. You can also look on Amazon which has a good selection of popular parts.