---
Multi-Function Mini Vac to Help Keep Small Spaces Tidy
Are you looking for a way to keep your desk cleaner or a handy tool to tackle those car seat disasters? The Brigii M1 Mini Vacuum will be your new best friend. This tiny—and I mean TINY—handheld vacuum is the perfect companion to have on hand when small messes become big deals.
The M1, which is about the size of a standard Hydro Flask water bottle, can vacuum, blow, and even fill up your pool toys. It doesn't have the most powerful suction in the world, but it has no problem cleaning out keyboards and tidying up after a crumbly lunch.
All this and it's small enough to store in your desk drawer.
Pros
Lightweight and easy to store
Multiple attachments
Multi-function
Washable filter
Cons
Doesn't work for stuck-on hair
Small dust bin
Noisy for a small machine
Should You Buy It?
Need a trusty, compact companion to clean up spilled food in the car or office? Want a keyboard blower that doesn't run out of air? The M1 has you covered.
However, for bigger messes or ground in dirt or hair, look elsewhere. The Brigii M1 is only designed for small and quick jobs.
Disclosure: This product was sent to us by the manufacturer for free in order for us to provide an honest review. However, this does not affect how we rate and review the product and all opinions are our own. We may earn commissions from any purchases made through links clicked on our website.
Brigii M1 3-in-1 Mini Vacuum Overview
The M1 is the third handheld vacuum cleaner released by Brigii. Compared to the first iteration, the Y120Pro, the M1 has greater suction power, weighs about a third as much, and has a much sleeker look.
Compared to industry-leading handheld vacuums like Black+Decker and Bissel, this vac has less suction but also costs significantly less. But categorizing this as your typical handheld would be unfair.
The M1 only weighs about 1 pound and the suction surface, even with the largest attachment, is only about one square inch. Comparing it to handhelds that are three times the size seems unfair.
For what it is, the M1 is quite impressive.
It has four interchangeable vacuum attachments that are, themselves, impressively small. Some of these attachments can also be secured to the back end and used to blow out electronics. It even comes with a specialty rubber adaptor that inflates and deflates vacuum bags, pool toys, and other inflatables.
The M1's size makes it appealing while simultaneously calling into question how well it can actually perform. Luckily, I had the chance to put this mini vac to the test firsthand. Keep reading to see my full Brigii M1 3-in-1 Mini Vacuum review to determine if its tiny size is an asset or a liability.
How It Performs
I was excited to get the Brigii M1 because I have been hunting for a handheld vacuum I can use to clean my car. While the M1 did not quite live up to that dream, I still found it impressively useful for some other necessary tasks.
Functionality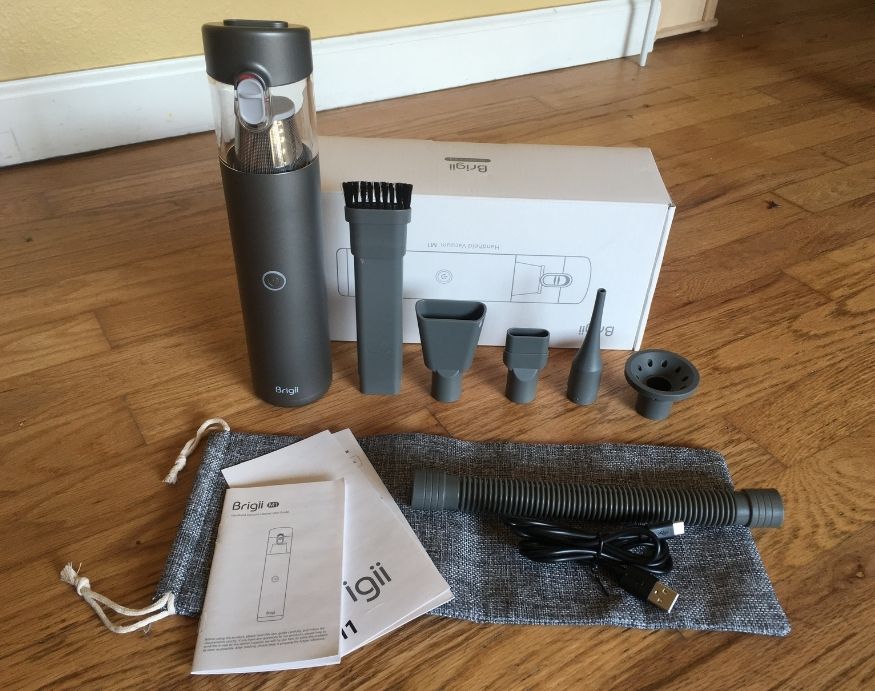 Considering how small the box was that this product came in, I couldn't believe how many attachments were included.
In total, this water-bottle-sized vac comes with eight extra parts, including:
A USB cord for charging
A pointed blow/suction nozzle for dusting electronics and vacuuming super tight spaces
A 2-in-1 brush/suction nozzle for dusting and vacuuming
A crevice hose nozzle for cleaning in tight spaces
A combination attachment for vacuuming and securing the hose and other nozzles
An extension hose for flexible cleaning
A rubber hand pump attachment that works with the pointed nozzle to fill and deflate items
A handy carrying bag to store the vacuum and all included parts
You can use the attachments in multiple ways.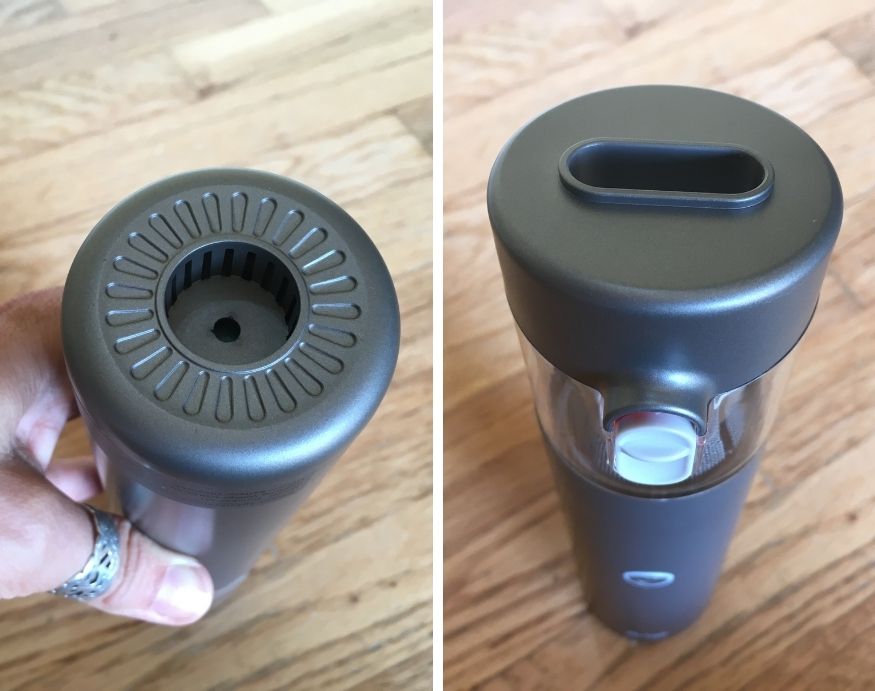 Many can be attached to the top end and vacuum small surfaces and suck debris from tiny debris. Others can be attached to the bottom end and used to blow out electronics and cracks.
The pointed nozzle and hand pump attachments work in unison to fill or deflate small mattresses, pool toys, and other inflatables. You can even use this function to deflate clothing storage bags.
I was most impressed with how small each attachment was and how they all worked together in different ways to extend the functionality of this tiny vacuum.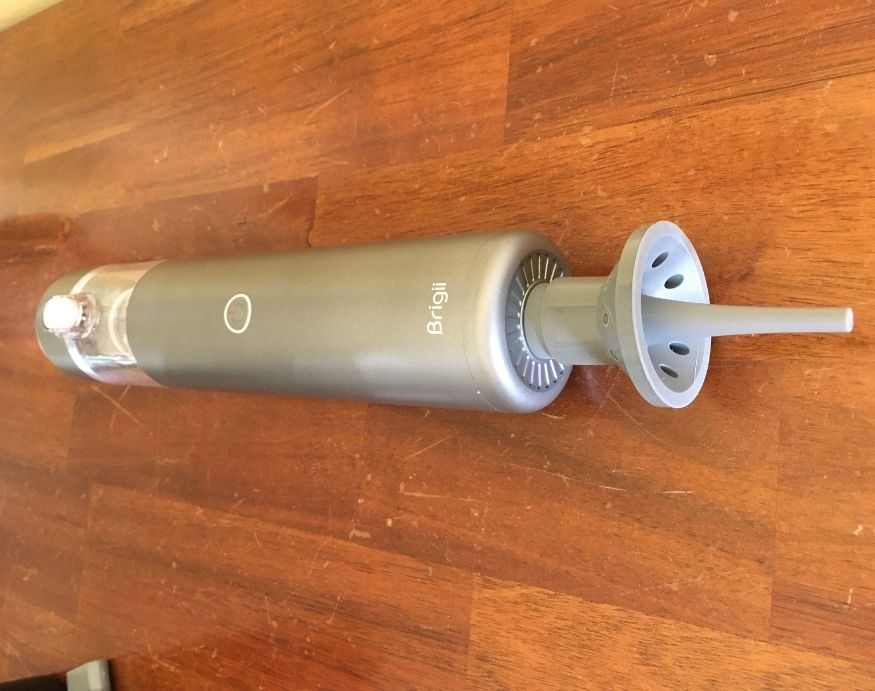 However, be warned that you will have to do some experimenting to figure out how to use and attach all these parts. The manual and user card that come with the product are sparse in terms of information. And only provide a few images to help you decipher how the parts are meant to work.
After a bit of experimenting of my own, I was impressed with just how much the M1 can do. Given how small this vacuum is, it certainly knows a lot of tricks!
Cleaning Power
A ton of functionality is great in a vacuum if it's paired with enough suction to get the job done.
The Brigii M1 is marketed as having a suction power rating of 7,500Pa. That's about on par with cheaper robot vacuums and your standard dustbuster. But the surface area covered by the attachments is much less, making this vacuum a better choice for cleaning up small, isolated messes.
I had hoped I could use this vacuum to clean my car, but it just doesn't have the power to remove smashed in dirt or hair from surfaces. However, it did a great job picking up loose debris and sand from the floor mats.
I also found it especially useful for cleaning out all the cracks and crevices in my daughter's car seat. That talent alone is worth keeping one of these in the glove box.
The other place I found the M1 very helpful was in the office. I loved the blower function for cleaning out my computer. And the brush attachment function was perfect for removing embedded dog hair from my keyboard and sprucing up my desk.
And thanks to its size and the number of attachments, it was surprisingly helpful for cleaning around my workspace.
Overall, I wasn't wholly impressed with the M1's suction or deep cleaning abilities. But I appreciated how well this vac worked to clean food and other loose debris from my car and office.
Charging and Battery Life
The Brigii M1 Mini Vacuum takes about 4 hours to charge and has an advertised continuous runtime of 25 minutes. This seems like a lot of waiting for a small payoff. But, given the small tasks this vacuum is made for, odds are you'll rarely run it out of battery.
This vacuum is charged via the included USB cord. This is an excellent feature for charging on the go in the car. For charging at home, you'll need your USB plug adapter. It should be noted that when charging in the car, you will need at least a 2 amp, 5V USB outlet, or charging time will be significantly increased.
Storage
If there is one place this vacuum takes down the competition with no questions asked, it's in the storability department. You just can't beat how small, lightweight, and compact this thing is. And that goes equally for the many attachments.
The vacuum and all included parts fit neatly into the sleek carrying bag, which is about the same size as a wine bag. You could easily slip this bag into your desk drawer, center console or hang it next to the broom in the mudroom.
If you wanted to, you could take this vacuum with you pretty much anywhere. And, thanks to the discrete carrying case, no one would even know!
Things to Consider Before Buying a Mini Vacuum
Mini vacuums are a great alternative to bulky standard vacuums. But they only work well for specific situations. Before you invest in a new mini vac, here are a few things to consider to help you decide if this is the best product for you.
Cleaning needs. These vacuums work great if you need something that can make quick work of crumbs, dust, and loose pet hair. For stuck-on messes, you'll need something more powerful.
Run time. Any vac can handle cleaning up after a messy lunch, but not all can take on those long jobs. A mini vac may not have the battery capacity to last until the job is done.
Storage options. There is no better choice for a vacuum you can keep in your desk or car than a mini vacuum. If your storage options are less restricted, a larger vacuum may be worth the extra space in exchange for additional power.
If you're looking for a maneuverable cordless vacuum with a little more power than a mini vac can offer, you may want to consider a stick vacuum instead.
Brigii M1 – A Water-Bottle Sized Vacuum
There is no better option than a mini vacuum to clean quick messes in small spaces. And for those tiny spaces that don't offer much storage space, you won't find a smaller, more capable mini vac than the Brigii M1.
Not only can this water-bottle-sized vacuum keep your office looking great, but it can blow out your electronics, pump up your pool floaties, and do quick work for spilled puffs in the car seat. It isn't the most powerful vacuum cleaner in the world, but it might be the smallest!
To learn more about the Brigii M1 3-in1 Mini Vacuum or buy one for yourself, click here.