According to energy.gov, Americans spend $29 billion each year just to keep their houses cool.
One way to easily reduce AC expenditures each summer is by cooling only the room you are using rather than your entire house.
Portable air conditioners are a great solution to maximizing your comfort while minimizing your cooling costs. The only problem? These units are often so loud that all you want to do is leave the room, despite how cool and comfortable it is.
To overcome this common catch-22, you need an air conditioning unit that is both portable and exceptionally quiet. And that's what we've exactly tracked down.
We tested and researched the top-selling, low-decibel units to find eight of the most effective and quietest portable air conditioner units available. We even found a Black+Decker Portable Air Conditioner that runs at a whisper-quiet 49dB.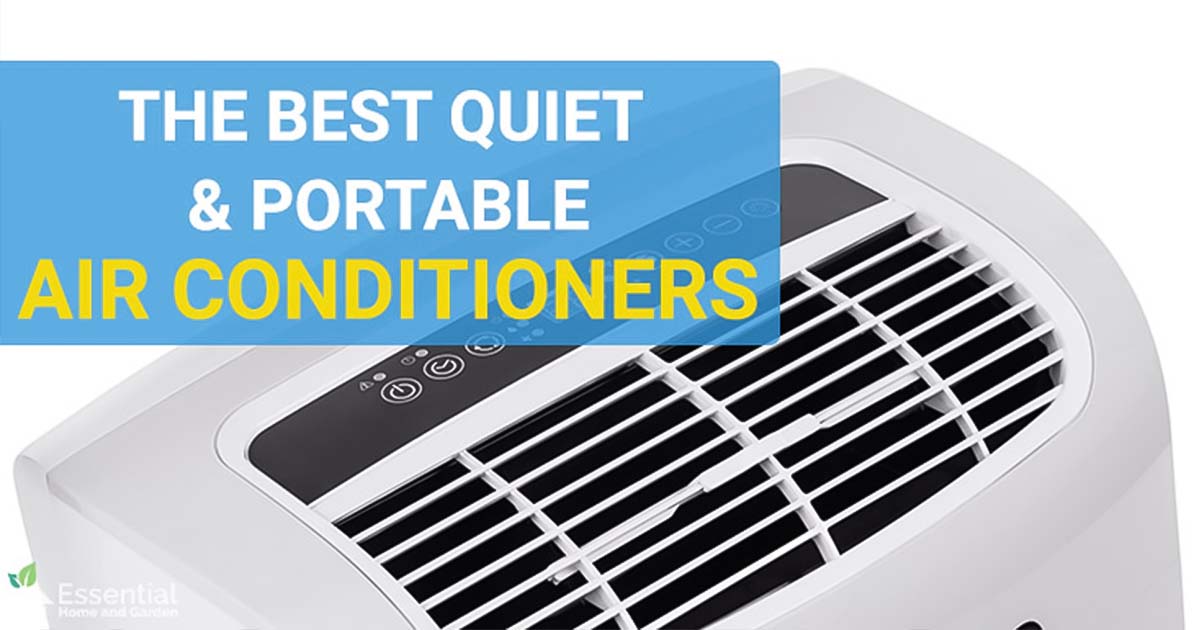 Disclosure:It is important you understand that we may receive commissions when you click our links and make purchases. However, this does not impact our reviews and comparisons. All opinions are our own we pride ourselves on keeping our articles fair and balanced. For more info see our disclosure statement.
Summary Table
Product
Details
Where to Buy

LG LP1419IVSM Smart Dual Inverter Portable Air Conditioner


**Editor's Choice**

dB Level: 44dB
BTU: 14,000 (10,000 DOE)
Coverage: 500 sq ft
Check Price Now
dB Level:

49dB


BTU:

10,000 (5,500 DOE)


Coverage:

About 250 sq ft

Check Price Now
dB Level:

49dB


BTU:

8,000 (5,500 DOE)


Coverage:

up to 350 sq ft

Check Price Now
dB Level:

50dB


BTU:

8,500 (5,600 CEC)


Coverage:

Up to 250 sq ft

Check Price Now

Dreo TwinCool 12000 BTU Smart Inverter Portable Air Conditioner



dB Level:

42dB


BTU:

12,000 (10,000 SACC)


Coverage:

450 sq ft

Check Price Now

dB Level:

50dB


BTU:

8,000 (4,900 DOE)


Coverage:

Up to 300 sq ft

Check Price Now

TOSOT 8,000 BTU Portable Air Conditioner


dB Level:

49dB


BTU:

8,000 (6,000 DOE)


Coverage:

Up to 400 sq ft

Check Price Now
Quiet AC Units: What We Look for
How much noise an AC puts off is only one piece of the puzzle that determines whether a unit is worth buying or not. We also looked at each contender's portability, how powerful it is, how well it is made, and how much it costs to run.
Noise level
ACs typically put off significantly higher decibels when running on medium or high than the marketed noise output. If you want a unit that remains comfortably quiet no matter which setting you have it on, you'll want a unit with a listed output as close to 50dB as you can get, which is what we looked for.
50dB is about as loud as a moderate rainfall outside the window. For comparison's sake, 40dB is the output of the average refrigerator pump, and 60dB is about as loud as the typical conversation between two people.
Portability
The units featured in this article have been chosen for their portability. Look out for weight and features that make transportation easier. You should expect a portable air conditioning unit to be on easy-glide casters.
BTU Rating
BTU rating is an abbreviation of "British Thermal Unit" and is a unit of heat calibrated by the measure of power required to raise 1 pound of water by 1ºF. BTU is widely recognized as a heating unit around the world.
Many consumers make the mistake of looking for an AC with the highest BTU rating they can afford. But bigger is not better when it comes to air conditioning power. Instead, you want to look for a unit with the suitable capacity or power to cool your room.
Another confusing aspect of measuring AC power in portable air conditioning units is ASHRAE BTU versus DOE BTU.
The ASHRAE BTU rating is similar to your standard rating given to other types of AC units. The DOE BTU rating, which can also be listed as a CEC rating, is an adjusted cooling power measure specific to portable units.
This second rating is necessary because portable units are less efficient at cooling than their ASHRAE rating lets on. This is because they must recycle cooled room air to cool down the internal components. This recycled air is pushed out of the house via the exhaust and is naturally replaced with warmer air from outside the room.
The DOE rating will be lower than the ASHRAE and is usually more accurate in determining how well the AC actually performs. Because more efficient units are less costly to operate, we looked for units with DOE ratings that are aligned more closely with the listed ASHRAE rating.
Quality
Of course, efficiency, power, and noise output don't mean much if the unit breaks down after only a few months of use. We paid particular attention to the quality of the materials used in each AC, user reviews, and the company's reputation when selecting our top choices.
Cost To Run
All portable units are going to cost less to run than a full-house system. But not all portable ACs cost the same amount to run.
We searched for high-efficiency units capable of saving you some real cash. We awarded extra points to those with eco-mode capability and features like auto on/off and timers.
Quietest Portable Air Conditioner Reviews
LG LP1419IVSM Smart Dual Inverter Portable Air Conditioner
Key Specifications
44dB on lowest setting
10,000 BTU CEC rating
Wifi connectivity for smartphone control
For large rooms up to 500 sq ft
Sleep and dry modes
The LG Smart Dual Inverter Portable AC is the perfect solution for cooling larger rooms without creating a racket.
On its lowest setting, this unit puts out just 44 dB. That extra quiet operation, which is apparent on even the highest settings, is thanks to the dual inverter. The dual compression chambers also mean this unit is much more efficient than your standard unit.
This efficiency is immediately apparent when you look at the BTU output. The original ASHRAE rating for the LG Smart AC is 14,000 BTU. The adjusted CEC rating isn't much lower, coming in at an impressive 10,000 BTU.
In addition to being very quiet and energy efficient, this model also has wifi connectivity. With this function, you can easily control your AC from anywhere using the free smartphone app. That means you can turn on your AC and dial it down from your car and never have to come home to a hot house again.
The LG Smart Dual Inverter AC features wheels and side handles for easy mobility. It has a number of useful modes, including energy-saving sleep mode, dry mode, three fan speeds, and a programmable thermostat that can be set to any temperature between 60 and 86 degrees.
At 71 pounds, this unit is not small by any means and is a bit less portable than other options. It also has a shorter power cord and hose.
But, given the high coverage rating, powerful yet quiet dual inverter, and energy-saving capabilities, it still makes an excellent choice for larger living spaces.
Pros
Dual inverter allows for quieter operation
Multiple energy-saving features
Starts cooling quickly
Quiet even on high speed
Cons
Fairly heavy
Not as compact or portable as others
Power cord and hose are short
---
Related Article: How Long Can You Run a Portable Air Conditioner Continuously?
If you are looking for the quietest portable air conditioner that still has plenty of power, you've found it with the Black + Decker 10,00 BTU AC.
This AC has one of the lowest decibel ratings of any portable AC we found, but it's still powerful enough to cool an average-sized bedroom. It has three fan speeds, a thermostat, and a timer function. All are controllable via the intuitive control panel or included remote with digital display.
At 53 pounds, this unit is also pleasantly lighter than many of the other portable ACs we looked at. Its portable weight combined with the easy-roll casters and long 5-foot exhaust hose makes this unit super easy to move between rooms.
The unit is advertised as covering rooms up to 250 square feet. This would be true if the actual power rating were 10,000 BTU as listed. However, the DOE rating is much lower at 5,500 BTU. Because the heat exchange is not as efficient as it could be, this unit is actually better suited for rooms around 150 square feet.
This portable AC is a cooling powerhouse with a ton of great features when used in the right-sized rooms. It automatically dehumidifies as it runs, can be used as just a fan, and is built to last for years without maintenance.
Pros
Super-quiet noise output on low setting
Lightweight and easy to move
Built to last
Cons
Not as efficient as other units
More expensive to operate
No heating option
---
The Frigidaire FHP Series portable AC is another excellent option that comes in with a noise level rating below 50dB.
This sleek little unit uses less power than our previous two choices but produces about the same amount of cooling power. The ASHRAE rating is just 8,000 BTUs, while the DOE is 5,500 BTUs.
The company optimistically markets this AC for use in rooms 350 to 450 square feet. Judging by the DOE rating and user experience, we recommend this portable air conditioner for rooms closer to 200 square feet.
Although it works best in a smaller room, this AC's built-in features like the three fan settings and thermostat make it super convenient and simple to set your desired temperature. It even has a remote control!
One of our favorite features of this unit is the sleep mode. This smart function slowly raises the set temperature overnight. Not only does this help you sleep more comfortably, but it further adds to the energy-saving power of this unit.
This Frigidaire AC comes with a hose and washable air filter. It can run on AC or fan-only mode and has an optional dry mode for reducing humidity.
Like most portable ACs, this one also comes on easy-move casters. Despite its compact size, it weighs a fair amount–about 62 pounds.
Pros
Energy efficient
Super-quiet noise output on low setting
Sleek design
Cons
Not suitable for large rooms
No heating option
Remote is not very strong
---
For a lightweight, portable AC unit on the quieter side, you should consider the Haier 8,500 BTU AC.
This compact unit comes in at just 52 pounds and has built-in side handles for easy lifting. Like other models we looked at, it also has easy-roll casters that make switching rooms a breeze.
With an advertised noise output of around 50dB, this product fits well within our definition of a low noise AC. But do be aware, this noise reading is for the lowest fan setting without the air conditioner function turned on. When the compressor is running, this unit puts out closer to 59dB on low.
Like other units we looked at, the room coverage advertising was also a little off with this unit. The ASHRAE rating is 8,500 BTU, but the actual cooling power is closer to 5,600 BTU. This is a fairly efficient ratio, and this unit is less expensive to run than others.
But it does mean that the advertised room coverage of 250 square feet is a touch high. We recommend this unit for rooms closer to 200 square feet.
Along with the sleek, compact design, we also love the auto-evaporation function on this AC. When running in typical conditions, this unit will automatically evaporate any condensation that collects. That means there is no need to dump the collection reservoir unless you live in a very humid climate.
This AC has three fan modes, a dry mode, a built-in thermostat, and remote control. It comes with a window adapter kit and a hose, though it is quite short and may not fit all window setups.
Pros
Energy efficient
Low-maintenance auto-evaporation function
Lightweight and compact
Cons
Short hose
Hose connections may require reinforcement
Not as quiet as advertised
No heating option
---
If you're out to maximize cold while minimizing noise and energy use, the Dreo TwinCool Smart Inverter Portable AC is a great option.
In terms of sound output, this impressive machine is quieter than most quiet-rated units we looked at—even when set to the highest fan speed! That's right, this AC puts out only 53dB, even on high! On low, it's whisper-quiet at just 42dB.
The Dreo is just as impressive in terms of energy use. The ASHRAE rating is only 2,000 BTUs higher than the adjusted SACC rating of 10,000 BTUs, a sure sign of energy efficiency.
Much of this energy savings comes from the smart inverter. The rest comes from the dual-hose operation, which won't create the same hot air pull that single-hose units do. It also means you don't have to run the unit long to cool all the air in the room.
Quiet and energy efficiency are great features, but one of our favorite elements of this unit is the smart remote that comes with it. Not only does the remote feature a digital screen that makes controlling the many features a breeze, but it also works as a second thermostat for the unit.
This means that the unit will use both the air temperature surrounding the AC and the temperature around the remote to adjust the settings on auto mode.
By keeping the remote next to you, you can assure the AC continues to run until you're cool and comfortable, even if you're all the way across the room.
The Dreo TwinCool features multiple modes, including fan, humidify, auto, and sleep. Plus, it has wheels to make moving the 72-pound body easier and comes with an easy install kit to fit just about any window.
Pros
Super quiet operation
Smart remote allows for wireless control
Quick cooling capability
Multiple useful modes and functions
---
If you need a lightweight, compact unit to cool a smaller bedroom or office, the Emerson Quiet Kool portable AC is worth considering.
This little unit is simple to use and has a lot of great, straightforward features. When set to low, it operates at a fairly quiet 50dB rating. It is a little louder with the AC on but should not be enough to disturb your sleep, even in a small room.
The ASHRAE rating for this unit is 8,000 BTU which is where the room coverage rating of 300 square feet comes from. But the DOE rating is only 4,900 BTU. Because of this, we recommend it only for smaller rooms of about 150 square feet.
This unit is available with a wifi feature that allows you to control the system with a smartphone app. The standard unit, which is slightly less expensive, comes with a simple remote control.
One of our favorite features of this AC is the sleep/eco mode. When running with this feature on, the unit will shut off completely when the set temperature is reached. This allows for much more energy savings than typical units in which only the compressor shuts off when the set temperature is reached.
This unit features a timer, thermostat, three fan speeds, and an auto-evaporation function. It isn't the most powerful AC we looked at, but it is perfect for keeping smaller rooms comfortable.
Pros
Lightweight and compact
Energy-saving modes
Smartphone app compatible
Cons
Not as powerful as marketed
Compressor can be noisy
No heating option
---
The TOSOT 8,000 BTU portable AC is a great choice for cooling down the living room or office.
This portable unit runs at an impressive 49dB on the low fan setting. With the compressor on, it isn't much louder. However, the sound of the compressor clicking on is much louder than others we've featured and is one of the reasons we recommend it for living spaces and not for bedrooms.
The other reason we do not recommend this unit for sleeping areas is because of how it operates. Both the fan and compressor will click off when the set temperature is reached. Both will automatically click on again once the room warms back up. This feature is great for saving energy but causes many noise variations that many would struggle to sleep through.
But for other rooms in the house, this AC is a great choice. Not only does it save energy by powering down completely when not needed, but it is also more efficient to run in general.
With an 8,000 BTU ASHRAE rating and 6,000 DOE rating, this TOSOT portable air conditioner is one of the more energy-efficient ratios we came across.
This unit is perfect for cooling a medium-sized room of about 250 square feet. It has multiple modes, three fan speeds, and a built-in dehumidifier. It is a bit bulkier than other options and weighs a bit more at 65 pounds.
Pros
Energy efficient
Low noise output when running
Multiple modes
Cons
Compressor is loud when it turns on
Turns on and off frequently in auto-mode
No heating option
---
Portable AC Specification Comparison Table
Model
dB Level
BTU Rating
Room Coverage
LG LP1419IVSM Smart Dual Inverter Portable Air Conditioner – Editor's Choice
44dB
14,000 ASHRAE
10,000 DOE
500 square feet
Black + Decker 10,000 BTU Portable Air Conditioner
49dB
10,000 ASHRAE, 5,500 DOE
Up to 250 square feet (Optimal: 150 sq ft)
Frigidaire FHP Series 8,000 BTU Portable Air Conditioner
49dB
8,000 ASHRAE,
5,500 DOE
Up to 350 square feet (Optimal: 200 sq ft)
Haier 8,500 BTU Air Conditioner
50dB
8,500 ASHRAE, 5,600 CEC
Up to 250 square feet (Optimal: 200 sq ft)
Dreo TwinCool 12000 BTU Smart Inverter Portable Air Conditioner
42dB
12,000 ASHRAE
10,000 SACC
450 square feet
Emerson Quiet Kool Portable Air Conditioner
50dB
8,000 ASHRAE,
4,900 DOE
Up to 300 square feet (Optimal: 150 sq ft)
TOSOT 8,000 BTU Portable Air Conditioner
49dB
8,000 ASHRAE,
6,000 DOE
Up to 400 square feet (Optimal: 250 sq ft)
Portable Air Conditioner Buying Guide
Portable ACs are a great way to stay cool while saving money by only cooling the room you are in. But, with so many options out there, it can be tough to find the right product to fit your needs.
Here is everything you need to know about portable air conditioners before choosing the right one for you.
Room Size and BTU Required
Understanding the connection between BTU and room coverage is hard enough with heaters. But it gets infinitely more complicated with portable air conditioning units thanks to how they function.
As we mentioned in the first section, portable air conditioners recycle some of the air they cool to keep the inner components from overheating – they use significantly more power than they put out in the form of cold air.
It may sound confusing, but what it means is you only need to pay attention to the DOE (or CEC) BTU rating when shopping for your new portable AC. For example, a 5,000 BTU AC should be used in rooms under 150 square feet, while a 10,000 BTU AC can cool rooms up to 450 square feet.
The key is to find a BTU rating that matches the average size of the rooms you plan to use the unit in. If you get one with a rating that is too low, the unit will struggle to keep the room cool enough and waste energy by running constantly.
On the other hand, a unit that is too powerful for the room will use more energy than necessary every time it turns on.
Exhaust Hose Length and Fittings
Most portable ACs come with window slides and hoses. These are necessary pieces because they allow the unit to exhaust hot air outside rather than recycling it back into the room.
You will want to check that your AC comes with a widow slide to fit your window size and orientation. If you plan to use a sliding door or wall vent to exhaust your unit, you may need to buy extra pieces. Be sure you double-check the fitting sizes and hose diameter before purchasing these items.
Hose length is also essential because that will determine how close to the window or vent your unit needs to be. AC units with very short hoses may need to be boosted off the ground to reach high window openings.
Required Settings
Be sure to consider when and how you want to use your AC.
If you only need one that you can click on and off manually while you are in the room, you can save money by going with a simple unit. But if you want one that automatically targets a set temperature and turns itself on and off to maintain it, you'll need to increase your budget.
Many portable ACs feature built-in dehumidifiers. Depending on the model, these may work only on certain modes or anytime the unit is running. Some AC models also feature auto-evaporators, so you do not have to empty any water reservoirs.
Other features might include:
Eco-mode that shuts down the unit completely when the goal temperature is reached.
Sleep mode that automatically sets higher goal temperatures throughout the night.
Night mode that dims or turns off lights so as not to disturb your sleep.
Timer mode that automatically turns off the unit entirely after a set time.
Fan-only mode that allows the fan to run independently of the air compressor.
Many of these are essential if you want to use your AC in the bedroom. For use in other rooms, you can typically get away with a unit with fewer features.
Connectivity
Many newer portable air conditioning units like the DELLA 14000 BTU Portable Air Conditioner can be wirelessly controlled via your smartphone or tablet, allowing convenient operation without keeping track of the remote control.
Moreover, smartphone apps tend to be more intuitive and have room for full instruction, whereas remotes leave a lot to be interpreted.
You can even find many wifi-enabled units that work with Alexa or Google Home for voice command and control.
The Wrap Up
The LG LP1419IVSM Smart Dual Inverter Portable Air Conditioner is perfect for cooling off large rooms where you spend a lot of time. The dual inverter creates hardly any noise—just 44dB on the lowest setting—and has multiple energy saving features to save you money.

If noise output is your biggest concern, then the Dreo TwinCool 12000 BTU Smart Inverter Portable Air Conditioner is the AC you want. This ultra-quiet portable unit puts out 42dB on low and maxes out at just 53dB on the highest setting. It also features a smart remote with a thermostat to assure the entire room is cooled to your set temperature.