There's nothing quite like the lush feeling of healthy green grass between your toes. Whether you're looking to create a fun backyard for your kids to play in or striving for a bright green front yard for the local lawn competition, achieving healthy grass is a landscaping goal for most homeowners.
But Georgia micro-climates can make getting a green lawn more of a challenge. Georgia has a wide variety of different weather and climate conditions, making it incredibly important to match your lawn's grass to your local weather and soil conditions.
Lawns in the more northern part of Georgia will need a very different grass variety than lawns closer to Georgia's coast or Florida border. Considering the mountains and other unique environments throughout the state, you'll need to consider temperature range and rainfall when you pick your grass as well.
There is good news. It's not impossible to match your grass to climate and weather conditions in the state. It just takes a little know-how to pick the right varieties for your lawn goals and climate.
This article will cover all the core information you need. We'll also present several types of grass that have done well in the unique Georgia climate.
Disclosure: We may receive commissions when you click our links and make purchases. This does not impact our reviews and comparisons. All opinions are our own. We pride ourselves on keeping our articles fair and balanced. For more info see our disclosure statement.
Warm and Cool Season Grasses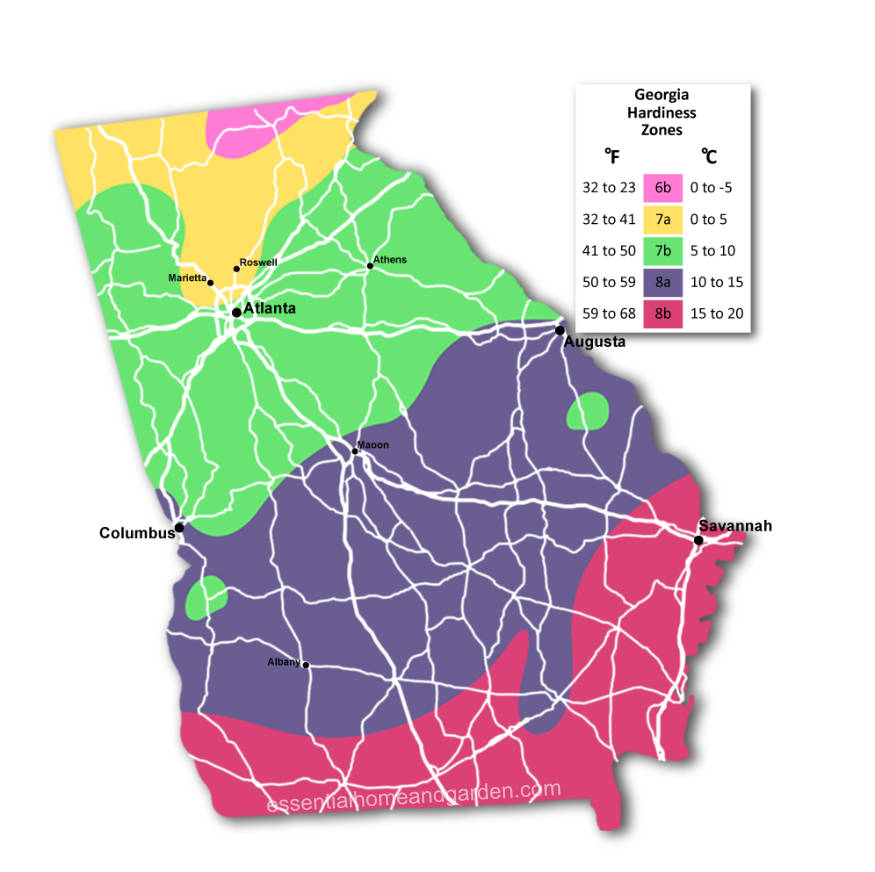 Like other plants, different types of grass have adapted for different weather and climate conditions. Warm and Cool-season grasses are broad categories of grasses that do best in different conditions.
Both warm and cool-season grasses are common in Georgia, and both are broadly used throughout the state.
Warm Season Grasses
Warm-season grasses are more tolerant of higher temperatures. Some varieties of warm-season grass are also more drought-tolerant and can handle longer, sunnier days. The downside of warm-season grasses is that they aren't very cold tolerant.
Most warm-season grasses will go dormant in the winter to increase their cold tolerance. Once overnight temperatures start dropping below about 65 degrees Fahrenheit, warm-season lawns will go dormant.
That's why it's relatively common in Georgia, particularly in the Northern and more mountainous parts of the state, to layer a warm-season grasses with cool-season grasses. That way your lawn can look green and healthy for more of the year. In some places, you can get year-round green.
Cool Season Grasses
Cool-season grasses are exactly what they sound like, they are grasses that are more cold tolerant. Depending on the type they might not do as well in high temperatures, but the varieties used in Georgia tend to be relatively heat-hardy.
These grasses will be most active and healthiest in temperature zones between 60-70 degrees Fahrenheit. It's likely that these grasses will die back slightly at the height of summer heat and will recover in the fall and winter as warm-season grass goes dormant.
Cool-season grasses also tend to prefer humid conditions and might need more regular watering than their warm-season cousins. Cool-season grasses can also be a little slower growing, but that can vary quite a bit from type to type.
Best Warm Season Grass For Georgia
Bermuda Grass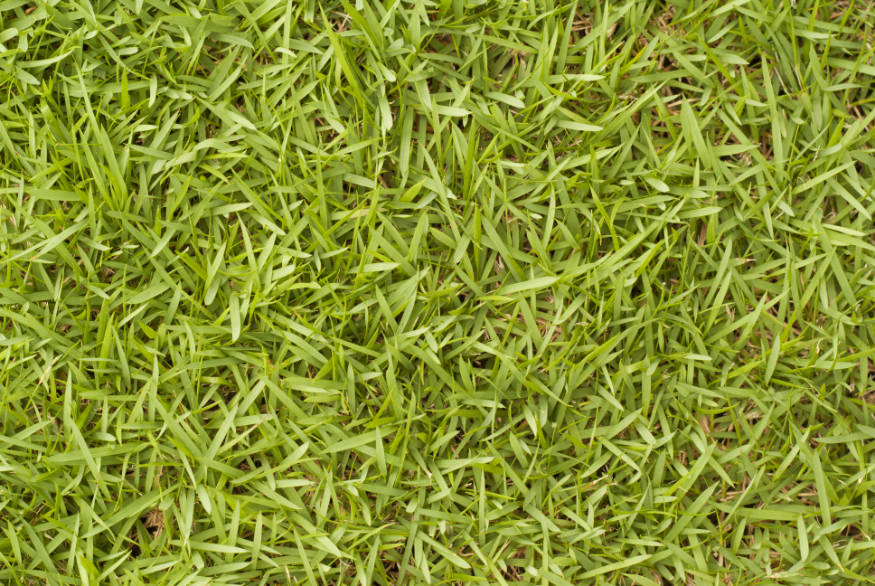 Bermuda grass is one of the more common warm-season grasses in Georgia. That's partially because there are several sub-types of Bermuda Grass that are well suited to different climates and different lawn types.
Growing Conditions
Shade Tolerance: Full Sun
Water Requirements: Moderate
Drought Tolerance: Slightly better than average
Cold Tolerance: Varies, but most types will go dormant when temperatures drop below 65.
Mowing Frequency: 1x per week
Sun Tolerance
Every type of Bermuda grass that is used in Georgia wants full-sun, which means it's a good grass to use in wide open spaces without a lot of cover. It's more tolerant of heat and sunlight than many other types of grass, and less prone to wilting or yellowing in the heat of the day.
Hardiness
Bermuda grasses are common on golf courses, recreation areas, and anywhere you need a green cover in full sun. It's considered a hardy type of grass that holds up well to walking and general use, but it's not maintenance-free. Regular fertilizing and mowing are particularly critical for this grass.
You'll also want to water this grass occasionally if you aren't getting enough precipitation. It's hardy but won't stay green in extended low-moisture conditions.
Notable Varietal Characteristics
Consider Arden 15 for a very uniform look. Oasis blends are designed to create a healthier and hardier lawn, using several different but related varieties of Bermuda Grass. Oasis and Blackjack varieties are both fast-growing and can quickly transform a bare or patchy lawn.
Yukon varieties of Bermuda grass are a good option for cooler parts of the state since it's the most cold-tolerant variety.
Carpet Grass
Carpet grass is a good choice for the central and southern areas of the state. It's a creeping grass, which means that it will slowly grow and fill in nearby areas if allowed to spread.
Growing Conditions
Shade Tolerance: Full Sun to Partial Shade
Water Requirements: Prefers moist soil, irrigation needed during dry spells
Drought Tolerance: Low
Cold Tolerance: Average
Mowing Frequency: 1-2x per week during wet weather, 1x per week otherwise
This grass is considered low maintenance mostly because it doesn't need regular fertilization and can do well in both heavy and sandy soils. However, carpet grass goes to seed quickly, so it may need more frequent mowing in ideal growing conditions.
Best for Wet Environments
This grass is an especially good choice if you live in one of the wetter areas of Georgia since it's more moisture tolerant than many varieties. You shouldn't have any problems planting carpet grass in low areas of your lawn, or anywhere with moist soils that don't drain very well.
Sun Tolerance
Carpet grass can grow well in full sun or partial shade but doesn't tolerate full shade very well. You'll want to make sure your grass has at least partial sun exposure for a couple of hours every day.
Texture
However, carpet grass is a slightly coarser grass, which means that it won't feel as soft underfoot. If you're looking for a picnic grass or something you can send your kids out to play on, you may want to consider a softer variety.
Seashore Paspalum – Seaspray
If you live right on the coast in Georgia, you'll need a grass that is salt-tolerant in addition to climactically appropriate. Right now there is only one truly salt-tolerant grass seed on the market, and that is Seashore Paspalum.
Growing Conditions
Shade Tolerance: Full Sun to Partial Shade
Water Requirements: Average to Low
Drought Tolerance: Very Good
Cold Tolerance: Poor
Mowing Frequency: 2x per month
Germination can take up to 45 days, and the seeds should ideally be watered three times a day until they germinate. Seashore Paspalum prefers fertilizers with a good amount of potassium and chlorine in addition to nitrogen.
Grass Pairings
However, this grass does not tolerate competition well, so it's one warm-season grass that you don't want to layer with a cool-season grass. Fortunately, with where it grows best, most other grasses won't do well in Seashore Paspalum's ideal growing area anywhere.
Weather Tolerance
This grass is moderately weather tolerant. That means that it will spring back from a storm or other rough weather just fine but can struggle with cold temperatures and overly dry conditions.
This grass is also relatively difficult to establish and very slow to germinate and grow. If you have the option of using another grass, you'll probably want to go with that instead. Fortunately, once Seashore Paspalum is established, it won't need as much maintenance.
Zoysia Grass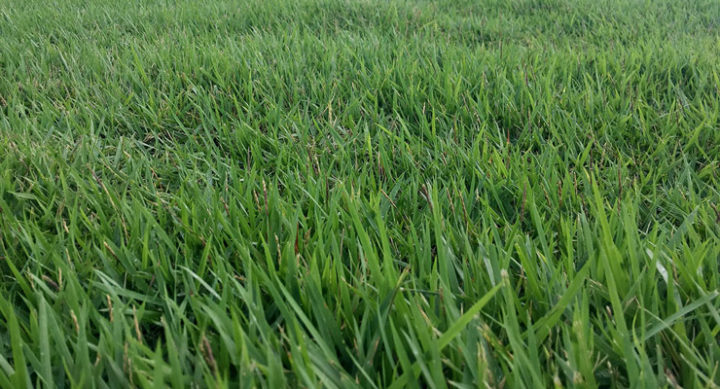 Zoysia is one of the most beautiful grass options you have in Georgia, which means it's also a favorite for homeowners looking to create a beautiful landscape in their yard.
These grasses are softer than many of the varieties they compete with and grow in similar conditions to Bermuda Grass.
Growing Conditions:
Shade Tolerance: Mostly Full Sun to Full Sun
Water Requirements: Moderate
Drought Tolerance: Average to Better than Average
Cold Tolerance: Winter Dormant
Mowing Frequency: 1x every 1-2 weeks, depending on desired height and growing conditions.
Hardiness
They're also relatively hardy. This grass might not stand up to the hardest wear and tear, but it does reasonably well from average use. Their soft feeling underfoot also makes them fantastic backyard grass.
There are a couple of Zoysia grass varieties available in Georgia, though the exact types being sold can vary depending on demand and availability. Crop shortages can affect Zoysia availability.
Grass Pairing
Well maintained Zoysia grass is also very thick. It's commonly paired with a cool-season grass, but these plants are weed-resistant and will help maintain your lawn on their own. Fescue grasses are often considered a good pairing for Zoysia grass.
Best Cool Season Grass For Georgia
Now that we've covered some of the most common Warm Season grasses, let's look at the Cool Season grasses you might be using as companion grasses.
Fescue and Fescue Blend Grasses
When it comes to cool-season grasses in Georgia, one of the most popular are Fescue grasses. These cool-season grass types are relatively heat-hardy, and quickly take over for your warm-season grass when it goes dormant.
Growing Conditions
Shade Tolerance: Mostly Full Sun to Mostly Shade
Water Requirements: Some Irrigation Required
Drought Tolerance: Average
Cold Tolerance: Good
Mowing Frequency: 1x every 5 days at peak growing
Grass Pairing
Fescue grasses are known for creating a bright green lawn year-round when paired with Zoysia grasses and even some Bermuda Grasses.
Heat Tolerance
You'll want to look for the variety of grass you're buying depending on the heat tolerance you need. Fescue grasses can be moderately heat tolerant to extremely heat tolerant. The further South you live in Georgia, the more heat-tolerant you need your grass to be.
Height and Sun Tolerance
Fescue does reasonably well in shady conditions and may even be taller through the summer if it's grown in the shade. Fescue is generally healthiest kept between 2-3 inches tall, which can be a bit taller than some of the warm season grasses in Georgia.
Varieties
Fescue has more grass varieties than a lot of other lawn grasses, partially because it's been grown specifically to meet a wide variety of standards. Always check to make sure you aren't buying a Fescue that's designed for more Northern states, especially if you're ordering grass seed online.
Kentucky Bluegrass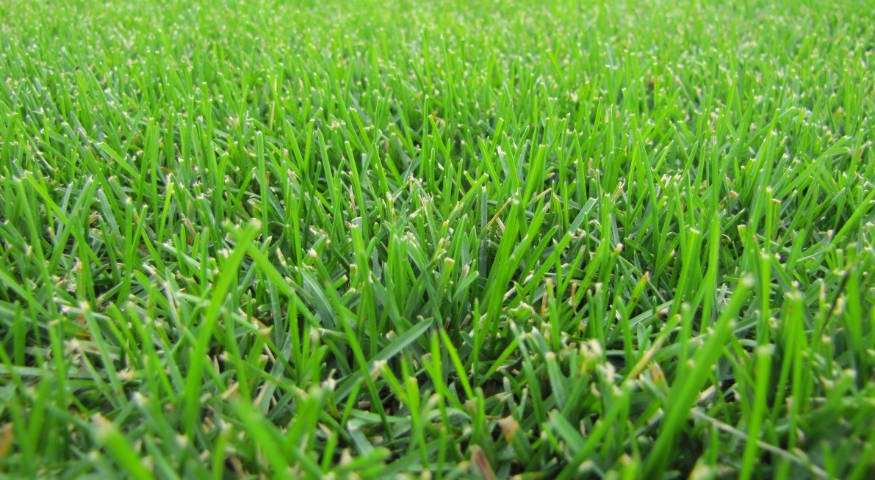 There are also a couple of varieties of Kentucky Bluegrass that are heat tolerant enough to be grown in the Northern parts of Georgia, although they don't tend to do nearly as well in the Southern half of the state.
Growing Conditions
Shade Tolerance: Partial Sun to Mostly Shade
Water Requirements: Moderate, regular watering needed during dry spells
Drought Tolerance: Variable. Kentucky Bluegrass is fairly drought tolerant in cooler weather and can struggle with drought conditions in warm weather.
Cold Tolerance: Good
Mowing Frequency: 1x per week
Appearance and Texture
If you're looking for a gorgeous bright green lawn, Bluegrass should be near the top of your list since it's prized for being one of the most beautiful types of grass for lawns.
Kentucky Bluegrass is also prized for having some of the best grass texture of all lawn grasses. If you like to spend a lot of time outside, particularly during cooler seasons, this grass will be one of the better options.
Sun and Heat Tolerance
In Georgia, it's important to make sure you get a variety of Bluegrass that's more heat and sun tolerant than average. Like Fescue, Bluegrass has been bred for specific characteristics, including greater SPF and sun tolerance.
Look for a variety that's designed for more Southern, high sun exposure states. Unfortunately, even the most sun-tolerant varieties will likely struggle in the Southern half of Georgia unless kept in a shady lawn.
Additional watering can help Bluegrass survive hot dry weather, though overwatering can also be a problem for this variety of grass.
Listen to Your Lawn
There is one thing more important than grass variety when it comes to lawn care and maintenance. Listening to your Lawn.
It can take some experience to learn when you need to fertilize and mow, not to mention a good irrigation schedule, but it's worth the effort.
No grass can be successful if it doesn't get what it needs. By paying attention to the appearance of your lawn you'll develop a better sense of what your grass needs than any guide could give you. You should know what type of grass you're growing, what kind of soil you're working with, and which areas of your lawn are sunniest and shadiest.
Once you have that knowledge and experience, maintaining a green lawn in Georgia gets a lot easier.