When it comes to choosing the ideal type of grass for your Alabama home, you might be wondering what the best grass for Alabama is. As with any region, there isn't a single perfect type of grass that works best in all situations, but fortunately, Alabama has quite a few different types of grass available which can thrive in the state's climate and soil.
Whether you live in North, South or Central Alabama, it's important to consider factors like temperature, precipitation, and soil type before deciding on your grass variety.
North vs South Alabama for Growing Grass
Before we get into the specifics, it's beneficial to understand why different types of grass in Alabama are better suited to different parts of the state.
Much of this boils down to the fact Alabama has various climates from North to South. This means that the best grass for North Alabama may not do as well in the South. As such, it's wise to first consider the general climate of your region before making a purchase.
Best Grass for North Alabama
If you live in the northern region of Alabama, you may find the following types of grass do well:
Tall Fescue
Zoysiagrass
Pensacola Bahiagrass
Tall Fescue is particularly well suited to the region since it can tolerate cooler temperatures that strictly warm-weather grasses can't survive in.
This makes it a favorite of many North Alabama residents and may be the best grass for North Alabama in particular. It's important to note, however, that Tall Fescue is not as drought tolerant as some of the warmer weather grasses and may require re-seeding to keep an even distribution in your yard.
Best Grass for South Alabama
When it comes to Southern Alabama, the leading choice is often Centipedegrass, St. Augustinegrass, and Bermudagrass.
All three of these options have a greater tolerance for heat and require less water than their northern counterparts.
That said, Centipedegrass and Bermudagrass also tend to do well in Central Alabama too, whereas St. Augustinegrass does not fare as well in semi-arid climates.
Best Grass for Central Alabama

Central Alabama enjoys a more transitional climate and generally speaking, the best grass for central Alabama is Bermudagrass and Pensacola Bahiagrass.
Both of these grass types are hardy enough to withstand the colder temperatures of the north, but can also handle the hotter climate of the south.
Moreover, Pensacola Bahiagrass is known to be relatively disease-free and grows well in sandy soil, so it's a great choice if you're looking for low maintenance grass in the region.
Types of Grass that grow well in Alabama
Now that we have an overview of the best grass options for each region, let's look into each option in more detail.
Tall Fescue
As mentioned, Tall Fescue is a popular choice in North Alabama due to its ability to tolerate cooler temperatures. It grows well in both sun and shade, and many Alabama residents mix in ryegrass to keep their lawns greener for longer.
Tall Fescue does best in locations such as Huntsville, Birmingham and Talledega.
Zoysiagrass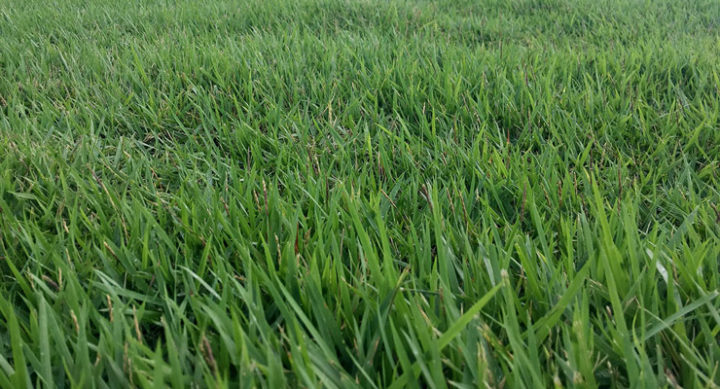 Zoysiagrass is a warm-season grass that is cold-resistant and is considered a great overall grass for Alabama. It is moderately drought tolerant, however it performs better when watered regularly.
Moreover, it can be found throughout the entire state with the exception of the most southern and coastal areas like Mobile.
Pensacola Bahiagrass

Pensacola Bahiagrass may be the best overall grass for Alabama, as it's hardy enough to survive in the colder north but can withstand the hotter temperatures of the south. Not only that, but it is low-maintenance and grows well in sandy soil.
This type of grass is more common in Central and North Alabama and is a great option for those looking for a grass that can thrive in a transitional climate.
Centipedegrass
Centipedegrass is a warm-season grass that does well in Southern and Central Alabama. Not only is it drought tolerant, but it's also low-maintenance and requires less mowing than other varieties.
It's also resistant to pests and disease, making it a great choice for those looking for an easy-to-manage grass.
St. Augustinegrass
St. Augustinegrass is another warm-season grass, and while it is popular in Southern Alabama, it's not as adaptable to drier climates as some of the other options.
That said, its high tolerance for heat and moderate drought resistance make it a solid choice in certain locations.
Bermudagrass
Last but not least, we have Bermudagrass. This grass type is a common sight in Alabama (and Florida) and tends to be the ideal choice in Central Alabama, as well as the South.
It does need more routine maintenance though – it's sensitive to drought and requires regular watering and mowing.
Other Considerations When Choosing a Grass for Alabama
In addition to considering specific grass types, there are a few other important points you should take into account when choosing your grass for Alabama. For instance, some grasses require more mowing and fertilizing than others, so if you're looking for low maintenance, then you should consider that when selecting your grass.
Additionally, certain lawns may need to be overseeded in the fall to combat cold weather, and this is something you may want to factor in if you're located in the North.