Gas cooktops are hardly rare; they've been fixtures in homes for eons. But if you don't already have a gas hookup in your kitchen, it usually seems like most people just opt for the easier-to-install electric option.
However, I am here to tell you that you should consider it.
Gas cooktops come with so many advantages, I can hardly believe more people don't have them.
Gas cooktops give you immediate and precise temperature control.
You can use gas during a power failure because it doesn't rely on electricity.
Gas is cheaper to operate over time, so you will save money on your utilities.
You get instant heat and super-fast cool-down with gas.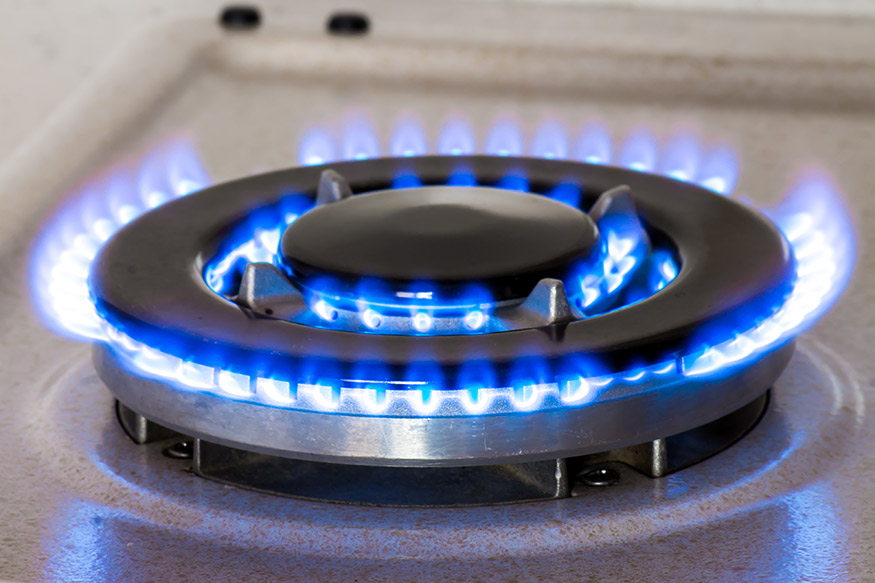 And aside from the benefits of gas, having a cooktop instead of a full range is incredibly convenient in its own right. A separate cooktop means you can install your oven as a wall-unit and say goodbye to the bending and aching.
And you have so much more freedom when designing the layout of your kitchen! Keep reading to see how we rated the best gas cooktops on the market.
Disclosure: It is important you understand that we may receive commissions when you click our links and make purchases. However, this does not impact our reviews and comparisons. All opinions are our own we pride ourselves on keeping our articles fair and balanced. For more info see our disclosure statement.
Gas Cooktop Quick Comparison
Product
Details
Where to Buy
Dimensions: 36" x 25.7" x 7.3"
Burners: 6 sealed
Total Output: 87,000 BTUs
Voltage: 120 volts
Fuel: Gas
Warranty:  2-Year Full
Check Price Now
Dimensions: 30" x 22" x 5"
Burners: 5
Total Output: 54,200 BTUs
Voltage: 120 volts
Fuel: Gas
Warranty:  Yes
Check Price Now
Dimensions: 29.9" x 20.1" x 4.2"
Burners: 5
Total Output: 39,000 BTUs
Voltage: 110 volts
Fuel: Dual Fuel
Warranty: 2-Year Limited
Check Price Now
Dimensions: 21.8" x 30" x 5"
Burners: 5 Sealed
Total Output: Between 29,450 and 47,000 BTUs
Voltage: 120 volts
Fuel: Gas
Warranty: Yes
Check Price Now
Dimensions: 2.5'' x 30'' x 20"
Burners: 5 Sealed
Total Output: 43,000 BTUs
Voltage: 110 volts
Fuel: Gas
Warranty: None
Check Price Now

Gasland Chef 4-Burner 24-Inch Gas Cooktop



Dimensions: 23" x 20.4" x 3.9"
Burners: 4
Total Output: 47,500 BTUs
Voltage: 120 volts
Fuel: Gas
Warranty: 1 Year
Check Price Now
Dimensions: 1.19" x 24" x 19.69"
Burners: 4 Sealed
Total Output: 27,000 BTUs
Voltage: 120 volts
Fuel: Gas
Warranty: 1 Year
Check Price Now
The Best Gas Cooktop Reviews
Best 36-Inch Gas Cooktop
Thorkitchen Pro-Style Gas Rangetop
Key Features
Incredibly high heat output at 87,000 total BTU
Comes with a 2-year full manufacturer warranty
6 burners for maximum cooking potential and specificity
Zinc alloy control knobs with LED lights
This gas cooktop is the best of the best. It is one of the largest we reviewed, making it impressive in both size and function. It features 6 sealed burners that give a combined total of 87,000 BTUs – the highest of all cooktops on our list.
And the best news? It is NOT the most expensive on our list. It is at the high end of affordable, but if you have the money to spare you will not regret this purchase. This is a cooktop that looks professional and gives you professional-level quality.
It comes with a black porcelain drip pane, zinc alloy control knobs (with LED lights!), and the always-important re-ignition safety feature we will discuss in more detail later.
The 6 burners provide a range of heat output, from 12,000 to 18,000 BTUs. An integrated extra low simmer function means you can cook whatever you can imagine on this cooktop.
The Thorkitchen Pro-Style Gas Rangetop is available from Amazon.
---
The Frigidaire Professional 30-inch cooktop is an incredible machine that will deliver commercial-level quality for residential use. It is on the high end of our price range but promises outstanding performance and control.
It boasts an impressive 18,200 BTU PowerPlus center burner, and four additional burners ranging from 9,500 to 12,000 BTU. The high heat of the center burner gives you the ability to sear, saute, and boil cleanly and efficiently. You can convert to LP with the included kit as well.
The large trivet grates are designed to allow for sliding across as needed, and they can even be cleaned in the dishwasher! A rare feature in gas cooktop grates.
We like this cooktop because it offers solid performance in every category while still being reasonably sized and priced. And don't forget the griddle!
The Frigidaire Professional 30-Inch Gas Cooktop is available from Amazon.
---
This cooktop is proof that there is an incredible gas cooktop option out there for every budget.
For less than the cost of a smartphone, you can get a high-quality 4-burner cooktop with a combined total of 39,000 BTUs. And because this includes a dual ring 12,000 BTU center burner, you are guaranteed to have enough heat output to cook whatever is needed.
The auxiliary 4,000 BTU burner gives you exactly the right heat for simmering and melting all your favorite sauces.
The laser-cut full-width cast iron trivet gates give it a sleek and modern feel, which is accentuated by the intricate trivet pattern. We love the look of this cooktop and appreciate that it is accessible to anyone in need of a great cooking surface.
The Empava 30-inch 5-Burner Gas Stove Cooktop is available from Amazon.
---
This cooktop is one of the best values on the market. For just under the higher end of "affordable", you can get a professional-level gas cooktop for your home.
With 5 sealed burners, you are able to diversify your meal planning to cook up whatever comes to mind. The center burner provides versatile output between a low 450 simmer and an impressive 18,000 intense heat.
One thing we especially like about this model (as well as the other Frigidaire on our list) is that the corresponding wall oven is also fantastic. You don't have to match your cooktop and your oven, but it sure is nice when you can!
This is one of the most popular gas cooktops on the market, and it is one we are likely to recommend to friends and family as well. It offers tremendous heating power through 5 sealed burners while not taking up massive real estate in your kitchen. And it comes standard with a propane conversion kit if needed.
The Frigidaire Gallery 30-Inch Gas Cooktop is available from Amazon.
---
This Italian-designed gas cooktop gives you the best combination of form and function. With over 43,000 total BTUs and a Triple Ring 5 jet 16,000 BTU side burner, this cooktop can really do it all.
One of our favorite features of this cooktop is the removable wok attachment and side-placement of the largest burner. You tend to see these burners in the middle of the cooking surface but having one off to the side creates both a nice visual break as well as a more efficient and functional layout.
This cooktop is large, it is sleek, and it is well-loved by consumers and critics alike. We were hard-pressed to find a collection of gas cooktops that didn't mention this model. And at its current pricing, it is truly a steal.
The Cosmo 5-Burner Cooktop is available from Wayfair.
---
Best 24-Inch Gas Cooktop
Gasland Chef 4-Burner 24-Inch Gas Cooktop
Key Features
47,500 total BTU output
Incredibly affordable
Great for small spaces
The tempered glass top is easy to clean and maintain
This is the cooktop we would recommend for anyone living in a small space who needs small but mighty appliances. The Gasland Chef cooktop packs a whopping 47,500 total BTUs into its 4-burner frame. The tempered glass cooktop is smudge-proof and incredibly easy to clean and maintain.
Gasland is also known for its focus on safety, and this model is ETL certified for the United States and Canada. It comes with a CSA-certified gas pressure regulator and the flame failure device feature essential for all households today.
We also love the layout of this cooktop, with the large multi-ring burner on the front left and the small simmer burner on the front right. Two medium burners in the back will likely carry the bulk of your cooking and will prevent burns from careless reaching.
The Gasland Chef 4-Burner 24-Inch Gas Cooktop is available from Amazon.
---
The Verona 24" 4-Burner Gas Cooktop is a solid cooktop that provides reliable function and consistent heat at a moderate mid-range price. It is neither the cheapest on our list nor the most expensive. This is a classic cooktop that will look timeless and chic in a studio apartment or loft.
It delivers 27,000 total BTUs, which is admittedly on the low end of our range but will work well for boiling and sauteing. If you are looking for professional-level quality and performance, this may not be the cooktop for you, but if you want a solid build and quality functioning, you won't be disappointed here.
The Verona 24-Inch Gas Cooktop with 4 Burners is available from Wayfair.
---
Gas Cooktop Buying Guide
Now that you've seen our top picks for gas cooktops of different types, you might be wondering how we came to our conclusions. What criteria did we consider when researching and reviewing different cooktops?
Gas Type: Natural Gas vs. Liquid Propane
Did you think the only fuel decision you had to make was Gas vs Electric? If so, you aren't alone. An often overlooked consideration when choosing a gas cooktop is what kind of gas you will be using, and what kind of gas the cooktop is designed to be used with.
There are two types of gas that you may wish to use: Natural Gas or Liquid Propane.
Most residential kitchens that use gas are using natural gas. This is pumped in through lines buried underground. Consequently, most of the gas cooktops you will find are compatible with natural gas.
However, many homes use liquid propane. You'll know you have propane if there is a huge tank buried in your backyard.
If the cooktop you want is not equipped for the kind of fuel available in your house, hope may not be lost. Many cooktops come with a propane conversion kit, to allow customers to convert their cooktop to fuel source of their choice.
When shopping for your cooktop, keep the fuel source in mind or prepare to hire a licensed professional to handle the conversion for you. You really don't want to mess around with DIY when it comes to gas.
Cooktop Size
Cooktops need to fit into a cutout in your countertop. While you can certainly customize the cutout to fit your cooktop, it is generally easier to buy an appliance that fits the space already there. Standard size cooktops are typically 24", 30", or 36" wide. However, you will also find extra small 21" versions or extra-large 48" models. Generally speaking, the more burners on the cooktop, the bigger it ends up being.
Some people also want their cooktop to be a perfect square instead of a rectangle. In that case, you will be limited by the depth of your counter and will likely end up with a smaller 4-burner model like the Gasland Chef cooktop from our list above.
Sealed vs. Open Burners
The next consideration is whether you want the cooktop burners to be sealed or open. Sealed burners are a lot more common in residential cooktops, while open burners are more popular among commercial chefs.
The benefit of open burners is that they can provide significantly more heat and can distribute the heat more evenly than a sealed burner. On the other hand, sealed burners are known to be easier to clean, because they prevent foot particles from dropping down under the cooktop.
It makes sense that a professional chef might want the added heat and control offered by open burners and care less about how difficult it is to clean. For use in the home though, you're more likely to find sealed burners and you will probably be happier with them in the end anyway.
Other Burner Qualities
You might have noticed that the burners are really the most important component of a cooktop. Differences in the burners are ultimately what will persuade you one way or another when purchasing your appliance. You'll want to take a look at the shape, position, size, and power of each burner.
First, how many burners do you need? Are you a gourmet cook constantly throwing large dinner parties? Or is it just you and your dog most nights? Most of us only need 4 burners, but there's nothing wrong with having more. Just remember, the more burners you have, the more space will be taken up. If you've got a lot of room and money to spare, go all out and get the 6-burner Thorkitchen Pro-Style Gas Rangetop.
Keep in mind that having 4 burners does not mean you can cook 4 things at once though. Usually, you are only able to squeeze 3 pans onto a 4-burner cooktop. So consider the size of your cookware when thinking about burners. You don't want to have to reach dangerously over two pans to reach the third in the back because of the unique size and shape of your cookware.
Next, think about the shape of the burners. Most burners are round, but some gas cooktops have oval burners that come in handy for using griddles or other long pans.
Both gas and electric cooktops have different sized burners. This is so you can concentrate your highest heat output on one or two large burners while letting smaller burners tackle the rest. Typically, you want to look for at least one really high BTU burner, a few medium burners, and a simmer burner.
The more expensive the model, the more burner options you will get. Mid to high-range models will give you that fifth burner or potentially an oval or bridge burner that accommodates longer pans or griddles.
The large burners with higher BTU output are best for high heat activities like frying and boiling. The medium burners are good for foods like rice, where you boil initially but reduce to a simmer for the remainder of the cooking time. And a simmer-specific burner is great for slowly melting butter or chocolate or making sauces.
Some cooktops will come with special burners for cooking with woks or other extra-large pans. They heat up even faster than the large burners and provide intense heat delivery.
How these burners are arranged is important as well. You don't want to have your low-heat simmer burners in the back and your hot stir-fry pots upfront. Having to lean over a bubbling wok to stir a sauce is a recipe for some serious hurt.
Trivets
Trivets are the supports that go over the burners and support your cookware. You want to make sure they are stable and won't wobble around while you're cooking. Look for trivets that have rubber feet or grips on the bottom to prevent sliding and scratching.
If you want the ability to slide your pans back and forth across the cooktop, you'll want trivets that have less spacing between sections. The bigger the gaps, the less your ability to slide. And if you have a cooktop with individual burner trivets, you won't be able to slide at all.
Usually, for people who REALLY need that ability, a smooth electric cooktop is best anyway, but you can certainly find a good gas fit if you do some searching. (If you do end up wanting a slick surface, check out our guide to the best cookware for glass top stoves)
Controls and Knobs
Unlike really high-end electric cooktops, the gas versions will always be controlled by physical knobs that you turn by hand. Check out the different layout options to see where you would be most comfortable having knob control.
You will be hard-pressed to find a gas cooktop where the control knobs are anywhere but right in the front, though they may be either centered or off to one side. Often when the controls are placed to the side, it's to accommodate an extra-large burner, such as a wok burner.
Keep safety in mind when considering the controls. You want knobs that are easy to handle so you are in control of the gas and flame. It is also advisable to have a 2-step process for ignition- such as having to push in and then turn before the ignition will catch. This is to make sure that someone accidentally bumping the knob won't start the flame.
This is also a useful safety feature with children in the house. With young kids though, be sure to specially childproof the controls to ensure that they are not able to release gas into the house.
Cleaning
Ah, cleaning. Everyone's least favorite part about cooking and one of the biggest drawbacks to gas cooktops. Unlike the completely flat and smooth electric cooktop models, a gas cooktop cannot just be wiped down in one motion. And unlike the electric versions, you want to clean up spills on gas cooktops ASAP to avoid clogging the burners.
To clean your gas cooktop, you will first have to remove the trivets. Check to see if the trivets will fit in your sink for cleaning, or if they will be bulky and in the way. Most trivets are made of heavy cast iron, which can be awkward to handle and difficult to clean as well.
You may be able to find trivets made of different materials that are easier to clean, such as enamel or stainless steel. Some trivets can be placed in a washing machine (such as those in the Empava Cooktop), but most cannot. Check manufacturer recommendations carefully if this is an important feature for you.
Next, you will clean the cooktop surface itself, which is usually made from stainless steel. Stainless steel is notorious for showing fingerprints, but fortunately, it is mostly covered by the trivets when not being cleaned. You can clean this with warm water and a small amount of soap.
The control knobs themselves will get very dirty over time as well and likely covered in fingerprints and smudges. Oil and grease that hop out of hot pans also always tend to end up on the knobs. To clean them, pop them off and give them a scrub with warm water and soap. Don't scrub so hard that any labels rub off though or you'll have a hard time using them in the future.
Installation and Safety
One of the biggest drawbacks to gas cooktops and ranges is that gas is inherently more dangerous as a heating source. Before you install your appliance, strongly consider having a licensed professional – this is usually a plumber – do the installation for you. Small errors in installation can result in potentially fatal gas leaks.
Your installation professional can make sure that everything is done to code to keep your whole household safe. They can also make sure the flame height setting is most efficient so you don't need to adjust it multiple times down the road.
A key safety feature of many gas cooktops is the flame failure device. This is a safety feature that makes sure you are not running gas into your house inadvertently through your stove. With a flame failure device, the gas will cut out of the flame will reignite if it goes out.
Unfortunately, this won't address incidents where the flame is never ignited in the first place, but it will significantly reduce the chances of an accidental gas leak. These should come standard in most models but be sure to check for it before purchasing. It could absolutely save your life.
Cost
Last but never least is cost. Let's get real, the cooktop you end up buying will rely heavily on your budget. If you can't afford the best model, you can't afford it! Luckily, we made sure our list included amazing options in all price categories so everyone can find a high-quality gas cooktop.
We have seen models that run in the $3,000 range, and we have seen some for under $200. For a really good cooktop, you should expect to pay around $500-$1,000. It could be less for fewer burners, and more for more burners or deluxe editions.
Warranties
Most of the models we included came equipped with manufacturer's warranties. These protect your investment if it turns out the product was made poorly or incorrectly and is not usable within the one to two-year timeframe indicated by the warranty.
Keep in mind though, warranties do not usually cover damage caused by you or natural causes, but rather defects in manufacturing. A warranty will not replace your cooktop if you accidentally drop a bowling ball on it and break the burners.
Frequently Asked Questions
Does my oven need to be the same brand as my cooktop?
No! One of the best things about buying cooktops instead of traditional ranges is that you can mix and match brands to get the absolute best performance out of all your appliances. If you like the Frigidaire cooktop the best, but a GE oven the best, you can get them both without making any compromises!
How much BTU do I need?
You should try to find at least one burner with 12,000 – 15,000 BTUs, and others with around 10,000, 4,000, or less. When describing a product, some companies will give a total BTU amount, while others will give the BTU per burner. If you only get a total amount, divide it by the number of burners to see what the per burner BTU average is.
Why are these gas cooktops so much more expensive than electric ones?
While they may be more expensive up front, you will make that money back in no time once you start using the gas cooktop. Gas is usually a lot less expensive than electricity, and gas cooktops can usually cook your food a lot faster than electric ones. So you will have lower monthly bills to offset the higher purchase price. We think it's definitely worth it.
What is the best cookware for gas cooktops?
Really, any kind of cookware works on gas stoves and cooktops. But as with everything, there will always be some things that just work better. To get the full scoop, read our full guide on the topic here.
Takeaway Thoughts
So after reading our guide, what do you think? Do you know which gas cooktop is right for you?
We know there are a LOT of options out there, and it can be daunting to try and sort through them all. We hope that the guide we put together has helped take out some of the workloads for you and highlighted the best options on the market.
If you're still a little overwhelmed, we recommend looking closely at the Frigidaire Gallery 30-Inch. While we love all the products we included, this one is a good compromise of features and cost, giving you a great value purchase. If you aren't sure you need any specific types of features but want a powerful and reliable cooktop without breaking the bank, we think it's a product you'll be happy with for years to come.
So that's it for the best gas cooktops! You now know pretty much everything you need to know to get out there and get cooking.