Whether you are looking to replace your done and dusted old cookware set, or whether you are gently treading into the exciting world of quality pots and pans, an informed purchase and choosing the best cookware will make sure that all your delicious recipes get the wonderful cooking they deserve.
With the amount of variety out there and brands battling it out like the Jones' every season, things can get a little confusing. A good cookware set will deliver years and years of use without little problems like tops coming off, coatings scraping out, and knobs and handles going rickety. In our quest for the best cookware set of 2017, we did our own intensive research and it is no surprise that the top contenders tend to remain the same.
Article Contents
Cookware Set Quick Buying Guide
So you are in a hurry and just want to pick something quickly? No problem! This section is to help you have your new cookware set on its way to you in no time.
Otherwise keep reading for our buying guide and best cookware set list.
The Best Cookware Set
On Sale Now - Save $$$
All-Clad 14 Piece Stainless Steel Cookware Set
Perfect for: anyone who spends a lot of time in the kitchen. If you want the best, then this is it.
Summary: Ok this set is not cheap, but it is easily the best and you won't regret the money you spend on it.
This is truly a set that will last you a life time, and you will surely be handing these pots and pans down to your grand kids many years from now still looking like the day you bought them.
The Best Value Cookware Set
On Sale Now - Save $$$
Cuisinart Chef's Classic Stainless 11-Piece Cookware Set
Perfect for: home cooks looking for a top quality set that won't cost you an arm and a leg.
Summary: Stainless steel cookware for under $150? Yep, that's what you get here – and it is a truly great set too.
This set is mad of high quality materials and offers true value for money.
Our Best Cookware Set List
Price Ranges Used:
$ – Under $200
$$ – Under $500
$$$ – Over $500
An all-around versatile set, the T-fal pieces are made of hard anodized aluminum with a titanium non-stick interior coating. The silicon handles provide safety while the Thermo-Spot heat indicating feature allows proper pre-cook heating.
There is a pattern in the center which turns red when thoroughly heated, and the lids are made of tempered glass to seal in moisture while cooking.
This cookware set is PFOA, lead, and cadmium free so you can cook for your family knowing that you are not exposing them to toxic substances.
The T-fal 12 piece cookware setcomprises of 2 fry pans, 8 and 10.25-inch respectively, a 5.6-quart covered Dutch oven, and 3 covered saucepans of 1.1, 2.3, and 3.2-quarts. It also includes a nylon spoon and slotted spatula for stirring or serving. Safe for all cooktops, the pots and pans can withstand oven temperatures up to 400 degree F and are dishwasher safe.
Whats Included?
8″ and 10.25″ frypans
5.6 quart covered dutch oven
1.1 quart, 2.3 quart and 3.3 quart covered sauce pans
Nylon solid spoon and slotted spatula
Important Info
Price range: $
Stove cooktop: Yes
Induction cooktop: Yes
Dishwasher safe: Yes
Microwave safe: No
Oven Safe: Yes
Non-Toxic: Yes
Material: Anodized aluminum, titanium, silicon
On Sale Now - Save $$$
T-fal 12 Piece Anodized Aluminium Cookware Set
The unique T-fal Thermo-spot heat indicator shows when T-fal pan is perfectly preheated for cooking
Prometal Pro nonstick interior is exceptionally durable and scratch resistant, safe for use with metal utensil
Hard anodized dishwasher safe exterior for long lasting durability. To extend the life of the coating, you should use a small amount of oil when stir-frying or grilling. You do not need oil when boiling or stewing
TechnoResist Anti-Warp base provides outstanding warp resistance and even heat distribution for optimal cooking results
Riveted silicone handles; Oven safe to 350-degree F; Glass lids; Limited lifetime warranty; Safe for all cooking methods except induction
---
Cuisinart dominates in the steel segment as usual, and this set made of stainless steel encapsulating pure aluminum is excellent for all your cooking needs.
The aluminum core ensures fast and even heating, while the riveted handles stay cool while cooking. The covers are tight-fitting, to help flavors to seal in while you cook, and the set includes 3 saucepans with covers of 1, 2, and 3-quarts each, a 3-quart sauté pan with a helper handle and cover, an 8-quart stock pot with cover, an 8-inch non-stick skillet, and an 18-cm steamer insert.
The rims are tapered to ensure easy pouring, while the whole set is dishwasher safe. Oven safe up to 500 degrees, Cuisinart items comes with a lifetime warranty.
Whats Included?
1 quart, 2 quart and 3 quart sauce pan with cover
3 quart saute  with helper handle and cover
8 quart stockpot
8″ non-stick skillet & 10″ skillet with cover
18cm steamer insert
Important Info
Price range: $
Stove cooktop: Yes
Induction cooktop: Yes
Dishwasher safe: Yes
Microwave safe: No
Oven Safe: Yes
Non-Toxic: Yes
Material: Stainless steel, aluminium
On Sale Now - Save $$$
T-fal 12 Piece Anodized Aluminium Cookware Set
Stainless steel and pure aluminum encapsulated in the base for fast and even heating

Break-resistant glass covers allow you to monitor food while it is cooking without losing heat or food flavors

Tight-fitting covers seal in moisture and nutrients for healthier, more flavorful results, every time you cook

Solid stainless steel riveted handles stay cool on the stovetop. Drip-free pouring rims are tapered for drip-free pouring
---
This WearEver set featuring non-stick ceramic reinforced with heavy-gage aluminum is free of all harmful chemicals. One of the top contenders in our 2017 cookware sets, the large set is stain and scratch resistant.
Coming with a lifetime warranty as well, it is oven safe up to 350 degrees F.
It is inclusive of 3 saucepans measuring 1, 2, and 3-quarts with lids, a 5-quart Dutch oven with lid, a steamer insert, a 3.5-quart deep sauté pan with lid, and 8, 10, and 12-inch frying pans. Versatile and large, the set is dishwasher friendly and features silicon riveted handles for safety. However, the WearEver set is not made for induction cooktops.
Whats Included?
1 quart, 2 quart and 3 quart sauce pan with lids
5 quart dutch oven with lid
3.5 quart deep saute pan with lid
8″ and 10″ fry pans
12 fry pan with lid
steamer insert
Important Info
Price range: $
Stove cooktop: Yes
Induction cooktop: No
Dishwasher safe: Yes
Microwave safe: No
Oven Safe: Yes
Non-Toxic: Yes
Material: Ceramic, aluminium, silicon
On Sale Now - Save $$$
WearEver C943SF Pure Living 15 Piece Cookware Set
Soft-touch and riveted handles for secure, comfortable grip. The handles can cook with high temperature up to 350 Degree F
Nonstick Ceramic coating is metal utensil safe and PTFE, PFOA, Cadmium and lead free
The heavy gauge aluminum with ceramic coating offers superior stain resistance, superior scratch resistance and is the most durable ceramic cookware for WearEver
High quality aluminum base provides even heat distribution for you to cook efficiently
Limited Lifetime Warranty. Safe for all cooking methods except induction. Cooking surface able to reach 700 Degree F; oven safe to 350 Degree F; Dishwasher Safe
---
On the premium side, the Calphalon cookware set is made of hard-anodized aluminum that includes 3 layers of non-stick coating! In fact, Calphalon were the first to invent anodized aluminum cookware. The first two coatings ensure durability while the third results in easy release during cooking.
The handles are brushed stainless steel that stay cool during stove-top cooking and clean-up is effortless for all the components. The super lightweight set is oven safe including the lids, up to a temperature of 450 degrees F.
Like some of the others, the Calphalon cookware set comes with a lifetime warranty.
It includes 2 frying pans, 10 and 12-inch—the latter featuring a cover, 3 saucepans with cover that are 1.5, 2.5 and 3-quarts each, a 3-quart sauté pan with cover, and an 8-quart stock pot with cover.
Whats Included?
10 inch fry pan
12 inch fry pan and cover
1.5 quart sauce pan and cover and 2.5 quart sauce pan and cover
3 quart saute pan and cover
8 quart stock pot and cover
Important Info
Price range: $$
Stove cooktop: Yes
Induction cooktop: No
Dishwasher safe: Yes
Microwave safe: No
Oven Safe: Yes
Non-Toxic: Yes
Material: Anodized aluminium
On Sale Now - Save $$$
Calphalon Contemporary 11 Piece Black
Cookware Set
Heavy-gauge aluminum construction ensures even heating and is hard-anodized for durability. It also makes it dishwasher-safe.
Interior includes three layers of nonstick coating - two layers provide durability and the third layer offers easy release performance.
The long, brushed stainless steel handles are designed to stay cool on the stovetop. Pans and covers are also oven safe, making it ideal for finishing a gourmet dish.
Set includes 10-Inch Fry Pan, 12-Inch Fry Pan and Cover, 1.5-Quart Sauce Pan and Cover, 2.5-Quart Sauce Pan and Cover, 3-Quart Saute Pan and Cover and 8-Quart Stock Pot and Cover
The nonstick surface means you can cook healthier using less fat, with effortless cleanup. Comes with Calphalon's full lifetime warranty.
---
Featuring a non-stick coating made of real diamond crystals, this Swiss Diamond set may not include a high number of components, but, quality-wise, it trumps many other premier brands.
Made of cast aluminum, the set is oven safe up to 500 degree F and heats evenly without hotspots. Dishwasher safe with compatibility for most cooktops except induction, the cooking range includes 2 frying pans of 8 and 9.5 inches, a 10-inch sauté pan with lid, two saucepans with lids sized 1.4 and 2.2 quarts, and an 8.5-quart stock pot with lid.
The rivet-free interior of the pots and pans ensure that there is no microscopic food deposit, while the handles that stay cool on stove tops are ergonomically designed for comfort and balance. This set comes with a limited lifetime manufacturer's warranty.
Whats Included?
8″ and 9″ fry pan
10″ saute pan with lid
1.4 quart and 2.2 quart saucepan with lids
8.5 quart stock pot with lid
Important Info
Price range: $$$
Stove cooktop: Yes
Induction cooktop: No
Dishwasher safe: Yes
Microwave safe: No
Oven Safe: Yes
Non-Toxic: Yes
Material: Cast aluminium, diamond crystals
Swiss Diamond 10 Piece Set: Ultimate Kitchen Kit
This 10-piece cookware set is with diamond-reinforced nonstick coating inside and out for easy cleaning
Swiss patented diamond-reinforced nonstick coating inside with real diamond crystals (PFOA-free)
Cast aluminum; Made in Switzerland; Oven-safe up to 500 degrees F (260°C)
The set contains: 8 inch Fry Pan, arger 9.5 inch Fry Pan, 3.2-quart Saute Pan, 9.5 inch Lid that fits both the large skillet and the saute pan, 1.4-quart Saucepan with lid, Larger 2.2-quart Saucepan with Lid,Lid that fits the 2.2qt Sauce pan & 8.5-quart Stock Pot with lid
Stay-cool ergonomic handles provide a safe, comfortable grip
---
All-Clad cookware can be expensive, but their features make it worth the money spent. The 14-piece set has a 4-ply bonded construction featuring stainless steel, aluminum, and copper cores. This results in even heating and no warping even after years and years of use.
Non-stick resistant to some degree (super home chefs don't care about non-stickiness) with riveted handles for a comfortable grip, the pots and pans have their capacities etched on the bases for you to follow recipe book instructions precisely.
The items included are oven safe up to 500 degree F and feature a limited lifetime warranty. The set comprises of a 10 and 12-inch fry pan, 2 and 3 quart saucepans with lids, 2 sauté pans of 3 and 6 quarts with lids, a 12 inch covered chef's pan, and an 8-quart covered stockpot.
Whats Included?
10″ and 12″ fry pans
2 quart and 3 quart sauce pans with lids
3 quart and 6 quart saute pans with lids
12″ chefs pan with lid
8 quart stock pot with lid
Important Info
Price range: $$$
Stove cooktop: Yes
Induction cooktop: Yes
Dishwasher safe: Yes
Microwave safe: No
Oven Safe: Yes
Non-Toxic: Yes
Material: Stainless Steel, aluminium, copper
On Sale Now - Save $$$
All-Clad 14 Piece Stainless Steel Cookware Set
14-piece cookware set includes 10 inch and 12 inch fry pans, 2 quart and 3 quart covered sauce pans, 3 quart and 6 quart covered sauté pans, 12 inch covered chef's pan and an 8 quart covered stockpot
5-ply bonded construction with stainless steel, aluminum, and a thick copper core for even heating, warp-free strength, and reliable responsiveness
Highly polished 18/10 stainless steel interior with starburst finish offers superior stick resistance and easy maintenance, plus won't react with food
Riveted stainless-steel handles with venting and contoured for a comfortable grip; stainless-steel lids; flared edges; capacity etched on base
Oven safe and broiler safe up to 600 degrees F; optimized for induction; dishwasher-safe; limited lifetime warranty; made in USA
---
Le Creuset is a household name when it comes to enamelled cast iron cookware. The classic French set is safe for freezer, microwave, and ovens, with a heat resistance of up to 500 degree F.
Created in a color reminiscent of the tropics, it features a 10.25 inch skillet, a 1.75 quart saucepan with lid, a classic Le Creuset dutch oven with lid in 4.5 quarts, a stoneware dish with lid in 4 quarts, 4 mini casseroles with lids in 8 ounces, and a 8-quart enamelled steel stock pot with lid.
You also get a Le Creuset Mini Cocotte cookbook with the set to whip up some interesting culinary delicacies.
Coated with a damage-resistant glaze, the set prevents hotspots for even cooking while the cast iron items in the range come with a lifetime warranty.
Whats Included?
10.25″ cast iron skillet
1.75 quart cast iron sauce pan with lid
4 quart rectangle stoneware dish with lid
Four x 8 ounce stoneware mini cocettes with lids
8 quart enameled steel stock pot with lid
6 piece utensil set
64 page Le Creuset cook book
Important Info
Price range: $$$
Stove cooktop: Yes
Induction cooktop: Yes
Dishwasher safe: Yes
Microwave safe: Yes
Oven Safe: Yes
Non-Toxic: Yes
Material: Cast Iron, steel, stoneware
On Sale Now - Save $$$
Le Creuset Caribbean 20-piece Cookware Set
Our Le Creuset set that includes the 10.25-inch Cast Iron Signature Skillet, 1.75 qt Cast Iron Saucepan with lid, 4.5 qt Cast Iron Dutch Oven with Lid, 4qt. Rectangle Stoneware Dish with lid, four 8 oz Stoneware Mini Cocottes with Lids, 8 qt Enameled Steel Stock Pot with Lid, 6 pc. Utensil Set and a 64 page Le Creuset Mini Cocotte softcover cook book.
Unmatched thermal resistance from -65°F to 500°F; safe for freezer, microwave, oven, and broiler
Virtually nonstick glazed interior easily releases foods for quick cleanup; 5-year warranty; dishwasher safe.
The inner cooking surface features a black enamel finish which requires no seasoning to seal in juices creating a succulent and tender meal
High-quality exterior enamel protects against metal marks and other damage • Durable construction last for years. • Perfect for the freezer, microwave or oven. • Stoneware block moisture absortion to prevent cracking. • Enamel finish resist scratches and stains.
---
Your Checklist for Choosing the Best Cookware
No matter what cookware set you choose, there are some factors you need to always keep in mind. To summarize everything, here's your checklist below:
The material: Make sure you can handle the weight for day-to-day cooking functions.
The range: It needs to perform 99% of your everyday cooking, and it needs to serve your family well.
The toxicity: You do not want to buy anything that can harm your health in the long term, even if the price tag on it is very appealing.
The versatility: It needs to work on the kind of cook top you have. It needs to be easy to clean, and it needs to be compatible to your style of cooking.
The warranty: You do not want to invest in a set that leaves you dry and hanging after a few months of use. This is especially essential when you invest in a high-end cookware set.
The variety: Before you buy, compare it all with what you already own. It is always nice to purchase newer, novel items.
Best Cookware Set Buying Guide
Cookware Materials
The most important bit! The material plays a big role for factors such as handling, type of food cooked, toxicity, weight, and shelf life. Although a lot of shoppers tend not to pay much attention to the material—opting instead for standard every day metals—new designs and technologies these days have created cookware that indeed are works of art. Choose wisely from the below.
Cast Iron Cookware
Rustic, and reminiscent of old southern hospitality, cast iron cookware remains a classic as ever. Try and talk a connoisseur into parting with her 150-year old, family handed down cast iron skillet and chances are, you would leave with a sore bump on your head. Cast iron pots and pans are sort of heirlooms, that have again become the battle tools of modern chefs, food influencers on social media, amateur cuisine enthusiasts and even the person next door. Many heritage cast iron brands remain in the market, but cookware from now defunct brands from 18th century foundries fetch quite a buck on online auctions. That, is the appeal of cast iron cookware.
People get a little perturbed when it comes to maintaining these cookware sets but it is quite simple really. Old school cast iron goodies came uncoated, meaning, a material to protect the iron from rusting. So these sets developed a "seasoning" over time with the cooking oil, giving way to a much-prized shiny black patina over the years. The coating forms due to thin layers of fat heating on the pan. Diehard fans make sure that their cast iron casseroles, pans, skillets, and such never see soap and water, instead maintaining them by hand cleaning and baking them with a barely-there coating of oil.
If this is too much for you, modern day sets usually come pre-seasoned or coated with enamel which cuts down on the maintenance time.
Even though it takes a while to heat it, iron retains heat for a long time resulting in thorough cooking, and saving you those bills in the long run since you do not need to cook constantly on high heat.
Cast Iron Cookware Pros:
Envious Instagram pictures
Fire-top, stove-top, oven, gas to oven cooking
Great for outdoor cooking
Cast Iron Cookware Cons:
Cooking acidic foods although enameled cast iron cookware eliminates this problem
Very heavy
Can be difficult to clean
Heating time
Stainless Steel Cookware
Quintessential steel is a fail-safe approach to your new cookware set. Steel is usually combined with other metals such as nickel, carbon, and chromium to produce enduring alloys that are corrosion free and tough.
Pretty much since its invention, steel has been used to make cookery items that are no-nonsense, durable, and economical. Humble steel has evolved too, available in fascinating varieties coated with scientific-sounding epic non-stick surfaces. They come with cores of copper or aluminum to improve its heat conductivity, clad within multiple reinforced layers to enable cooking in extreme high heat, and even in not-so-boring colors now.
Scratch away all you want at your steel stock-pot because unlike so many other materials, this metal is resilient to the T. Even handling burnt food like a champ, steel ensures extreme longevity to your cookware set.
Steel Cookware Pros:
Good for everyday cooking
Easy cleaning
Compatible with all kinds of cooktops
Short cooking times.
Cons:
More expensive than other types
No Non-stick cooking (unless coated).
Carbon Steel Cookware
Carbon steel has similar qualities to cast iron minus the heavy weight. Carbon steel is nothing but iron combined with carbon that makes it less brittle. Those dark thin pans you see in restaurant kitchens? Yep, carbon steel. In fact, seasoning carbon steel over time gives a better non-stick patina than cast iron. But very thin pans and such, made of this material will bend with time.
Also, your cast iron pot may recover from an occasional lime splash or red wine reduction but carbon steel won't. Great for making foods that don't have a long cooking time such as eggs, stir fries, sauté dishes and pancakes, carbon steel cookware can be quite a handy addition to your kitchen.
Pros:
Non-stickiness without added chemicals
Heat retention
Crispy foods.
Cons:
Cleaning can be a pain
Can overheat
Can be damaged by acidic foods
Aluminum Cookware
A versatile material, aluminum cookware is extremely economical. Like steel alloys, aluminum is corrosion resistant although certain kinds of foods will stain or discolor it.
It also leaches into your food if you cook with acidic ingredients on high heat for longer durations. However, this problem is easily appended by investing in anodized aluminum cookware. Anodization uses electrical charges to increase the thickness of the outer layers of your pot and pan, in turn increasing its durability to an extreme degree. Aluminum is an excellent heat conductor—one of the top ones actually—which ensures that you don't stand around waiting when you begin your culinary experiment.
Pros:
Durability when combined with other materials
Heat conductivity
Very affordable
Cons:
Discoloration over time
leaching into food
Ceramic Cookware
Ceramic items have always dominated the baking market, but newer renditions of cookware now feature it in all kinds of forms such as non-stick coatings and reinforcements.
Ceramic is naturally non-stick and can withstand temperatures of up to 2,000 degrees. Like steel, ceramic surfaces are tough and you can use metal spatulas or hard scourers on it without scratches.
Ceramics are also widely considered to be the most non-reactive so that you have no harmful substances leaching into your food while cooking certain kinds of dishes.
Most ceramic sets also look pretty good; you can skip the server-ware and put it on the table straight.
Good for:
Extreme heat
Non-stick
Attractive
Cooktop versatility
Cons:
Copper Cookware
Shiny copper has also been used for cooking through the ages. Pretty much one of the best conductors of heat that results in even cooking, copper is great for foods that you leave in the pot undisturbed for longer periods of time.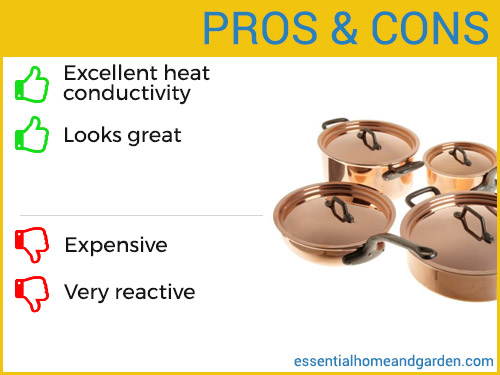 Copper is also now mostly integrated with other materials, unlike the past where it was used in standalone pieces. Copper cookware sets can get very expensive, and just like iron and carbon steel, you cannot cook reactive foods in it.
Pros:
Excellent heat conductivity
Ideal weight
Visually appealing
Cons:
Expensive
Highly reactive
High maintenance
Other Cookware Types
These days besides the above, cookware can also be found made of titanium, silicon, porcelain, diamonds, nano-tech, and other compositions. These kinds of sets also tend to be on the pricier side, considering the many qualities they offer.
Number and Type of Cookware Components
Are you looking to cook for a family of 5 or is it just the two of you? The number of items in cookware set is important so that you make the most out of it.
Along with the number of items, a good collection should include different kinds of cookware so that you can perform all essential functions through that one set.
A good cookware set should definitely include:
a frying pan
sauce pan
and a stock pot.
Want to go fancier? Add on sauté pans, woks, deep-fry pans, and splatter covers.
Cookware Adaptability
Is your new set dishwasher safe? Is it oven and microwave safe? Can it be used on gas stoves, halogen tops, and induction tops? These are some of the questions you must thoroughly research before making an informed purchase. You buy one on a whim, and strangely, it doesn't work on your type of hob. Avoid this scenario by going in to the boring specifications part of the cookware details.
Cookware Toxicity
Throughout the years, inventions and updates have introduced consumers to newer varieties of pots and pans, but every once in a while, some of these materials have been shown to do more harm than good. If you are conscious (and you should be) about what exactly are you eating, and you don't want to be unsuspectingly poisoned by toxins, look for the following before buying anything:
PFOA: Short for perfluorooctanoic acid, this chemical is found in non-stick coatings. When cooking on high heat, they tend to leech into your food causing concern. PFOA stays in the human body for a long time, and researchers say that it has the potential to cause cancer if the exposure is in high doses. It can also apparently affect your thyroid and heart. An overheated pan made of these materials is none to cause flu-like symptoms.
Cadmium: Cadmium is an element that is used for the purpose of coloring cookware. All those bright reds you may see on low quality pots on pans can possibly contain cadmium. Cadmium is in fact considered to be one of the most toxic substances in nature. Affecting not just your kidney and metabolism, it can cause genotoxicity. Never ever opt for cheaply manufactured cookware that comes from a country with no compliances. Cadmium is also used in many modern batteries.
Lead: Low quality manufactures can sneak in lead into their cookware which gives it shock resistance and color uniformity. Although a substance highly regulated by most countries, lead may still find its way into your food. Lead might also commonly be found in aluminum alloys.
Pricing last updated on 2018-05-24 at 12:14 / affiliate links - Details