Whether you are looking to replace your done and dusted old cookware set, or whether you are gently treading into the exciting world of quality pots and pans, an informed purchase and choosing the best cookware will make sure that all your delicious recipes get the wonderful cooking they deserve.
With the amount of variety out there and brands battling it out like the Jones' every season, things can get a little confusing. A good cookware set will deliver years and years of use without little problems like tops coming off, coatings scraping out, and knobs and handles going rickety.
In our quest for the latest best cookware sets, we did our own intensive research and while some of the top brands are always there, we also have some exciting new cookware to show you too.
Disclosure: It is important you understand that we may receive commissions when you click our links and make purchases. However, this does not impact our reviews and comparisons. All opinions are our own we pride ourselves on keeping our articles fair and balanced. For more info see our disclosure statement.
Comparison Table
Product
Details
Where to Buy
Gas/Electric Cooktop: Yes
Induction Compatible: Yes
Microwave Safe: No
Oven Safe: Yes
Material: Ceramic Coated Cookware
Check Price

Made In Cookware 'The Sous Shef' Set



Gas/Electric Cooktop: Yes
Induction Compatible: Yes
Microwave Safe: No
Oven Safe: Yes
Material: Stainless Steel with 3 aluminum cladded layers
Check Price
Gas/Electric Cooktop: Yes
Induction Compatible: Yes
Microwave Safe: No
Oven Safe: Yes
Material: Stainless Steel with 3 aluminum cladded layers
Check Price in Amazon
Gas/Electric Cooktop: Yes
Induction Compatible: Yes
Microwave Safe: No
Oven Safe: Yes
Material: Anodized aluminum, titanium, silicon
Check Price in Amazon
Gas/Electric Cooktop: Yes
Induction Compatible: Yes
Microwave Safe: No
Oven Safe: Yes
Material: Stainless steel, aluminium
Check Price in Amazon
Gas/Electric Cooktop: Yes
Induction Compatible: Yes
Microwave Safe: No
Oven Safe: Yes
Material: Ceramic, aluminium, silicon
Check Price in Amazon
Gas/Electric Cooktop: Yes
Induction Compatible: Yes
Microwave Safe: No
Oven Safe: Yes
Material: Anodized aluminium
Check Price in Amazon
THE BEST COOKWARE SETS - OUR PICK
Best Choice
On Sale Now!
Need that cookware in a rush and don't want to read through all the text just to find a recommendation? That's fine (I do the same).
Well do yourself a favor and just grab the Caraway Cookware set right now.
Perfect for: home cooks that are want a decent set of pots and pans that is priced reasonably.
Summary: This awesome ceramic coated cookware set will not only look great on your stove, but has all the pieces needed to execute any dish for your next dinner party or Thanksgiving dinner.
This set is seriously good value and its WILL make your cooking life easier.
It seems that there is a new report every day that this chemical or that coating is toxic and now not safe for use. Well, you don't have to worry about that with Caraway Cookware because it's about as safe as you can get.
This ceramic cookware set is eco-friendly, totally non-toxic also – non stick!
Storing pots and pans can be a pain the backside, but Caraway have made this a little easier by including magnetic pan racks and a canvas lid holder with the set.
The packaging of this set is also amazing, its well packed, of super high quality and you might find a few pleasant little surprises in there too!
Also, the fact that you have a choice of 5 different colors (cream, gray, perrracota, sage, and navy) was is great. If you have a color scheme going in your kitchen then one of these colors will surely look perfect.
To be honest, Caraway have entered a difficult market with many low-cost competitors. But the quality of this cookware cannot be beaten for this price and advise you to grab a set before it sells out.
Still not sure? Thats fine! Maybe the free shipping, free returns and 30 day trial will encourage you to give it a try?
Made In Cookware 'The Sous Shef' Set
It was only recently that I heard about Made In cookware, and that is probably because they only sprung into existence in 2016. But despite their relative newness in a market dominated by brands that have been around for what seems like forever, Made In's products are top notch and should be at the top of your list of sets to check out.
Made In Cookware is set to make a splash in the industry and the big players should be scared!
When I was first approached by Made In Cookware to give their pots and pans a try, I must say I was skeptical. Its price point was good, almost too good to be true for the features they were advertising. Made in the USA, made from top quality materials and stainless steel clad – I would expect a 10 piece set of cookware such as this to go for around the $1,000 mark.
But boy, my scepticism was certainly unfounded. I unpacked the environmentally friendly packaging and lifted the pans out – wow! These pots and pans felt solid and well made, while still being comfortable and well balanced.
The heat-resistant handles feel rock solid, with no movement detectable in the join with the pan base at all.
These pans looks like you have just gone out and spent well over $1k. Hang these pans in your kitchen, show them off and your friends and family and watch the envious look they get in their eyes!
After admiring the looks and feel of the set, I ran the cookware through all the usual tests – looked for hotspots, checked the doming on the bottom of the pans (it was normal, the same or better as other cookware I have tested) and the pans responded quickly to heat changes.
So far so good – but I just had one problem…..
I like our reviews to be honest and I don't hesitate to list any negatives I find. But, I actually had trouble finding any negatives for Made In Cookware!
If I wanted to be really picky, then I would mention that it did develop rainbow stain quite easily (which is only an aesthetic problem anyway). But this was easily cleaned off using Barkeepers Friend. If you don't have any bar keepers friend on hand, vinegar does almost as good a job.
All in all, it is actually hard to separate this inexpensive yet high-quality cookware from the more expensive brands.
Did I mention this set also comes with a lifetime warranty?
Still not sure? Well Made In also offer a 100 day, no questions asked return policy on your first order…so if it turns out you aren't happy with it – just send it back! But I can tell you now – you won't need to ?
All-Clad 60090 Stainless Steel Set Review
All-Clad cookware can be expensive, but their features make it worth the money spent. The 14-piece set has a 4-ply bonded construction featuring stainless steel, aluminum, and copper cores.
This results in even heating and no warping even after years and years of use.
Non-stick resistant to some degree (super home chefs don't care about non-stickiness) with riveted handles for a comfortable grip, the pots and pans have their capacities etched on the bases for you to follow recipe book instructions precisely.
This cookware is very well built and it really does feel like it will last you a (and your children, and their children) a life time. It heats up very evenly with no detectable hot spots and its responsiveness to heat changes is quick.
The items included are oven safe up to 500 degrees F and feature a limited lifetime warranty for your piece of mind.
We actually couldn't find anything we didnt like about the All-clad cookware – but we did do some research online and it seems some people have problems with the inner layer of metal flaking off? But this seems to be a very small percentage, and the warranty should cover any problems should they arise.
T-Fal Ultimate 12 Piece Cookware Set Review
An all-around versatile set, the T-fal pieces are made of hard anodized aluminum with a titanium non-stick interior coating. The silicon handles provide safety while the Thermo-Spot heat indicating feature allows proper pre-cook heating.
There is a pattern in the center which turns red when thoroughly heated, and the lids are made of tempered glass to seal in moisture while cooking.
This cookware set is PFOA, lead, and cadmium free so you can cook for your family knowing that you are not exposing them to toxic substances.
The T-fal 12 piece cookware set comprises of 2 fry pans, 8 and 10.25-inch respectively, a 5.6-quart covered Dutch oven, and 3 covered saucepans of 1.1, 2.3, and 3.2-quarts.
It also includes a nylon spoon and slotted spatula for stirring or serving. Safe for all cooktops, the pots and pans can withstand oven temperatures up to 400 degree F and are dishwasher safe.
Cuisinart 11 Piece Stainless Steel Cookware Set Review
Cuisinart dominates in the steel segment as usual, and this set made of stainless steel encapsulating pure aluminum is excellent for all your cooking needs.
The aluminum core ensures fast and even heating, while the riveted handles stay cool while cooking.
The covers are tight-fitting, to help flavors to seal in while you cook, and the set includes 3 saucepans with covers of 1, 2, and 3-quarts each, a 3-quart sauté pan with a helper handle and cover, an 8-quart stock pot with cover, an 8-inch non-stick skillet, and an 18-cm steamer insert.
The rims are tapered to ensure easy pouring, while the whole set is dishwasher safe. Oven safe up to 500 degrees, Cuisinart items comes with a lifetime warranty.
WearEver Ceramic 15 Piece Cookware Set Review
This WearEver set featuring non-stick ceramic reinforced with heavy-gage aluminum is free of all harmful chemicals. One of the top contenders in our 2017 cookware sets, the large set is stain and scratch resistant.
This is another cookware set that comes with a lifetime warranty, so you won't have to worry about defects showing up just as the guarantee period is over.
Riveted silicone handles ensure these pots and pans feel comfortable in your hand, while still feeling sturdy and well built.
I will say that you need to make sure you clean this set properly every time you use it. Otherwise tiny amounts of stuck on food built up and it can be almost impossible to clean after the build-up becomes visible.
Calphalon Contemporary Nonstick 11 Piece Set Review
On the premium side, the Calphalon cookware set is made of hard-anodized aluminum that includes 3 layers of non-stick coating! In fact, Calphalon were the first to invent anodized aluminum cookware. The first two coatings ensure durability while the third results in easy release during cooking.
Stainless steel is not for everyone, it can be a pain to clean. Which is why some of you might be after a high-quality set that has a hard-anodized non-stick coating. If this sounds like you then the Calphalon contemporary non-stick cookware is what you want.
It heats up quickly and evenly, cooks food to perfection and even burnt on food just wipes straight off. As with any non-stick cookware though – do make sure you give it a proper clean after each use as it will slowly build up tiny particles which can become stuck over time.
If you are a fan of non/low fat cooking, then this set is worth checking out. Backed by a lifetime warranty, and very affordable – make sure you consider this awesome product.
Cookware Buyers Guide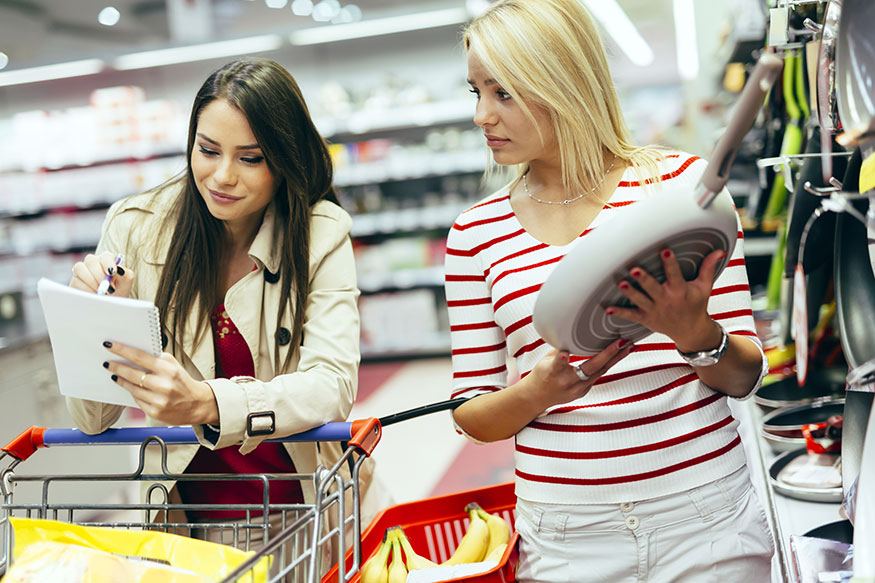 No matter what cookware set you choose, there are some factors you need to always keep in mind. To summarize everything, here's your checklist below:
The material: Make sure you can handle the weight for day-to-day cooking functions.
The range: It needs to perform 99% of your everyday cooking, and it needs to serve your family well.
The toxicity: You do not want to buy anything that can harm your health in the long term, even if the price tag on it is very appealing.
The versatility: It needs to work on the kind of cook top you have. It needs to be easy to clean, and it needs to be compatible to your style of cooking.
The warranty: You do not want to invest in a set that leaves you dry and hanging after a few months of use. This is especially essential when you invest in a high-end cookware set.
The variety: Before you buy, compare it all with what you already own. It is always nice to purchase newer, novel items.
Stovetop type: Make sure that your cookware is suitable for your stovetop type.
Choose The Right Cookware Material
The most important bit! The material your cookware is made of can be the difference between a perfectly cooked meal, or a under or overcooked mess!
Read our full guide on the best cookware material.
The common types of cookware materials are:
Stainless Steel – Ususally the best choice. Often used to coat other materials to get the best of  both worlds
Cast Iron – Holds heat, but very heavy and can be difficult to clean
Carbon Steel – Non stick but overheats easily
Aluminium – Very light, but does not hold heat well
Copper – Conducts heat well, but very reactive and also expensive. Check out this post on the best copper cookware sets.
Ceramic – Can handle extreme heat but breaks easily
Number And Type Of Components
Are you looking to cook for a family of 5 or is it just the two of you? The number of items in cookware set is important so that you make the most out of it.
Along with the number of items, a good collection should include different kinds of cookware so that you can perform all essential functions through that one set.
A good cookware set should definitely include:
a frying pan
sauce pan
and a stock pot.
Want to go fancier? Add on sauté pans, woks, deep-fry pans, and splatter covers.
Adaptability
Is your new set dishwasher safe? Is it oven and microwave safe? Can it be used on gas stoves, halogen tops, and induction tops?
These are some of the questions you must thoroughly research before making an informed purchase.
You buy one on a whim, and strangely, it doesn't work on your type of hob. Avoid this scenario by going in to the boring specifications part of the cookware details.
Toxicity
Throughout the years, inventions and updates have introduced consumers to newer varieties of pots and pans, but every once in a while, some of these materials have been shown to do more harm than good. If you are conscious (and you should be) about what exactly are you eating, and you don't want to be unsuspectingly poisoned by toxins, look for the following before buying anything:
PFOA: Short for perfluorooctanoic acid, this chemical is found in non-stick coatings. When cooking on high heat, they tend to leech into your food causing concern. PFOA stays in the human body for a long time, and researchers say that it has the potential to cause cancer if the exposure is in high doses. It can also apparently affect your thyroid and heart. An overheated pan made of these materials is none to cause flu-like symptoms.
Cadmium: Cadmium is an element that is used for the purpose of coloring cookware. All those bright reds you may see on low quality pots on pans can possibly contain cadmium. Cadmium is in fact considered to be one of the most toxic substances in nature. Affecting not just your kidney and metabolism, it can cause genotoxicity. Never ever opt for cheaply manufactured cookware that comes from a country with no compliances. Cadmium is also used in many modern batteries.
Lead: Low quality manufactures can sneak in lead into their cookware which gives it shock resistance and color uniformity. Although a substance highly regulated by most countries, lead may still find its way into your food. Lead might also commonly be found in aluminum alloys.
Pricing last updated on 2021-04-15 at 00:02 / affiliate links - Details