Nobody likes to be cold. Whether it's a fall day or the dead of winter, heat is crucial to keeping us happy, healthy, and comfortable. So, it's no surprise that heaters are so popular amongst those looking to warm their toes and get feeling back in their fingers.
While a heater powered by batteries would allow for incredible versatility, portability, and low power consumption, they simply cannot provide enough power to be used for heating. Their BTU (British thermal unit – how heat output is measured) would be too low to provide effective heat over even a smaller area, so they do not exist.
However, that doesn't mean you need to freeze. A battery powered heater may not be viable, but there are a variety of other heating options that can still address your needs.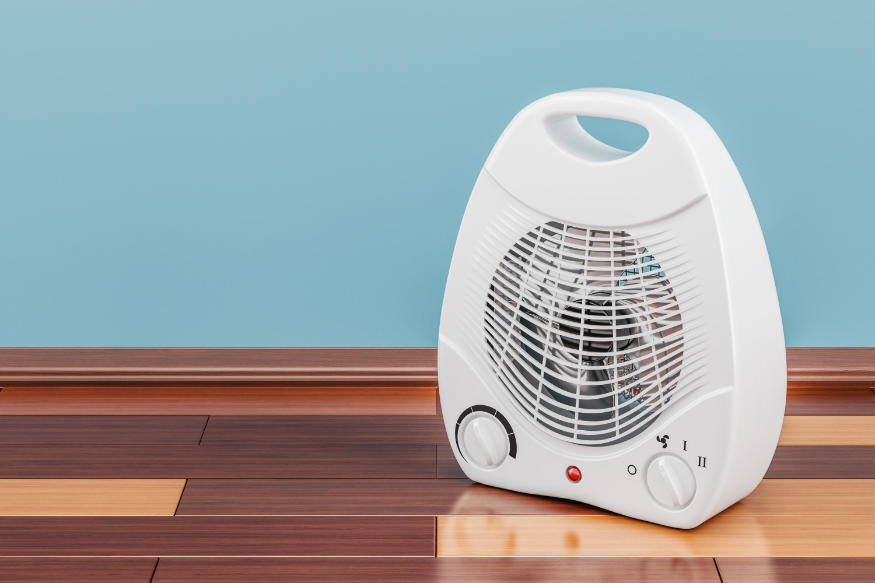 We've assembled a list of heaters that can keep your car toasty in the morning, help you stay warm when camping, or warm up your home office for the winter months.
Ready to find the right space heater for you? Keep reading to discover what to look for, and some of our favorites to consider.
Disclosure: We may receive commissions when you click our links and make purchases. This does not impact our reviews and comparisons. All opinions are our own. We pride ourselves on keeping our articles fair and balanced. For more info see our disclosure statement.
Safety First!
When you're dealing with heat or flames, it's important to follow heating safety guidelines.
While Fuel-based heaters are a great source of heat during a power outage, they also create smoke or gas from combustion, which can cause health problems if there isn't proper ventilation. There is also the risk of something coming in contact with the flame (if exposed), which can lead to fires starting or burns if safety precautions aren't in place.
Electric heaters are also dangerous because the coils they use to create heat reach exceptional temperatures. Contact with a heating element can lead to bad burns and setting things on fire with longer exposure.
Quick Portable Heater Comparison Table
Use this handy comparison table to quickly compare models or keep scrolling to the full reviews.
Product
Details
Where to Buy
Fuel Type: Propane
BTU Output: 3,800
Power Required? No
Indoor Safe? Yes
Safety Features: Oxygen Depletion Sensor, Auto-Shut Off for Tipping or Pilot Light
Check Price Now
Fuel Type: Propane
BTU Output: 4,000-9,000
Power Required? No
Indoor Safe? Yes
Safety Features: Oxygen Depletion Sensor, Auto-Shut Off for Tipping or Pilot Light
Check Price Now
Fuel Type: AC Power
BTU Output: 1,700
Power Required? Yes (AC)
Indoor Safe? Yes
Safety Features: Auto-Shut Off for Tipping
Check Price Now
Fuel Type: 12V Power
BTU Output: 13,200
Power Required? Yes (12V)
Indoor Safe? Yes
Safety Features: N/A
Check Price Now
Fuel Type: Diesel
BTU Output: 27, 000
Power Required? Yes (12V)
Indoor Safe? With Caution
Safety Features: N/A
Check Price Now
Fuel Type: Diesel
BTU Output: 23,500
Power Required? No
Indoor Safe? With Caution
Safety Features: N/A
Check Price Now
The Best Battery Powered Heater Alternatives
Mr. Heater F215100 is a viable alternative to a battery-powered heater because its smaller size mimics the portability batteries would allow for, while still producing effective heat. Its oxygen sensor and tipping sensors also make it usable indoors and residentially, making it versatile as well.
This heater is fueled by 1-pound propane canisters (or larger tanks with a hose connection) that allow it to burn at 3800 BTU and cover almost 100 sq. ft. With a small profile and weighing only 6 pounds with the propane canister in, it can easily attach to a hiking bag, sit in a van until needed, or keep your tent warm.
The F215100 can be used indoors or outdoors, boasting a low-oxygen sensor that turns it off if the emissions become too strong. To make the most of this option, ensure there is ventilation so that it can run interrupted. Plus, when you run it overnight, you can be confident that it is safe thanks to the auto shut-off feature. If it tips over, the heater will turn off to help avoid burns or ignition.
---
The Mr. Heater F232000 is a portable indoor and outdoor heater that can provide an ample amount of heat without major emissions. Outside of burning fuel, this option is very similar to a battery-powered heater. It doesn't need to be plugged in, and the oxygen sensor prevents overuse without proper ventilation, protecting from hazardous emissions.
With a BTU rating between 4,000 and 9,000 depending on your setting of choice, you can adapt your power usage to your needs. It has a high efficiency, which, coupled with the propane fuel source, allows for a clean burn that allows it to be used indoors with proper ventilation or short-term use.
Areas as small as a tent or as large as a garage would benefit from the Mr. Heater F232000. With auto shut-off features for oxygen levels, pilot light failure, and tipping, you can also achieve safer heat in fragile environments.
This portable propane heater is the perfect camping companion due to its portability, simplicity in fueling, and high heat output.
The F232000 heater is available on Amazon.
---
Learn More: The Most Efficient Space Heaters
The electric Amazon 500W ceramic heater is so small, it looks like it could be battery powered. It produces no emissions which means it can be used indoors, and especially fits well on a desk as a personal heater. The main difference is that you need an outlet nearby to use it.
Amazon's 500W ceramic heater is a budget option for those who are not looking to heat more than a small area. Built to sit comfortably on a desktop or table, this small heater features a heavy base and tip-over protection to stop it from igniting or burning anything from a fall.
This 500W heater option has the equivalent of about 1700 BTUs coming from a ceramic coil located inside of the device. This heat radiates outwards through the grate on the front of the device with the help of a fan, which directs it wherever you face the heater.
Yes, electric space heaters have a cord, but the size of this model can make it very convenient on many occasions.
This model would excel as a deskmate but requires an AC outlet nearby.
---
A battery operated heater would struggle to put out enough heat to keep larger areas warm, but the Maradyne H-400012 sure doesn't. It requires a bit of setup and is much less portable than battery powered, but it creates plenty of heat for most cars, trucks, and other mobile quarters.
For those who are looking to create exceptional warmth for their vehicle or truck cab, the Maradyne H-400012 Santa Fe heater is for you. This high-output model puts out about 13,200 BTUs using a 12V connection in your car, and must be connected to the cooling line to create heat.
After mounting the H-400012 onto your cab and connecting the hoses, you can control the heat output with 2 fan speeds and adjustable louver columns. This allows you to distribute heat when and where you need it.
This option is primarily meant to be used for trucks, cabs, and larger vehicles that need temperature control, so don't expect to use it at home.
---
If you were considering multiple portable heaters to cover multiple rooms, compartments, or areas, the Triclicks air heater can simplify things with an exceptional heat output – all with just one system.
Built to be used for motorhomes, campers, and other large-scale semi-outdoor applications, the Triclicks 8KW diesel air heater puts out some serious heat. Doubling the next closest on the list, the 27,000 BTU-capacity heater is capable of heating an entire RV on its own.
The Triclicks 8KW heater takes air from the intake and mixes it with diesel, which is ignited by a ceramic ignition plug that is powered by the engine's 12V port. After combustion, it exhausts to the exterior to avoid gas inhalation.
This option includes a remote control which allows you to start it up and check diesel levels and the temperature remotely. This can save an ice-cold trip to the car, van, RV, or truck in the morning. You'll also find an LCD display that provides fuel levels and allows you to control the temperature.
Due to the heating capacity and the exhaust port being recommended to reach outdoors, this option should mainly be used for indoor applications with ventilation.
---
Offering more heat output and longer usage times, the adjustable HeatMate heater is another clear alternative to battery power. While it requires ventilation because of the fumes it creates, it can be used in a variety of outdoor situations to produce effective heat no matter where you place it.
The Sengoku HeatMate OR-77 heater is a kerosene heater that can be used indoors (with ventilation) or in outdoor applications like camping. It provides a huge effective range of up to 1,000 sq. ft. and a 1.9-gallon fuel tank so that you can keep the whole campsite, patio, or gazebo warm all night.
This option includes a push-button starter that ignites the kerosene without electricity, batteries, or matches for easy startup. It also has a dial that you can adjust the amount of heat with, ensuring you always have enough to keep you warm.
In terms of safety features, the Sengoku Keroheat has a protective shell to keep people and things away from the heat source. It will also automatically shut off if it falls, helping to prevent fires from starting.
This model would thrive as a patio, deck, or outdoor area's heat source so that you don't have to abandon your yard in the colder months.
---
Learn more: Common kerosene heater problems and how to fix them
Why Can't Batteries Power a Heater?
It's quite simple really. Most batteries are designed to let a low current feed into whatever they are powering. Unfortunately, for heaters to be effective, they require large amounts of power for long periods of time.
Sure, you could power a heater battery operated space heater for a short time with a battery, but the heat would be short-lived and the battery would soon be flat.
Battery Powered and Cordless Heater Buying Guide
While battery powered heaters are unfortunately not a viable option, there are plenty of other options to consider. As long as you are careful with your usage, you can achieve many of the same results of a battery powered heater with a different type of heater. Once you find the right fuel type for you, you can make a decision on which model will address your needs.
Fuel Types
The right fuel type for you will depend on how you plan to use your heater. Some fuels provide a higher BTU output, are more portable, or are 100% emissions-free. So, it's important to decide which fuel source you want your heater to use as one of the first steps when buying a heater.
AC Powered – Electric Space Heaters
AC power, mains power, or any other name for the often 120-volt AC power that comes from your power outlets is a 100% emissions-free fuel type. They often work by using electricity to superheat a coil, producing heat that radiates from the heat source either through the use of a fan or exhaust.
In general, AC power struggles to produce high BTU counts for a similar reason that battery heaters aren't used in large-scale heating. They cannot draw enough power to produce immense heat in the same way combustion can.
However, for use in an office, bedroom, or other interior location without large heat requirements, an AC heater can get the job done.
12V Power
12V-powered heaters are often used in cars. These heaters connect to the car's battery through the cigarette lighter, which provides the amperage required to produce effective heat.
12V power sources come in a variety of BTU outputs, with some personal heaters falling around 1000 BTUs and larger options exceeding 10,000. However, there is more power drawn as the BTUs increase.
Related Article: How Many Amps Does a Space Heater Draw?
Propane Heater
Propane is a convenient fuel source for powering your heater because it can be contained in tanks. Propane also burns very cleanly, which lessens emissions (though ventilation is still required). These models come with a hose or a connection that allows the tank to be connected. This enables the propane to flow into the heater, ignite, and create heat that is circulated by an exhaust or fan.
Propane tanks use combustion, which allows them to provide more heat more easily. To create this reaction, an ignitor is powered by a battery, electricity source, friction, or a pilot light is lit.
Propane tanks are readily available in stores and often used for camping or smaller-scale heating solutions like a ventilated outdoor cabin or garage.
Diesel and Kerosene
Both diesel and kerosene are liquid fuels that create heat when ignited. They also use an ignition source like a battery, electrical igniter, friction, or a pilot light. They should have proper ventilation for safety reasons due to their higher emissions and the unsavory smells they put out along with the heat.
Diesel burns less cleanly than kerosene but can produce more BTUs in many cases. However, both produce odors. Generally, they are also the hottest-burning fuels.
A garage or other larger outdoor location is where these two fuel types would excel.
Safety
Any appliance that creates heat or emissions poses a potential safety hazard. Whether it's a live flame burning, incredibly hot coils that are exposed, or harmful gasses that are created by burning fuel, it's essential that you take safety precautions.
When it comes to safe use of your heater, the location where you are using it is the most important factor to consider. Indoor locations without ventilation have very different options to consider than an outdoor, well-ventilated area.
For indoor use in smaller locations or locations without proper ventilation, electricity-powered (AC or 12V) options are the safest. They provide no emissions because they don't burn fuel. They also often include auto-shutoff for tipping and grates to protect you from the burning coils, which helps keep users safe and prevent igniting something you didn't intend to.
If ventilation is adequate but the location is still indoors, electrical and propane are usable fuel sources. As long as the propane emissions are able to escape and the heat source is protected from contact with anything, semi-interior use can be safe when caution is exercised.
For outdoor locations, any fuel source can be used as long as the flames or heating elements are protected from contact. However, if ventilation is obscured, these heaters can pose a serious risk of harm. An oxygen depletion sensor also helps to encourage safe use by shutting off the heater before a problem occurs.
Not Powered By a Battery, But Almost As Good
Heaters can be your best friend when the weather starts to get chilly. However, as with anything that uses a heat source, they can also be dangerous – both to touch and to inhale the fumes. Because there are no real battery powered heaters to consider, it's important that you do your research to find out how you can safely address your needs with an alternative.
Depending on where you want to use your heater, the right choice for you may vary.
Electrical heaters are generally safer and less expensive, but they can struggle to produce the heat required to cover a whole room.
Meanwhile, gas heaters are able to produce more BTUs, but also require you to consider ventilation to be safe (and supply fuel to burn).
Hybrid options like a diesel air heater can provide a good combination of both benefits, but require the correct connections to work properly.
Overall, there is no battery that can effectively power a heater. But, with the help of our guide, you can learn the benefits of the different fuel sources and decide on which works best for your situation. From there, it's simply staying within budget and ensuring it can cover the entire area you want to keep warm. Stay toasty!
Battery Heater FAQ
Is There a Battery Powered Tent Heater?
While most people would love an easy way to stay warm when camping, unfortunately, an effective battery powered tent heater simply does not exist.
How Can I Heat a Small Room Without Power?
There are a few options when it comes to keeping a small space warm with no power available.
If none of the options above suit you, then you could try one of the following: