Our Rating:
Key Features:
Well-balanced Tri-Ply stainless steel
Quick and Even heating
Easy to Clean
PFOA free nonstick coating
Note: Abbio cookware is no longer available. We recommend you check out Legend Cookware instead.
---
All Clad Quality for Half the price
I was recently contacted by Abbio to try out their pots and pans. I must say I was a little skeptical at first. After all, I often find when reviewing cookware, the best cookware is often the most expensive.
But, I decided to give it a try and I am happy to report that Abbio has broken that trend well and truly.
I can answer a few of your questions about Abbio Cookware right now:
Yes, Abbio Cookware is good value ($77 for a large non-stick pan).
Yes, Abbio Cookware is well made.
Yes, it cooks food REALLY well and the non-stick is awesome.
So, if you were looking for a quick answer as to whether you should buy it or not – Yes. It is 100% worth the money, it has great cooking properties and it should be many years before you need to consider replacing it.
But if you are wanting just a little more detail onto why this is our recommendation – then keep reading for our full Abbio Cookware Review.
Review Criteria Ratings
| | |
| --- | --- |
| Cooking Quality | 4.5/5 |
| Construction Quality | 4.5/5 |
| Comfort and Features | 4.5/5 |
| Price | 5/5 |
Pros
Great Price
Feels like a $1,000+ set
Great cooking properties
Cons
Non-stick coating might cause issues if not cleaned thoroughly
Should You Buy It?
An All Clad level product for half the price – now that's super value.
You don't need to spend the earth to get great cookware, you would be silly to pass Abbio by.
Note: Abbio cookware is no longer available. We recommend you check out Legend Cookware instead.
Disclosure:It is important you understand that we may receive commissions when you click our links and make purchases. However, this does not impact our reviews and comparisons. All opinions are our own we pride ourselves on keeping our articles fair and balanced. For more info see our disclosure statement.
Abbio Cookware Overview
This cookware is available as individual pieces, or as a whole set.
Abbio sent us their full cookware set which at the time of publishing sells for $287. You can check the latest price here.
While it's not a huge set like some other manufacturers offer, one of Abbio's guiding principles is 'simplicity'. They don't believe in pushing a 15 piece cookware set on you when 5 items will do the same cooking tasks.
So, as you would expect, the set contains the essentials.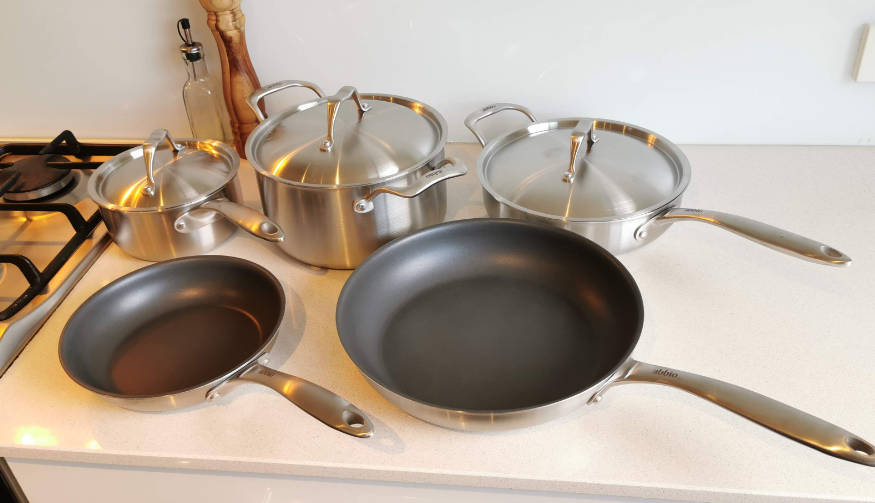 In the box was:
1 x 8″ nonstick skillet
1 x 11″ nonstick skillet
1 x 10″ Saute pan with lid
1 x 7″ Sauce pan with lid
1 x 9.5″ Stock pot with lid
5 x Silicon hot pads
Note: Abbio cookware is no longer available. We recommend you check out Legend Cookware instead.
Abbio Cookware Set Review
First Impressions
First impressions are important, and before I had even opened the box I had the feeling I had been sent something of quality.
Packaging
If you have ever tried cheap, crappy cookware – then you will know that it is usually really light. I was surprised by the weight that was in the Abbio box, and I had an inkling that my initial concerns that this stuff would be no good….were completely wrong.
The box was well packed, and every pan, pot or lid was packaged in a cotton bag.
These bags will also be handy for keeping your cookware looking its best and scratch-free if you keep it in a drawer with other metal items.
Silicon Hot Pads
A nice surprise was the silicon hot pads (bench protectors). I hadn't thought these would be included with the set, but they are a great size, easy to clean and they have SO MANY purposes in the kitchen.
After some further research on the Abbio website, I also notice that they are available in 4 different colors: spinach, salt, carrot and charcoal.
Note: Abbio cookware is no longer available. We recommend you check out Legend Cookware instead.
The Cookware
So down to the real stuff here – what is the cookware actually like?
Tri Ply Stainless Steel Pots
The tri ply stainless steel pots are seriously solid and well built. Cover up the Abbio logo on the handle and you would swear that you were holding a piece of the latest All-Clad cookware.
The weight of the pots feel just right – not over heavy like cast iron, and not so light that it feels cheap. They are well balanced and they just feel good.
Rivets are one of the first things I check to determine how well cookware is made. The rivets that hold the handles to the pots and lids are super tight and there is no movement to be felt at all.
Speaking of the lids, they are what you would expect from a quality set. They fit well and they are sturdy and solid.
The handles are of a flat design, which felt comfortable in my hand and the heat from the pan was not at all noticeable in the handle itself.
But How Do They Cook?
When it comes to the pots cooking properties, there wasn't really anything to complain about.
Heating was quick and even, and the speed at which the pot reacted to heat changes was about right for a heavy duty pot. As with any heavy pot – make small changes to your heat setting and observe the effect it has on your cooking as it can take 30 seconds or so for the heat change to transfer through the tri ply.
What About The Clean Up?
If you follow Abbio's guide and get the pan nice and hot before adding oil then the clean up is as good as any stainless steel cookware.
Just make sure you use something like Barman's friend and NOT a heavy-duty scourer or you can say goodbye to that lovely finish!
Nonstick Pans
The non-stick pans were quite interesting to me. I actually didn't expect the nonstick coating to work very well because it has quite a rough feeling when you touch it.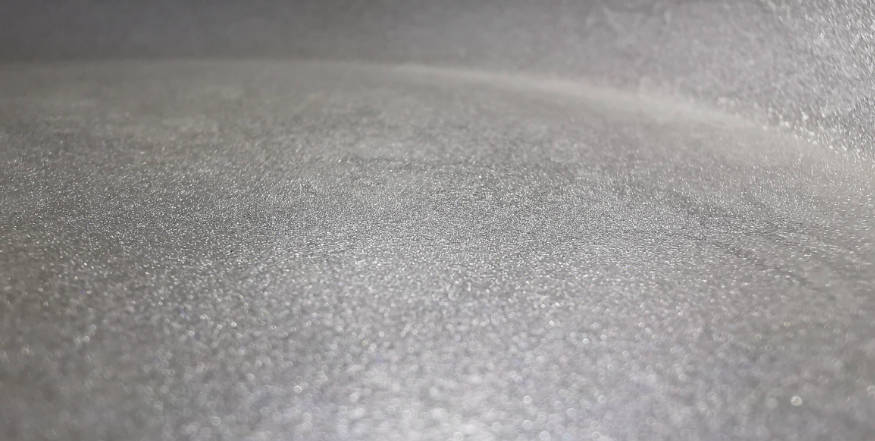 From my experience in the past, most good non-stick surfaces are quite smooth.
But, once again, Abbio proved me wrong here.
I gave the pans a try out the other morning for an eggs and bacon breakfast for the family. I was sure the eggs were going to be a pain on that coarse non-stick surface… but nope… they literally slid right out!
Does it Clean Easily?
Well… yeah it does! A quick wipe out with some paper towel and then wash it with a soft brush or cloth and you are pretty much done!
I would recommend making sure that no food remains on the non-stick surface. I have seen issues in the past with the very slow build up of food causing issues on non-stick cookware – and this could possibly be accelerated by the slight rough complexion of this coating. So just be sure you clean it properly every time… no shortcuts!
Is It Safe?
I know some people are nervous about non-stick cookware – but the bad old days are (mostly) behind us. Abbio uses a PFOA free nonstick coating so can be as sure as is possible that you are doing the best thing for your and your family's long term health.
If you want to learn more about this, read our article on the safest types of cookware.
The Verdict
Cookware is hard to review, because there are so many variables and it seems that a new set gets released every second day.
But what I can tell you, is that the Abbio cookware is the real deal. It's high quality, has great cooking properties and performs as well as some of the most expensive brands available.
This cookware is a great choice for everyone from the newbie home cook to the chef who wants a good set for at home.
Note: Abbio cookware is no longer available. We recommend you check out Legend Cookware instead.