Our Rating:
Key Features:
3,000Pa suction
Intelligent mapping for customized cleaning
Automatic dustbin emptying feature
200-minute runtime
---
Hands-Free Robot Vac that Mops, Vacuums, and Empties its Own Dustbin.
The Yeedi Vac Station Robotic Vacuum combines the intelligent cleaning power of the Yeedi Vac Max with the convenience of a self-emptying dustbin. This smart system gives you clean floors without lifting a finger–or dumping a dustbin–for up to 30 days at a time.
A visual mapper and floor sensors combine for superior navigation and hands-off use. This intelligent vacuum can mop your hardwoods without soaking your carpets and vacuum any surface without input thanks to its auto-suction adjustment capabilities.
You won't find as many fun features in the Yeedi phone app as other, similar-priced robotic vacuums. But those vacs can't empty their own dustbin, so, who is really more talented?
For set-and-forget versatile floor cleaning, it doesn't get any more convenient than the Yeedi Vac Station Robotic Vacuum.
Review Criteria Ratings
| | |
| --- | --- |
| Cleaning Power | 5/5 |
| Battery Life | 5/5 |
| Navigation | 4.5/5 |
| Smartphone App | 3/5 |
Pros
3,000Pa suction for powerful cleaning
Smart mopping technology automatically avoids carpet
Intelligent mapping creates interactive floor plan for customized cleaning
Dustbin automatically empties after each use
Can set schedules, do not disturb, and other useful functions
Cons
Lacks reduced suction sensors and warnings (dustbin full or blocked)
Can only map one level of your home
The mop pad must be removed before carpet vacuuming can commence
Lacks many higher-level features including object avoidance AI
Phone app leaves a lot to be desired
Should You Buy It?
The Yeedi Vac Station offers unparalleled hands-off cleaning performance. It doesn't come with a ton of features–you can only map one floor of your home and mopping and vacuuming carpet must be done separately–but these negatives hardly matter when measured against the convenience of its powerful cleaning capabilities and the self-emptying dustbin.
If you want to–or need to–maximize the convenience that comes with a robotic vacuum, the Yeedi is the way to go.
Disclosure:It is important you understand that we may receive commissions when you click our links and make purchases. However, this does not impact our reviews and comparisons. All opinions are our own we pride ourselves on keeping our articles fair and balanced. For more info see our disclosure statement.
Yeedi Vac Station Robotic Vacuum Product Overview
The Yeedi Vac Station Robotic Vacuum is the newest product to be featured in the Yeedi robot vac lineup.
This system utilizes the most intelligent robot vacuum from the company to date. The Yeedi Max Vac has similar capabilities as the Yeedi k700 mopping vacuum, but with an upgraded mapping system and wifi connectivity. It also has greater suction power and more functionality than its predecessors.
But what really sets this robot vac system apart is the automatic dustbin emptying feature. The charging dock doubles as a vacuum that automatically sucks the debris from the robot's dustbin and holds it in a larger bin that only needs to be emptied once a month.
The Yeedi Vac, which features all the same capabilities as the Yeedi Max Vac minus the mopping technology, is also compatible with the Vac Station.
Self-emptying robot vacuums have recently become more common. But the Yeedi is one of the first auto-emptying bots that also has mopping capabilities. It is priced in a similar range as most self-emptying competitors, despite this additional feature.
The Yeedi brand is new to the market, having released its first vacuum in 2020. Its product line is small, featuring only four robot vacs and the vac station.
Yeedi is owned by Ecovacs Robotics, a Chinese company that has been making vacuums and other household appliances since 1998. Ecovacs is a powerhouse in the robotics arena in Asia and at one time controlled over 60% of the robotics market in China.
The original goal of the Yeedi brand was to create straightforward robotic vacuums that anyone could use to simplify their lives. They strayed away from this idea somewhat when they developed the Yeedi Vac Station.
This product is far more advanced and has more features than any of their previous robot vacs, but is still fairly straightforward and user-friendly. And it certainly does meet the criteria for simplifying the user's life.
The Yeedi Vac Station Robotic Vacuum is a Red Dot Design winner. Its distinguishing feature is the self-emptying dustbin capability combined with the robot's mopping feature.
The bot uses camera-aided visual mapping, base-station location, and floor sensors to create an interactive map of your home. From this, it is able to determine the most efficient route for cleaning. It can also be directed to spot clean specific areas, set to clean rooms in a specific order, or set to mop-mode, in which it automatically avoids any carpeted areas.
This vacuum also boasts an industry-leading 200-minute runtime. With 3,000Pa of suction power, it is also more powerful than the top-rated iRobot Roomba i7.
The Yeedi Max Vac is a powerful robotic vacuum with a few key features that stand out in an otherwise stripped-down setup. It gives you exactly what you need to simplify your housekeeping burden but lacks a few key features you'll find in higher-priced bots.
How It Performs
This vacuum system gives the user a lot to be excited about.
But does it deliver?
I had a chance to test this brand new robotic vacuum system out for myself. Keep reading to see my full Yeedi Vac Station Robotic Vacuum review. I'll tell you exactly where this intelligent vacuum impressed and where it came up short.
Getting Started
There is a learning curve for every mapping-capable robotic vacuum. For the Yeedi, you will need to provide three "supervised" cleanings to allow it to get to know your floor plan and create the interactive map that unlocks the bot's greater functionality.
I say supervised cleanings because you will need to take some extra time to clean up your space to assure the bot has access to every part of the floor you would like it to clean in the future. Any items blocking its path will create blank spots in the final map that may prevent that area from being cleaned during routine cleaning.
The instruction manual recommends blocking off any edges to prevent accidents. I did not do this with my stairwell and the bot had no problem backing itself away from the edge each time it encountered it.
You will also have the opportunity during the setup to name your vacuum. As you will see from the images below, my Yeedi is named Betty.
Cleaning Power
All the functionality in the world doesn't make a difference if a robot vacuum can't effectively clean. I tested the Yeedi Max Vac's cleaning power daily for a week and a half to understand where this bot excels and where it falls short.
Vacuuming
The Yeedi Max Vac boasts powerful suction–3,000Pa on its highest setting. That is almost twice as much suction power as the industry-leading iRobot Roomba i7.
And it shows.
This vacuum had no problem transforming my dog-hair-strewn carpets and hardwood floors. After the first pass, everything looked visually cleaner. The bot was even able to effectively remove the tiny bits of lightweight, chewed-up cardboard my parrot leaves in front of her cage.
The only issue I noticed was that debris seemed to be stacking up around the edges of my throw rugs. The bot automatically changes suction power when it moves from hard flooring to carpet. This transition was allowing dust and crumbs to escape the vacuum and get caught on these boundaries.
But, when I manually changed the base power setting from standard/low to medium, this problem stopped.
I also tested the vacuum function on the highest mode, but, with my short pile rugs and hardwood, found it unnecessary. The medium setting did more than enough to pick up all visible debris.
Once the bot learned my floorplan, it did an exceptional job getting the rotating brush into every edge and corner. The only places I noticed debris left behind were those crevices I wouldn't expect any robot vac to be able to reach.
My hardwoods were spick and span after each cleaning. My carpet looked just as good, but I know from the many vacuum tests I have done in the past that looks can be deceiving.
After a week of using the robot exclusively, I busted out my plug-in Shark vacuum to see what the Yeedi was missing. I got a respectable amount of dust and some hair in the dustbin of the Shark after going over my large, medium-pile throw rug. But, it was no more than I have gotten back when doing this test on other electric vacuums–robot or handheld.
On my high-pile carpet, the Yeedi was able to cleanly maneuver and pull up visible debris. But, as you can imagine, would never replace a good manual, plug-in vacuum.
Overall, the Yeedi Max Vac does an excellent job clearing hard flooring of pet hair, crumbs, and dirt. It can even effectively remove larger debris that lesser vacuums would push around or throw out of the way. It was effective at cleaning my low and medium-pile carpets, but, like other robot vacs, will not completely erase the need for the occasional deep clean.
Mopping
Having a robot vacuum that can also mop is a nice touch, especially if you have a lot of high-traffic hard flooring in your house.
To activate the mop mode, all you have to do is fill the 240ml water reservoir and attach the mopping pad. The bot automatically senses the pad is in place and switches to mop mode.
While mopping, the robot will actively avoid carpets. What impressed me about this feature is that the bot would roll onto the carpet just to the point where the mop pad was about to touch the edge, then back off. This allowed it to clean right up to my rugs without getting them wet.
If you have entire rooms that are carpeted, you can set no-mop zones in the map so the robot doesn't try repeatedly to enter the room.
One thing I did learn is that you will want to be present for mopping, at least in the beginning.
The manual recommends wetting the pad to begin, which means you will get a consistently wet application at first. Once the pad dries some, the amount of water being put down is dependent on your water-release setting. I found I had to keep the setting low at first and then crank it up as the pad dried.
Overall, I was very impressed with the mopping functionality but only moderately impressed with how clean the floors got. The pad was dirty enough at the end to prove that it worked to pick up plenty of set-in dirt. But there were still visible stains and footprints on the hardwood.
Again, a great feature for quick cleans, but this will not replace the need for occasional manual mopping.
Automatic Emptying
Part of the cleaning functionality of the Yeedi–or at least a function that reduces your need to take part in the cleaning–is the self-emptying dustbin.
When the bot returns to the base dock to charge, the dock will automatically turn on and suck the debris out of the robot. This has a sound similar to a standard vacuum powering on.
I can see this feature really coming in handy for busy homeowners who have their vacuum set to run while they are away. With this system, you won't have to set a reminder to clean out the dustbin every day when you come home.
When this function works, it is an awesome convenience. Unfortunately, I found one major flaw in the system that has a huge impact on how well this feature delivers.
The third time I used my Yeedi, I noticed it wasn't cleaning as well as it had previously. I sent it back to the dock to empty and tried again, but the problem persisted. When I checked the dustbin, I found it was packed to the brim.
A piece of cardboard had gotten wedged in front of the evacuation hatch. This must have happened on the first or second cleaning. With each subsequent cleaning, the bin got fuller and fuller until it finally couldn't hold anything else.
If the Yeedi had a suction-reduction sensor or a full-bin sensor, I would have realized there was an issue sooner.
Take home: the auto-empty feature will reduce your workload, but you will have to check the dustbin occasionally to make sure it is emptying the way it should be.
The only other thing I don't like about the auto-empty bin? The base station vacuum uses specialty vacuum bags that must be tossed out and replaced each month.
Navigation and Obstacle Avoidance
The Yeedi navigates using three components: a top-mounted camera, floor sensors, and a bumper sensor. These features combine with base station location tracking to allow the bot to create a virtual map of your home.
During the initial "setup" cleans, the Yeedi does a lot of bouncing around in order to map your entire floor. Once the setup process is complete and a full map has been created, the robot cleans in a much more organized pattern. Though, it will still backtrack on occasion to cover corners and alcoves that don't fit neatly into the cleaning pattern.
In terms of straight navigation and mapping ability, I was very impressed with the Yeedi. It was able to differentiate between moveable obstacles like chairs and tables and non-moveable ones like walls.
If it lacks anything it's an object avoidance camera and an AI system, but this a minor complaint.
So, even though it couldn't clean the entire area under my dining room table due to all the table and chair legs, it still categorized the whole area as being a targeted cleaning zone, rather than an area with intermittent boundaries.
My only gripe is that the Yeedi is not capable of mapping multiple levels.
In terms of obstacle avoidance, the Yeedi doesn't really balk when something is in its way. This can be both a good thing and a bad thing.
One feature the Yeedi boasts is a high clearance that allows it to move over thresholds without trouble. This is certainly true. The wheels drop down almost a full inch when the body is lifted. This allows the bot to have continued floor contact even when moving from hard floor to thick carpet or over humped thresholds.
This is a great feature for overcoming changes in flooring type, but not so great when the Yeedi encounters a stuffed animal or other small object on the floor. Any object with a little give or a gentle enough slope is going to get run over. My Yeedi tried to eat more than one stuffed animal and would have succeeded in getting jammed had I not been there to rescue them.
For larger obstacles like chairs and walls, the robot relies on its bumper sensor. It will drive forward into the object until the moveable bumper, which sticks out more than the rest of the body, is completely depressed.
This action looks a lot like bumper cars at the fair. This system works well for helping it navigate around table legs but is probably not the best for working around fragile items. I could see the robot easily knocking over a lightweight side table or other unstable objects.
Smartphone App and Functionality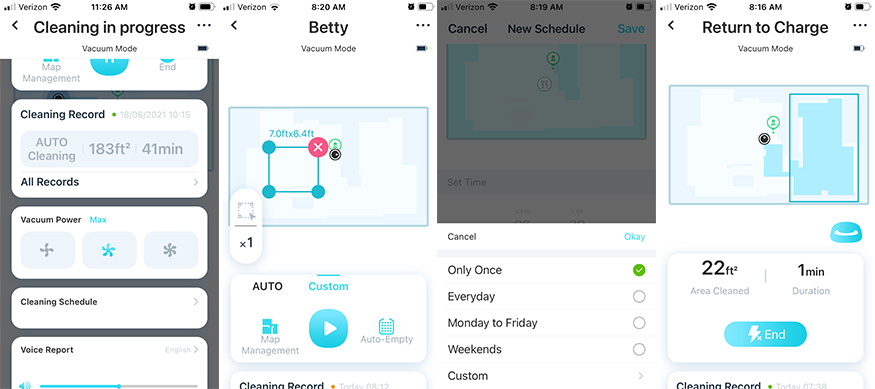 Overall, I really like this robot vacuum. It delivers a powerful clean and navigates well enough to assure no corners go missed. The robot itself is great. Where this system comes up short is in the phone app department.
The app is very simplistic. This in itself is not a bad thing, but that simplicity somehow makes it more difficult to navigate. This issue comes down to three factors.
First, you do not have access to all the options until after the setup period when the map is finally complete. This makes it difficult to understand what all this vacuum can do from the very beginning.
Second, the labels and descriptions of things are very vague and at times inaccurate. The suction level settings, for instance, show the lowest setting as standard, the medium setting as max, and the highest setting has no label at all.
Lastly, the organization of everything leaves a lot to be desired. There aren't a lot of submenu areas to choose from, but I still found myself swiping through all of them trying to find different features. For example, the suction level choices are separated out on the main menu instead of being nested under the cleaning preferences section.
Once you get used to the phone app, you'll find it is straightforward and easy enough to use. But, because it is not intuitive and has some glitches, it takes some getting used to at first.
Features
The idea behind Yeedi products was to create easy-to-use robotic vacuums without a ton of extra features. And that is what you get with the Vac Station and Yeedi Max Vac. This system does enough to offer an amazing cleaning experience but not much more.
The available features include:
Vacuuming with three different suction settings and auto-sense carpet boost.
Mopping with four different water level settings and auto-sense carpet avoidance.
Auto-emptying dustbin
Ability to set no-mop and no-clean zones.
Scheduled cleaning on a one time or highly customizable basis.
Ability to set do-not-disturb hours.
Directed spot cleaning.
Verbal notifications about charging and cleaning status.
Voice control via Alexa and google assistant.
Ability to set the cleaning order of different rooms.
A continuous clean option in which the bot starts cleaning again as soon as the battery has recharged.
Notifications of scheduled maintenance like dustbin deep cleaning.
Notifications via the app and verbally if stuck or non-operational.
If you are looking for a hardworking robot that can provide powerful cleaning, the Yeedi will deliver. If you want one that also comes with a lot of premiere features, you may need to look elsewhere.
Some of the notable features that this robot lacks are:
Multi-level mapping for multi-story homes.
Mop-lift that allows the robot to vacuum and mop hard floors while vacuuming carpets at the same time.
Obstacle avoidance for smaller objects like toys and dog poop.
Dustbin level tracking and reporting.
Suction-loss tracking and reporting.
Water reservoir tracking and reporting.
Battery Life
There isn't a robotic vacuum out there that can beat the Yeedi in terms of battery life. This powerful bot has an advertised runtime of 200 minutes.
Because I don't live in a sprawling ranch-style home, I wasn't able to test the accuracy of this claim. But I can tell you that the bot had no problem cleaning my 500 square foot main-level in under 45 minutes and never used more than a third of its battery power. This was true even with the suction level set to medium.
It takes a few hours to charge back to full power after each clean. But, with a battery life that long, a long charge period hardly matters unless you live in a mansion. In which case you can definitely afford to get more than one of these well-priced bots.
The other battery-related feature I love is that the bot automatically goes into sleep mode when charging is complete to help save energy. It will also turn off the flashing charging light during do not disturb hours, a great feature if the charging station happens to be in your bedroom.
Alternatives to the Yeedi Vac Station Robotic Vacuum
The Yeedi Vac Station Robotic Vacuum has some serious cleaning power but lacks a few features that many would find useful.
If you have a lot of hard flooring to carpet transitions in your house, you may prefer the convenience of a robot vac that can automatically transition between mopping and vacuuming carpet. The Roborock S7 offers the same great clean you get with the Yeedi Max Vac but with the added benefit of a mop head that automatically retracts when the bot senses carpet.
If you have pets that have a habit of leaving surprises around the house, you will definitely want a robot vac that can avoid these messes without running them over. The Roborock S6 has advanced obstacle avoidance that keeps it from running into dog poop and forgotten toys. This smart vacuum also has the ability to map multiple levels of the home for a full house clean with only one base station.
| | | | |
| --- | --- | --- | --- |
| Feature | Yeedi Max Vac | Roborock S7 | Roborock S6 |
| Suction Power | 3000Pa | 2500Pa | 2500Pa |
| Mop/Vacuum Functionality | Mopping takes palace separately from carpet vacuuming | Automatically retracts mop for dual cleaning | Mopping takes palace separately from carpet vacuuming |
| Advanced Features | Auto-empty dustbin | No-tangle brushless roller | Obstacle avoidance, multi-level mapping |
| Price | $$$ | $$$$ | $$$$$ |
Things to Consider Before Buying a Robotic Vacuum
Before you choose a robot vacuum for your home, there are a few things you should consider to assure your choice fits your needs.
Here are a few things worth thinking about before you make your purchase:
Whether you need a vacuum or a mop or both. And is it important that both functions work simultaneously?
How important obstacle avoidance is for your household. If you have pets that are prone to leaving surprises or puking on the floor or a toddler that leaves small toys around, this feature is a must.
How many levels you have that need cleaning. Most robot vacs can only operate on the floor that houses their base station, but some can be used on multiple levels.
The amount of cleaning power you need. Suction power, battery life, and dustbin size will all determine how effectively and efficiently your robot cleans.
Conclusion
Robot vacuums are a great way to keep your floors looking great without having to expend any energy. The Yeedi Vac Station Robotic Vacuum takes that idea of effortless cleaning to a whole new level.
This robotic vacuum combines smart mapping, unparalleled suction power, and a convenient mop option to deliver a serious clean on carpets and hard flooring. And a convenient self-emptying dustbin means you can enjoy that cleaning power without having to lift a finger or open a trash can.
Click here to learn more about the Yeedi Vac Station and Max Vac Robotic Vacuum or purchase one for yourself.