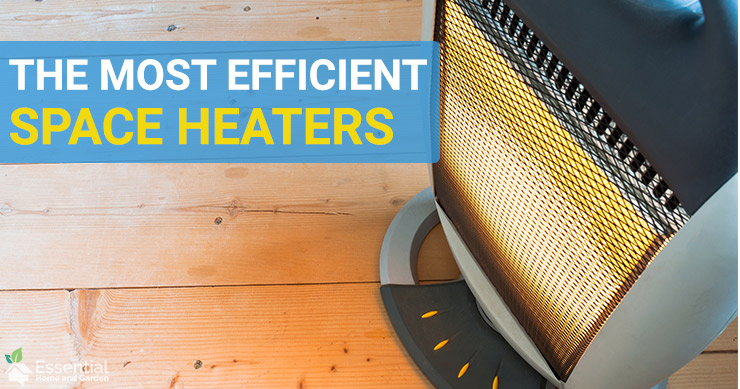 Every year, it feels like winter creeps out just as you're beginning to enjoy autumn. With the onset of winter comes the likely appearance of frigid temperatures, causing your home or office spaces to become downright chilly. While your HVAC heating system can likely handle the brunt of your heating in these circumstances, it can never cover 100% of your living or workspaces in a blanket of reliable warmth.
That's where an energy efficient space heater comes into the picture. Space heaters, by their very nature, are designed to act as modular supplements to your in-line heating system, allowing you to maximize your use of isolated spaces during the frigid winter months. Many space heaters are even portable, allowing you to pack up your toasty comfort and take it with you wherever an accessible fuel source is available.
As you might expect though, all space heaters are not precisely alike. Indeed, modern space heaters come in a variety of sizes and form factors, not to mention with differentiating capacities for heating a space. Those looking to purchase their own space heater should spend as much time comparing the most popular models based upon their respective features and specifications.
But rather than search all over the internet for that information, you'll be able to find everything you need in this concise guide to finding the most efficient space heater. 
In this guide, you'll find reviews of this year's top-performing models as well as helpful insights into the sizing and use of your new space heater.
Disclosure: It is important you understand that we may receive commissions when you click our links and make purchases. However, this does not impact our reviews and comparisons. All opinions are our own we pride ourselves on keeping our articles fair and balanced. For more info see our disclosure statement.
Comparison Table
Product
Details
Where to Buy
Power: 1,500 watts
BTU's: 5,200
Heat Control: Thermostat with digital interface
Type: Infrared
Check Price on Amazon
Power: 1,500 watts
BTU's: 5,115
Heat Control: Thermostat with digital interface
Type: Infrared
Check Price on Amazon
Power: 750 – 1500 watts
BTU's: 2.557 – 5115
Heat Control: High/low with thermostat
Type: Panel
Check Price on Amazon
Power: 1,500 watts
BTU's: 5,115
Heat Control: Eleven temperature settings
Type: Convection
Check Price on Wayfair
Power: 1,500 watts
BTU's: 5,115
Heat Control: Temperature-controlled/ adjustable temperature settings
Type: Portable radiator
Check Price on Amazon
Power: 1,500 watts
BTU's: 5,115
Heat Control: High/low with programmable mode
Type: Oscillating convection
Check Price on Amazon
Power: N/A
BTU's: 4,000 – 9,000
Heat Control: High/low
Type: Radiant
Check Price on Amazon
Most Energy Efficient Space Heater Reviews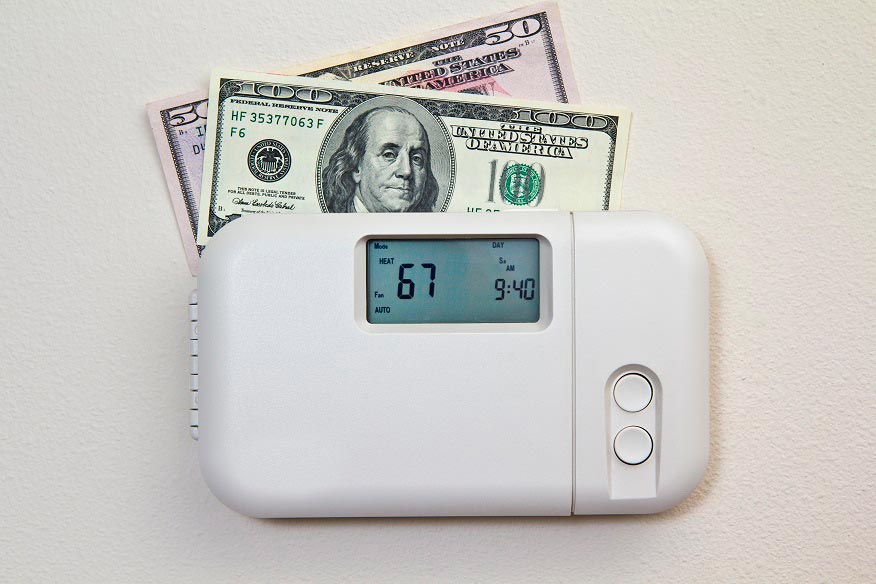 If you've just begun your digital search for a new energy efficient space heater or have already checked all of your favorite online retailers, then you've come to the right place. That's because this guide contains reviews covering seven of this year's most popular models.
As such, you'll be able to easily compare each of these industry-leading models side-by-side based upon their core specifications and features.
Among these reviews, you are certain to find a space heater model that is fully capable of providing warmth to your target room without burning a hole in your wallet.
After reading each of these reviews, you'll be just a few clicks away from bringing comfort back into your favorite living spaces or office, especially when the bitter cold winds roll back in this winter.
Unique Heat 1500-Watt Copper PTC Personal Home & Office Infrared Space Heater
First and foremost, let's take a look at this, one of Unique Heat's latest offerings in the infrared space heater market. At its core, this model makes use of 1,500 watt internal heat production system that operates without much noise at all. In turn, this heat production system can produce up to 5,200 BTUs of heat, which is more than enough to cover most 1,000 sq. ft. rooms.
When it comes to heating, this Unique Heat space heater provides a descent temperature range that peaks out at a sweltering 90° F. Moreover, this model's heating system can be programmed to operate at around 20 different intensity levels, as well as read out in Celsius on its digital interface. Instructions for this programming process may take some time to learn but are still readily available in this unit's user-friendly owner's manual.
Rather than requiring a user to pick up this unit while it is still hot, this model allows users to move it from place to place using its built-in wheels. These wheels turn and rotate with descent efficiency, preventing them from easily becoming clogged with dust or pet hair.
Finally, this Unique Heat space heater stands alone in allowing convenient access to its built-in air filter. This filter can be accessed from the unit's rear and can be cleaned at the owner's discretion. Taken together with its other features and specifications, it's no wonder that this model is certified to last up to and beyond an 80,000 hour lifespan.
The Unique Heat 1500-Watt Copper PTC Personal Home & Office Infrared Space Heater with Remote Control is available from Amazon.
Dr Infrared Heater Portable Space Heater
Before all else, let's make one thing clear – the Dr Infrared Heater Portable Space Heater might just be one of the safest space heaters on the market today. That's because this model brings a lot to the table when it comes to built-in protections. For example, this model's overheat protection is able to keep its internal components from damaging themselves, even after many hours of operating at the far end of its 50° – 86° F temperature range.
Self-preservation isn't the end of this safety story, though. In fact, this Dr Infrared space heater also comes standard with tip-over protections that ensures an instantaneous shut off if it is upended on accident. Should you or another user leave the room while it is still operating, you can rest assured because this model's 12 hour automatic shut-off switch will kick in and prevent a dangerous situation from precipitating.
As for the rest of this model's features, they're also fairly noteworthy. One prime example is this model's 1,500 watt advanced heating system that runs at a whisper-soft volume – 39 dB, to be precise. Interestingly enough, this same heat production system is actually made up of two prime components, that is, a PTC and quartz infrared element. Combined together, you can expect this space heater to provide enough heat to cover a 1,000 sq. ft. room (and beyond).
The Dr Infrared Portable Space Heater is available from Amazon.
Dr Infrared Heater Portable Space Heater
At first glance, you might look at the DeLonghi HMP1500 electric heater and assume that it's a low powered personal heater that could do little to warm up a regular-sized room. But that assumption would be faulty, as it turns out, because this panel space heater's slim form factor hides an impressive heating capacity of around 5,120 BTUs.
What's more, the DeLonghi HMP1500 provides its users with fully recognizable options when it comes to energy efficiency and cutting utility costs. Specifically, this model's high/low settings actually modulate the unit's overall power input between 750 and 1,500 watts. As such, you can still use the DeLonghi HMP1500 if you are looking to reduce your wintertime electricity bills without giving up your in-home comfort.
Traditionally, panel-style space heaters have been relegated to wall-mounted installation only. In that regard, the DeLonghi HMP1500 maintains its class-based standard by allowing for installation on most any interior room wall. However, the DeLonghi HMP1500 is wholly unique in its ability to stand on its own two feet (or four wheels, as the case may be).
In this freestanding orientation, this model can become a bit top-heavy and prone to tipping. But on that front, manufacturers DeLonghi have thought ahead because the HMP1500 comes with built-in internal tip-over kill switch. As such, you won't need to worry about leaving this space heater out to warm your 300 sq. ft. room, even if your kids or pets are bouncing around it.
The DeLonghi HMP1500 Micathermic Panel Heater is available from Amazon.
Lasko 754200 Ceramic Portable Space Heater
At some point in time, ceramic space heaters began to gain a bad reputation. Some folks say that they tend to dry out the air and aggravate the allergies of users throughout the winter months. But clearly, those folks haven't used the Lasko 754200 before.
For a personal space heater with an affordable price tag under $40 dollars, you might expect this model to put out a sub-par quality of unreliably warm air. But quite the contrary, the Lasko 754200 can be counted on to engage its 1,500 watt convection heating elements to provide up to 300 sq. ft. of warmth in your bedroom or home office. This model is even compact enough to be placed safely on the countertop of your outdoor workshop or shed.
Speaking of picking up the Lasko 754200, this space heater is a breeze to move from place to place thanks to its top-mounted carry handle. This handle, like the rest of the unit, will be cool enough to touch whenever you need to move it – even after several hours of continuous use at the highest of its 11 adjustable temperature settings.
Also, unlike many other convection space heaters, the Lasko 754200 allows users to control both its fan and its heat settings separately. Moreover, this model makes use of three separate fan settings (high heat, low heat, and fan only), each of which are quitter than comparable fans in other convection space heaters. Using these settings, you'll be able to disperse this unit's heat even after shutting it off and unplugging it safely.
The Lasko 754200 Ceramic Portable Space Heater is available from Wayfair.
DeLonghi EW7707CB Full Room Radiant Heater
In terms of getting bang for your buck, the DeLonghi EW7707CB provides both in terms of construction and in terms of operational efficiency. This can immediately be seen in this model's implementation of the newly patented SmartSnap wheels, which come preassembled. All you need to do is slot these wheels into the space heater's exterior base, which itself does not require the use of any special tools.
Moving over to its core operation, the DeLonghi EW7707CB is fairly impressive for a unit that bills itself as a "maintenance-free system." However, this high billing has a strong air of truth about it because this radiator-style space heater's diathermic heat transfer fluid does not ever need to be replaced or refilled. Instead, it is able to function optimally throughout this unit's lifespan, even if you regularly use it at its 1,500 watt maximum power setting.
Speaking of watts, the DeLonghi EW7707CB is certainly the only model in its class to make use of so-called "watt economization" settings. These settings – which are accessed through a series of user-friendly toggle switches on the unit's exterior – allow the DeLonghi EW7707CB to seamlessly restrict its own electrical intake when operating below peak demand. These settings along could save you some serious cash on your next wintertime electric bill.
Finally, the EW7707CB's manufacturer, DeLonghi, is proud to say that this model is one of the first to implement its newly-patented thermal slot architecture. These slots have been optimally spaced to allow for maximal room coverage, regardless of the unit's position within the room itself.
The  DeLonghi EW7707CB Full Room Radiant Heater is available from Amazon.
Lasko Designer Series Ceramic Space Heater
This Lasko Designer Series unit has taken the term "ceramic space heater" and advanced it to the next level. Indeed, while it makes use of ceramic convection components internally, the real attention must be directed to this model's ceramic exterior. Made from an earth-toned clay, this model's exterior is designed to blend in with almost any décor due to its artistic aesthetic appeal.
Naturally, though, everyone in the vicinity of this Lasko Designer Series space heater will feel the warming effects of its 1,500 watt heating system. You'll be able to take full advantage of this model's 60° F to 85° F temperature output range as well as long as you take a little time to learn how to operate its programmable, color-coded high/low settings. 
Interestingly enough, this Lasko Designer Series space heater is even able to spread the warmth around using its built-in oscillation system. With this oscillation system engaged, you can kiss corners goodbye! You won't even need to get up to kick on this space heater either, as long as you have its compact remote control nearby.
That remote can actually control almost every major function of this space heater, including its timer system. Should you forget to set a timer, though, this Lasko Designer Series space heater will be able to shut itself off and keep its surroundings safe using its overheat protection mechanism.
The Lasko Designer Series Ceramic Space Heater is available from Amazon.
Mr. Heater F232000 Portable Propane Radiant Heater
Like a good pick-up truck, the Mr. Heater F232000 has been built with durability in mind. Specifically, you'll find that this model's frame has been built with steel, nickel, and high-grade plastics. All of those resilient materials are further supported by shock absorbing insulation within the unit's case. As such, you'll be able to take this space heater to a job site or off-site workshop without worrying about it breaking after a single hard impact.
While outdoor use may not be the most efficient use of a space heater, you'll be glad to know that the Mr. Heater F232000 has been rated for safe and effective use at up to 7,000 ft. of altitude. When used inside, though, this model is nearly 100% efficient when it comes to burning its propane fuel source on either the low (4,000 BTU) or high (9,000 BTU) operational setting.
Finally, the Mr. Heater F232000 deserves some extra commendations for its use of safety features. At a base level, this safety suit includes a tip-over shut-off protection switch internally. But most importantly, this model includes an oxygen depletion sensor (ODS) that enables it to automatically switch as soon as it detects insufficient airflow (which could cause the production of dangerous carbon monoxide).
The Mr. Heater F232000 Portable Propane Radiant Heater is available from Amazon.
Energy Efficient Heater Buying Guide
Any veteran homeowner can vouch for the raw cost of heating a home throughout the coldest portions of winter. Depending on the weather in your area, you could spend hundreds or even thousands of dollars over the course of a single weather simply for the convenience of in-home heated comfort. Though on a smaller scale, the same goes for space heaters unless they are built with energy efficiency in mind.
On the surface, though, it is often difficult to know which popular space heater models are energy efficient and which are…less so. As such, you'll need to spend some extra time during your comparative shopping process in order to come to a full understanding about what features and specifications effect a unit's energy efficiency.
The following sections each cover one facet of space heater operation that can impact its overall efficiency and cost of operation in turn. Different arrangements of these components can result in different degrees of energy efficiency, though, so be sure to evaluate your intended use space before settling on any certain space heater model.
Space Heater Types
On today's market, most space heaters fall under one or more of the following umbrella categorizations: personal space heater, room space heater, portable space heater, or outdoor space heater. As their names imply, each of these space heater types come with an intended use space, as well as a form factor and operational capacity appropriate to that intended use space.
These space heater types also come with vastly different average price tags, so it is essential that you pick out the option that will not only keep you warm, but also prevent you from going over budget on this winter's utility bill.
Personal Space Heaters
Personal heaters are the most compact iteration of the space heater appliance family and are the best method for warming up 1-2 individuals within a condensed space. Despite their size, these heaters are often able to reach maximum strength in only 10 minutes and maintain that peak output for several hours.
Usually, personal heaters are built with "feet" in order to stand up on their own, be that on the floor or on a raised surface such as a desk or shelf. Also, personal heaters tend to include the fewest settings overall, with many simply settling for a "high/low" operational scheme that only makes use of an internal thermostat.
Room Heaters
Room heaters are a step up from a personal heater and provide a wider coverage area, accordingly. Most room heaters make use of a box-shaped form factor and radiate their heat in a single direction. This second factor makes it important to position a room heater in a corner to prevent a temperature imbalance in a single room.
As far as settings are concerned, room heaters tend to include a few more options than a personal heater. Some more modern room heaters make use of a digital thermostat interface, while older (and more affordable units) rely on an analog dial system with generalized temperature ranges (low, medium, high, etc.).
Portable Heaters
While most space heaters can be picked up and moved about at will, only portable space heaters are specifically engineered for use in a variety of simultaneous spaces. This is often signaled by the inclusion of a handle in space heater's frame, allowing a user to lift it without grasping the unit's hot out case. Many portable space heaters are also propane powered to allow for use away from traditional in-line electrical sources
Overall, portable space heaters tend to be the most durable in their appliance category. As such, portable space heaters tend to see more use in workshops and other indoor spaces that lack the traditional insulation of a home's interior. In this same vein, portable space heaters tend to include a productive number of operational settings to allow for use in both high and low demand scenarios.
Outdoor Heaters
Finally, outdoor space heaters are the pinnacle when it comes to performance and coverage area. These units are immediately recognizable as most take on a tall, slender, metallic form factor that allows for an unmatched level of heated coverage. These models can be powered by natural gas or propane, depending on the user's desired set up and available fuel source options.
Outdoor space heaters see most of their use on patios and in outdoor entertainment venues during the winter months. When properly installed, these units allow for a respectable level of heat to be delivered these traditionally wall-less spaces (even when snow cover is present). However, given that they are usually left on for many consecutive hours, they also tend to be the most expensive to operate.
Space Heater Fuel Types
Space heaters can be powered by a variety of fuels, with most models accepting only one type of fuel. Typically, a given space heaters fuel compatibility is based on its intended use. As such, more portable or versatile units may rely on electricity or propane while a stationary unit may instead use natural gas to ignite its internal heater.
Also, each space heater unit will output its heat in a unique manner dependent on its fuel source. These output methods tend to have the most direct impact on a unit's coverage area. 
Each of the most common space heater fuel types are covered below, as well as the methods used by compatible units to output the heat that they internally produce.
If you want to do more in depth reading on the subject, the Centre for Sustainable Energy has a great guide on it here.
Electricity
A large portion of the space heater market is occupied by models that use electricity as their primary (or only) fuel source.
This includes most personal heater and room heaters, both of which require a nearby power outlet to operate. While most modern electric-powered space heaters have a pretty modest electric draw (in watts) at any given time, they should always be monitored to prevent costly electrical consumption all the same.
Electrical space heaters provide the most variety when it comes to heat output methods, starting with convection models.
Convection space heaters make use of internal heat coils and a fan to spread heated air out through the unit's grated face plate. An example of this is an electric fireplace.
Meanwhile, infrared space heaters apply direct heat to the object at which it is directed rather than heating the air surrounding the target. This makes infrared models ideal for meeting personal heating needs.
Next, panel space heaters tend to combine the core qualities of both infrared and convection space heaters into a single slim, wall-mounted package. Accordingly, panel models tend to start up quickly and distribute their internally produced warm air upward and outward over an entire room.
Finally, radiator-style space heaters mimic old fashioned wall heaters by relying on conductive heat to warm its surrounding area. This is accomplished by means of internal heating oil, allowing these units to retain some of their heat after being switched off.
Natural Gas and Propane
Similar to gas or propane powered grills, heaters that rely on these fuel sources require a reliable fuel hookup and an ignition in order to operate efficiently. Due to the slight risks posed by burning propane or natural gas, the majority of these space heater models are designed for outdoor use. When properly installed in those locations, propane and natural gas burning units can operate very quietly and at a low per-hour cost.
Most propane-powered space heaters are designed to be hooked up to a liquid propane cannister, similar to the type used for large portable camping stoves or grills. When ignited, most make use of a combination of infrared and convection components to spread heat around their use location. So long as you have the proper adapter prepared, propane-powered space heaters can even be used when the power is out.
Natural gas-powered space heaters, on the other hand, require an in-line natural gas hook up. Though this will require a professional installation, you can counterbalance this up front cost with the knowledge that natural gas is, by far, one of the cheapest fuel sources in many geographic areas. Many natural gas-powered space heaters make use of infrared heating panels in order to maximize their productive range.
Choosing the Correct Heater Size
One of the single biggest mistakes many homeowners make when purchasing a space heater is opting for a model that is either too large or too small to fit the demands of their regular use space. 
Choosing the correct sized heater not only leads to a comfortable cold season, it also keeps the costs of running it to a minimum.
In order to avoid this future problems, you should always perform pre-purchase calculations that highlight what size space heater is appropriate for your home or office space.
Each of the following steps will help you accomplish this task with efficiency and precision by taking into account everything from the size of your room to your room's relevant features:
Measuring Your Space
There's an old saying in crafting circles about "measuring twice and cutting once."
The same goes for space heater sizing, which is why you should always start by measuring the length and width of your intended use space in square feet.
For example, a 10 foot by 10 foot room would require a space heater with at least 100 square feet of coverage space to ensure optimal comfort.
Calculate Wattage and BTU Needs
After measuring out the room that you intend to use your space heater in, you'll need to use a special formula to determine the number of watts needed to reliably and efficiently warm that room.
This can be accomplished by multiplying every square foot measured in the previous step by 10 watts. Accordingly, the exempe room from the previous step would require 1,000 watts of power to maintain its peak heating capacity while in use.
Then, you'll need to take out a calculator and multiply that watt-based sum by 3.41. 
This is because approximately one watt of electricity can be converted into 3.41 BTUs (British Thermal Units) of heat. You'll likely see BTUs listed among each space heater unit's specifications, allowing you to gauge precisely how much heat it is able to produce when receiving an optimal volume of power.
Evaluating Room Features
Next, you'll need to take into account major features within your target room.
For example, if there any large pieces of furniture or areas with unusual airflow, you may need to look for a space heater with slightly more capacity than the dimensions of your room would dictate. This is especially the case if you intend to use your space heater in a room where a door is routinely left open, such as in an office or automotive garage.
Also, your room feature evaluation should also take into account the contents of your target room's walls. Specifically, you should take into account the presence and age of your target room's insulation.
If your room has old insulation or lacks insulation entirely, you will absolutely need a beefier space heater to make up for the warmth lost to contact-based heat transfer.
Accounting for Safety
Due to their self-contained nature, a warm space heater can potentially represent a safety hazard. This can especially be the case if the unit is left alone or is plugged in to a faulty electrical socket (in the case of an electric model). This can cause unintended burns at least, if not a fire outright due to sparking.
As such, you should choose a space heater with safety features appropriate to both its size and power source.
For example, prospective buyers should look for an auto-shut off mechanism in tall space heater units (especially those used in rooms with pets or children).
Also, overheating prevention modules are a great safety feature that can help waylay the chance of contact burns from a space heater that has been operating for several hours.
Choosing a Correctly-Sized Model
Once all of these factors are accounted for, you'll be ready to pick out an appropriately-sized space heater that will keep you optimally toasty while also preventing its own unsafe operation.
Many leading brands offer several sizes of their most popular models, making it easier to find an affordable option that meets your individualized functionality requirements.
Keep in mind that larger and more powerful space heaters (especially those relying on convection heat dispersion) tend to operate more loudly. As such, you should also keep an eye out for a quiet space heater that still provides enough heating capacity to match your space's dimensions and features.
Tips for Using Your Space Heater Efficiently
While many modern space heaters are able to regulate their own fuel usage to a degree, you'll still need to put in some leg work if you're hoping to use your new unit efficiently. While many of the following tips, recommendations, and considerations are focused on small details, they can make a big impact when it comes to minimizing your space heater's fuel usage and resulting upkeep cost.
Place Your Heater Strategically
In all rooms, regardless of size or shape, you should place your space heater where it is strategically able to provide the most warmth to its target group. So, if you are making use of a personal space heater, you should place it at safe distance while pointing the unit's operating end towards you. Alternatively, those using a room heater should place their unit in a corner and allow its operating side to face outwards for maximum coverage.
Also, try to avoid placing your heater near a location with a known draft. Doorways in particular can draw out heat through pressure differentials, causing the user to miss out on their heater's peak heating capacity.
Restrict Heating Space
Whenever possible, minimize the overall dimensions of the space you intend to heat. This includes sealing up any outlets to the cold exterior, such as a door or window.
This allows your space heater to more efficiently heat the room by minimizing how often in needs to operate at full capacity.
If necessary, you may choose to install temporary insulation (curtains) over windows in order to prevent heat lose in areas such as outdoor workshops or sheds.
Set a Lower Temperature
When you turn on your space heater for the first time, you should always start at the lowest comfortable temperature. Then, as your desired temperature changes (or the outside temperature fluctuates), you'll be able to moderate how hard your unit needs to work.
This is doubly the case with electric space heaters, which can become expensive to operate if you routinely set them at a higher-than-necessary temperature threshold.
Use the Timer Feature
If your space heater includes a timer feature, make use of it whenever possible. These simple yet productive timers allow you to ignite your space heater and leave it running without worries about it running indefinitely.
In turn, a timer can cut down on the cost of using a space heater, especially when occupants are routinely cycling in and out of the targeted room.
The Final Word
All in all, there's a lot to take under consideration before you purchase a space heater. Naturally, you'll want to compare each model's features and specifications first in order to establish their overall operational efficiency. Then, you'll need to consider where you intend to use the space heater to further ensure that it can be efficiently and safely placed at that location.
Only then will you be ready to read the reviews for this year's top-tier space heaters featured in this guide. As long as you apply everything that you've learned in this guide, you're sure to possess the savvy needed to find precisely the right efficient space heater to fit both your needs and your budget.
Pricing last updated on 2020-09-19 at 22:32 / affiliate links - Details